14+ Best Modern CV Templates to Download for the UK in 2022
In the fast-paced world of recruitment it's essential that you stay fresh and up to date. Use a boring, old-fashioned CV and you're likely to be overlooked, regardless of how much experience you have.
So we've put together this collection of modern CV templates to keep you at the cutting edge. Each one carefully designed to combine modern good looks with all the essential features you need to impress recruiters and stay one step ahead of the competition.
Create an effective CV in minutes. Choose a professional CV template and fill in every section of your CV in a flash using ready-made content and expert tips.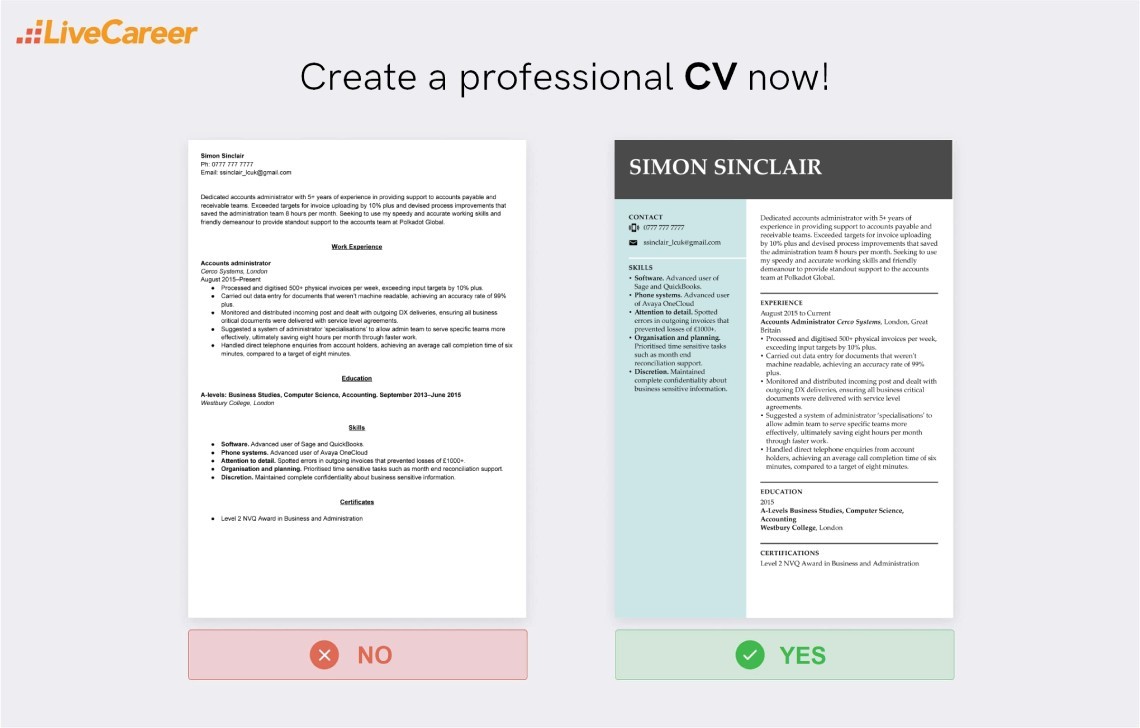 The LiveCareer online CV maker lets you build a professional CV fast and download it as a PDF or DOC.
Modern CV template example
Simon Sinclair
Ph: 0777 777 7777
Email: ssinclair_lcuk@gmail.com
Dedicated accounts administrator with 5+ years of experience in providing support to accounts payable and receivable teams. Exceeded targets for invoice uploading by 10% plus and devised process improvements that saved the administration team 8 hours per month. Seeking to use my speedy and accurate working skills and friendly demeanour to provide standout support to the accounts team at Polkadot Global.
Work Experience
Accounts administrator
Cerco Systems, London
August 2015–Present
Processed and digitised 500+ physical invoices per week, exceeding input targets by 10% plus.
Carried out data entry for documents that weren't machine readable, achieving an accuracy rate of 99% plus.
Monitored and distributed incoming post and dealt with outgoing DX deliveries, ensuring all business critical documents were delivered with service level agreements.
Suggested a system of administrator 'specialisations' to allow admin team to serve specific teams more effectively, ultimately saving eight hours per month through faster work.
Handled direct telephone enquiries from account holders, achieving an average call completion time of six minutes, compared to a target of eight minutes.
Education
A-levels: Business Studies, Computer Science, Accounting. September 2013–June 2015
Westbury College, London

Skills
Software. Advanced user of Sage and QuickBooks.
Phone systems. Advanced user of Avaya OneCloud
Attention to detail. Spotted errors in outgoing invoices that prevented losses of £1000+.
Organisation and planning. Prioritised time sensitive tasks such as month end reconciliation support.
Discretion. Maintained complete confidentiality about business sensitive information.
Certificates
Level 2 NVQ Award in Business and Administration
Now you know what makes a good CV. Let's take a look at modern CV templates:
1. Orange creative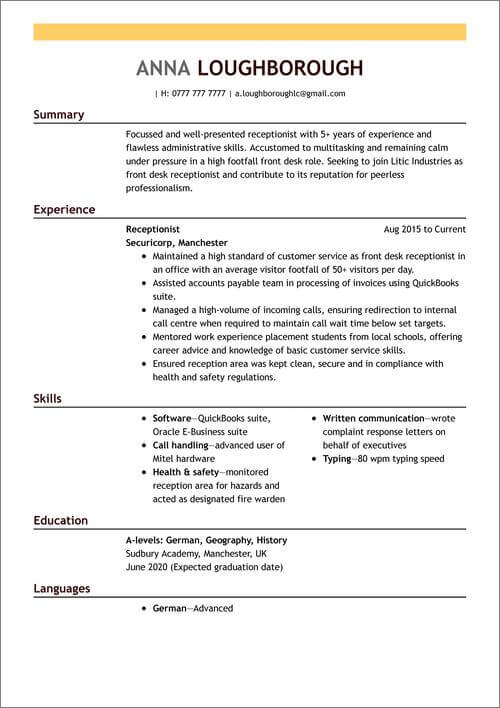 This modern CV template makes use of a warm splash of orange to give it a contemporary look. Splitting the candidate's name into two different colours adds to the modern feel. And like all of the examples you'll see, you can download this modern CV template in Word or PDF.
Highly recommended for an artist CV.
2. Light blue creative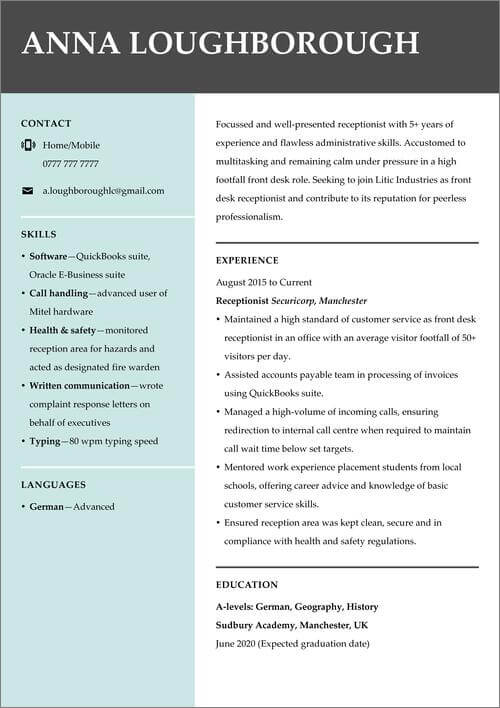 Our next modern CV combines up to date looks with interview winning features. It's neatly divided into three sections with a dark CV header, duck egg blue sidebar featuring the candidates personal details and CV skills, and a generous white column for the remainder of the CV sections. What's more, it remains fully ATS compatible, so you won't have any issues with it being rejected by the software used to scan incoming job applications.
Highly recommended for a warehouse operative CV.
3. Electric blue creative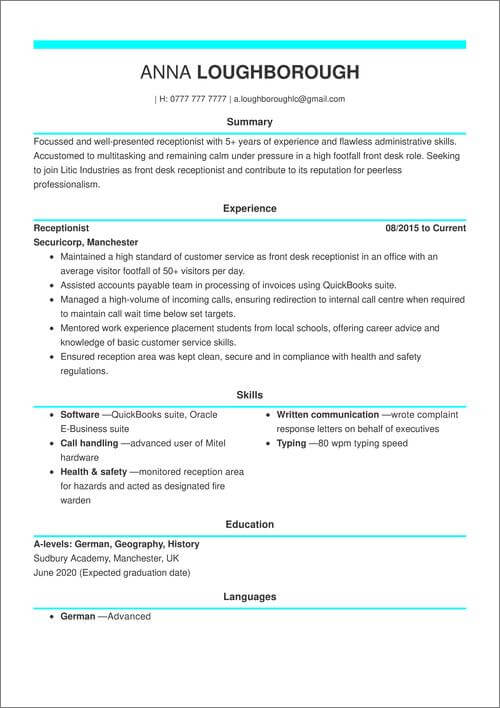 Here's a modern CV template that's bound to spark some interest with it's bright blue highlights. Eye-catching without being over the top, it maintains a classic CV layout and the full page width format allows plenty of room to fill in your work experience section.
Highly recommended for a pharmacist CV.
4. Red modern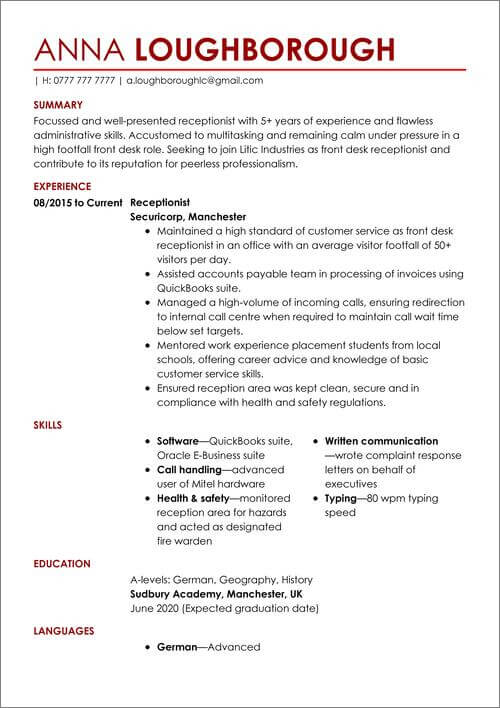 Red can be a tough colour to get right. Make it too bright and it can look aggressive but this modern CV template uses a dark shade of crimson for a professional toned-down look. And apart from the CV header the use of colour extends to section headings too, helping to guide the reader to important information.
Highly recommended for a medical CV.
5. Creative green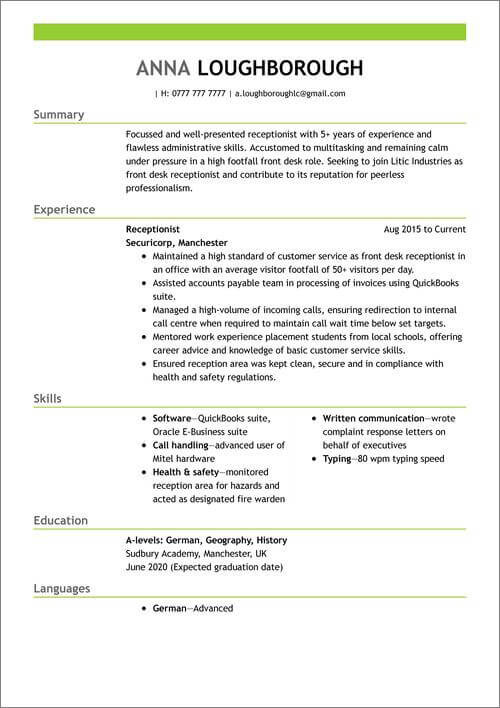 According to colour psychology, green is considered to be calming and peaceful. So this template is a great choice for professions requiring a level head and caring demeanour. And like all of our templates it's super easy to use, just type your content into our CV builder and it does the rest, giving you perfect results every time. That's something you won't get with most free modern CV templates.
Highly recommended for a care assistant CV.
6. Blue modern header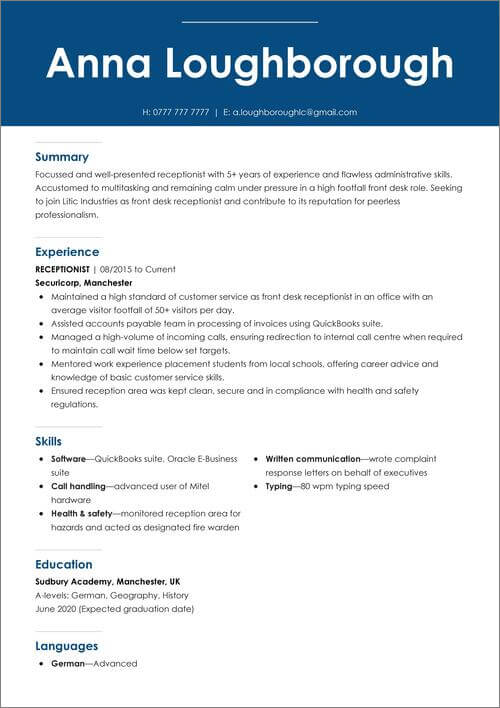 Make a bold statement with this striking modern CV template. The broad blue header really makes your name leap off the page. After all a CV is essentially an advert promoting you as the product and this does a great job of emphasising your personal brand. It also features a full page width single column format, giving you plenty of room to fit all your content from your CV summary onwards.
Highly recommended for an administrator CV.
7. Blue modern accents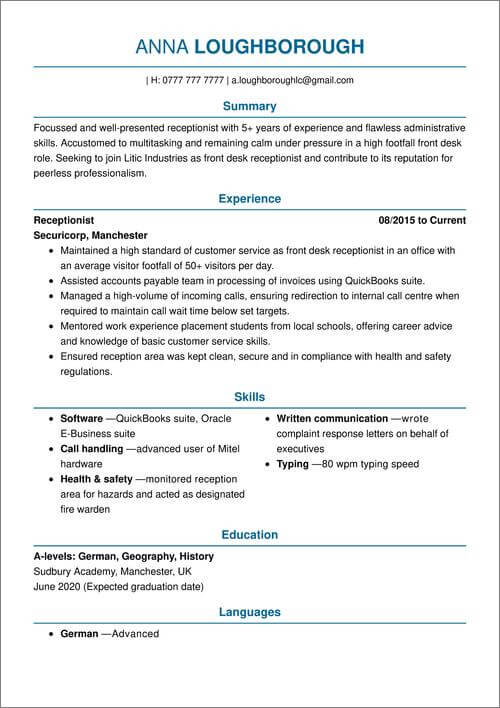 You've probably noticed we use a lot of blue in our modern CV templates. That's because it's been proven to be the world's favourite colour, so it's bound to have a wide appeal. It also conveys a sense of solid corporate dependability so it's the perfect shade for use in job applications. This example balances a classic CV format with blue highlights for a sophisticated feel.
Highly recommended for a data analyst CV.
A strong CV summary will convince the recruiter you're the perfect candidate. Save time and choose a ready-made personal statement written by career experts and adjust it to your needs in the LiveCareer CV builder.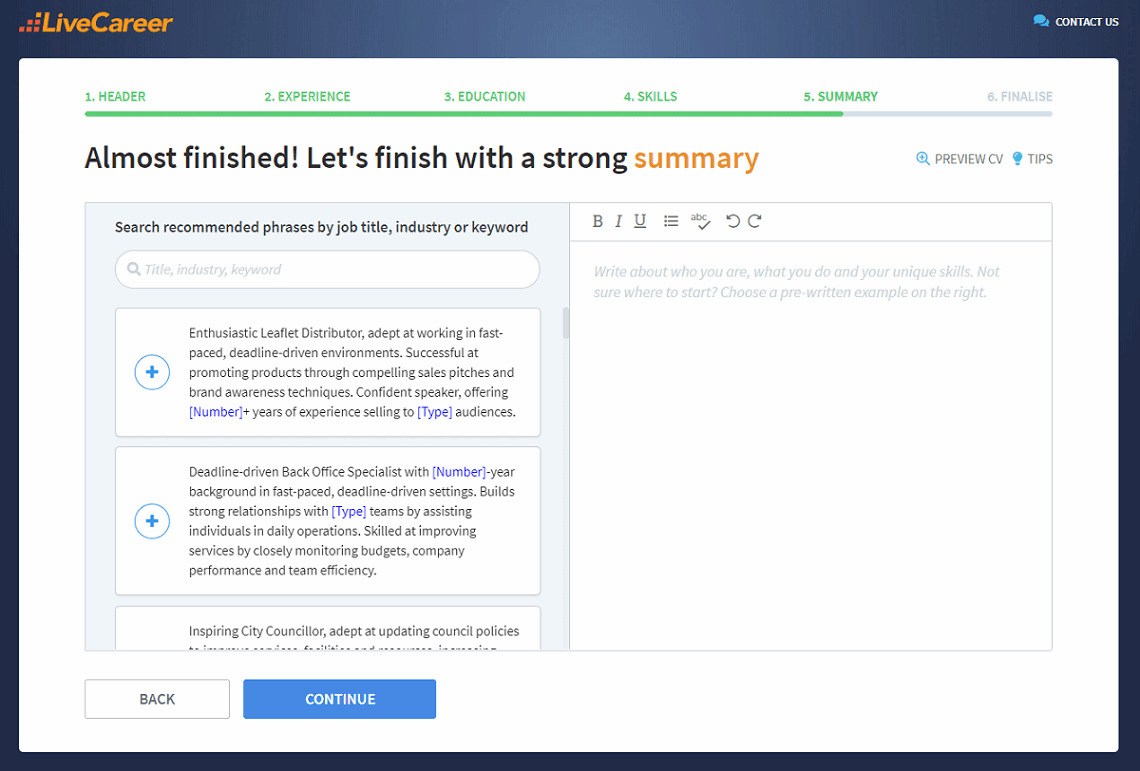 8. Bold professional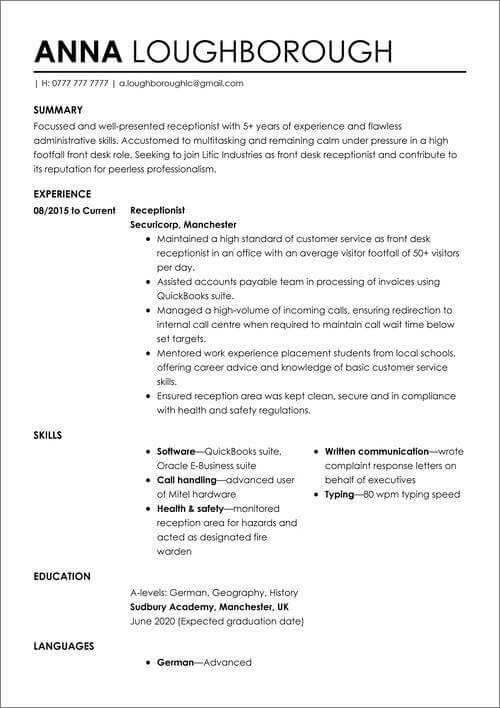 The second half of our modern CV template list features a selection of monochrome examples. All of them prove that you don't need bright colour to create an effective modern CV. This one is no exception. It uses an eye-catching large CV font to emphasise the candidate's name and moves down to a body that's a perfect balance between content and white space.
Highly recommended for a cleaner CV.
9. Centred executive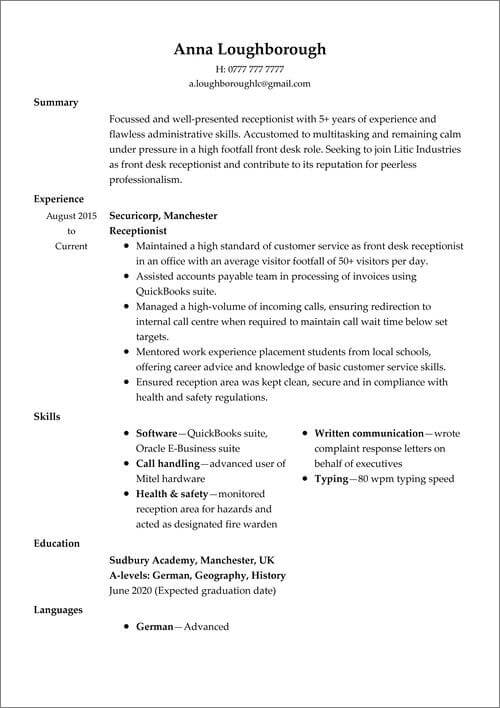 Subtle changes can make a big difference. In the case of this example it's simply a case of centering the header to add visual balance. By contrast the section headings remain left-aligned and in a standard font size. These small changes help to transform it into a truly modern CV template. And like all of our examples, this one is a modern CV template in UK format. Many free examples are in American resume format, which isn't optimised for the British job market.
Highly recommended for a shop assistant CV.
10. Business professional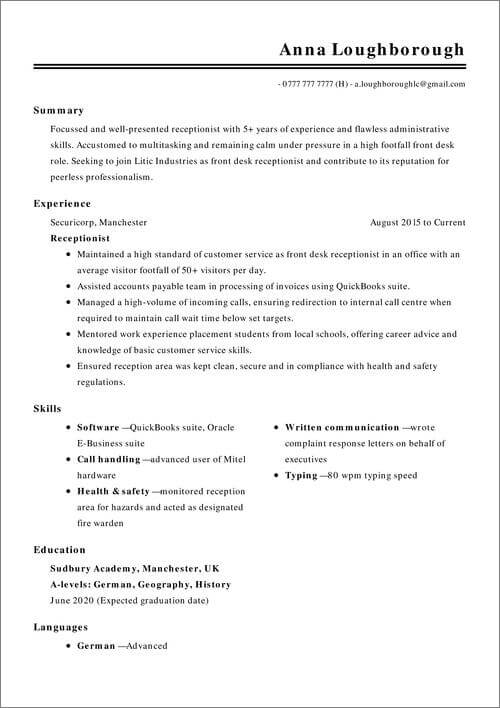 This modern CV template does exactly what it says on the tin. The clean lines of the CV header give it the feel of a slick corporate letterhead, so it's a great choice if you want to give a professional impression.
Highly recommended for an account manager CV.
11. Corporate business card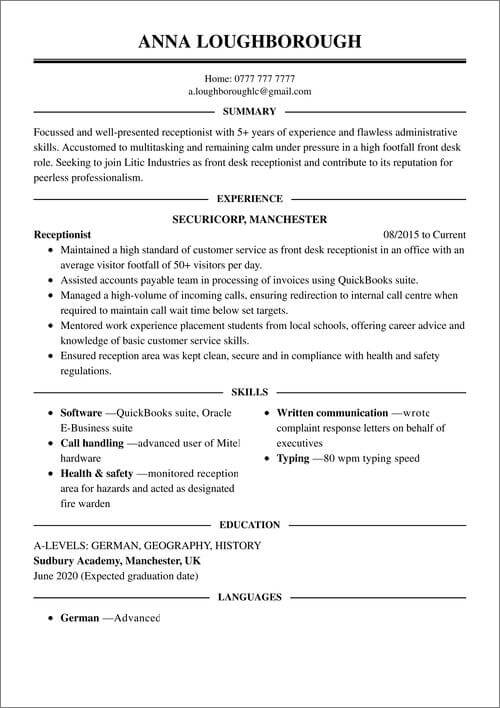 Now we move from a corporate letterhead to a corporate business card. The bold header and clean lines create an easy-to-read CV structure that's reminiscent of a classic business card. A perfect modern CV template for candidates who want to appear well-organised and reliable.
Highly recommended for a digital marketing CV.
12. One page modern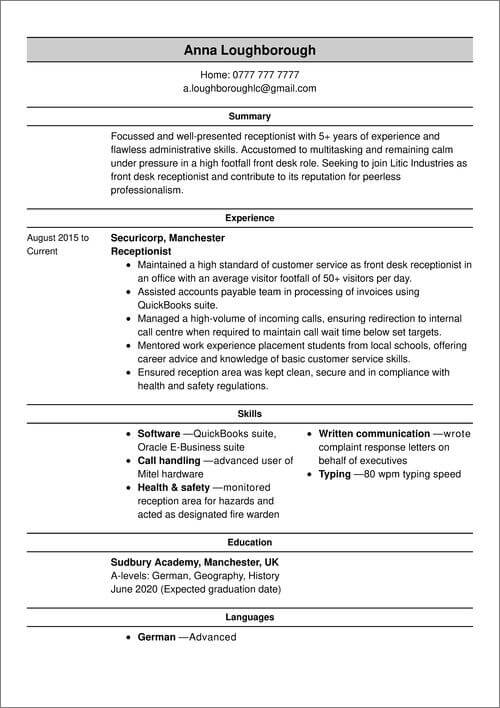 You've probably guessed already, but this modern CV template is perfect for writing a one-page CV. It makes use of a CV format that maximises space while staying readable, so you'll find it easy to fit in absolutely everything, even extra sections like hobbies and interests.
Highly recommended for an investment banking CV.
13. Professional minimalist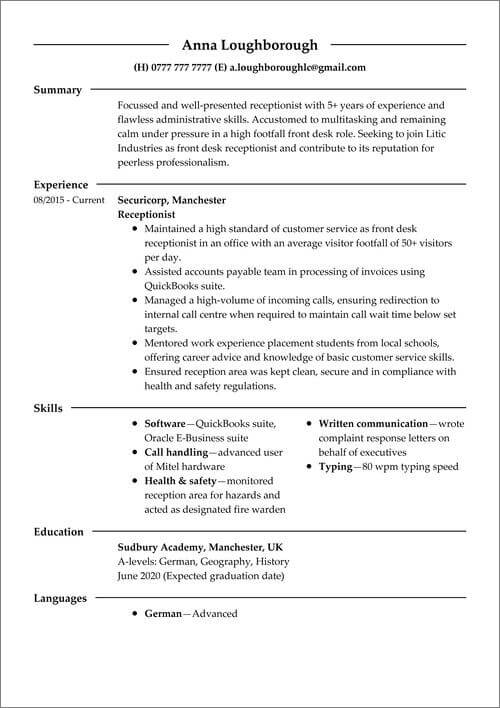 Minimalism and modern design go hand in hand, and this template is a masterclass in stripped back simplicity. No bells and whistles, but neatly arranged and structured for a stylishly spartan feel.
Highly recommended for a video editor CV.
14. Simple scanner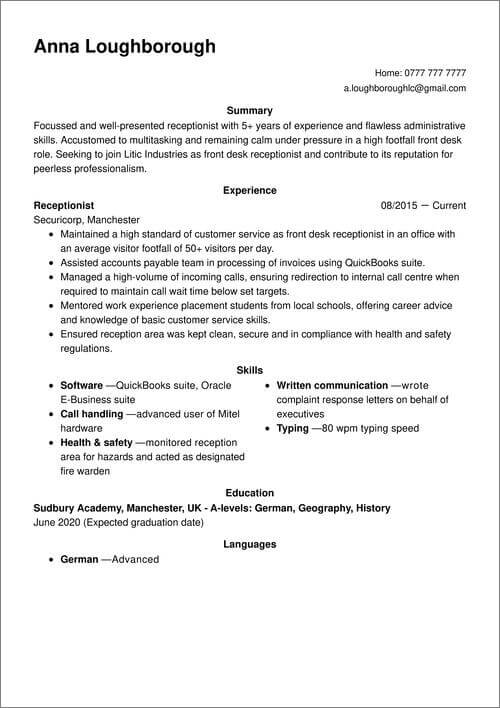 This is our last CV template and it certainly has a clever modern trick up its sleeve. By shifting the text alignment from left to centre to right it helps to guide the eye across the full page width from top to bottom. It's all too easy for a busy recruiter to rush through and miss important info, but this example solves that problem well.
Highly recommended for a PhD CV.
You don't have to be a CV writing expert. In the LiveCareer CV builder you'll find ready-made content for every industry and position, which you can then add with a single click.