Canva's graphic design platform offers a wide range of options for users to create distinctive visual content. It can even help your job search with a selection of Canva CV templates. Without a doubt, they're striking and eye-catching. But they're not perfectly optimised for the UK job market and often contain features that can actually put recruiters off.
You're going to see some examples from the Canva CV maker. We will explain their pros and cons, and then give you some more effective alternatives.
Create an effective CV in minutes. Choose a professional CV template and fill in every section of your CV in a flash using ready-made content and expert tips.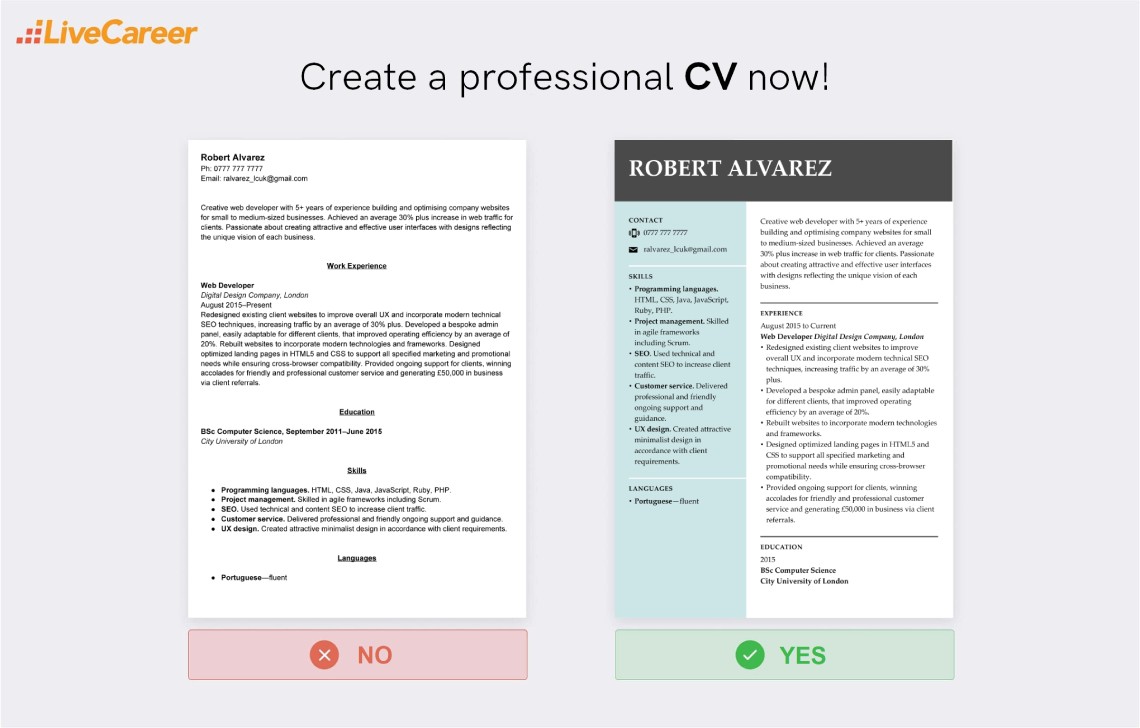 The LiveCareer online CV maker lets you build a professional CV fast and download it as a PDF or DOC.
Looking for different CV templates? Check these guides:
Canva CV template example
Robert Alvarez
Ph: 0777 777 7777
Email: ralvarez_lcuk@gmail.com
Creative web developer with 5+ years of experience building and optimising company websites for small to medium-sized businesses. Achieved an average 30% plus increase in web traffic for clients. Passionate about creating attractive and effective user interfaces with designs reflecting the unique vision of each business.
Work Experience
Web Developer
Digital Design Company, London
August 2015–Present
Redesigned existing client websites to improve overall UX and incorporate modern technical SEO techniques, increasing traffic by an average of 30% plus.
Developed a bespoke admin panel, easily adaptable for different clients, that improved operating efficiency by an average of 20%.
Rebuilt websites to incorporate modern technologies and frameworks.
Designed optimized landing pages in HTML5 and CSS to support all specified marketing and promotional needs while ensuring cross-browser compatibility.
Provided ongoing support for clients, winning accolades for friendly and professional customer service and generating £50,000 in business via client referrals.
Education
BSc Computer Science, September 2011–June 2015
City University of London
Skills
Programming languages. HTML, CSS, Java, JavaScript, Ruby, PHP.
Project management. Skilled in agile frameworks including Scrum.
SEO. Used technical and content SEO to increase client traffic.
Customer service. Delivered professional and friendly ongoing support and guidance.
UX design. Created attractive minimalist design in accordance with client requirements.
Languages
1. Black and white modern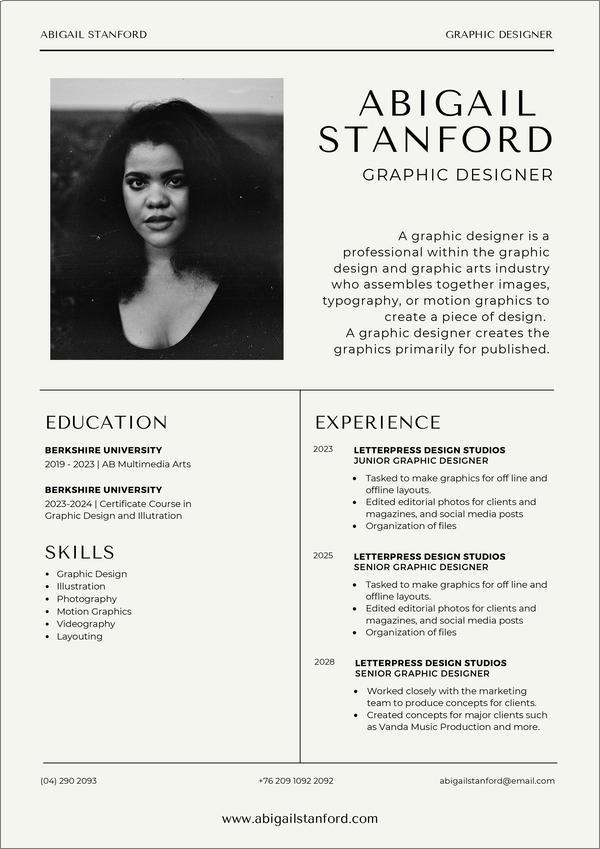 This is definitely an attractive CV template with its simple monochrome looks. But there's one significant problem. It includes a photo. This isn't standard practice in the UK and it puts recruiters off.
Here is the link for this Canva CV template.
2. Turquoise stripe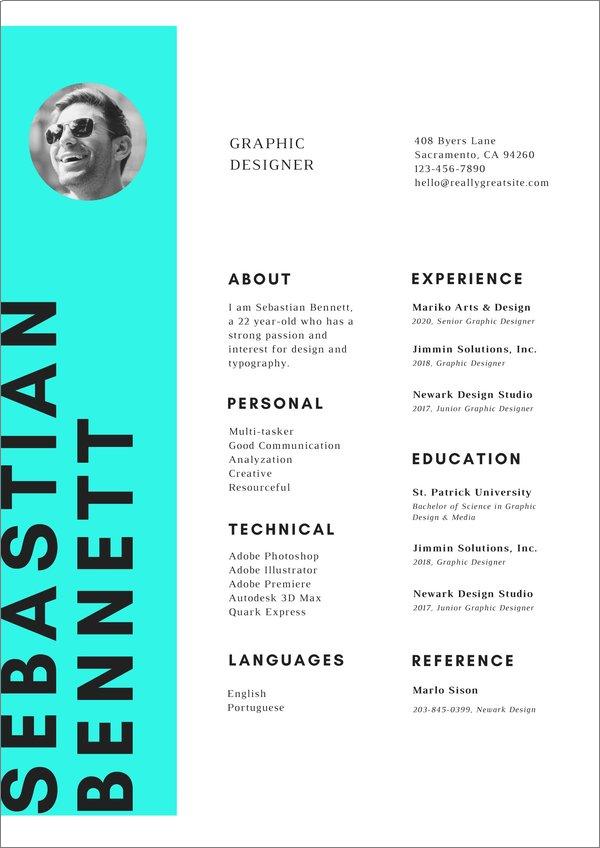 Another striking template at first glance, but also with some potential pitfalls. The vertical alignment in the turquoise sidebar looks good but might confuse ATS software. Most companies use ATS to automatically scan incoming CVs, and unusual layouts like this can make them unreadable and lead to rejection.
Here is the link for this Canva CV template.
3. Black minimalist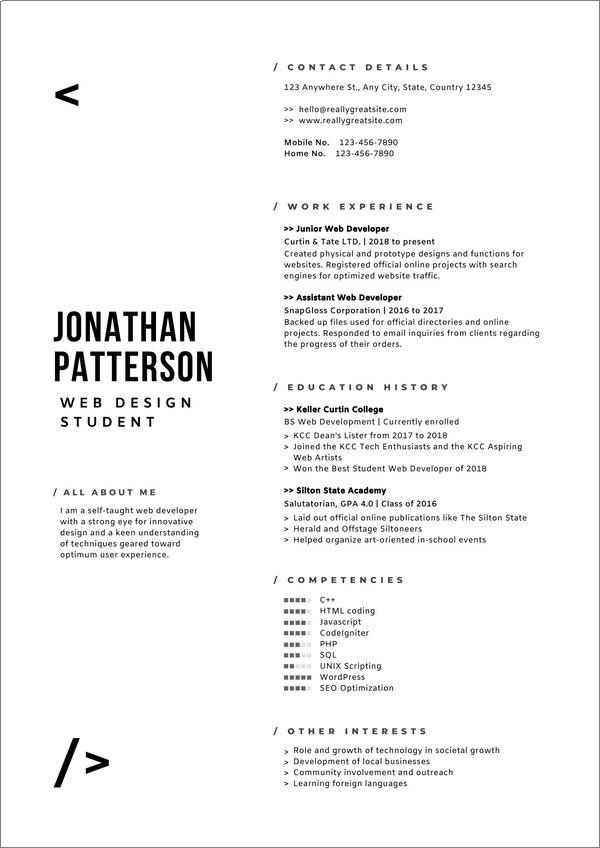 This template is perfectly suited for a web developer CV with its elements that are reminiscent of HTML code but that doesn't mean it's ideal for UK recruitment purposes. It uses an 'All About Me' section rather than a personal profile or CV summary, and that's simply not the best solution for selling yourself to employers.
Here is the link for this Canva CV template.
4. Purple and yellow creative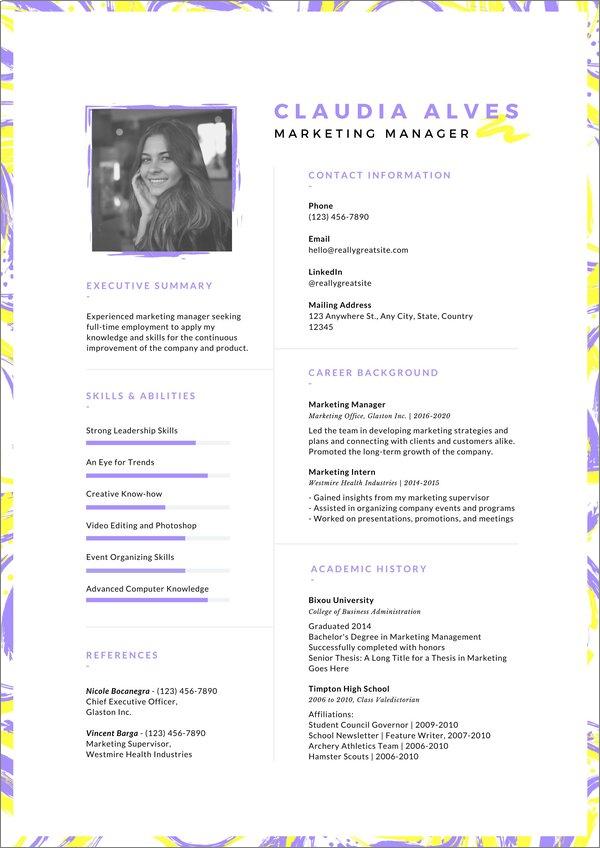 Good use of colour, but there's that pesky photo again and many of these CV examples don't seem to be designed by career experts. It uses the slightly pompous sounding heading of 'academic history' to describe what's simply the education section. Then it wastes space with a references section too. We don't recommend you include references on your CV unless specifically asked too, it should never be automatic.
Here is the link for this Canva CV template.
5. Orange and cream duotone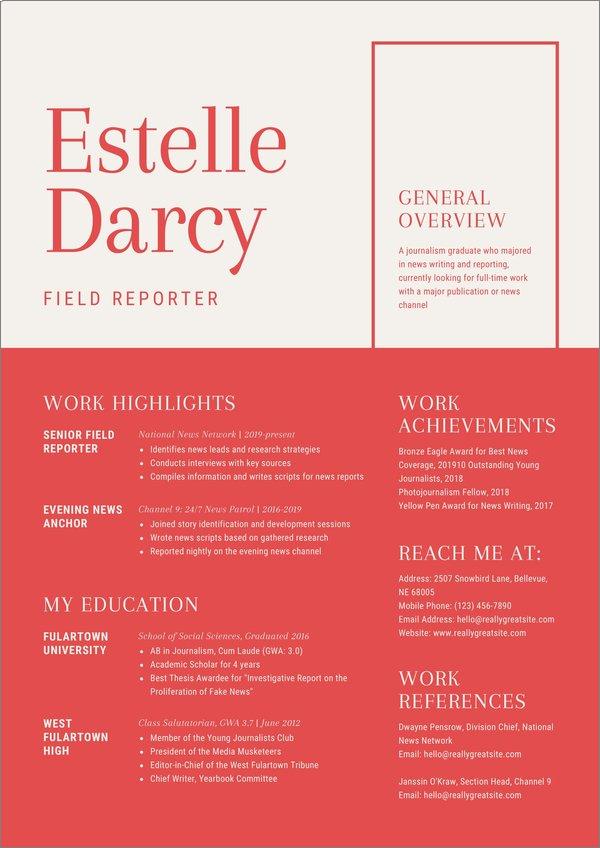 This is another attractive template but the CV layout won't do you any favours. The CV header takes up almost half of the page making it a big ask to fit the rest of your content in. Writing a one-page CV would be almost impossible with a CV format like this.
Here is the link for this Canva CV template.
6. Red Dot and circle minimalist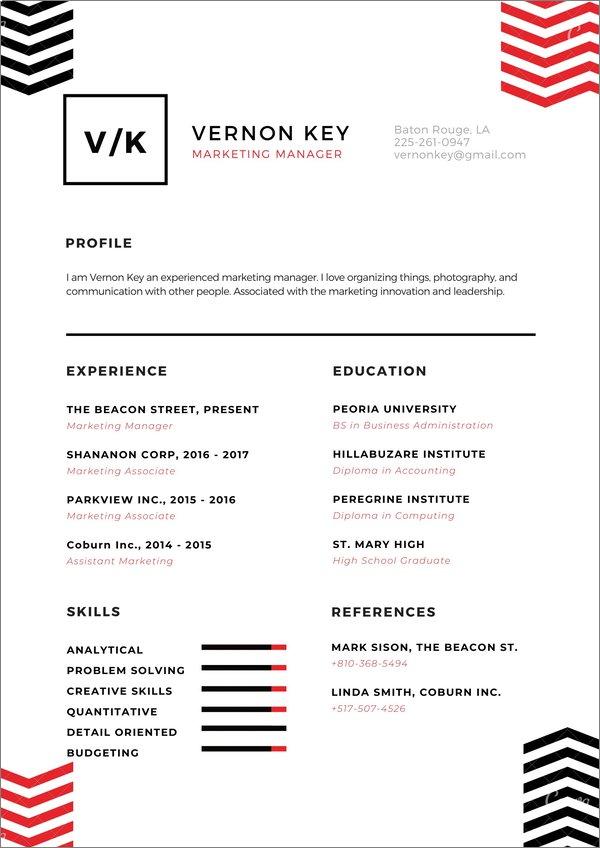 Here we have a CV example that's pleasingly symmetrical, but look a bit closer and you'll see there's vital information missing. There are no details in the CV work experience section. This is the most important section of your CV and you need to fill it with job-winning accomplishments, not just a bare-bones list of previous employers.
Here is the link for this Canva CV template.
7. Blue and white grid academic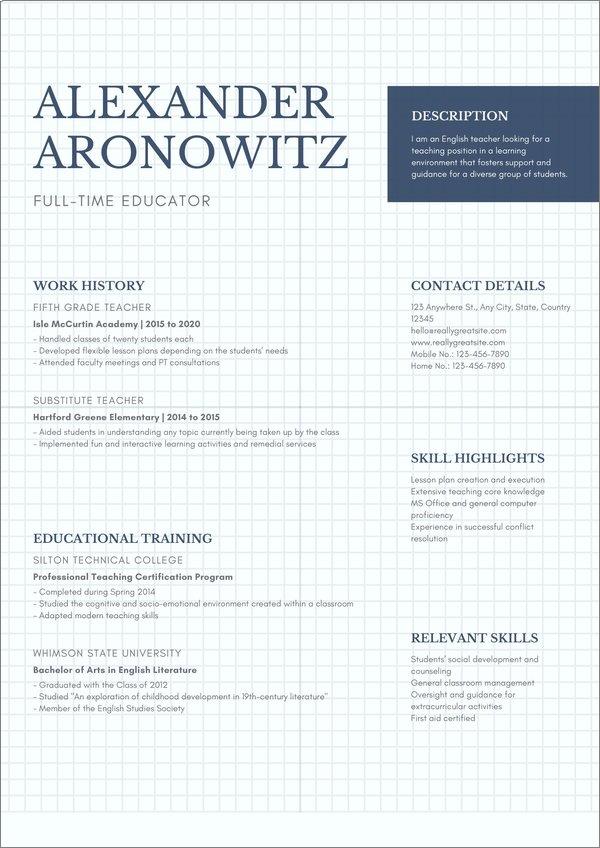 An essential feature of a successful CV is that it should be clear and easily readable. The grid design here certainly doesn't make it easy on the eye and is likely to frustrate recruiters. The best CV templates are clean and simple.
Here is the link for this Canva CV template.
8. Pale gold laurel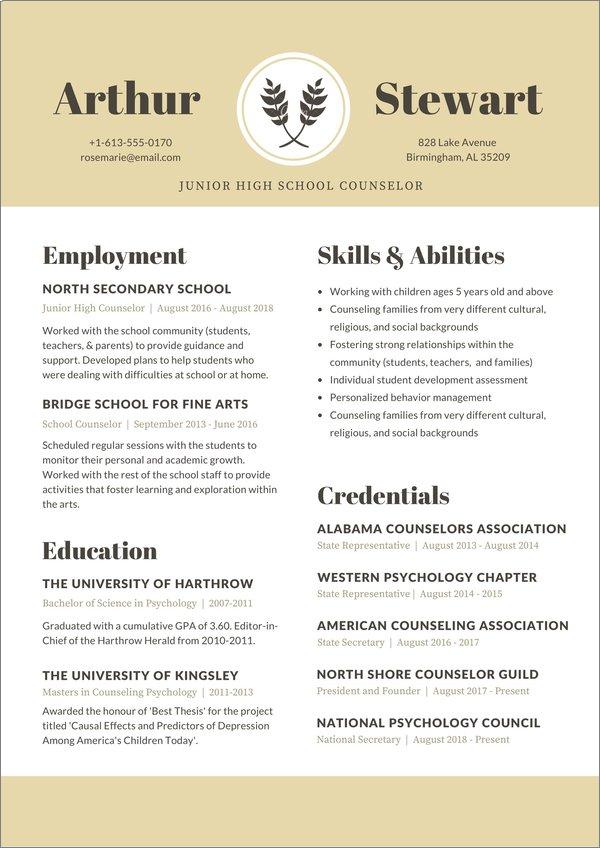 This CV example is also beautifully designed, but again, not a good choice for the UK job market. Part of this comes from the differences of a resume vs CV. Documents designed for US recruitment don't always translate well to the UK. It's also completely missing a CV summary and the skills section reads more like a work experience section. It should contain a mix of soft skills and hard skills, not a list of work tasks.
Here is the link for this Canva CV template.
A strong CV summary will convince the recruiter you're the perfect candidate. Save time and choose a ready-made personal statement written by career experts and adjust it to your needs in the LiveCareer CV builder.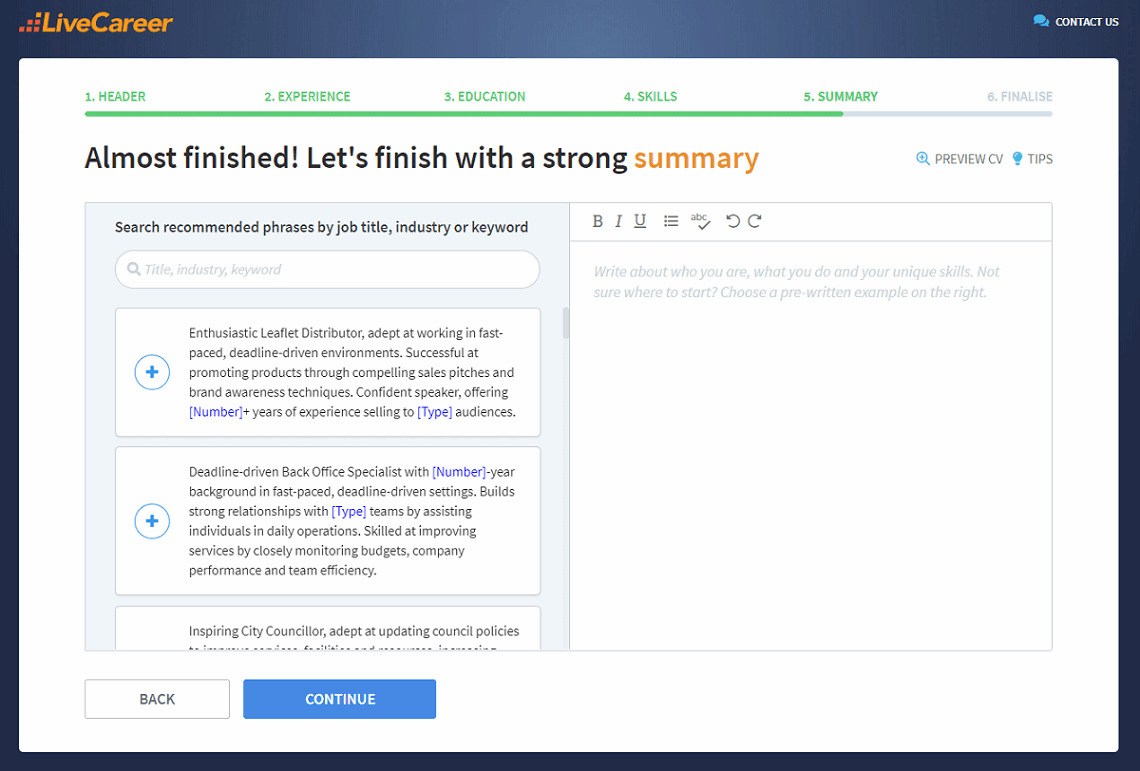 9. Green pink photo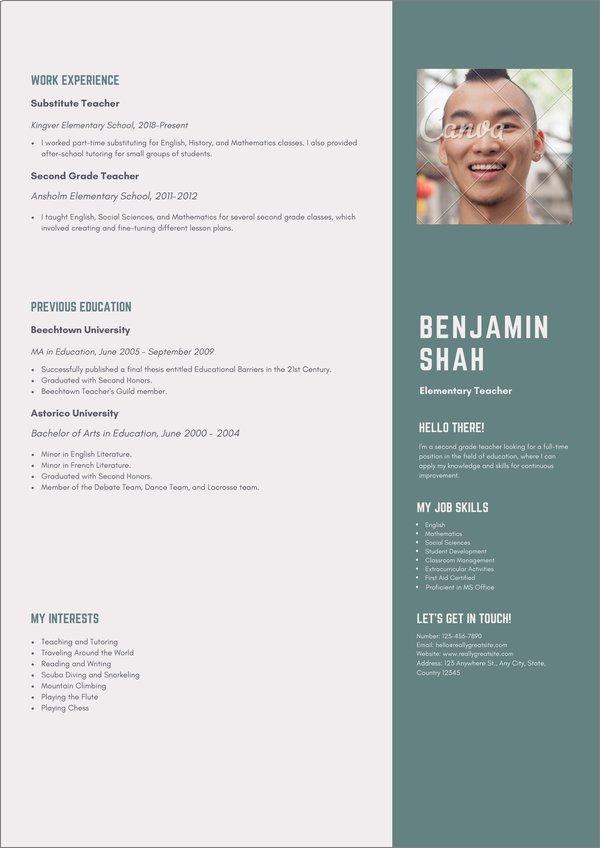 Once again, we have a photo but look a little closer and there's some other issues too. Headings saying 'Hello There!' and 'Let's Get in Touch' are certainly cheerful, but far too casual for a formal job application. The CV font is also much too small in places, it needs to be 11–12 points for good readability.
Here is the link for this Canva CV template.
10. Pink and aqua bright dotted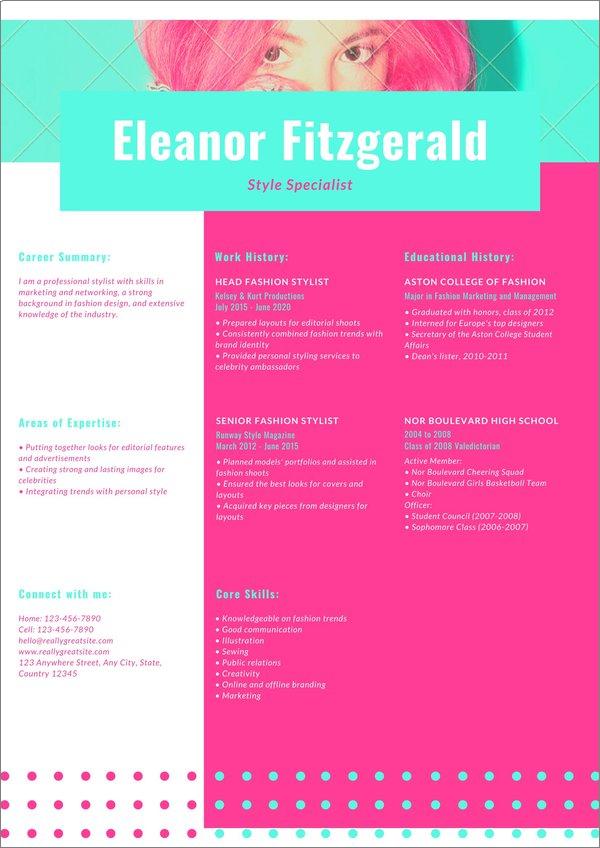 The hint is in the name. This CV sample is far too bright for most purposes. It might work for a style specialist as shown in the example, but for more conservative jobs a combination of neon pink and aqua will put recruiters off. White text on a pink background is also hard to read.
Here is the link for this Canva CV template.
Canva CV maker alternatives
So you've just seen 10 examples of Canva CV design and learned why they aren't ideal for the British job market. Here are a few examples from that are the perfect CV alternative to Canva CV templates. All of them expertly designed to combine good looks with all the features necessary to win over recruiters.
1. Light blue creative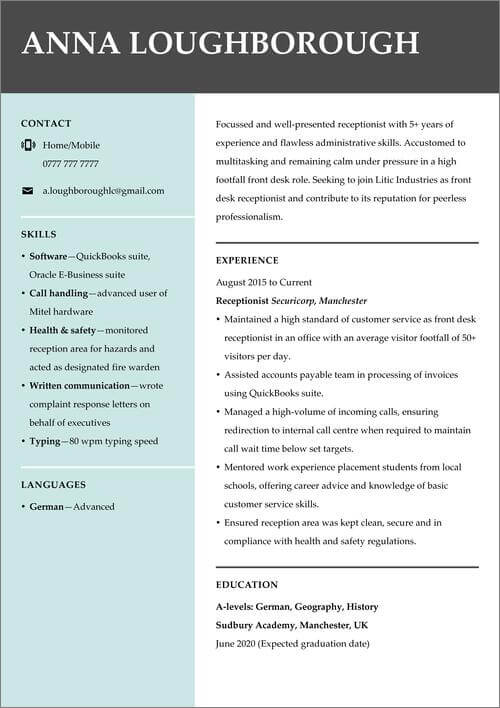 This CV template balances good looks with every element needed to create the perfect CV format. It's structured to let you include every essential CV section and be easily readable. Plus our CV builder makes writing your CV easy. All you need to do is enter your content, make any tweaks you desire, and the CV builder does the rest, giving you perfect results every time.
2. Blue modern header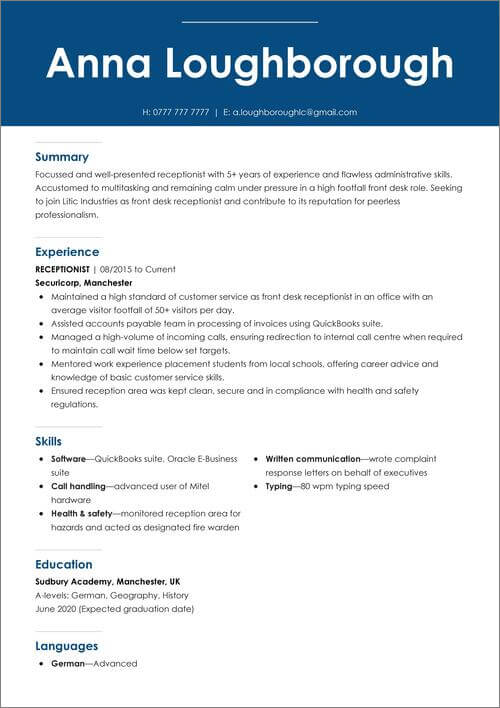 Here's another visually striking CV template. It's bold blue CV header is eye-catching and gives it a fresh, modern look. The full page width single-column format is generous too, giving you plenty of space to create a one-page CV. And like all of our templates, you'll get expert advice as you write so your content is just as impressive as the CV design.
3. Creative green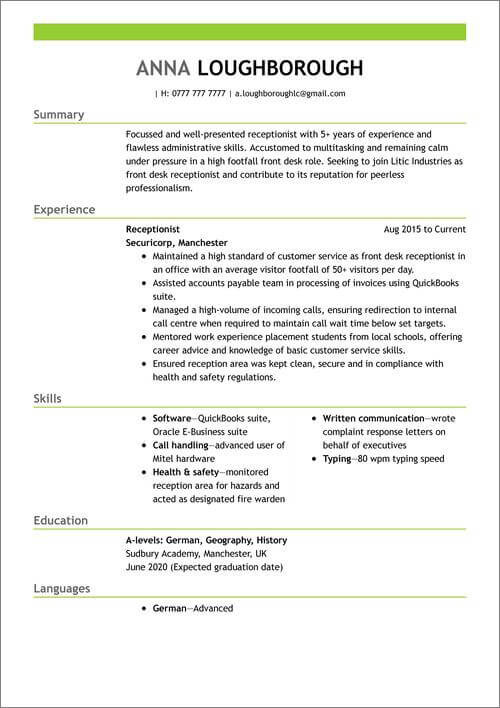 Colour makes a great addition to your CV template, but it's best to stay subtle. This example uses a single stripe of green that's eye-catching without being off-putting. Green is also regarded as a universally well-liked colour, so you can be sure of having a wide appeal. And if you're really stuck when you're writing, our CV maker has hundreds of pre-written text examples to help inspire you. That's something that Canva can't do.
4. Red modern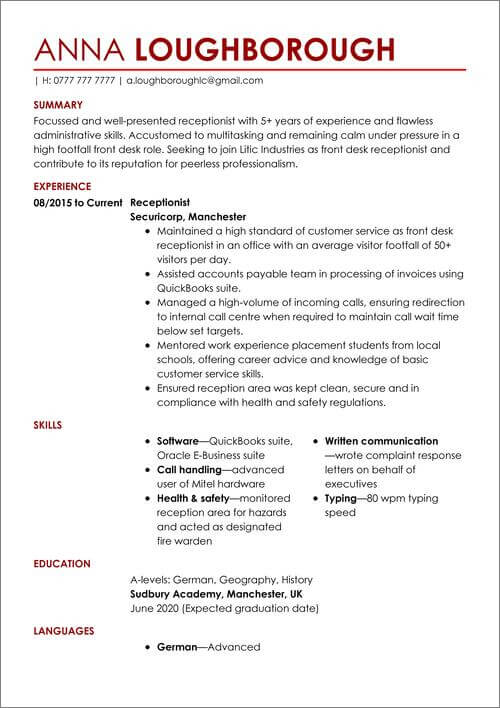 This CV template uses dark red text for an elegant and professional look. It's also easy to read and contains all of the information that recruiters are looking for, clearly and correctly labelled. Plus you get the flexibility of downloading your finished CV as an editable Word document, or as a PDF.
5. Electric blue creative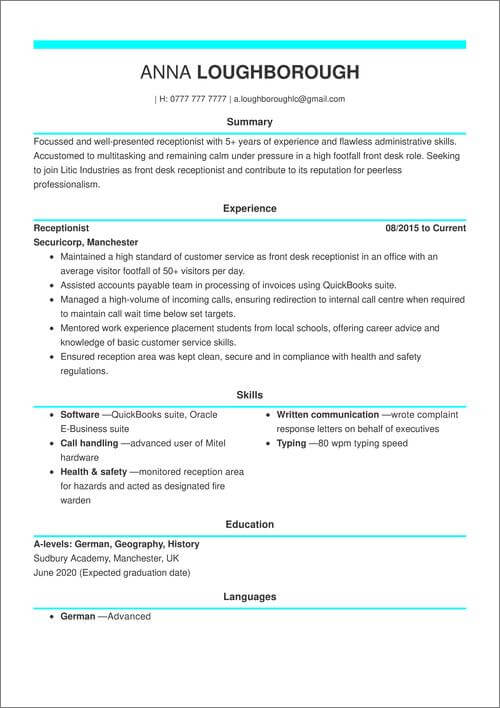 This template's stripes of bright blue make sure it'll be noticed. And if this style doesn't suit you, we have a total of 14 CV templates for you to choose from. Each one professionally presented and designed for job hunting success. You'll also get access to all of our guides, covering every aspect of how to write a CV.
You don't have to be a CV writing expert. In the LiveCareer CV builder you'll find ready-made content for every industry and position, which you can then add with a single click.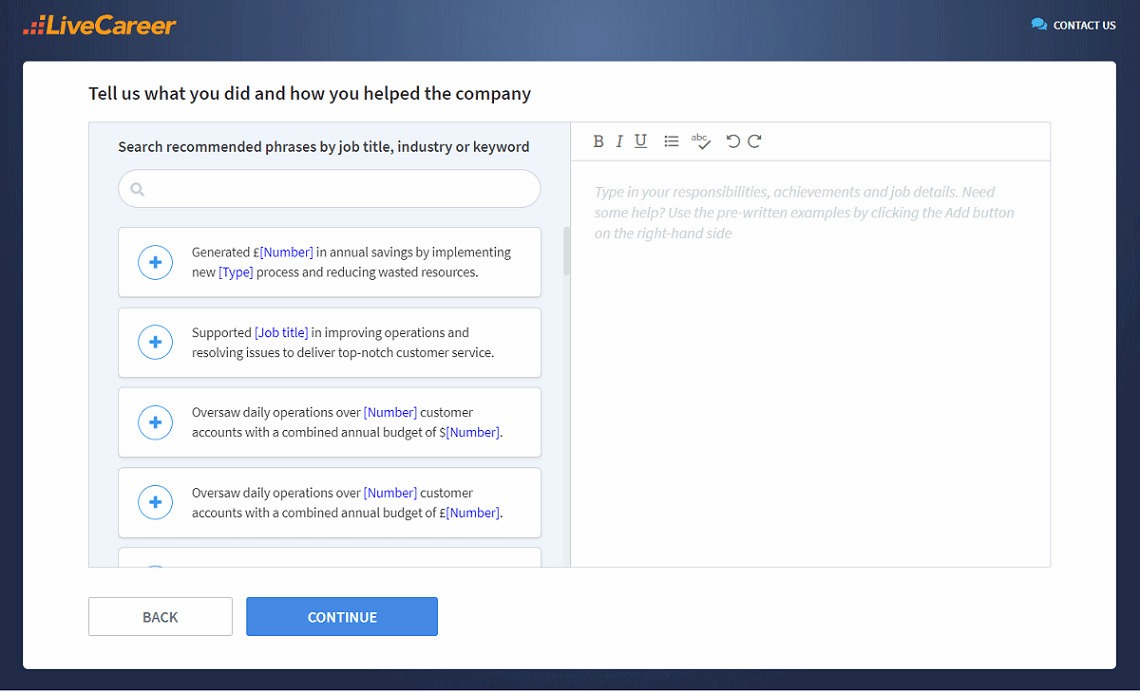 Thanks for reading. Did you like our selection of Canva CV templates? If you have any questions or comments please ask away in the comments section and we'll be happy to help.
How we review the content at LiveCareer
Our editorial team has reviewed this article for compliance with Livecareer's editorial guidelines. It's to ensure that our expert advice and recommendations are consistent across all our career guides and align with current CV and cover letter writing standards and trends. We're trusted by over 10 million job seekers, supporting them on their way to finding their dream job. Each article is preceded by research and scrutiny to ensure our content responds to current market trends and demand.
About the author
LiveCareer Editorial Team
Since 2005, the LiveCareer Team has been helping job seekers advance their careers. In our in-depth guides, we share insider tips and the most effective CV and cover letter writing techniques so that you can beat recruiters in the hiring game and land your next job fast. Also, make sure to check out our state-of-the-art CV and cover letter builder—professional, intuitive, and fully in line with modern HR standards. Trusted by 10 million users worldwide.