There are several set formats you could use to structure your CV. For the three main CV formats—chronological, skills-based, and combination—the education section is identical, and it is reverse-chronological. Academic CVs handle the education section differently.
Whether you use an academic CV format or one of the remaining three, you should detail your education by starting from your most recent qualifications and working your way back to the earliest. Not sure how? Don't worry, we'll cover the education section topic in enough detail.
In this guide, you'll get:
A complex guide on how to detail your education on a CV.
Expert CV education examples you can use as models.
How to write GCEs on a CV and different types of degrees.
Create an effective CV in minutes. Choose a professional CV template and fill in every section of your CV in a flash using ready-made content and expert tips.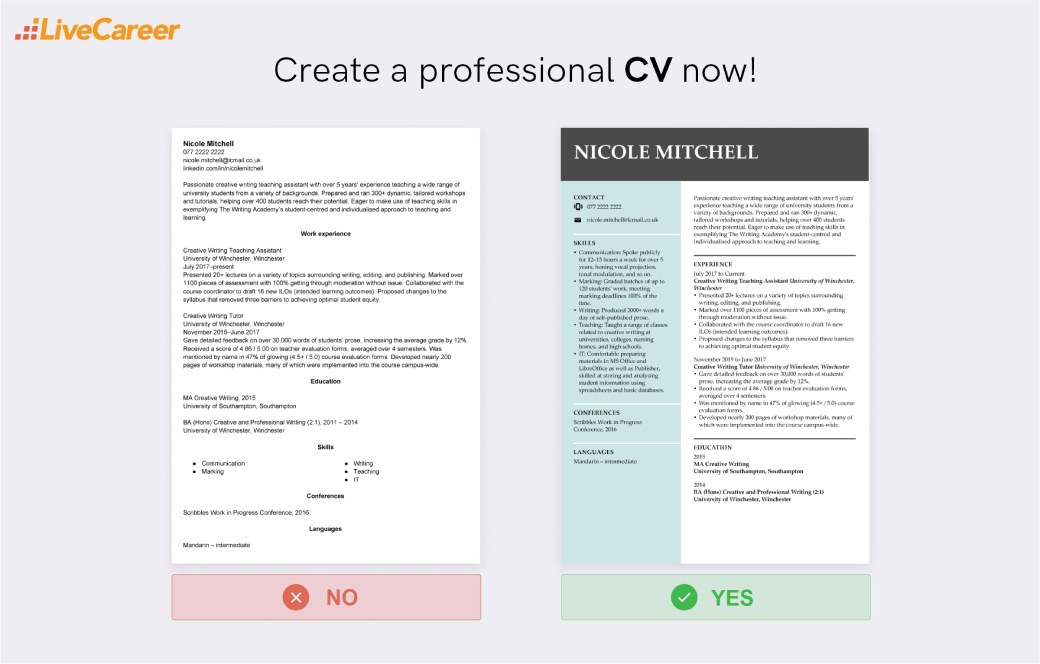 The LiveCareer online CV maker lets you build a professional CV fast and download it as a PDF or DOC.
Striving to upgrade your CV and make it more professional? See these guides:
Example education section on a CV
Nicole Mitchell
077 2222 2222
nicole.mitchell@lcmail.co.uk
linkedin.com/in/nicolemitchell
Passionate creative writing teaching assistant with over 5 years' experience teaching a wide range of university students from a variety of backgrounds. Prepared and ran 300+ dynamic, tailored workshops and tutorials, helping over 400 students reach their potential. Eager to make use of teaching skills in exemplifying The Writing Academy's student-centred and individualised approach to teaching and learning.
Work experience
Creative Writing Teaching Assistant
University of Winchester, Winchester
July 2017–present
Presented 20+ lectures on a variety of topics surrounding writing, editing, and publishing.
Marked over 1100 pieces of assessment with 100% getting through moderation without issue.
Collaborated with the course coordinator to draft 16 new ILOs (intended learning outcomes).
Proposed changes to the syllabus that removed three barriers to achieving optimal student equity.
Creative Writing Tutor
University of Winchester, Winchester
November 2015–June 2017
Gave detailed feedback on over 30,000 words of students' prose, increasing the average grade by 12%.
Received a score of 4.86 / 5.00 on teacher evaluation forms, averaged over 4 semesters.
Was mentioned by name in 47% of glowing (4.5+ / 5.0) course evaluation forms.
Developed nearly 200 pages of workshop materials, many of which were implemented into the course campus-wide.
Education
MA Creative Writing, 2015
University of Southampton, Southampton
BA (Hons) Creative and Professional Writing (2:1), 2011 – 2014
University of Winchester, Winchester
Skills
Communication: Spoke publicly for 12–15 hours a week for over 5 years, honing vocal projection, tonal modulation, and so on.
Marking: Graded batches of up to 120 students' work, meeting marking deadlines 100% of the time.
Writing: Produced 2000+ words a day of self-published prose.
Teaching: Taught a range of classes related to creative writing at universities, colleges, nursing homes, and high schools.
IT: Comfortable preparing materials in MS Office and LibreOffice as well as Publisher, skilled at storing and analysing student information using spreadsheets and basic databases.
Conferences
Scribbles Work in Progress Conference, 2016
Languages
Mandarin – intermediate
1. High school education on your CV
GCSEs in Mathematics and English are generally considered to be the bare minimum level of education needed to perform almost any job. Does this mean that everyone who has these GCSEs should include that fact in their CV education section?
If high school (whether GCSE- or A-level) represents your highest formal academic qualification, then you should definitely include it in your CV. If you've completed one or more post-secondary qualifications and have some work experience under your belt, though, then you can leave high school off your CV entirely.
Use the following education section CV templates to set out your high school education:
A-levels: [Subject Name 1], [Subject Name 2], [Subject Name 3]
[School Name], [School Location], [Years Attended]
[n] GCSEs (including Mathematics and English)
[School Name], [School Location], [Years Attended]
where n is the number of GCSEs you completed.
This is all you ought to include in your CV. There's no need to mention grades and list GCSEs (aside from making it clear that you passed Maths and English). Include a country only if you studied abroad, otherwise it's assumed that your school was in the UK.
Check this example to better understand how write GCSEs on a CV:
CV high school qualifications
A-levels: Business Studies, Economics, English
Hawthorn School, Coventry, 2010 – 2012
8 GCSEs (including Mathematics and English)
Hawthorn School, Coventry, 2008 – 2010
2. NVQs and other tertiary qualifications in your CV education section
Do you have an SVQ, NVQ or similar tertiary qualification? Whether an award, certificate, or diploma, post-secondary qualifications are treated the same in your CV. There's no need to list subjects or grades. Include an expected completion date if you're still studying. Stick to the following example:
[Degree Type] [Degree Name], [Years Attended]
[Institution Name], [Institution Location]
NVQ diploma on a CV
NVQ 3 in Retail Operations, 2020 – 2022 (expected graduation date)
Beattie College, Birmingham
A strong CV summary will convince the recruiter you're the perfect candidate. Save time and choose a ready-made personal statement written by career experts and adjust it to your needs in the LiveCareer CV builder.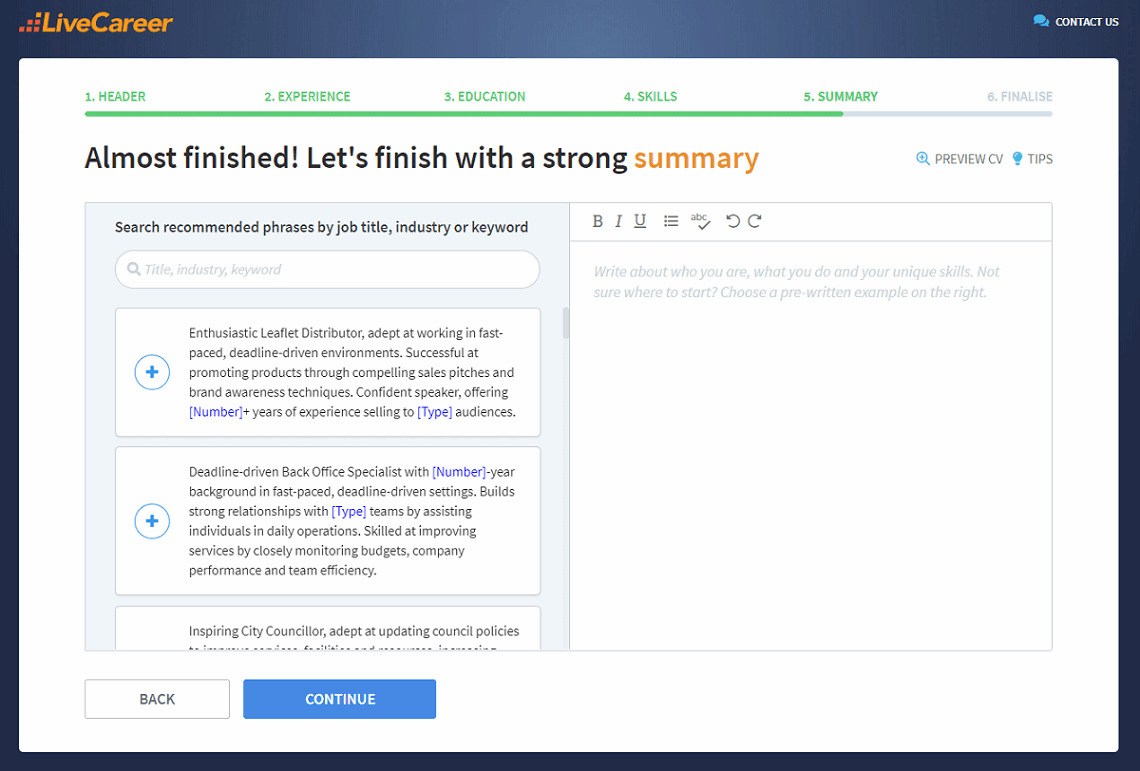 3. Adding university degrees to your CV education section
University degrees are, of course, tertiary qualifications. They're treated just like other kinds of post-secondary awards with the only difference being that some degrees have degree classes associated with them. BA (Hons) or BSc (Hons), for example, are awarded classes. Include the class only if it's a first or 2:1.
Use the following education CV template to list your degrees in reverse-chronological order:
[Degree Type] [Degree Name](Degree Class), [Years Attended]
[University Name], [University Location]
Once again, don't list individual subjects or thesis topics (unless you're writing up an MPhil or research PhD or DPhil) and don't get into any grades other than the degree class.
University degrees on a CV
MA Creative Writing, 2015
University of Southampton, Southampton
BA (Hons) Creative and Professional Writing (2:1), 2011 – 2014
University of Winchester, Winchester
4. A CV education section for academic CVs
Things get a little different when writing an academic CV education section. For non-academic CVs, regardless of the CV format used, the focus is always on experience and skills. In an academic CV, though, it's education that takes centre stage. This means that your education needs to be elaborated a little.
Stick with a reverse-chronological order for your academic qualifications. Use the template below to generate a subheading for each degree. Populate each subheading thus created with one or two bullet points that add relevant details to each degree—achievements, accolades, scholarships, thesis topics, etc.
[Degree Type] [Degree Name](Degree Class), [Years Attended]
[University Name], [University Location]
If you're still completing your latest degree, then include an expected graduation date.
Academic CV education example
PhD English Literature, 2017 – 2020
University of Edinburgh, Edinburgh
Research funded from the Michaels Bursary
Thesis: 'Free Indirect Discourse as Synecdoche: Gnat or Psyche'. Supervisors: Prof. Rex Noir and Dr Jordan Black
MPhil English Literature, 2015 – 2016
University of Southampton, Southampton
BPA scholarship awarded
Thesis: 'Linguistic Assemblages and the Herald of Modernity'. Supervisor: Dr Peta James
BA (Hons) English Literature (1st), 2011 – 2014
University of Winchester, Winchester
Thesis: 'Polyvocal Uniphonies in Joyce's Ulysses'. Supervisor: Dr Tony Cleering
5. Remember to include a cover letter with your CV
No matter how great your CV education section is, it's not going to do you any good if no one even glances at your CV. Not including a cover letter can mean that your CV is passed up without it so much as being read. The only exception here is if you've been specifically asked not to include a cover letter.
A properly set-out cover letter will follow the standard UK business letter format. This means that it'll include a proper cover letter header, the right kind of salutation, and an appropriately matched sign-off. You should end up with a cover letter that's roughly 250–400 words long and fills an A4 page.
The body of your cover letter is where you're unconstrained by the business letter format, it's where you can make a case for why you're the best candidate for the job. Open your letter strong, with an attention-grabbing paragraph that gets recruiters hooked. Showcase your achievements and then wrap up and end on a CTA.
Keep these pointers in mind before sending off your CV
Before a recruiter pores over your CV education section, they're going to react to the overall look of your CV. After forming an impression based on the way your CV looks at arm's length, they'll inevitably scan around and read a little.
Make sure recruiters keep reading long enough to get to your CV education section. To this end:
Use subheadings and plenty of white space to clearly break your CV down into sections.
Choose an appropriate CV font like Noto, Garamond, Liberation or Calibri and keep the size to 11–12 points.
Stick to a maximum overall length of one page per decade of relevant experience, capped at two pages no matter how much experience you have.
Proofread and check your CV for grammar mistakes. Use any web apps that might help you.
Always send your CV in PDF unless asked for a different format. PDF will protect your formatting and layout and should be your go-to format if there are no other instructions.
Lastly, if it's been a week since you submitted your application, call up or fire off a quick email to follow up.
You don't have to be a CV writing expert. In the LiveCareer CV builder you'll find ready-made content for every industry and position, which you can then add with a single click.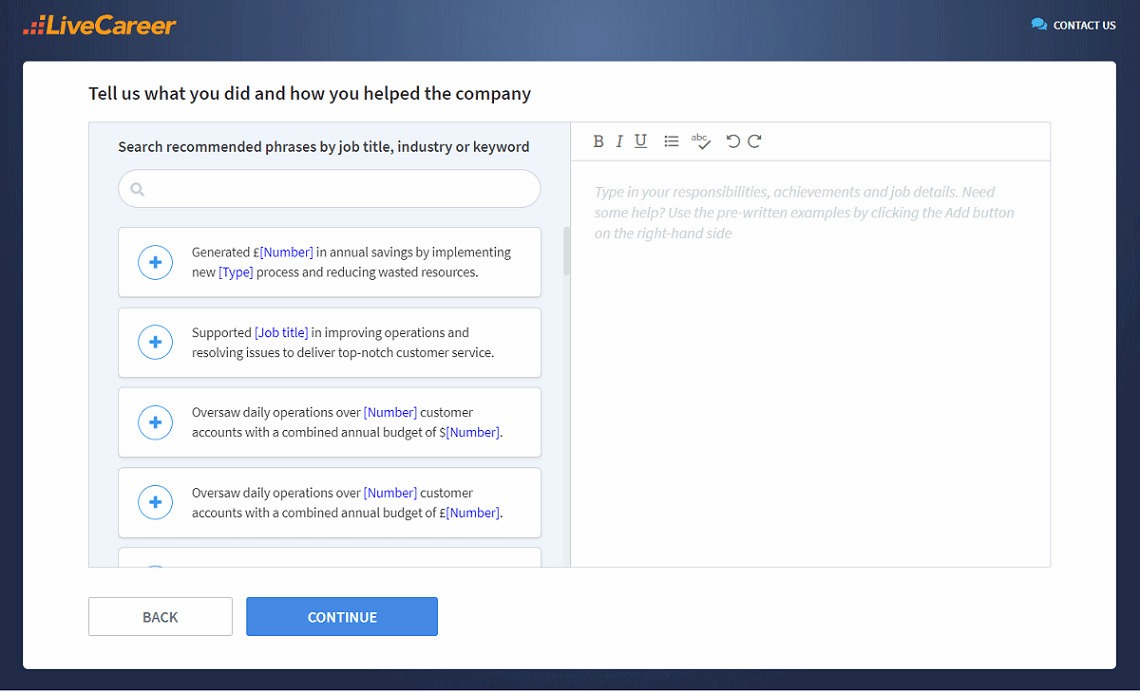 I hope this article has done away with any niggling doubts you had regarding writing up your CV education section. Is there anything I've covered that you'd like more information on? Any comments or experiences to share? Drop us a line in the comments section below.
How we review the content at LiveCareer
Our editorial team has reviewed this article for compliance with Livecareer's editorial guidelines. It's to ensure that our expert advice and recommendations are consistent across all our career guides and align with current CV and cover letter writing standards and trends. We're trusted by over 10 million job seekers, supporting them on their way to finding their dream job. Each article is preceded by research and scrutiny to ensure our content responds to current market trends and demand.
About the author
LiveCareer Editorial Team
Since 2005, the LiveCareer Team has been helping job seekers advance their careers. In our in-depth guides, we share insider tips and the most effective CV and cover letter writing techniques so that you can beat recruiters in the hiring game and land your next job fast. Also, make sure to check out our state-of-the-art CV and cover letter builder—professional, intuitive, and fully in line with modern HR standards. Trusted by 10 million users worldwide.