The best product in the world will often not even be looked at if it's in poor, messy packaging. Poor products often sell because of glossy packaging. With a professional CV layout template, the top-shelf product that you are will also have phenomenal packaging.
In this article you will find tips on how to lay out your CV the right way. You will also see a CV layout examples and a template you can use for your purposes.
Create an effective CV in minutes. Choose a professional CV template and fill in every section of your CV in a flash using ready-made content and expert tips.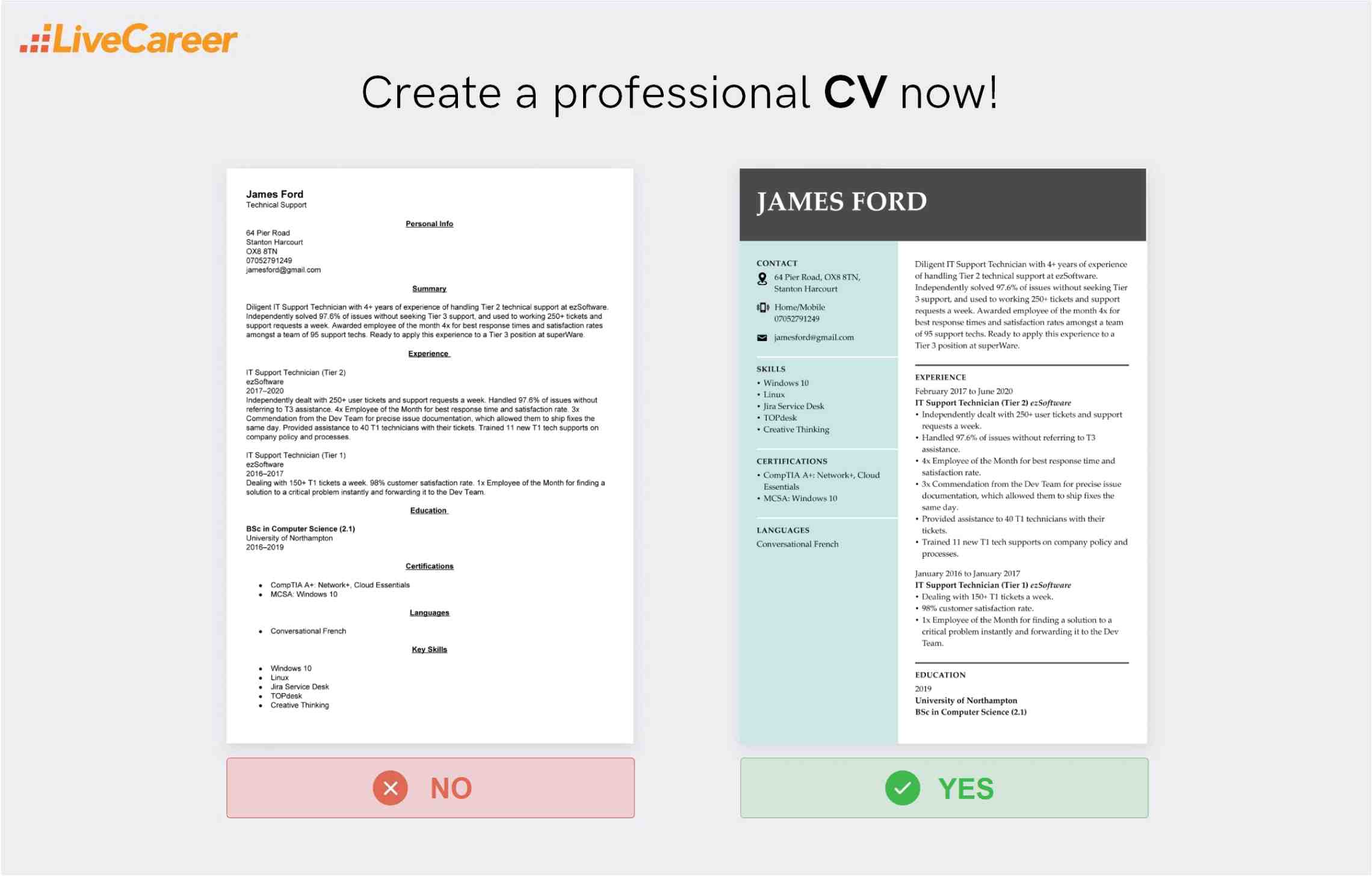 The LiveCareer online CV maker lets you build a professional CV fast and download it as a PDF or DOC.
CV layout example
James Ford
Technical Support
Personal Info
64 Pier Road
Stanton Harcourt
OX8 8TN
07052791249
jamesford@gmail.com
Summary:
Diligent IT Support Technician with 4+ years of experience of handling Tier 2 technical support at ezSoftware. Independently solved 97.6% of issues without seeking Tier 3 support, and used to working 250+ tickets and support requests a week. Awarded employee of the month 4x for best response times and satisfaction rates amongst a team of 95 support techs. Ready to apply this experience to a Tier 3 position at superWare.
Experience
IT Support Technician (Tier 2)
ezSoftware
March 2017–December 2020
Independently dealt with 250+ user tickets and support requests a week.
Handled 97.6% of issues without referring to T3 assistance.
4x Employee of the Month for best response time and satisfaction rate.
3x Commendation from the Dev Team for precise issue documentation, which allowed them to ship fixes the same day.
Provided assistance to 40 T1 technicians with their tickets.
Trained 11 new T1 tech supports on company policy and processes.
IT Support Technician (Tier 1)
ezSoftware
2016–2017
Dealing with 150+ T1 tickets a week.
98% customer satisfaction rate.
1x Employee of the Month for finding a solution to a critical problem instantly and forwarding it to the Dev Team.
Education
BSc in Computer Science (2.1)
University of Northampton
2016–2019
Certifications
CompTIA A+: Network+, Cloud Essentials
MCSA: Windows 10
Languages
Key Skills
Windows 10
Linux
Jira Service Desk
TOPdesk
Creative Thinking
1. How to layout a CV?
Every professional CV layout requires your contact details at the top, a CV personal statement, followed by work experience, education and skills. The order of these sections will depend on the type of position you're applying to and your experience.
1. Choose your CV type
The order of your sections will depend on whether your CV is reverse-chronological or functional/hybrid. You should choose the appropriate one depending on your experience level.
Experienced CV Layout
Contact Details
Personal Statement
Work Experience
Education
Skills
Certifications, Achievements, Awards, other additional sections
If your work history has some gaps, or you're changing industries or jobs, you could opt for the functional CV:
Functional CV Layout
Contact Details
Personal Statement
Skills Summary
Additional Skills
Work Experience
Education
2. Create a structure
Reading CVs all day is a tiresome task. Tired eyes dart for structure, and organising your CV layout neatly will allow the recruiter to skim-read efficiently and find the most important information that you wouldn't want them to miss.
Eye tracking studies show that clear, simple layouts with clear headings, and bold job titles with bullet points of accomplishments are read far more often. The same study shows that most CVs only have the recruiter's attention for 7.4 seconds, so stakes are high.
Use even margins on all sides. 1 inch on all sides looks best. Use 1.15 line spacing, and leave white space between headings and section to create skimmable structure. When listing work or education achievements, bullet points are your friend.
For work experience, your most recent position count amount up to 7 bullet points, but older positions should not have more than 3 bullet points.
3. Use a crisp CV font
To further increase the amount of time recruiters can spend on your CV without feeling tired or annoyed, pick a crisp, readable font. For the main bodies of information, a size between 10 and 12 is best, with slightly larger for headings. Headings and position titles should also be bold.
There is a wide range of classic CV fonts you can choose from: Arial, Calibri, Noto, Didot, Tahoma, Verdana, Cambria, Garamond or Georgia. All of them match a professional CV layout.
4. List the contact information
There is one piece of information that is more important than all—your contact information. The best, most qualified CV in the world will not get an interview if they have the wrong phone number. Make sure all your information is up to date.
Under your name, list your current job title. For most jobs, you should still include your physical address, unless your position is remote. Make sure your up to date phone number and email are listed, and that it is a professional sounding email address.
You could also add a link to your LinkedIn, portfolio, or website, if it is relevant to your job application.
5. Keep it brief
Any excellent CV layout template will be one or two pages. Once you are established in your career with a few years of experience, you will probably need two pages to lay out comprehensively, but concisely.
If you are a recent graduate, have less experience, or feel you can confidently summarise yourself on one page, don't feel obliged to have to stretch it out.
6. Beat the Applicant Tracking Systems
70% of CVs are never seen by a human eye. That can be a worrying thought, but there is a reason for that. 7 out of 10 big companies use Applicant Tracking Systems (ATS), which scans CVs for keywords.
That can be a problem if your CV layout prevents the ATS from scanning. Here is a simple test to see if your CV is scannable.
Passing the ATS
Save your CV in a PDF file
Open the PDF of your CV, and copy all the contents
Paste all the contents into a text editor (e.g. Notepad)
Check that all the text appears correctly and isn't scrambled.
Always send the CV in the format that the job ad asks for.
2. Best CV layout templates
The devil is in the details, and presentation is key. Sometimes, Microsoft Word and free templates from Google just don't want to cooperate. LiveCareer has templates for every industry and position to choose from.
You fill in your details once and can browse all the available styles with a single click.
Modern
Our in-house design team of User Experience, Graphics, and HR experts continue working on modern designs that highlight the strengths that are relevant to your goals. These are industry leading, neat, and modern CV layouts that will be a breath of fresh air to a recruiter receiving home-made Microsoft Word documents all day.
Why choose a modern CV layout?
You are applying to a dynamic, modern industry or job
You want to stand out without offending anyone's aesthetic sense
You want to show that you're up-to-date with the current trends, or even ahead
See a selection of modern CV templates here: Best CV Templates Gallery
Creative
Are you a designer or an artist? Do you hoverboard to work? Do you wear vegan shoes? Our creative CV layouts will help you stand out. Don't worry — they are designed to get you a job, not be crazy. They have small, thoughtful visual elements that make all the difference.
Why choose a creative CV layout?
You applying to a creative or artistic industry or want to stand out
You just want to stand out full stop
You have a non-traditional work history
See a selection of creative CV templates here: Creative CV Templates and Expert Design Tips
Traditional
If you are in a conservative, old-fashioned, traditional industry, guess what—choose a traditional CV layout. These are designed to pass through automated screening software without hiccups, and trust me, all companies use those these days. Shine in the interview. Get there safely.
Why choose a traditional CV layout?
You are applying to a conservative industry or job
You are applying to government or public service jobs
You have limited work experience and/or skills
See a selection of traditional CV templates here: Basic and Simple CV Templates Gallery
3. The Dos & Don'ts
Do
Focus on keywords (skills, specific experience) that the employer highlights in the job ad
Use proper fonts, margins, spacing
Keep it concise
Expand your knowledge with our specific CV writing guides
Customize each CV
Proofread your CV, let a friend read it, and print it out to see how it looks
Don't
Rush!
Try to build your own CV layout
Use multiple fonts and messy formatting
Use images
Include irrelevant information
Does this article explain how to layout a CV? Do you have a question, or a tip you want to share with us? Leave comment below.
How we review the content at LiveCareer
Our editorial team has reviewed this article for compliance with Livecareer's editorial guidelines. It's to ensure that our expert advice and recommendations are consistent across all our career guides and align with current CV and cover letter writing standards and trends. We're trusted by over 10 million job seekers, supporting them on their way to finding their dream job. Each article is preceded by research and scrutiny to ensure our content responds to current market trends and demand.
About the author
LiveCareer Editorial Team
Since 2005, the LiveCareer Team has been helping job seekers advance their careers. In our in-depth guides, we share insider tips and the most effective CV and cover letter writing techniques so that you can beat recruiters in the hiring game and land your next job fast. Also, make sure to check out our state-of-the-art CV and cover letter builder—professional, intuitive, and fully in line with modern HR standards. Trusted by 10 million users worldwide.