Best 15 Free UK CV Templates to Download (Word/PDF) 2022
We've all done it. You write your CV but it's looking a bit dull. So you head over to Google and type in 'free CV template'. But lo and behold there is so much to choose from it's impossible to decide even where to begin.
Choosing the best CV templates for free download can be like finding a needle in a haystack. But we've used our expertise to track down the very best free CV templates online so you don't have to. Here you will find our selection of the finest free CV templates on offer.
Create an effective CV in minutes. Choose a professional CV template and fill in every section of your CV in a flash using ready-made content and expert tips.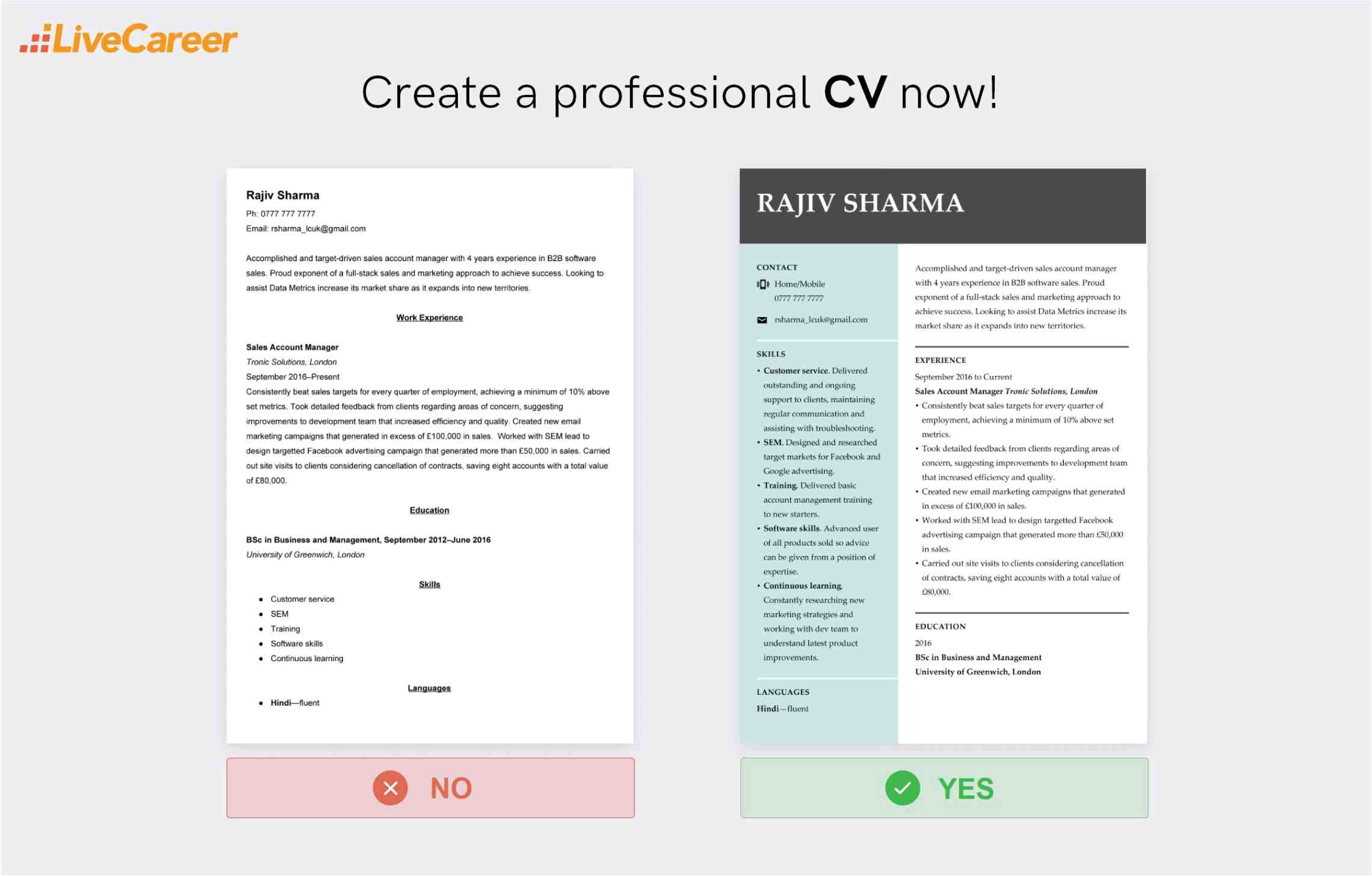 The LiveCareer online CV maker lets you build a professional CV fast and download it as a PDF or DOC.
Free CV template example
Rajiv Sharma
Ph: 0777 777 7777
Email: rsharma_lcuk@gmail.com
Accomplished and target-driven sales account manager with 4 years experience in B2B software sales. Proud exponent of a full-stack sales and marketing approach to achieve success. Looking to assist Data Metrics increase its market share as it expands into new territories.
Work Experience
Sales Account Manager
Tronic Solutions, London
September 2016–Present
Consistently beat sales targets for every quarter of employment, achieving a minimum of 10% above set metrics.
Took detailed feedback from clients regarding areas of concern, suggesting improvements to development team that increased efficiency and quality.
Created new email marketing campaigns that generated in excess of £100,000 in sales.
Worked with SEM lead to design targetted Facebook advertising campaign that generated more than £50,000 in sales.
Carried out site visits to clients considering cancellation of contracts, saving eight accounts with a total value of £80,000.
Education
BSc in Business and Management, September 2012–June 2016
University of Greenwich, London
Skills
Customer service. Delivered outstanding and ongoing support to clients, maintaining regular communication and assisting with troubleshooting.
SEM. Designed and researched target markets for Facebook and Google advertising.
Training. Delivered basic account management training to new starters.
Software skills. Advanced user of all products sold so advice can be given from a position of expertise.
Continuous learning. Constantly researching new marketing strategies and working with dev team to understand latest product improvements.
Languages
1. Black professional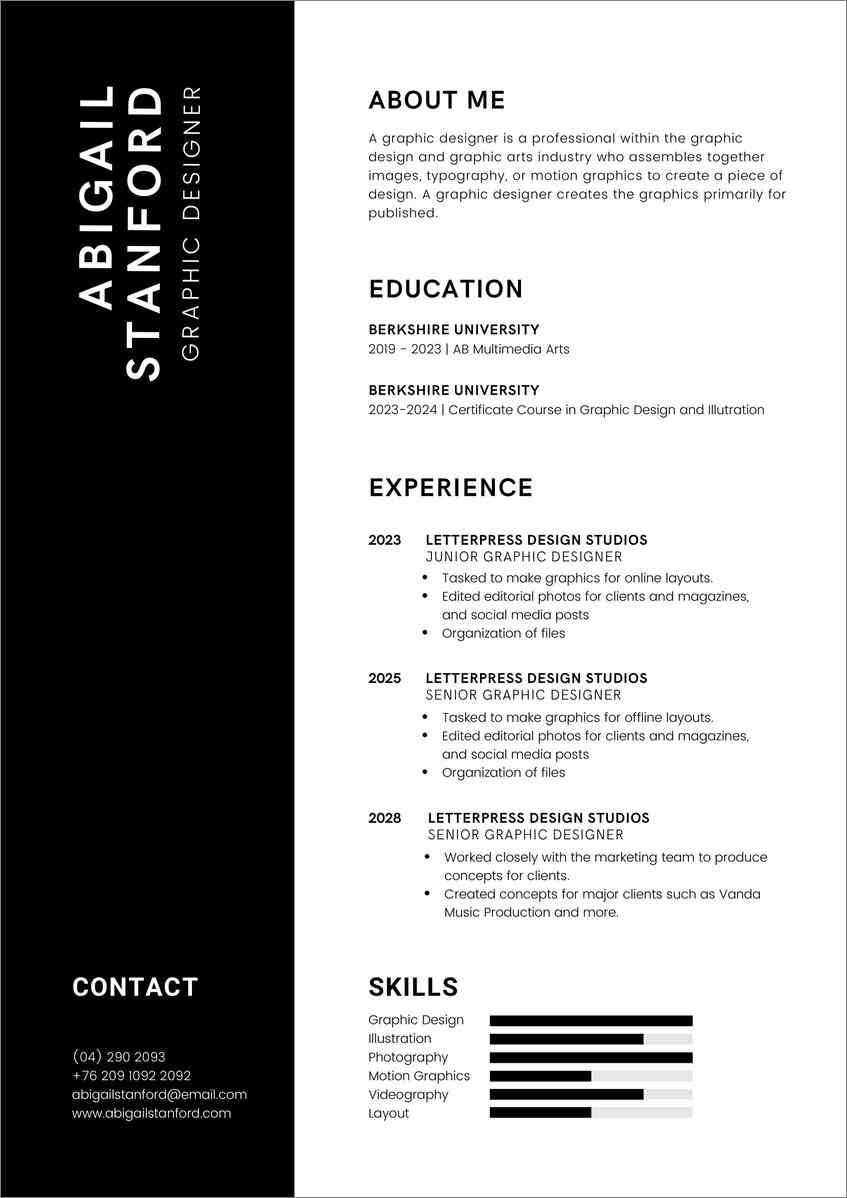 Our first free CV template comes to you from Canva, a good source of free creative CV templates. It uses a stark juxtaposition of black and white to create a striking effect without using excessive colour or cluttering the page with graphics. And the example would be a good choice of career for using it. A graphic designer CV would be ideal for such a striking template. But there are risks with examples like these. It looks attractive but that black area takes up a lot of space that could be filled with content. Writing a one-page CV would be tough with this one. Take a look at Live Career's CV templates if you want to see samples that are better optimised.
Here's the link for this free CV template download.
2. Bright doodles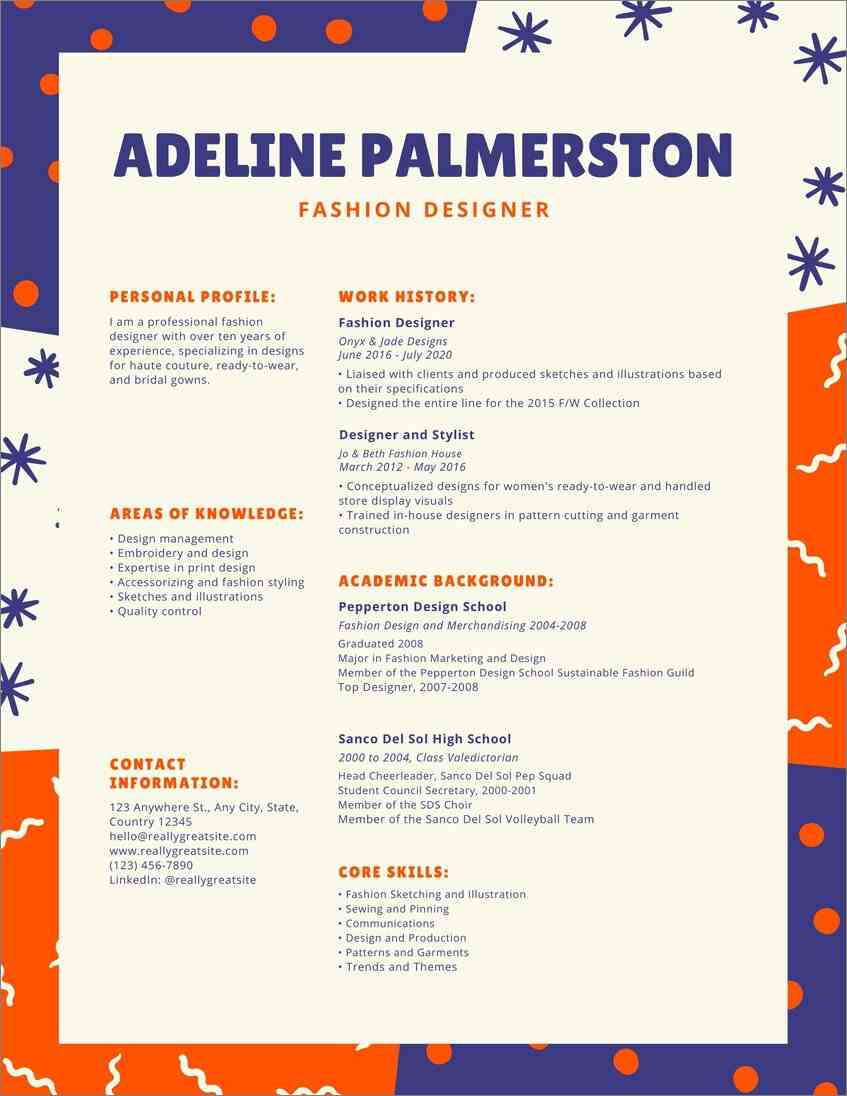 Here's another example from Canva but this time a completely different look. Fun, colourful, and quirky it's certainly an eye-catching CV format. It could work well for a fashion designer CV. But it's a little too quirky for more conservative professions and may stop recruiters from taking you seriously. For most jobs, it's better to tone things down a bit. Live Career's CV templates are ideal as they're all recruiter approved for professional good looks.
Here's the link for this free CV template download.
3. Misty rose lines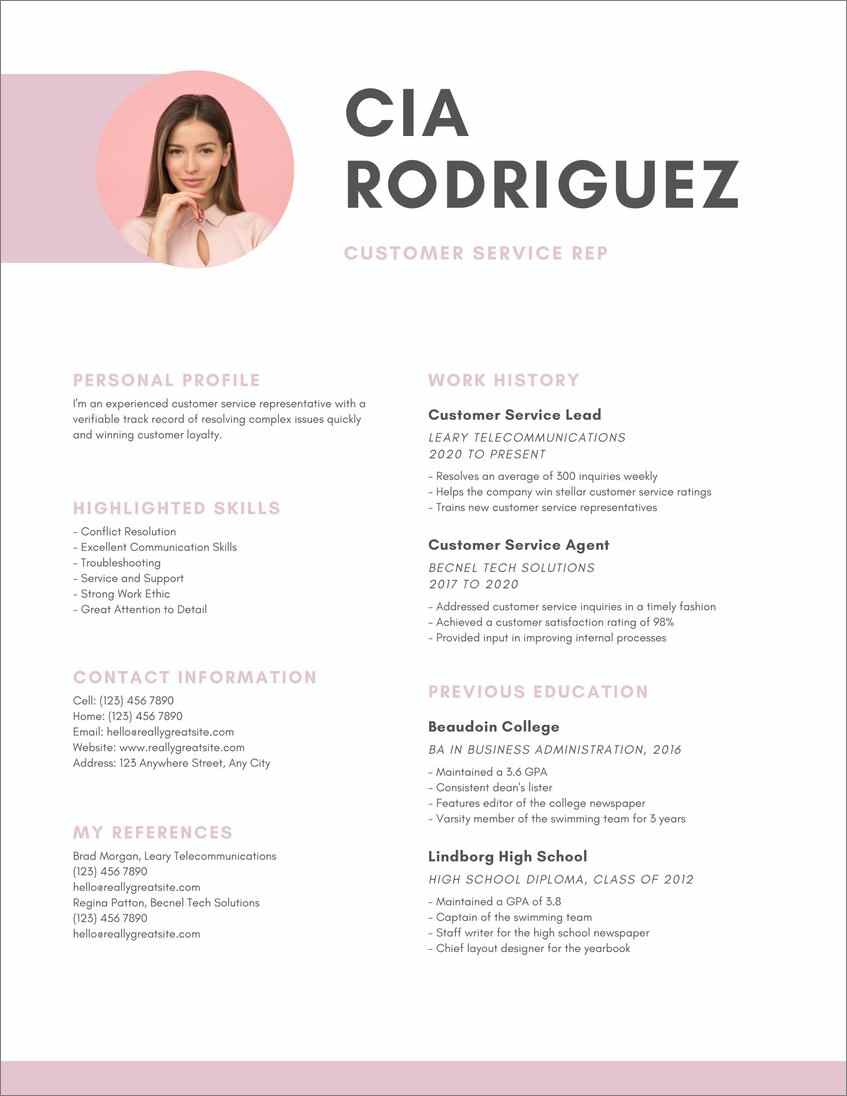 This wonderfully named free CV template is also from Canva. The soft, dusty pink accents give it a unique feel but it's a good example of where things can go wrong when you get a CV template for free. The real issue lies in the question of resume vs CV. Many sources are set up for the American resume market and contain elements that aren't acceptable in the UK. This one has a photo, and that's considered unacceptable by most UK recruiters. It's safer to stick with examples that are UK optimised, like Live Career's CV templates.
Here's the link for this free CV template download.
4. Spearmint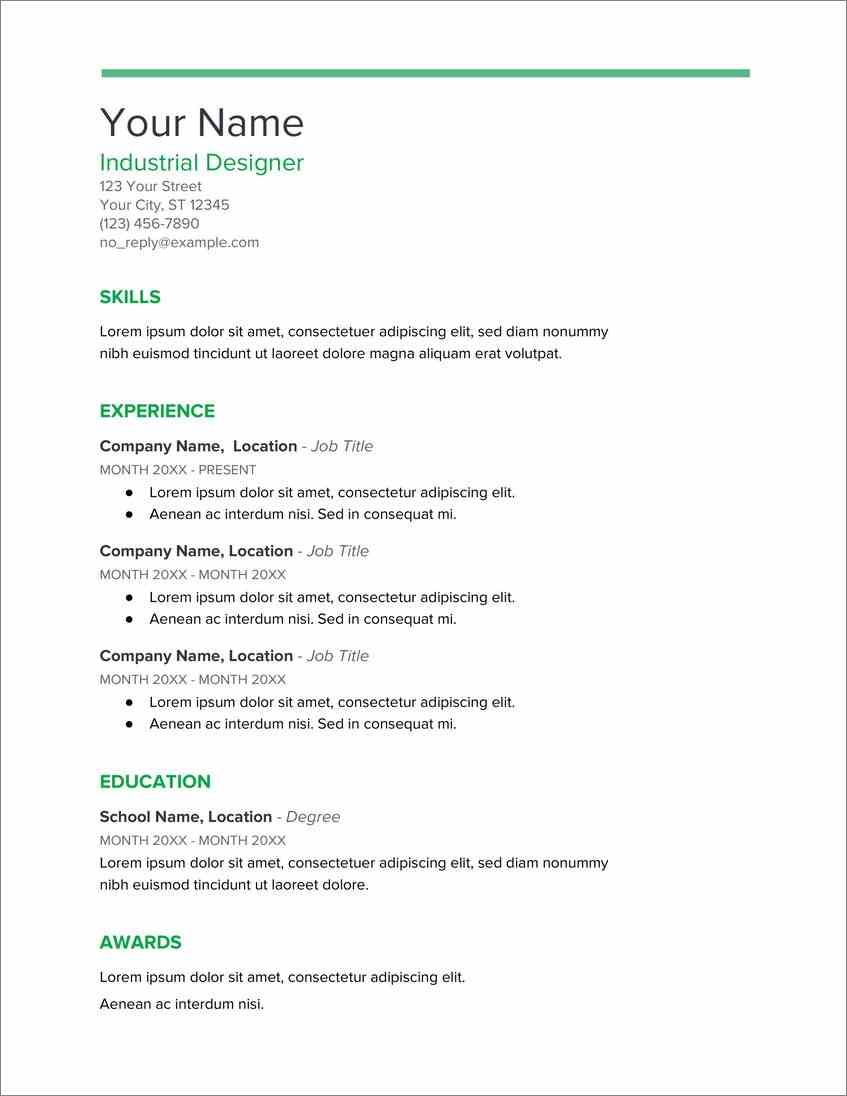 Here's an example produced by Google. To access their CV templates you need a Google account. Then you open Google Docs, then click File>New>From Template and scroll down to see the free CV templates. It's easy and convenient to access but having to edit it in Google Docs can be a pain. Mess with the formatting and you'll find your CV layout can be ruined. If you use our CV builder though that isn't a problem. Whatever you change, it'll make sure your CV structure stays looking sharp.
5. Serif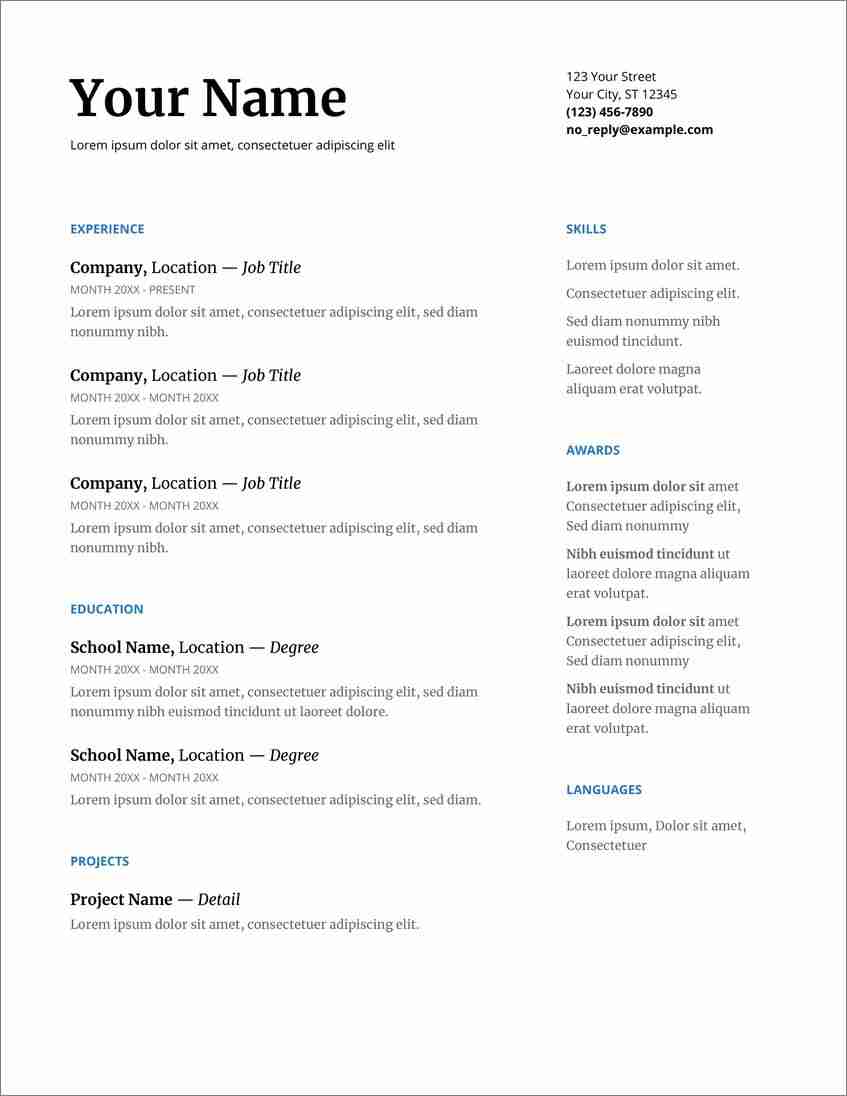 This is another example from Google Docs and you can use the same process as in the example above to find it. These free CV templates are worthy of note just because of the sheer size of G Suite's market share. It actually holds a massive 55% of the office productivity market share worldwide. This one uses a fresh blue colour combined with a serif CV font to give it classic good looks. But one thing it won't do is give you expert tips as you write. That's where a lot of free CV template downloads fall flat, they just don't have the ability to actually help you learn how to write a CV. Whereas Live Career's CV maker is absolutely packed with useful hints.
6. Contemporary purple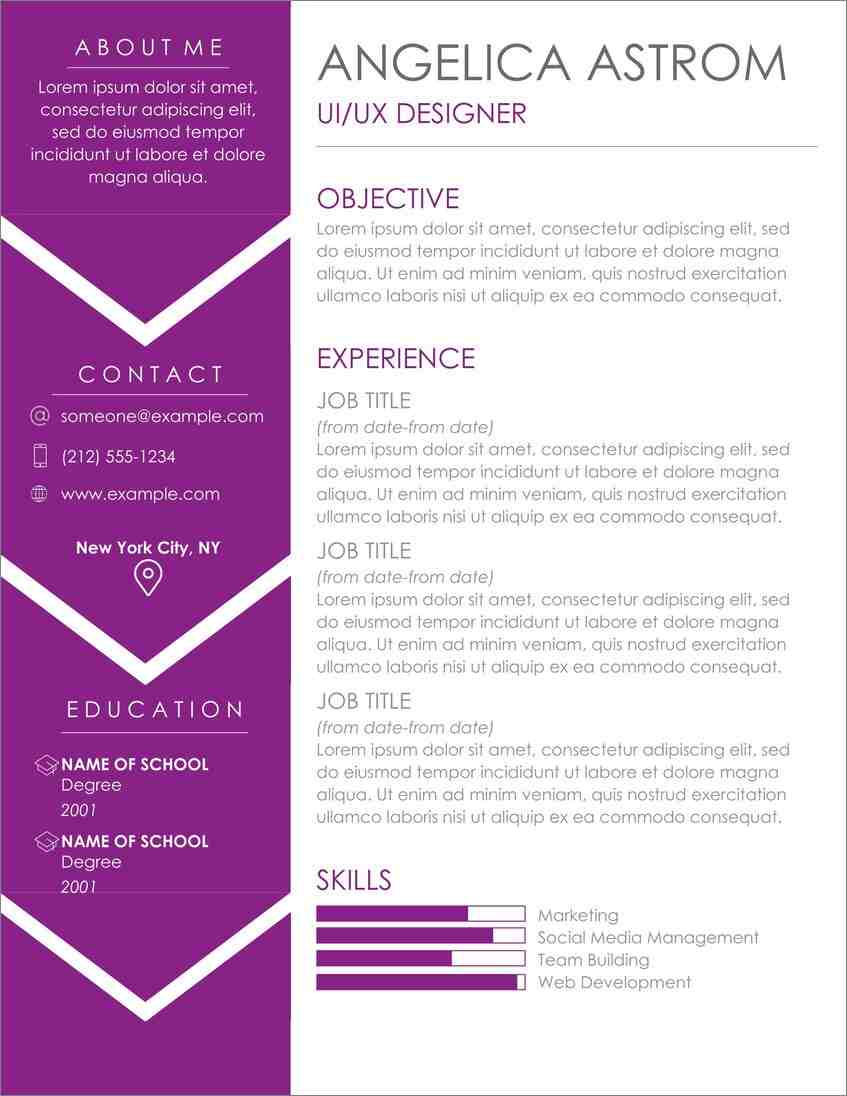 Here we have an example of a Word CV template from Microsoft Office. Still the king of CV templates in many people's minds, it offers a great selection of examples. This example uses royal purple and white chevrons for a very distinguished look. It could work really well for a job where visual impact is key, such as for a photographer CV. But again, the editing process can be tough. Word is notorious for being difficult to customise, especially if you start adding additional information such as a hobbies and interests section. That's why we recommend using Live Career's CV generator, so you can add and subtract content with ease.
Here's the link for this free CV template download.
7. Bold infographic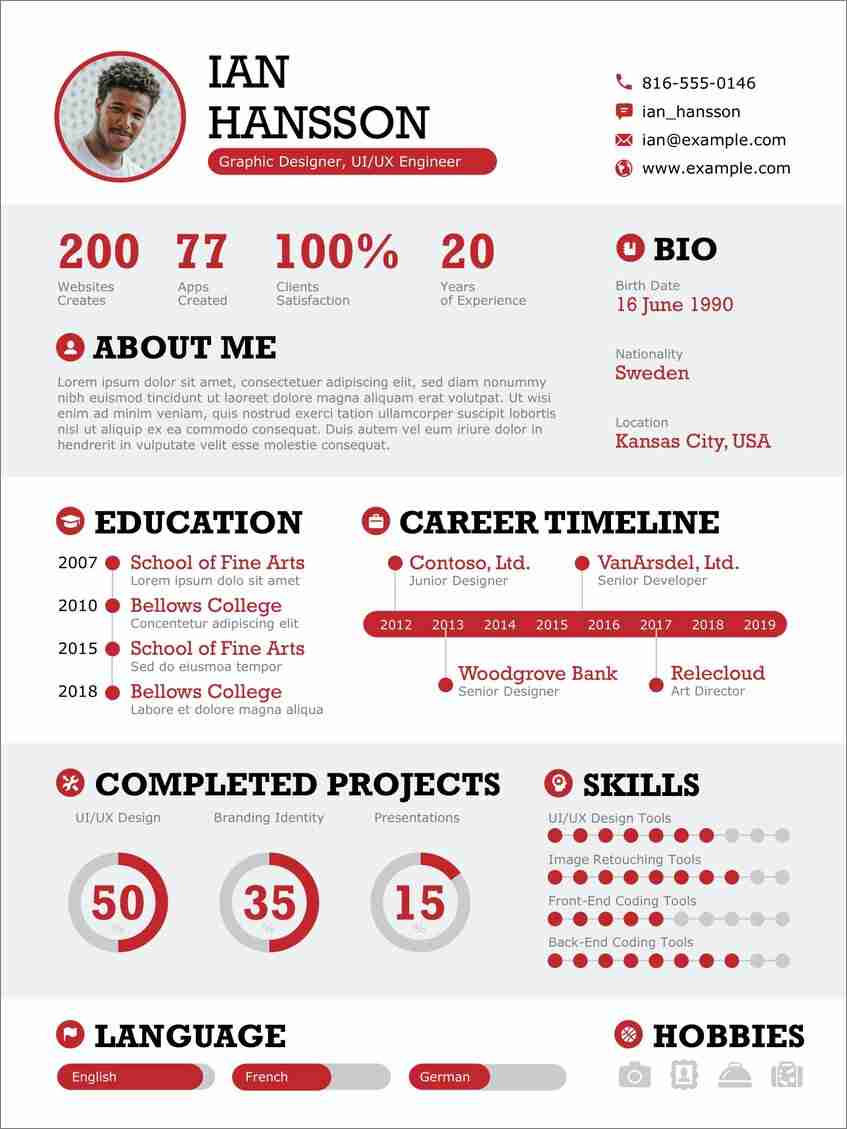 Here's an example from Microsoft Office that's a good example of an infographic CV template. It uses a mix of images and graphical elements to convey information about the candidates skills and experience. It's effective but not without its risks. Use a poorly designed free CV template and you could render your job application unreadable to ATS. That's the software that scans incoming CVs and rejects them if they're poorly formatted. Use a Live Career CV template though and you can be confident that it is ATS compliant.
Here's the link for this free CV template download.
8. Red infographic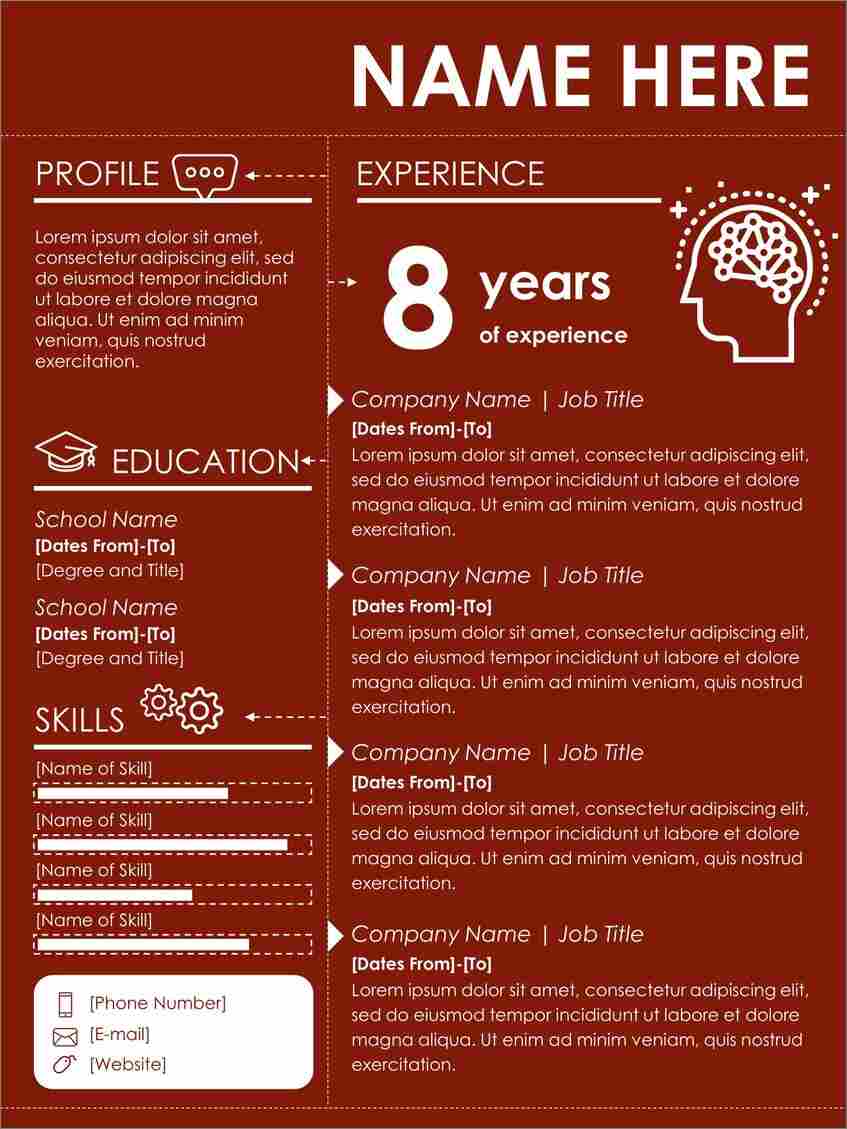 One more professional CV template for free download from Microsoft. Once again, it's a bright and bold infographic example. But all of that colour and creativity counts for nothing if you haven't got high quality-content to fill it with. Our CV maker has thousands of pre-written CV examples for you to use throughout your CV. So if you get stuck on your work experience section you get plenty of inspiration to help you keep going. And that's something that even Mirosoft Office's best CV templates can't do.
Here's the link for this free CV template download.
9. Midnight slate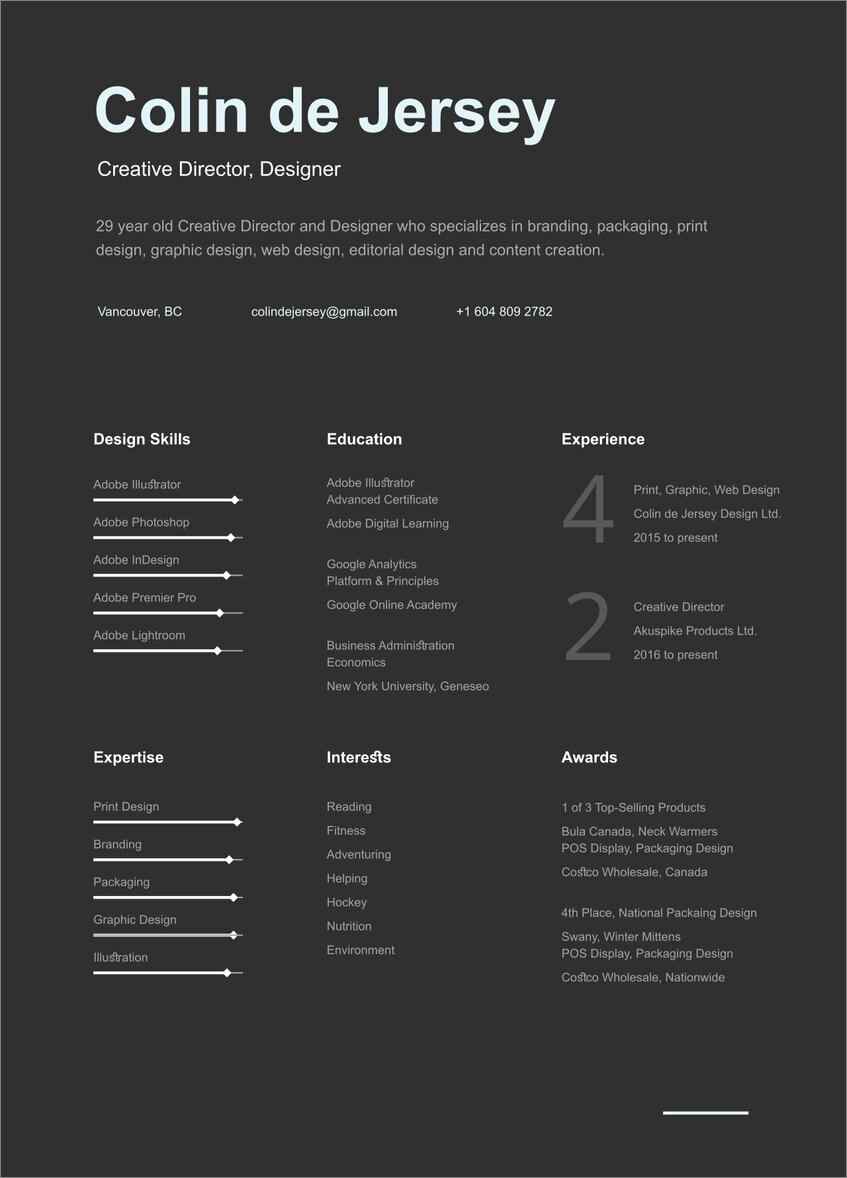 This is another free CV template example that makes good use of a striking monochrome effect. It's almost reminiscent of a blackboard, with its white text on a flat dark grey background. The template has a particularly striking effect when viewed on a screen, so could be a good choice for a digital marketing CV. It looks impressive but unfortunately, it's only available in AI format, which isn't useful for the majority of users. On the other hand, our CV builder lets you download in the two most popular and useful document formats, PDF and DOC. You'll find PDF useful to keep your content intact but some employers still insist on DOC files, so you get that versatility too.
Here's the link for this free CV template download.
10. Salmon chevron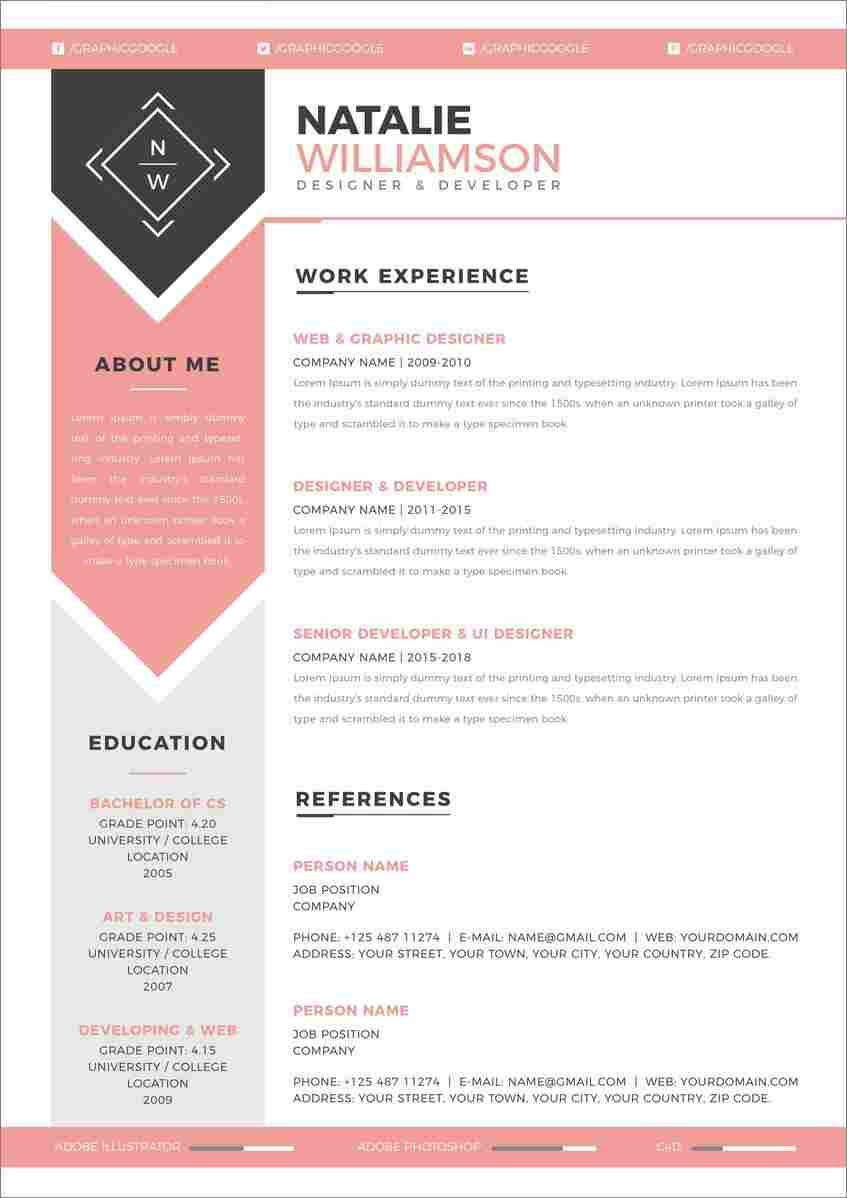 This free CV template is similar to the contemporary purple example from Microsoft, using a coloured sidebar with chevrons for a clean and contemporary look. One disadvantage though is that it's only available in Adobe Illustrator format. If you were writing an artist CV you'd probably be comfortable with this, but for most candidates, this won't be useful. It's worth repeating that Live Career's CV builder is incredibly easy for everyone, regardless of your IT skills.
Here's the link for this free CV template download.
11. Red software developer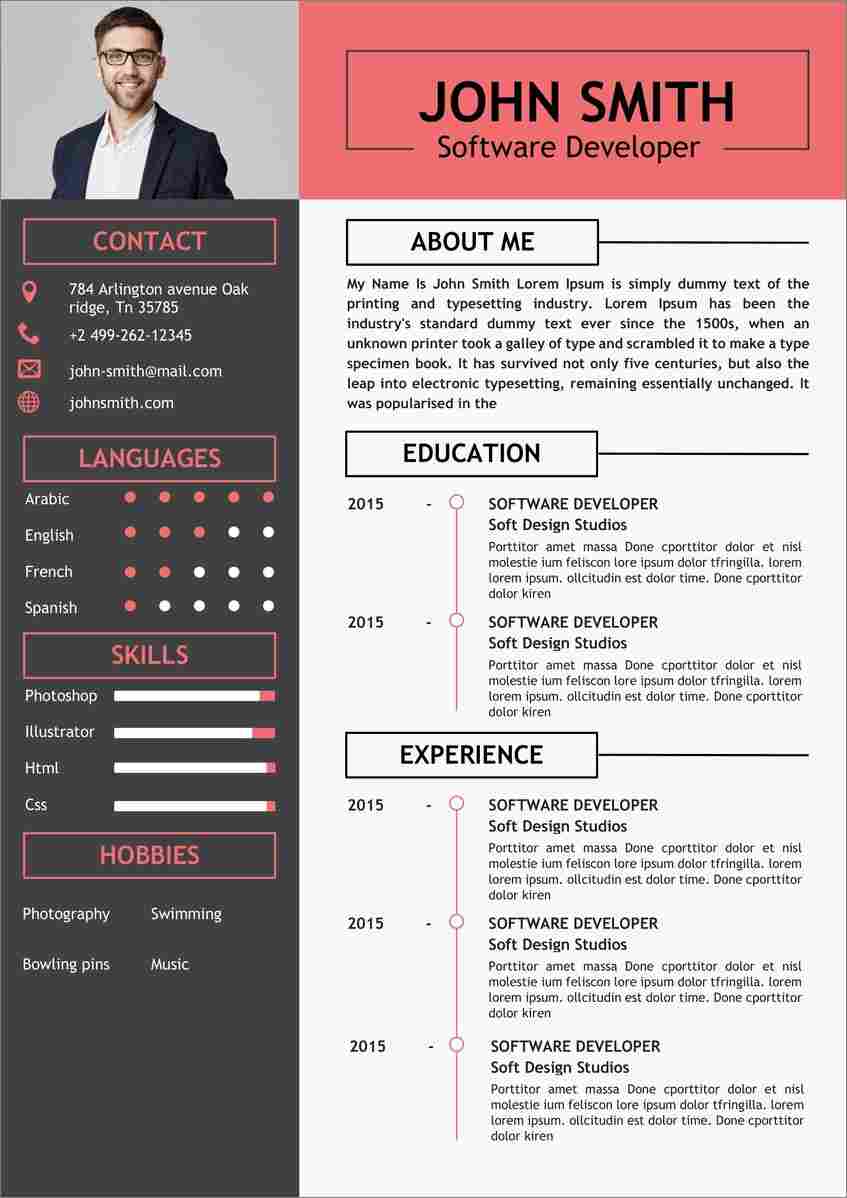 This software developer CV comes from Behance, another super source of free CV templates. Just be careful with that pesky photo again. Remember, it's right on top of the list of things not to include in a free CV template for the UK job market.
Here's the link for this free CV template download.
12. Simple Jack Sparrow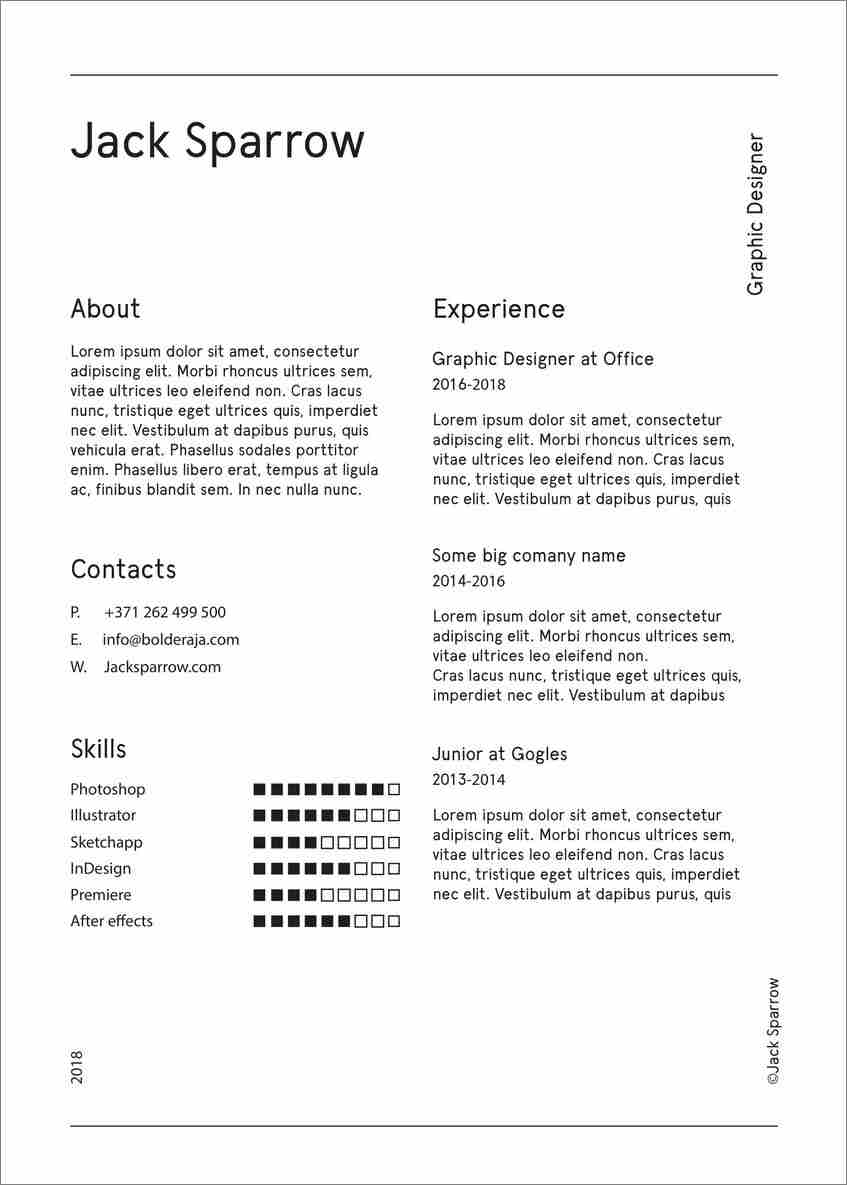 Here's a more simple free CV template example. It features clean black text on a simple white background, with a nice little creative touch in the form of vertical alignment for the job title. It would make a good choice for writing a teacher CV, where an impression of conservative clarity is required.
Here's the link for this free CV template download.
13. Green and black modern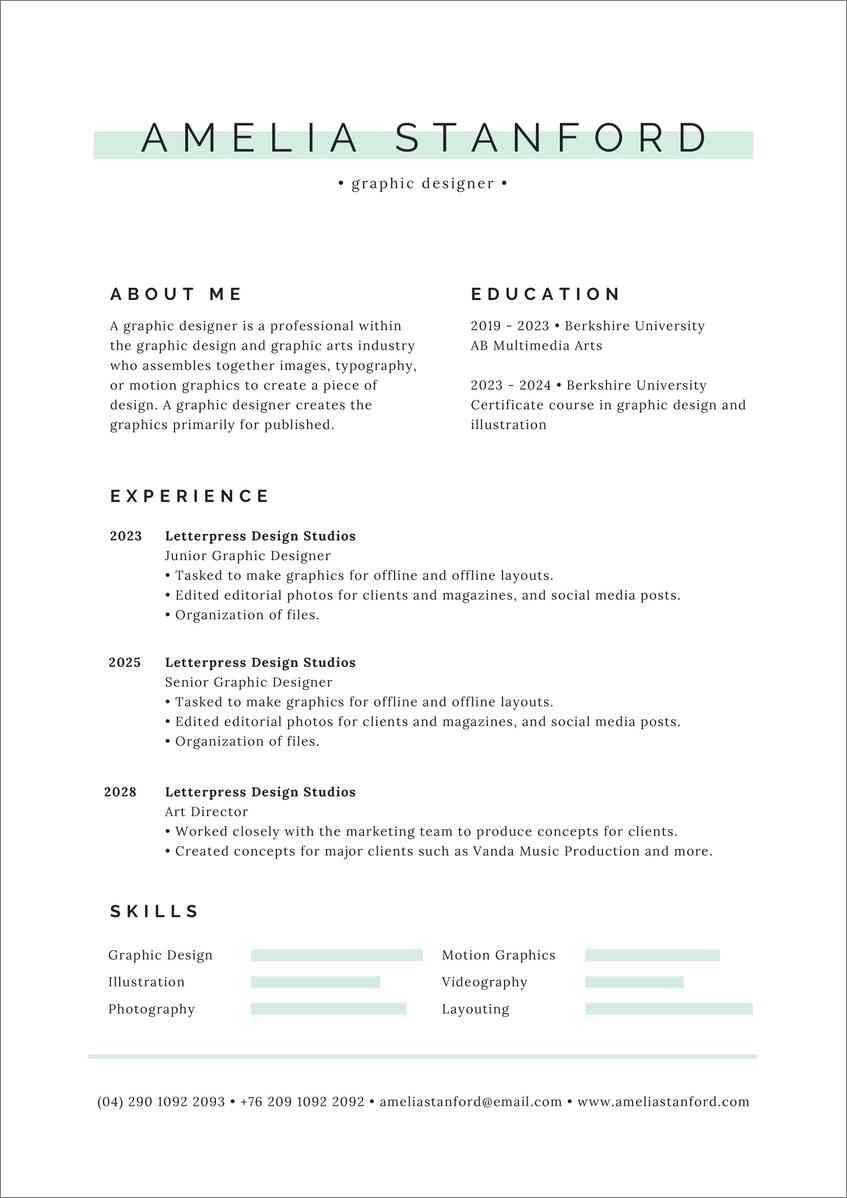 Another more reserved example here, but it's elevated by subtle splashes of pale green. It also makes uses of font pairing. A classic CV design trick where two different types of font are used for a pleasing visual effect. The combination of sensible simplicity and fresh design elements makes it a great pick for a graduate CV.
Here's the link for this free CV template download.
14. Orange and black modern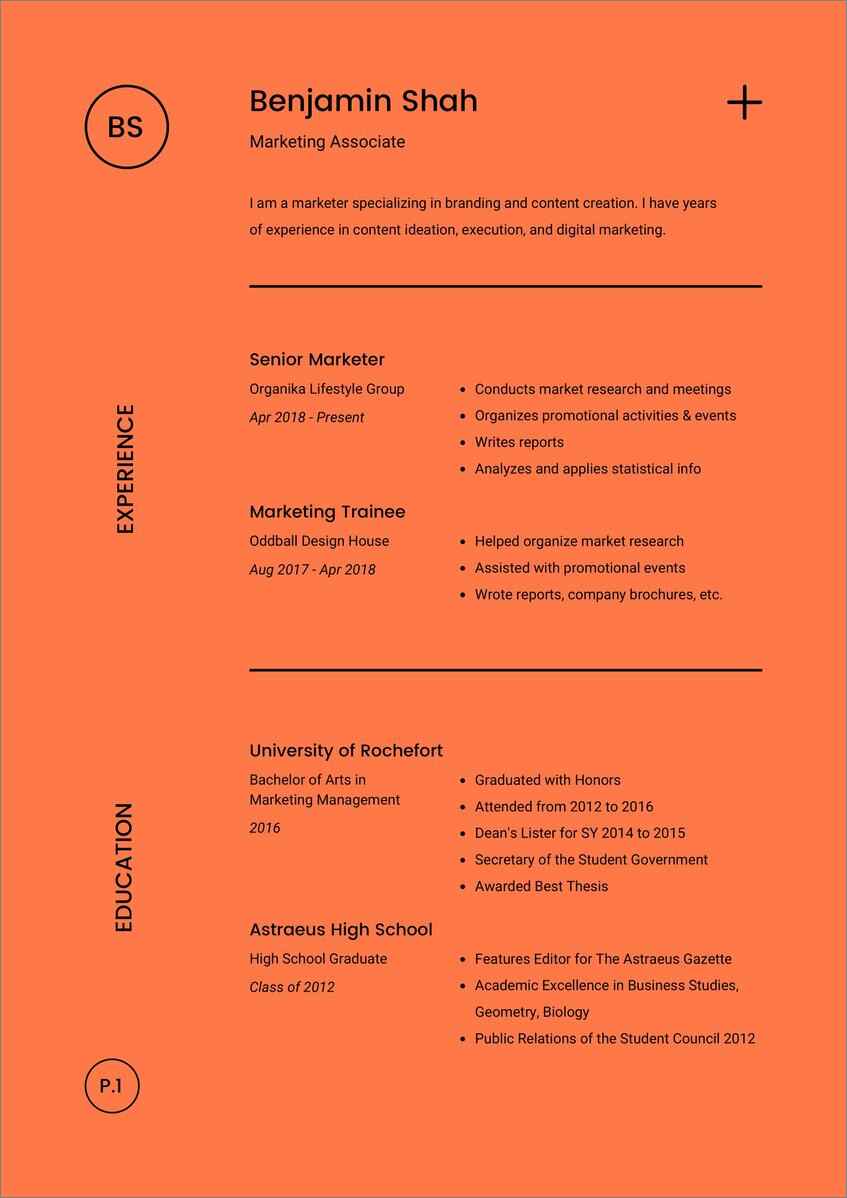 This free CV template is a wall-to-wall slab of orange. It's certain to invoke the feelings of warmth, excitement and enthusiasm that are traditionally associated with the colour. A solid choice for writing a retail CV template for free, where such qualities are highly sought after.
Here's the link for this free CV template download.
15. Purple and peach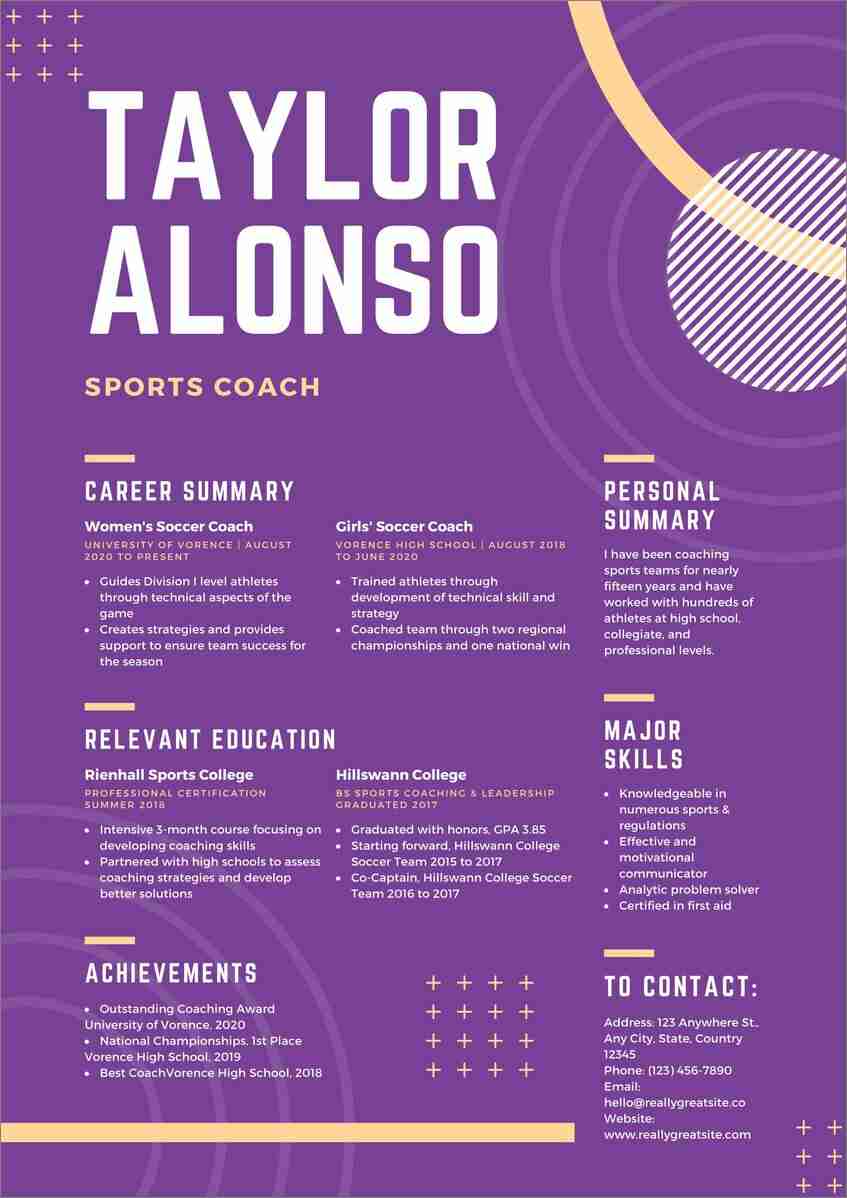 Here's the last of our professional CV templates for free download. It's very colourful, but it's also a good example of what can go wrong with overly creative CV examples. The layout is actually quite distracting and hard to follow. Employers only spend seconds reviewing each CV, and they won't waste their time with something that'd difficult to read. In addition, it certainly doesn't follow standard UK CV format and is likely to get rejected because of that. Once again, use Live Career's CV templates and you won't have this problem.
And we're done. When you're looking for a free CV template you'll find a lot of examples. But there is always a risk that the one you choose could damage your job hunting chances. Live Career's CV templates are reliable and recruiter-approved. You get expert advice and examples as you write, and our builder takes all the hard work out layout and formatting.
You don't have to be a CV writing expert. In the LiveCareer CV builder you'll find ready-made content for every industry and position, which you can then add with a single click.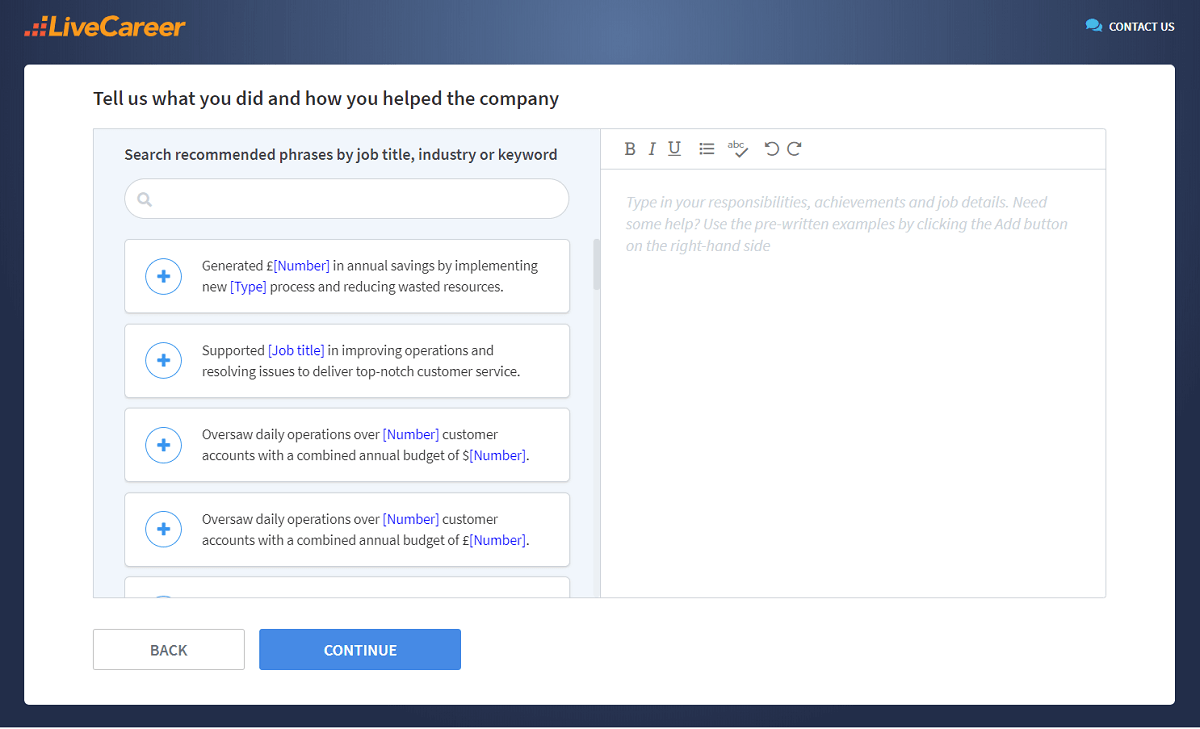 Thanks for reading. If you have any questions about how to find a good free CV template then please ask in the comments section and I'll be happy to help you.