CVs are no longer plain, black & white documents with raw data. The visual part of a CV became as essential as its substantive part. Unsurprisingly, many candidates seek unique CV templates to reveal their personality and individuality.
We've prepared a list of 40 free CV templates to use for any job in the UK. If you're looking for a free CV template, you couldn't find it better.
Create an effective CV in minutes. Choose a professional CV template and fill in every section of your CV in a flash using ready-made content and expert tips.
Create a professional CV now!
NO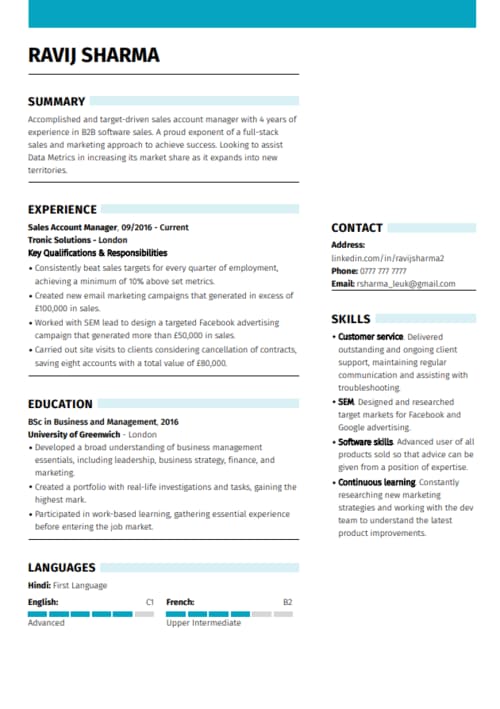 YES
.
The LiveCareer online CV maker lets you build a professional CV fast and download it as a PDF or DOC.
Want to research alternative CV templates? See our curated list for:
Now, let's move to the listing of our free CV templates for the UK job market that will enhance your job hunt:
1. Swiss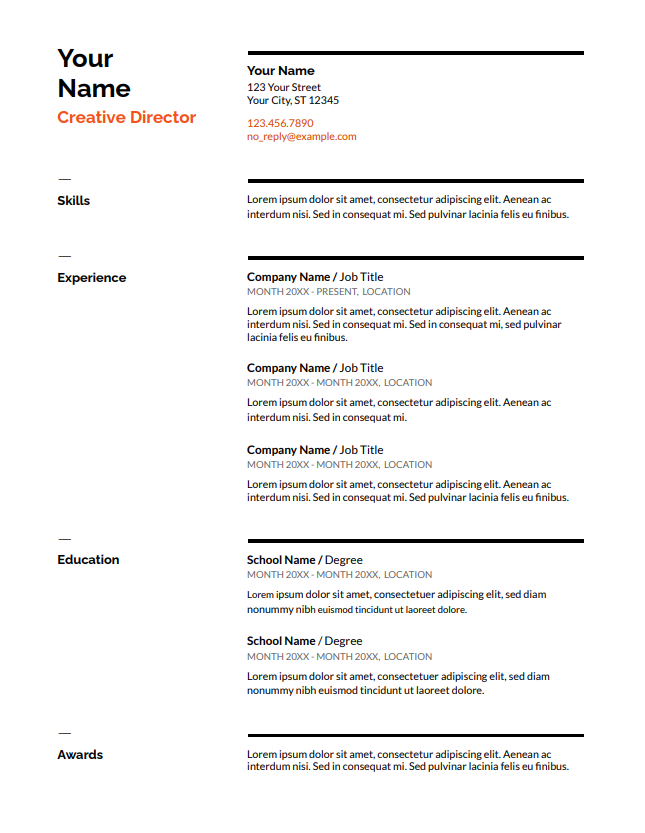 The first template comes from the Google Template library, which you can access with a registered Google account. The layout reflects the Swiss style's principles, favouring minimalism and eliminating distractions for the viewer. Sans Serif typefaces are typical for the Swiss design, striving to achieve legibility. This free Swiss CV template might be useful when writing a CV for a creative profession.
2. Serif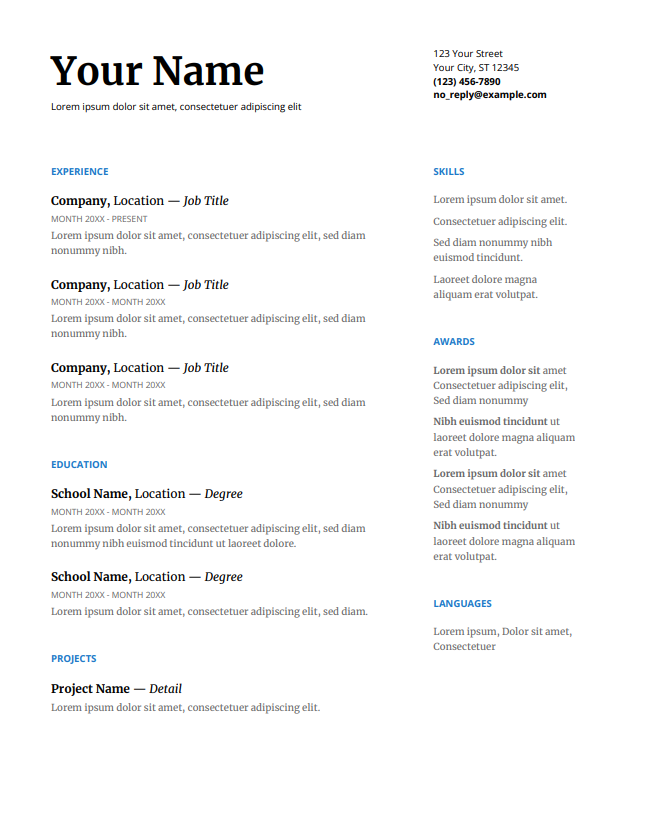 The Serif template, named after the Serif font styles, is another simplistic CV layout from Google that limits embellishments to the minimum. It also saves a lot of space between each CV section, improving readability. Such a simple structure with a non-cluttered appearance will fit a medical professional's CV well, especially with the blue accents frequently used in the healthcare industry.
3. Black & pink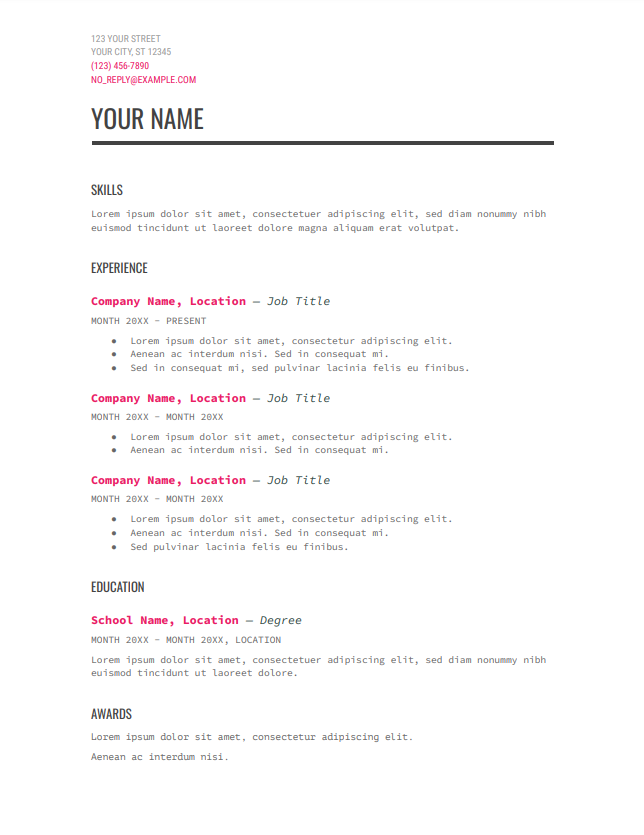 A well-written CV matches the job profile, and this free Modern Writer CV from Google proves it perfectly. The typewriter font reflects the character of the writer's work and accentuates his creativity. The pink-coloured entries add a modern twist to this free CV template, making it a perfect choice for freelance copywriters' CV, copy editors, business analyst CVs, and more.
4. Contemporary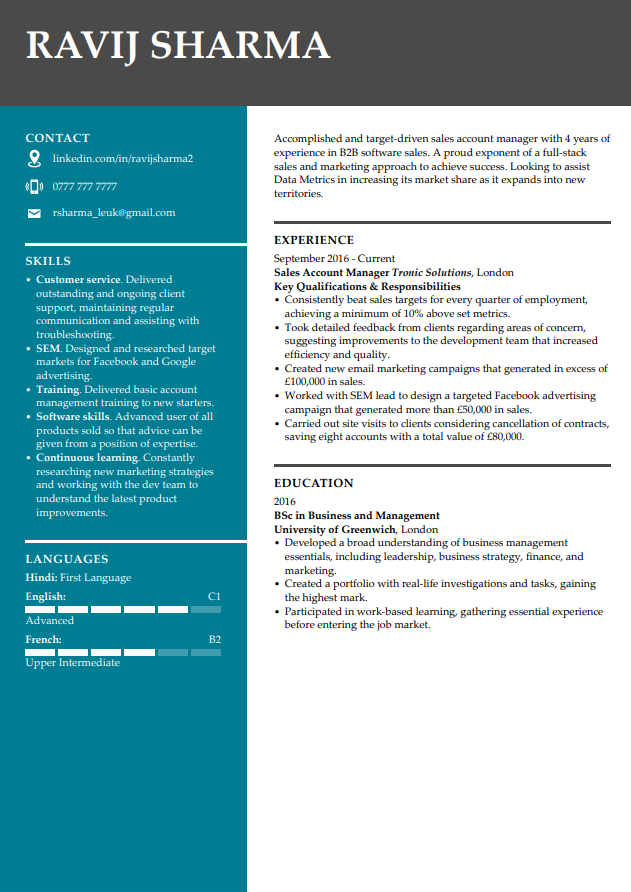 Staying on the modern designs, here's a free CV template from the LiveCareer CV builder. The Contemporary template magnifies a candidate's name and uses a distinctive turquoise bar on the left, creating a geometric impression. Additionally, it uses simple visual elements in the languages section, which picture the progression of language fluency. This template might be useful when writing a CV for an office job, such as an administrator's CV or an executive assistant's CV.
5. Intelligent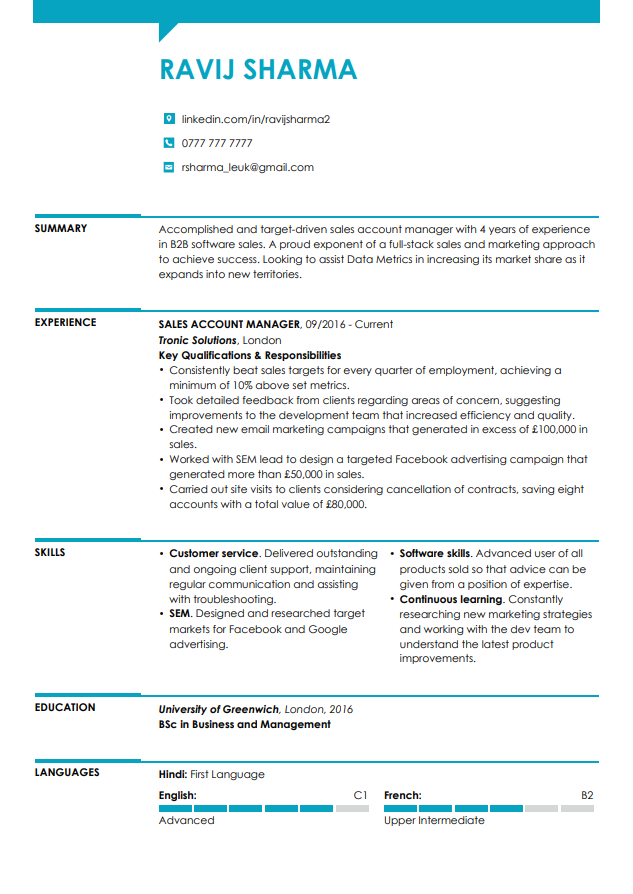 This CV layout is accessible from the LiveCareer builder, too. It is not in vain called an Intelligent template, having a clean structure and formatting. This CV layout aligns with aesthetic qualities, so it's ideal for those who must prove such values through their work. Writing a hospitality CV? You definitely need to check out this free CV template.
6. Coral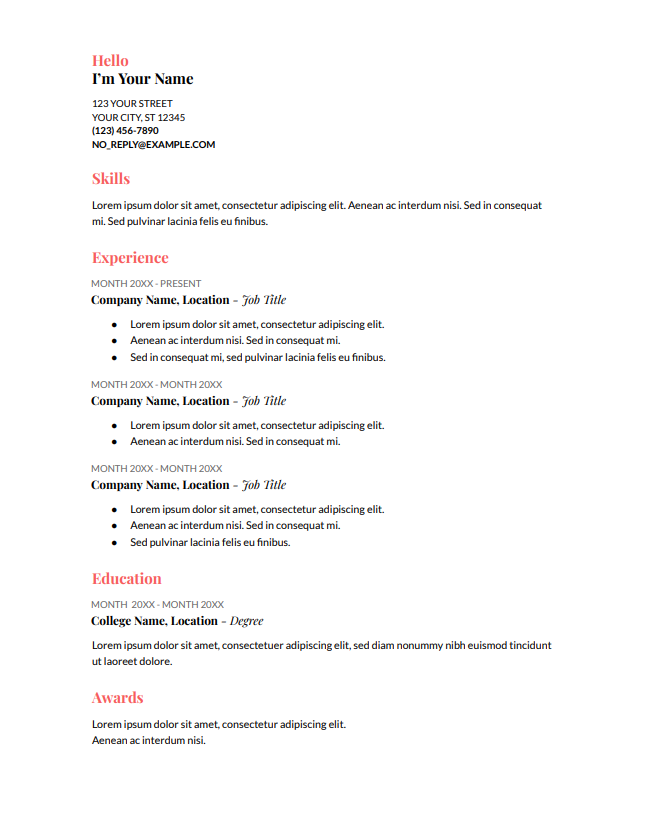 The Coral Template designed by Google might seem pretty straightforward, too; however, it catches attention with a combination of three different CV fonts and a distinctive coral tone used for section names. Sometimes, adjusting fonts and adding accent colours is enough to tweak a usual black-and-white CV layout. This CV template is versatile, so you can adjust it to any profession.
7. Spearmint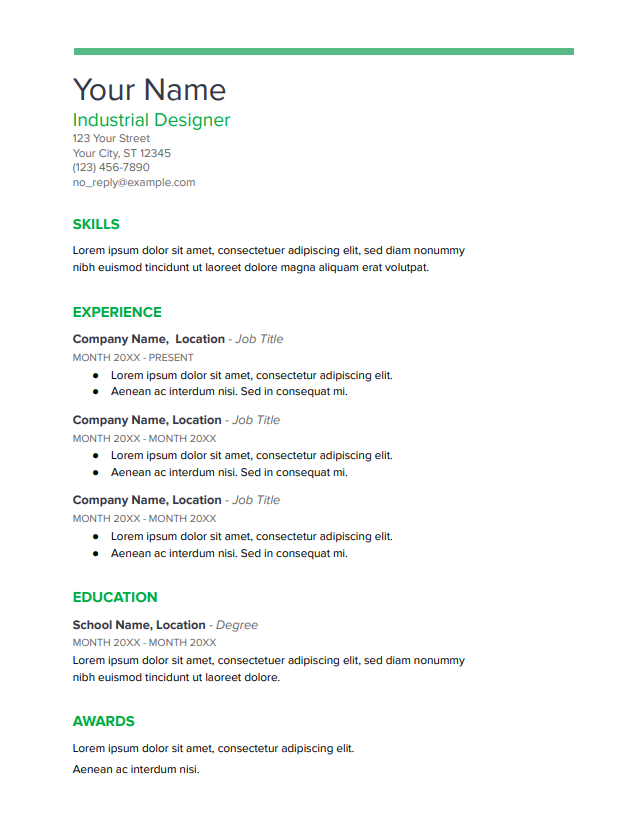 The Spearmint template is another creation of Google designers who advocate for simplicity and restraint in CV making. The vivid green colour recalls the feeling of freshness but also connotates with calmness, development, or growth. Use it freely for an architect's or an industrial designer's CV.
8. Emphasis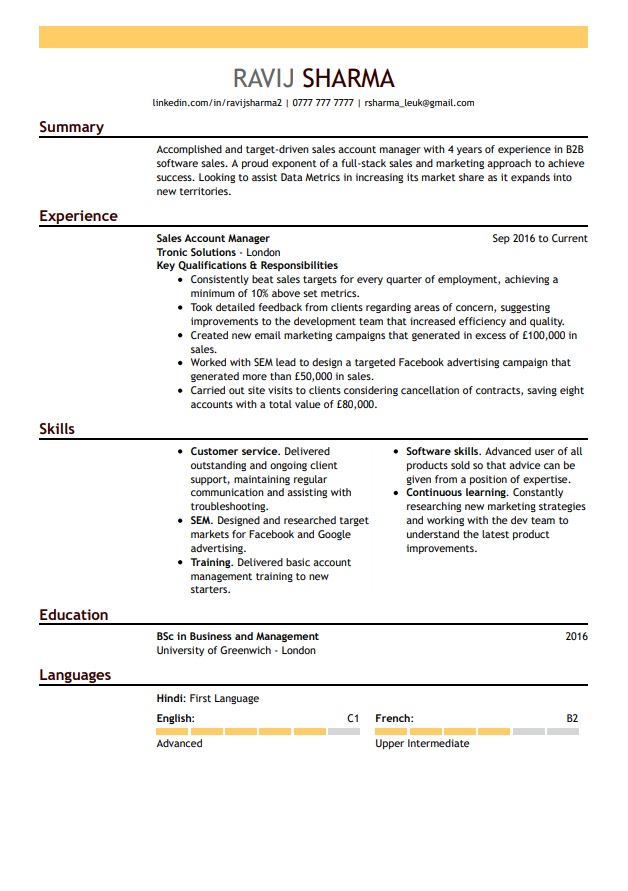 The colour palette you use in your CV can inform about your personality and character. If you're vibrant, you'll more likely use vivid colours instead of grey tones. This Emphasis template by LiveCareer features a common reverse-chronological CV format; however, it uses a yellow stripe to break the routine and monotony. Use it for a sales assistant CV or other job requiring extroverted traits.
9. Managerial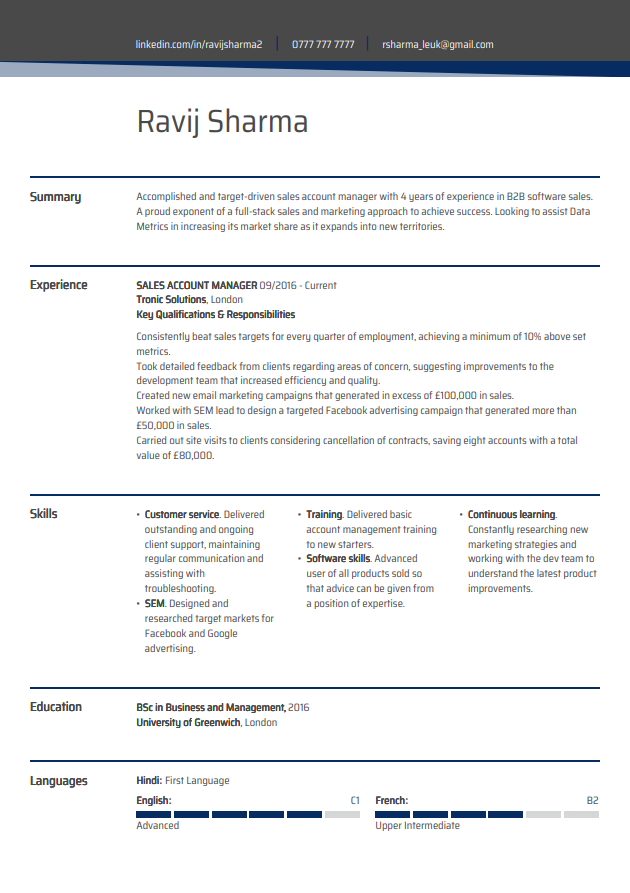 This free CV template from LiveCareer has an elegant look, which can put you forward with confidence. Such a CV layout and a sleek design can underscore your professionalism and expertise, especially if you hold a managerial role. Writing an office manager CV? You won't find a more fitting CV template than the Managerial.
10. Clean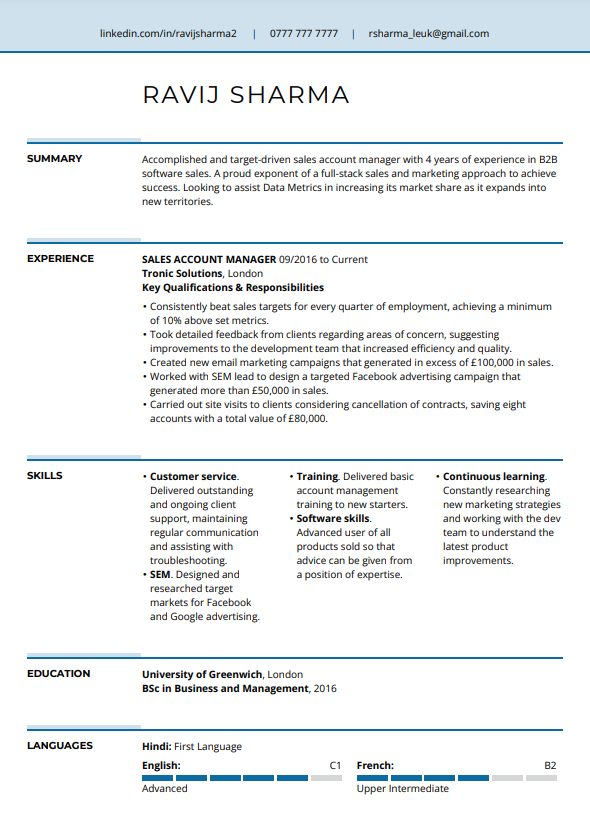 This free CV template made by LiveCareer represents the same CV structure as the previous example. Nevertheless, the light blue bar on the front makes it cleaner and lighter. Recruiters love easy-scannable CVs that don't overwhelm them while reading, and this Clean CV template is up to the task. Use it when writing a CV for professions that require focus and calmness, such as a beauty therapist's CV.
11. Striped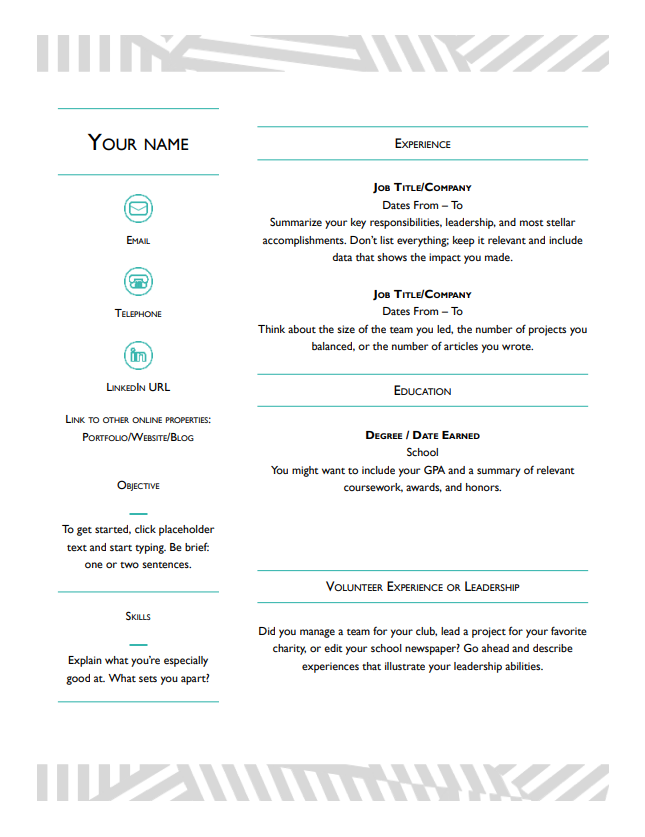 Experts say CVs are the most effective when they incorporate simplistic designs and focus on written content. At the same time, graphic elements used with moderation can make CVs more innovative and appealing, especially if you apply for one of the most sought-after jobs on the UK market. This Creative CV template from the Microsoft CV gallery is the best proof, so use it for a graphic designer CV or other design-related profession.
12. Circular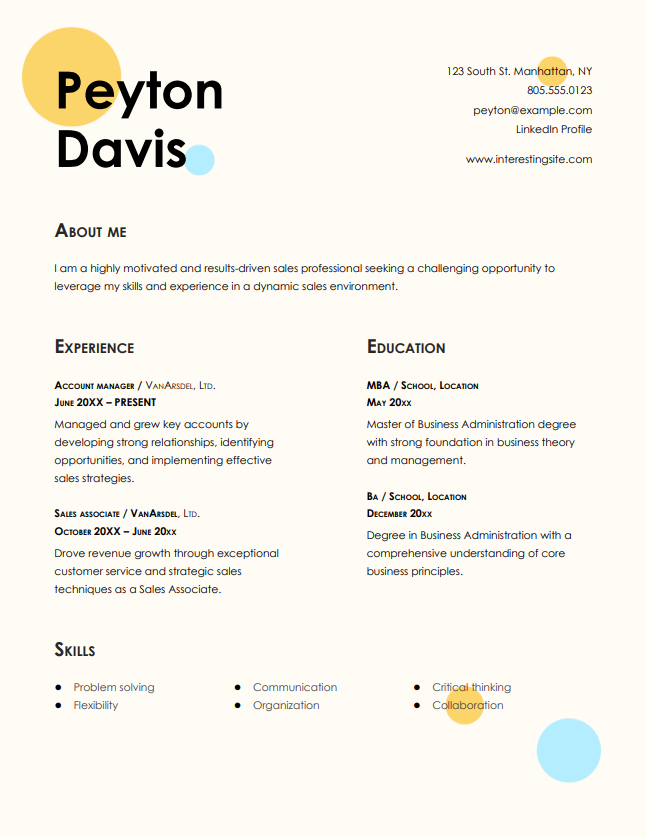 This Creative sales CV template from Microsoft takes CV-making a step further. If your profession requires developing your personal brand, you might want to infuse your CV with elements that express your individuality and refer to your field. Use it for an art director CV or a marketing CV.
13. Geometric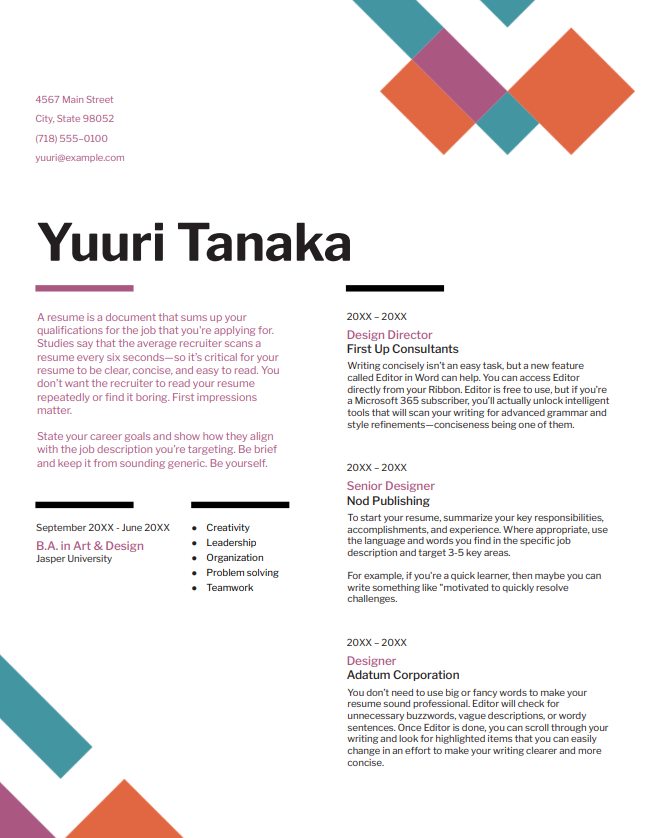 A Geometric CV template is another display of ingenuity. It features a well-organized layout, clean lines, and incorporates shapes like triangles, squares, and circles to create a sense of visual structure. Geometric CV templates can be great for individuals interested in creative and visually-oriented fields, so use them for a fashion CV or an interior designer CV.
14. Photo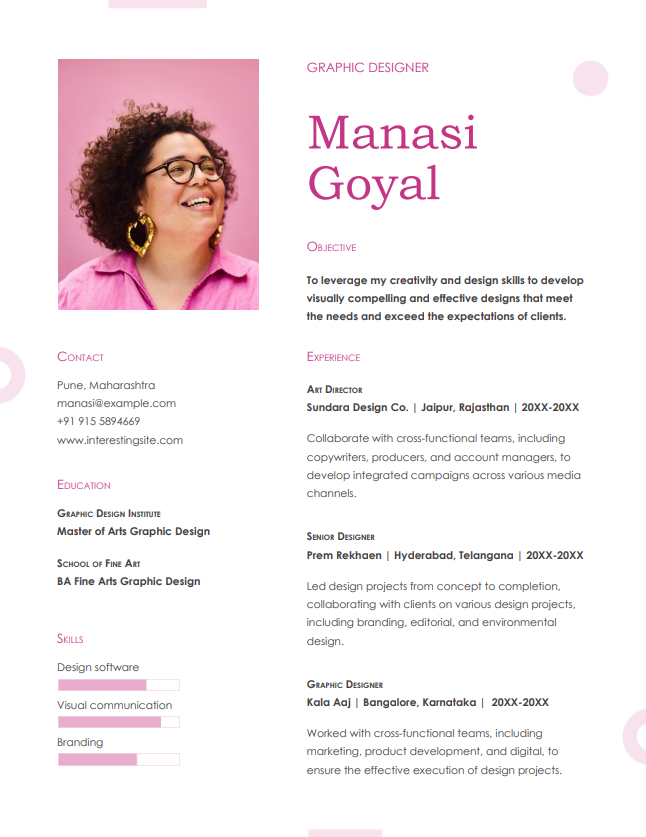 This lovely Photo CV template with pink embellishments comes from Microsoft stock, too. Though we can't thoroughly recommend using a photo in a CV, it can sometimes be advantageous when aiming to establish your personal brand and improve visual recognition. A photo is usually expected in industries like modelling, acting, or different customer-facing roles as it showcases your appearance. Writing a hostess CV or an actor CV? This template is the right choice.
15. Playful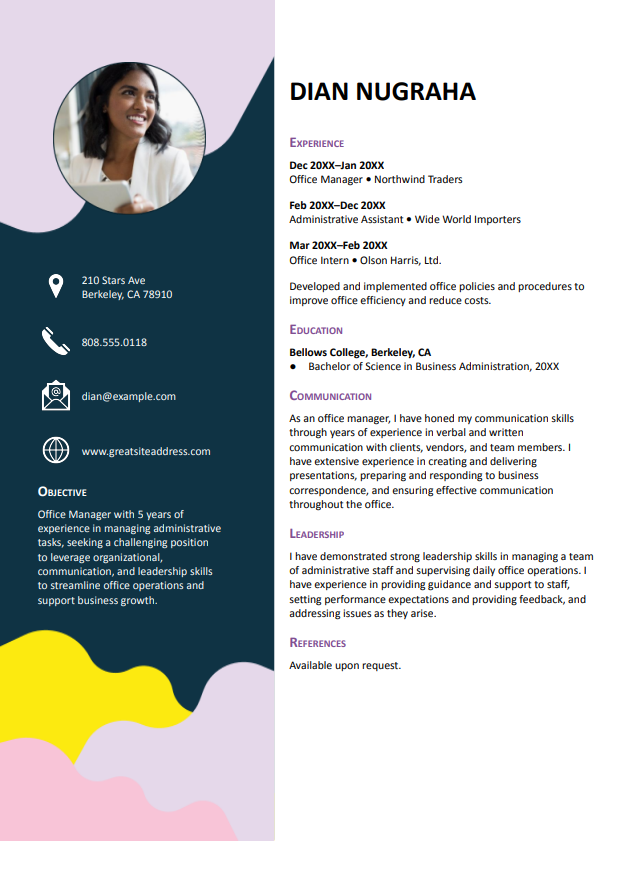 This Playful business template from Microsoft combines professionalism with vibrant design elements to create an engaging CV. Such CVs are well-received in industries valuing creativity and innovation. This CV mixes vivid and muted colours to maintain a professional tone while adding a playful touch.
16. Navy modern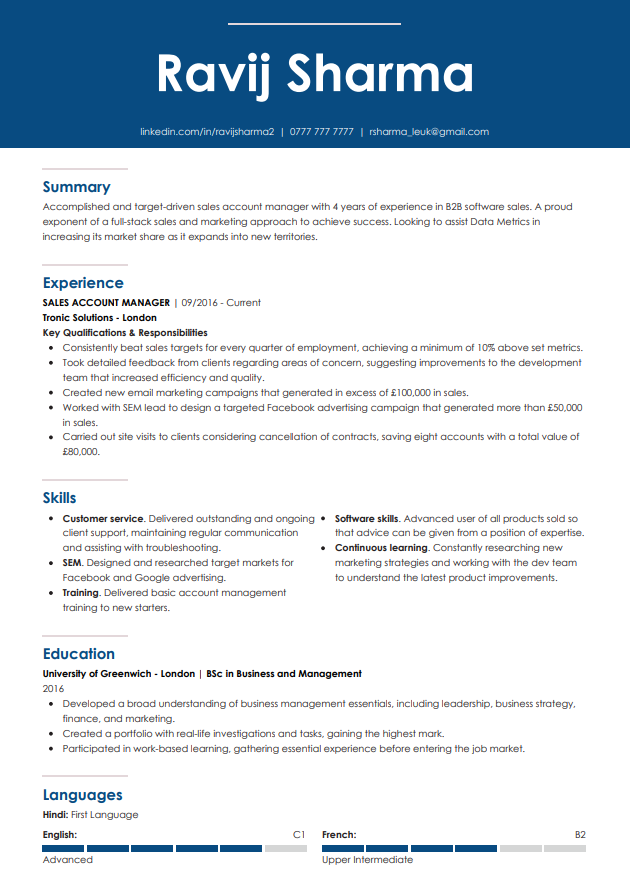 If you don't feel like a playful approach to a business CV is your thing, here's a great alternative from LiveCareer. This Modern template reflects contemporary design trends while having a very professional appearance. A navy blue rectangle up front adds visual interest but doesn't overwhelm the content. This versatile CV template with free download will come in handy when you're writing a receptionist's CV.
17. Prominent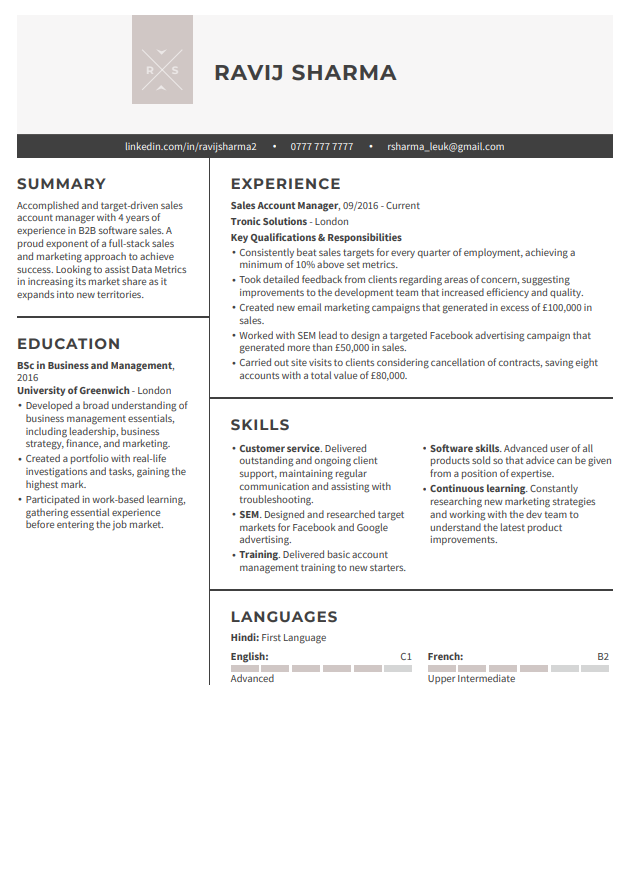 Another modern CV design that presents qualifications, skills, and experience in a clear and impactful manner. The dividing lines between this CV's sections create a clear hierarchy, helping to guide the reader's attention the right way. You can find this UK CV template in the LiveCareer builder, under the name of Prominent template. Use it for hospitality and office jobs.
A strong CV summary will convince the recruiter you're the perfect candidate. Save time and choose a ready-made personal statement written by career experts and adjust it to your needs in the LiveCareer CV builder.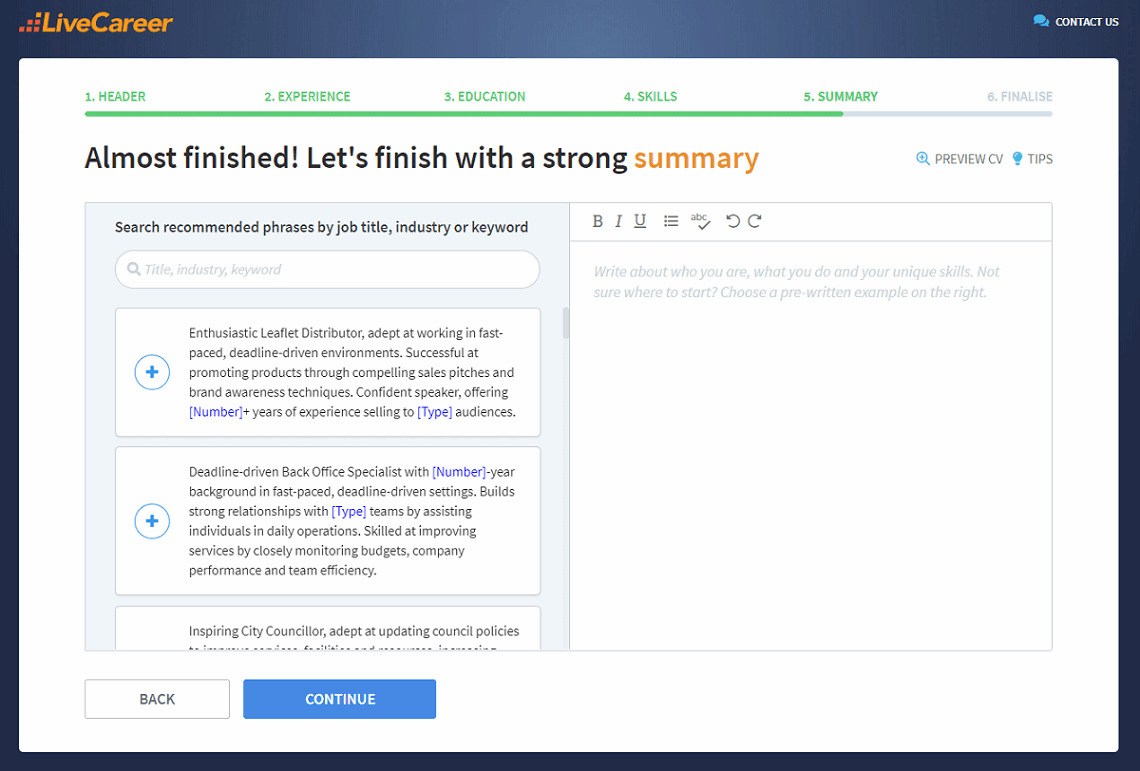 18. Centred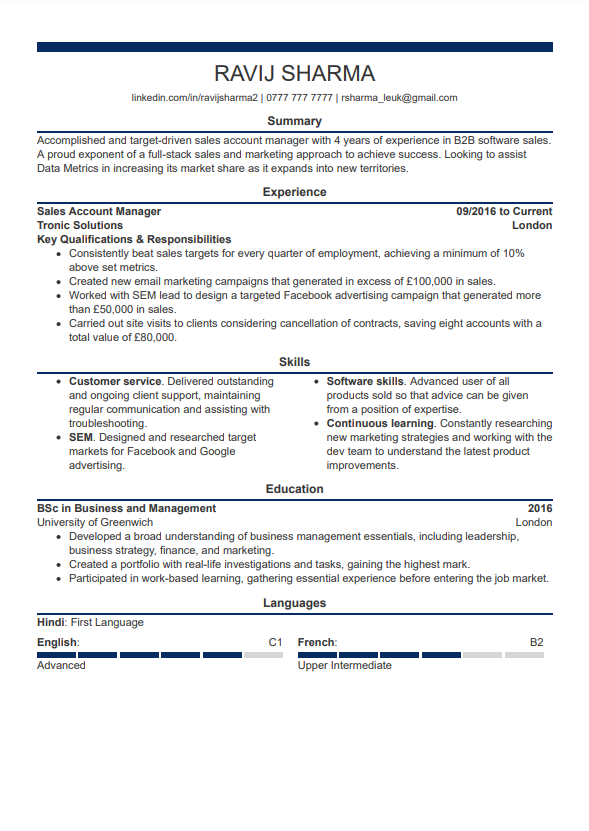 Choosing an ATS-friendly template, like this Modern 6 CV template from LiveCareer, ensures that your CV is easily scannable and compatible with automated systems used by recruiters. It uses a standard font, clear headings, simple section titles, and basic line dividers. This free CV template for UK job applications can be used for various professions thanks to its simplicity.
19. Pistachio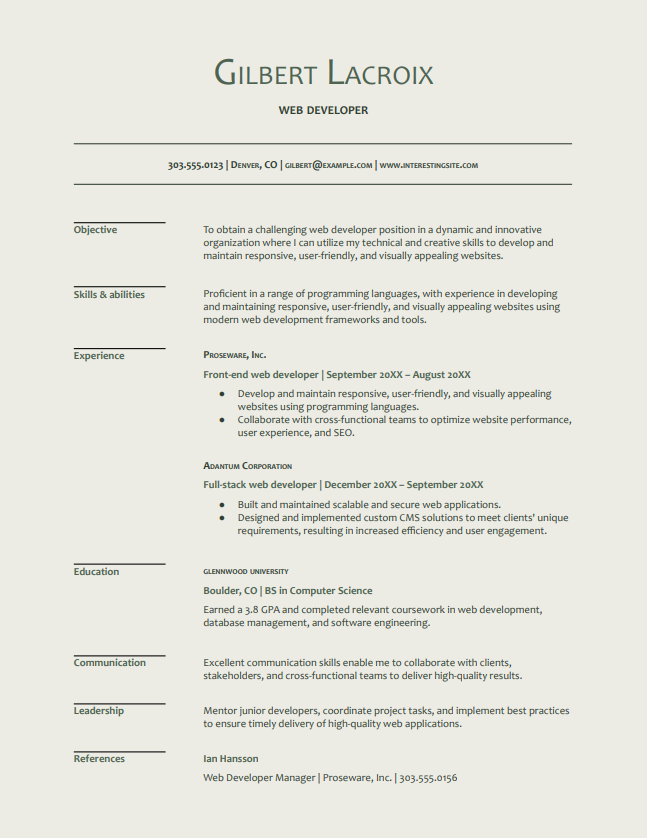 Another classy proposition from Microsoft uses a pastel tone and simple text entries as a background. A candidate's name is centred and immediately catches the attention. Such a plain design as this Modern developer template helps focus on the most essential information, like experience and technical skills. If you're preparing a web developer CV, here's the ready-made CV template for you.
20. Organized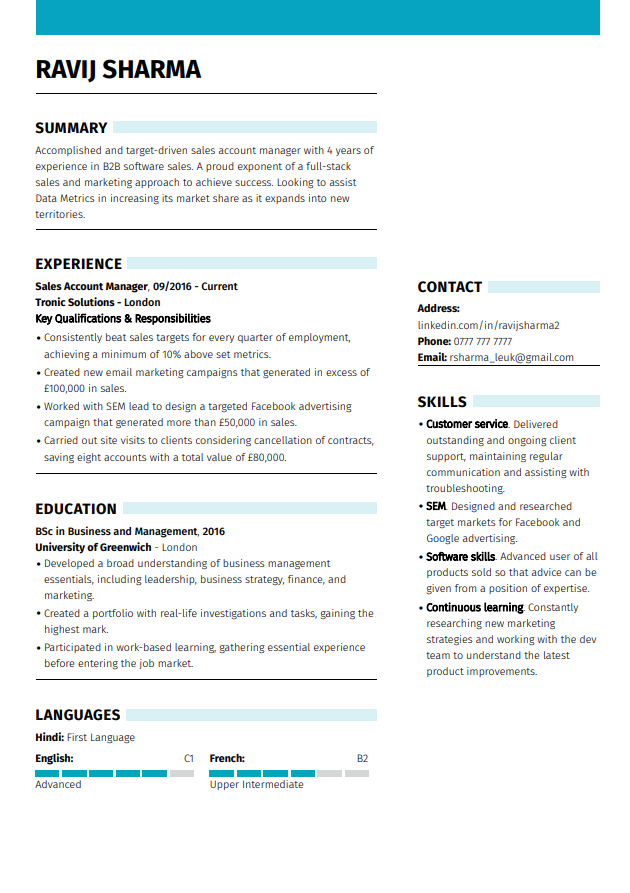 LiveCareer offers numerous modern templates, and here's another one to consider when striving for a well-ordered CV. Such an arrangement of CV sections helps to showcase your qualifications neatly and effectively. The blank space in the right corner is reserved for a photo if you consider one. This Trendy CV template might be useful when writing an account manager's CV or a CV for other jobs where you can boast your organizational skills.
21. Typewriter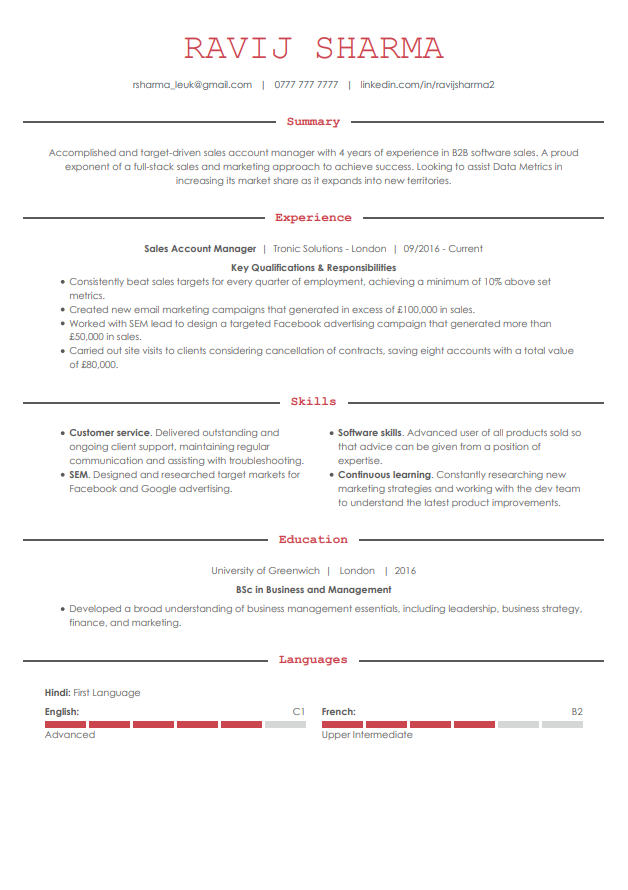 A very simplistic, typewriting-inspired CV layout from LiveCareer, resembling the Writer's template from Google. This Classic 10 CV template will help you achieve a clean and focused representation of your qualifications. It will serve copywriters, content writers, and technical writers perfectly.
22. Bold green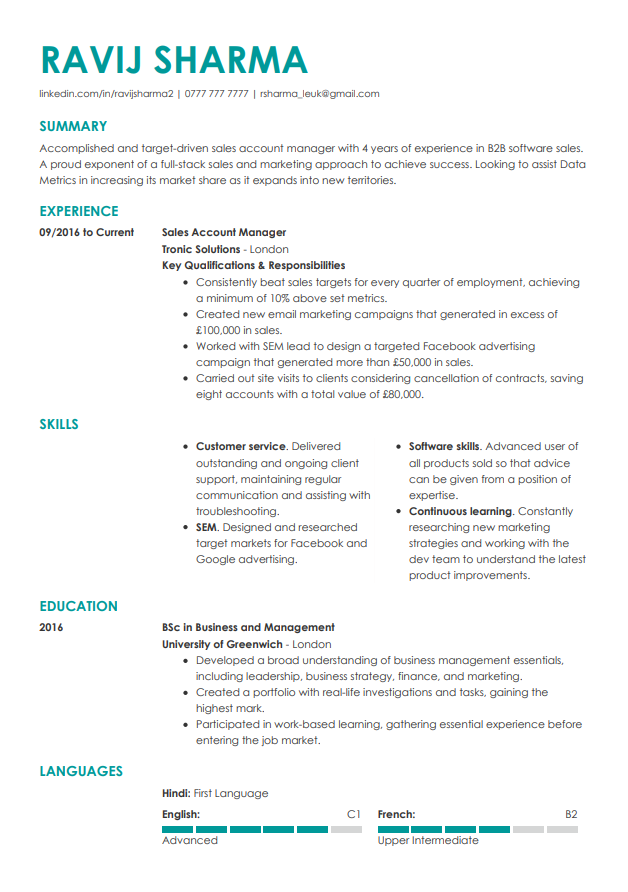 Using a larger font size for the name and surname in your CV is a common practice to create a strong first impression. This Contemporary 4 template that LiveCareer offers reflects this idea pretty well, making a candidate's name easily noticeable. Use this free CV template when creating your first job CV and get noticed.
23. Clear blue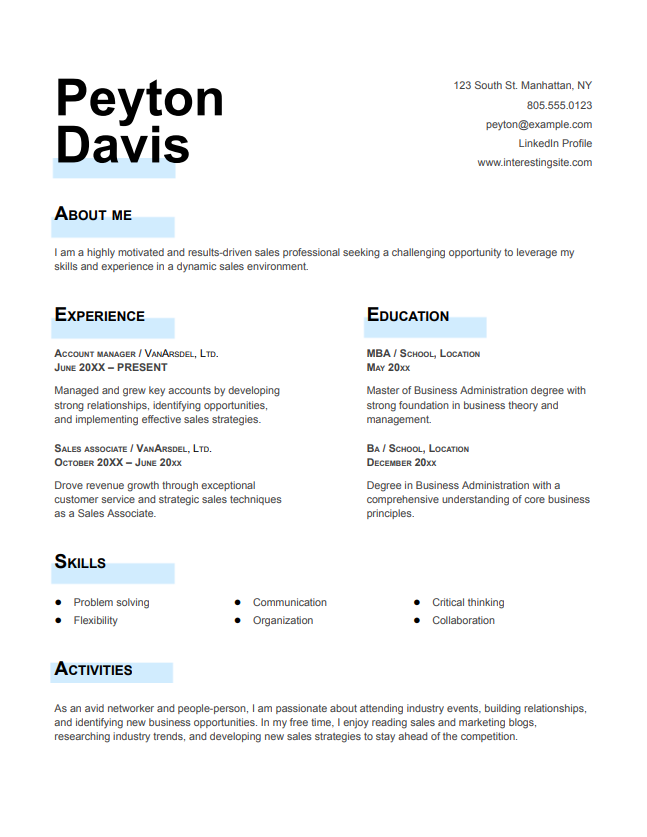 Though "stylish" can vary based on personal preferences, some general characteristics are commonly associated with a stylish CV, and they are pretty visible in this Stylish sales CV template from Microsoft. A bold header, serif fonts, and subtle background stripes are just a few. Consider this free CV template when writing a sales CV.
24. Green square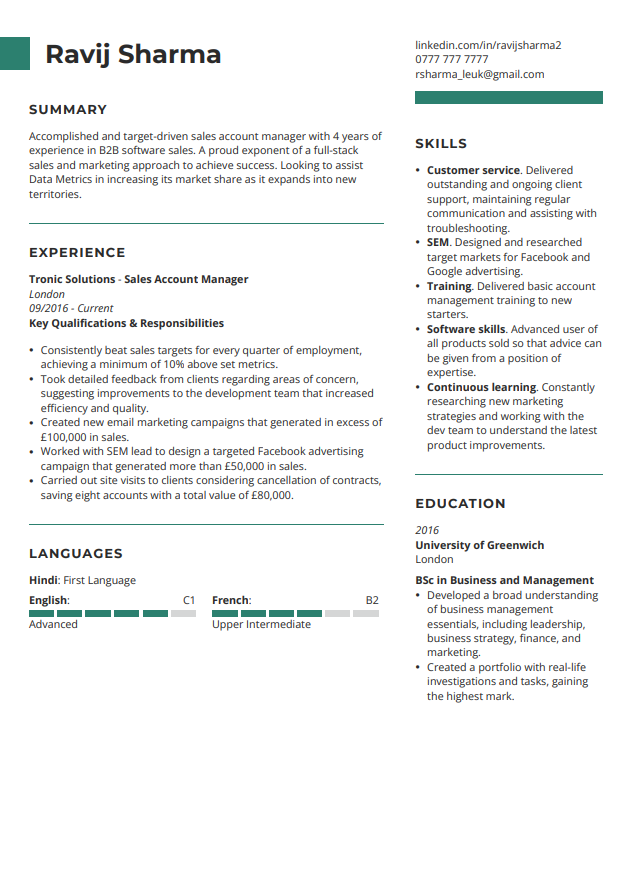 Another UK CV template comes from LiveCareer. An elegant header with a subtle square, clean typography, and small geometric elements make this Creative CV template appealing and notable. It also leaves freedom to apply it for different jobs.
25. Bookmark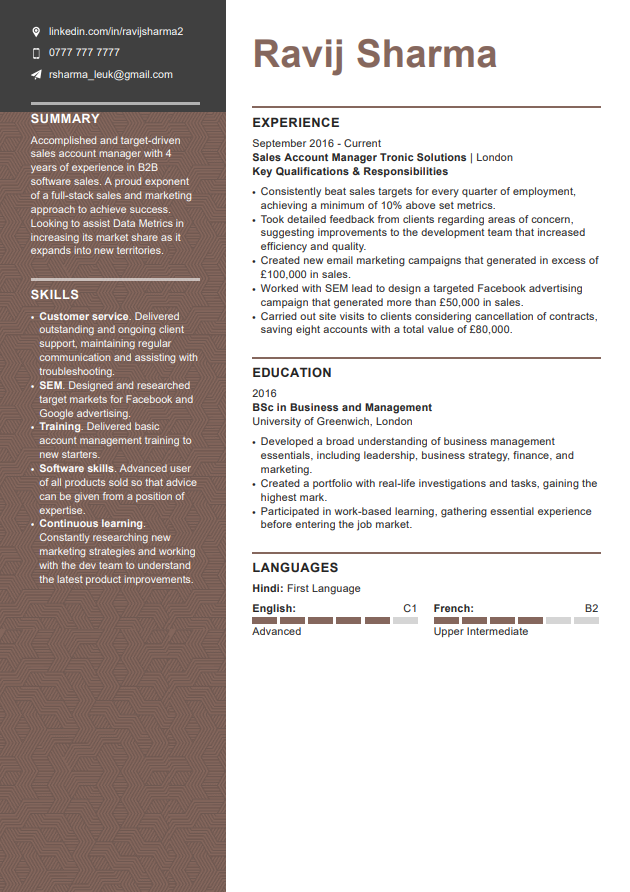 CV with a bookmark is another way of organizing your CV layout the alternate way. This Modern 10 free CV template designed by LiveCareer has a vertical bookmark on the left side, and it looks like made from an original paper type. When editing this template in the LiveCareer builder, you can choose a variety of bookmarks in different colours and textures to add a modern flair to your CV. So what about a teacher's CV with a trendy bookmark on the left?
26. Light grey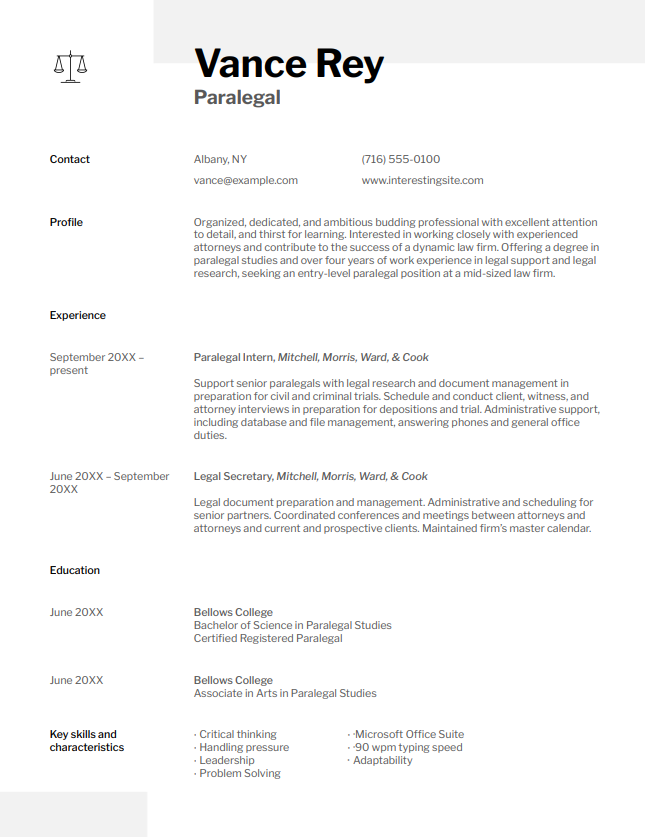 Creating a paralegal CV involves showcasing your professional skills and qualifications in a clear and organized manner. In this dedicated Paralegal template by Microsoft, the information is presented in a neat and concise manner, saving ample space. In addition, it features a small, classy scale considered a symbol of justice.
27. Minimalist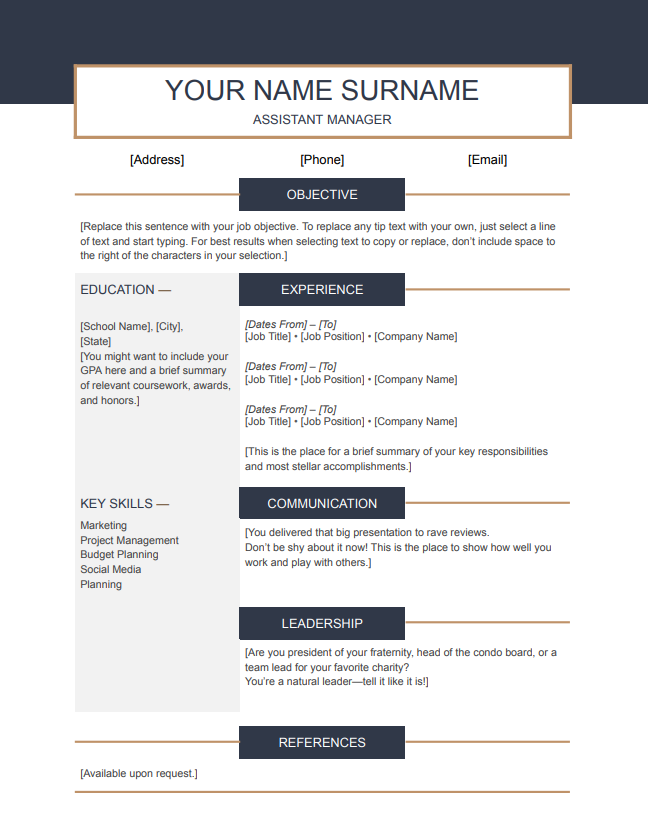 Making a minimalist CV involves simplifying the design while presenting your qualifications and experiences cleanly and concisely. This Minimalist template from Microsoft uses symmetry to maintain harmony and balance. The section names create a central axis, and golden lines are subtle additions that enhance this puristic design. This free CV template for Word will work well especially if you wish to underscore your professionalism and elegance.
28. Traditional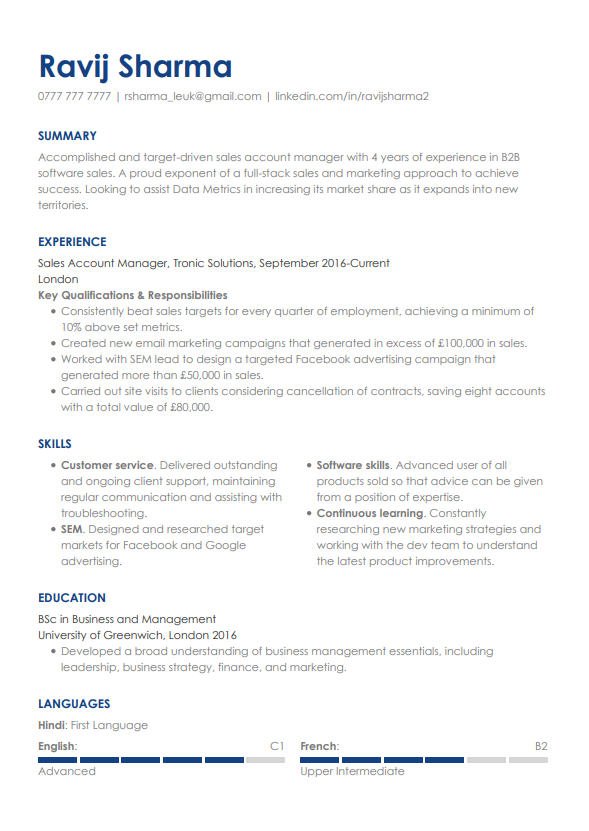 This Traditional CV template provides a clean and straightforward format that is widely recognized and easy to navigate. Traditional templates are quite popular, and this is another CV example you can find among LiveCareer's assets and adapt to any profession.
29. Impactful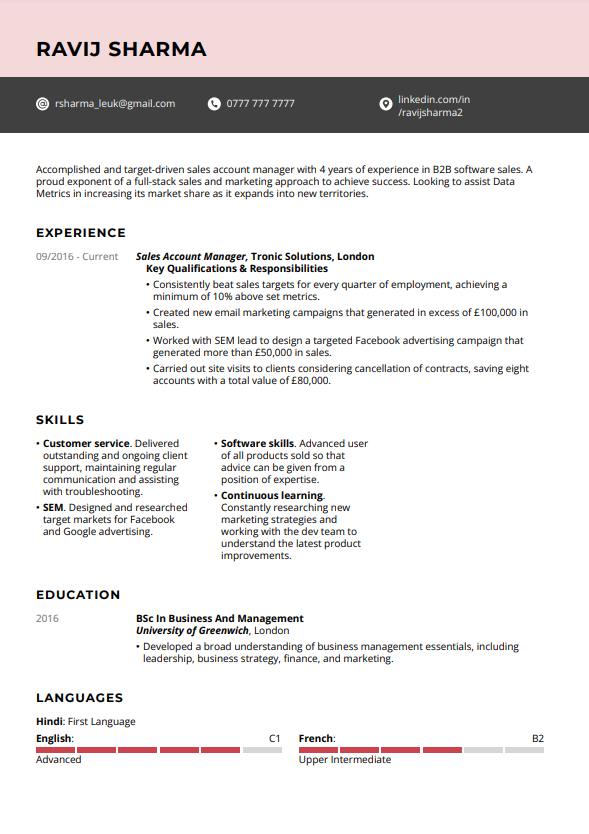 Creating an impactful CV involves a combination of content, design, and customization, and this Impactful CV template from LiveCareer makes the grade. Adjust the main colour to your needs, and you'll get a well-formatted, personalised CV document. Pink is associated with gentleness and softness, so don't hesitate to use it when writing a CV for the beauty industry, such as a nail technician's CV.
30. Classy beige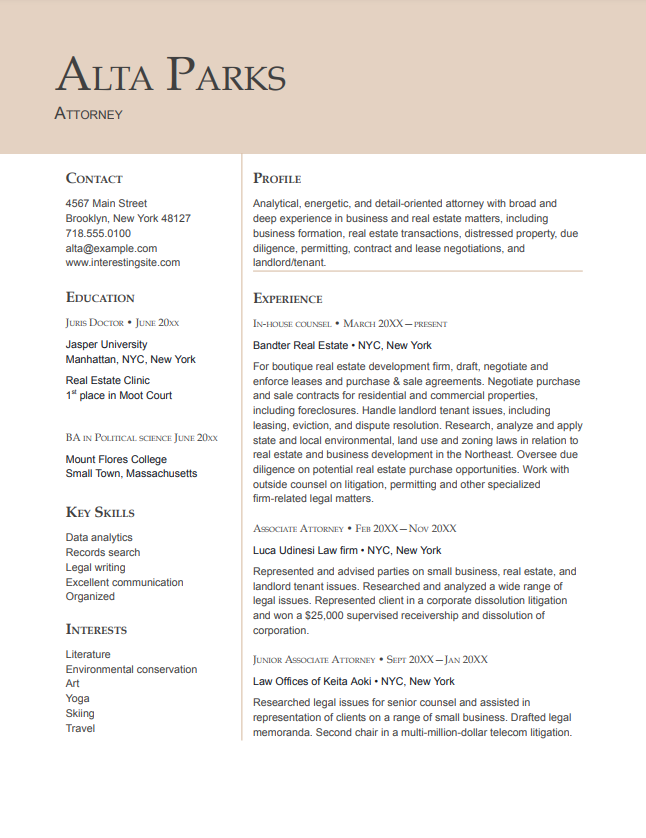 Here's another example of a legal CV template, which aligns with the profession. A subdued colour and modern, classy fonts make this Attorney resume from Microsoft an excellent choice for lawyers who want to balance professionalism and visual appeal.
31. Blue-lined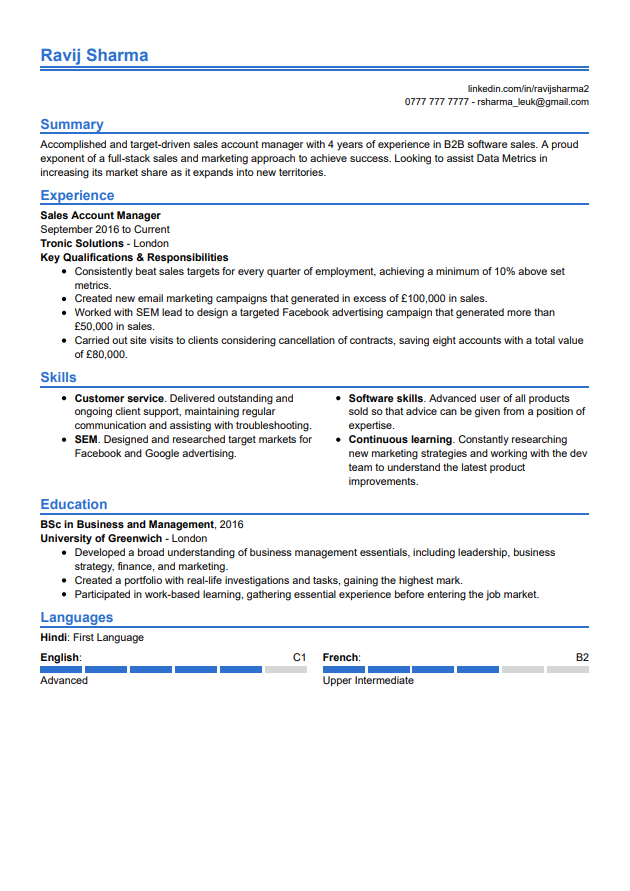 Here's another Traditional 2 CV template with free download that you can find in the LiveCareer builder. Certainly, adding lines to your CV can help visually separate sections and create a more organized and professional look, no matter the job profile.
32. Sticky note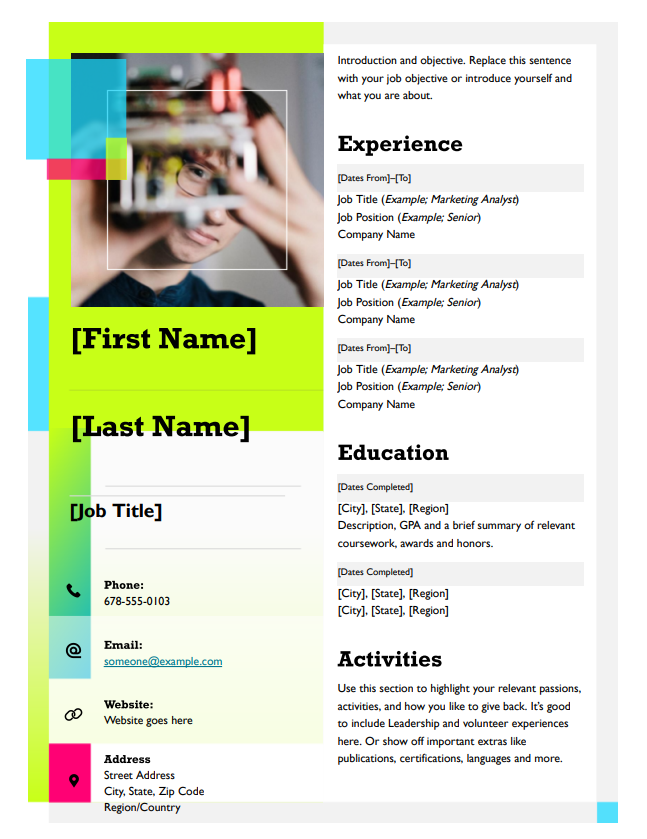 Now, moving to something more fancy. A CV template with a "sticky note" design can definitely add a memorable touch to your CV. This unique Sticky note CV template combines two contrasting columns: a coloured one and a grey. It also saves a lot of space for the contact information section, enriching it with icons. Show off your creativity by applying this original template, whether you're making a video editor CV or a software developer CV.
33. Experienced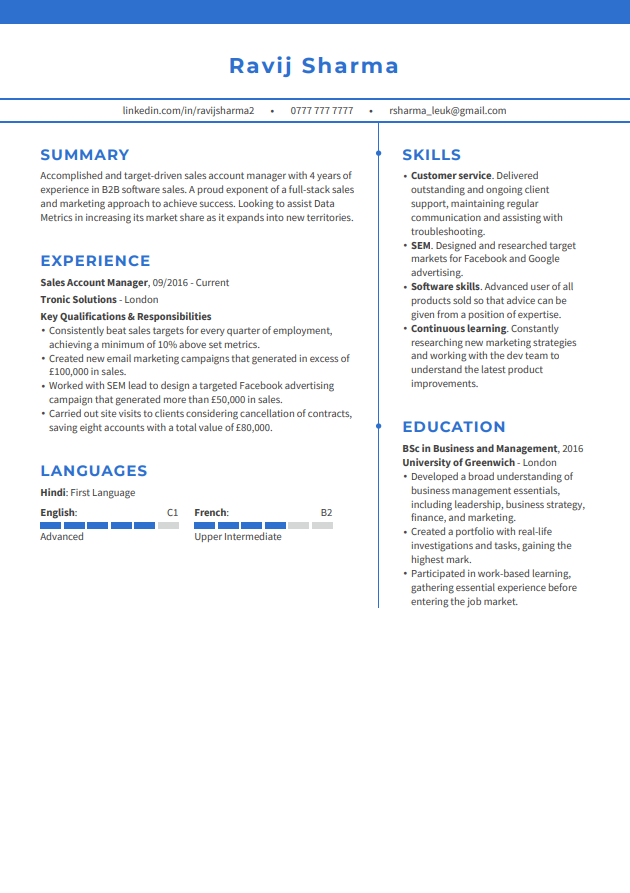 What distinguishes this Experienced CV template from LiveCareer is the contact information section. A horizontal contact section in a CV is an alternative layout to the traditional vertical contact information placement, and it's a visually appealing way to present your contact details and create a more modern and unique look for your CV. This free CV template for UK jobs can be adjusted to any profession.
34. Headshot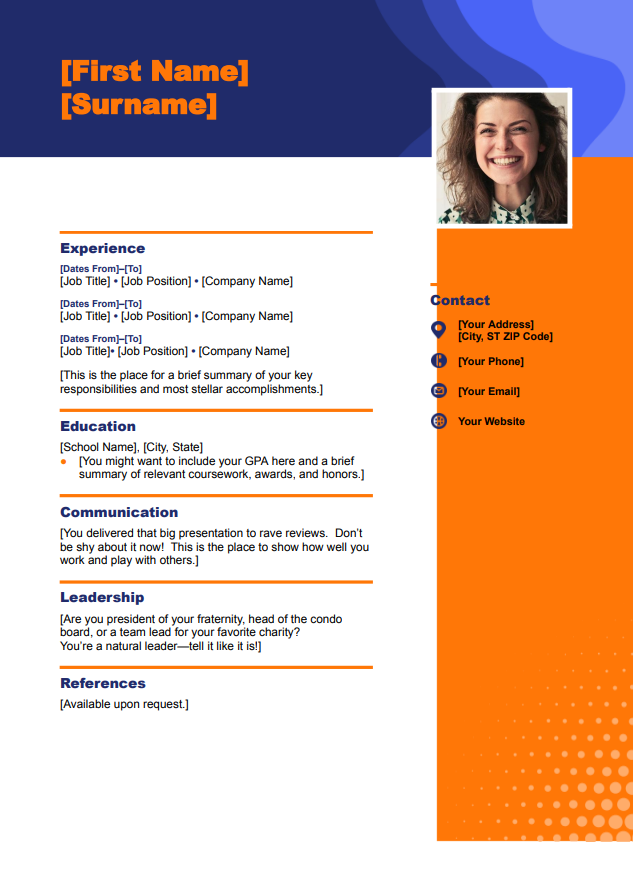 This Headshot CV template was conceived by Microsoft, and it can include a professional photograph of yourself alongside your qualifications, experiences, and other relevant information. While adding a headshot to your CV can provide a personal touch and help employers remember you, you must approach this decision thoughtfully and consider the conventions of your industry and location. This Microsoft's free CV template might satisfy journalists, presenters, or public professionals.
35. Chronological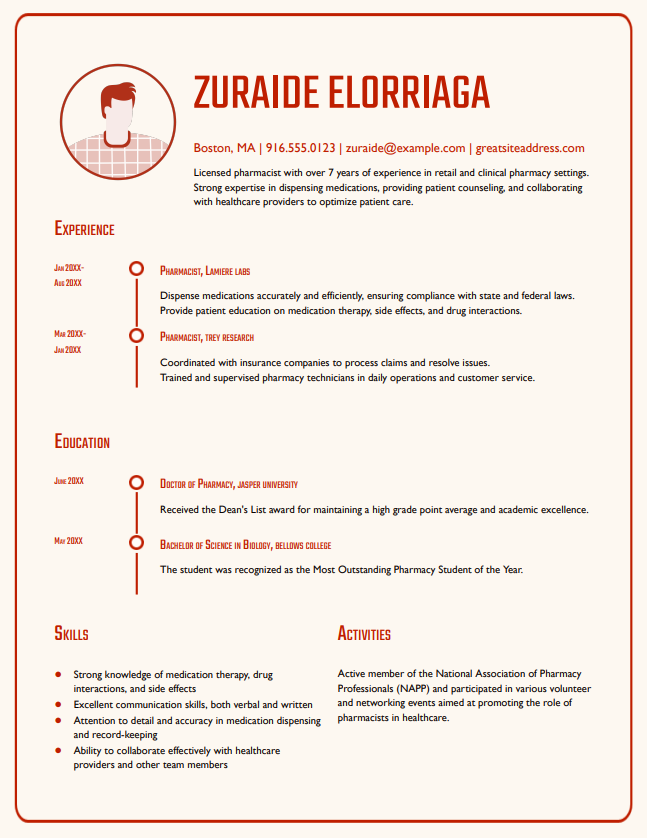 This Modern chronological resume by Microsoft showcases your work experience and professional education in reverse chronological order while incorporating modern design elements. It also uses a distinct red tone to accentuate the most crucial information. Use it for an artist CV.
36. Swiss-styled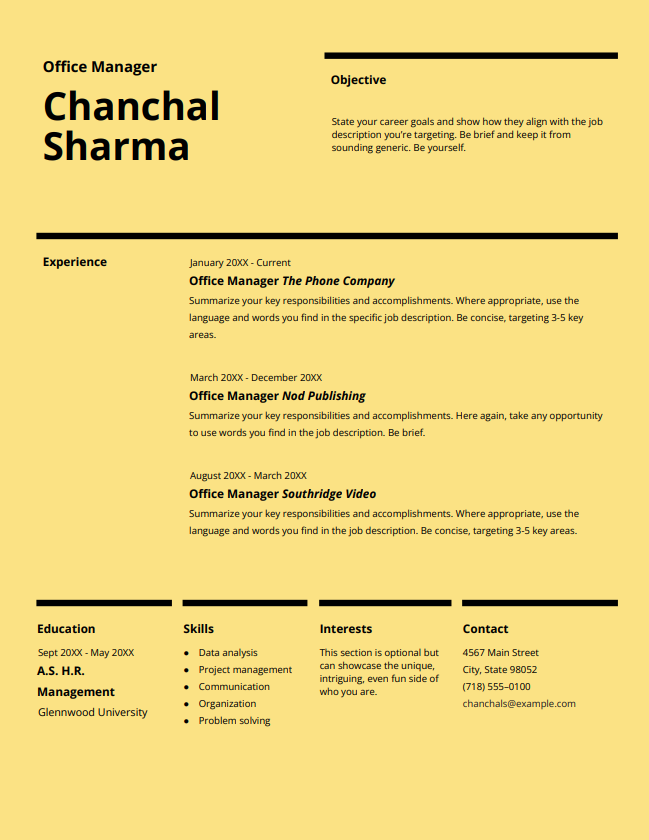 Remember the Swiss template from Google that we presented at the beginning? Here's an alternate Swiss design CV template from Microsoft following the Swiss design rules. It has a clean, structured layout, strong typography, and it is visually clean. When applying Swiss design principles to your CV, focus on simplicity, organization, and readability. This CV sample was written for an office manager role, but you can also use it when composing a CV for a project manager or similar.
36. Simple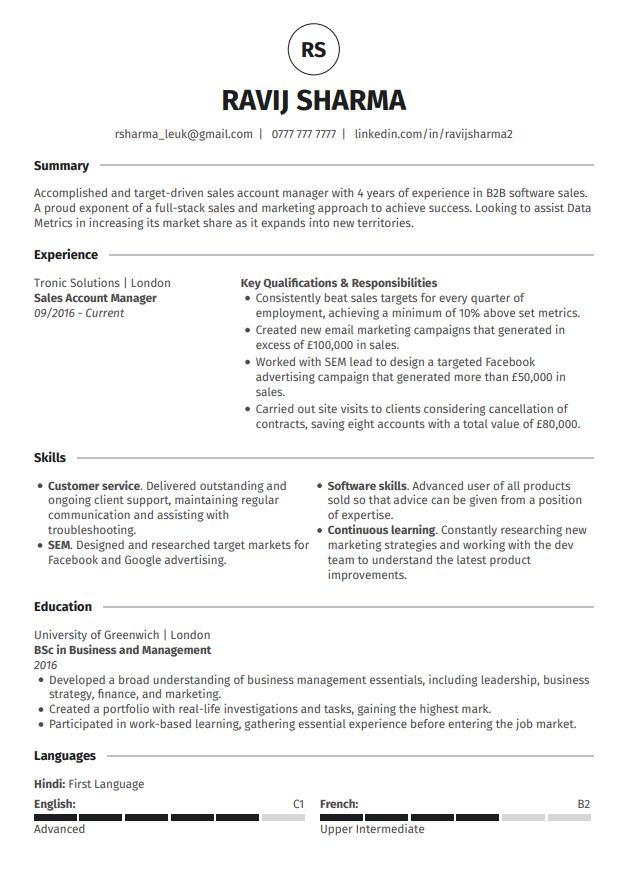 This simple Classic 5 CV template from LiveCareer focuses on presenting your qualifications, experiences, and skills in a clean and straightforward manner. A simple sans serif font supports this minimalistic design while classy initials placed in the centre add a unique visual element to this b&w CV layout. This free CV template for UK jobs might appear helpful when preparing a CV for an electrician or an engineering CV, as they usually focus on the technical rather than visual aspects.
38. Dark blue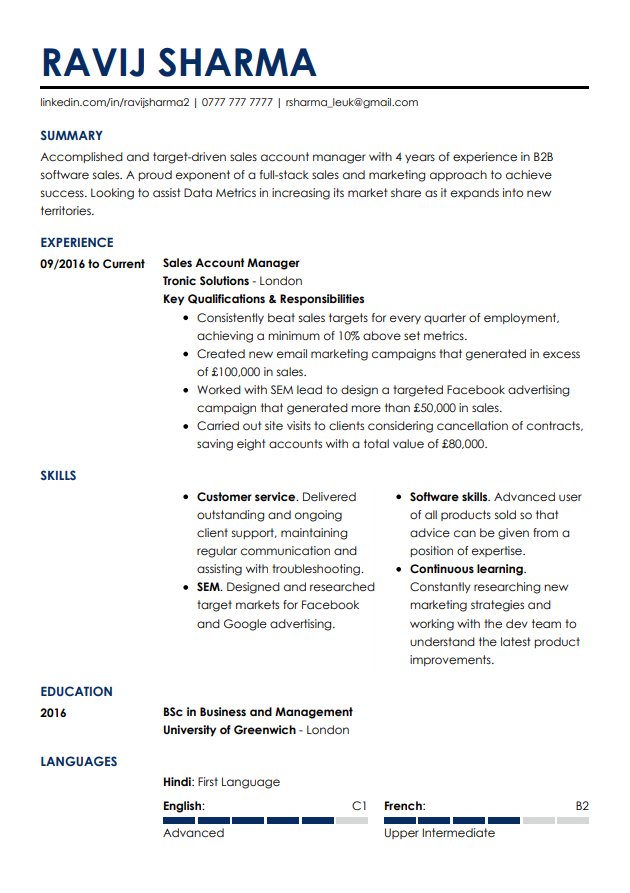 This Contemporary CV template by LiveCareer combines modern design elements with a focus on clarity, organization, and visual appeal. It also displays professional skills in two columns to keep enough whitespace between sections and fit all contents on one page. The name is separated from sections with a navy blue bar, adding a contemporary flair to this CV. We recommend using it specifically for office and banking jobs, e.g. when writing a finance CV or an investment banking CV.
39. Rose classic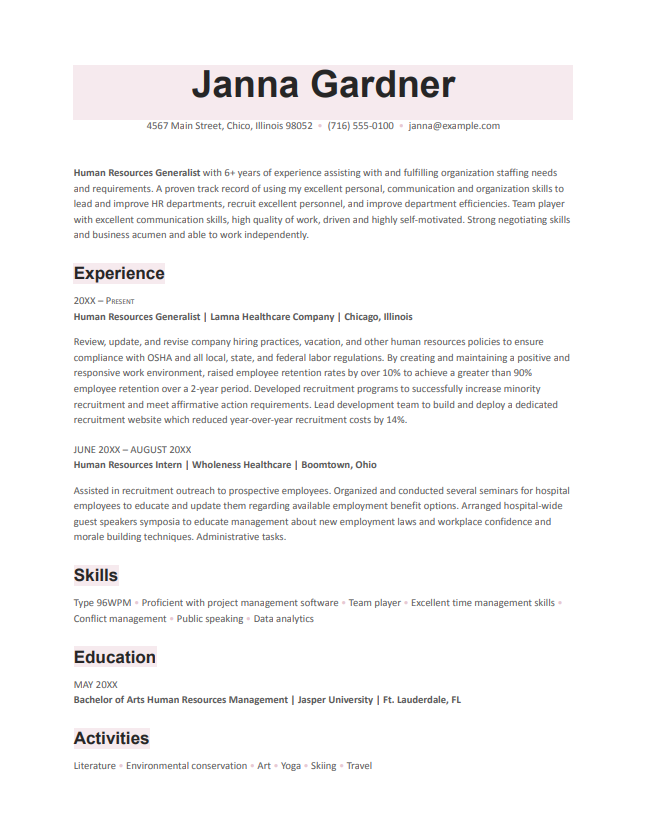 Another Microsoft artwork that prioritizes compatibility with ATS while maintaining a professional and traditional design. Simple fonts and subtle colour additions make this Rose template a classic choice. This particular CV example is an HR CV, but you can adjust it to many roles.
40. In-line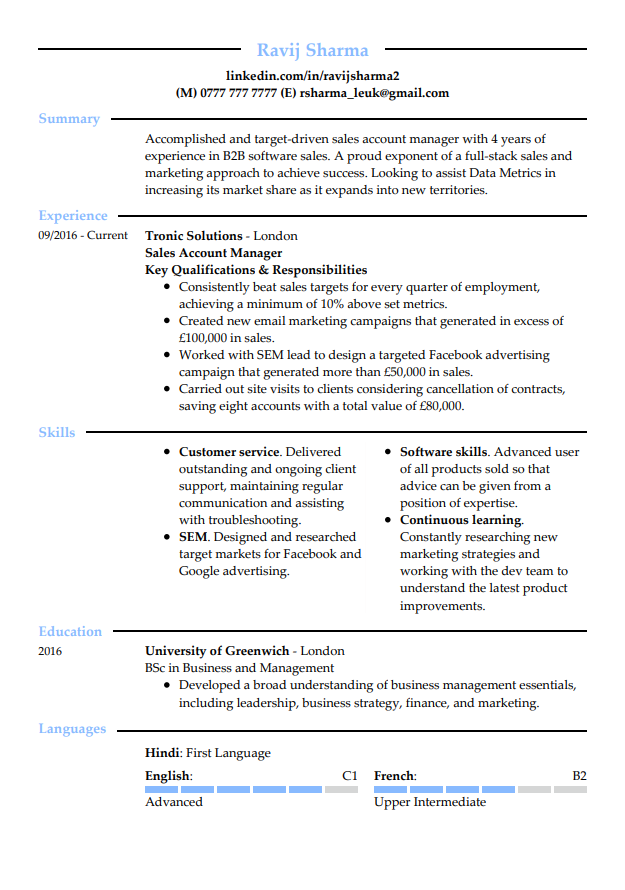 The last example comes from the LiveCareer gallery and is called Modern 2. It's a simple line CV template maintaining a clean and minimalistic design while incorporating subtle line elements for visual interest. Thin lines divide sections, and a minimal colour palette keeps the design understated.
And, voilà! With such a vast list of free CV templates for UK jobs, you're good to go. Just make sure you choose a template that aligns with the profession and doesn't hurt your job hunt.
Or, choose a professional CV builder like Livecareer, where all CV templates are reliable and recruiter-approved. You get expert advice and examples as you write, and our builder does the hardest job for you, adjusting formatting and other visual parts of your CV.
You don't have to be a CV writing expert. In the LiveCareer CV builder you'll find ready-made content for every industry and position, which you can then add with a single click.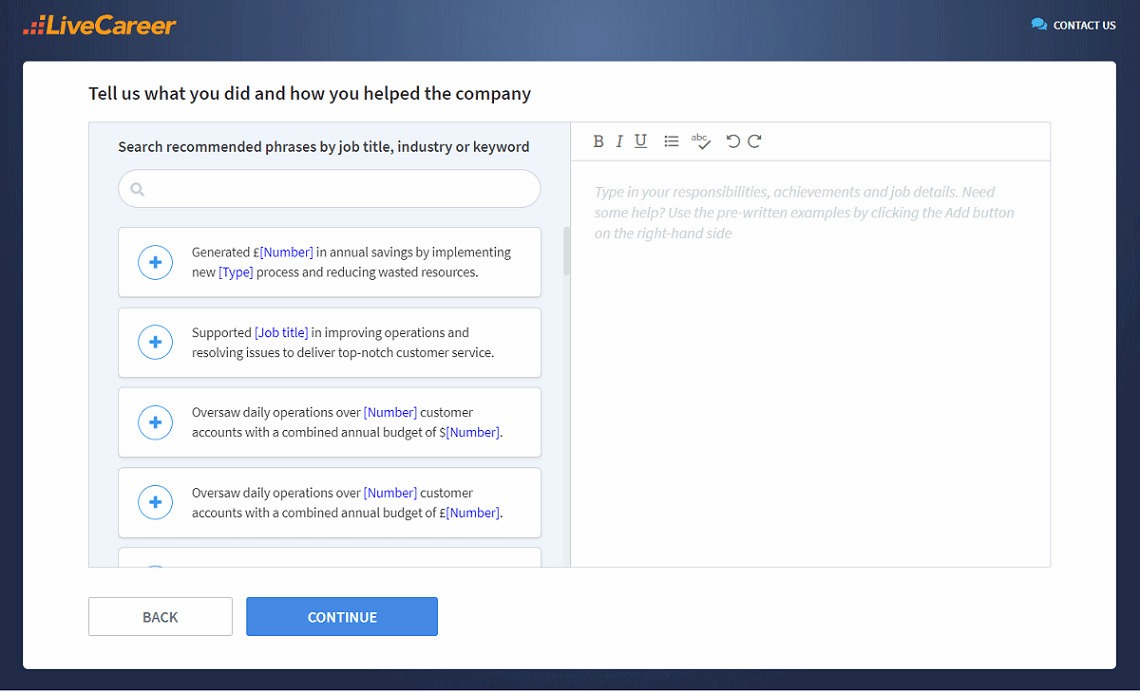 Thanks for reading. If you have any questions about how to find a good free CV template, ask in the comments section. We'll be happy to help you.
How we review the content at LiveCareer
Our editorial team has reviewed this article for compliance with Livecareer's editorial guidelines. It's to ensure that our expert advice and recommendations are consistent across all our career guides and align with current CV and cover letter writing standards and trends. We're trusted by over 10 million job seekers, supporting them on their way to finding their dream job. Each article is preceded by research and scrutiny to ensure our content responds to current market trends and demand.
About the author
LiveCareer Editorial Team
Since 2005, the LiveCareer Team has been helping job seekers advance their careers. In our in-depth guides, we share insider tips and the most effective CV and cover letter writing techniques so that you can beat recruiters in the hiring game and land your next job fast. Also, make sure to check out our state-of-the-art CV and cover letter builder—professional, intuitive, and fully in line with modern HR standards. Trusted by 10 million users worldwide.