CV templates for Word are a perennial favourite of job seekers around the world. Favoured for their familiarity and huge variety of choices, they're easily one of the most searched for items when it comes to employment.
However, therein lies the problem. Do a quick search for a Word CV template and you'll find countless thousands to choose from. And for every good CV Word template, there's an absolutely terrible one that'll damage your chances of success.
But never fear, we've done the hard work so you don't have to. We've carefully explored the free Word CV template jungle and selected only the finest specimens for you to use in your job search.
Let's make a start.
Create an effective CV in minutes. Choose a professional CV template and fill in every section of your CV in a flash using ready-made content and expert tips.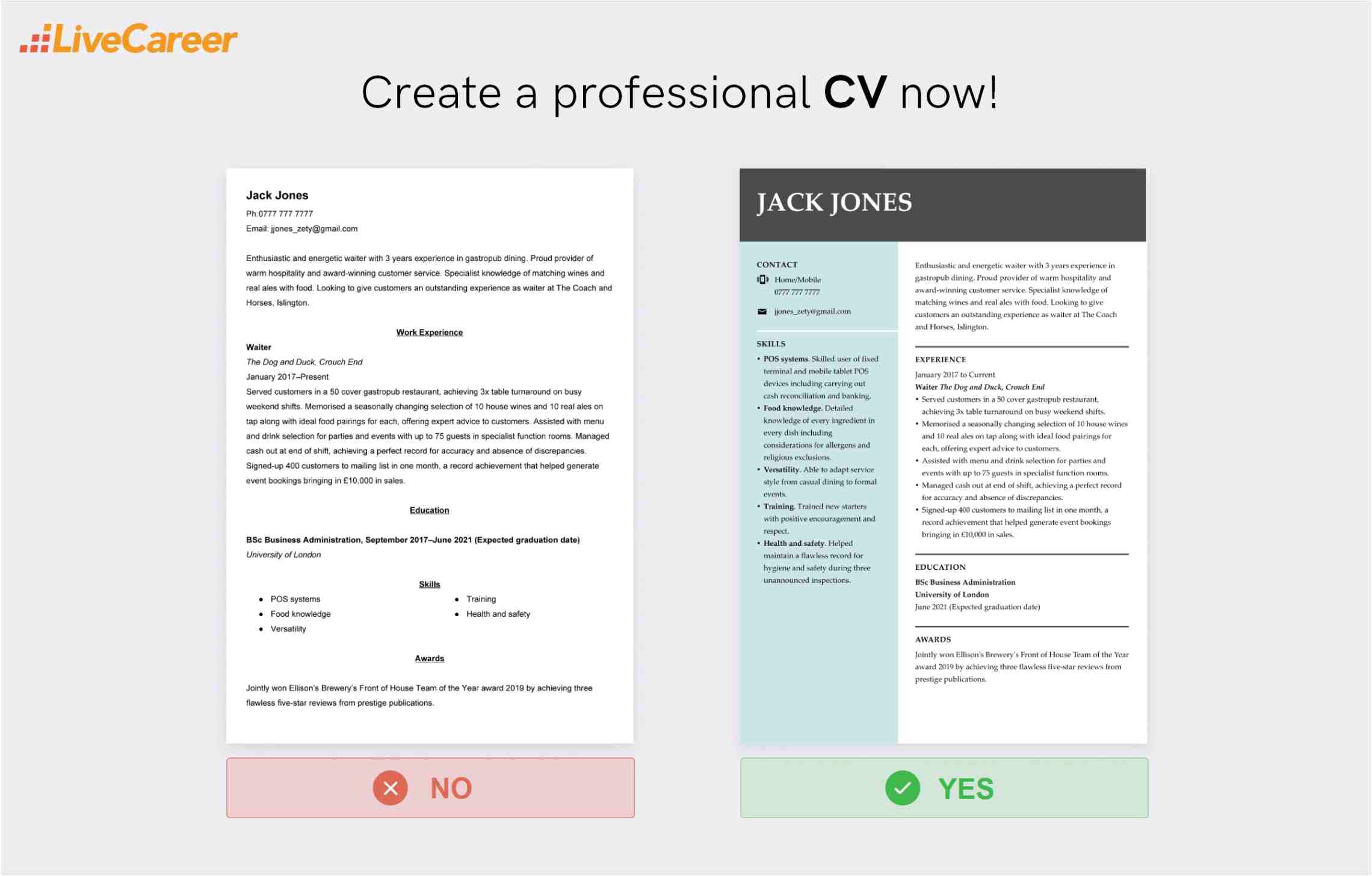 The LiveCareer online CV maker lets you build a professional CV fast and download it as a PDF or DOC.
Looking for a different CV template? Check these:
Word CV template sample
Jack Jones
Ph: 0777 777 7777
Email: jjones_zety@gmail.com
Enthusiastic and energetic waiter with 3 years experience in gastropub dining. Proud provider of warm hospitality and award-winning customer service. Specialist knowledge of matching wines and real ales with food. Looking to give customers an outstanding experience as waiter at The Coach and Horses, Islington.
Work Experience
Waiter
The Dog and Duck, Crouch End
January 2017–Present
Served customers in a 50 cover gastropub restaurant, achieving 3x table turnaround on busy weekend shifts.
Memorised a seasonally changing selection of 10 house wines and 10 real ales on tap along with ideal food pairings for each, offering expert advice to customers.
Assisted with menu and drink selection for parties and events with up to 75 guests in specialist function rooms.
Managed cash out at end of shift, achieving a perfect record for accuracy and absence of discrepancies.
Signed-up 400 customers to mailing list in one month, a record achievement that helped generate event bookings bringing in £10,000 in sales.
Education
BSc Business Administration, September 2017–June 2021 (Expected graduation date)
University of London
Skills
POS systems. Skilled user of fixed terminal and mobile tablet POS devices including carrying out cash reconciliation and banking.
Food knowledge. Detailed knowledge of every ingredient in every dish including considerations for allergens and religious exclusions.
Versatility. Able to adapt service style from casual dining to formal events.
Training. Trained new starters with positive encouragement and respect.
Health and safety. Helped maintain a flawless record for hygiene and safety during three unannounced inspections.
Awards
Jointly won Ellison's Brewery's Front of House Team of the Year award 2019 by achieving three flawless five-star reviews from prestige publications.
OK, now you know what makes a good CV. Here's a selection of the best free Word CV templates to download easily:
1. Bold Professional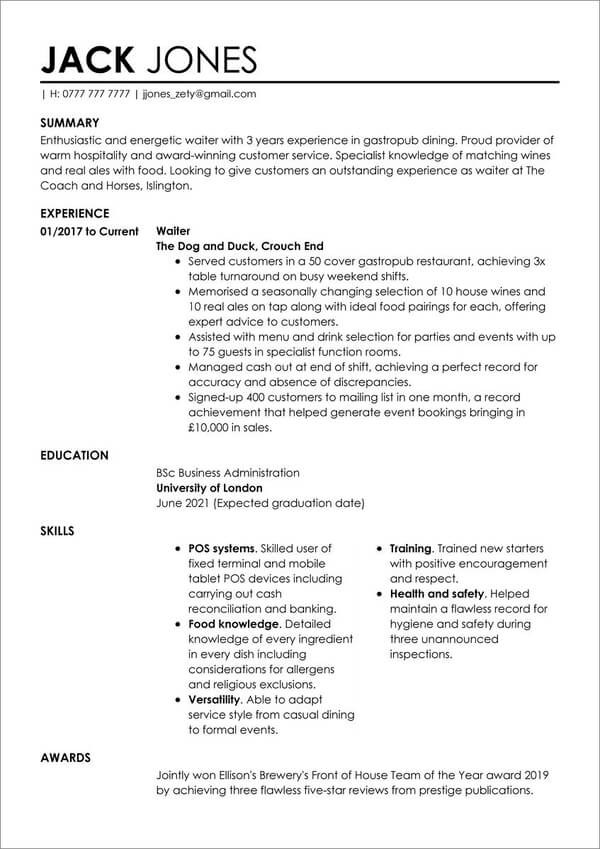 We start off our collection of free Word CV templates with this classically elegant example. This template features a conservative monochrome design but it remains eye-catching with its clever use of a clear CV font accentuated by bolding. And the great thing about our Live Career CV templates is that you get a CV template download in Word, but all your editing is down with our CV builder. That means no more struggling with your CV layout, our builder does everything for you, delivering perfect results every time.
2. Blue Modern Header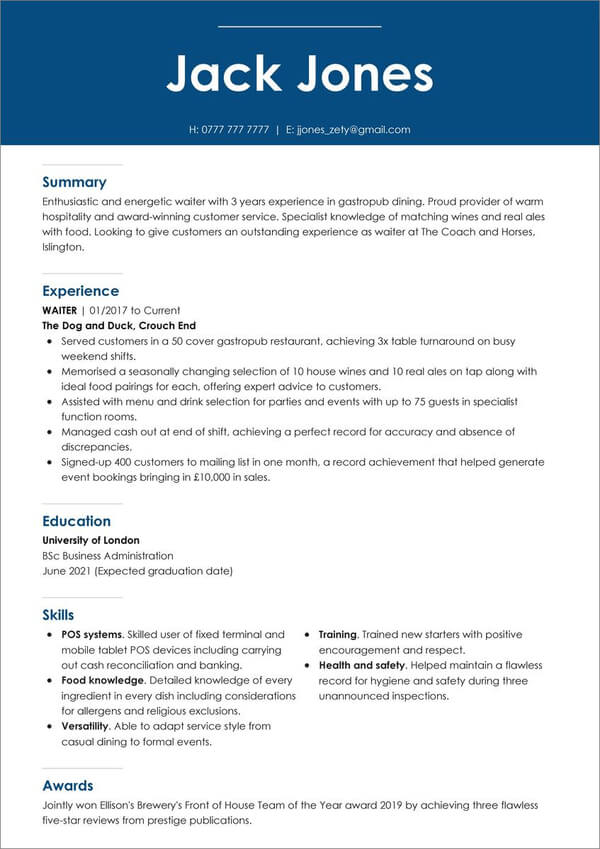 Now for a more modern feel, this CV template makes bold use of colour. Starting off with the striking CV header, it also includes complementary highlights in the section heading text. Presented in a generous one-column CV format, there's ample space to fit in all of your skills and experience whilst sticking to a one- or two-page CV. And as with all of our free CV templates it's not just downloadable in Word, it's downloadable as a PDF, too.
3. Light Blue Creative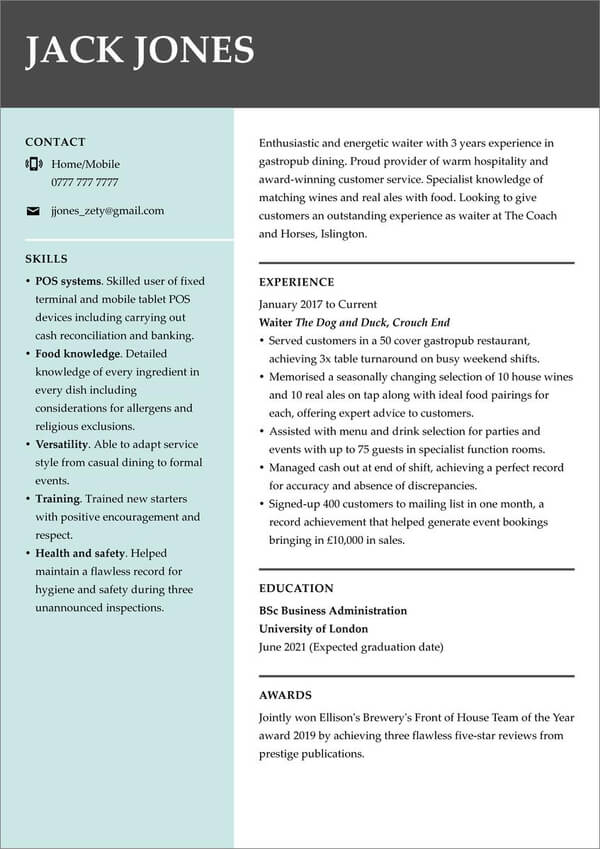 Now for another level up in creativity, this template implements colour and CV format to perfection. Unlike the previous two free Word CV templates, it uses a two-column format, with your name a bold standalone element and your personal details and skills section moved to a separate column. And although it's creative, the use of colour is tasteful and professional. Plenty of free CV templates for Word go overboard with bright colours. That may work fine for creative industries but not so much for more traditional corporate roles. Using our CV maker is a surefire win too, all you need to do is enter your content then it does all the heavy lifting for you, guaranteeing a perfect end result.
4. Centred Executive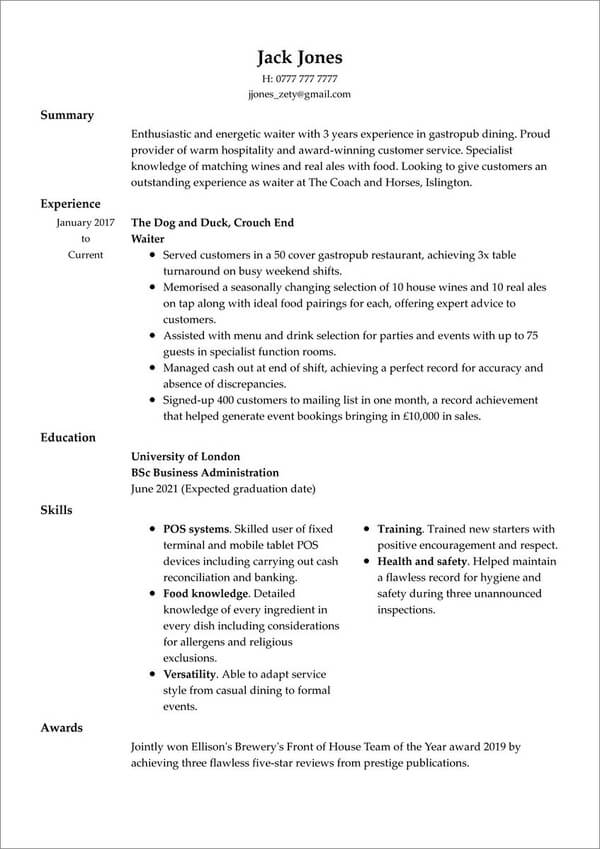 Now for something more basic. This CV template for Word is another example with a more traditional feel. However, it's far from dull. Once again we've made good use of clever formatting to frame and arrange the content so it's pleasing to the eye and easy to read. The alignment of the CV header, section headings and section content is all set differently to help create a sense of design and a natural flow. It's much more effective than a simple block of text.
5. Business Professional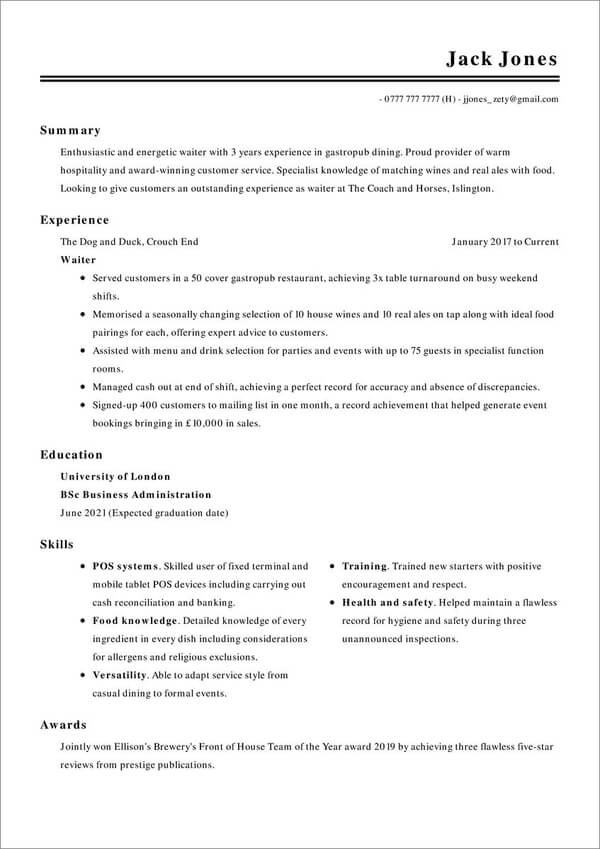 Another pared-back look with this template, and one that would look great printed out. It takes some inspiration from UK business letter format, using right alignment for the CV header and contact details. Note how the CV skills section is split into two columns so there's plenty of room if you've got a lot of professional abilities to show off. The other benefit with using our CV generator is you get expert tips as you write. And that's something you don't get with free Word CV templates.
6. Red Modern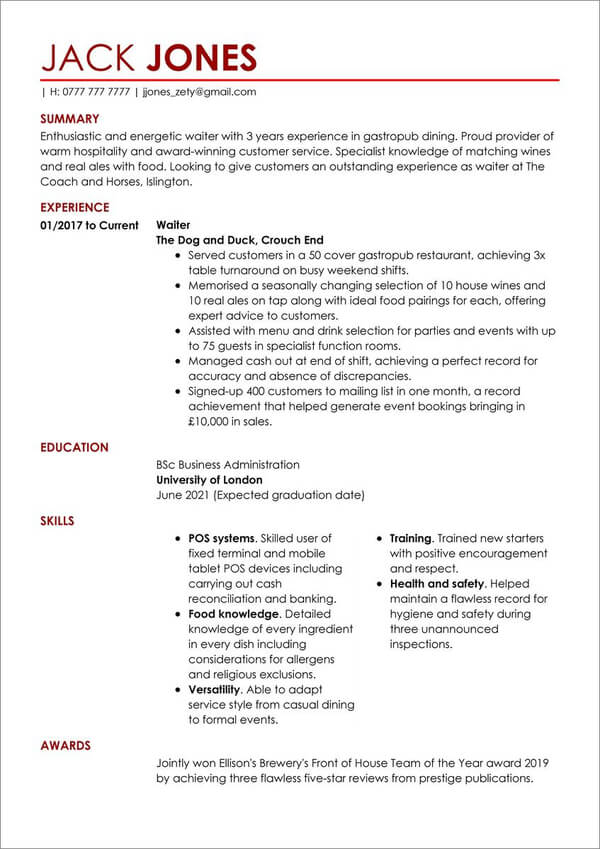 The next of our Word CV templates brings us back to a more colourful approach. In colour psychology red is energising, but if it's too bright it indicates danger and aggression. That's why we've dialled it back and used a darker red, it's noticeable without being overbearing. In terms of other elements it makes use of a separate column for the timeline on your CV work experience section. A neat way of presenting the classic chronological CV format.
7. Electric Blue Creative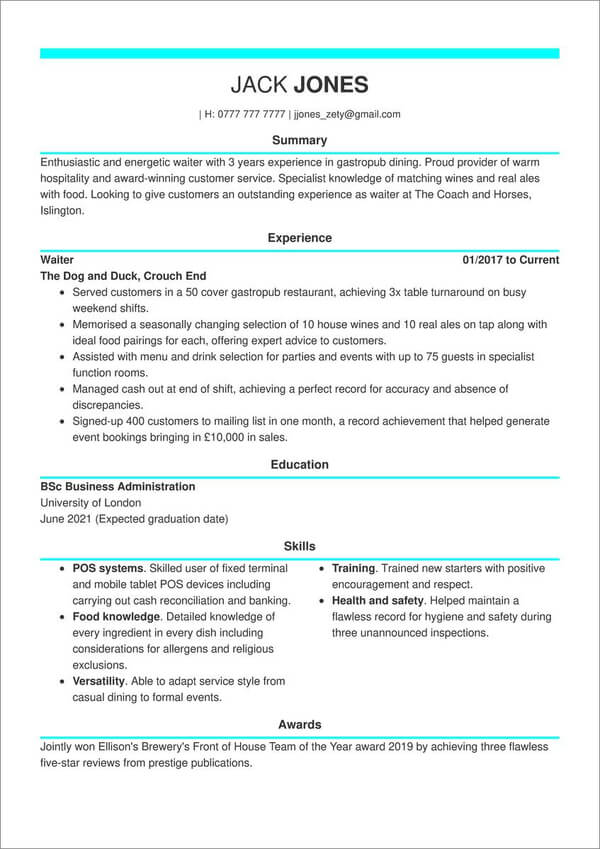 This is another example that makes good use of colour. The addition of the lines of electric blue helps to make it stand out and gives a good sense of separation between the CV sections. Blue is a cool colour, giving a more reserved and professional impression but also a touch of energy from the bright tone. As with all of our CV templates it's ATS compatible. That means you'll have no problems with the automated scanning software used by major employers. Some free CV templates for Word are unreadable by ATS and that's simply not a risk worth taking.
8. Corporate Business Card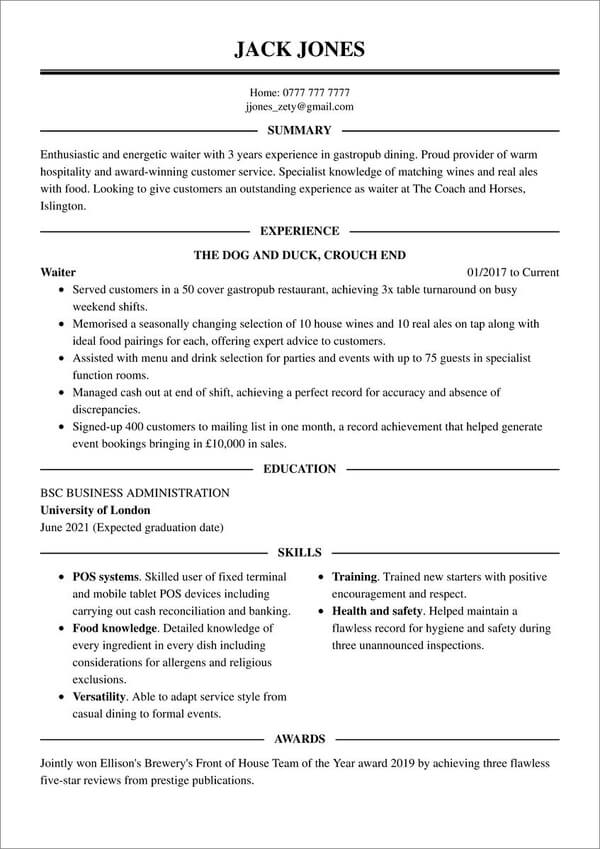 This example is a Word CV template from our basic selection, but the word really doesn't do it justice. Basic in the sense it's simple black text on a white background but it also exudes old-fashioned corporate class. The centred, all-capital section headings are accentuated by fine lines giving the impression of a high-end business card. It also places the education section last in this example, so it's perfect for more experienced candidates whose work history and skills needs to take centre stage.
9. Professional Minimalist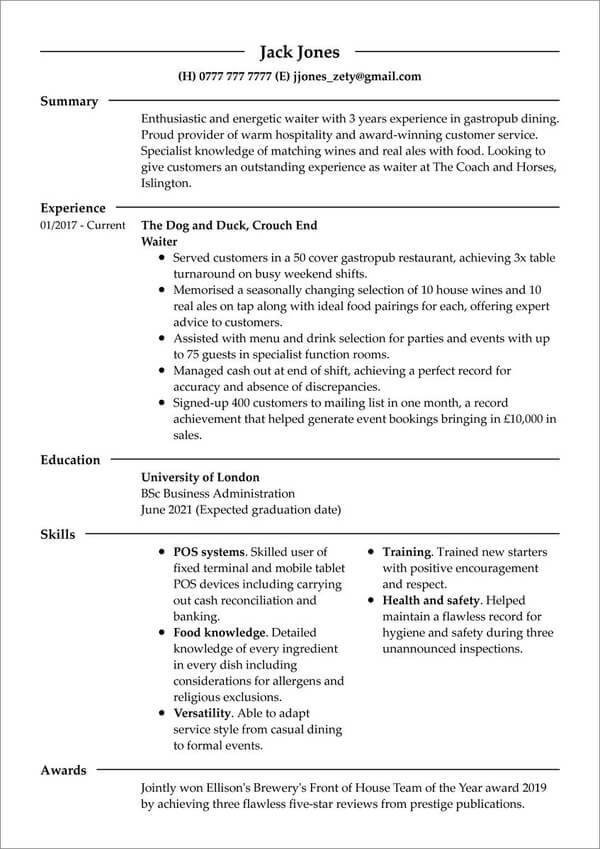 This free Microsoft Word CV template also takes the minimalist approach. But again, judicious use of font formatting, paragraph spacing and alignment work together to create a professional look. And one key factor in all our free CV templates is what you don't see. All of that formatting creates generous amounts of negative space, which frames your content and makes it easier to scan and comprehend.
10. Blue Modern Accents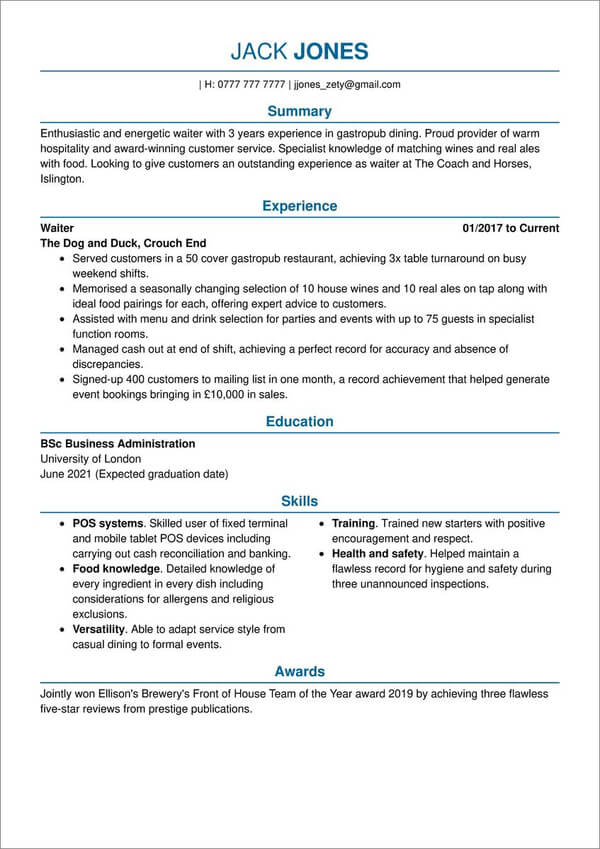 Back to more colour again with this Microsoft Word CV template. You'll notice we use a lot of blues in our colour palette and that's for good reason. You'll also see it in lots of corporate logos as it gives an impression of reliability and strength. So it's not just aesthetically pleasing, it's good marketing too. As with all of our templates our CV builder gives you a wealth of customisation options. But more importantly, whatever setting you tweak the builder keeps your layout looking perfectly crisp. No more hard work adjusting and readjusting every time you make a minor style change.
A strong CV summary will convince the recruiter you're the perfect candidate. Save time and choose a ready-made personal statement written by career experts and adjust it to your needs in the LiveCareer CV builder.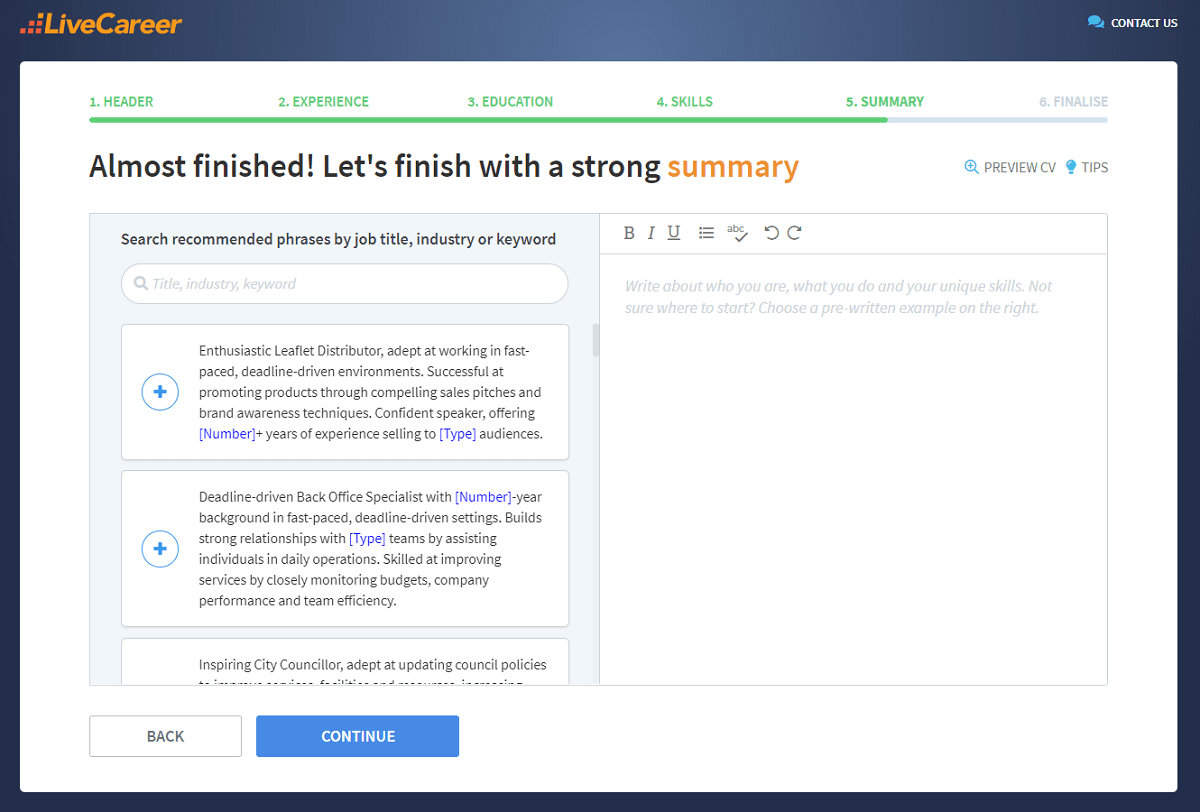 11. Orange Creative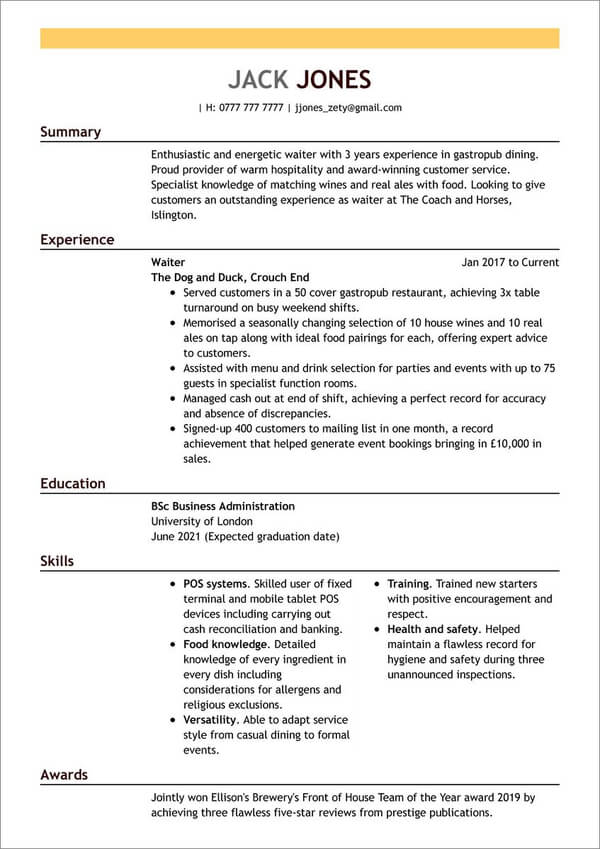 This time we've drawn from the warmer end of the spectrum with a splash of orange. That single stripe of colour is a simple way of making your CV stand out. Imagine this CV template for Word amongst a pile of plain, unformatted black and white text. It's bound to make a strong impression. Orange is very interesting in colour psychology too as it has no negative impressions associated with it. Orange is all about energy, vitality and enthusiasm, qualities every manager wants in a new employee.
12. Simple Scanner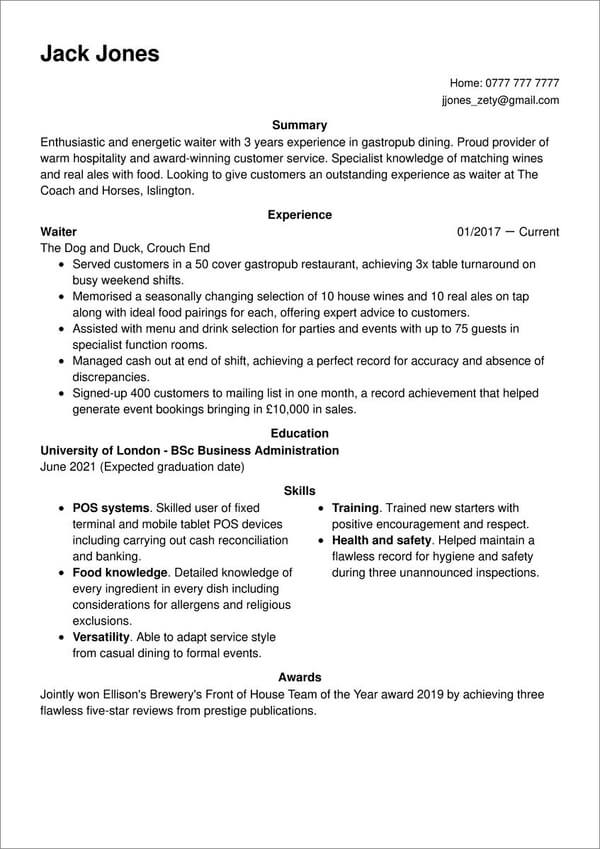 Here's another Word CV template that proves plain doesn't have to be boring. A clever trick here is the way the text alignment switches from left, to centre, to right. We read from left to right too, so this switch in alignment helps guide the eyes along the page, making sure the recruiter takes in all of your CV. It also has a single-column format with lots of room, ideal for creating a two-page CV for more experienced candidates. There's plenty of room left on the second page to include additional sections such as CV hobbies and interests.
13. Classic Professional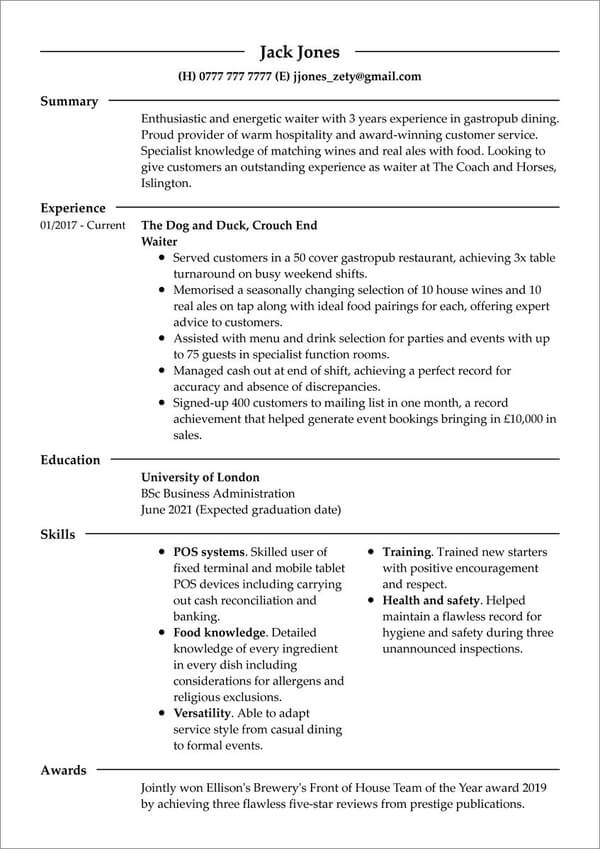 It might be number 13 on our list but you can be assured of good luck in your job hunt with this CV template for Word. Traditional, stripped-back and simple, it's bound to impress with its timeless good looks. And our CV builder has yet another trick up it's sleeve too. If you're really struggling to write we've got thousands of pre-written examples you can insert and use as inspiration. Again, something you absolutely don't get with free Word CV templates.
14. One Page Modern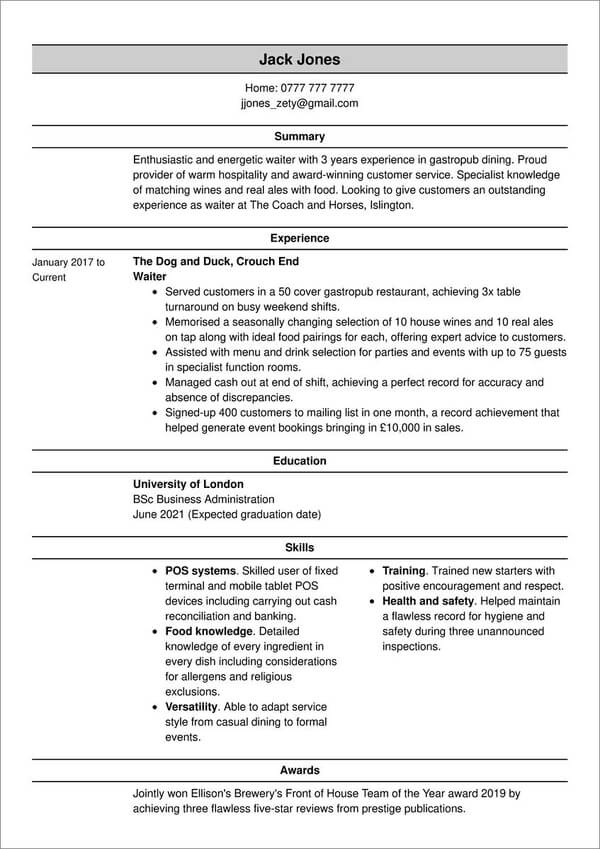 This CV template for Word is ideal for candidates who really want to fit everything into a one-page CV. The CV header is smaller and more subtle, with the candidate's name neatly fitting right on top of the page. But it doesn't look crowded. Those fine lines add a good sense of separation and there's plenty of white space left too. The perfect way to be comprehensive without looking cramped.
15. Creative Green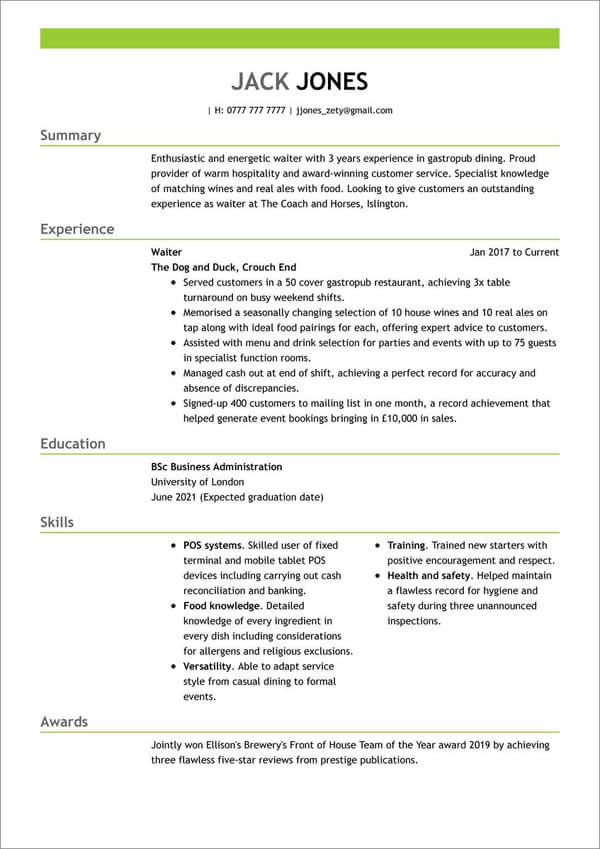 In this Microsoft Word CV template we've opted for an evergreen feel. This shade evokes nature, growth, abundance and harmony. All highly desirable qualities in the workplace. It also makes use of grey font intermixed with the black, another subtle but creative effect that marks it out as unique. Another solid choice for every career.
And that's all. Be sure to explore all of our templates and check out our CV maker and explore them in more detail. It's free to try out and see just how easy CV writing can be. And remember unlike your average Word CV template we give you expert advice, pre-written samples, we do all the hard work of formatting and every example is fully optimised for job-hunting success.
You don't have to be a CV writing expert. In the LiveCareer CV builder you'll find ready-made content for every industry and position, which you can then add with a single click.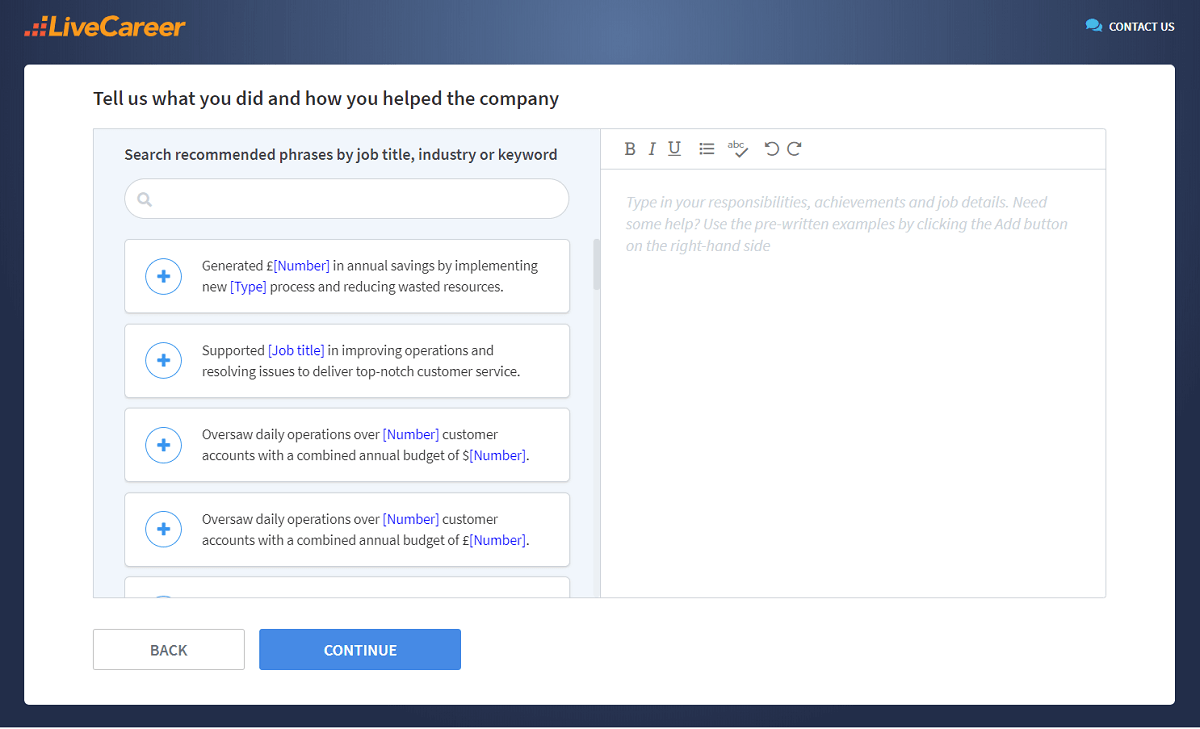 Thanks for reading. If you'd like to know more about our collection of CV templates for Word just ask in the comments section and we'll be happy to reply.
How we review the content at LiveCareer
Our editorial team has reviewed this article for compliance with Livecareer's editorial guidelines. It's to ensure that our expert advice and recommendations are consistent across all our career guides and align with current CV and cover letter writing standards and trends. We're trusted by over 10 million job seekers, supporting them on their way to finding their dream job. Each article is preceded by research and scrutiny to ensure our content responds to current market trends and demand.
About the author
LiveCareer Editorial Team
Since 2005, the LiveCareer Team has been helping job seekers advance their careers. In our in-depth guides, we share insider tips and the most effective CV and cover letter writing techniques so that you can beat recruiters in the hiring game and land your next job fast. Also, make sure to check out our state-of-the-art CV and cover letter builder—professional, intuitive, and fully in line with modern HR standards. Trusted by 10 million users worldwide.