Just like there's a group of people devoted to iPhones and prefering them over Android-based smartphones, there are those who pick LaTeX instead of Word. Since you're here, you're probably one of them.
Looking for a clean professional LaTeX CV template? Look no further because you're in just the right place. We've collected 11 of the best LaTeX CV templates for academic and general purposes.
In this guide, you'll get:
10+ best LaTeX CV templates to download.
A short description of each LaTeX CV template to make an informed choice.
The pros and cons of using a CV in LaTeX format so you can decide if it's the right choice.
Create an effective CV in minutes. Choose a professional CV template and fill in every section of your CV in a flash using ready-made content and expert tips.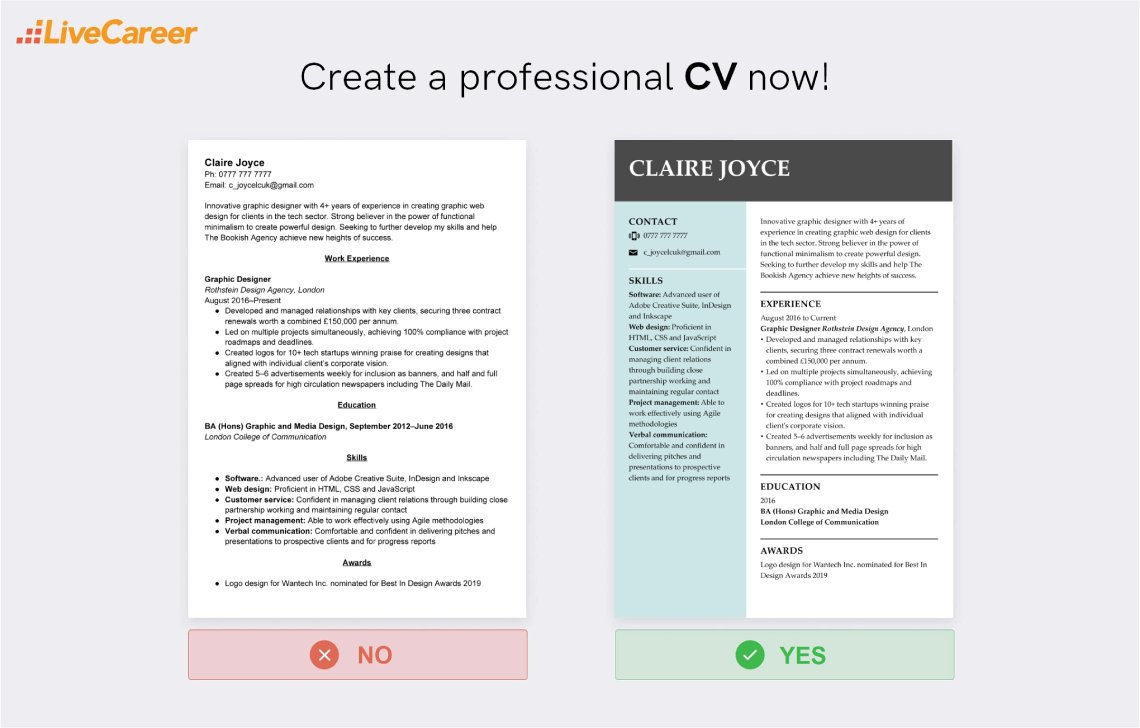 The LiveCareer online CV maker lets you build a professional CV fast and download it as a PDF or DOC.
Looking out for diffrent CV templates? These guides might interest you:
LaTeX CV template example
Claire Joyce
Ph: 0777 777 7777
Email: c_joycelcuk@gmail.com
Innovative graphic designer with 4+ years of experience in creating graphic web design for clients in the tech sector. Strong believer in the power of functional minimalism to create powerful design. Seeking to further develop my skills and help The Bookish Agency achieve new heights of success.
Work Experience
Graphic Designer
Rothstein Design Agency, London
August 2016–Present
Developed and managed relationships with key clients, securing three contract renewals worth a combined £150,000 per annum.
Led on multiple projects simultaneously, achieving 100% compliance with project roadmaps and deadlines.
Created logos for 10+ tech startups winning praise for creating designs that aligned with individual client's corporate vision.
Created 5–6 advertisements weekly for inclusion as banners, and half and full page spreads for high circulation newspapers including The Daily Mail.
Education
BA (Hons) Graphic and Media Design, September 2012–June 2016
London College of Communication
Skills
Software: Advanced user of Adobe Creative Suite, InDesign and Inkscape
Web design: Proficient in HTML, CSS and JavaScript
Customer service: Confident in managing client relations through building close partnership working and maintaining regular contact
Project management: Able to work effectively using Agile methodologies
Verbal communication: Comfortable and confident in delivering pitches and presentations to prospective clients and for progress reports
Awards
Logo design for Wantech Inc. nominated for Best In Design Awards 2019
You've just seen a good CV example that would look great as a LaTeX document. Now for some examples of the best LaTeX CV templates.
1. Raging Bull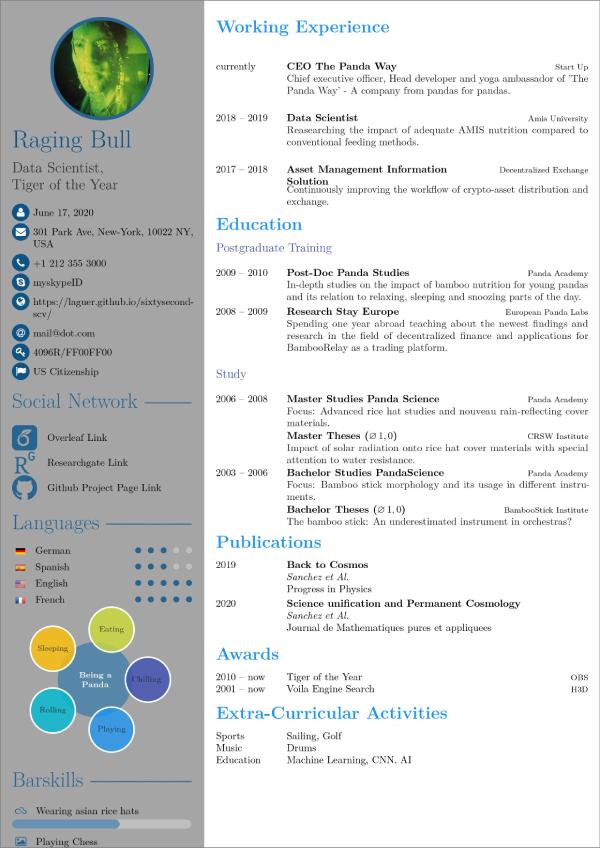 This LaTeX CV template is colourful, creative and eye catching, and it makes use of infographic CV template features too. However, it has one drawback: using a photo is not acceptable on a UK CV template. And it isn't easy to locate the CV skills section on it either. It's certainly colourful but not compliant with standard UK CV layout, a problem common to many LaTeX templates.
Here is the link to download this template.
2. Zachary Taylor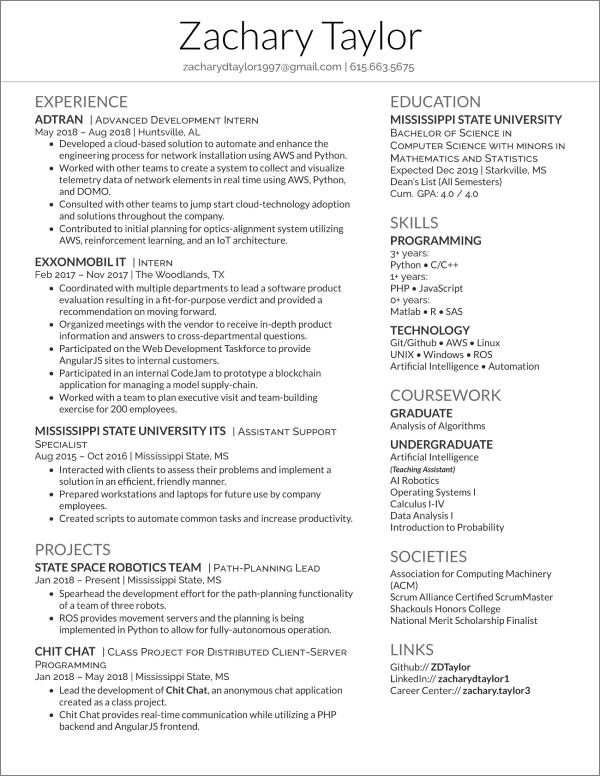 This LaTeX CV template is a good example of the professional typographical effects you can achieve with the format. It certainly produces attractive results, and that's one of the strengths of using a CV template in LaTeX. But again, this example won't be acceptable to a UK recruiter. The CV summary is completely absent and the unconventional layout doesn't make for easy reading. And that's a common theme that we discovered. LaTeX CV templates look good, but far too often they're missing vital information.
Here is the link to download this template.
3. Harsh Gadgil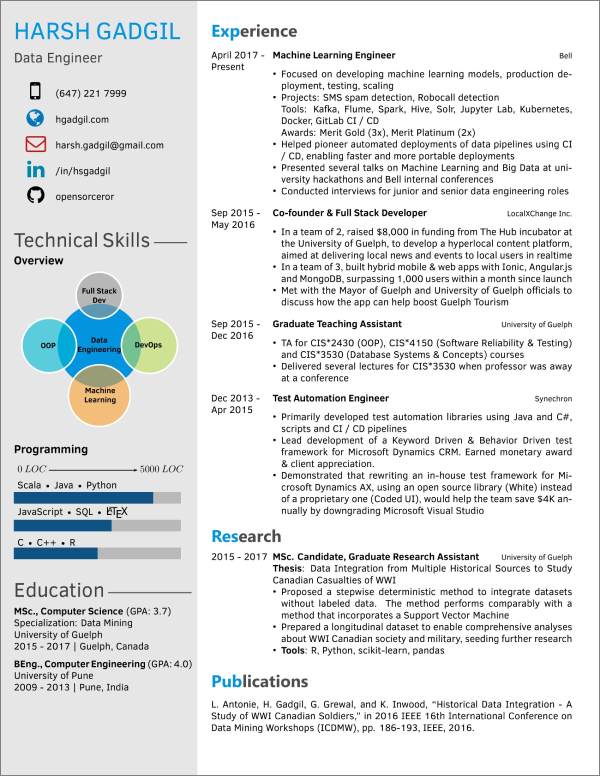 Here we have another colourful LaTeX CV template built for a data engineer. You'll see many LaTeX CV templates for software engineers, data engineers and other tech based roles. That's because a certain level of competency in IT skills is required to effectively use a LaTeX editor. Unfortunately, this does put them out of the reach of users whose computer skills aren't so advanced. And again, this is a non-standard CV structure that may put off many recruiters.
Here is the link to download this template.
4. Dr Hölzer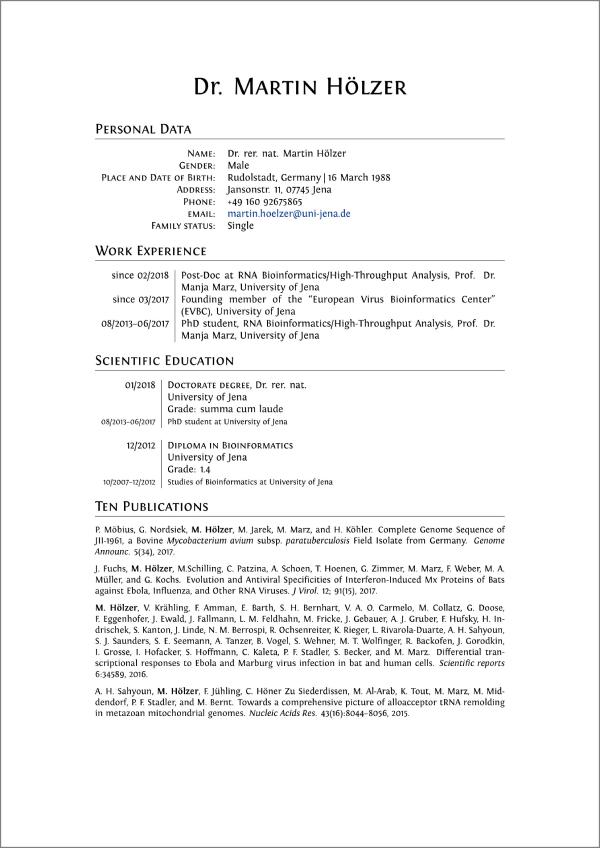 A more plain LaTeX CV example this time but it does show one of the format's strengths. Using a LaTeX CV template for academic purposes is quite common because it lends itself well to formatting citations, mathematical formulas and other specialised applications. That said though, this would be a very short academic CV indeed and would need substantial changes to bring it up to standard UK layout. Not the best choice for quick and easy CV writing.
Here is the link to download this template.
A strong CV summary will convince the recruiter you're the perfect candidate. Save time and choose a ready-made personal statement written by career experts and adjust it to your needs in the LiveCareer CV builder.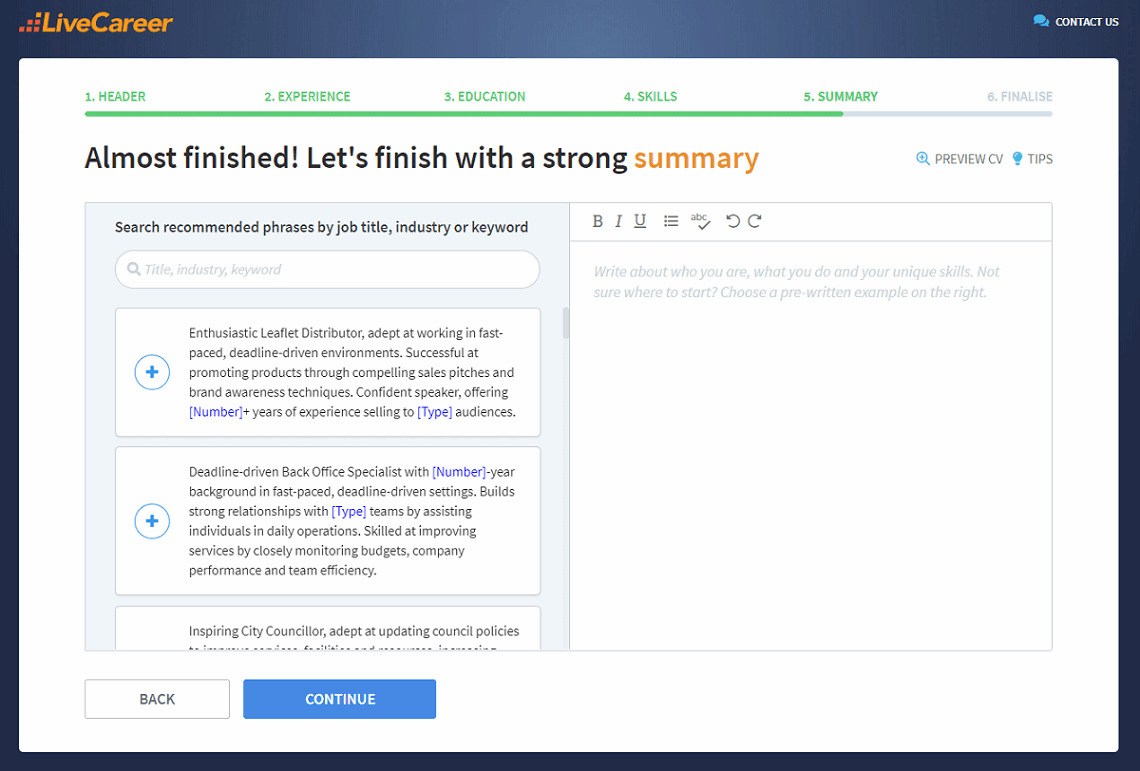 5. Dr Freeman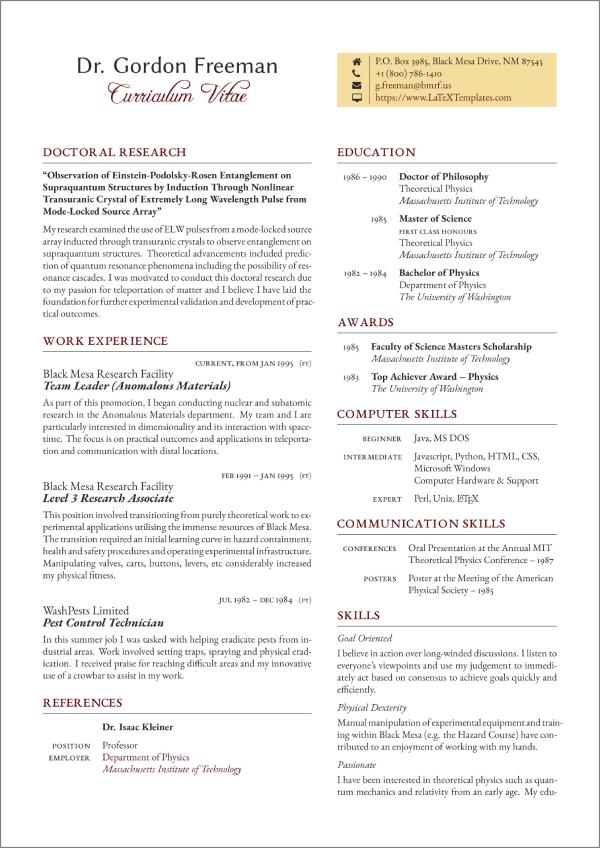 Here's a fun LaTeX CV template based on the career of the fictional Dr Gordon Freeman from the Half-Life video game series. It has some very attractive design features with a striking CV header including a very clear personal details section. The CV fonts show a good mix of formatting and colour while retaining a conservative look overall. Certainly an attractive choice for a LaTeX academic CV template.
Here is the link to download this template.
6. Susan Bumpershoot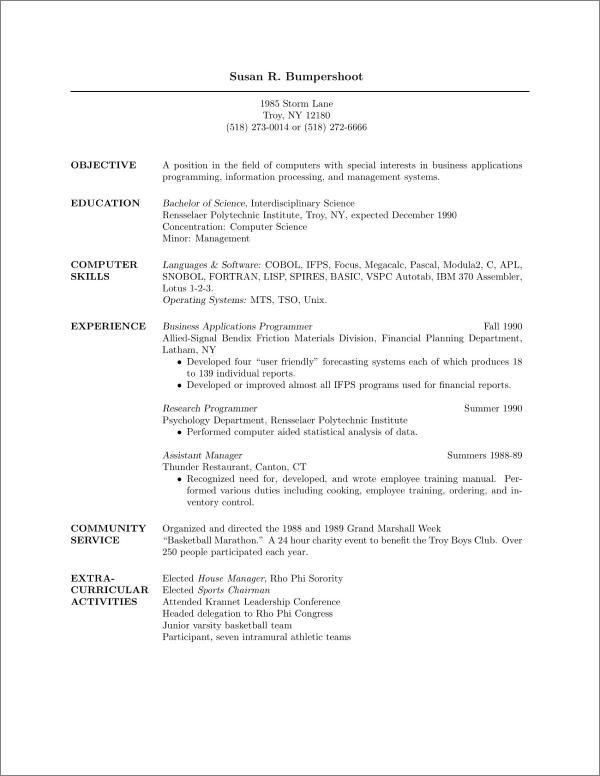 This wonderfully named LaTeX CV template is one of the best we came across in terms of being simple and well formatted. And it does exactly the right thing for a student CV by putting the CV education section before the work experience section. However, you'll also find attractively laid out simple CVs in the LiveCareer builder. And they're much easier to work with too.
Here is the link to download this template.
7. Alyx Vance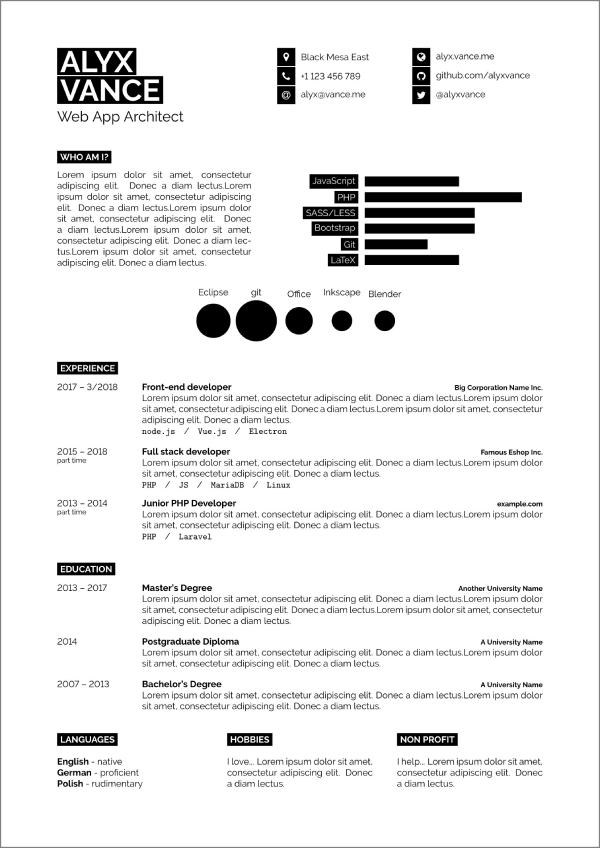 This modern CV LaTeX template makes a strong impact with its striking monochrome design. It's proof that you don't need a riot of colour for a creative CV. It's also notable that it includes all the information needed for a standard chronological CV format. However, the formatting may not be ATS compliant, which is a problem. We'll cover that in more detail later.
Here is the link to download this template.
8. Claud Park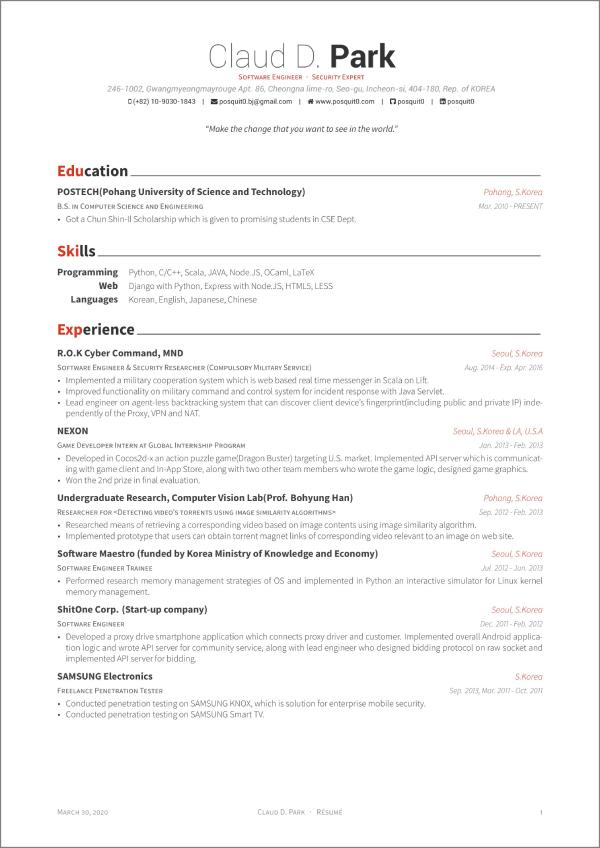 This LaTeX CV template has an interesting trick up its sleeve. It comes with a matching CV cover letter template, something we didn't come across very often. And it's worth remembering that even the best LaTeX CV template needs a cover letter to accompany it. Overall it has a good structure and a clean simple CV design. Importantly, there's plenty of white space too. That's the empty space on the page which makes your content easy to read and it's an often overlooked element of design.
Here is the link to download this template.
9. Jan Küster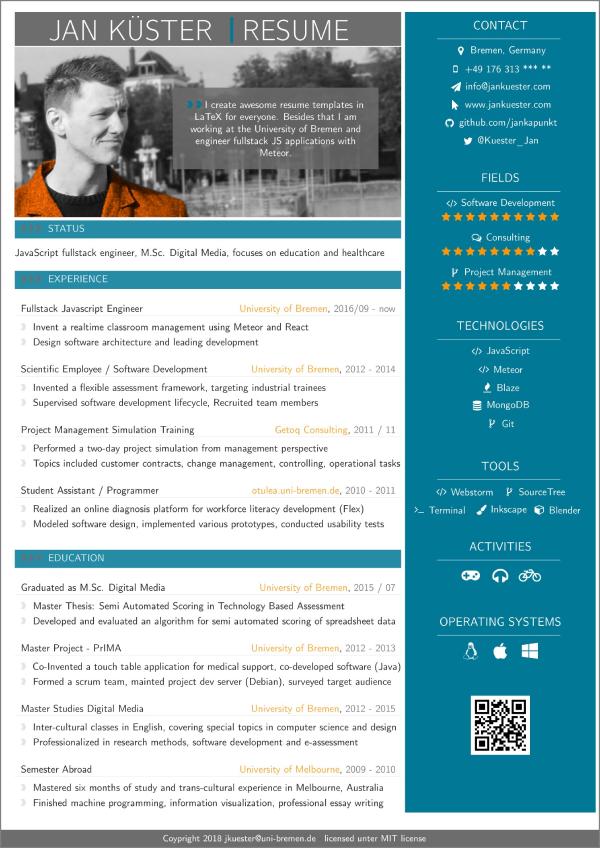 This CV LaTeX template goes down the more unconventional route with heavy use of graphics and even a functional QR code. Certainly an attractive option for applying for IT jobs in mainland Europe, not so much for using as a UK CV template. It simply goes too far beyond the accepted standards for British recruiters.
Here is the link to download this template.
10. Jon Snow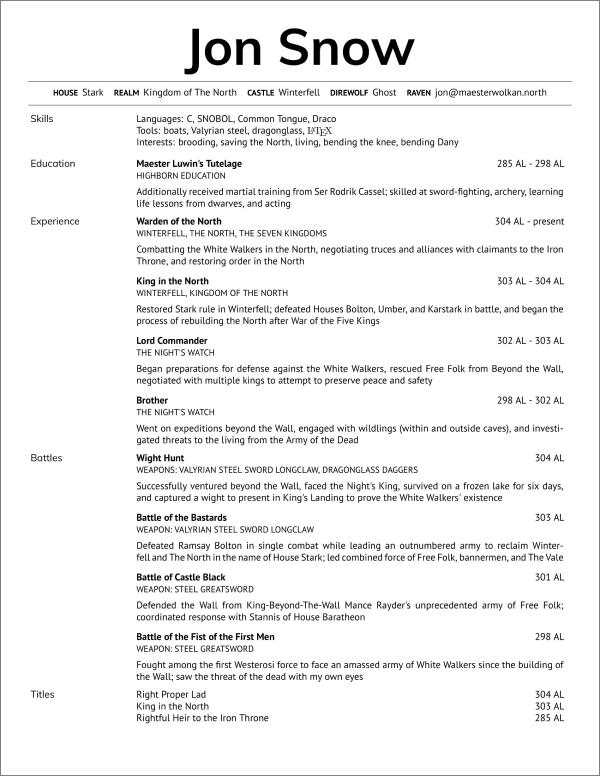 This LaTeX CV template would be a good choice if you want something modern, yet also conservative and minimalistic. It uses a slightly unconventional single column format with the section headings placed in a sidebar rather than above their respective CV sections. Certainly a good choice for a Lord Commander of the Night's Watch who needs plenty of room to feature all their professional battles.
Here is the link to download this template.
11. Murat Karacabey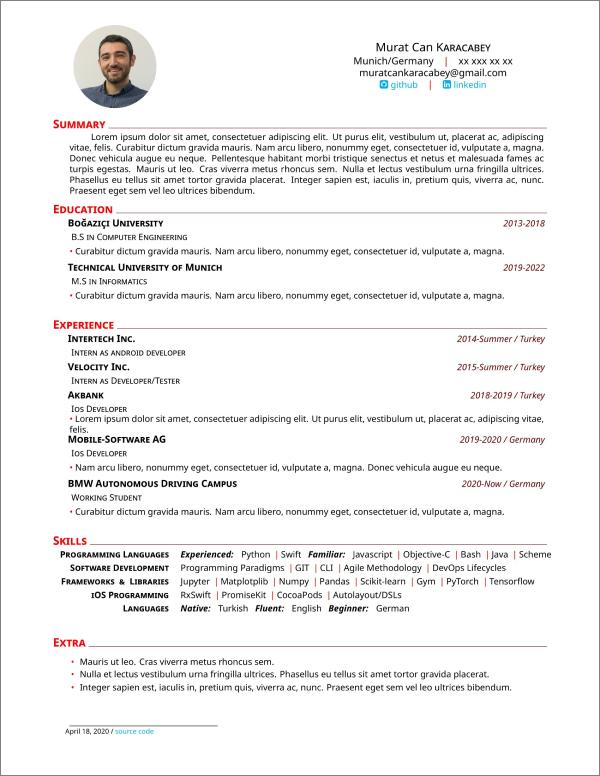 We wanted to save the best until last. This example was the best LaTeX CV template we came across in terms of overall design and format. There's subtle use of colour in the CV fonts but it retains a clear and uncluttered structure. It also includes all of the essential CV sections and even has room for extras. You could easily put CV hobbies and interests into the final section for example. And it all fits neatly into a one-page CV. A great example overall. But LaTeX CV templates have significant disadvantages, and that's what we'll cover next.
Here is the link to download this template.
Should you use a LaTeX CV template?
The truth is, the LaTeX CV template isn't for everyone. In fact, it's only suitable for a limited range of applications and the average candidate is better off avoiding it. Here's why.
Problems with using a LaTeX CV template
Incompatibility
Whilst many LaTeX CV templates are aesthetically pleasing they can cause problems with not being ATS compliant. ATS software automatically scans your job application and if it can't read your CV format properly then your application will be rejected automatically.
User-friendliness
Or more specifically, the lack thereof. It's a steep learning curve to master the ins and outs of working with LaTeX document preparation. It's not easily accessible and intuitive like Google Docs or Microsoft Word. This puts it firmly out of the reach of the average user who wants to be able to create a CV quickly and easily.
Inflexibility
LaTeX CV templates are not easy to work with. Whenever you want to create a new template you have to start again, completely from scratch. And basic CV editing like rearranging sections is also much more time-consuming than it would be using other formats. Remember, a CV is a document that has to be tailored and rewritten for every new job application and it evolves over time. So this is a significant disadvantage.
Who is LaTeX CV template useful for?
LaTeX can be a useful format for writing a long-form academic CV. It's also helpful when creating attractively typeset documents that don't need to be constantly updated, such as books and academic papers. But for a standard CV format it simply isn't practical.
And that's why we recommend using LiveCareer's CV builder instead. You get a great choice of CV templates that are attractively presented, approved by recruitment experts and fully ATS compatible. Our builder is also incredibly easy to use. Just type in your content and the builder does all the layout and formatting work for you.
You don't have to be a CV writing expert. In the LiveCareer CV builder you'll find ready-made content for every industry and position, which you can then add with a single click.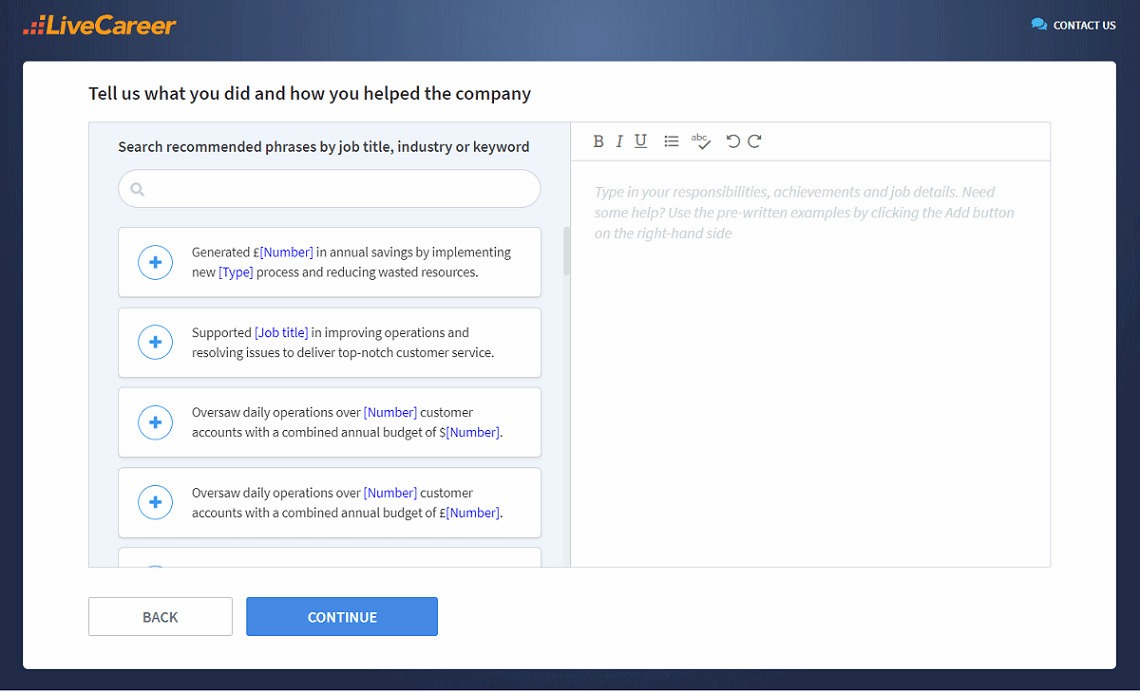 Thanks for reading, if you'd like to know more about using a CV template in LaTeX then please ask in the comments section, and we'll be happy to help.
How we review the content at LiveCareer
Our editorial team has reviewed this article for compliance with Livecareer's editorial guidelines. It's to ensure that our expert advice and recommendations are consistent across all our career guides and align with current CV and cover letter writing standards and trends. We're trusted by over 10 million job seekers, supporting them on their way to finding their dream job. Each article is preceded by research and scrutiny to ensure our content responds to current market trends and demand.
About the author
LiveCareer Editorial Team
Since 2005, the LiveCareer Team has been helping job seekers advance their careers. In our in-depth guides, we share insider tips and the most effective CV and cover letter writing techniques so that you can beat recruiters in the hiring game and land your next job fast. Also, make sure to check out our state-of-the-art CV and cover letter builder—professional, intuitive, and fully in line with modern HR standards. Trusted by 10 million users worldwide.