How to Write Your Degree on a CV: Guide + UK Templates
You've put a lot of time and effort into your university degree and you (understandably) want to do it justice in your CV. There's a lot of conflicting advice out there when it comes to how to write a degree on a CV, though. From how to abbreviate degree types to how to write up an honours class.
This article is here to give you proven approaches for how to write your degree on a CV in the UK. You'll learn what details to include and which to leave out and when. With concrete advice and examples, you'll be confident that your education section contains all it needs and is set out such that it actually gets read.
Create an effective CV in minutes. Choose a professional CV template and fill in every section of your CV in a flash using ready-made content and expert tips.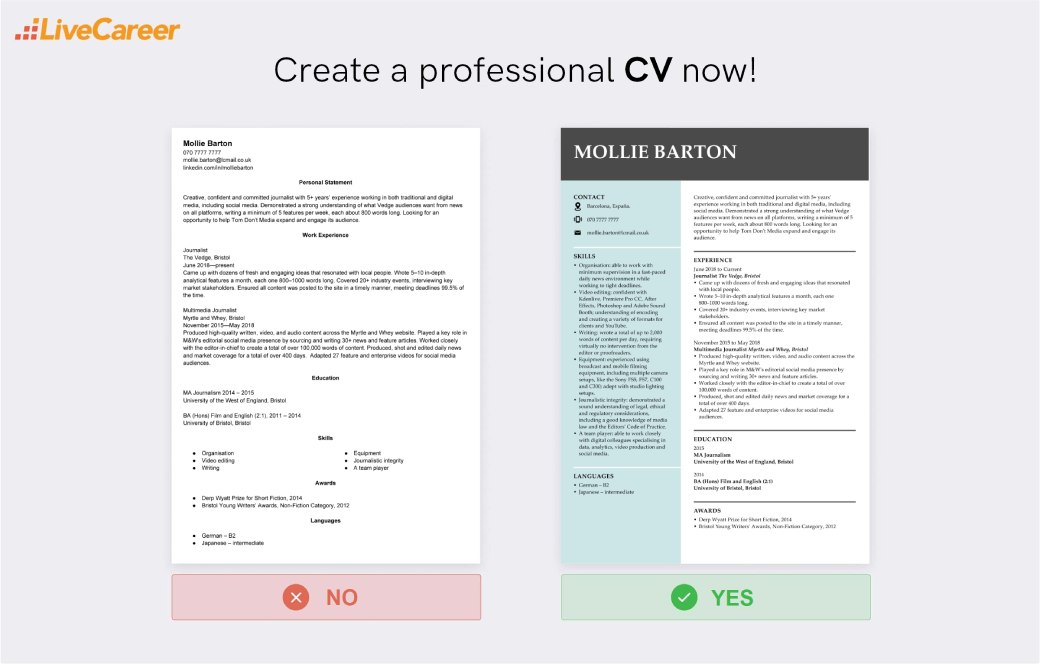 The LiveCareer online CV maker lets you build a professional CV fast and download it as a PDF or DOC.
How to write your degree on a CV sample
Mollie Barton
070 7777 7777
mollie.barton@lcmail.co.uk
linkedin.com/in/molliebarton
Personal Statement
Creative, confident and committed journalist with 5+ years' experience working in both traditional and digital media, including social media. Demonstrated a strong understanding of what Vedge audiences want from news on all platforms, writing a minimum of 5 features per week, each about 800 words long. Looking for an opportunity to help Tom Don't Media expand and engage its audience.
Work Experience
Journalist
The Vedge, Bristol
June 2018—present
Came up with dozens of fresh and engaging ideas that resonated with local people.
Wrote 5–10 in-depth analytical features a month, each one 800–1000 words long.
Covered 20+ industry events, interviewing key market stakeholders.
Ensured all content was posted to the site in a timely manner, meeting deadlines 99.5% of the time.
Multimedia Journalist
Myrtle and Whey, Bristol
November 2015—May 2018
Produced high-quality written, video, and audio content across the Myrtle and Whey website.
Played a key role in M&W's editorial social media presence by sourcing and writing 30+ news and feature articles.
Worked closely with the editor-in-chief to create a total of over 100,000 words of content.
Produced, shot and edited daily news and market coverage for a total of over 400 days.
Adapted 27 feature and enterprise videos for social media audiences.
Education
MA Journalism 2014 – 2015
University of the West of England, Bristol
BA (Hons) Film and English (2:1), 2011 – 2014
University of Bristol, Bristol
Skills
Organisation: able to work with minimum supervision in a fast-paced daily news environment while working to tight deadlines.
Video editing: confident with Kdenlive, Premiere Pro CC, After Effects, Photoshop and Adobe Sound Booth; understanding of encoding and creating a variety of formats for clients and YouTube.
Writing: wrote a total of up to 2,000 words of content per day, requiring virtually no intervention from the editor or proofreaders.
Equipment: experienced using broadcast and mobile filming equipment, including multiple camera setups, like the Sony FS5, FS7, C100 and C300; adept with studio lighting setups.
Journalistic integrity: demonstrated a sound understanding of legal, ethical and regulatory considerations, including a good knowledge of media law and the Editors' Code of Practice.
A team player: able to work closely with digital colleagues specialising in data, analytics, video production and social media.
Awards
Derp Wyatt Prize for Short Fiction, 2014
Bristol Young Writers' Awards, Non-Fiction Category, 2012
Languages
German – B2
Japanese – intermediate
Now that's a modern CV template! Let's learn how to put a degree on a CV in just a few steps.
1. What to leave out when looking into how to write your degree on a CV
The problem with researching how to write a degree on a CV is that not only is there a lot of different information out there, but that there is so much outright contradictory information out there. One source might tell you to always list subjects and grades whereas another will recommend just the opposite.
There are three main non-academic CV formats plus the academic CV format, reserved for university teaching and/or research jobs. The non-academic CV formats, in order of decreasing popularity, are: the (reverse-)chronological format, skills-based (or functional) CV format, and the combination (or hybrid) format. In all four formats, you should list your degrees in reverse-chronological order.
You might still be finishing up your most recent degree, in that case include your expected graduation date in place of the actual date. You can leave your high-school education out of your CV once you have an undergraduate degree and a year or more of postgraduate study or post-graduation work experience.
Don't include any grades or subject lists. Do include your honours degree class designation if you have one, but only if it's upper second or better. The arguments for including individual grades or GPAs can be convincing, but these are details best left out of your CV. Impressive GPAs can go in your cover letter.
Degree on an academic CV example
PhD Philosophy, 2016 – 2020
University of Edinburgh, Edinburgh
Research funded from the Damian Cox Bursary
Thesis: 'On the Twofold Root of the Principle of Sufficient Reason'. Supervisors: Prof. Ludwig Kojack and Dr Rex Jordan
MPhil Philosophy, 2015 – 2016
University of Southampton, Southampton
NOS scholarship awarded
Thesis: 'Subjectivity and Narrative: Writing the Will as Nuomenon'. Supervisor: Dr Mitchell Wong
BA (Hons) Philosophy (1st), 2011 – 2014
University of Winchester, Winchester
Thesis: 'The Tractatus as Allegory of Development'. Supervisor: Dr Jacques Thwaite
A strong CV summary will convince the recruiter you're the perfect candidate. Save time and choose a ready-made personal statement written by career experts and adjust it to your needs in the LiveCareer CV builder.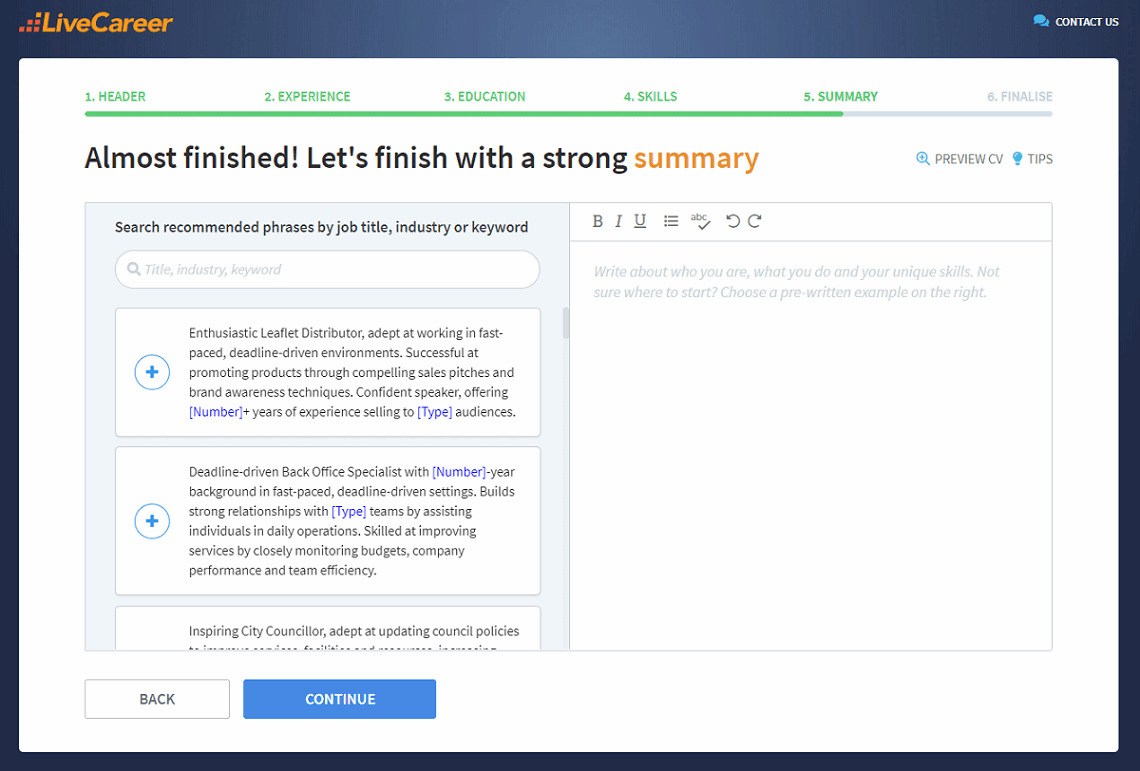 2. How to write your degree on a CV when you have a bachelor's
A bachelor's degree is where the vast majority of people will begin their tertiary education, but it's certainly not the only way into postgraduate study. The following template will guide you through setting out your bachelor's degree in your CV. It can also be adapted for other tertiary qualifications.
[Degree Type] [Degree Name], [Years Attended]
[University Name], [University Location]
Use standard abbreviations for the degree type, like 'BA', 'BSc', and 'BE', but don't abbreviate the degree name, so 'Mechanical Engineering' rather than 'Mech. Eng.'. Once again, include an expected graduation date if you're still studying the given degree. Don't include anything not required by the template.
How to write a bachelor's degree on a CV
BA Film and English, 2011 – 2014
University of Bristol, Bristol
3. How to write your degree on a CV when you have a bachelor's with honours
Honours can be hard to come by in many fields. Be sure to do your achievement justice by clearly including the abbreviation 'Hons' in your degree description. This can really give you an edge on the labour market. Use the following template to set out your honours degree in your CV:
[Degree Type] [Degree Name](Degree Class), [Years Attended]
[University Name], [University Location]
Include your degree class only if you've achieved upper-division second-class honours or first-class honours. Anything less should be characterised simply by its degree type and degree name. There are several acceptable ways to abbreviate your honours degree class, or you might choose not to abbreviate at all.
Writing upper-second class as '2:1' is perhaps the most common, although '2.1' is equally appropriate. First class can be abbreviated as '1st' or simply left as 'first'. Don't include lower second- (2:2) or third- (3rd) class honours but do leave the 'Hons' after your degree type or name.
How to write a first class honours degree on CV
BA (Hons) Film and English (2:1), 2011 – 2014
University of Bristol, Bristol
You don't have to be a CV writing expert. In the LiveCareer CV builder you'll find ready-made content for every industry and position, which you can then add with a single click.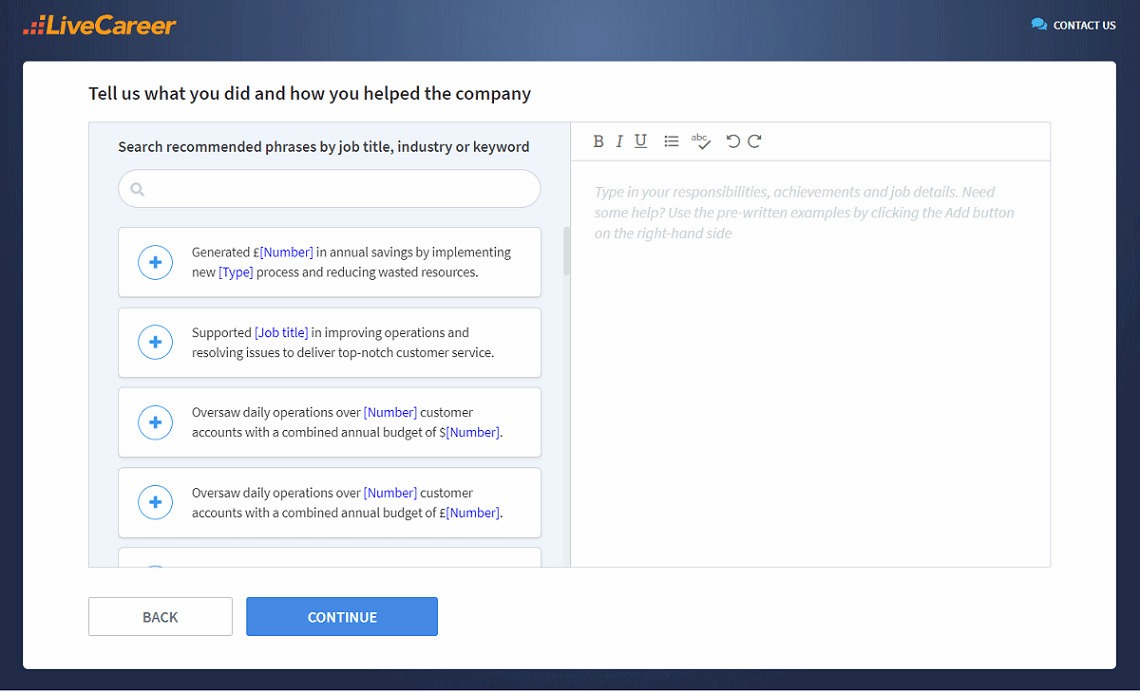 4. How to write your degree on a CV when you have a master's degree (by coursework)
In many countries, a master's degree is considered the minimum for jobs that require you to have a higher education. For some people, it's a stepping stone on the way to a doctorate and a career in academia. In any case, completing a master's degree is an achievement of which you should definitely be proud.
If you completed your master's by coursework, that is, without having to conduct research and submit a thesis, then use the following template. This template and the caveats associated with it should be familiar to you by now. Abbreviate only the degree type (e.g. 'MA' rather than 'Master of Arts').
[Degree Type] [Degree Name], [Years Attended]
[University Name], [University Location]
How to write a master's degree on a CV
MA Journalism 2014 – 2015
University of the West of England, Bristol
5. How to write your degree on a CV if you have a master's by research
Completing a master's by research is for most people their first taste of independent academic research. It's also usually the first opportunity you get to contribute something novel to your field, even if only by slight extension or adaptation. Follow the same template as for a master's by coursework degree.
Add to this template information regarding your thesis: just the full title and your supervisor's name and academic title. If you held a scholarship while completing your master's degree, then you can optionally include it as another point here. You should only include merit-based and/or competitive scholarships, though.
How to write your degree on a CV – MPhil example
MPhil Journalism 2014 – 2016
University of the West of England, Bristol
Thesis: 'Boundless Greed and Reckless Disregard: Facebook's Ethics as Symptom Rather Than Cause', supervised by Dr Edward Greenward
6. How to write your degree on a CV if you have a doctorate
A PhD is for some people the ultimate destination on their academic journey and for others, the very beginning. Whichever camp you fall into, make sure your doctorate is given its due in your CV. The template remains unchanged from a master's by research. Add thesis and scholarship information here, too.
How to write a PhD degree on a CV
PhD English Literature, 2016 – 2020
University of Edinburgh, Edinburgh
Thesis: 'Gonzo Journalism and Free Indirect Discourse vis-a-vis Lacanian Subjectivity', supervised by Prof. Thomas Duke and Dr Sam Owen
Keep the big picture in mind, beyond how to write your degree on a CV
It's easy to get tunnel vision and lose sight of the fact that your education section is just one part of your CV and your CV just one part of your job application. As you've seen, getting your education section right isn't difficult. Once you have it sorted, you should take care of the big picture.
Make sure you choose the right CV format for you and follow a proven CV-writing guide. Regardless of the format you choose, leave your CV personal details near the top of your CV where they'll be easier to find. Use subheadings and lots of white space to clearly break your CV down into subsections.
Go with an appropriate CV font, something that's easy to read and doesn't draw attention to itself, like Noto, Garamond, Liberation, or even Calibri. Lock the font size in at a readable 11–12 points. Limit yourself to a single A4 page for your CV, up to two pages if you have more than 20 years of experience.
Be sure to complete your application by including a properly laid-out cover letter. The only valid reason for not doing so is if you've been explicitly asked not to. Follow a business letter format that will determine how you start and end your cover letter. Everything in between is where the magic happens.
Make use of an effective cover letter writing guide. Doing so will leave you with 250–400 words of compellingly laid-out cover letter that will help your cover letter nicely fill an A4 page. Attach both your cover letter and CV in PDF, unless you've been asked for something else – it'll help preserve your formatting.
Thoroughly proofread your job application (CV and cover letter) for spelling and grammar mistakes. Don't trust your English skills? No problem, there are many plugins, apps, and web apps you could use—the spellchecker on your word-processing software is a good place to start. Get someone to read over your work.
One last piece of advice: follow up if it's been a week since you submitted your application and you still haven't heard back. All it takes is a quick phone call or short email. It can make a huge difference. If nothing else you'll likely get some insight into how your application is going.
A cover letter alone simply won't be enough—you need an impactful CV, too. Create your CV in minutes. Just follow our wizard and fill in every CV section with ready-made content. Get started by choosing a professional CV template.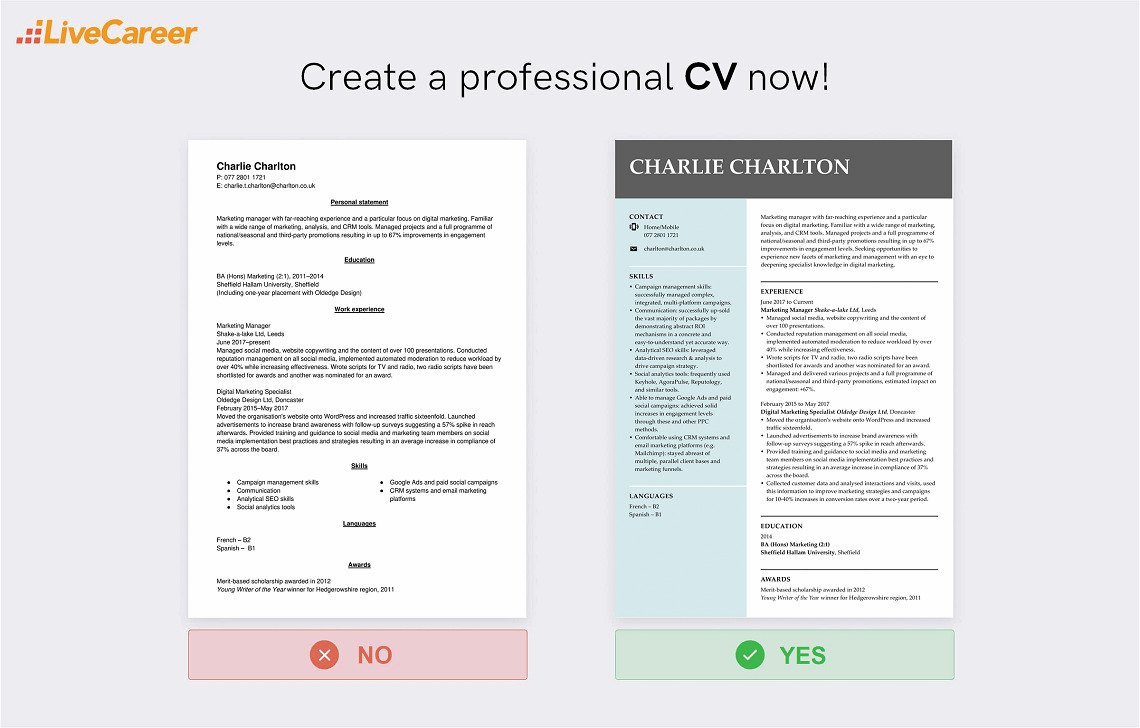 The LiveCareer online CV maker lets you build a professional CV fast and download it as a PDF or DOC.
Has this article answered your questions regarding how to write a degree on a CV? I hope it has, and then some. Please leave any questions, comments, feedback, and job-hunting experiences down in the comments section below!