When it comes to personal details on a CV, there's a lot of outdated advice floating around online, in books, and—perhaps most of all—in people's heads. This (often once good, now bad) advice gets passed around and causes a lot of confusion regarding just what exactly to include and what to avoid.
This article is here to answer your questions once and for all, or at least until things change again. Read on to see examples of personal details on a CV that's modern and professional. Learn what to put into your CV and how, as well as what to leave out and why. And all with current, UK examples.
Create an effective CV in minutes. Choose a professional CV template and fill in every section of your CV in a flash using ready-made content and expert tips.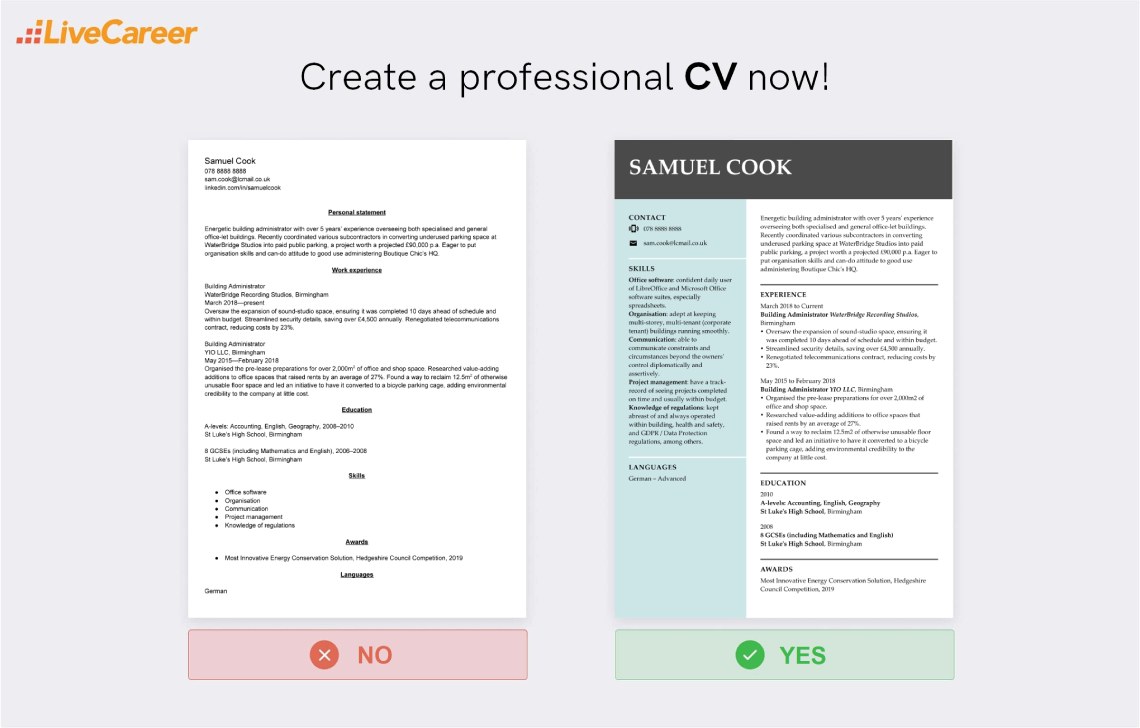 The LiveCareer online CV maker lets you build a professional CV fast and download it as a PDF or DOC.
CV personal details example
Samuel Cook
078 8888 8888
sam.cook@lcmail.co.uk
linkedin.com/in/samuelcook
Personal statement
Energetic building administrator with over 5 years' experience overseeing both specialised and general office-let buildings. Recently coordinated various subcontractors in converting underused parking space at WaterBridge Studios into paid public parking, a project worth a projected £90,000 p.a. Eager to put organisation skills and can-do attitude to good use administering Boutique Chic's HQ.
Work experience
Building Administrator
WaterBridge Recording Studios, Birmingham
March 2018—present
Oversaw the expansion of sound-studio space, ensuring it was completed 10 days ahead of schedule and within budget.
Streamlined security details, saving over £4,500 annually.
Renegotiated telecommunications contract, reducing costs by 23%.
Building Administrator
YIO LLC, Birmingham
May 2015—February 2018
Organised the pre-lease preparations for over 2,000m2 of office and shop space.
Researched value-adding additions to office spaces that raised rents by an average of 27%.
Found a way to reclaim 12.5m2 of otherwise unusable floor space and led an initiative to have it converted to a bicycle parking cage, adding environmental credibility to the company at little cost.
Education
A-levels: Accounting, English, Geography, 2008–2010
St Luke's High School, Birmingham
8 GCSEs (including Mathematics and English), 2006–2008
St Luke's High School, Birmingham
Skills
Office software: confident daily user of LibreOffice and Microsoft Office software suites, especially spreadsheets.
Organisation: adept at keeping multi-storey, multi-tenant (corporate tenant) buildings running smoothly.
Communication: able to communicate constraints and circumstances beyond the owners' control diplomatically and assertively.
Project management: have a track-record of seeing projects completed on time and usually within budget.
Knowledge of regulations: kept abreast of and always operated within building, health and safety, and GDPR / Data Protection regulations, among others.
Awards
Most Innovative Energy Conservation Solution, Hedgeshire Council Competition, 2019
Languages
Include the following personal details in your CV:
1. Your name
This is the most important piece of personal information you'll put on your CV. Your name is like your brand, or a book title—it'll become shorthand for your suitability as a candidate in the minds and backroom conversations of recruiters. Leave your name at the top of your CV and make it stand out.
You can do this by making it larger than the rest of your personal details. Even up to 8 points larger is fine. Using boldface font also works well with most fonts. If you have some design or typography skills, then by all means let loose with font pairing and the like. If you don't know what this is, then don't.
You should always include your full name on your CV, but if you have a particularly long or complicated name, then stick to the simplified version you usually use. Use your full first name, so 'William' not 'Billy'. This is really what is meant by 'full name': a full first name and surname (other names optional).
Personal details on a CV—name example
A strong CV summary will convince the recruiter you're the perfect candidate. Save time and choose a ready-made personal statement written by career experts and adjust it to your needs in the LiveCareer CV builder.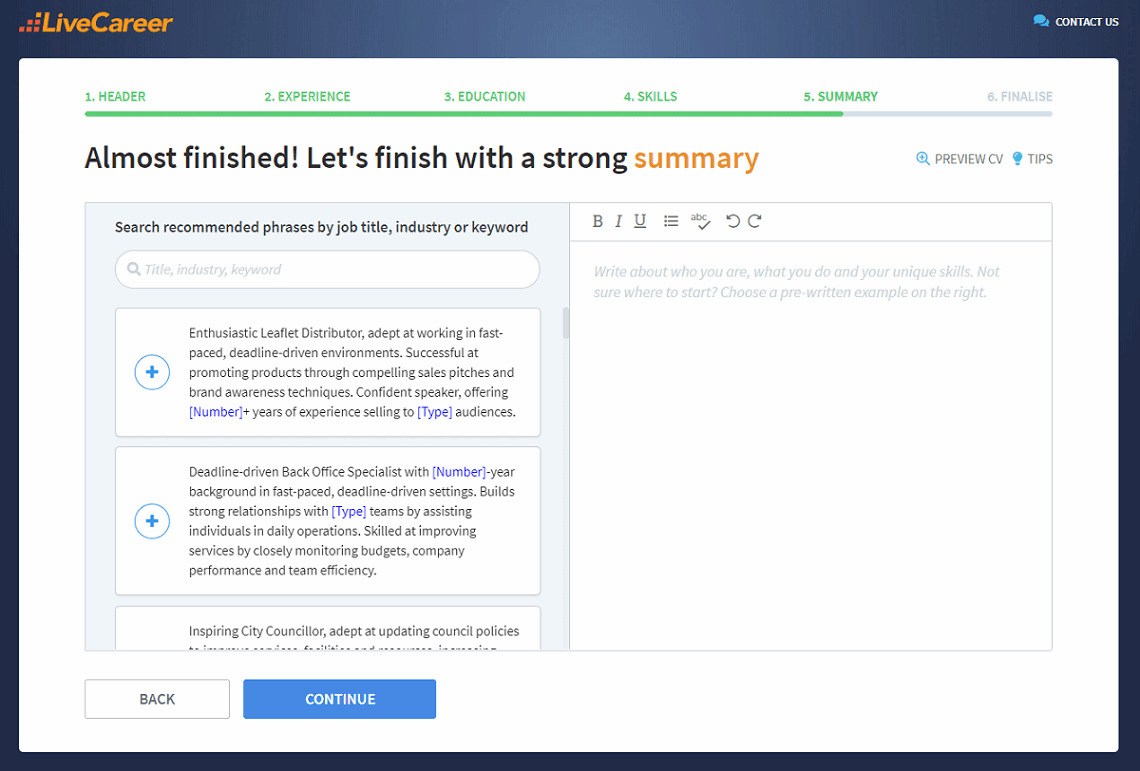 2. Your phone number
A phone number is an absolute must these days. Moreover, a personal mobile number (as opposed to a landline) is the default expectation here. Make sure you include all the necessary dialling and area codes if you're applying for jobs overseas. If you've recently moved to the UK, then get a UK SIM ASAP.


Next, run through a few scenarios in your head in which recruiters call you and disaster strikes. For example, make sure your voicemail is set up correctly and with a respectable outgoing message. Lock your phone if you have children nearby who might pick up.
Personal information on a CV—phone number example
3. Your email address
An email address is in most lines of work just as necessary as a mobile number. First and foremost, make sure it's a professional-looking address. Ideally, it would take the form of <name>.<surname>@<domain>.com (or .co.uk, etc.). Steer clear of your old thrashergirl88@rockon.com address.
Both the name and domain should be appropriate. If you don't have the right kind of address, create one. With that sorted, make sure you actually check your inbox regularly. Install the app and get notifications on your phone.
Don't use an address that's flooded with spam on a daily basis—it's too easy to overlook an important email from an unfamiliar address. Finally, pay attention to the little things. Do you have a signature appended to each email you send? Does it make the right kind of impression? If not, then get rid of it.
Personal details on a CV—email address example
You don't have to be a CV writing expert. In the LiveCareer CV builder you'll find ready-made content for every industry and position, which you can then add with a single click.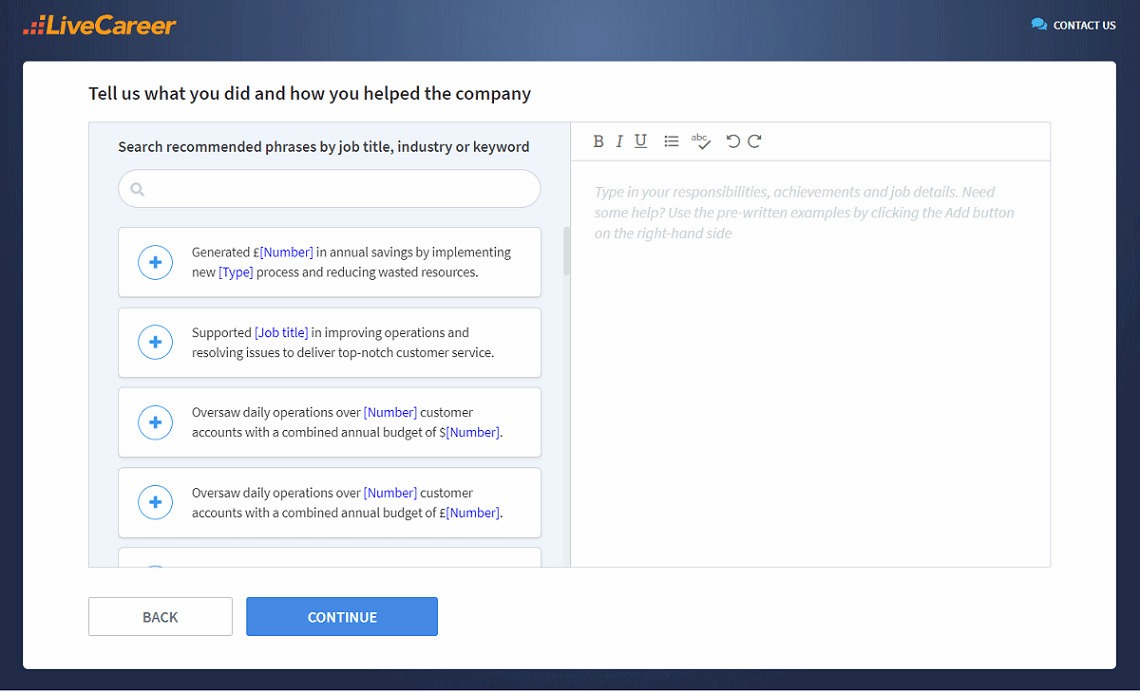 4. Links to your online presence
Adding links to your online presence in with your personal details is in most cases entirely optional. It becomes less optional if you're applying for a creative job or any other kind of job that requires a link to a portfolio. In those cases definitely do include a link to your portfolio, with the URL visible.
If you're in the broadly-defined IT industry, then a link to your GitHub page certainly wouldn't be out of place among your personal details. In any industry, a link to your profile on Microsoft's LinkedIn is often highly recommended as well. Just be sure to optimise your LinkedIn profile URL before pasting it in.
Then there's your online presence in the sense of a channel on Google's YouTube or a feed on Facebook's Instagram. Include these only if they're directly relevant to the job to which you're applying, for example, a social-media marketing role. Twitter handles fall into this category as well.
Avoid including any social media accounts or links that are either not relevant to the job for which you're applying or that show you in a less than professional light. Consider sanitising your online presence when looking for work, employers search for your online presence even if you don't hand them links.
Personal details on a CV—online presence link example
linkedin.com/in/samuelcook12
5. Your postal address (optional)
You generally should not include your postal address in the personal information on your CV. The fact that it's even a question is a hangover from the times when posted letters were the primary form of business correspondence. There are some situations in which you might consider including your postal address, though.
Say, for example, that you live extremely close to the company to which you're applying. This doesn't mean anything by itself, but all other things being equal, an employer might hire the candidate who lives closer. Such a candidate might be less likely to be late for work and might be willing to work longer hours.
Otherwise, though, including your postal address only takes up valuable space—and it takes up a lot of that space. You could easily fit an extra skill or achievement or two in its place, and that could really boost your chances. If you do decide to include your address, then set it out like you would on an envelope.
Personal details on a CV—postal address example
92 Boroughbridge Road
BIRMINGHAM
B4 1LQ
6. Your date of birth (optional)
We're approaching 'just don't' territory when it comes to including your date of birth among your personal details. The only reason it's included here as 'optional' is that some jobs require you to be over 18 (to serve alcohol, for example). Very rarely, a job advert might ask you to include your age or date of birth.
Age is a 'protected characteristic' under the Equity Act 2010, meaning that it's illegal for an employer to discriminate against a candidate on the basis of their age. So apart from showing that you're over 18 (something you could do by simply stating that you're over 18), there's no reason to share it.
Personal information on a CV—date of birth example
CV personal details to avoid completely
As a rule of thumb, anything that's not mentioned above is to be avoided. There are some personal details that keep coming up, though, and might be worth going over one by one. Many of these come from bygone eras and far-off (and not so far-off) lands, which is why there's so much confusion around them.
Your marital and civil partnership status is another 'protected characteristic' under the Equity Act 2010. This boils down to it being illegal for an employer to discuss your marital or relationship status during the recruitment process. Also, is your marital status ever relevant to how well you do your job?
Another common question is whether you should include a photograph with your personal details. The answer, in the UK, is an emphatic 'no'. It adds nothing to your application and can only distract recruiters by presenting them with details that are irrelevant to your application, i.e. your appearance.
You can add to this list of personal details to avoid any other aspects of your identity that don't have any bearing on your ability to perform work duties, like race, religion, political leanings, and so on. Add to this as any 'overshares' regarding your personal life. Keep it strictly relevant and professional.
A cover letter alone simply won't be enough—you need an impactful CV, too. Create your CV in minutes. Just follow our wizard and fill in every CV section with ready-made content. Get started by choosing a professional CV template.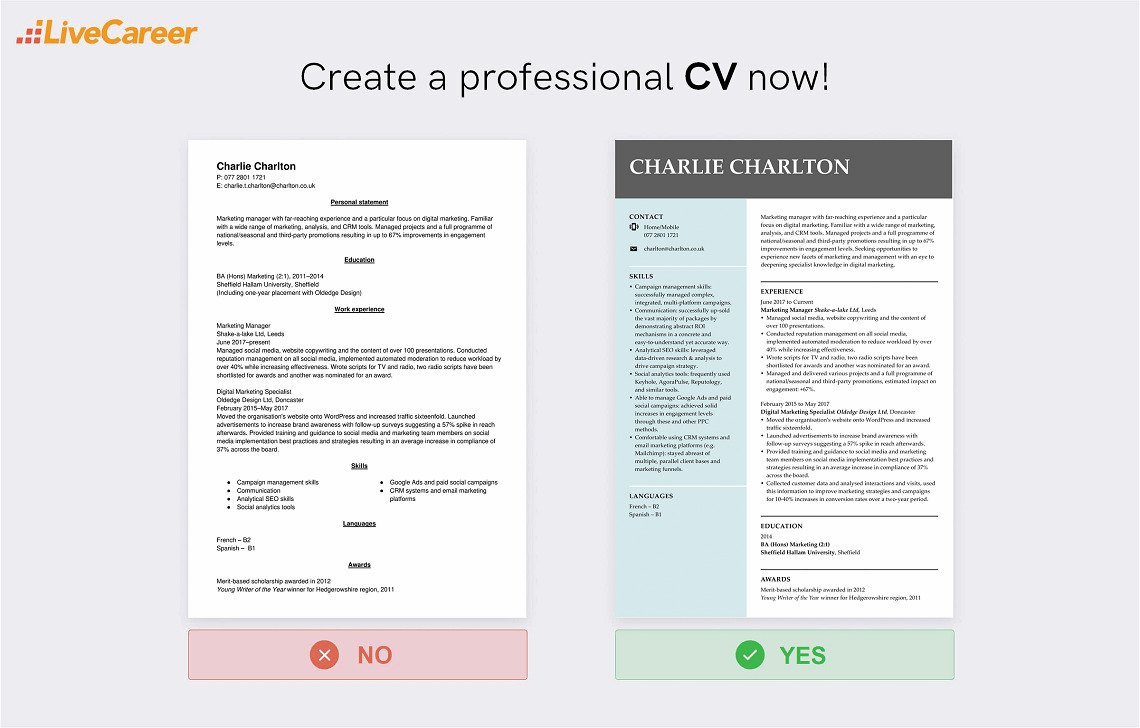 The LiveCareer online CV maker lets you build a professional CV fast and download it as a PDF or DOC.
Getting your personal details right on your CV is an exciting opportunity for some personal branding that could really pay dividends. Less is most definitely more here, though. I hope this article was what you were looking for! Please leave any questions, comments or feedback below.
How we review the content at LiveCareer
Our editorial team has reviewed this article for compliance with Livecareer's editorial guidelines. It's to ensure that our expert advice and recommendations are consistent across all our career guides and align with current CV and cover letter writing standards and trends. We're trusted by over 10 million job seekers, supporting them on their way to finding their dream job. Each article is preceded by research and scrutiny to ensure our content responds to current market trends and demand.
About the author
LiveCareer Editorial Team
Since 2005, the LiveCareer Team has been helping job seekers advance their careers. In our in-depth guides, we share insider tips and the most effective CV and cover letter writing techniques so that you can beat recruiters in the hiring game and land your next job fast. Also, make sure to check out our state-of-the-art CV and cover letter builder—professional, intuitive, and fully in line with modern HR standards. Trusted by 10 million users worldwide.