What Does CV Stand For? Curriculum Vitae Meaning & Definition
CV stands for "Curriculum vitae", which is Latin for "course of life". If your employer asked for one, you don't need to write a full autobiography. All you need is one page that lists all your work and education experience, awards, certifications, projects and other relevant information.
In other countries, it is more often called a "resume", with CV reserved for academic positions. In the UK, CV is the standard document for all job applications. Let me explain a little bit more about what a CV is.
Create an effective CV in minutes. Choose a professional CV template and fill in every section of your CV in a flash using ready-made content and expert tips.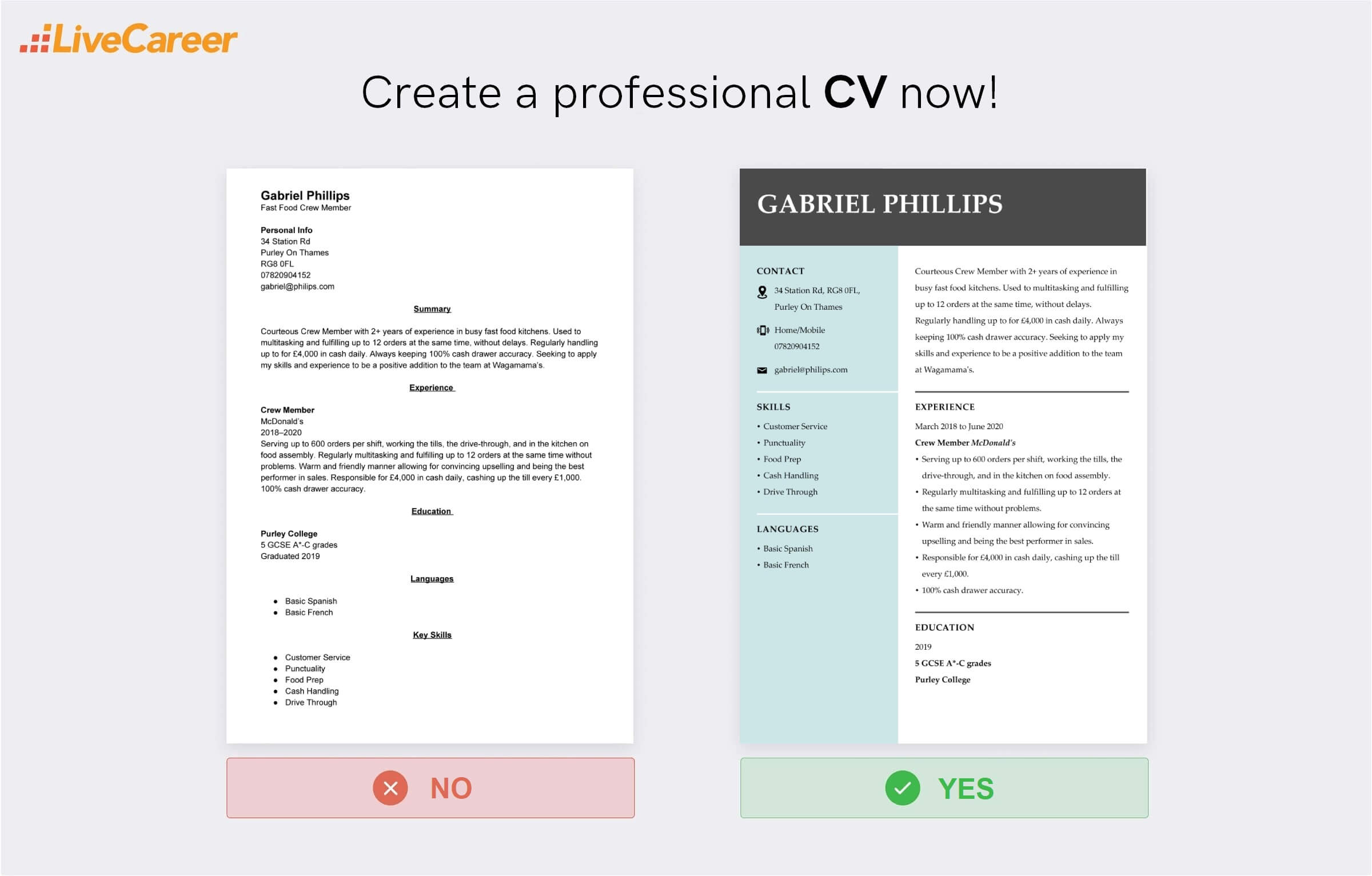 The LiveCareer online CV maker lets you build a professional CV fast and download it as a PDF or DOC.
CV (Curriculum Vitae) Example
Gabriel Phillips
Fast Food Crew Member
Personal Info
34 Station Rd
Purley On Thames
RG8 0FL
07820904152
gabriel@philips.com
Summary
Courteous Crew Member with 2+ years of experience in busy fast food kitchens. Used to multitasking and fulfilling up to 12 orders at the same time, without delays. Regularly handling up to for £4,000 in cash daily. Always keeping 100% cash drawer accuracy. Seeking to apply my skills and experience to be a positive addition to the team at Wagamama's.
Experience
Crew Member
McDonald's
March 2018–December 2020
Serving up to 600 orders per shift, working the tills, the drive-through, and in the kitchen on food assembly.
Regularly multitasking and fulfilling up to 12 orders at the same time without problems.
Warm and friendly manner allowing for convincing upselling and being the best performer in sales.
Responsible for £4,000 in cash daily, cashing up the till every £1,000.
100% cash drawer accuracy.
Education
Purley College
5 GCSE A*-C grades
Graduated 2019
Languages
Basic Spanish
Basic French
Key Skills
Customer Service
Punctuality
Food Prep
Cash Handling
Drive Through
1. What is the meaning of CV in the UK?
As we said already, CV stands for course of life. This doesn't mean you have to write an essay. You need to organise your CV into neat sections, so follow this template:
Header—Include your contact information right at the top. Your full name, address, phone number and email address.
Personal Statement—A short (max. 6 lines) paragraph that describes your best experience for the role.
Work Experience—List your work experience in reverse-chronological order on your CV—meaning most recent at the top. List your job title, the employer name, and dates when you were there. Underneath, list 3 to 8 bullet points that describe what you did and achieved while you were there. Use numbers to describe how well you did if possible.
Education—List your qualifications in the same rev-chron order. Only list your grades if you haven't got much (2+ years) of work experience, or are still in education.
Certifications, Training, Awards—List any additional qualifications and awards you have achieved outside of school.
Skills, Languages, Additional Sections—Make a little section with your top 5-10 skills for the job you are applying to. List languages and additional sections such as hobbies and interests when they're relevant to the position.
Now you know what to include in a CV for a job. Let's take a look now what "CV" means in the USA.
2. What is the meaning of CV in the USA?
In the US, a Curriculum Vitae means something different, something in the UK that would be called an "academic CV'.
In the US, the CV is reserved for educators, academics, and researchers, and takes a different, longer form that lists all the publications, citations, research, and teaching interests. It can span multiple pages, and have many attachments.
3. What else to remember about when writing a CV?
To make your CV clear and easy-to-read:
Keep it to one page, unless you have years of experience under your belt.
Use a common font, like Arial or Calibri, in a 10-12 size.
Use 1-inch margins, and lines of space between sections.
And that's it!
Does this answer what CV stands for? We tried our best to explain the CV meaning. Do you have more questions? Let us know in a comment!