A CV is something that almost everyone knows.
It is used to apply for a job, and that's how history ends.
But does anyone actually knows what does CV stand for? Is it the same across the globe?
This guide will show you:
What does CV stand for.
What is the CV meaning.
How CV looks across the globe.
Create an effective CV in minutes. Choose a professional CV template and fill in every section of your CV in a flash using ready-made content and expert tips.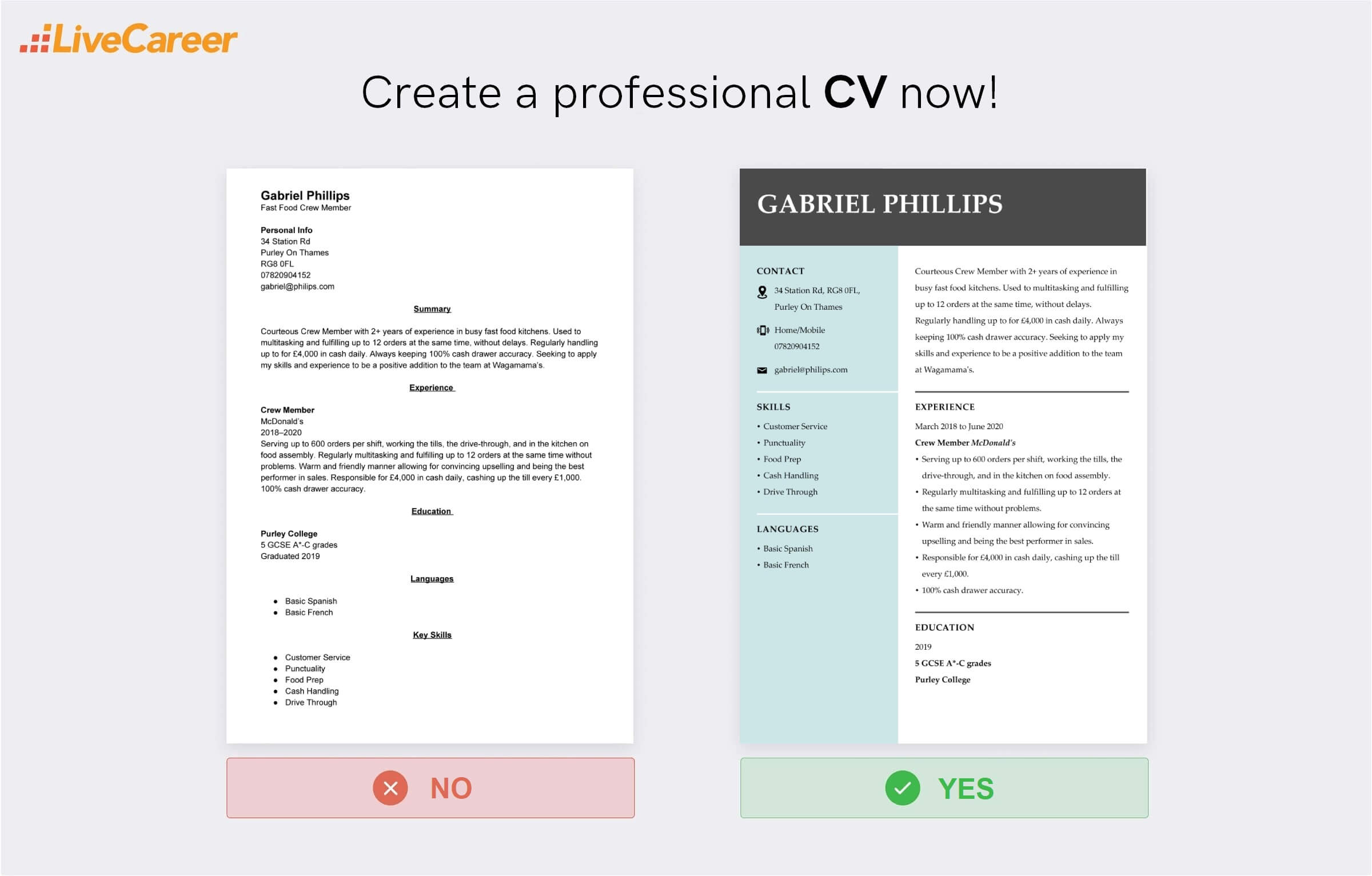 The LiveCareer online CV maker lets you build a professional CV fast and download it as a PDF or DOC.
1. What does CV stands for?
CV stands for "Curriculum vitae", which is Latin for "course of life". If your employer asked for one, you don't need to write a full autobiography. All you need is one page that lists all your work, education history, relevant experience and skills, and other relevant information.
In other countries, it is more often called a "resume", with CV reserved for academic positions. In the UK, CV is the standard document for all job applications.
What to Include in a British CV?
As we said already, CV means the course of life. This doesn't mean you have to write an essay.
You need to organise your CV into neat sections, so follow this template:
Now you know what to include in a CV for a job and what's the CV meaning.
Now, let's take a look now what "CV" means in the USA.
2. What is the meaning of CV in the USA?
In the US, a Curriculum Vitae means something different, something in the UK that would be called an "academic CV'.
In the US, the CV is reserved for educators, academics, and researchers, and takes a different, longer form that lists all the publications, citations, research, and teaching interests. It can span multiple pages, and have many attachments.
3. British CV example
Gabriel Phillips
Fast Food Crew Member
Personal Info
34 Station Rd
Purley On Thames
RG8 0FL
07820904152
gabriel@philips.com
Summary
Courteous Crew Member with 2+ years of experience in busy fast food kitchens. Used to multitasking and fulfilling up to 12 orders at the same time, without delays. Regularly handling up to for £4,000 in cash daily. Always keeping 100% cash drawer accuracy. Seeking to apply my skills and experience to be a positive addition to the team at Wagamama's.
Experience
Crew Member
McDonald's
March 2018–December 2020
Serving up to 600 orders per shift, working the tills, the drive-through, and in the kitchen on food assembly.
Regularly multitasking and fulfilling up to 12 orders at the same time without problems.
Warm and friendly manner allowing for convincing upselling and being the best performer in sales.
Responsible for £4,000 in cash daily, cashing up the till every £1,000.
100% cash drawer accuracy.
Education
Purley College
5 GCSE A*-C grades
Graduated 2019
Languages
Basic Spanish
Basic French
Key Skills
Customer Service
Punctuality
Food Prep
Cash Handling
Drive Through
4. Key Takeaways
So, to sum up, what does CV stand for and what is the CV meaning?
CV stands for "Curriculum vitae", which is Latin for "course of life".
CV in the UK is used as a standard document during a job hunt.
In US CV is used for academia purposes.
And that's it!
Does this answer what CV stands for? We tried our best to explain the CV meaning. Do you have more questions? Let us know in a comment!
How we review the content at LiveCareer
Our editorial team has reviewed this article for compliance with Livecareer's editorial guidelines. It's to ensure that our expert advice and recommendations are consistent across all our career guides and align with current CV and cover letter writing standards and trends. We're trusted by over 10 million job seekers, supporting them on their way to finding their dream job. Each article is preceded by research and scrutiny to ensure our content responds to current market trends and demand.
About the author
LiveCareer Editorial Team
Since 2005, the LiveCareer Team has been helping job seekers advance their careers. In our in-depth guides, we share insider tips and the most effective CV and cover letter writing techniques so that you can beat recruiters in the hiring game and land your next job fast. Also, make sure to check out our state-of-the-art CV and cover letter builder—professional, intuitive, and fully in line with modern HR standards. Trusted by 10 million users worldwide.