In today's hyper-competitive job market your whole CV has to be spot on for you to stand any chance of being noticed. But there's one particular aspect that stands head and shoulders above the rest in terms of its importance. Your work experience CV section.
For recruiters, your CV work experience takes precedence over everything else. Get it right and you're already halfway to hired.
In this article, you'll:
Learn how to write work experience on a CV.
Get the work experience CV example with expert tips on how to make it noticeable.
Understand how to fill your CV work experience with the right accomplishments.
Create an effective CV in minutes. Choose a professional CV template and fill in every section of your CV in a flash using ready-made content and expert tips.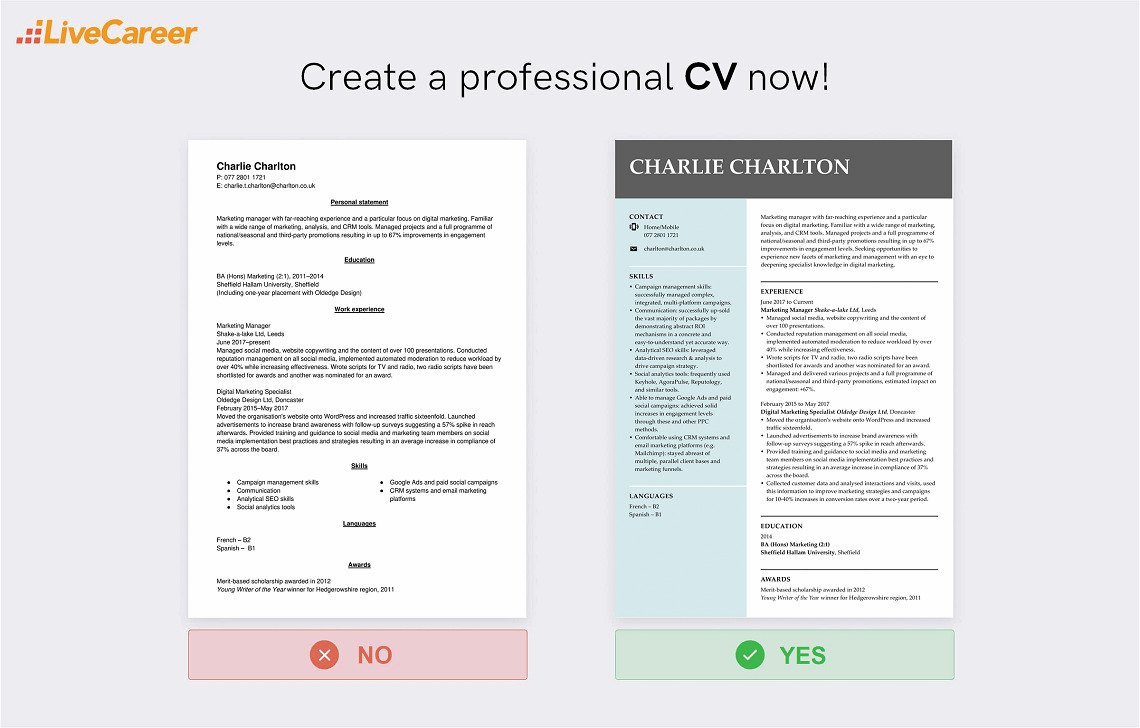 The LiveCareer online CV maker lets you build a professional CV fast and download it as a PDF or DOC.
Seeking some more help with writing your CV? See these guides:
Work experience CV example
Sales and marketing manager with 7 years of experience in B2B plant and equipment hire. Focussed on maximising opportunities with all accounts through focussed and considerate analysis of client requirements. Looking to further develop my sales skills with TRB Hire as it expands into new markets in the Republic of Ireland.
Work Experience
Sales and marketing manager
Sentec Supply, Liverpool
August 2013–Present
Created £2m+ in new business through a focussed marketing campaign targetting new clients with a need for Sentec's products.
Established Sentec's first SEM and Facebook advertising campaigns in response to falling leads from traditional media, increasing conversion rates by 50%.
Led and mentored a fresh and dynamic sales team who collectively beat all previous sales pipeline records.
Developed in-depth understanding of products by working closely with manufacturers and technical experts, increasing credibility and effectiveness with discerning clients.
Worked in partnership with procurement team to secure new sales software that reduced processing time by 15% compared to older legacy systems.
Education
Business Management BA (Hons), September 2009–June 2013
University of Liverpool
Skills
SEM. Used Moz Analytics and other tools to analyse inbound marketing data for campaign optimisation.
Leadership. Mentored and trained a team of eight sales officers.
Written communication. Drafted outbound email marketing campaigns targeting new and existing clients.
Data analysis. Used sales data to create a geographic map of client locations and identify new areas for expansion.
Teamwork. Made use of client feedback to work with invoicing team to create a seamless payment process.
Awards
Won employee of the year at the Sentec Group's annual awards 2019.
Now that you've seen a CV template with perfectly written work experience, see how to create one for yourself:
How to write work experience in a CV
Before we start, it's worth pointing out exactly what you should aim for with your CV work experience section.
Your CV work experience section is where you list your employment history. It needs to establish your professional credentials in a manner that proves you're the best candidate for the job you're applying for.
And although many candidates struggle with how to put their work experience on a CV it's easy once you know how. Just follow these tips and you'll be set.
1. Structure your CV work experience section correctly
Recruiters expect to see the essential information they require, neatly set out according to the standard rules of CV layout. Write your work experience CV section in reverse chronological order, starting with your most recent post and working back from there.
For each entry, include the same basic facts. Your job title, the name of the employer and your dates of employment, using 'Present' as the end date if it's your current place of work. And make full use of CV font formatting to add emphasis. Putting your job title in bold helps it to stand out from the surrounding text.
Here's an example of a work experience CV section that contains all the information a hiring manager needs:
Systems Analyst
Redcar Data Services, London
April 2017–Present
A strong CV summary will convince the recruiter you're the perfect candidate. Save time and choose a ready-made personal statement written by career experts and adjust it to your needs in the LiveCareer CV builder.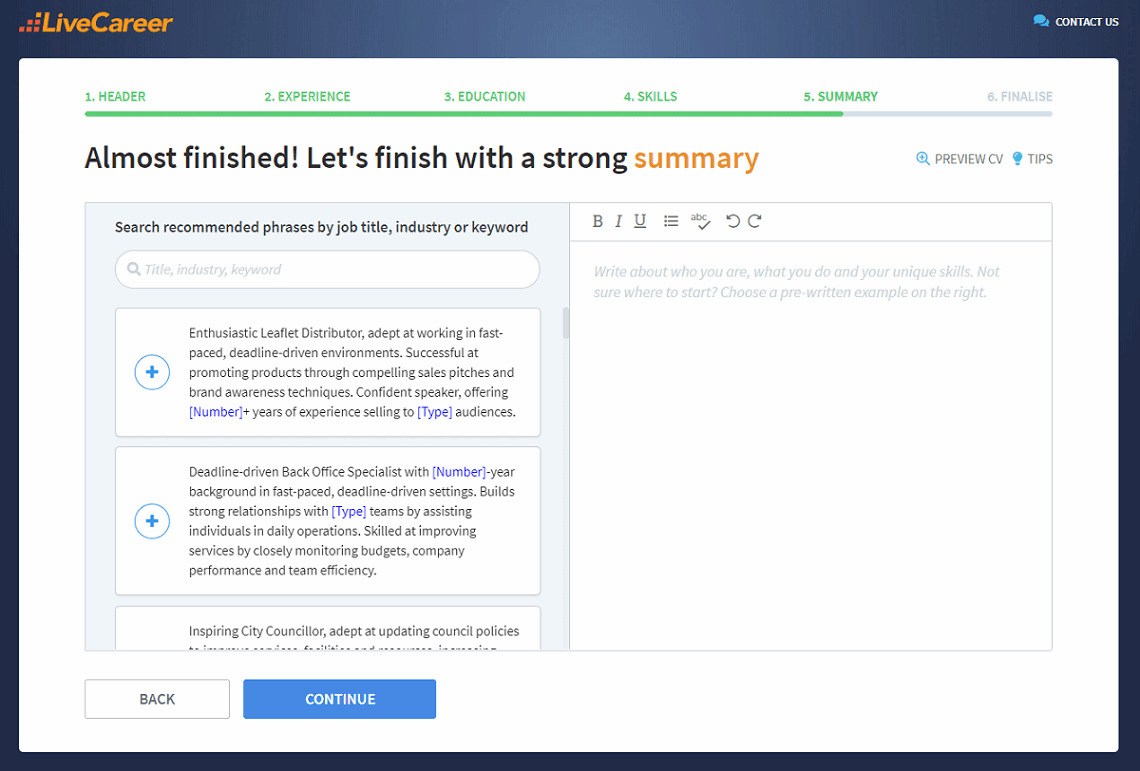 2. Use bullet points to describe your work experience
Each entry in your work experience CV section should have 4–6 bullet points describing the job. Use more bullet points for your most recent and relevant roles and less for older entries. Space is at a premium and you should always aim for the best CV length of one or two pages. And limit each bullet point to one or two lines at most.
3. Start each bullet point with an action verb for impact
Nothing is duller than a CV where every bullet point starts with 'responsible for'. Give your bullet points structure and impact. Start each one off with a CV action verb. Words like planned, operated and supervised have a much greater impact than just saying 'responsible for'. For example:
Devised a new shift pattern to take into account staffing shortfall due to weekly and seasonal variation, reducing call waiting times by 50%.
4. Include achievements to prove your worth
Duties are only part of the story. The hiring manager doesn't just want to know what you did, they want to see how well you did it. Provide proof of your abilities and build an effective work experience CV structure by using the PAR (problem-action-result) formula and accomplishment statements in your bullet points. Here's how it should look.
Identified and removed two redundant steps in the invoice approval process that reduced processing time by 30% and led to a 15% drop in payment arrears.
You don't have to be a CV writing expert. In the LiveCareer CV builder you'll find ready-made content for every industry and position, which you can then add with a single click.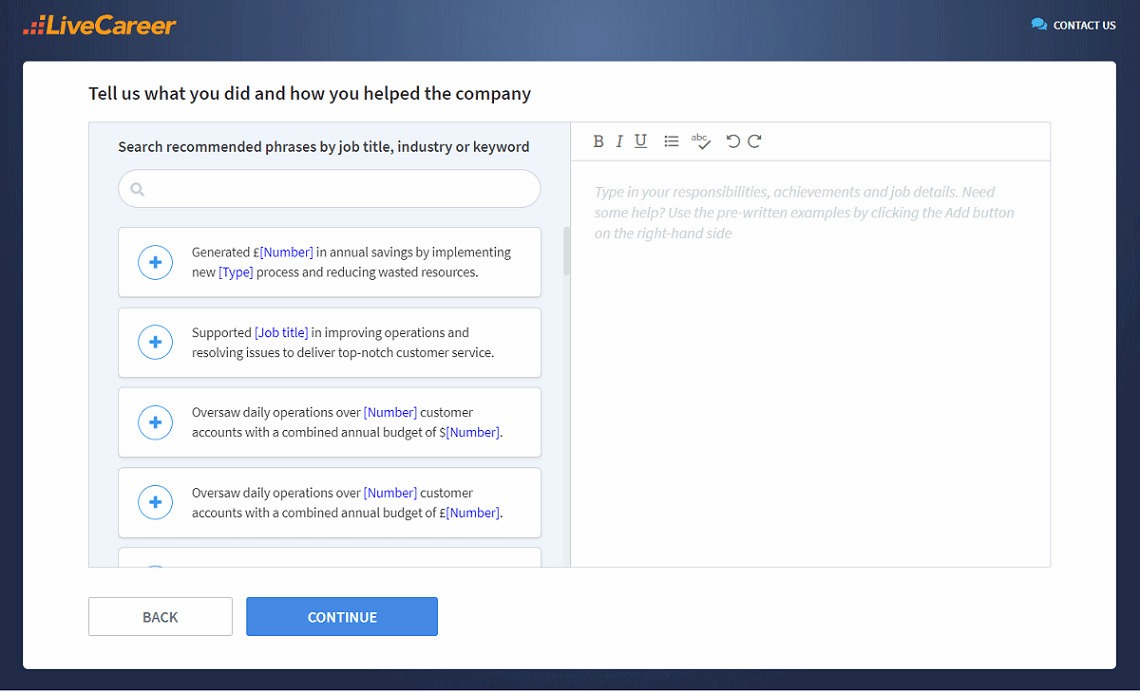 5. Use a key achievements section for added emphasis
If you've got a particularly stunning standout achievement from a particular job you can include it as a 'key achievement'. Include it as a separate line, directly underneath your last bullet point for the job in question, and structure it the same way as you would a standard bullet point. Here's an example:
Bullet point.
Bullet point.
Key achievement: Achieved a 100% increase in email marketing campaign conversion rates through removing inactive leads, sourcing new leads and completely rewriting copy.
6. Show promotions effectively
What if you were promoted to a higher position or changed roles while working at the same company? It's important to show this on your CV for accuracy and as a way of highlighting that achievement. For maximum clarity, and to ensure your CV remains ATS compliant we recommend you following this example:
Excelsior Fashion Stores, London, UK
Assistant Manager, January 2020–Present
Mention your promotion, e.g. Promoted from Retail Assistant to Assistant Manager.
Bullet point.
Bullet point.
Bullet point.
Retail Assistant, February 2019–January 2020
Bullet point
Bullet point.
Bullet point.
Bullet point.
So use the company name as a heading, then list each post you held and the dates you held it underneath. Make sure you specifically mention your promotion as the first bullet point for the more senior role.
7. Write a targetted CV work experience section
Using the same work experience CV section for every job application is a one-way road to rejection. You need to make sure your CV is laser focussed on the job you're applying for. But thankfully there's an easy way to make sure your work experience section is tailored to a perfect fit.
Refer back to the job advert and you'll see it describes all of the experience and skills that are required for the post. Think of it as the hiring manager's wish list for the perfect candidate. So read it carefully and note all the professional experience mentioned. You should also take into account any experience that's generally applicable to the role and industry.
Then include all the aspects of your own work experience that match the job requirements. It's the best way of showing the hiring manager that you're the answer to their recruitment prayers.
8. Don't forget volunteer work experience
Many candidates forget that experience doesn't have to involve paid work. Volunteer work experience is an incredibly valuable way of developing your professional abilities. For candidates with less experience such as those writing a graduate CV or student CV you can include volunteer experience right alongside your other work history.
But if you're more experienced it's best to include it as a separate additional CV section, as you would with languages or hobbies and interests. Either way, it can be a very effective way of improving your chances of success. A survey by LinkedIn revealed that one in five hiring managers have employed a candidate specifically because of their volunteering experience.
9. Incorporate your experience into other CV sections
Showing off your experience doesn't stop with your CV work experience section itself. Here are some other parts of your CV where your experience can come to the fore.
CV header
This is the first section of your CV that's usually placed right on top of the page. It contains your name and personal details. But it should also contain your job title as this instantly shows that you have current experience in that role.
Personal profile
Your CV summary is the brief paragraph that introduces you as a candidate. As the first substantive section of your CV, it's an ideal place to draw the recruiter's attention to your experience. In the very first sentence, mention your job title and the amount of experience you have. That way the recruiter can be sure you possess the baseline level of work experience that's required. Here's an example.
Client focussed estate agent with 8+ years of experience. A seasoned specialist in the luxury homes market in South West London with a flair for working effectively with high net worth clients. Seeking to assist Bromley & Co in its aim to become the agent of choice for sales in the Wimbledon Village area.
As you can see, that CV personal profile instantly establishes the candidate's credentials in terms of experience.
Skills section
Your CV skills section can also be utilised to show off your experience. After all, skills are gained through experience. The way to do it is to add detail. Instead of just rattling off a shopping list of skills, add a sentence to each skill example that evidences your mastery of it. That way you're including even more evidence of your professional experience. For example:
JavaScript. Built interactive elements for use on client payment pages.
10. Be honest about gaps
Gaps in your employment history aren't the death knell that popular wisdom would have you believe. Just be honest and explain them, and most employers won't be phased. Here's an example of how you could include a gap in your career history.
Job seeking
April 2015–September 2016
And gaps that occurred further back in time have less impact than recent ones. Which brings us nicely to the next section of our guide.
How many years of work experience should be on your CV?
It's one of the most common questions that candidates ask in relation to their CV. Just how far back should your experience in a CV go? A good rule of thumb is to go back no further than 15 years of relevant experience.
So if you've been working for 13 years in the marketing business, do include all of your experience in the industry, but you can safely leave out the barista gig you had to pay your way through uni.
And one final tip. If you've only just graduated or you're still studying you can put your education section before your CV work experience section as it'll be more relevant at this stage of your career.
And that's it. Now you know all about how to put work experience on your CV.
A cover letter alone simply won't be enough—you need an impactful CV, too. Create your CV in minutes. Just follow our wizard and fill in every CV section with ready-made content. Get started by choosing a professional CV template.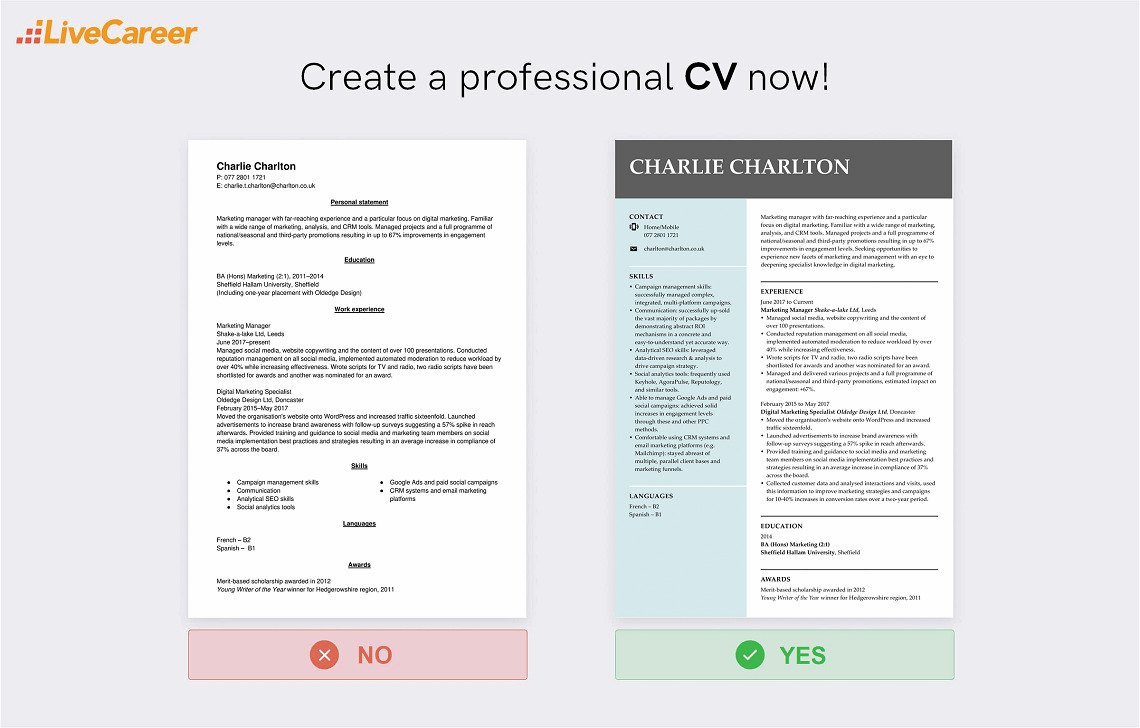 The LiveCareer online CV maker lets you build a professional CV fast and download it as a PDF or DOC.
Thanks for reading. If you have any further questions or you need help with your own work experience CV examples, please ask in the comments section. We'll be happy to help.
How we review the content at LiveCareer
Our editorial team has reviewed this article for compliance with Livecareer's editorial guidelines. It's to ensure that our expert advice and recommendations are consistent across all our career guides and align with current CV and cover letter writing standards and trends. We're trusted by over 10 million job seekers, supporting them on their way to finding their dream job. Each article is preceded by research and scrutiny to ensure our content responds to current market trends and demand.
About the author
LiveCareer Editorial Team
Since 2005, the LiveCareer Team has been helping job seekers advance their careers. In our in-depth guides, we share insider tips and the most effective CV and cover letter writing techniques so that you can beat recruiters in the hiring game and land your next job fast. Also, make sure to check out our state-of-the-art CV and cover letter builder—professional, intuitive, and fully in line with modern HR standards. Trusted by 10 million users worldwide.