If your CV seems to be too short to the recruiter, they might interpret it as a lack of experience. If it is too long and boring, that's no good either. So how long should a CV be then?
"It depends" is the short answer. That's not what you came here for. This guide will explain exactly how long your CV should be, and how long a CV can be, in general. We will look at different scenarios and reasons that command different CV lengths.
Create an effective CV in minutes. Choose a professional CV template and fill in every section of your CV in a flash using ready-made content and expert tips.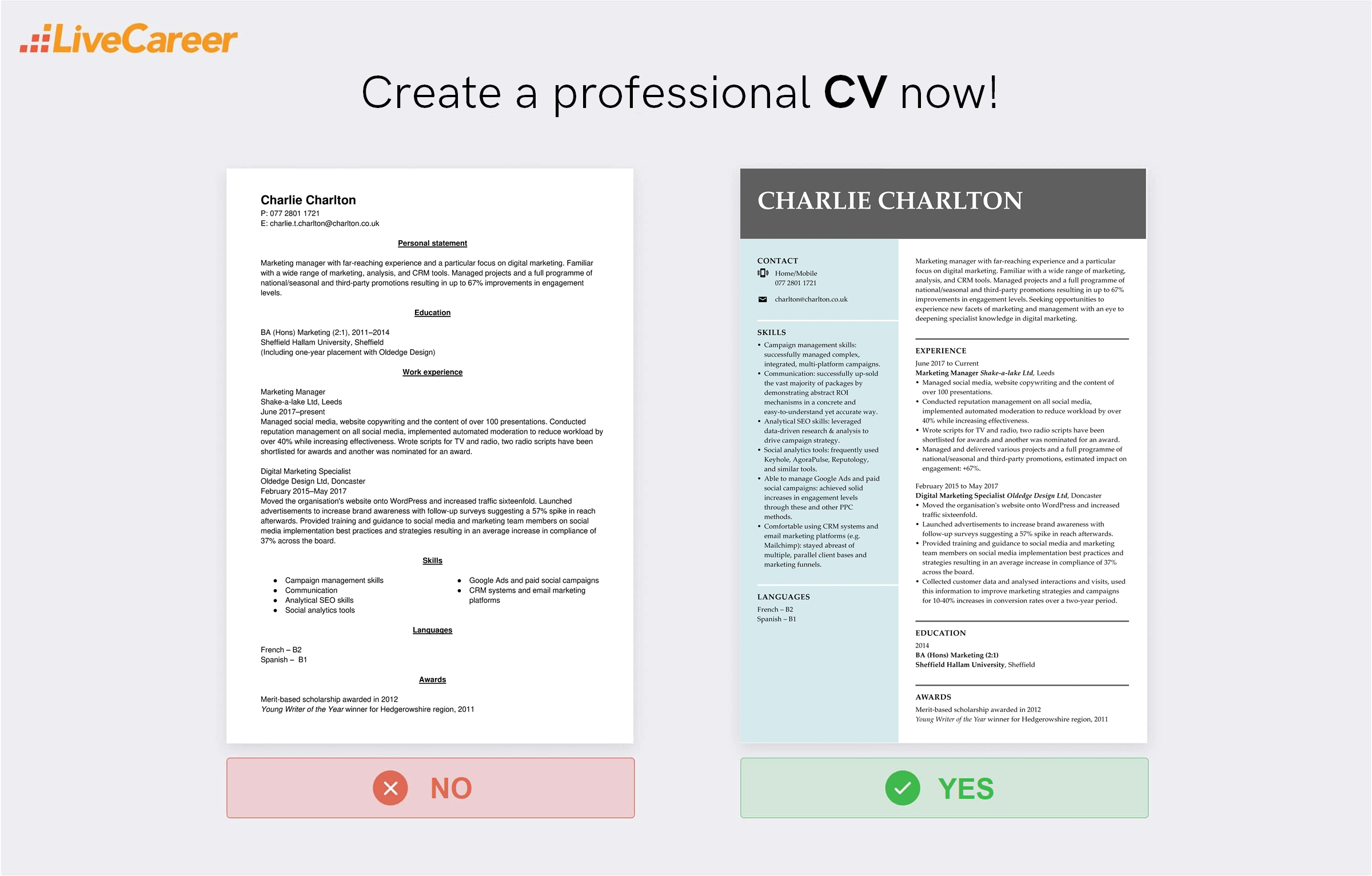 The LiveCareer online CV maker lets you build a professional CV fast and download it as a PDF or DOC.
How long should a CV be?
The most common CV length in the UK is two pages. But depending on your professional experience, seniority level, and skills, your CV can be between one and four pages long.
We recommend to keep it to one page for most candidates, but let's do a quick checklist just to make sure it is right for you:
You have less than 10 years of relevant work experience
The employer asked for less than 10 years of experience
If the answer to both is 'Yes', you should definitely stick to the one-page format. Remember you don't have to describe every job in detail. Chances are what you were 10 years ago is hardly relevant, it's just nice for the employer to know that you did it.
Two-page CV length
Have you got more than 10 years of experience? The two-page CV could be called for. Perhaps you only have 5 years of experience, but enough achievements to list on your CV and projects that you're going up against people who have been doing it for a decade or two. Write a two-pager.
So, how do you know when to write a two-page or even a three-page CV? The answer is:
When you really can't make it any shorter.
When everything is relevant and objectively going to increase your chances of getting this job, and it just doesn't fit. Be objective, not self-flattering. Put yourself in the employer's shoes. What do they care about?
Here's a quick cheat sheet on jobs and industries that might call for a more than a one-page CV regardless of experience:
All kinds of project workers, freelancers, artists, etc. that do not stay in one job but work on multiple fronts
Academics
Accountants
Architects
Barristers
Business analysts
Consultants
Curators
Data analysts
Designers
Economists
Editors
Engineers
Executives
Financial advisors
Government officials
Lawyers
Media buyers
Most kinds of managers
Project managers
Researchers
Scientists
Writers
Longer CVs
In the UK, two- and three-page CVs are considered the norm for a wide variety of job seekers. Remember: You don't want to bore someone, or have them looking too long for information. Everything should be there right in front of them. If your CV is longer than 4 pages, it will generally be viewed as too long.
How to sneak through more info
For many industries, instead of describing the work you did, you can just show them. Programmers and developers use sites like GitHub for their portfolios, artists use, well, portfolios, and academic use publication lists.
If you have a portfolio or a website, link it in the header of your CV, and mention it in your cover letter. This way, they can see your work with their own eyes. Just make sure everything is up to date, and there isn't anything you wouldn't like them to see.
Best ways to showcase your work
Here is a quick guide to the best portfolio hosting options should you opt for one. Afterwards, just link it in your header, under all your other contact info, and reference it in your cover letter.
How to cut down on CV length

| | |
| --- | --- |
| Job | Resource |
| Artists | Online Portfolio — Try free website builders like Wix, Weebly, Squarespace, Format, Pixpa or Wordpress. |
| Academics | Publication Lists, Citation Lists |
| Data Scientists, Developers, Programmers Tech Professionals | GitHub, StackOverflow, authoring articles on Medium |
| Models | Instagram, Private Website |
| Photographers | Instagram, Deviantart, Flickr, 500px, SmugMug, Zenfolio, Format, PhotoShelter |
| Writers | Private website or online portfolio services: clippings.me, Contently, Journo Portfolio, Medium, Writerfolio |
How to cut down on CV length
If you feel your CV is too long, cut it down by applying these writing tips:
Scour the job ad (target every CV specifically), and remove everything that is irrelevant.
Limit your CV personal statement to 6 lines or less.
Only go back a year or so further than the amount of experience the employer asked for.
List up to 6 bullet points for your most recent job, and up to 3 for past ones. Focus only on achievements.
Condense similar information into the same point, for example: Don't say you saved onboarded 15 employees, and trained 20 on the new software. Say you trained and onboarded 35+ employees.
Merge different positions in the same company under the same heading (Tip: our CV Builder handles this in seconds).
Cut down on wordiness, excessive descriptions of responsibilities and tasks, and stud your CV only with achievements and measurable metrics that show you are an effective candidate.
Don't send your CV in the Microsoft Word format unless specifically asked to—your formatting is not protected this way. If you save as PDF, it won't mess up.
Don't put useless things like 'References available on request' on your CV. Nobody is expecting you to refuse if they ask for references.
You don't have to be a CV writing expert. In the LiveCareer CV builder you'll find ready-made content for every industry and position, which you can then add with a single click.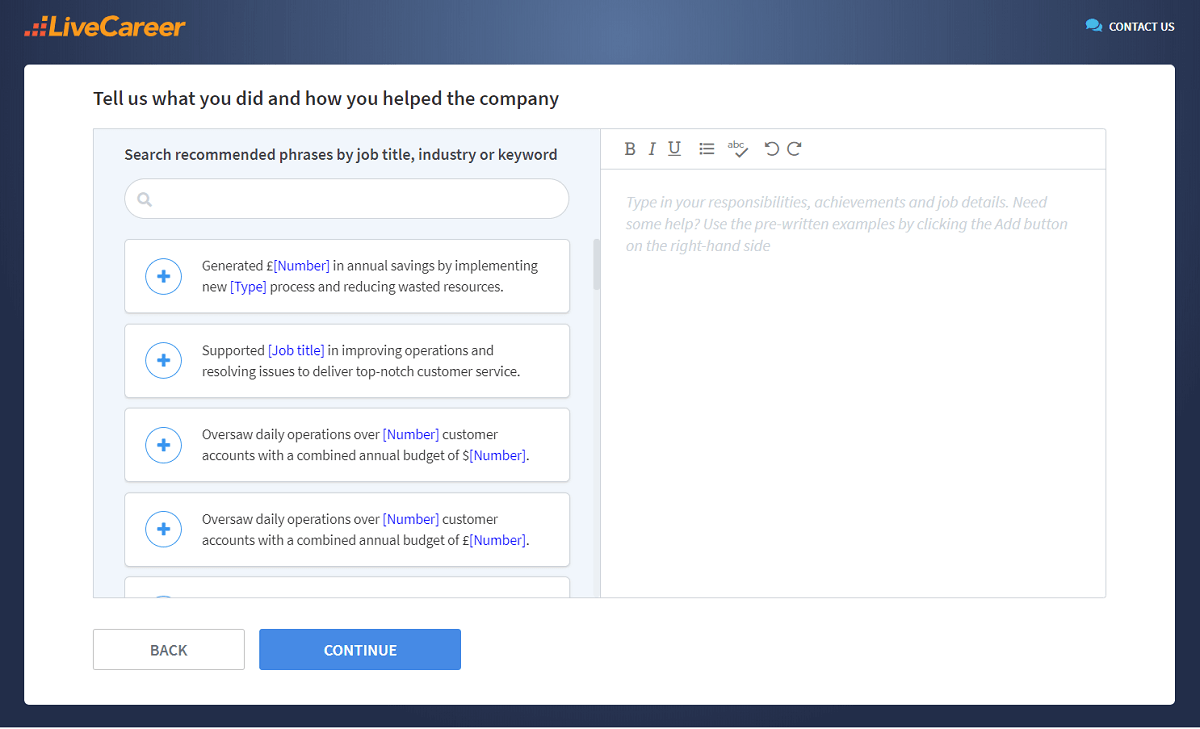 Does this answer how long should a CV be? Do you have a better idea of how long a CV can be? Let us know in a comment!
How we review the content at LiveCareer
Our editorial team has reviewed this article for compliance with Livecareer's editorial guidelines. It's to ensure that our expert advice and recommendations are consistent across all our career guides and align with current CV and cover letter writing standards and trends. We're trusted by over 10 million job seekers, supporting them on their way to finding their dream job. Each article is preceded by research and scrutiny to ensure our content responds to current market trends and demand.
About the author
LiveCareer Editorial Team
Since 2005, the LiveCareer Team has been helping job seekers advance their careers. In our in-depth guides, we share insider tips and the most effective CV and cover letter writing techniques so that you can beat recruiters in the hiring game and land your next job fast. Also, make sure to check out our state-of-the-art CV and cover letter builder—professional, intuitive, and fully in line with modern HR standards. Trusted by 10 million users worldwide.