Most job adverts don't mention references at all these days. Does that mean it's something you don't do any more? Or maybe it's such a key part of writing a CV that it goes without saying?
This article will put your mind at rest by showing you when and how to include references on your CV, how many to have and, perhaps most importantly, who to choose. You'll also find some great examples as well as advice for keeping your referees happy and on your side.
Create an effective CV in minutes. Choose a professional CV template and fill in every section of your CV in a flash using ready-made content and expert tips.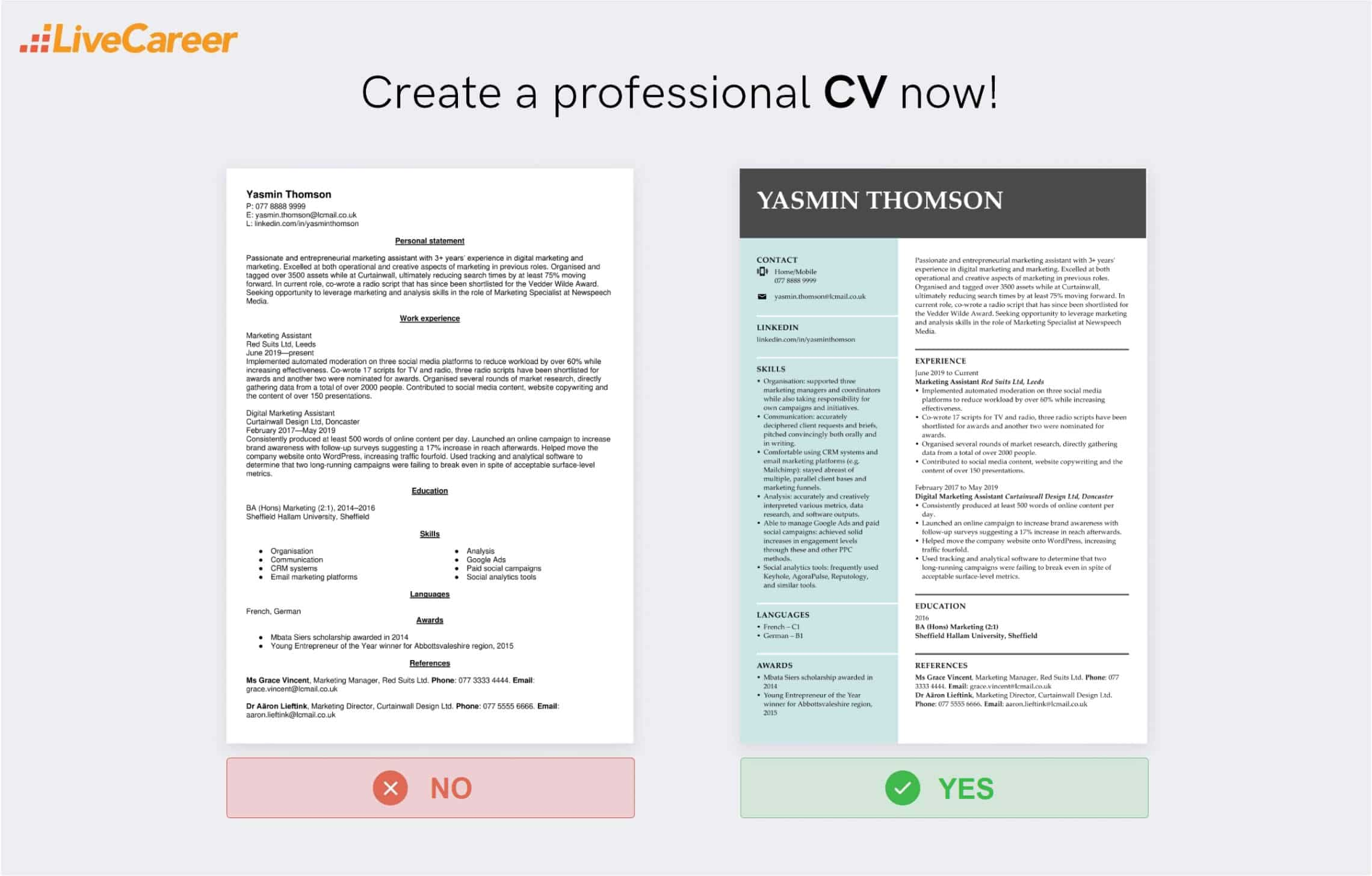 The LiveCareer online CV maker lets you build a professional CV fast and download it as a PDF or DOC.
CV sample with references
Yasmin Thomson
P: 077 8888 9999
E: yasmin.thomson@lcmail.co.uk
L: linkedin.com/in/yasminthomson
Personal statement
Passionate and entrepreneurial marketing assistant with 3+ years' experience in digital marketing and marketing. Excelled at both operational and creative aspects of marketing in previous roles. Organised and tagged over 3500 assets while at Curtainwall, ultimately reducing search times by at least 75% moving forward. In current role, co-wrote a radio script that has since been shortlisted for the Vedder Wilde Award. Seeking opportunity to leverage marketing and analysis skills in the role of Marketing Specialist at Newspeech Media.
Work experience
Marketing Assistant
Red Suits Ltd, Leeds
June 2019—present
Implemented automated moderation on three social media platforms to reduce workload by over 60% while increasing effectiveness.
Co-wrote 17 scripts for TV and radio, three radio scripts have been shortlisted for awards and another two were nominated for awards.
Organised several rounds of market research, directly gathering data from a total of over 2000 people.
Contributed to social media content, website copywriting and the content of over 150 presentations.
Digital Marketing Assistant
Curtainwall Design Ltd, Doncaster
February 2017—May 2019
Consistently produced at least 500 words of online content per day.
Launched an online campaign to increase brand awareness with follow-up surveys suggesting a 17% increase in reach afterwards.
Helped move the company website onto WordPress, increasing traffic fourfold.
Used tracking and analytical software to determine that two long-running campaigns were failing to break even in spite of acceptable surface-level metrics.
Education
BA (Hons) Marketing (2:1), 2014–2016
Sheffield Hallam University, Sheffield
Skills
Organisation: supported three marketing managers and coordinators while also taking responsibility for own campaigns and initiatives.
Communication: accurately deciphered client requests and briefs, pitched convincingly both orally and in writing.
Comfortable using CRM systems and email marketing platforms (e.g. Mailchimp): stayed abreast of multiple, parallel client bases and marketing funnels.
Analysis: accurately and creatively interpreted various metrics, data research, and software outputs.
Able to manage Google Ads and paid social campaigns: achieved solid increases in engagement levels through these and other PPC methods.
Social analytics tools: frequently used Keyhole, AgoraPulse, Reputology, and similar tools.
Languages
Awards
Mbata Siers scholarship awarded in 2014
Young Entrepreneur of the Year winner for Abbottsvaleshire region, 2015
References
Ms Grace Vincent, Marketing Manager, Red Suits Ltd. Phone: 077 3333 4444. Email: grace.vincent@lcmail.co.uk
Dr Aäron Lieftink, Marketing Director, Curtainwall Design Ltd. Phone: 077 5555 6666. Email: aaron.lieftink@lcmail.co.uk
What are CV references
CV references are people and their contact details your employer can use to learn more about your personality, qualifications, and performance. That is to ensure what you wrote in your CV is accurate.
Always be careful when choosing your references. The best way to pick them is to think about a couple of things:
What relationship did you have?

Would they say meaningful things about you?
Who can be a reference on a CV
Above all, your referees need to be able to speak coherently about you as an employee. Friends and family are out of the question. Avoid colleagues if at all possible—your referee should be your superior or at least someone higher up in the hierarchy than you. Here are some options, in order of preference:
Current employer
Previous employer
Director
Manager
Supervisor
Mentor
Customer/client with whom you've dealt regularly
Lecturer
Teacher
Terms like 'employer' and 'superior' need not apply only to paid work. Volunteer and placement work contexts are perfectly valid—anything that shows what you're like as an employee. Remember that employers aren't obliged to give you a reference unless it's in your contract, though.
There are also certain personal qualities that make for a good referee once the above criterium is satisfied. If you're lucky enough to be spoilt for choice when it comes to referees, then prioritise those who:
Hold an impressive position or posses relevant expertise
Are good with people, charismatic
Are eloquent and authoritative
How many references on a CV
As a common practice, you should list at least two professional references on your CV. For the first reference, include your most recent employer; for the second, you could use someone who can recognise you in a professional setting.
Putting references on a CV can be unecessary and actually counterproductive in a few key ways. Firstly, you'll be sending your CV out a lot—do your referees want their contact details doing the rounds? See when is the right moment to put references on your CV:
When to put references on a CV
Include references on your CV when:
You've been explicitly asked to include references and include them o

n your CV

. (If you've been asked to provide references but not in your CV, then put them on a separate references page.)

It can help the recruiter out.
When not to put references on a CV
Don't include references on your CV when:
You are asked not to include them. The reason for this is very simple: putting references on your CV won't do any good. Recruiters don't need to contact referees until towards the end of the recruitment process, or at the very least after an interview. When the time comes, they'll ask.
You don't have enough references. You can really lock yourself in when you put references on a CV. Different referees will work better in different companies and on different people. By the time referees are asked for, you'll have more of a feel for who to choose.
You have limited space on your CV. References will take up valuable space that could be put to much better use. All putting references on your CV will do is put your referees' privacy at risk, lock you into making a stab in the dark when choosing them, and needlessly take up precious space in your one- or two-page CV.
How to write references on a CV
If you've been asked to do so, then you'll need to know how to put references on a CV. It's worth keeping some ground rules in mind that aren't always obvious:
Ask permission before adding anyone as a reference, the importance of this cannot be overstated.
Keep them well-informed as to whether and when they can expect to be contacted.
Check and double check which of their contact details your referees are comfortable having shared.
You'll need the following details for each referee:
Their title and full name
Their position
The organisation for which they work
Their email address and phone number.
Don't include postal addresses—space is at a premium and adding a postal address wouldn't serve any purpose anyway.
Lay the above details out in a way that's clear while using up as little space as possible. Something like this is more than adequate:
CV references—Example
Ms Grace Vincent, Marketing Manager, Red Suits Ltd. Phone: 077 3333 4444. Email: grace.vincent@lcmail.co.uk
Dr Aäron Lieftink, Marketing Director, Curtainwall Design Ltd. Phone: 077 5555 6666. Email: aaron.lieftink@lcmail.co.uk
The order you list your references in is really up to you. Here are some guidelines to help you make an informed choice:
If you're listing referees from different, current and previous employers, then consider sticking to a reverse-chronological order, mirroring that of your CV.
If you're listing referees from the same employer, then you could list them alphabetically by surname, or
You could list to them according to how closely you worked with them, starting with those that know you best as an employee.
A strong CV summary will convince the recruiter you're the perfect candidate. Save time and choose a ready-made personal statement written by career experts and adjust it to your needs in the LiveCareer CV builder.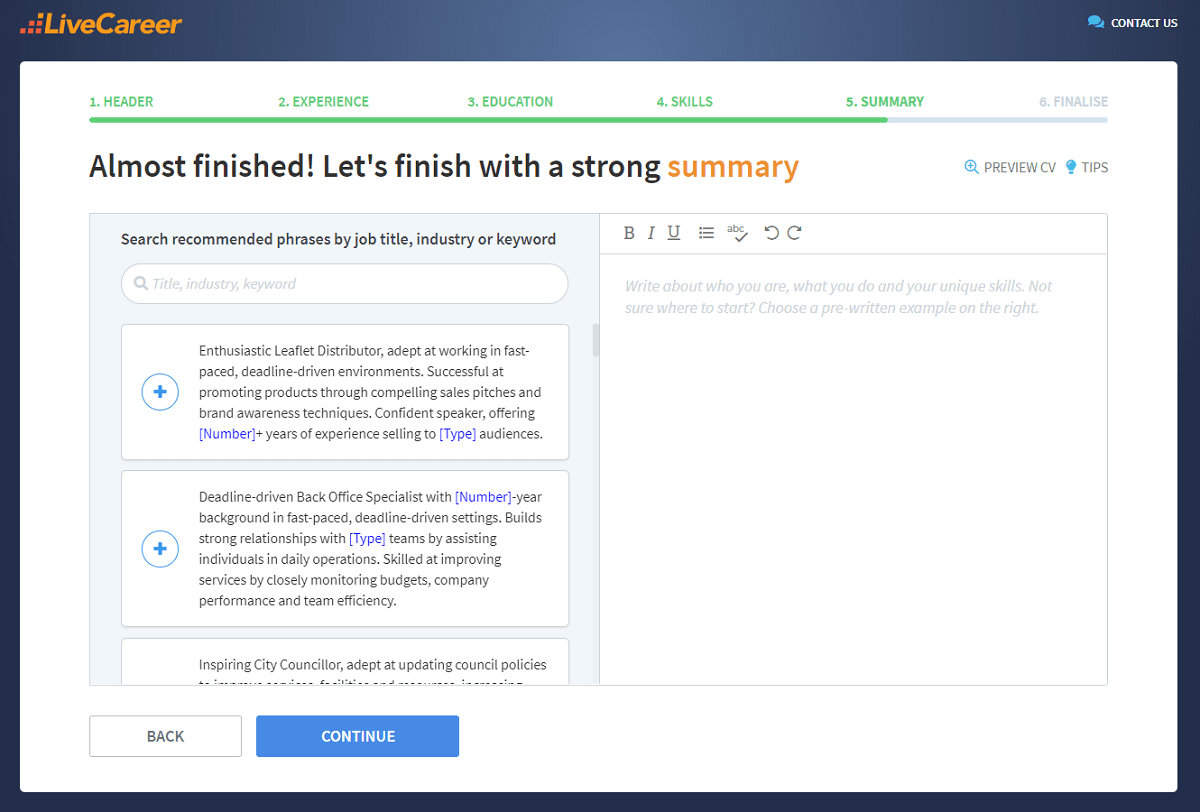 No references on CV—references available on request?
Let's say you're convinced that putting references on a CV is a bad idea. It might be tempting to hedge your bets by adding the words 'references available on request' somewhere on your CV. To put it bluntly, don't do it. It's not as bad as adding references but it still does no good and costs you space.
The reason writing that references are available on request doesn't bring any particular benefits is that it's assumed to be true anyway. It's obvious to the recruiter that if they ask for references, then you'll come up with something.
You don't have to be a CV writing expert. In the LiveCareer CV builder you'll find ready-made content for every industry and position, which you can then add with a single click.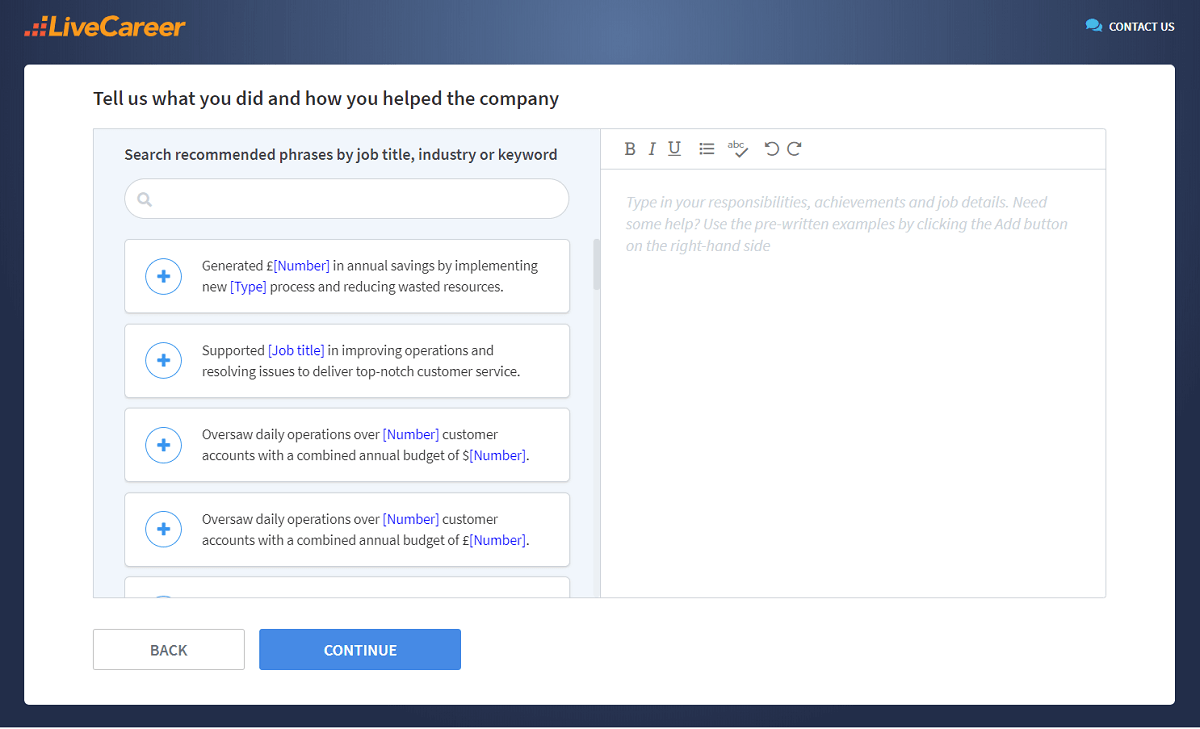 I hope this has answered your most pressing questions. Please let me know in the comments section below if there's anything you'd like more information on. Feel free to leave any comments or feedback there as well, or share your reference experiences – good, bad, painful or funny.
How we review the content at LiveCareer
Our editorial team has reviewed this article for compliance with Livecareer's editorial guidelines. It's to ensure that our expert advice and recommendations are consistent across all our career guides and align with current CV and cover letter writing standards and trends. We're trusted by over 10 million job seekers, supporting them on their way to finding their dream job. Each article is preceded by research and scrutiny to ensure our content responds to current market trends and demand.
About the author
LiveCareer Editorial Team
Since 2005, the LiveCareer Team has been helping job seekers advance their careers. In our in-depth guides, we share insider tips and the most effective CV and cover letter writing techniques so that you can beat recruiters in the hiring game and land your next job fast. Also, make sure to check out our state-of-the-art CV and cover letter builder—professional, intuitive, and fully in line with modern HR standards. Trusted by 10 million users worldwide.