The number of applicants for each role is increasing. Competition is fierce. The only way you have of standing out from that massive pile of applications on the recruiter's desk is to craft a perfectly written CV. And we're here to help you do just that.
This collection of CV tips and advice covers everything you need to get the edge in a competitive job market. You'll get easy to action CV writing tips, advice on layout and CV formatting tips. In short, everything you need for job-seeking success.
Create an effective CV in minutes. Choose a professional CV template and fill in every section of your CV in a flash using ready-made content and expert tips.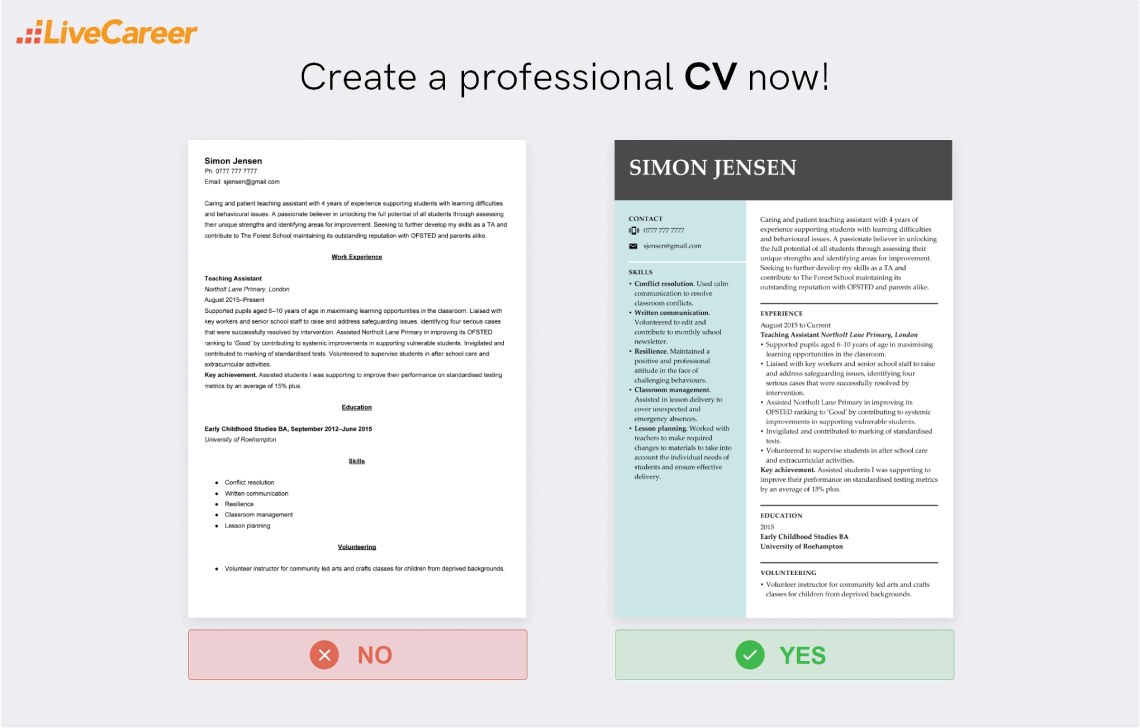 The LiveCareer online CV maker lets you build a professional CV fast and download it as a PDF or DOC.
CV tips example
Simon Jensen
Ph: 0777 777 7777
Email: sjensen@gmail.com
Caring and patient teaching assistant with 4 years of experience supporting students with learning difficulties and behavioural issues. A passionate believer in unlocking the full potential of all students through assessing their unique strengths and identifying areas for improvement. Seeking to further develop my skills as a TA and contribute to The Forest School maintaining its outstanding reputation with OFSTED and parents alike.
Work Experience
Teaching Assistant
Northolt Lane Primary, London
August 2015–Present
Supported pupils aged 6–10 years of age in maximising learning opportunities in the classroom.
Liaised with key workers and senior school staff to raise and address safeguarding issues, identifying four serious cases that were successfully resolved by intervention.
Assisted Northolt Lane Primary in improving its OFSTED ranking to 'Good' by contributing to systemic improvements in supporting vulnerable students.
Invigilated and contributed to marking of standardised tests.
Volunteered to supervise students in after school care and extracurricular activities.
Key achievement. Assisted students I was supporting to improve their performance on standardised testing metrics by an average of 15% plus.
Education
Early Childhood Studies BA, September 2012–June 2015
University of Roehampton
Skills
Conflict resolution. Used calm communication to resolve classroom conflicts.
Written communication. Volunteered to edit and contribute to monthly school newsletter.
Resilience. Maintained a positive and professional attitude in the face of challenging behaviours.
Classroom management. Assisted in lesson delivery to cover unexpected and emergency absences.
Lesson planning. Worked with teachers to make required changes to materials to take into account the individual needs of students and ensure effective delivery.
Volunteering
Volunteer instructor for community led arts and crafts classes for children from deprived backgrounds.
How to improve your CV? Tips on writing a good CV
There's a lot of CV advice out there, but if you follow these simple tips you can be sure of a professional result.
1. Tailor your CV
We've chosen this as number 1 in our top CV tips for a reason. It's simply the single most important piece of CV writing advice we can give you. The trick is to treat every job application as unique. Never just copy and paste the same old text.
That's because in the job-hunting game, quality counts over quantity. It's better to take the time to submit one perfectly tailored CV than rush through three quick copy-paste jobs. It's easy to do too. All you need is to do is ensure your CV is properly targetted to the job you're applying for.
And there's even a 'cheat sheet' to help you do it. It's called the job advert. Read it carefully, note all of the experience and skills that it mentions and then make sure you highlight your own experience and abilities that match the requirements. Think of it as the hiring manager's wish list for the perfect candidate, it really is your ultimate guide to writing your CV.
2. Choose the right CV format
One of the most important CV writing tips is to make sure you choose the best format, and when it comes to CVs there's only one game in town. It's called chronological format and it's the tried and true classic that recruiters have come to expect. It showcases your employability in an easy-to-follow structure and places the emphasis exactly where it should be, on your professional experience. And the order of CV sections should be as follows.
CV header
Personal profile or CV summary
Work experience
Education
Skills
Additional sections
The second type of CV format used in the UK is known as a functional or skills-based CV. It focuses on transferable skills rather than work history and it's really only suitable for a limited number of candidates. If you're writing a career change CV, a military transitioner or a gig-based worker, then it can be useful. But they're notoriously difficult to write well and aren't popular with recruiters. But if you do opt for a skills-based CV the order of sections should be as follows.
CV header
Personal profile or CV summary
Skills summary
Work experience
Education
Additional sections
3. Create a neat and tidy CV layout
It's important to follow our tips for writing a good CV but make sure you create a CV that looks good too. Use these CV tips and tricks for a professional layout that's attractive and easy to read.
Set your page margins to one inch on each side.
Double space between each CV section and set your line spacing to 1.15.
Choose a clear and easy to read CV font. Some sources say serif fonts are best, some recommend sans serif fonts. The reality is that they're both equally readable, just choose a classic professional looking font and set the size to 11–12 pts. Times New Roman, Helvetica and Garamond are all good, safe choices.
Bonus tip for CV writing
Make use of bold and italic text for emphasis, but don't use underlining as it tends to look messy. Reserve this CV advice for important information such as section headings and job titles, and be consistent with your use of text styles.
4. Use the right CV length
In most cases the best CV length is 1–2 pages. Our CV advice is to aim for one page if you're writing a graduate CV, student CV or school-leaver CV. You can go for two pages if you've got more than a couple of years of work history. And if you've got more than 10 years of experience and you're targetting senior posts in technically demanding careers you can even stretch to three. Specialised formats such as an academic CV or medical CV can be even longer. But for most people 1–2 is ideal.
5. Don't include unnecessary information
It's an often overlooked piece of CV advice, but what you leave out is just as important as what you include. First of all, leave out your postal address. It's completely unnecessary in a time when job applications are submitted online and it just takes up valuable page space that could be dedicated to skills or experience.
Also leave out sensitive personal details such as your marital status or date of birth. They have no bearing on your ability to do the job and can cause all sorts of issues when it comes to discrimination. The same goes for including a photograph. Whilst it might be commonplace in parts of mainland Europe, it's not considered acceptable in the UK.
Bonus tips for a good CV
Don't include references unless specifically requested to do so.
And don't include the phrase 'references available upon request' either. It's redundant, adds no value and takes up room that could be used for your skills and experience.
6. Make a CV header that stands out
Now we'll look at some tips for writing a CV, section by section. Your CV header is the very first section of your CV that contains your personal details. Start with your name and make it stand out, it's a key piece of information that distinguishes you as an individual, so write it in a font size 4–8 pts larger than your body text. Then make sure you include your basic contact details, phone number, email address, LinkedIn profile and social media profiles if applicable.
Bonus CV tips and tricks
Use a sensible email address based on your name. Funny or quirky addresses will not work for a job application. Create a new email address if necessary.
Make sure you include the URL in your email address, LinkedIn profile and social media handles as a clickable link. It looks professional and encourages the hiring manager to click straight through.
7. Introduce yourself with a compelling CV summary
Your CV summary or personal profile is the introduction to your CV. It should be 3–5 lines long and convince the hiring manager to keep reading the rest of your CV. In terms of CV personal statement tips, all you need to do is answer three questions.
Who are you?
What can you offer to the employer?
What are your career goals?
So start off by mentioning your job title and how much experience you have. Then highlight some skills and/or experience that prove you'll make a solid contribution, and finish by stating how you plan to grow in the role and contribute to the employer's success.
8. Perfect your work experience section
It's without a doubt the most important section of your CV and the part that recruiters will pay most attention to. Write it in reverse-chronological order, starting with your most recent role first. Then include the same basic information about each entry, your job title, the name of the company and your dates of employment. Finally, use the following CV writing advice to make your work experience section perfect.
Use bullet points to describe each role. The ideal number is 4–6 and you should put more detail on jobs that are recent and/or relevant.
Start each bullet point with a CV action verb to make it energetic and impactful.
Structure your bullet points using the PAR (problem, action, result) formula and accomplishment statements.
Quantify your achievements and experience with numbers.
Bonus CV tip
Highlight particularly impressive accomplishments as a key achievement in your work experience section. In a separate line below your last bullet point simply write 'key achievement' followed by a description of the accomplishment in question.
Key achievement. Assisted students I was supporting to improve their performance on standardised testing metrics by an average of 15% plus.
9. Don't forget your education section
It can feel like an afterthought, but your education section is an essential addition to every CV. Follow this CV advice to get it right.
If you're a university graduate, list the name of your degree, the name of your university and your dates of study. Include an expected graduation date as the end date if you're still a student.
For school-leavers, include your A-levels, listing the subjects you completed, the name of your school or college and your dates of study. GCSEs aren't essential, unless you're still at school or you've just left. And if you do decide to include GCSEs you don't need to mention every subject. Just state the number of subjects you studied and only mention maths and English specifically, as some employers do treat these as a bare minimum entry requirement.
And a couple more tips for a good CV if you're still studying or have just graduated.
Move your education section so it goes first before your work experience section.
Add more detail by mentioning relevant individual modules you've studied or extracurricular activities.
Only include honours if you received a 2:1 or a first.
A strong CV summary will convince the recruiter you're the perfect candidate. Save time and choose a ready-made personal statement written by career experts and adjust it to your needs in the LiveCareer CV builder.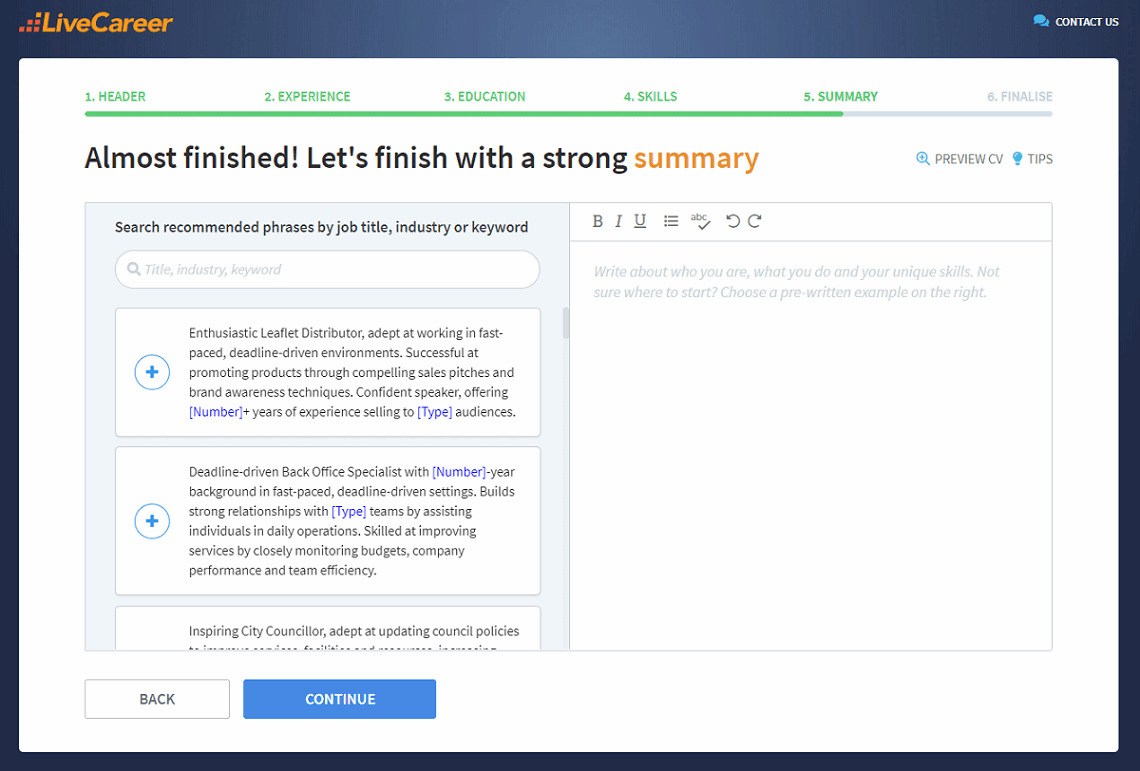 10. Leverage your skills section
Specific skills and abilities are just as important as experience. Make sure your skills section best shows off your potential as a prospective employee. Make it targetted by noting all of the skills mentioned in the job advert, listing your own skills, and making sure you match your own skill set to the job description as closely as possible.
Then choose 5–10 skills to include on your CV. Make sure it's a mix of soft skills and hard skills, and include a short sentence that describes how you demonstrate it. For example.
Resilience. Maintained a positive and professional attitude in the face of challenging behaviours.
And remember that some skills are useful for almost every job. Communication skills and IT skills for example look great on any CV.
11. Add some extras
To beat the competition you need to add something extra, show some additional abilities or achievements that help you to stand out as a candidate. One of the easiest ways to do that is to include additional sections in your CV.
Good examples are hobbies and interests, foreign languages, awards, projects and certificates. If it's relevant and helps to strengthen your position as a top candidate then it's worth including.
12. Save your CV in the right format
Unless the job application says otherwise, save your CV as a PDF. It really is one of the best CV tips because it helps to ensure all of your hard work on content and layout stays intact and looks perfect. PDF format is also compatible with more devices, so a recruiter will be able to open it with ease.
13. Thoroughly proofread your CV
Spelling and grammatical errors on a CV are unacceptable. So don't forget this essential piece of CV advice. Double check your CV yourself then use a tool like Grammarly to help spot any errors you've missed. You can also use a tool like the Hemingway app to help simplify and clarify your writing. And to be extra certain, ask a friend or trusted colleague to take a look as well.
14. Write a cover letter to accompany your CV
A cover letter works in synergy with your CV. It strengthens your job application by adding more detail about your abilities and achievements. Here's how to do it.
Use the right cover letter format and target your content to the job you're applying for.
Include a 'hook' in your cover letter opening. Mention an impressive professional achievement or skill that'll make the hiring manager eager to find out more.
Provide evidence of how your experience and skills will help you to make a positive contribution in the role you're targetting.
Include a call to action in your cover letter ending. Ask the hiring manager to get in contact with you so you can discuss the role further.
15. Use a template
We've just given you a great selection of CV writing tips but don't forget that it's important to choose a good CV template too. A plain text CV just won't cut it these days. All of LiveCareer's CV templates are expert-designed to ensure you've got everything you need to succeed in the UK job market. What's more, you can create your CV in our powerful builder, which is packed with features to give you great results. Here are just a few of the benefits you'll get.
Expert tips for writing a CV are built-in. Each step of the way you'll get professional advice on how to best write each CV section.
ATS compliance. All of our templates are compatible with the software that automatically scans your job application. No risk of rejection like you get with some badly designed free CV downloads.
Easy to use. Just type in your content and the builder does the rest, creating a perfect result every time.
You don't have to be a CV writing expert. In the LiveCareer CV builder you'll find ready-made content for every industry and position, which you can then add with a single click.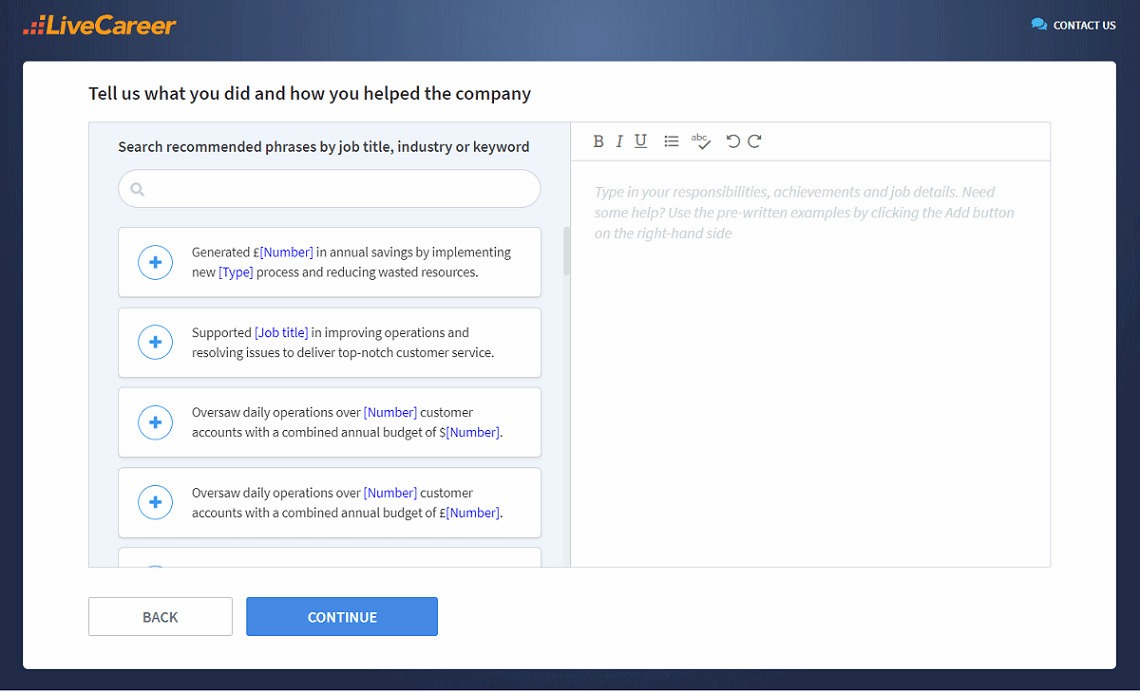 Thanks for reading. If you have any questions about our tips for CV writing or perhaps you'd like to share some good CV writing advice of your own then please use our comments section and we'll be happy to reply.
How we review the content at LiveCareer
Our editorial team has reviewed this article for compliance with Livecareer's editorial guidelines. It's to ensure that our expert advice and recommendations are consistent across all our career guides and align with current CV and cover letter writing standards and trends. We're trusted by over 10 million job seekers, supporting them on their way to finding their dream job. Each article is preceded by research and scrutiny to ensure our content responds to current market trends and demand.
About the author
LiveCareer Editorial Team
Since 2005, the LiveCareer Team has been helping job seekers advance their careers. In our in-depth guides, we share insider tips and the most effective CV and cover letter writing techniques so that you can beat recruiters in the hiring game and land your next job fast. Also, make sure to check out our state-of-the-art CV and cover letter builder—professional, intuitive, and fully in line with modern HR standards. Trusted by 10 million users worldwide.