You'll get endless advice when you're looking for a job. Whether it's how to structure your work experience section, what hobbies to include or how to write your personal profile, there are lots of ways you can boost your chances of landing an interview.
But there's one improvement that's so obvious you probably don't even see it. And you're looking at an example of it right now. It's your choice of font.
It's easy enough to ask what is the best font for a CV? But it's a different story when it comes to actually choosing. There are hundreds of thousands of fonts out there. Talk about decision paralysis.
So we've done the hard work for you and chosen a selection of the best fonts for your CV. We've also got some tips and tricks for font formatting and style that will improve the looks of your CV and make it stand out for all the right reasons.
Let's get started.
Create an effective CV in minutes. Choose a professional CV template and fill in every section of your CV in a flash using ready-made content and expert tips.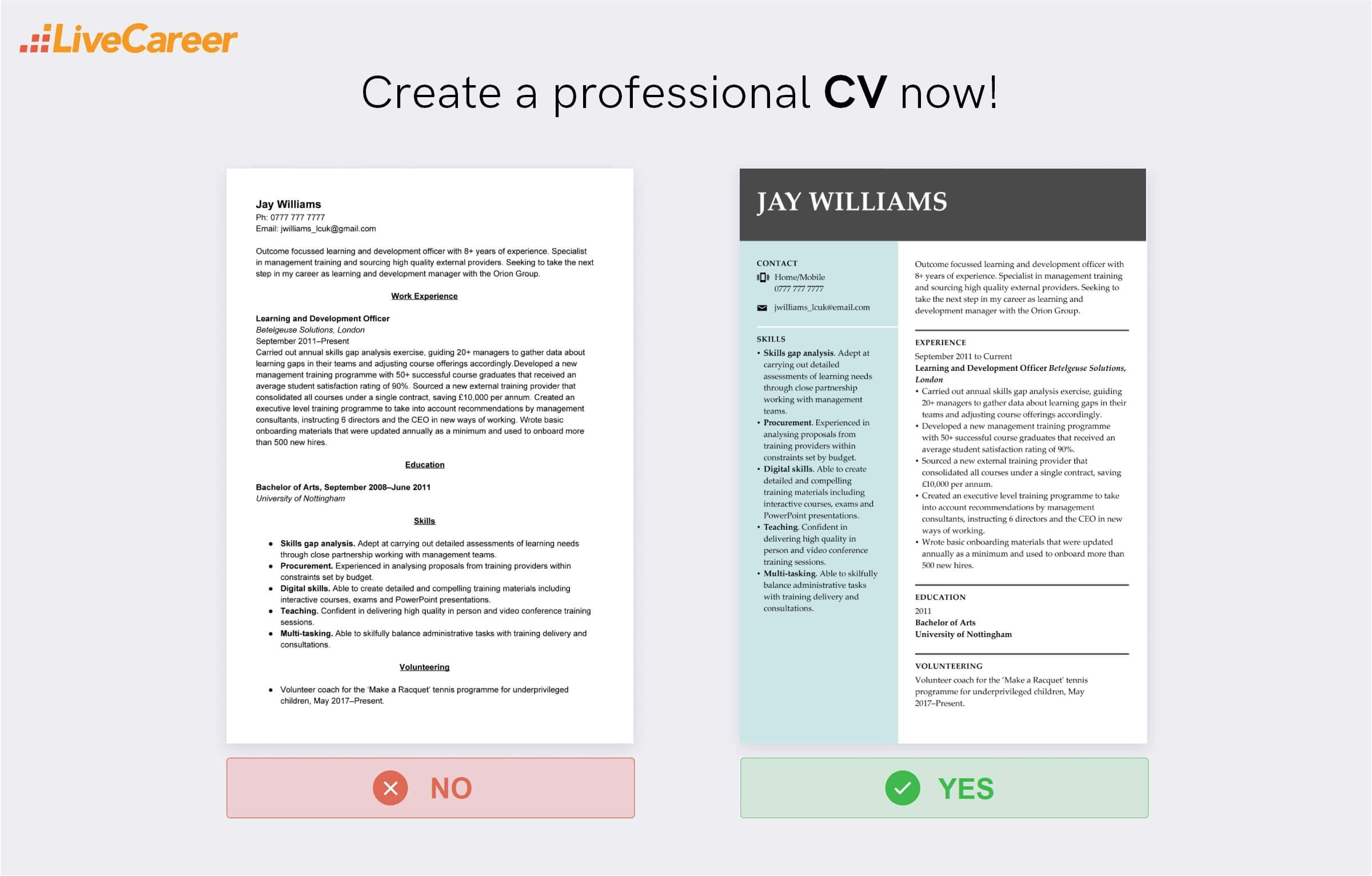 The LiveCareer online CV maker lets you build a professional CV fast and download it as a PDF or DOC.
Best font for a CV—CV example
Jay Williams
Ph: 0777 777 7777
Email: jwilliams_zety@gmail.com
Outcome focussed learning and development officer with 8+ years of experience. Specialist in management training and sourcing high quality external providers. Seeking to take the next step in my career as learning and development manager with the Orion Group.
Work Experience
Learning and Development Officer
Betelgeuse Solutions, London
September 2011–Present
Carried out annual skills gap analysis exercise, guiding 20+ managers to gather data about learning gaps in their teams and adjusting course offerings accordingly.
Developed a new management training programme with 50+ successful course graduates that received an average student satisfaction rating of 90%.
Sourced a new external training provider that consolidated all courses under a single contract, saving £10,000 per annum.
Created an executive level training programme to take into account recommendations by management consultants, instructing 6 directors and the CEO in new ways of working.
Wrote basic onboarding materials that were updated annually as a minimum and used to onboard more than 500 new hires.
Education
Bachelor of Arts, September 2008–June 2011
University of Nottingham
Skills
Skills gap analysis. Adept at carrying out detailed assessments of learning needs through close partnership working with management teams.
Procurement. Experienced in analysing proposals from training providers within constraints set by budget.
Digital skills. Able to create detailed and compelling training materials including interactive courses, exams and PowerPoint presentations.
Teaching. Confident in delivering high quality in person and video conference training sessions.
Multi-tasking. Able to skilfully balance administrative tasks with training delivery and consultations.
Volunteering
Volunteer coach for the 'Make a Racquet' tennis programme for underprivileged children, May 2017–Present.
Now let's take a look at which fonts are considered the best fonts for CV in the UK:
1. Garamond
I've chosen this as our first pick because of it's long and distinguished history. It was originally designed by Claude Garamond. Nobody is sure exactly when it was first created, but it is believed to have been some time in the early 16th century. It has pedigree, history, and 500 years after it's creation it still exudes class and sophistication. Undoubtedly one of the best CV fonts for you to choose.
2. Times New Roman
No list of the best CV fonts would be complete without Times New Roman. So-called because it was commissioned by the Times of London in 1931, it's easily the most well-known serif font. Serifs being the little lines or strokes you see attached to the main body of the letter, like the horizontal lines on the feet of a capital 'A'. If it doesn't have those little lines then it's a sans serif font. Times New Roman is an excellent choice for adding a conservative and professional feel to your overall CV format.
3. Arial
Arial is easily one of the best-known fonts out there. Packaged with every version of Windows since version 3.1 back in 1992, it's the default font of choice for many. It's also the most popular sans serif font, which gives a more modern look to your CV. Some experts have claimed that sans serif fonts are more readable, but a detailed analysis of the science has shown the research is inconclusive. All of the choices on this list are amongst the best fonts for a UK CV, regardless of whether they have serifs.
4. Calibri
Another well-known sans serif font, Calibri has been around since the early 2000s and in 2007 it became the default font for the Microsoft Office suite. It's creator, Lucas de Groot, describes it as having a 'warm and soft character'. It's soft rounded curves are certainly pleasing to the eye, and it's well-deserving of its place on our list of the best font styles for a CV. Calibri is often regarded as the best font when writing a CV, because it's easy to read and lets you keep the right CV length.
5. Cambria
Cambria is another younger font type, having been first designed in 2004. It's another example of a serif font and its overall feel is more square and angular than Calibri or Arial. A word of caution with this one though. According to design experts, it's an excellent font for reading on screen, but doesn't work so well when it's printed onto paper. Thankfully though, that's a rare occurrence these days, so it's still one of the best fonts for a CV.
6. Helvetica
Back to another font that's a little older now. Helvetica was created back in 1957 and was specifically designed to have excellent clarity and to be used on signs. So it makes perfect sense that it's one of the best fonts to use for a CV, because it can be read quickly and easily. And considering the average recruiter takes less than 10 seconds to read your CV, you want them to take in as much as possible as fast as possible.
7. Gill Sans
Gill Sans is one of the best CV fonts for the UK. It's uniquely British and was created in 1927 and inspired by the corporate font of the London Underground. It was also used on the covers of Penguin Books and was the official font of the BBC. It's as iconically British as the Queen herself and its striking sans serif looks will make a fine addition to your CV.
8. Trebuchet MS
Trebuchet MS is a good alternative to Arial so it's one of the best fonts for a CV if you want a clean, sans serif look while still standing out from the crowd. It was named after the trebuchet, a siege weapon that hurls rocks at the enemy, similar to a catapult. Use this for your CV and it's sure to launch your career like its medieval namesake.
9. Didot
With Didot we again journey back centuries in the past as it was first developed in late 18th century France. Its use of fine hairline elements give it a style and sophistication that is lacking in some of the more standard fonts, so we'd consider it the best font for a CV for jobs in creative industries.
10. Tahoma
You're probably already familiar with Tahoma, it's another font that was popularised by Windows. It's a sans serif font that's similar to Verdana, but the letters are narrower and have closer spacing. That's a real advantage if you're looking to get more content onto the page. After all, the best CV length is 1–2 pages, so if you've overrun by a line, try switching to Tahoma.
A strong CV summary will convince the recruiter you're the perfect candidate. Save time and choose a ready-made personal statement written by career experts and adjust it to your needs in the LiveCareer CV builder.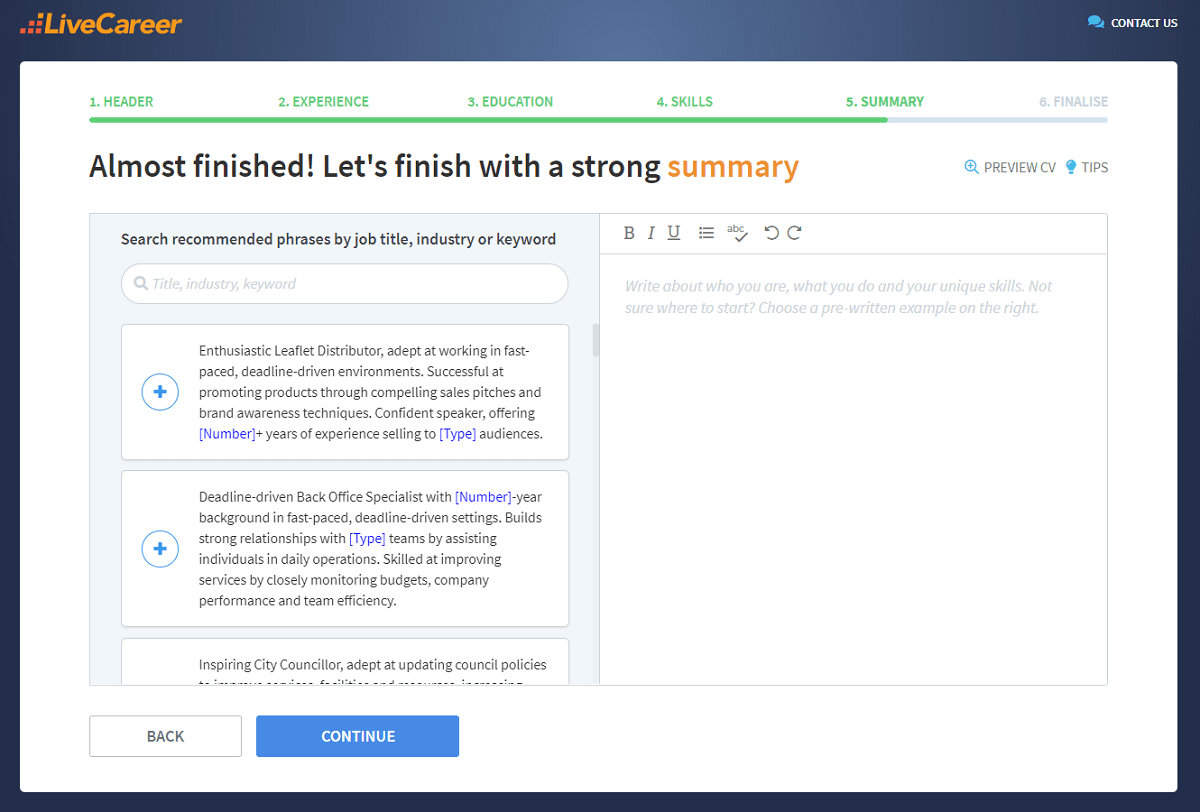 Best font size for a CV in the UK
CV font size is just as important as font type. Too big and you won't fit in enough content. Too small and you risk making it unreadable. The sweet spot is 10-12 pts for your body text, and you can go 4–6 pts larger for your section headings and your name in the CV header. Just make sure all fonts sizes are consistent throughout the whole document.
The larger size adds emphasis but there are other ways of using fonts to highlight important information, and we'll take a look at those next.
Font formatting for your CV
Font size and font type aren't the end of the story when it comes to effectively using fonts in your CV. Here's how to format your fonts to make your CV even more readable.
1. Bolding
Bolding makes your text appear darker and heavier. It's a great way of making the most important information stand out. We'd advise you don't overuse though as it'll lose its impact. Reserve it for the most important information such as your name and job titles in your work experience section for example.
2. Italicising
Italicising makes your font slant to the right and it's based on old-fashioned calligraphic handwriting. It's an old trick that can be traced all the way back to the year 1500 and is an ideal way of emphasising small chunks of text. We'd recommend you use it even more sparingly than bolding. A good place to use it is for the name and location of your employer in your work history.
3. Font pairing
You can actually use two different types of font in your CV, this trick is called font pairing and it's a favourite of graphic designers. The key is to use fonts that complement each other. A good example is pairing a sans serif font with a serif font to create balance. You could have your name and section headings in one font and your body text in another. We'd recommend playing with this font pairing generator if you'd like some inspiration.
4. What not to use
There are other ways of drawing attention to the text in your CV that you shouldn't use. Here's what to avoid.
Underlining. Looks messy and adds clutter to the page. A good CV layout should maximise white space and clarity.
CAPITALISING. This will work for your section headings but don't use it anywhere else otherwise it looks like you're shouting.
Highlighting. Perfectly fine if you're writing notes, and also a convenient way for editors to point out mistakes. But not a good option for your CV, just like underlining it's messy and distracting.
Font formatting examples
Finally, here are some examples of font formatting done well.
Sales Assistant
Energi Corporation, London
September 2018–Present
This extract from a work experience section makes good use of bold and italics. Just remember to be consistent with your formatting throughout your CV.
A-levels: Physics, Chemistry, Mathematics. September 2013–June 2015
Enfield Academy, London, UK
This example is from a CV education section, again adding emphasis with bold and italics.
Skills
Teamwork
Attention to detail
Here we have an example of font pairing and differing font sizes. Didot as a larger serif font section heading complements the smaller body text in sans serif Arial.
What to remember about when choosing a proper font for a CV?
First, a little background. Your choice of font may seem trivial but it can actually have a powerful effect on the reader. Some fonts are notoriously unacceptable for professional purposes. Write your CV in Comic Sans or Papyrus and it's likely to be rejected out of hand.
Oddly enough one experiment revealed using Comic Sans improved memorisation, but that's no excuse for using it in your CV. The fact is good CV fonts are important. Apart from making your text easier to read, good typography has been proven to improve the reader's mood.
The same study also revealed that readers presented with a document with a good font and CV layout performed better on certain cognitive tasks. In short, a good CV font will make the hiring manager happier and that makes them pay more attention. It's a win-win situation.
One last tip, your choice of the best font for a CV and a cover letter should be the same. Make sure you have matching CV and cover letter templates for an extra professional look. We've got you covered there too.
You don't have to be a CV writing expert. In the LiveCareer CV builder you'll find ready-made content for every industry and position, which you can then add with a single click.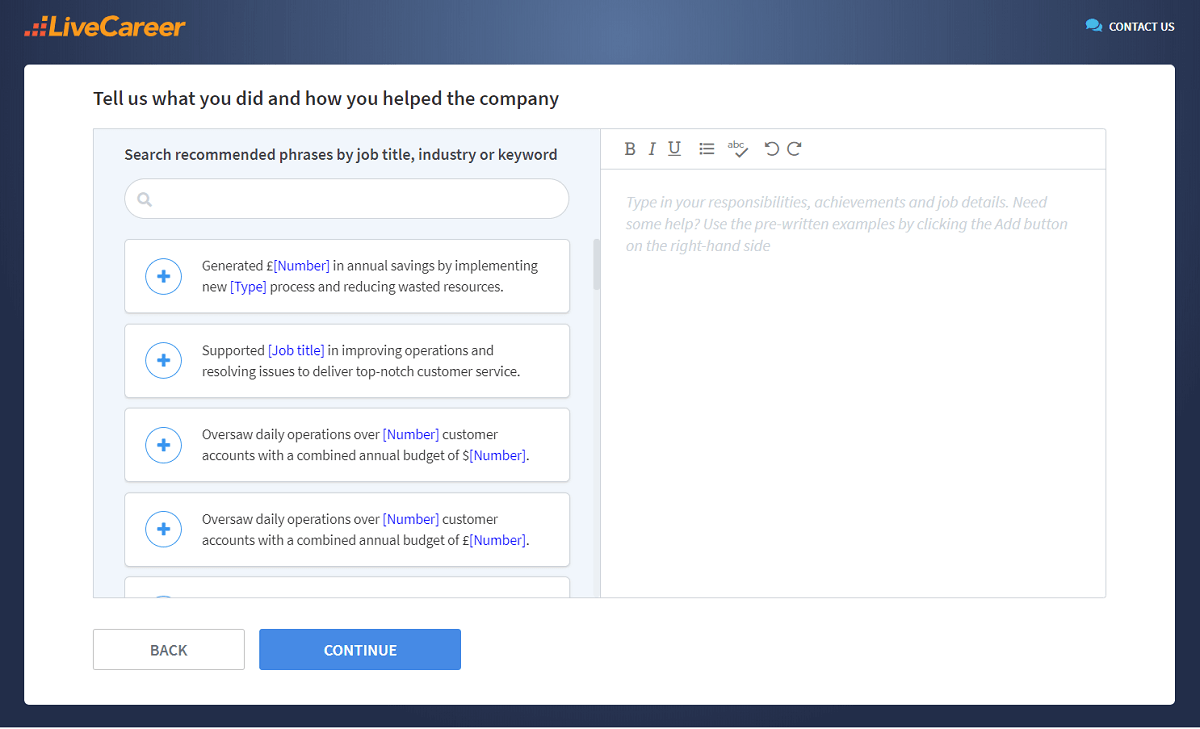 Thanks for reading, if you're still struggling to choose the best font and size for a CV please ask in the comments section and I'll be happy to help you decide.
How we review the content at LiveCareer
Our editorial team has reviewed this article for compliance with Livecareer's editorial guidelines. It's to ensure that our expert advice and recommendations are consistent across all our career guides and align with current CV and cover letter writing standards and trends. We're trusted by over 10 million job seekers, supporting them on their way to finding their dream job. Each article is preceded by research and scrutiny to ensure our content responds to current market trends and demand.
About the author
LiveCareer Editorial Team
Since 2005, the LiveCareer Team has been helping job seekers advance their careers. In our in-depth guides, we share insider tips and the most effective CV and cover letter writing techniques so that you can beat recruiters in the hiring game and land your next job fast. Also, make sure to check out our state-of-the-art CV and cover letter builder—professional, intuitive, and fully in line with modern HR standards. Trusted by 10 million users worldwide.