Job-hunting is survival of the fittest, where only the strongest will succeed. And your main weapon in that struggle is your CV. You can't just settle for average, you can't even stop at good, you need the best CV template to make sure you're the one on top of the recruiter's yes pile.
To help you get there we've used a combination of career expert knowledge and standout design to bring you 15 of the best CV templates in the world. We've even made a few recommendations for the types of job some of the examples would be best suited for.
But don't feel limited by this, our best CV templates are versatile. Whichever one you choose, you can be confident that it'll work.
Create an effective CV in minutes. Choose a professional CV template and fill in every section of your CV in a flash using ready-made content and expert tips.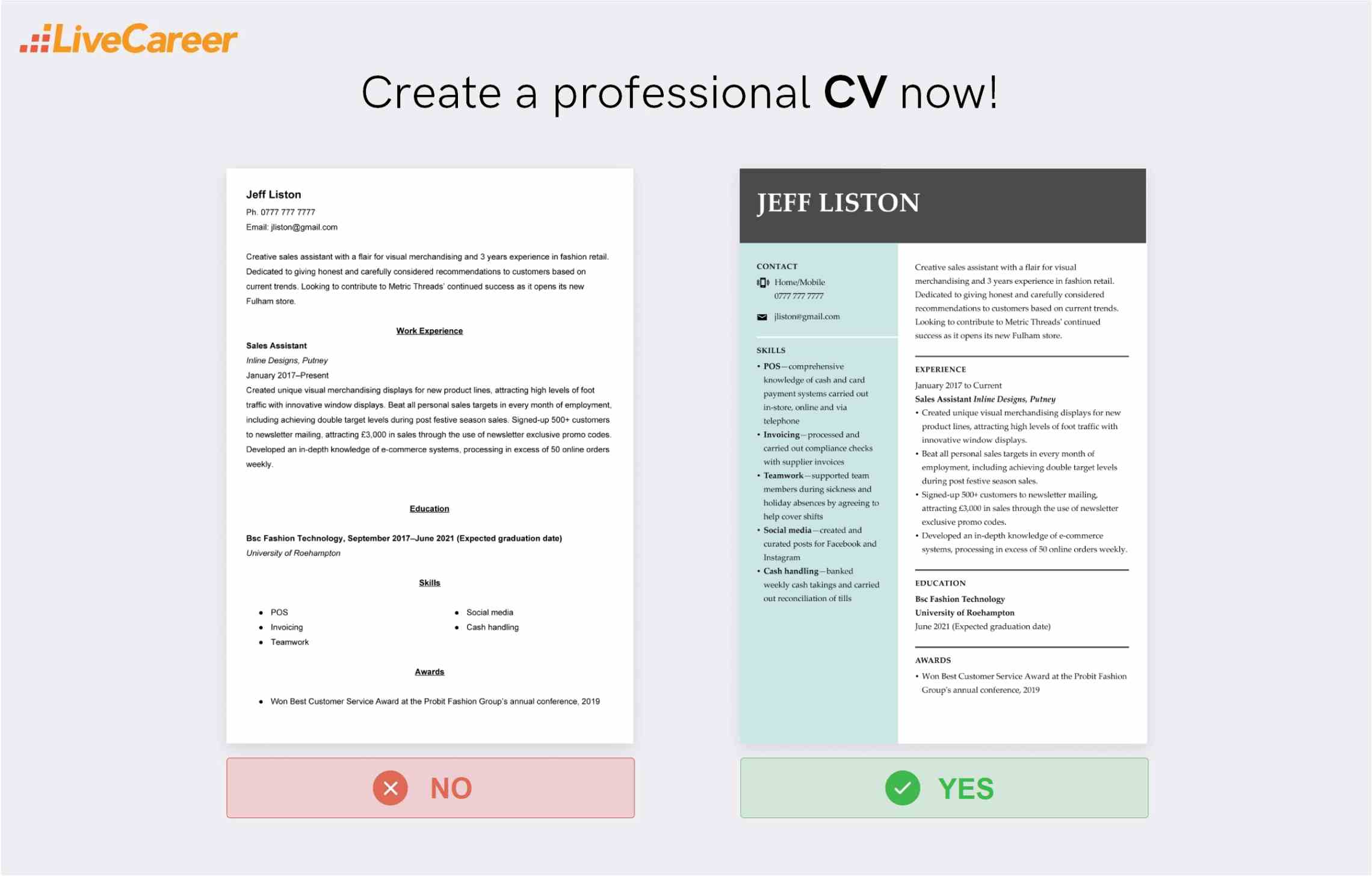 The LiveCareer online CV maker lets you build a professional CV fast and download it as a PDF or DOC.
Want to use different CV templates? See these guides:
The best CV template example
Jeff Liston
Ph. 0777 777 7777
Email: jliston@gmail.com
Creative sales assistant with a flair for visual merchandising and 3 years experience in fashion retail. Dedicated to giving honest and carefully considered recommendations to customers based on current trends. Looking to contribute to Metric Threads' continued success as it opens its new Fulham store.
Work Experience
Sales Assistant
Inline Designs, Putney
January 2017–Present
Created unique visual merchandising displays for new product lines, attracting high levels of foot traffic with innovative window displays.
Beat all personal sales targets in every month of employment, including achieving double target levels during post festive season sales.
Signed-up 500+ customers to newsletter mailing, attracting £3,000 in sales through the use of newsletter exclusive promo codes.
Developed an in-depth knowledge of e-commerce systems, processing in excess of 50 online orders weekly.
Education
Bsc Fashion Technology, September 2017–June 2021 (Expected graduation date)
University of Roehampton
Skills
POS—comprehensive knowledge of cash and card payment systems carried out in-store, online and via telephone
Invoicing—processed and carried out compliance checks with supplier invoices
Teamwork—supported team members during sickness and holiday absences by agreeing to help cover shifts
Social media—created and curated posts for Facebook and Instagram
Cash handling—banked weekly cash takings and carried out reconciliation of tills
Awards
Won Best Customer Service Award at the Probit Fashion Group's annual conference, 2019
OK, now you know what makes a good CV. Here's a selection of best CV templates for the 2023:
1. Light blue creative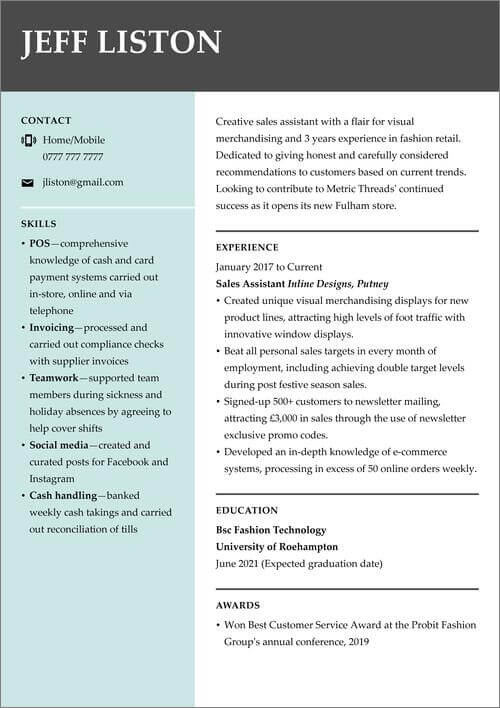 We start our selection of the best CV templates with one of our more creative examples. It combines artistic looks with sensible design, guaranteed to get you noticed for all the right reasons.
The CV header is left entirely to your name. CVs are like an advert and the brand is you, so it pays to make your identity stand out loud and proud.
Your personal details move to the left-hand column, accompanied by CV icons to make them crystal clear. You're then left with ample room to list your professional skills.
We'd suggest it's perfect for writing the best IT CV template where a long list of technical skills is often needed.
2. Red modern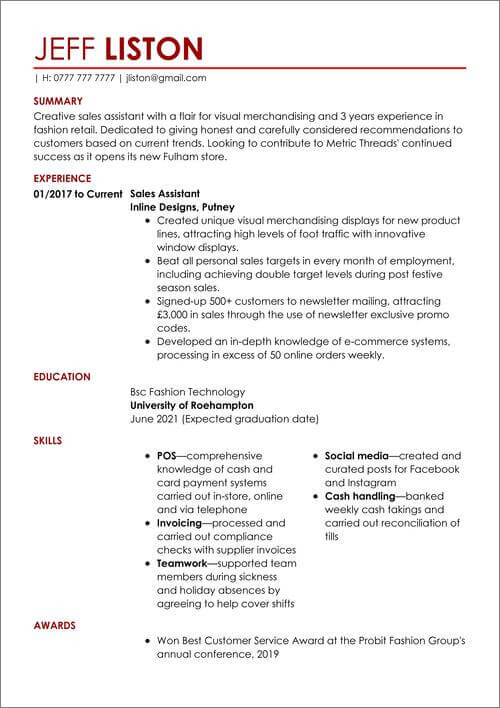 The next of our best CV templates takes the traditional CV format and makes the simple addition of a splash of red.
With its associations with confidence, comfort and warmth it's an excellent choice for professions where those qualities need to come to the fore.
And the darkness of the tone keeps it looking professional and elegant. And it's not all about looks. We make the whole process as simple as possible.
All you have to do is enter your content and our CV builder gives you perfect results every time.
3. Orange creative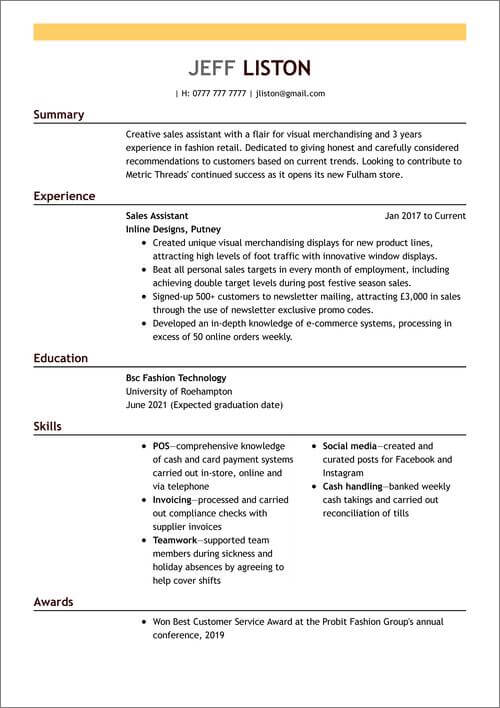 If you like the warmth and vitality of orange then this is the best CV template for you. Starting with that bright splash of colour it uses a combination of grey and black CV fonts to really make your name stand out.
And like all of our CVs it's been designed to be fully ATS compliant. ATS stands for applicant tracking system and it's the software that scans your CV when you email it or submit it online.
If it can't read your CV then it gets rejected and your job application is dead in the water. Stick with Live Career's templates and you'll be certain of pleasing humans and computers alike.
4. Creative green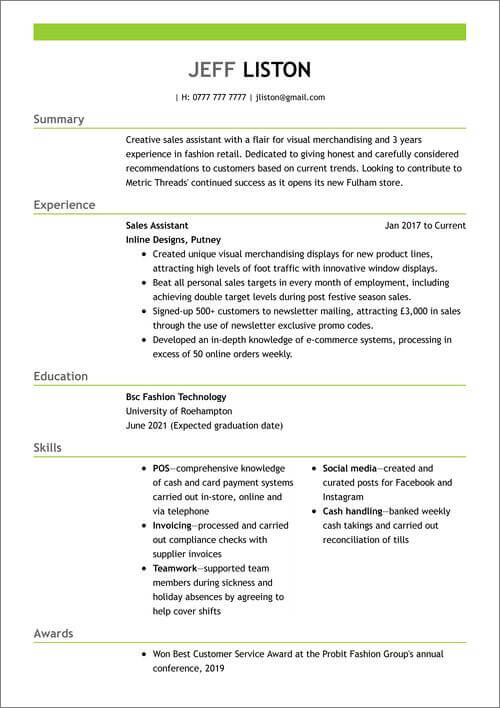 Now for a move to the cooler end of the colour spectrum. This example uses green to give an impression of freshness and vitality.
With its connotations of new growth we'd recommend it as the best CV template for graduates. That said, it's a versatile choice for any career.
This example shows just how much room is available for your CV work experience section, so it's a perfect choice for more experienced candidates too.
5. Blue modern accents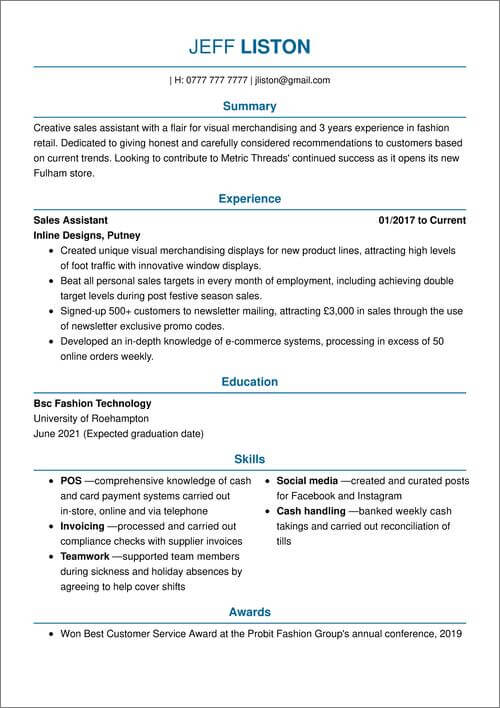 Now we move along the rainbow to blue. It's the best CV template to choose if you're aiming for a more cool and calming effect to your CV.
A great choice for more traditional corporate roles. The one-column format gives you plenty of room to work with, particularly in the CV summary, so you can make a strong start. And it's not just about the templates.
The real benefit lies in our CV maker. You even get expert CV tips as you write, and it doesn't get any better than that.
6. Blue modern header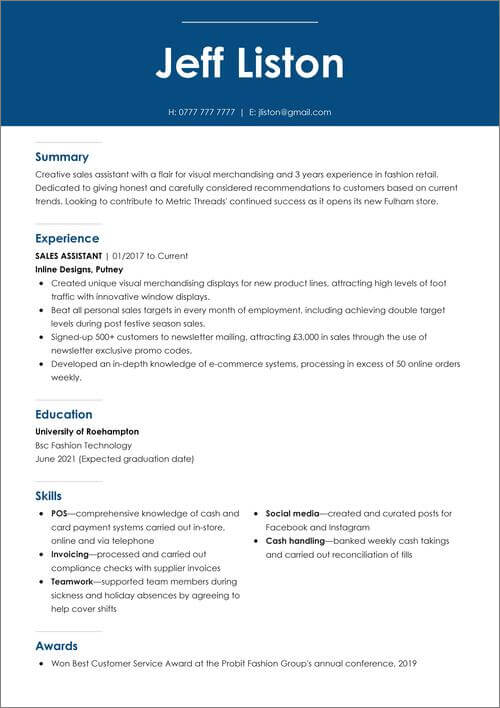 We continue with a blue theme but this template makes an even bolder statement. Your name appears in bright white against a striking blue header.
So if you really want to stand out from the crowd this is the best CV template for you. And once again our CV builder makes your job incredibly easy.
Whatever changes you make, the CV layout will stay in mint condition. No more struggling with a word processor to get good results.
7. Electric blue creative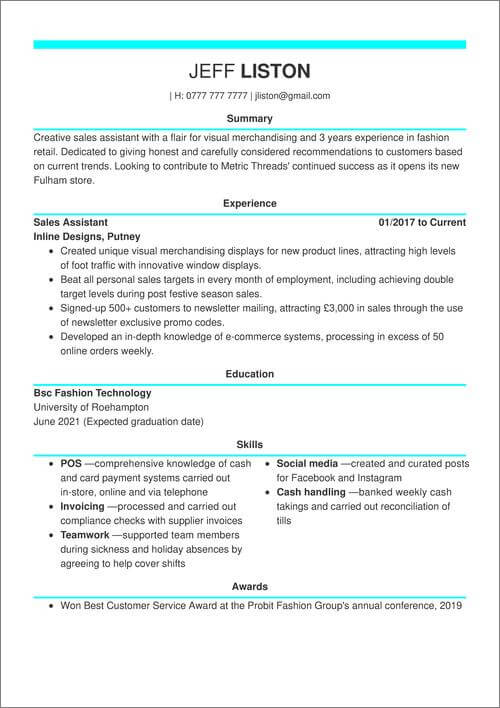 More blue you say? Well it's for good reason. A survey by the renowned market research firm. Yougov, revealed that blue is the world's favourite colour.
Blue really is the best CV template colour. This shade is on the brighter end of the colour chart, so it's more energetic and refreshing in its feel. A safe bet for awakening and energising an overworked hiring manager.
8. Centred executive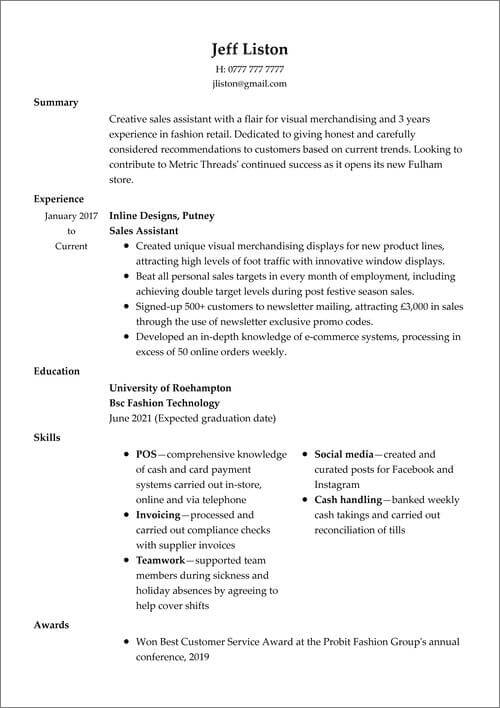 Our next set of examples prove that you don't need flashy colours and graphics to make the best CV template. With the use of a good CV structure, layout and formatting, even plain black text on a white background can look brilliant.
This template makes a very simple adjustment to the CV header, using centre alignment for a professional feel. Then the alignment is offset for the main body of the page, all the way down to the CV skills section.
It helps add a sense of flow and separation. We also think this template lives up to its name and would make the best CV template for executive.
9. Corporate business card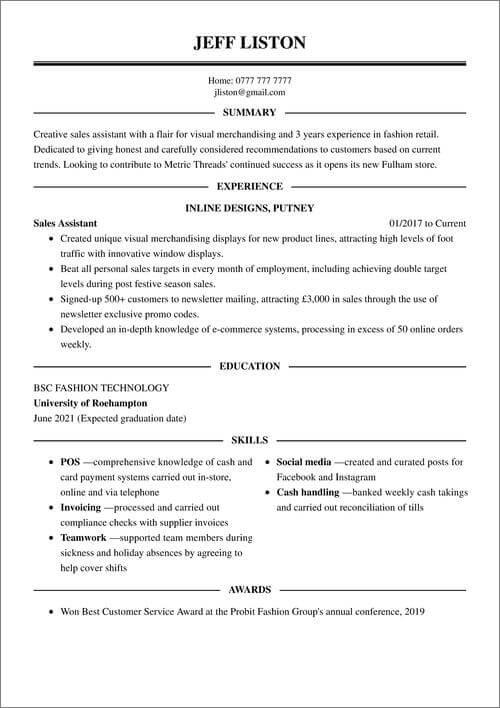 You can just picture it. A business card with subtle off-white colouring, tasteful thickness, perhaps even a watermark. That's the feeling that this best CV template aims to evoke. There's a subtle use of capital letters and bold fonts in the headings and fine lines help to add to that sense of elegance.
What's even better is that if you use our CV generator you don't need the writing skills of a corporate highflyer. We've got thousands of pre-written examples for you to use as inspiration, so anyone can produce a perfectly written CV.
10. Business professional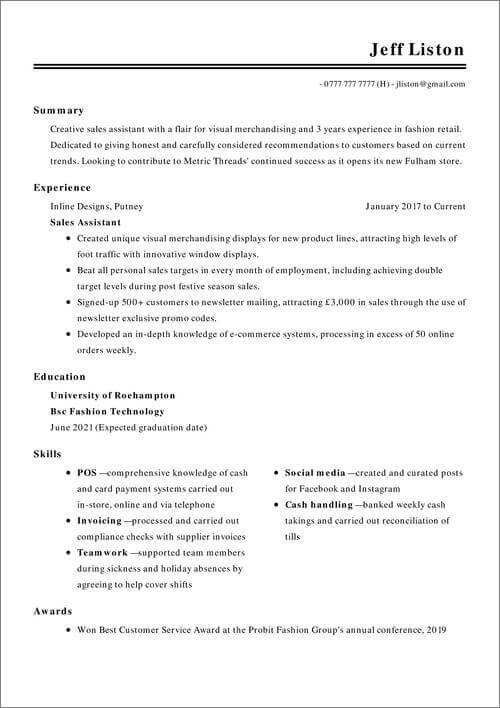 We took design cues from traditional UK business letter format in this example. The CV header and personal details are right-aligned which adds a touch of stylish asymmetry to the layout.
It's so smooth and stylish that we'd consider it the best CV template for any job in the UK. You simply cannot go wrong with this sort of understated class.
And let me reiterate that every one of our CV templates is recruiter approved, so you'll be sure to impress the people who matter most.
A strong CV summary will convince the recruiter you're the perfect candidate. Save time and choose a ready-made personal statement written by career experts and adjust it to your needs in the LiveCareer CV builder.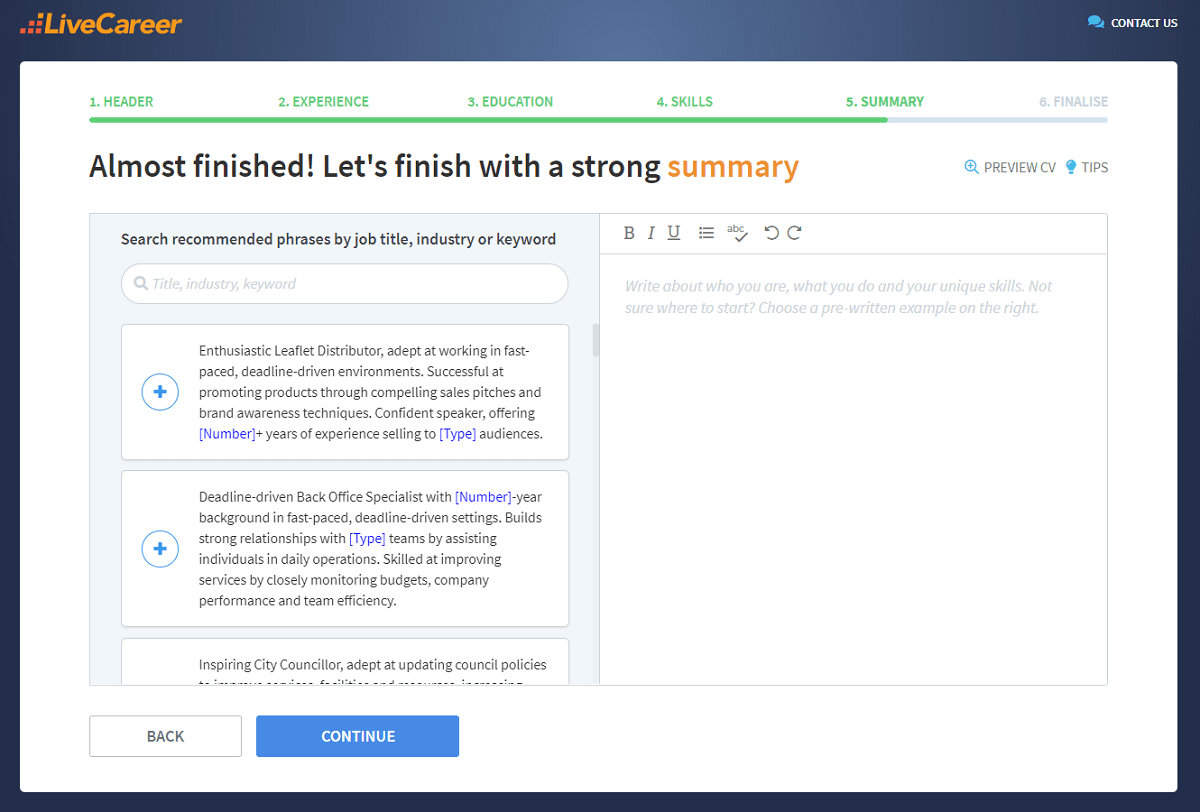 11. One page modern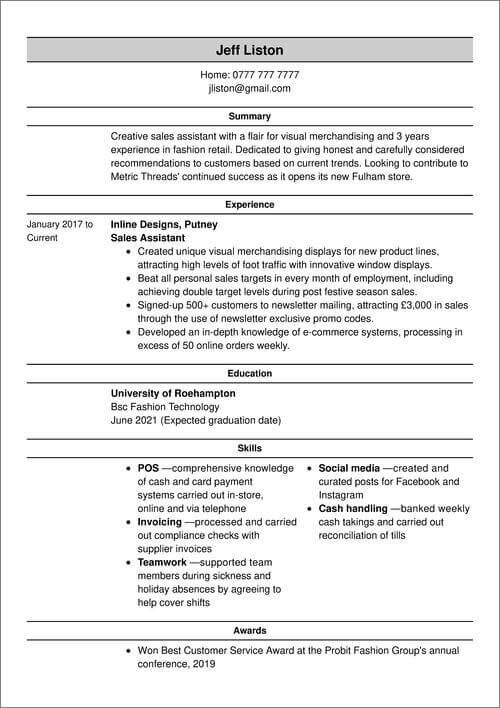 Once again, the hint is in the name. This is the best CV template ever if you really need to stick to a one-page CV.
We've shrunk the header section containing the candidate's name and placed it right at the top of the page to increase room for the other CV sections. That way it's easier to include everything on the first page, all the way down to extra sections, such as CV hobbies and interests.
But even though it's compact it retains its readability. The last thing you want to do is force the hiring manager to have to squint at a crowded page full of illegible text.
12. Professional minimalist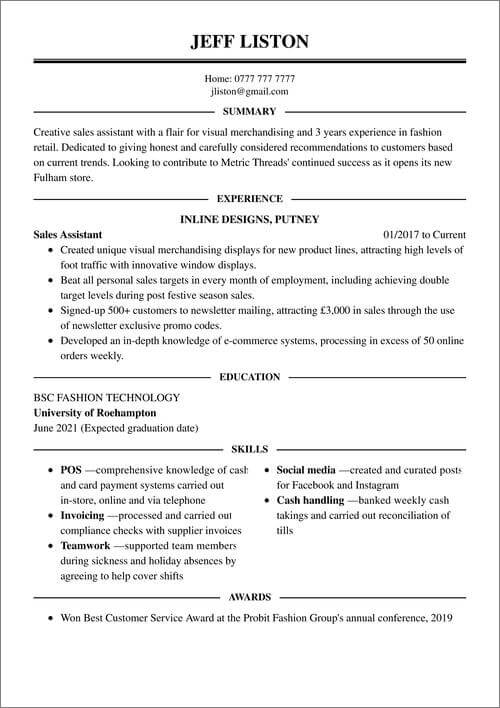 Here we have the best CV template for the UK with pure, stripped-back minimalism. It has all the bare-bones brilliance of a Philip Glass composition without any distractions or complications.
The simple additions of fine lines to highlight headings and judicious use of text alignment create an easy reading masterpiece.
Take a look at our CV maker to try it out for yourself. We pride ourselves on a 'try before you buy' philosophy, so you can be certain that our builder meets your needs.
13. Simple scanner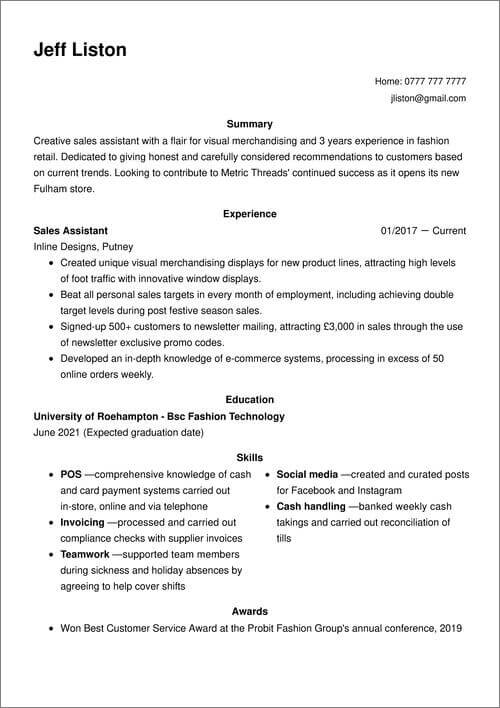 This example is the best CV template for taking advantage of viewing behaviour. Put simply, it's the way our eyes scan a page as we read.
This template helps to ensure the reader scans back and forth across the page as the alignment changes from left, to centre, to right. Recruiters are incredibly busy and tend to just skim CVs. So any feature that helps to focus their attention gives you an advantage.
14. Classic professional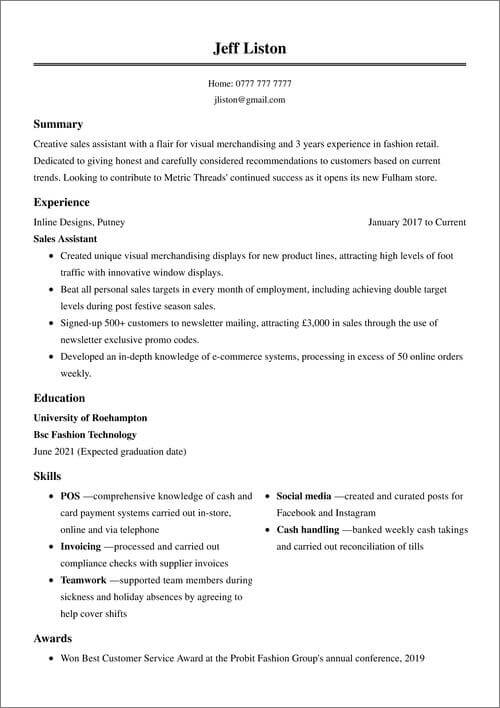 Our Classic Professional example is the best CV template if you're looking for a safe and neutral choice that'll suit any career.
All the necessary elements are present for job hunting success. And like all of our templates, using our CV builder makes it easy to adapt the CV format to your needs. Whether it's a traditional chronological CV or a skills-based CV, you'll find it a breeze.
15. Bold professional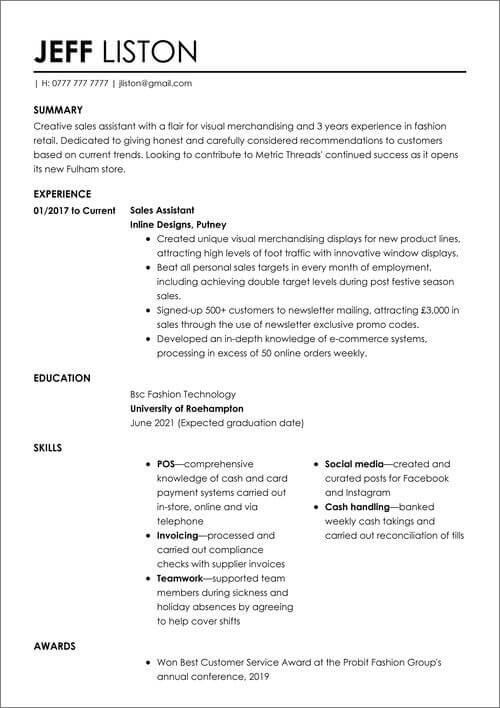 We finish our list of best CV templates for the UK with a more bold statement. Splitting the candidate's name into bold and standard weight is a striking way of creating emphasis. It also makes use of a generous splash of white space to include a timeline for the work experience section, an excellent way of creating a sense of progression.
And that's it, now you can be confident that you've chosen the best CV template in the world.
You don't have to be a CV writing expert. In the LiveCareer CV builder you'll find ready-made content for every industry and position, which you can then add with a single click.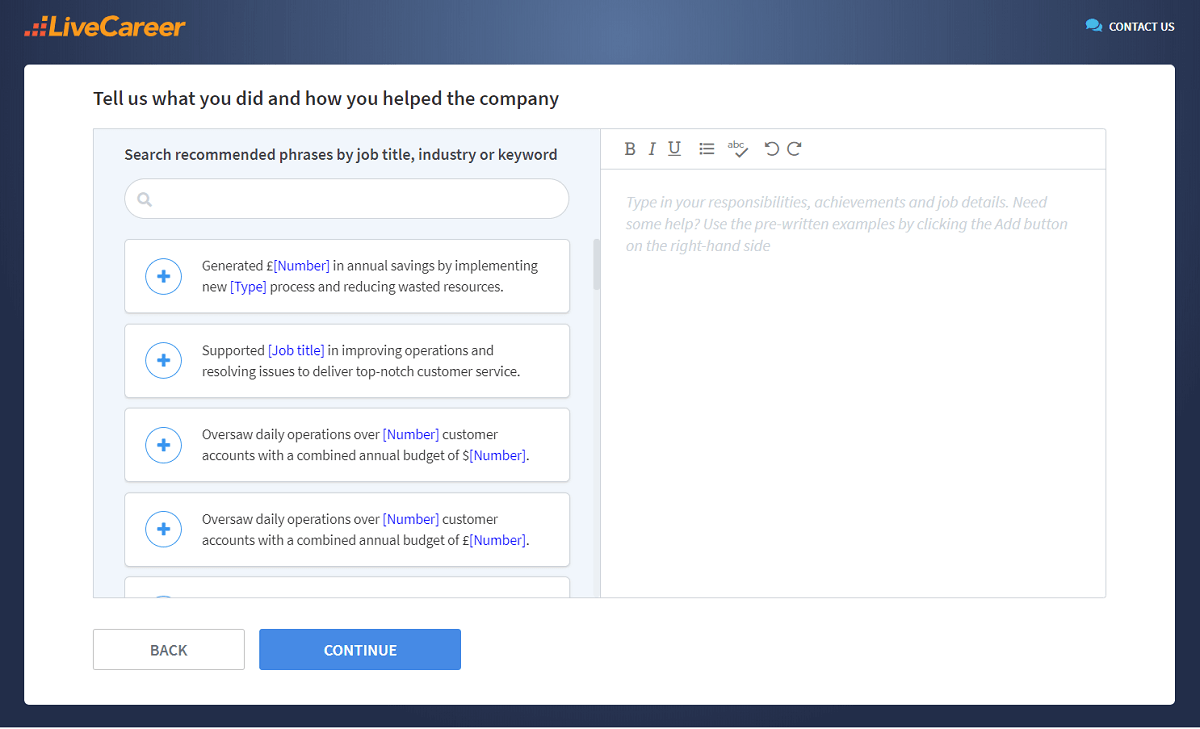 Thanks for reading. If you're still not sure how to choose the best CV template then please do ask in the comments section and I'll be happy to answer.
How we review the content at LiveCareer
Our editorial team has reviewed this article for compliance with Livecareer's editorial guidelines. It's to ensure that our expert advice and recommendations are consistent across all our career guides and align with current CV and cover letter writing standards and trends. We're trusted by over 10 million job seekers, supporting them on their way to finding their dream job. Each article is preceded by research and scrutiny to ensure our content responds to current market trends and demand.
About the author
LiveCareer Editorial Team
Since 2005, the LiveCareer Team has been helping job seekers advance their careers. In our in-depth guides, we share insider tips and the most effective CV and cover letter writing techniques so that you can beat recruiters in the hiring game and land your next job fast. Also, make sure to check out our state-of-the-art CV and cover letter builder—professional, intuitive, and fully in line with modern HR standards. Trusted by 10 million users worldwide.