A good CV summary can seem a little unattainable at first. (Check out the one below.) There's so much packed into so few words. It flows like a one-two punch combo. It doesn't seem like the kind of thing just anyone could cobble together. And yet anyone can write one, and a truly effective one at that.
In this article you will find CV summary examples as well as advice on how to write one even if you have no experience. Let's get right to it.
Create an effective CV in minutes. Choose a professional CV template and fill in every section of your CV in a flash using ready-made content and expert tips.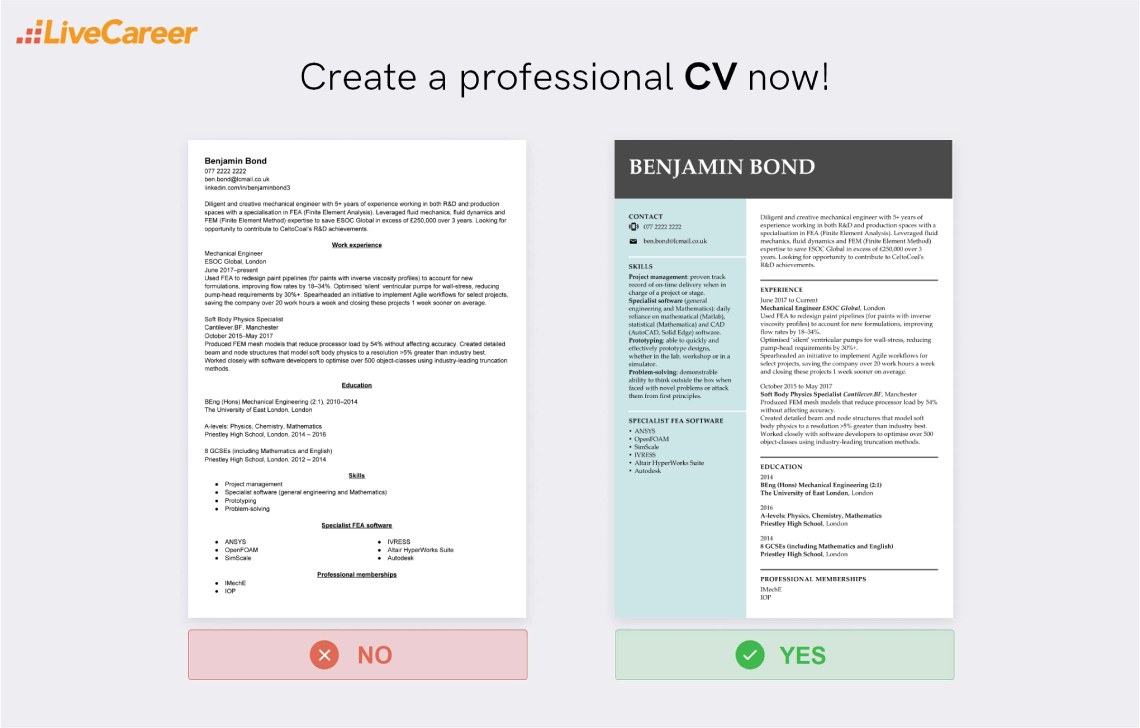 The LiveCareer online CV maker lets you build a professional CV fast and download it as a PDF or DOC.
CV example with a summary
Benjamin Bond
077 2222 2222
ben.bond@lcmail.co.uk
linkedin.com/in/benjaminbond3
Diligent and creative mechanical engineer with 5+ years of experience working in both R&D and production spaces with a specialisation in FEA (Finite Element Analysis). Leveraged fluid mechanics, fluid dynamics and FEM (Finite Element Method) expertise to save ESOC Global in excess of £250,000 over 3 years. Looking for opportunity to contribute to CeltoCoal's R&D achievements.
Work experience
Mechanical Engineer
ESOC Global, London
June 2017–present
Used FEA to redesign paint pipelines (for paints with inverse viscosity profiles) to account for new formulations, improving flow rates by 18–34%.
Optimised 'silent' ventricular pumps for wall-stress, reducing pump-head requirements by 30%+.
Spearheaded an initiative to implement Agile workflows for select projects, saving the company over 20 work hours a week and closing these projects 1 week sooner on average.
Soft Body Physics Specialist
Cantilever.BF, Manchester
October 2015–May 2017
Produced FEM mesh models that reduce processor load by 54% without affecting accuracy.
Created detailed beam and node structures that model soft body physics to a resolution >5% greater than industry best.
Worked closely with software developers to optimise over 500 object-classes using industry-leading truncation methods.
Education
BEng (Hons) Mechanical Engineering (2:1), 2010–2014
The University of East London, London
A-levels: Physics, Chemistry, Mathematics
Priestley High School, London, 2014 – 2016
8 GCSEs (including Mathematics and English)
Priestley High School, London, 2012 – 2014
Skills
Project management: proven track record of on-time delivery when in charge of a project or stage.
Specialist software (general engineering and Mathematics): daily reliance on mathematical (Matlab), statistical (Mathematica) and CAD (AutoCAD, Solid Edge) software.
Prototyping: able to quickly and effectively prototype designs, whether in the lab, workshop or in a simulator.
Problem-solving: demonstrable ability to think outside the box when faced with novel problems or attack them from first principles.
Specialist FEA software
ANSYS
OpenFOAM
SimScale
IVRESS
Altair HyperWorks Suite
Autodesk
Professional memberships
1. What is a CV summary
A CV summary goes by many, many names. The more reliable marker for this mysterious thing at the beginning of a CV is its function. But first, here's a list of commonly searched-for terms:
CV summary
Professional summary
Personal summary
Profile summary
Career summary
Executive summary
Summary paragraph.
Some of these are more correct than others, but they're all referring to the same thing in the context of writing a CV. A CV summary is also frequently referred to as a personal statement. The above list of search terms, though, captures an important element: the idea of summarising your CV.
This is a little misleading. A CV summary doesn't really summarise your CV, it summarises your application to this particular company for this particular job. It's not just about you and your experience, skills, and so on. It's also about the company, it's needs and goals and how you can fulfil them.
A strong CV summary will convince the recruiter you're the perfect candidate. Save time and choose a ready-made personal statement written by career experts and adjust it to your needs in the LiveCareer CV builder.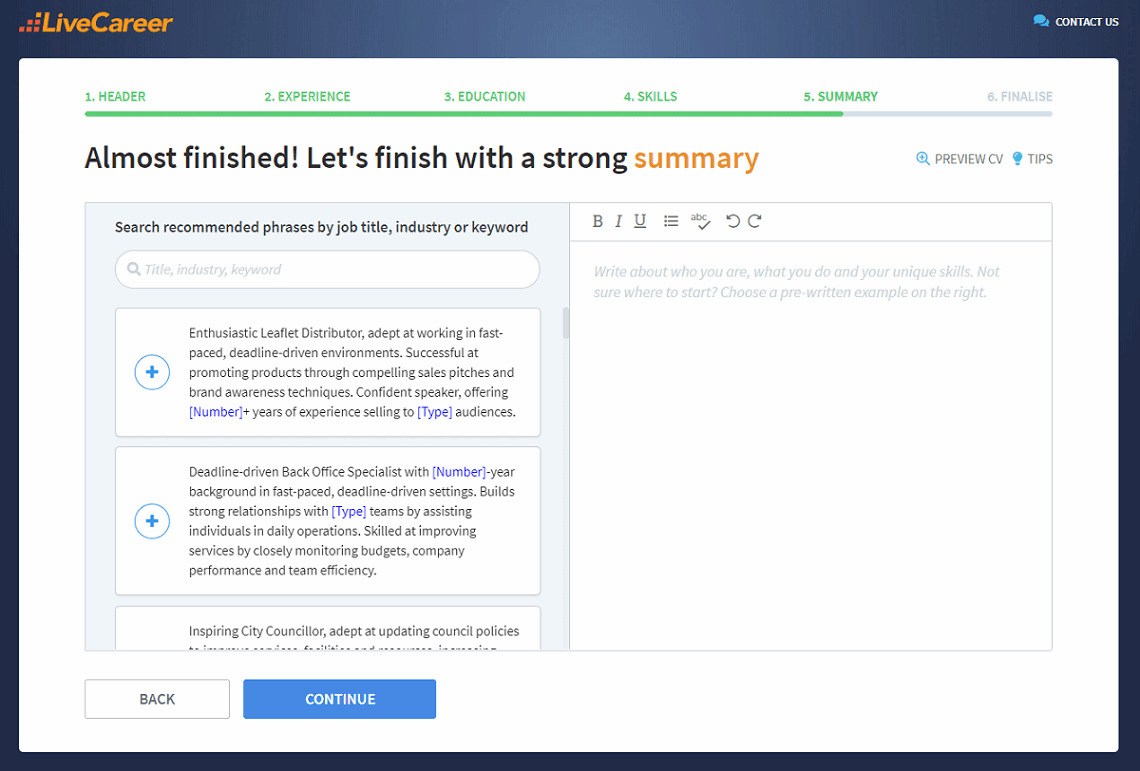 2. What is the purpose of a professional CV summary
Given that it's focused both on what you have to offer and what the company needs, every good CV summary has to do the following three things:
Introduce you as an employee—your traits and attributes
Show what you have to offer—by showing what you've done for previous employers
Describe your goals—which, as luck would have it, feed into the company's goals.
This is all at least 50% focused on the company rather than you. So you need to know:
What kind of employee the company needs
What kinds of benefits would appeal to it
Where it's heading, what it's striving for.
And you can only find answers to these questions by doing some research. Read the company website, especially the 'about us' section and any mentions of values and a mission. Look for news articles and especially press releases—they show you how the company sees itself, which is more useful.
And, of course, read the job advert very carefully and more than once. It can give you the basics of what you need to tailor your CV summary to the company by taking into account its 'needs' and 'ambitions'.
CV summary example
Dilgent and creative mechanical engineer with 5+ years of experience working in both R&D and production spaces with a specialisation in FEA (Finite Element Analysis). Leveraged fluid mechanics, fluid dynamics and FEM (Finite Element Method) expertise to save ESOC Global in excess of £250,000 over 3 years. Looking for opportunity to contribute to CeltoCoal's R&D achievements.
3. How to write a CV summary
All this might be starting to seem like a bit of mammoth task involving background research and possible corporate espionage (don't do that). The truth is that it's easier done than described. The actual writing of a CV summary boils down to answering a series of questions:
What kind of worker are you? Use at most a couple of adjectives.
In what industry/field/specialisation/niche have you been working? For how long?
What's your most impressive/relevant on-the-job achievement?
(Optional) What's your most unique achievement?
What are you hoping to be able to achieve in this job? (Achieve for your employer, not yourself.)
Run your answers together, covering more than one point with each sentence. Aim for 3–4 sentences, 50–150 words in total. Three or four sentences isn't much—again, this is all easier to do than read about. Be sure to mention the company to which you're applying by name as well as the job title.
Your personal CV summary obviously comes first in your CV, but don't feel that that means you have to write it first. A much better option is to leave it until the end. Having worked through and prepared your job descriptions will make writing the CV summary much easier. Plus, you'll be warmed up by then.
You don't have to be a CV writing expert. In the LiveCareer CV builder you'll find ready-made content for every industry and position, which you can then add with a single click.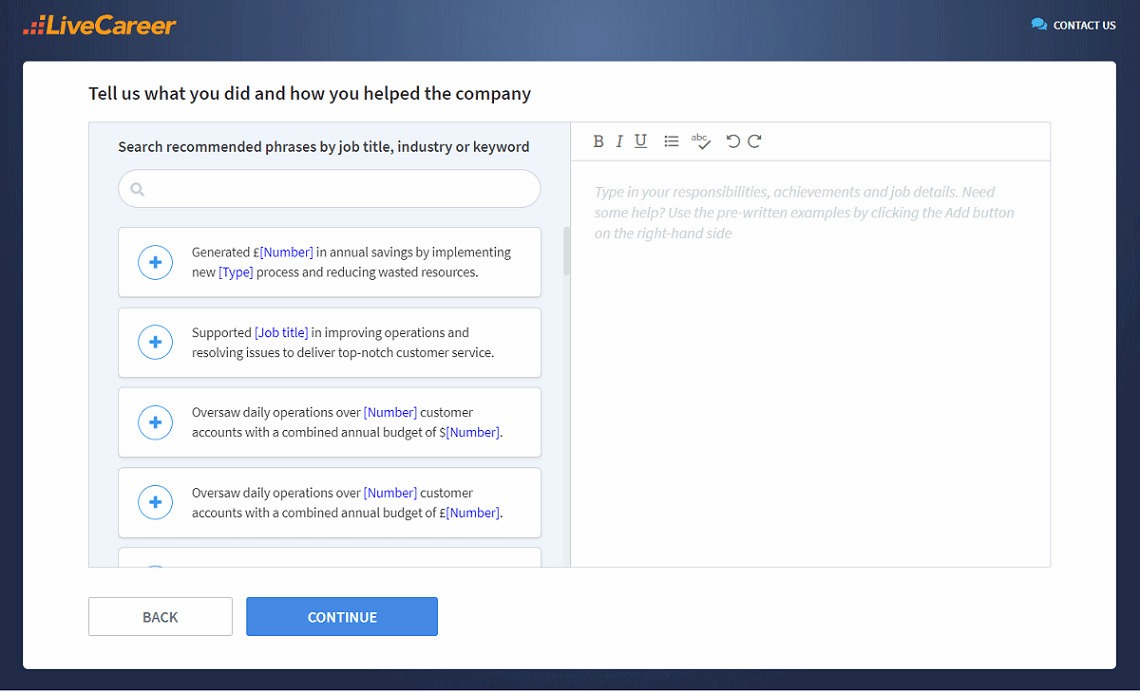 4. CV summary achievements
A good summary for a CV uses achievements to show recruiters what you've been able to do for your previous employers. But what are these achievements and how do you come up with them? There's a method for this as well, and anyone can follow along and get results.
An achievement has two or three parts:
An action that you took at work
(Optional) A context for that action—a problem, a project or generally a situation
The benefits that flowed from your action and to your employer.
Be as specific and concrete as you can. Put numbers to as many of the parts above as possible. Quantify the benefits you brought to your employer first and foremost – this is what will interest them the most. Benefits can be money you made or saved the company or anything that boils down to the same.
Include a strong, dynamic verb in each of your achievements. Something like 'negotiated', 'led', 'achieved', 'produced', 'reduced', 'saved', 'developed' and so on. Use an accomplishment statement to help structure and fill-in each achievement. By all means estimate the benefits but be realistic.
5. Write a CV summary statement even if you have no experience
Not having any work experience doesn't have to mean not having any achievements to showcase in your CV summary. Volunteer work, internships, placement work—these all very much count as valid sources of achievements. If you don't have any of these under your belt, though, then all is not lost, far from it.
In the absence of work experience, you can substitute a belief statement for your achievement. A belief statement allows you to describe how you would be a good fit in the company. So you still need to research the company, its stated values, and mission. You also need to have a feel for its corporate culture.
You can lean on academic achievements and any relevant project work you've done as well. Check out our guide on how to write a student CV, it includes a section on writing a personal statement (CV summary) before you've got any real work experience to speak of.
6. Robots will probably read your professional CV summary
Not robots, exactly. And can machines be said to read, strictly speaking? In any case, there are these things called Applicant Tracking Systems (ATSs) and that means that your CV is likely to be parsed by a machine before a person even sets eyes on it. This is something that you have to take into account.
How? First of all, make sure you mention the company to which you're applying by name, and refer to the job for which you're applying by the same name as they've used in the advert. Identify keywords in the advert and echo them in your CV summary. This will make things clearer for human beings, too.
7. A personal CV summary in the context of an effective CV
A CV summary is just one part of a CV. Granted, it's one of the most important parts and probably the first one to get read, but there's a lot more to a CV. Did you know there are three main CV formats?
Chronological
Functional
Hybrid
The kind of work you do will determine which one is right for you. The vast majority of people will need to use a chronological format, though. This is a trend that's best not bucked lightly—it's what recruiters, hiring managers, and Applicant Tracking Systems expect to see.
A typical chronological CV will also include these sections:
A header / contact details
A work experience section
An education section
A skills section
Additional, optional sections.
Browse through our guides to find more helpful advice and plenty more CV summary examples.
A cover letter alone simply won't be enough—you need an impactful CV, too. Create your CV in minutes. Just follow our wizard and fill in every CV section with ready-made content. Get started by choosing a professional CV template.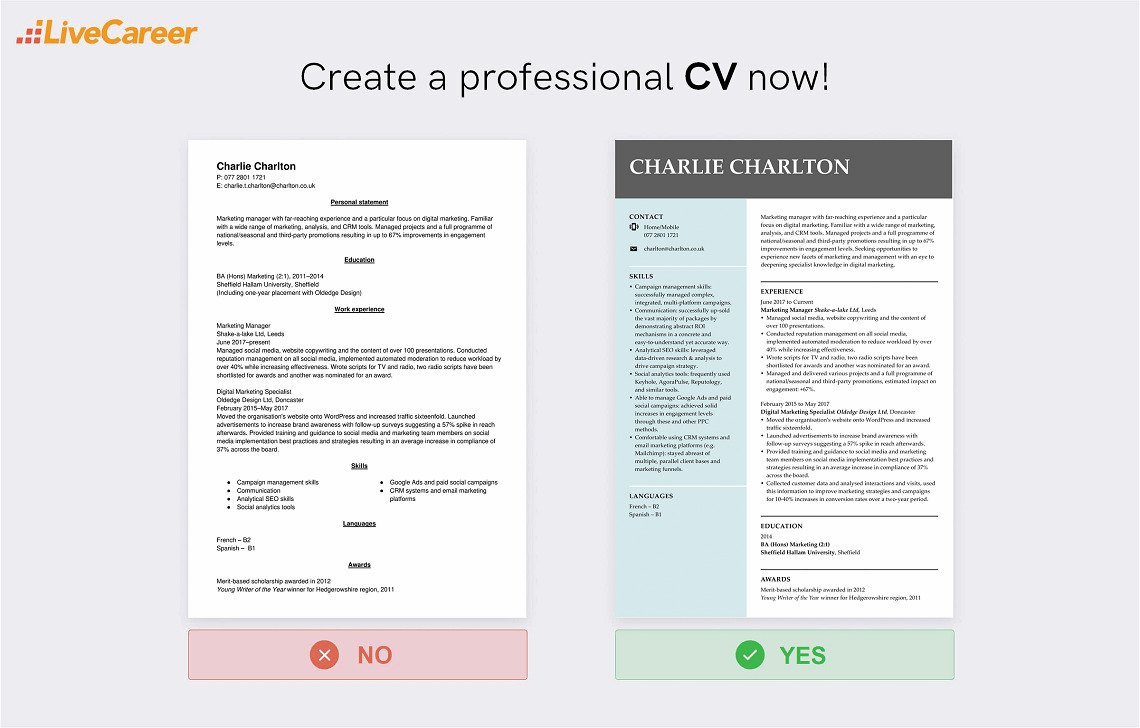 The LiveCareer online CV maker lets you build a professional CV fast and download it as a PDF or DOC.
I hope this article put you on the road to many an effective CV summary. The first one is the most difficult, it gets much easier very quickly from there. Please leave any questions, comments or feedback in the comments section below.
How we review the content at LiveCareer
Our editorial team has reviewed this article for compliance with Livecareer's editorial guidelines. It's to ensure that our expert advice and recommendations are consistent across all our career guides and align with current CV and cover letter writing standards and trends. We're trusted by over 10 million job seekers, supporting them on their way to finding their dream job. Each article is preceded by research and scrutiny to ensure our content responds to current market trends and demand.
About the author
LiveCareer Editorial Team
Since 2005, the LiveCareer Team has been helping job seekers advance their careers. In our in-depth guides, we share insider tips and the most effective CV and cover letter writing techniques so that you can beat recruiters in the hiring game and land your next job fast. Also, make sure to check out our state-of-the-art CV and cover letter builder—professional, intuitive, and fully in line with modern HR standards. Trusted by 10 million users worldwide.