Achievements in a CV are just plain impressive, there's no way around it. You might have seen a CV packed full of facts and figures, actions, initiatives, and—above all—results and felt your heart sink. How can you compete with someone who's been striding from strength to strength since they started their career?
The spoiler here is that you have many, many more achievements at your disposal than you realise. There's an impressive CV waiting to be revealed here and this article is going to help you do just that. The CV below is better than most out there and, with a little work, yours will be even better.
Create an effective CV in minutes. Choose a professional CV template and fill in every section of your CV in a flash using ready-made content and expert tips.
Create a professional CV now!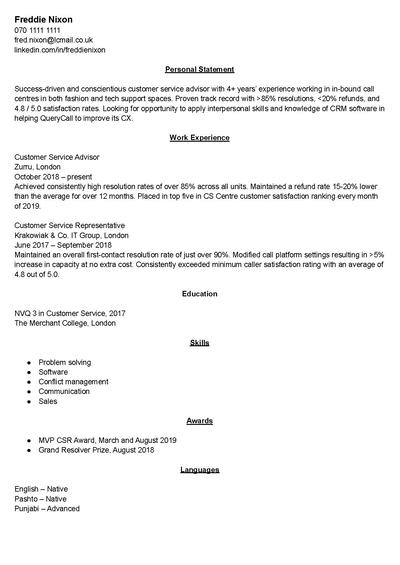 NO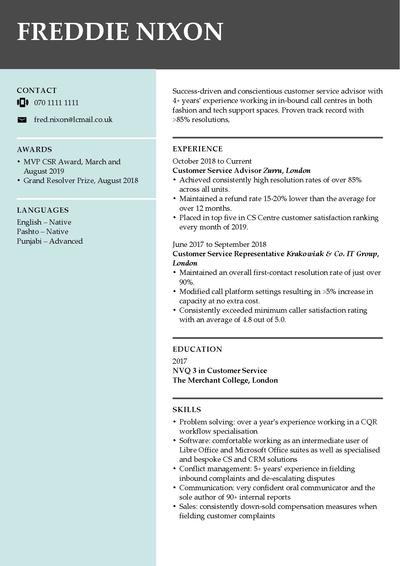 YES
The LiveCareer online CV maker lets you build a professional CV fast and download it as a PDF or DOC.
Sample achievements in CV context
Freddie Nixon
070 1111 1111
fred.nixon@lcmail.co.uk
linkedin.com/in/freddienixon
Personal Statement
Success-driven and conscientious customer service advisor with 4+ years' experience working in in-bound call centres in both fashion and tech support spaces. Proven track record with >85% resolutions, <20% refunds, and 4.8 / 5.0 satisfaction rates. Looking for opportunity to apply interpersonal skills and knowledge of CRM software in helping QueryCall to improve its CX.
Work Experience
Customer Service Advisor
Zurru, London
October 2018 – present
Achieved consistently high resolution rates of over 85% across all units.
Maintained a refund rate 15-20% lower than the average for over 12 months.
Placed in top five in CS Centre customer satisfaction ranking every month of 2019.
Customer Service Representative
Krakowiak & Co. IT Group, London
June 2017 – September 2018
Maintained an overall first-contact resolution rate of just over 90%.
Modified call platform settings resulting in >5% increase in capacity at no extra cost.
Consistently exceeded minimum caller satisfaction rating with an average of 4.8 out of 5.0.
Education
NVQ 3 in Customer Service, 2017
The Merchant College, London
Skills
Problem solving: over a year's experience working in a CQR workflow specialisation
Software: comfortable working as an intermediate user of Libre Office and Microsoft Office suites as well as specialised and bespoke CS and CRM solutions
Conflict management: 5+ years' experience in fielding inbound complaints and de-escalating disputes
Communication: very confident oral communicator and the sole author of 90+ internal reports
Sales: consistently down-sold compensation measures when fielding customer complaints
Awards
MVP CSR Award, March and August 2019
Grand Resolver Prize, August 2018
Languages
English – Native
Pashto – Native
Punjabi – Advanced
Now that's what we call a modern CV template! Here's how to write as impactful a CV:
1. Why are achievements in a CV they such a big deal?
Achievements in a CV are so important because they're so impressive from a recruiter's or hiring manager's point of view. This word 'impressive' will need some unpacking, though. Your potential new employer needs to know two things about you: can you do the job and will you fit in with the team.
Past behaviour is generally considered to be a good predictor of future behaviour. If you were able to achieve something for a previous employer, then chances are you'll be able to achieve something similar for a future employer. This is incredibly useful information for a recruiter or hiring manager.
Achievements also indirectly point to other invaluable insights into your suitability for a given role. They give an indication of the skills you possess and the levels at which you posses them. They can also provide indirect—although weaker—evidence of how well you were able to cooperate with colleagues and others.
A strong CV summary will convince the recruiter you're the perfect candidate. Save time and choose a ready-made personal statement written by career experts and adjust it to your needs in the LiveCareer CV builder.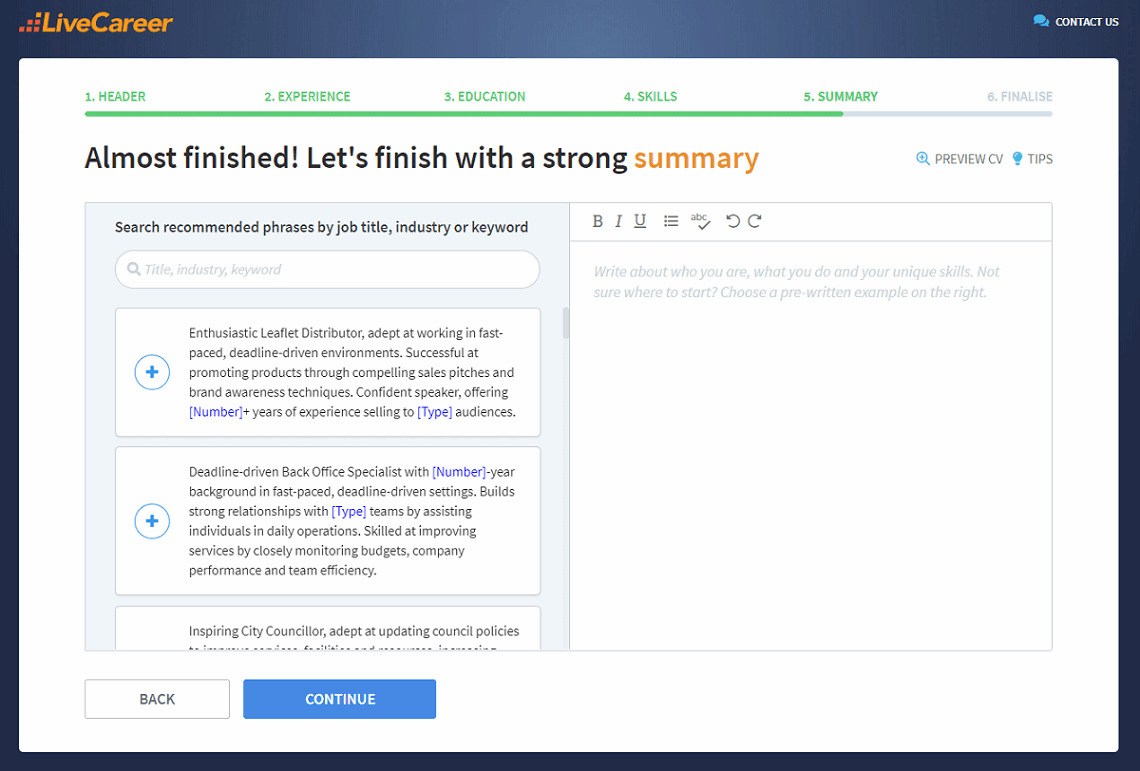 2. List of achievements for a CV
The most important thing to remember when writing a CV is not to write a boring laundry list of duties. Recruiters know what your every-day tasks looks like. They are more interested in what you achieved in previous positions. And though accomplishments obviously depend on the industry you work in, there is a way to turn each job duty into an achievement regardless of what you do professionally. Use something like the APR (Action+Problem=Result) formula. Here's how the end result should look like.
Maintained an overall first-contact resolution rate of just over 90%.
Modified call platform settings resulting in >5% increase in capacity at no extra cost.
Exceeded minimum caller satisfaction rating with an average of 4.8 out of 5.0.
Increased conversion rates 10-40% over a two-year period.
Reduced stock losses by 30%.
Exceeded monthly sales target by a minimum of 5% for 18 months in a row.
Trained 11 incoming part-time staff members regarding the restaurant's procedures.
Developed 11 novel reporting solutions using C#.
Received a greater proportion of CQR requests than most colleagues due to consistently high resolution rates (>85%).
Exceeded minimum caller satisfaction rate with monthly averages of 4.7-4.9 (out of 5).
Developed financial models for new transactions, increasing confidence ratings by 30-40% across the board.
Always quantify everything you can by putting numbers to everything possible, the benefits that fell to your employer first and foremost. You'll need to estimate some numbers, just be realistic and be ready to justify yourself.
Sounds too hard? Find achievements for your profession in a dedicated CV writing guide:
3. Where to put achievements in a CV
When people think about achievements, they often picture someone climbing a mountain or winning a trophy or holding a record. In the context of writing achievements in a CV, the most obvious association is that of awards, prizes, and accolades. This association is not wrong, but it misses some things.
Awards, prizes and accolades section
Writing up awards, prizes and accolades in your CV is, thankfully, very simple—there are just a couple of things to keep in mind. Firstly, give the name of the award you won, the awarding body (if necessary), and the date or year in which it was awarded. Secondly, list your awards in reverse-chronological order in a separate CV section.
Here's an example straight from a customer service CV:
MVP CSR Award, March and August 2019
Grand Resolver Prize, August 2018
Job descriptions
There's a kind of achievement that people who haven't recently written or revamped their CV rarely think about. And yet, these are by far the most prolific and important achievements in a CV. They make up—ideally—the entirety of the job descriptions in your work experience section.
An 'achievement' in this case is the brief description of an action you took, often in response to a challenge of one kind or another, and the benefits that went to your employer as a result of that action.
Build each achievement around a strong verb in the active voice, so 'negotiated contracts' rather than 'contracts were negotiated'. This is about what you did, but don't use first- or third-person personal pronouns. If in doubt, write in the first person (use 'I', 'my', etc.) and then delete all the pronouns.
You should end up with up to six achievements for each job description, 5–9 for more complex and involved roles. Put your job descriptions in reverse-chronological order. You can use the following template to create a subheading for each job description:
[Job Title]
[Company Name, Location]
[Dates of Employment]
If you struggle to come up with at least three achievements per job description, then list your duties but make them into achievements by noting the scale at which you did things. For example, 'helped customers find products' might become 'helped 15+ customers a day find the products they were looking for'.
This isn't ideal, but sometimes there simply isn't any other way. Do try to fully or partially quantify every single achievement, though. If you don't have enough work experience to come up with these achievements at all, then consider writing a student CV or graduate CV instead— both offer ways around this.
Here's a sample job description from a software developer CV:
Software Developer
Cyber Doily Ltd, Bristol
August 2018—present
Assisted in the collection and documentation of client requirements across 3 major accounts, achieved 93% acceptance rate of technical specifications.
Created 14 demos and promotional experiences, 11 of which were instrumental in landing client projects worth a combined total of almost £100,000.
Analysed and resolved technical problems associated with automated asset processing, leading to an immediate 23% drop in average processing times.
Key achievement: Achieved 98% code coverage using the Google test framework.
Education section
If you're writing a CV with no experience or a school leaver CV, you may often lack job-related accomplishments to list in a CV. Here's where the education CV section comes in handy. You can enrich it with extras such as honours, publications, awards, and relevant extra-curricular activities. They're your achievements, too.
Here's a sample from a CV for a part-time job:
BA (Hons), 2:1, Political Science, September 2006–June 2009
University of Manchester, Manchester
Dissertation on the history and legacy of the post-Churchill Conservative party in South-West England.
CV profile
A CV personal profile, CV personal statement or even personal summary is your CV's opening statement. It's where you introduce yourself to the recruiter. It goes at the top of your CV but it's best to write it last when you have other sections of your CV ready in front of your eyes. It also serves as a CV summary so it's a good place to add your CV achievements as well. See how it's done.
Here's an account manager CV personal statement example:
Dynamic account manager going above and beyond to retain old clients (+17% customer retention), and gain new ones (additional £120k of annual income from new markets) for 5+ years now in the digital marketing industry. Managing portfolios nearing £1m in value with constant improvements and no mistakes. Seeking a more international challenge to utilise language skills with DirectMedia.
You don't have to be a CV writing expert. In the LiveCareer CV builder you'll find ready-made content for every industry and position, which you can then add with a single click.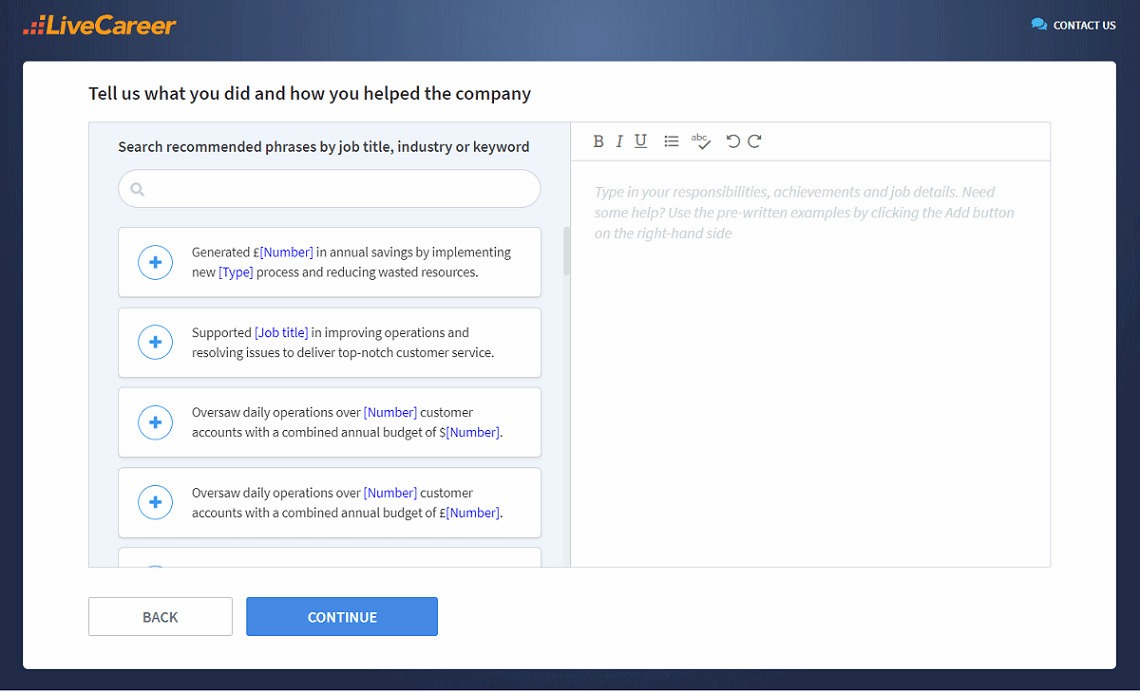 7. Some final tips for including achievements in your CV
Getting these kinds of achievements in your CV is the biggest and most important step in preparing a job application. If you have some relevant work experience, then your CV will be built around these kinds of achievements, and your cover letter, too. Once you get the hang of them, everything else is easy.
If you don't have any or much experience (including experience gained through volunteering, work placemens or internships), then don't force these achievements in your CV. Their effectiveness lies in the way they simply and clearly point to your competence and engagement in previous jobs.
If you're a student, recent graduate, freelancer or career changer, then there are different CV formats that put less emphasis on work history and more on skills and education. A skills-based CV format is better suited to many freelancers and students, whereas career changers might benefit from a hybrid CV format.
Depending on your previous roles and what industry you're in, you may find yourself having to estimate many of the numbers associated with your duties and achievements. Be as realistic as you can and don't just pick plausible-sounding numbers out of thin air: be ready to explain how you arrived at each number.
Proofread the awards and achievements in your CV at least twice, then get someone else to check over them and the rest of your job application. Use bullet points for all of your achievements and keep them pared-down to as few words as possible. Short and punchy but complete is the name of the game.
Your choice of CV font can play a huge role in the overall presentation of your application, go with something understated like Noto, Garamond, Liberation or Arial. Speaking of overall presentation, remember to save or export your work in PDF to protect your formatting, unless, of course, you're asked for something else.
A cover letter alone simply won't be enough—you need an impactful CV, too. Create your CV in minutes. Just follow our wizard and fill in every CV section with ready-made content. Get started by choosing a professional CV template.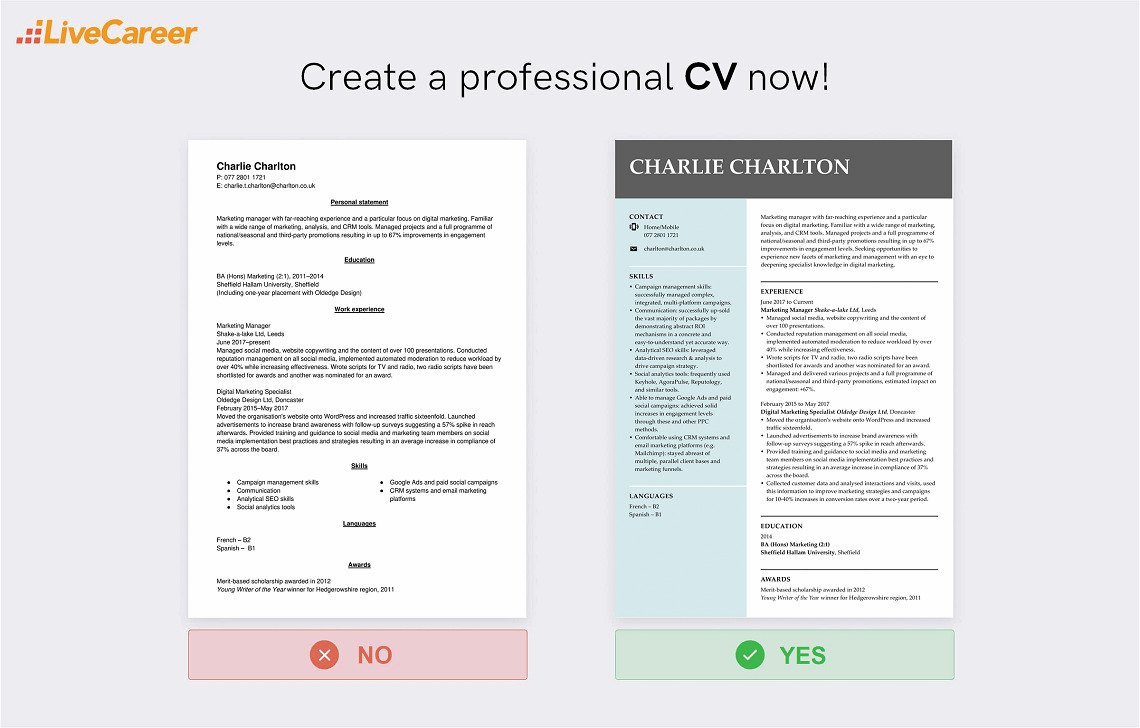 The LiveCareer online CV maker lets you build a professional CV fast and download it as a PDF or DOC.
I hope this article has help you straighten out what achievements to include in a CV, how to write them, and where to put them. Is there anything you'd like me to shed a little more light on? Any other comments, questions or feedback? Please drop us a line in the comments section below.
How we review the content at LiveCareer
Our editorial team has reviewed this article for compliance with Livecareer's editorial guidelines. It's to ensure that our expert advice and recommendations are consistent across all our career guides and align with current CV and cover letter writing standards and trends. We're trusted by over 10 million job seekers, supporting them on their way to finding their dream job. Each article is preceded by research and scrutiny to ensure our content responds to current market trends and demand.
About the author
LiveCareer Editorial Team
Since 2005, the LiveCareer Team has been helping job seekers advance their careers. In our in-depth guides, we share insider tips and the most effective CV and cover letter writing techniques so that you can beat recruiters in the hiring game and land your next job fast. Also, make sure to check out our state-of-the-art CV and cover letter builder—professional, intuitive, and fully in line with modern HR standards. Trusted by 10 million users worldwide.