Looking to get an edge over that faceless mass of competition out there? Or maybe, to be very honest, your CV is a little on the scant side? Extracurricular activities aren't just padding, done right they can be an invaluable addition to any CV.
This article will show you which extracurricular activities to put on your CV. Read on to see a winning non-student CV that uses just such activities and learn how you can do the same with yours.
Create an effective CV in minutes. Choose a professional CV template and fill in every section of your CV in a flash using ready-made content and expert tips.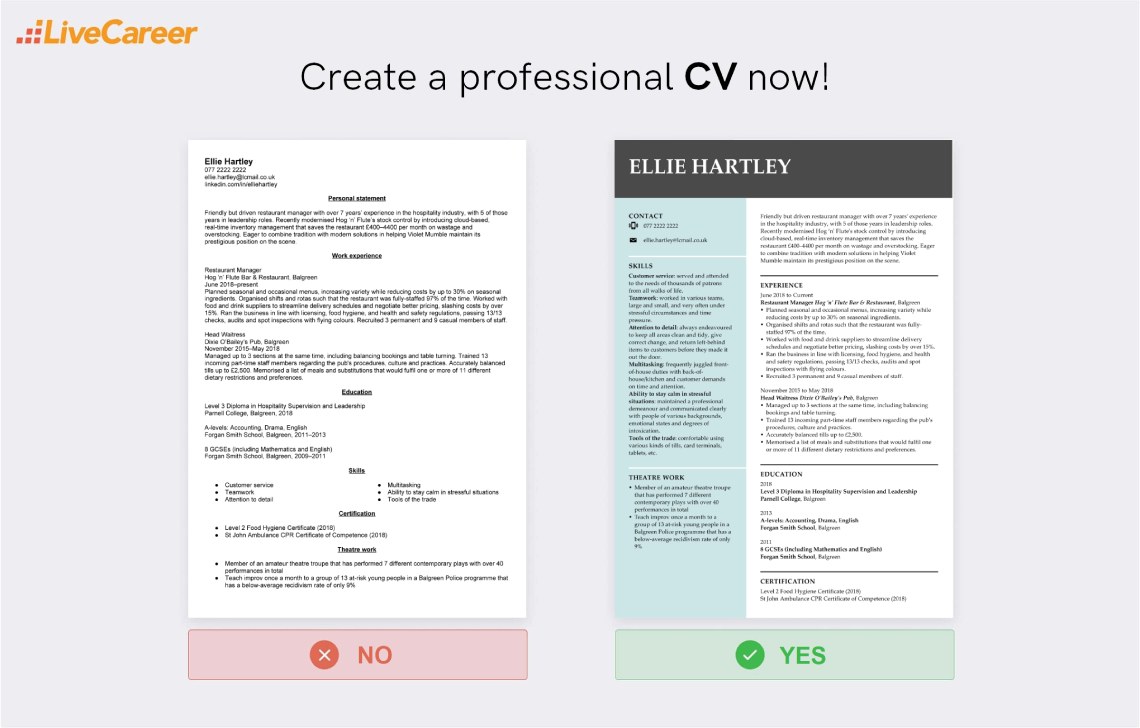 The LiveCareer online CV maker lets you build a professional CV fast and download it as a PDF or DOC.
Sample CV with extracurricular activities
Ellie Hartley
077 2222 2222
ellie.hartley@lcmail.co.uk
linkedin.com/in/elliehartley
Personal statement
Friendly but driven restaurant manager with over 7 years' experience in the hospitality industry, with 5 of those years in leadership roles. Recently modernised Hog 'n' Flute's stock control by introducing cloud-based, real-time inventory management that saves the restaurant £400–4400 per month on wastage and overstocking. Eager to combine tradition with modern solutions in helping Violet Mumble maintain its prestigious position on the scene.
Work experience
Restaurant Manager
Hog 'n' Flute Bar & Restaurant, Balgreen
June 2018–present
Planned seasonal and occasional menus, increasing variety while reducing costs by up to 30% on seasonal ingredients.
Organised shifts and rotas such that the restaurant was fully-staffed 97% of the time.
Worked with food and drink suppliers to streamline delivery schedules and negotiate better pricing, slashing costs by over 15%.
Ran the business in line with licensing, food hygiene, and health and safety regulations, passing 13/13 checks, audits and spot inspections with flying colours.
Recruited 3 permanent and 9 casual members of staff.
Head Waitress
Dixie O'Bailey's Pub, Balgreen
November 2015–May 2018
Managed up to 3 sections at the same time, including balancing bookings and table turning.
Trained 13 incoming part-time staff members regarding the pub's procedures, culture and practices.
Accurately balanced tills up to £2,500.
Memorised a list of meals and substitutions that would fulfil one or more of 11 different dietary restrictions and preferences.
Education
Level 3 Diploma in Hospitality Supervision and Leadership
Parnell College, Balgreen, 2018
A-levels: Accounting, Drama, English
Forgan Smith School, Balgreen, 2011–2013
8 GCSEs (including Mathematics and English)
Forgan Smith School, Balgreen, 2009–2011
Skills
Customer service: served and attended to the needs of thousands of patrons from all walks of life.
Teamwork: worked in various teams, large and small, and very often under stressful circumstances and time pressure.
Attention to detail: always endeavoured to keep all areas clean and tidy, give correct change, and return left-behind items to customers before they made it out the door.
Multitasking: frequently juggled front-of-house duties with back-of-house/kitchen and customer demands on time and attention.
Ability to stay calm in stressful situations: maintained a professional demeanour and communicated clearly with people of various backgrounds, emotional states and degrees of intoxication.
Tools of the trade: comfortable using various kinds of tills, card terminals, tablets, etc.
Certification
Level 2 Food Hygiene Certificate (2018)
St John Ambulance CPR Certificate of Competence (2018)
Theatre work
Member of an amateur theatre troupe that has performed 7 different contemporary plays with over 40 performances in total
Teach improv once a month to a group of 13 at-risk young people in a Balgreen Police programme that has a below-average recidivism rate of only 9%
Extracurricular activities are activities that are somehow related to a given curriculum of school but at the same time fall outside of it.
People often ask for extracurricular activity examples for a job application, but any answer will depend on the given job application and what was actually done during those extracurricular activities. Here's what you have to remember:
Any extracurricular activities you put on a CV have to be directly relevant to the job at hand—this means you'll be swapping them out from application to application.
Your extracurricular activities have to be real—no exaggerating or embellishing.
It's always better if you can offer measurable outcomes associated with your extracurricular activities—an answer to the question: what did you achieve?
Now, let's cover some basic types of extracurricular activities.
1. Performing and speaking in public
Anything from performing in an improv theatre troupe through to taking part in debating competitions. These extracurricular activities are attractive to employers because they speak to a confidence and ability to communicate that not everybody has. These are useful for jobs that involve:
Meetings
Presentations
Contact with customers
Coordinating people
Giving instructions
Making announcements
A strong CV summary will convince the recruiter you're the perfect candidate. Save time and choose a ready-made personal statement written by career experts and adjust it to your needs in the LiveCareer CV builder.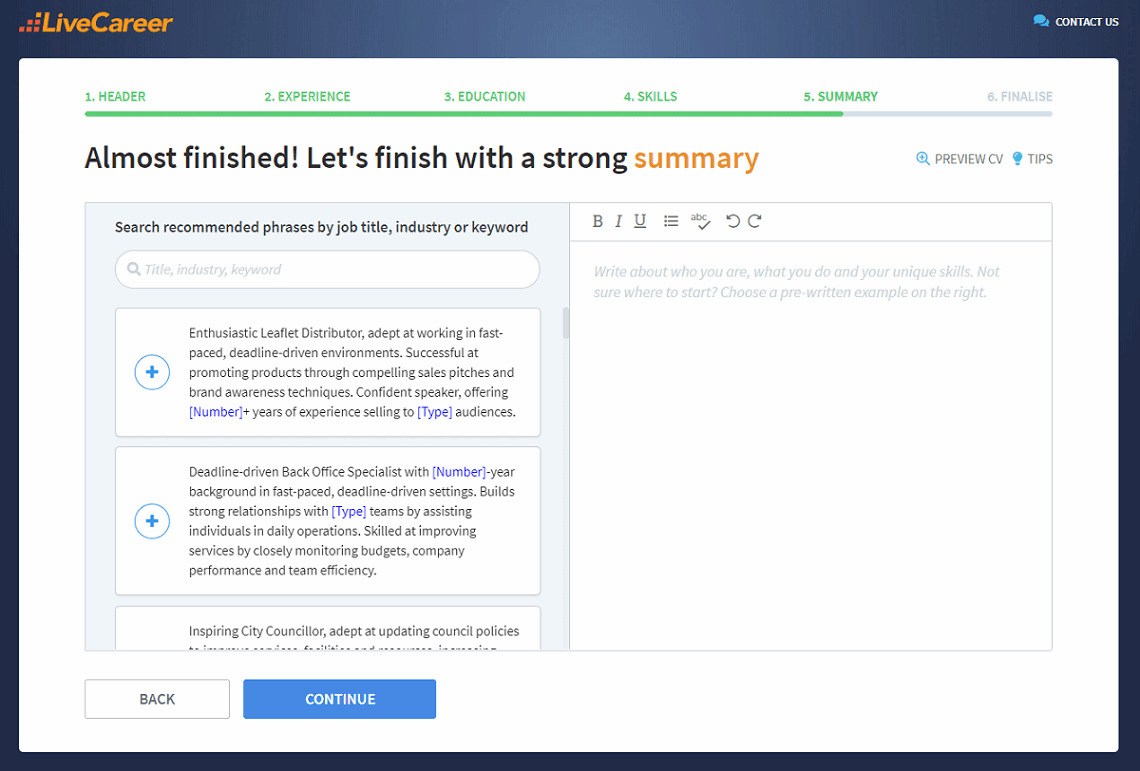 2. Teaching, tutoring and training people
This could mean teaching classes of elderly people how to use email and browse the web or being part of a peer-tutoring programme, even an informal one. Anything where you regularly meet with strangers and help them grasp new information and/or skills. These show an aptitude for jobs that involve:
Training people
Mentoring people
Giving instructions over the phone
Preparing written instructions
Patiently troubleshooting people's IT and other issues
Coaching
Giving feedback
3. Volunteer work and fundraising
Volunteer work is too broad a category to cover properly. It encompasses every possible job, just minus the pay packet. This, incidentally, is often a huge plus for employers: volunteer work shows that you're passionate enough about something to put in the hard work without being financially compensated for it.
Fundraising, though, is something we can discuss more sensibly. It shows that you have an entrepreneurial skill-set, a sense of ethics (in dealing with money), an awareness of marketing principles even if only informally, perhaps even a sense of taxation and legal principles. Relevant to jobs that involve:
Selling
Advertising
Marketing
PR
Handling money
Motivating people
Persuading people
You don't have to be a CV writing expert. In the LiveCareer CV builder you'll find ready-made content for every industry and position, which you can then add with a single click.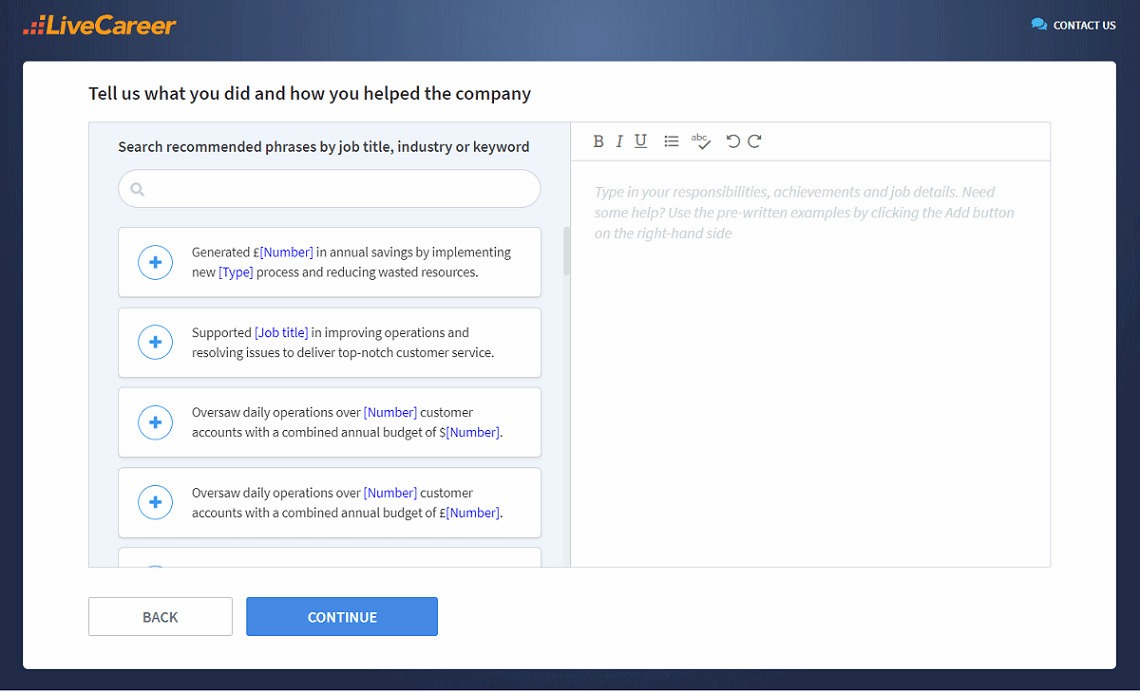 4. Learning, teaching and speaking foreign languages
Learning a language has some very positive implications for employers—e.g., it suggests that you're not afraid of putting in a lot of effort over a long period of time, that you're OK with making mistakes and learning from them, and that you're open to new experiences.
But the ability of speaking a foreign language or languages is itself extremely valuable on the job market, across an incredibly wide range of industries and job types. Even if you simply grew up bilingual through no great effort on your part, your language skills are a huge boon to your job-seeking endeavours.
There's no shortage of studies showing the cognitive benefits of speaking more than one language, but learning a second or subsequent language can be associated with empathy and intercultural communicative competence— invaluable assets in any job that involves interactions with people.
5. Sports and hobbies
These are two more extremely broad categories of extracurricular activities. Both sports and hobbies can be extremely useful additions to your CV, but they have to be handled with caution. The main thing to consider is whether a given sport or hobby is clearly and directly relevant to the job at hand.
If it is, then it can show a huge range of skills, attributes, and aptitudes. The more specific and direct the link, though, the better. For example, if you're applying for an entry level IT job, the fact that you enjoy playing PC games is not relevant in any obvious or direct way. Modifying PC games, though, is.
6. Student life activities
Then there are the more literal extracurricular activities, those that are directly related to student life but not part of the curriculum. These include participation in clubs, societies, and organisations, being a part of a student council, and studying abroad (even though it most often is part of the curriculum).
Such extracurricular activities on your CV show that you have a track record of getting involved and even rolling up your sleeves and going above and beyond. This is going to be useful when applying to the vast majority of jobs. Digging deeper into each activity you'll find a range of more job-specific skills in action.
How to include extracurricular activities in your CV
There are two main ways in which you could write your extracurricular activities for your CV: as brief point-form notes or as more developed and quantified bullet points. See the examples below for a comparison of the two.
When writing your extracurricular activities out like achievements, try to put numbers to every significant aspect. The second bullet point in the achievements version goes a step further and puts numbers to the benefits that flowed from the extracurricular activity. You can see how compelling this is.
If you decide to write extracurricular activities up like achievements, then consider using accomplishment statements to structure your sentences. This is similar to how you should be writing job descriptions for your work experience section. That answers the question of how, but what about where?
Where should you put extracurricular activities in a CV? Brief versions can go in their own, additional sections—for example 'hobbies'.
Putting extracurricular activities on a CV
Hobbies
Member, amateur theatre troupe, 2015—present
Volunteer improv teacher, 2018—present
Achievement versions can go into your work experience section (especially if you don't have much paid work experience) or into their own additional sections.
Extracurricular activities examples for a job application
Extracurricular activities
Member of an amateur theatre troupe that has performed 7 different contemporary plays with over 40 performances in total
Teach improv once a month to a group of 13 at-risk young people in a Balgreen Police programme that has a below-average recidivism rate of only 9%
And here's how to add extracurricular activities into your education section.
Education on a CV: extracurricular activities
Education
2.1 BSc Economics, July 2015
Lancaster University, Lancaster, UK
Extracurricular Activities: Leader of the Accounting and Finance society, 2014-2015
A cover letter alone simply won't be enough—you need an impactful CV, too. Create your CV in minutes. Just follow our wizard and fill in every CV section with ready-made content. Get started by choosing a professional CV template.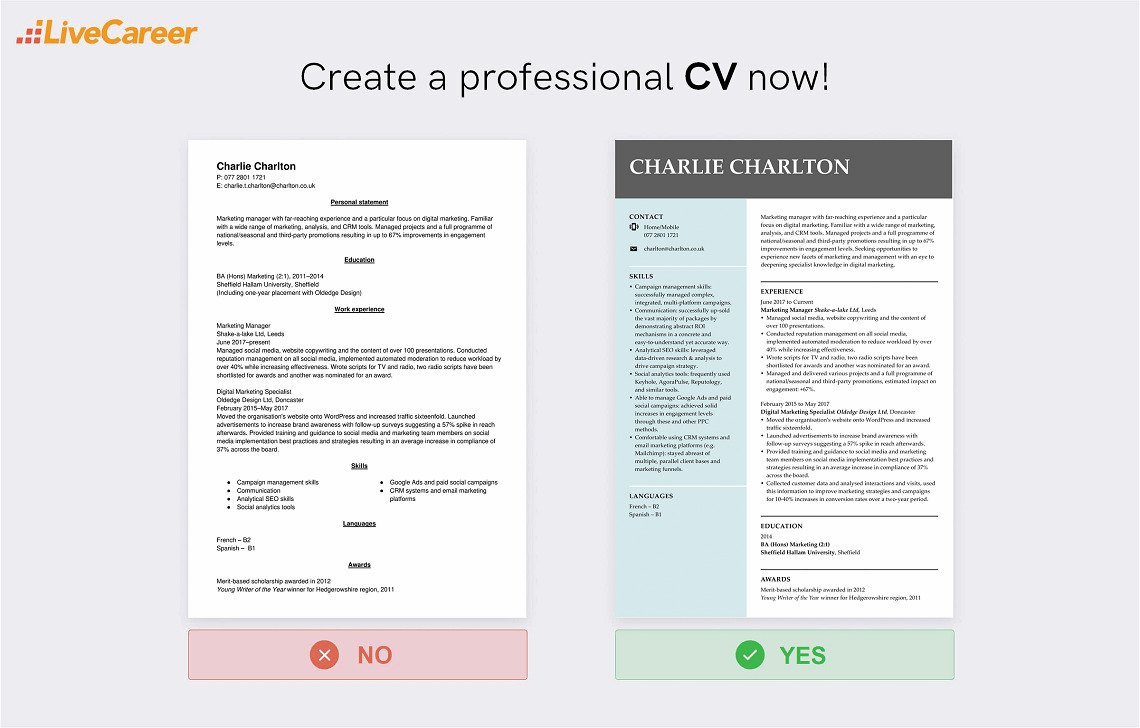 The LiveCareer online CV maker lets you build a professional CV fast and download it as a PDF or DOC.
I hope this answers some of your questions regarding extracurricular activities in a CV! Have any questions, comments or experiences to share? Please leave them down in the comments section below.
How we review the content at LiveCareer
Our editorial team has reviewed this article for compliance with Livecareer's editorial guidelines. It's to ensure that our expert advice and recommendations are consistent across all our career guides and align with current CV and cover letter writing standards and trends. We're trusted by over 10 million job seekers, supporting them on their way to finding their dream job. Each article is preceded by research and scrutiny to ensure our content responds to current market trends and demand.
About the author
LiveCareer Editorial Team
Since 2005, the LiveCareer Team has been helping job seekers advance their careers. In our in-depth guides, we share insider tips and the most effective CV and cover letter writing techniques so that you can beat recruiters in the hiring game and land your next job fast. Also, make sure to check out our state-of-the-art CV and cover letter builder—professional, intuitive, and fully in line with modern HR standards. Trusted by 10 million users worldwide.
Rate this article:
Extracurricular activities to put on cv