There is arguably nothing more important to success in the workplace and in life than effective communication skills. It's just not possible to function without being able to share ideas and present information.
But being such a broad and important type of ability, it can be difficult to understand exactly what communication skills are and how to include them on your CV. But we're going to make it easy for you.
In just five minutes you'll learn exactly what communication skills are, how to include them on your CV and you'll get plenty of communication skills examples too. You'll even get tips on how to improve them.
Create an effective CV in minutes. Choose a professional CV template and fill in every section of your CV in a flash using ready-made content and expert tips.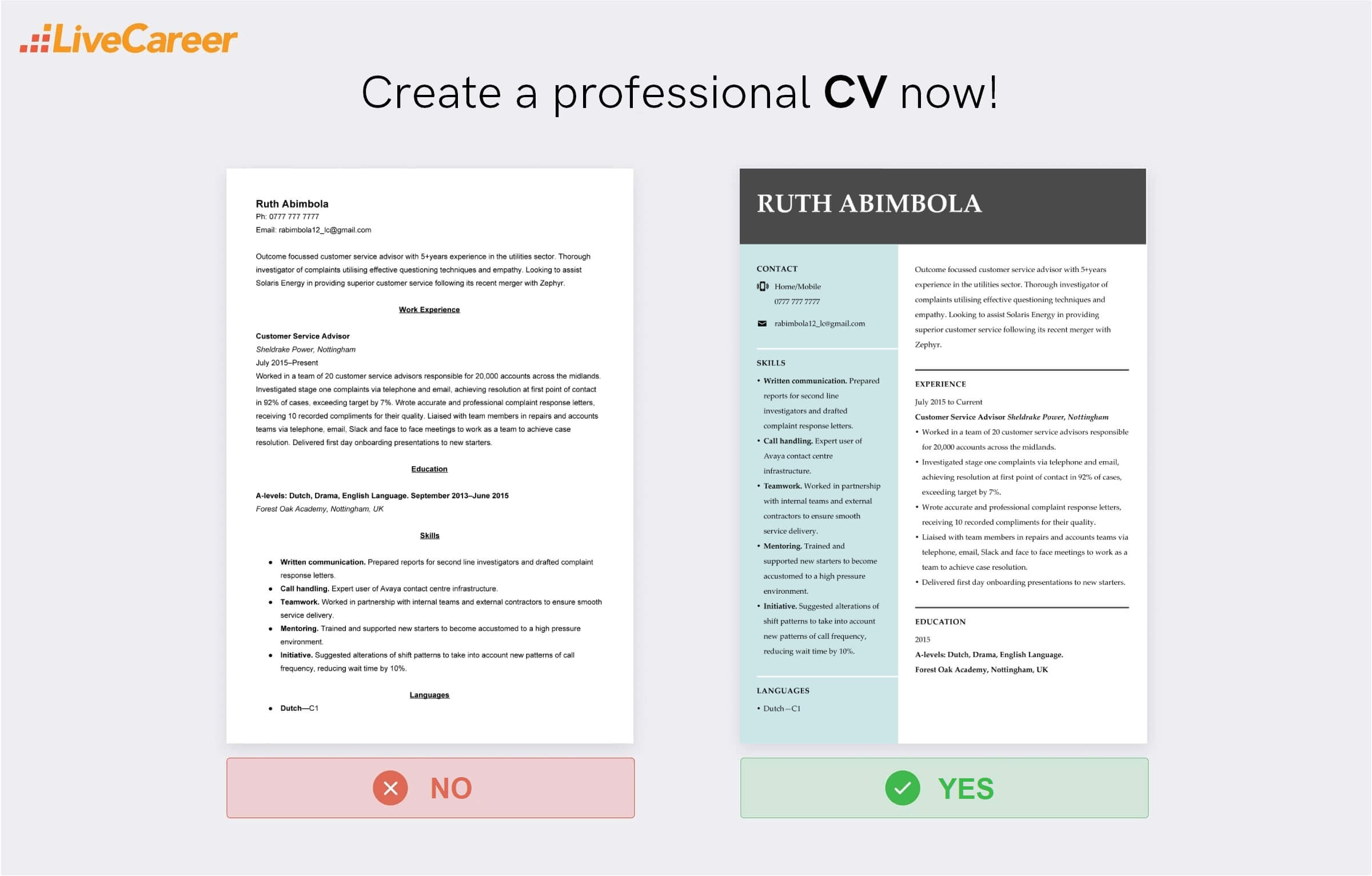 The LiveCareer online CV maker lets you build a professional CV fast and download it as a PDF or DOC.
Communication skills CV sample
Ruth Abimbola
Ph: 0777 777 7777
Email: rabimbola12_lc@gmail.com
Outcome focussed customer service advisor with 5+years experience in the utilities sector. Thorough investigator of complaints utilising effective questioning techniques and empathy. Looking to assist Solaris Energy in providing superior customer service following its recent merger with Zephyr.
Work Experience
Customer Service Advisor
Sheldrake Power, Nottingham
July 2015–Present
Worked in a team of 20 customer service advisors responsible for 20,000 accounts across the midlands.
Investigated stage one complaints via telephone and email, achieving resolution at first point of contact in 92% of cases, exceeding target by 7%.
Wrote accurate and professional complaint response letters, receiving 10 recorded compliments for their quality.
Liaised with team members in repairs and accounts teams via telephone, email, Slack and face to face meetings to work as a team to achieve case resolution.
Delivered first day onboarding presentations to new starters.
Education
A-levels: Dutch, Drama, English Language. September 2013–June 2015
Forest Oak Academy, Nottingham, UK
Skills
Written communication. Prepared reports for second line investigators and drafted complaint response letters.
Call handling. Expert user of Avaya contact centre infrastructure.
Teamwork. Worked in partnership with internal teams and external contractors to ensure smooth service delivery.
Mentoring. Trained and supported new starters to become accustomed to a high pressure environment.
Initiative. Suggested alterations of shift patterns to take into account new patterns of call frequency, reducing wait time by 10%.
Languages
What are communication skills?
Communication skills are the abilities related to sharing information with other people. They can involve data, emotions and ideas. They can also be written, verbal or visual. And mastering them is a must in every career.
Let's break them down so you can get a better understanding.
What are the 3 types of communication skills?
Communication usually falls within one of three broad categories. Verbal, non-verbal and visual. It's essential to understand the different types of communication skills in order to exploit them effectively. Let's take a look at each.
Verbal communication skills
This type of communication refers to spoken conversations, whether face-to-face or remotely. The words themselves at the core of verbal communication but it overlaps with other types of communication too.
Non-verbal communication skills
These are the contexts that surround verbal communication. Body language, tone of voice, and even the speaker's physical appearance have a significant impact on how we perceive verbal communication. There's even an urban legend that communication is 93% non-visual. That is now regarded as exaggerated, but there's no doubt that non-verbal cues play an essential role.
We can also include visual communication skills under this heading. They're sometimes seen as a separate category but it's simpler to include them as a subset of non-verbal communication. These skills refer to the ability to share and understand information using pictures and graphics. Maps, charts and diagrams are perfect examples of visual communication. They can stand alone, or act as an aid to other forms of communication.
Written communication skills
This refers to communication that uses printed, written or electronically displayed words and numbers to convey information. Think books, written reports, spreadsheets and emails. It often incorporates elements of visual communication too and can also be used as an aid to verbal communication. They're also one of the skills employers feel are most lacking in candidates. One study revealed that 43% of managers report a shortage of written communication skills in their teams.
The importance of communication skills cannot be underestimated. And now we've broken them down, here's a list of communication skills that would work well on a CV.
A strong CV summary will convince the recruiter you're the perfect candidate. Save time and choose a ready-made personal statement written by career experts and adjust it to your needs in the LiveCareer CV builder.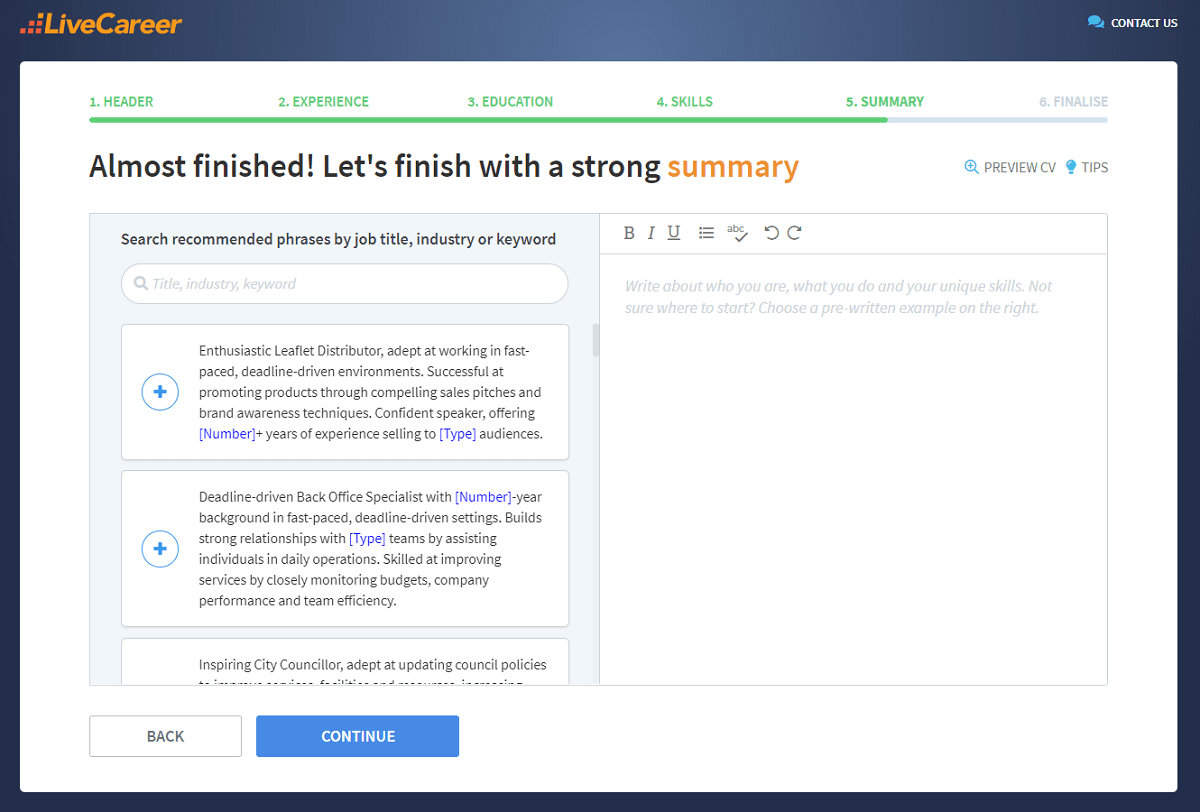 Communication skills examples
Communication occurs in every aspect of our lives but for the purposes of this guide we'll be concentrating on communication skills for use in the workplace and on your CV.
Enunciation
Speaking clearly and pronouncing words accurately is essential for giving a good impression. Being inaudible or unclear is a barrier to communication and can be particularly damaging in an interview. It is the starting point of effective verbal communication.
Questioning
It's important to ask questions to clarify, encourage and draw people into conversation. Questions are often divided into two types. Open and closed. Closed questions seek a simple one word answer, e.g. 'Do you have a university degree?'. Open questions encourage the person asked to give more detail, e.g. 'How could you contribute to the company if we were to hire you?'. Being able to effectively utilise different questioning techniques is an essential skill.
Reflecting
This involves repeating back the message you've just heard in your own words. It's useful for confirming you understand, lets the speaker give feedback, shows interest and builds trust. It's similar to summarising, which allows the subject matter to be reviewed and agreed on.
Confidence
Being confident in your verbal communication is also important. Particularly so for leaders but also simply for inspiring confidence and respect in colleagues and customers. Use eye contact when you are speaking and avoid making statements sound like questions. That's known as upspeak, where you end your sentences with a higher pitch as you would in a question. And 70% of managers find it particularly irritating. But always avoid going too far and seeming arrogant or aggressive. Maintain your active listening and keep your tone respectful.
Body language
This is the most obvious non-verbal communication skill. It involves using posture, hand gestures, facial expressions and other cues. It's important to use body language that's appropriate to the situation and that avoids giving a negative impression. Being aware of cultural differences and adapting your own body language to that of others is also important in the workplace.
Use of tone
The rhythm and tone of our voice is as important as the meaning of the words themselves. It can express emotion, sarcasm, interest, empathy and much more besides. Learning to use it appropriately and change it according to the situation is vital.
Active listening
Active listening overlaps with verbal communication. Communication skills are a two-way street and the way you receive information is as important as the way you transmit it. Active listening involves being attentive and confirming and encouraging through body language and verbal cues e.g. nodding your head. It also overlaps with reflecting, as active listening involves paraphrasing and repeating back what the speaker is saying. Active listening skills are essential in any professional conversation.
Written communication skills
Written communication skills are another category where your abilities are more easily quantifiable than verbal and non-verbal communication skills. Here are some examples of how to show you're a master of the written word.
Grammar and spelling
Written communication at work should always be correctly spelled and grammatically correct. Nothing gives a worse impression than poor spelling and grammar. Taking emails as an example, one study revealed that 75% of respondents thought sending an email with mistakes in it was unacceptable.
Make use of inbuilt spell checks and tools like Grammarly to check your written communication. Especially when you're writing your CV, where mistakes are likely to ruin your chances of getting hired.
Clarity
Simply put, people need to understand what you're saying. Use simple English and consistent, specific information. The Plain English Campaign is a great starting point to learn more about the use of clarity in your written communication. And the Hemingway app is specifically designed to help make your writing more clear.
Tone
This is similar to your tone of voice in verbal communication. Imagine how your writing would sound when read out to get an idea of what tone it has. Always remain professional and strike a balance between friendliness, formality and respect depending upon the situation.
Visual communication skills
For the purpose of specific examples, visual communication skills are worth considering as a separate category. As we've already discussed, these skills relate to putting across information through pictures, charts and graphics. They're also much easier to list as hard skills on your CV. Here are some examples.
Data visualisation
Graphic design
Photography
UX design
Image editing
Typography and page layout design
Diagrams
Flow charts
Slide presentations (e.g. Google Slides or Powerpoint)
By learning how to write your CV and how to write your cover letter effectively you'll already have nailed the requirement for having good written communication skills. And now that we've covered some examples of communication skills, let's see how to include them on your CV.
How to include communication skills on your CV
It's worth repeating that communication skills are vital to virtually every role and industry. So you need to include evidence of them throughout your CV. Next, we'll work through a typical chronological CV format section by section with examples of how to include communication skills.
So how do you demonstrate good communication skills? Start off with your CV profile. Also known as your CV summary it's a great place to start proving you have excellent communication skills.
Communication skills example—CV profile
Detail-oriented data analyst with 7 years of experience specialising in online sales data analysis. Passionate about creating innovative data visualisations to communicate complex information simply and attractively. Looking to help Zecash maximise its opportunities as it expands to new markets.
Then move onto your CV work experience section. Give examples of professional accomplishments where you used your communication skills. And use accomplishment statements to make it even more impactful.
Communication skills example CV—Work experience section
Teaching Assistant
The Southgate School, Newcastle
August 2017–Present
Wrote learning plans through detailed one on one consultation and assessment with students and parents.
Sensitively guided and supported students with behavioural issues to maximise their learning outcomes, achieving an average 10% improvement in test scores.
Next up comes your education section. If you've got more experience in the workplace then feel free to skip to the next section. But if you're writing a student CV or a graduate CV it's a good place to add some communication skills. Add a bullet point or two below your education details and include extra-curricular activities or specific subjects or modules that showcase them.
Communication skills example CV—education section
BSc Biology, September 2015–June 2018
University of Nottingham
Extracurricular activities—active member of debate society, developing public speaking and presentation skills.
And don't stop there. Adding extra sections to your CV is always a good idea, particularly for proving you have strong communication skills. Extra sections include projects, awards, hobbies and interests, and certificates. Languages in particular are a real winner, because after all, speaking a foreign language is a great example of communication skills.
Communication skills example CV—additional sections
Written communication on your CV
Grammar and spelling are the two most obvious things to master, but there's a couple of other easy tweaks you can use to show precise and professional written communication skills.
First, use active voice. It makes your writing clearer and improves its flow. Here's an example to show you the difference.
Passive voice. A sales growth of 50% was achieved.
Active voice. Achieved a 50% growth in sales.
The easiest way to avoid passive voice is to start sentences and phrases with an action verb. And the next tip is to avoid personal pronouns. So instead of saying 'I managed a team of 10 sales people', say 'Managed a team of 10 sales people'.
So that's your CV covered, now let's see some ways to improve your communication skills.
How to improve communication skills
Communication skills are learned naturally in every aspect of our lives and that learning process starts from the moment we're born. But when it comes to improving your communication skills you can get formal training too.
Most large organisations in the UK are well aware of the current skills shortage. In fact the OECD has revealed a skills gap across Europe, so this is an issue of international importance. As a result, there are more and more internal training opportunities offered to employees. Here's how to get those communication skills polished to a brilliant shine.
Ask your manager about internal training opportunities
Many companies now offer their staff training courses in a variety of communication skills. Key areas include assertiveness, presentation skills and writing skills.
Look at remote and online learning opportunities
We're living in a golden age of online training. Remote learning from providers like The Open University, Udemy and Coursera opens up a world of possibilities in helping to develop good communication skills.
Make use of government-led training
This is particularly useful if you're currently unemployed or your employer doesn't offer any suitable courses. Take a look at the government's career skills and training service for even more options for improving your communication skills.
Practice
Once you've done the coursework, put your new-found skills into practice and get feedback from colleagues on how to improve even further.
And that's all. Now you'll be able to demonstrate effective communication skills and translate them into workplace success.
You don't have to be a CV writing expert. In the LiveCareer CV builder you'll find ready-made content for every industry and position, which you can then add with a single click.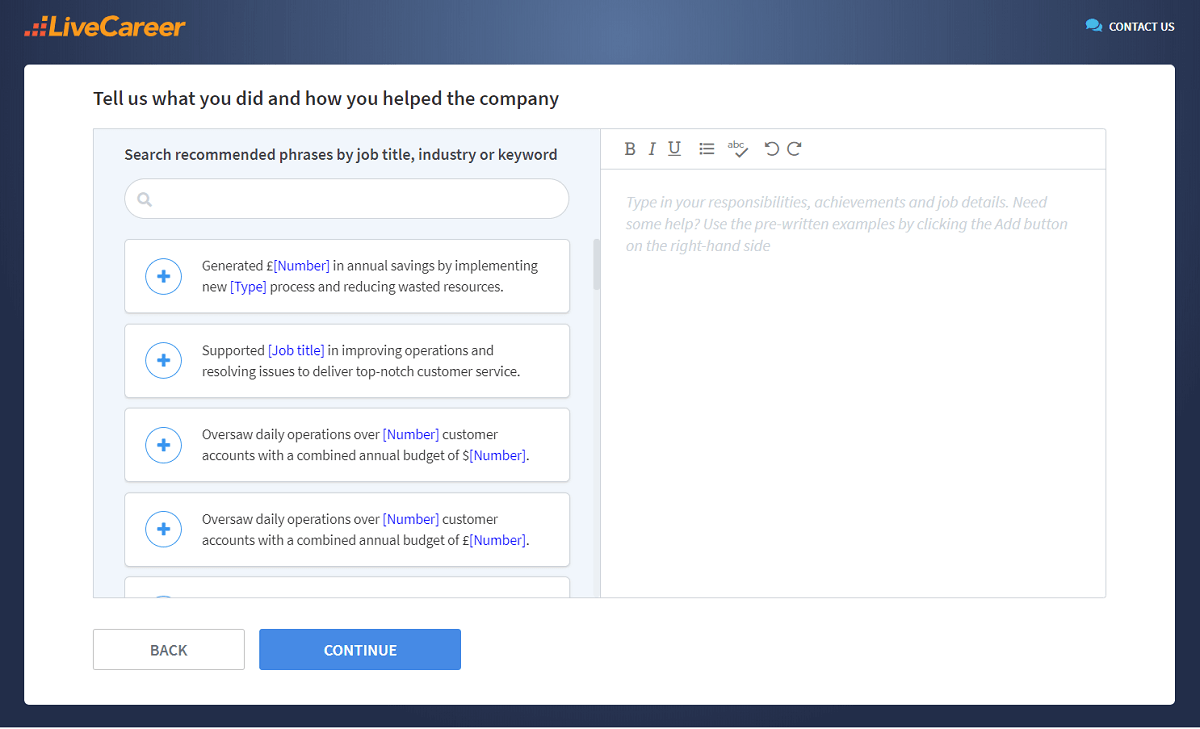 Thanks for reading. Please ask in the comments section if you'd like to more. Perhaps you'd like to discuss something more specific, like business communication skills? Just ask, and we'll be happy to help.
How we review the content at LiveCareer
Our editorial team has reviewed this article for compliance with Livecareer's editorial guidelines. It's to ensure that our expert advice and recommendations are consistent across all our career guides and align with current CV and cover letter writing standards and trends. We're trusted by over 10 million job seekers, supporting them on their way to finding their dream job. Each article is preceded by research and scrutiny to ensure our content responds to current market trends and demand.
About the author
LiveCareer Editorial Team
Since 2005, the LiveCareer Team has been helping job seekers advance their careers. In our in-depth guides, we share insider tips and the most effective CV and cover letter writing techniques so that you can beat recruiters in the hiring game and land your next job fast. Also, make sure to check out our state-of-the-art CV and cover letter builder—professional, intuitive, and fully in line with modern HR standards. Trusted by 10 million users worldwide.