CV Format: Best Examples of CV format for the job in the UK
The worst thing you could do is have a CV jam packed with achievements, experience and skills, but no time spent on formatting. If your CV isn't easy to read, pleasing to the eye, and in the correct format for your job type, it will land in the bin.
This CV format guide will show you the main three formats used: reverse-chronological, functional and hybrid. You will also learn how to format your CV to give it a modern, yet professional look.
A CV should include the following sections:
Header with your contact information
Personal statement (also called a personal profile)
Work experience
Education
Skills
Additional sections (certifications, training, awards, languages)
Create an effective CV in minutes. Choose a professional CV template and fill in every section of your CV in a flash using ready-made content and expert tips.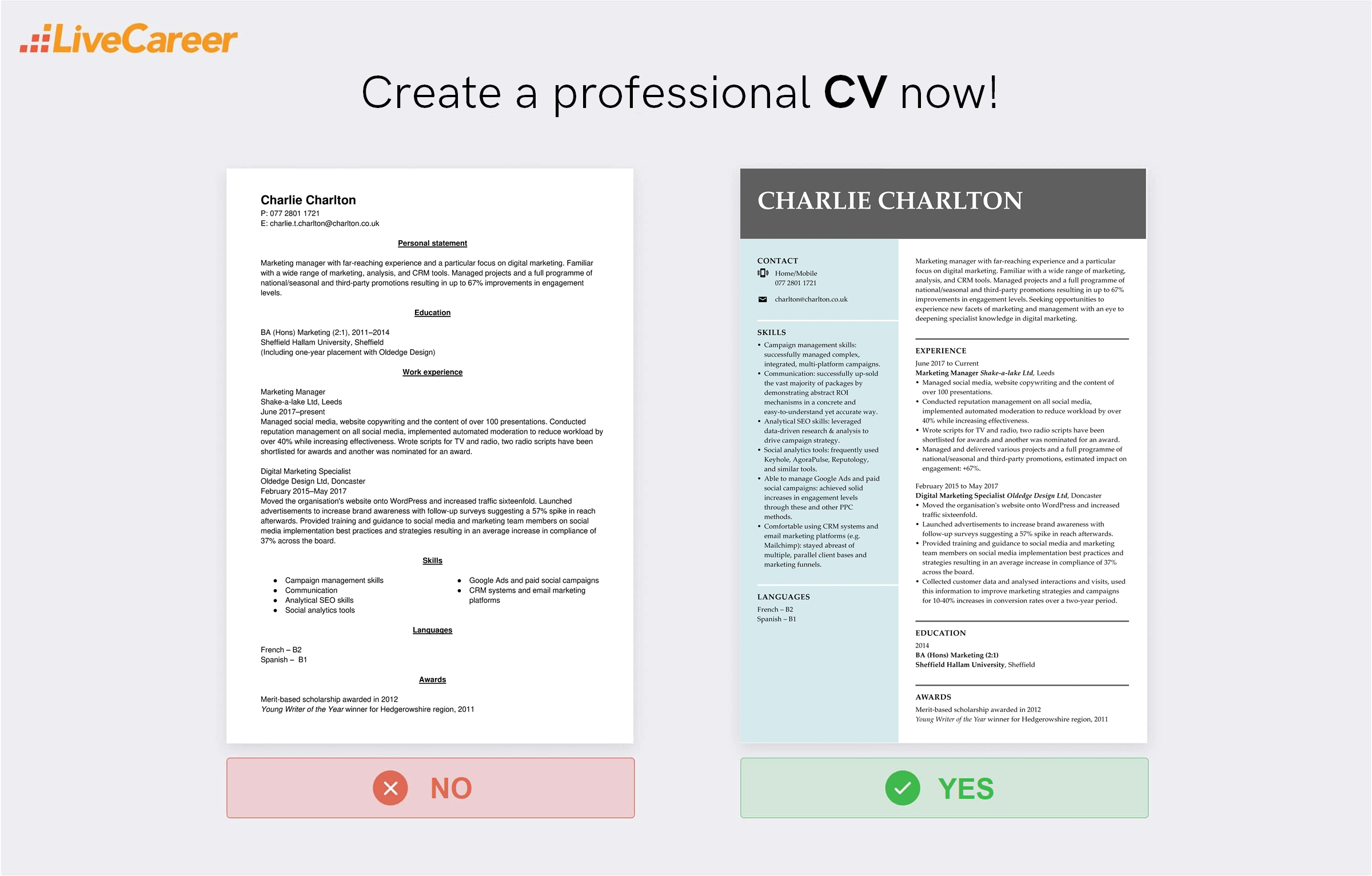 The LiveCareer online CV maker lets you build a professional CV fast and download it as a PDF or DOC.
The order of these sections depends on your professional experience. Let's check all possible scenarios.
The reverse chronological CV format
The reverse-chronological is the most common way to format your CV in use today. It is the one that everyone is familiar with, most of all—hiring managers and recruiters. It brings your most relevant experience to the top, allowing the recruiter to see what is most relevant right away.
This format is easy to scan and skim read, which plays to your advantage. It makes your career path clear and easy to follow, and allows the recruiter to see how you developed.
Formatting your CV in the reverse-chronological order
Header — Your contact information comes right at the top. Your full name, address, phone number and email address. LinkedIn, website and portfolio links optional.
Personal Statement — A succinct (max. 6 lines) statement that collects your most relevant and most powerful experience for being hired. Find out more in our personal statement guide.
Work Experience — The main section of your CV, it lists your work experience with the most recent coming at the top. List the job title, company name, and the dates. Below, bullet point out 3 to 8 achievements and notable things you did during your time there.
Education — You should list your education in the same way. Only list your last two levels of education, and only list the grades if you haven't got much work experience, or you are still in school.
Skills— List your top 5 skills for the job that you are sending your CV to.
Languages, Certifications, Training, Awards — Make a reverse chronological list of all extracurricular qualifications you have obtained.
The reverse chronological is the best CV format for you if:
You have no gaps in employment.
You want to show your career progress.
You want to make it easy on the recruiter reading it.
Don't use it if:
You have none, or extremely scarce work experience.
You have long gaps in employment.
You change jobs all the time.
Is the reverse chronological not the correct CV format for you? Let's see about the functional CV.
A strong CV summary will convince the recruiter you're the perfect candidate. Save time and choose a ready-made personal statement written by career experts and adjust it to your needs in the LiveCareer CV builder.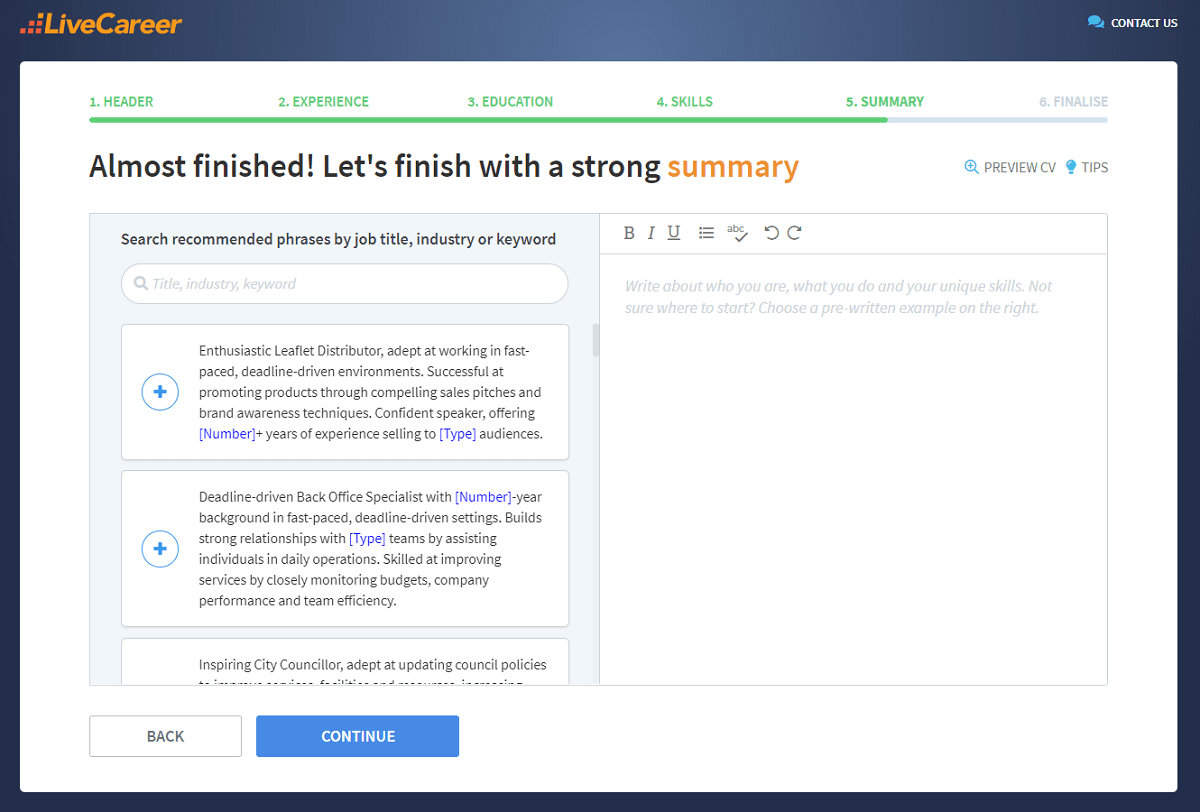 Functional / skills-based CV format
This is the best CV format if you want to emphasise your skills and abilities over your experience. It allows you to showcase exactly the skills your employer is looking for. You list them in the same structure as you would your jobs in the reverse chronological format.
With the functional CV, it's more important than in other cases to target every CV for the particular employer to make sure you are nailing the skills this employer is looking for. Scour the job ad and the description of responsibilities. Pinpoint the most important skills, and work from there.
Make a list of the key skills the employer is asking for in the job ad, and work from there.
Formatting your CV in the functional order
Header — Your contact information.
Personal Statement — A short summary (max. 6 lines) of the experience and qualifications that make you right for this job.
Skills — The key section of the functional CV, it should be 3-10 main skills that the employer has emphasised in their job posting. Order them by importance. To the employer, not you. For each, list 3 to 8 achievements, improvements, awards, or statistics that prove you really have those skills down pat.
Work Experience — Just a list of positions and employers, without bullet points that you would expect to see in a reverse chronological CV format. You may opt not to list the dates of employment if you think that's better
Education — List your highest level of formal education, as well as any certifications, courses, or training you underwent.
Functional is the best CV format for you if:
You have gaps in employment.
You want to focus on your skills and abilities.
You want to highlight your accomplishments, instead of career progression.
Don't use it if:
You don't possess relevant skills to talk about.
You have a clear career progression that you could demonstrate.
You have relevant work history.
Does neither of these formats seem like the best CV format for you? Perhaps the hybrid format is the one.
Hybrid CV format
While the chronological puts the focus on the work history, and the functional focuses on the skills, the hybrid way to format your CV puts the focus somewhere in the middle. It allows you to highlight your strengths, and show that you have the right experience, while taking away the emphasis from continued career progression.
Formatting your CV in the hybrid order
Header — Contact info.
Personal Statement — A short summary (max. 6 lines) of why you are right for this job.
Skills — This section should have 3-6 key skills that are relevant to the position, but with less detail than they would have in the functional CV format.
Work Experience — Show your career progression and some key achievements for each position.
Education — Usually quite short and to the point in this format.
Functional is the best CV format for you if:
You work for yourself mainly, on projects, and not in a fixed full-time position.
You work for the same employer for years in many different roles.
You want to highlight both skills and work history.
Don't use it if:
You are applying to an entry-level position.
You have very scarce work experience and skills.
You have a deep educational background.
The right order of sections is one thing. Another is making your CV skimmable for recruiters and hiring managers. Here's how to do it right.
How to format a CV
1. Use a tried-and-tested format.
Don't reinvent the wheel. Yes, you might just design the best thing ever given enough time in Microsoft Word. This time, however, should be spent crafting the content of your CV, and finding job offers that get you excited.
2. Don't get fancy.
Unless you are applying to a super-creative field, stick to what we know works. Adding pictures, graphics and funky designs can do two things: confuse the Applicant Tracking Software (it scans for keywords), and annoy the recruiter. Or worse—both.
3. Try to keep to one page.
Do you have less than a decade of relevant experience? Then you should probably stick to one page. Do you have more experience, or a lot of projects and accomplishments? You might need a two-pager.
4. Divide your CV into clear sections.
Make section headings slightly larger than the rest of the contents. Use bold or underline for higher readability.
5. Use professional fonts.
Pick a good font for a CV and stick to it on the whole document. Safe choices include Calibri and Arial.
6. Add enough white space.
Set one-inch margins on all sides and use 1.0 or 1.15 line spacing. Add a blank line before and after each heading.
7. Save your CV in the PDF format
What format should a CV be in? PDF, unless they ask for a different file format. Check the job ad. Because of Applicant Tracking Systems, some companies like to ask for .doc CVs. Otherwise, save as .PDF. It puts your document somewhere halfway between a picture and a text document — which protects the formatting on all devices.
You don't have to be a CV writing expert. In the LiveCareer CV builder you'll find ready-made content for every industry and position, which you can then add with a single click.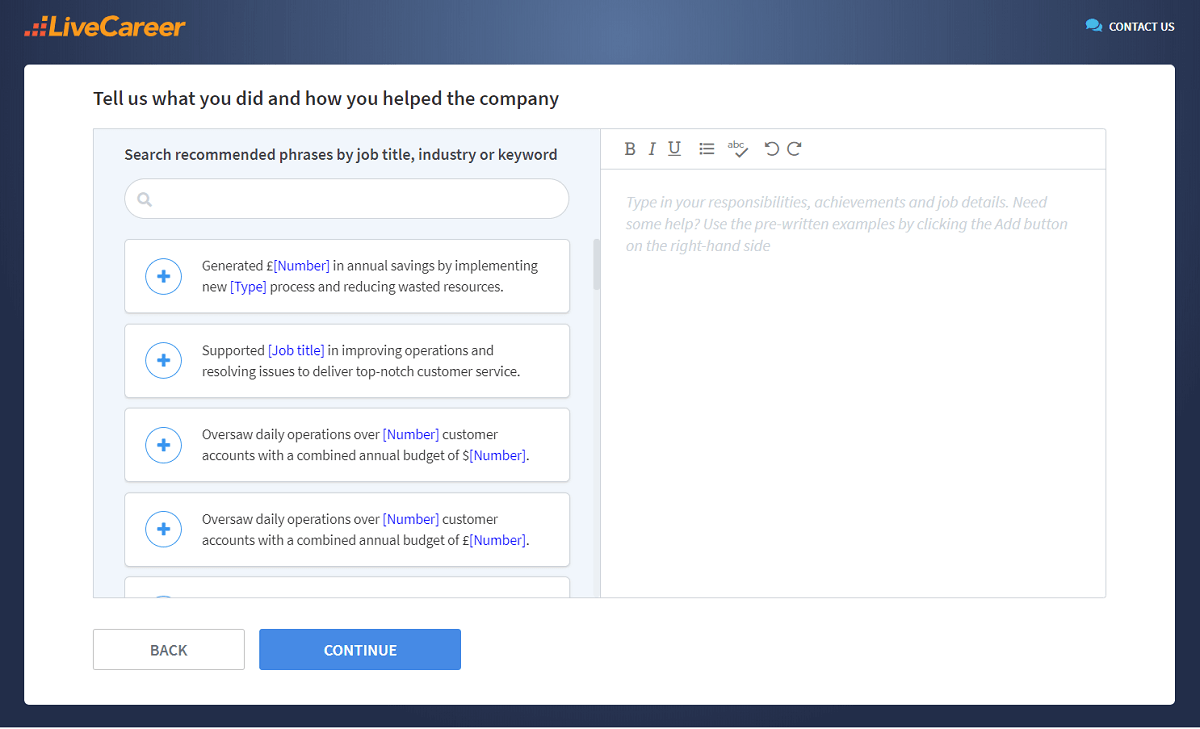 Did we answer all your questions on the best CV format for the UK? Do you have more questions on how to format a CV? Let us know in a comment!