Changing jobs is stressful. Going through hundreds of job listings can take hours. And then, all the doubts about your job application: is it professional enough? Does it highlight the right qualifications? Is the CV format right?
Let's handle those things one at a time, and focus on the CV format now. In a matter of minutes, you'll understand how to format a curriculum vitae for any profession.
Create an effective CV in minutes. Choose a professional CV template and fill in every section of your CV in a flash using ready-made content and expert tips.
Create a professional CV now!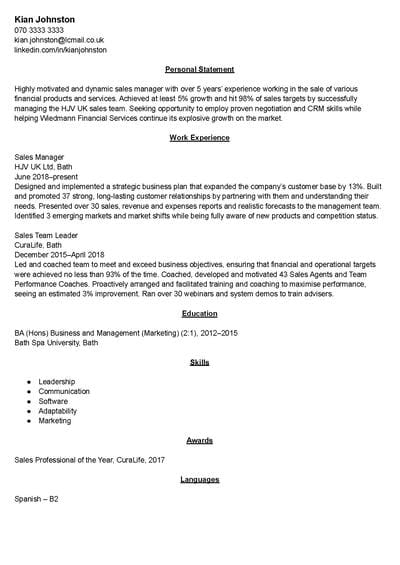 NO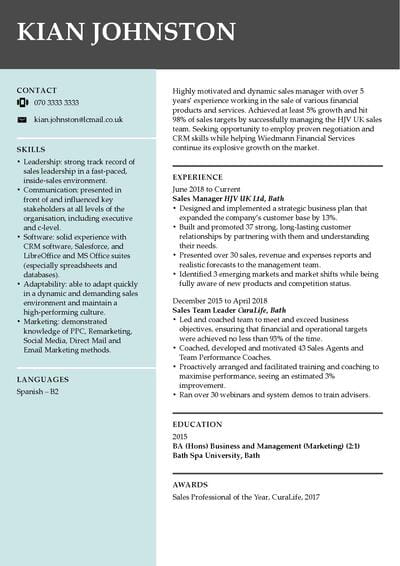 YES
.
The LiveCareer online CV maker lets you build a professional CV fast and download it as a PDF or DOC.
How to format a CV correctly?
If you prefer making your own CV layout rather than using downloadable templates, you must nail the formatting. Luckily, it can be done easily in a word-processing program such as Word or Google Docs.
Here's how to format a CV:
Apply one-inch margins on all sides of the document.
Choose a classic CV font such as Calibri or Verdana.
Use 10–12 pt. font size for paragraphs and 13–14 for headings.
Set line spacing to 1 or 1.15.
Align the text to the left side of the document.
Use bullet points to list information.
Keep the CV length limited to 2 pages maximum.
Skip unnecessary visuals.
Save the CV in PDF to preserve formatting.
It's a good idea to browse through sample CV layouts to get an idea of how a CV should look in 2023. You want to make an impression, so keep the appearance of your CV tidy.
If you prefer to save time, you might opt for free CV templates. It's quite easy to find curriculum vitae templates for Word or other applications. Since they're pre-formatted, you simply need to choose the one you like and fill it out with your information.
What format should a CV be in?
Hiring experts agree that the reverse-chronological CV format is the best one. It's the easiest to navigate for the reader; it highlights career progression and showcases the most recent accomplishments first. All recruiters and hiring professionals know this CV format.
Overall, you've got these three CV format options:
Reverse-chronological CV format, which focuses on work experience
Functional CV format, which gives a spotlight on the candidate's skills
Combination CV format, which merges the two other ones to highlight both skills and work history.
Of course, other CV styles exist, too. The National Careers Service names technical, creative, and academic curricula vitae as additional formats. However, using them without a specific reason can harm your career prospects rather than help. Academic CVs are suitable when applying for lecturer, researcher, and other academic positions. When it comes to creative job applications or technical CVs, make sure that the company you're applying to accepts such documents.
Now, let's discuss the chronological, functional, and combination CV formats in more detail.
Reverse-chronological CV format
A reverse-chronological CV puts emphasis on work experience and career achievements. The work history starts with the most recent position and continues with previous jobs. This CV format is the most popular one, as it's easy to adapt for candidates of all experience levels.
But there are certain drawbacks to this simple CV format. Since it highlights employment history, it also makes any gaps and unusual career choices very easy to spot. It's not great for freelancers who usually work on short-term projects or for individuals who want to switch careers.
Let's see a sample curriculum vitae written in the reverse chronological format:
Example CV format—reverse chronological CV
George Bailey
Project Manager
+447975111222
g.bailey@livecareermail.co.uk
linkedin.com/in/george.bailey
Personal Statement
Motivated project manager with 5+ years of experience. Certified in Agile Project Management. Eager to utilise professional expertise to increase team efficiency while decreasing project costs at PunKing Ltd. Identified opportunities to cut costs by 18% and increase KPIs by 11% through outsourcing when coordinating a marketing project in 2021.
Work Experience
Project Manager
BillyTree, Leeds
January 2019–present
Key responsibilities:
Coordinated a company expansion project worth £1,250,000 and achieved the project objectives before the deadline.
Developed project workflows in collaboration with marketing and customer service departments.
Built business relationships with internal and external stakeholders to establish effective communication for all project updates.
Mentored the assistant project manager during weekly shadowing and bi-weekly 1:1 feedback sessions.
Key achievement:
Boosted the KPIs of the marketing department by 11% while cutting costs by 18% through outsourcing to external contractors.
Assistant Project Manager
TwoTimesThree, Leeds
July 2017–December 2018
Key responsibilities:
Assisted the marketing project manager in delivering an advertising campaign worth £350,000.
Collaborated with project stakeholders to establish key performance indicators and create progress reports.
Planned project schedules, reviewed milestones, and established priorities for involved teams.
Key achievement:
Cut down delays in project completion by 12% by implementing new project trackers in Excel and using JIRA to monitor progress.
Education
B.Sc. in Project Management
Leeds University, Leeds
September 2014–June 2017
2.1
Published a dissertation on the impact of the company culture and the local community's background on project management based on interviews with three mid-sized businesses in Objective magazine.
Skills
Project management
Agile methodologies
Risk management
Project planning
Conflict resolution
Effective communication
Time management
Microsoft Excel
JIRA
Certifications
Agile Project Management Certificate, APMG International, December 2018
Associations
Member of the Association for Project Management since January 2019
Let's have a closer look now at the structure of this UK CV format.
Reverse-chronological CV format includes:
Header
This part of the CV appears at the top of the document. It contains the following information:
Candidate's name and surname
Job title or field of study
Contact information, such as e-mail address and phone number
LinkedIn profile
Personal website, portfolio, or professional social media profiles
Always double-check the personal details in your CV to make sure they're all correct. Having a typo in the email address or skipping a digit in the phone number can make it impossible to reach you.
Personal statement
This part of the CV works as your introduction. It should highlight your relevant qualifications, such as work experience or professional knowledge. It's also a great idea to include an example of a career accomplishment from previous jobs.
Work experience
This is the most extensive section of the chronological format. How to describe your employment history on a CV? Start with the current or most recent position first. Then, continue with older jobs. Use action words to highlight your initiatives and achievements.
Always include:
Job title
Name and location of the company
3–4 key responsibilities
One key achievement
Remember to list only the jobs relevant to the role you want. There's no need to list part-time jobs from your time at university when you're applying for a senior position.
Education
Most often, the education CV section is not very long. The essential information includes:
Your highest level of education, such as a degree, diploma, or certificate
Name of the school, university, or institution
Years of study
However, if you're writing an entry-level curriculum vitae, you can add more details, such as information about scholarships, academic achievements, relevant coursework, extracurricular activities, your thesis, etc.
Skills
The skill section of your CV should combine soft skills, hard skills, and computer skills. There's no need to list more than 7–10 abilities. Always include skills that reflect the job requirements from the job posting.
Additional CV sections
You should pick a few additional CV sections to make it look less cookie-cutter and more personalised.
Choose from the following:
Certificates and licenses
Conferences
Memberships and associations
Publications
Research
Volunteer work
A strong CV summary will convince the recruiter you're the perfect candidate. Save time and choose a ready-made personal statement written by career experts and adjust it to your needs in the LiveCareer CV builder.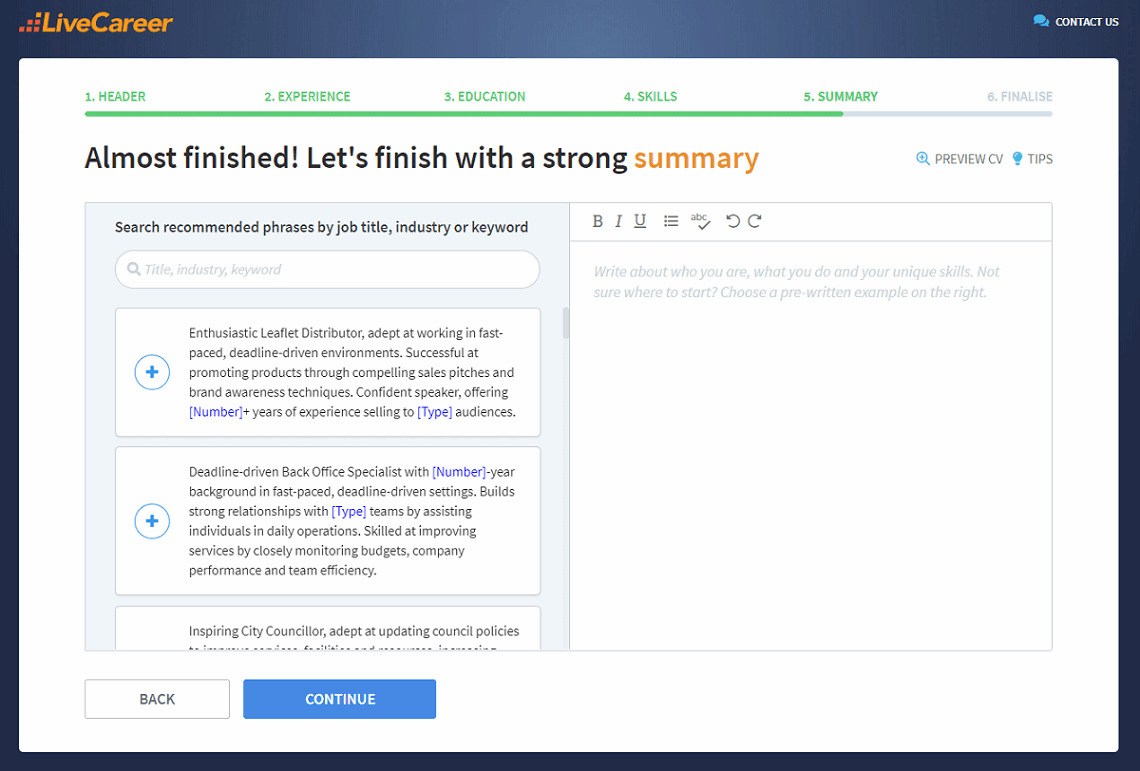 Functional CV format
Functional CV format, also called skill-based CV, highlights the applicant's qualifications. The most important section of the functional CV is the skills summary, which lists 3–4 key skills along with relevant accomplishments. The work experience section is minimized in this CV format.
There are several pros and cons of this CV format. The main disadvantage is that hiring managers dislike it—it's more difficult to scan for people as well as ATS systems than the classic CV style. However, there are advantages, too. This CV format works well for individuals with non-standard career paths, such as:
Freelance artists, writers, etc.
Persons switching from one career to another
Former military personnel seeking civilian jobs
Individuals with gaps in work history
And that's because the functional CV format minimises the work experience and highlights the candidate's abilities.
Before you decide if you want to write a skill-based CV, see an example of this curriculum vitae format.
Example CV format for UK jobs—functional (skill-based) curriculum vitae
Edith Foxbridge
Creative Designer
+447975000111
edith.fox@lcukmail.com
linkedin.com/in/edith.foxbridge
www.edithfoxonabridge.com
Personal Statement
Amiable creative designer seeking a Creative Lead position. Experienced in digital and traditional illustration. Eager to develop a unique artistic vision and inspire the creative team at Tulip Plus. Shortlisted for the World Illustration Awards in 2022.
Skills Summary
Book Illustration
Shortlisted for the 2022 World Illustration Awards for mixed-media illustrations created for Natureland magazine.
Created a series of 12 digital illustrations in ProCreate for a bestselling children's book, Where Does the Rain Go?
Collaborated with Bar Fly Publishing to design book covers for 20+ classic American novels.
Concept Art
Designed 5 fantasy characters in ZBrush and Marvellous Designer for a video game based on live-action photographs and conceptual sketches.
Created immersive environment artwork depicting underwater scenes using 3DS Max and Photoshop.
Illustrated 100+ cartoon-style 2D game elements, including icons, backgrounds, characters, and GUI elements.
Leadership
Managed a team of 5 graphic designers to ensure smooth cooperation and prioritise business objectives.
Coordinated multiple short-term creative projects within specified budgets and deadlines.
Implemented a buddy system to provide guidance and feedback to junior graphic designers.
Work Experience
Design Lead
Capybara Books, London
June 2022–present
Visual Designer
Cherry Tree Publishing, London
September 2021–May 2022
Concept Artist
Bubble Games, London
January 2021–August 2021
Graphic Designer
Mimosa Advertising, Birmingham
May 2020–December 2020
Education
B.A. in Fine Art
Birmingham City University, Birmingham
September 2017–June 2020
Certification
Adobe Certified Professional in Graphic Design and Illustration Using Adobe Illustrator, 2020
Let's have a closer look at the parts of the functional/skill-based CV format.
Functional job CV format includes:
CV header
Appearing at the top of the document, the CV header includes the candidate's name, job title, contact information, and optional social media or portfolio links.
Personal statement
This part of the skill-based CV should summarise your relevant qualifications for the job. It's the best spot to introduce yourself and mention an impressive achievement from a previous role. Treat it as a summary of your CV.
Skills summary
It's the most important section of a functional CV. You must use it to present the skills that match the job requirements from the ad. But rather than just listing the skills, prove that you've mastered them.
Here's how to write a skills summary in a functional CV format:
List 3–4 key skills relevant to the job you want.
Give examples of 3–4 accomplishments for each skill.
Use action verbs and provide factual information (numbers & percentages) to illustrate your responsibilities.
Work experience
In this professional CV format, employment history can be kept at a minimum. It's fine to just list the previous jobs and work periods. No extra details are necessary.
Education
Here, mention the highest level of education (such as your degree) together with the school name, location, and years of study.
Additional sections
It's fine to add a few, but only if they're relevant to the job. Stick to sections such as certifications, languages, publications, etc.
We've covered the skill-based CV, so now, let's have a look at the combination (hybrid) CV format.
Combination CV format
A combination CV (also called a hybrid CV format) merges the style of reverse-chronological and functional CV formats. It provides a good overview of the candidate's employment history and professional skills, as it features a detailed description of both.
This CV format is not a popular one, as it's suitable only for certain candidates. It's best not to use unless you're one of the following:
Individual with some employment gaps in work history
Senior-level applicant with extensive experience and a variety of professional skills
Person going through a career change
Check a sample hybrid CV below:
Sample CV format—combination/hybrid CV
Benedict MacLeish
Marketing Project Manager
benedict.macleish@lcuk.com
0123 1234567123
linkedin.com/in/benedict.macleish
Personal Statement
Creative marketing project manager with 6+ years of content creation experience. Eager to lead the creative team at RollTheDot to produce unique content to the stakeholders' satisfaction. Coordinated a complex viral marketing project worth £470,000 within the budget and deadline.
Skills Summary
Content Writing
Wrote episode scripts for a podcast series about Scottish legends and urban myths featured in Wired magazine.
Created a series of articles about work-life balance and wellness for a life coaching business that was shared by 670,000 Twitter users.
Online Marketing
Developed a social media marketing strategy for a video production company that brought over £120,000 in revenue within a year.
Collaborated with the creative team to produce a series of YouTube videos that were featured in BuzzFeed and viewed over 7 million times.
Project Management
Managed a viral marketing project with a budget of £470,000 involving fitness influencers and YouTube creators using Agile methods.
Collaborated with the in-house creative team and project stakeholders to create workflows, KPIs, and project milestones, as well as prioritize client objectives to ensure the timely completion of all marketing projects.
Additional Skills
SEO Optimization
Marketing Strategy
Copywriting
Microsoft Excel
Tableau, JIRA
Work Experience
Marketing Project Manager
Fish&Me, Peterborough
April 2020–present
Coordinated multiple online marketing projects involving cross-functional teams within specified deadlines and budgets.
Delegated duties and hired external contractors to ensure the timely completion of projects.
Content Marketing Specialist
Sunset Productions, Glasgow
July 2018–March 2020
Created the company blog and wrote blog posts on a range of topics related to video production.
Managed the company's social media channels, including Facebook and Instagram.
Content Writer
Self-employed
November 2017–May 2020
Wrote long content pieces and short blog posts while collaborating with 10+ companies to improve their online visibility.
Guest wrote a series of 6 articles about travelling in Scotland for The Path Ahead magazine.
Education
B.A. in Marketing
University of Strathclyde, Glasgow
September 2014–June 2017
Now, let's analyse the parts of a hybrid/combination CV:
Combination CV format includes the following:
Contact information
As usual, add personal information, including your full name, job title, email, phone number, and professional social media links. Putting your home address on a CV is usually not necessary.
Personal profile
This part serves as your introduction. You can write a classic personal statement that summarizes your qualifications, or you can go for a CV objective statement to highlight your knowledge and specify your career goal.
Skills summary
Here, you must pick 3–4 key skills that match the job requirements you want. Then, provide examples of accomplishments related to these skills. Don't be generic or vague, as it can put off recruiters.
Additional skills
This is the place where you list additional abilities you've mastered, such as technical skills, transferable skills, a few employability skills, and anything else that matches the job description. Don't go overboard—just 4–6 skills should be enough.
Work experience
Just like in the classic reverse-chronological CV format, you must provide a detailed description of your employment history. However, that doesn't mean all the jobs you've ever had—only the ones relevant to the job you want now. For each position, give examples of your duties as well as mention achievements that can make you shine.
Education
Here, provide information about your educational background. Mention the highest qualification, such as a university degree, as well as the name of the school you attended and the years of study.
Once you have completed the sections outlined above, your combination CV should be ready.
That's the gist of the UK's three most popular CV formats. If you made your choice, and you're ready to start writing, head to our in-depth CV writing guide.
You don't have to be a CV writing expert. In the LiveCareer CV builder you'll find ready-made content for every industry and position, which you can then add with a single click.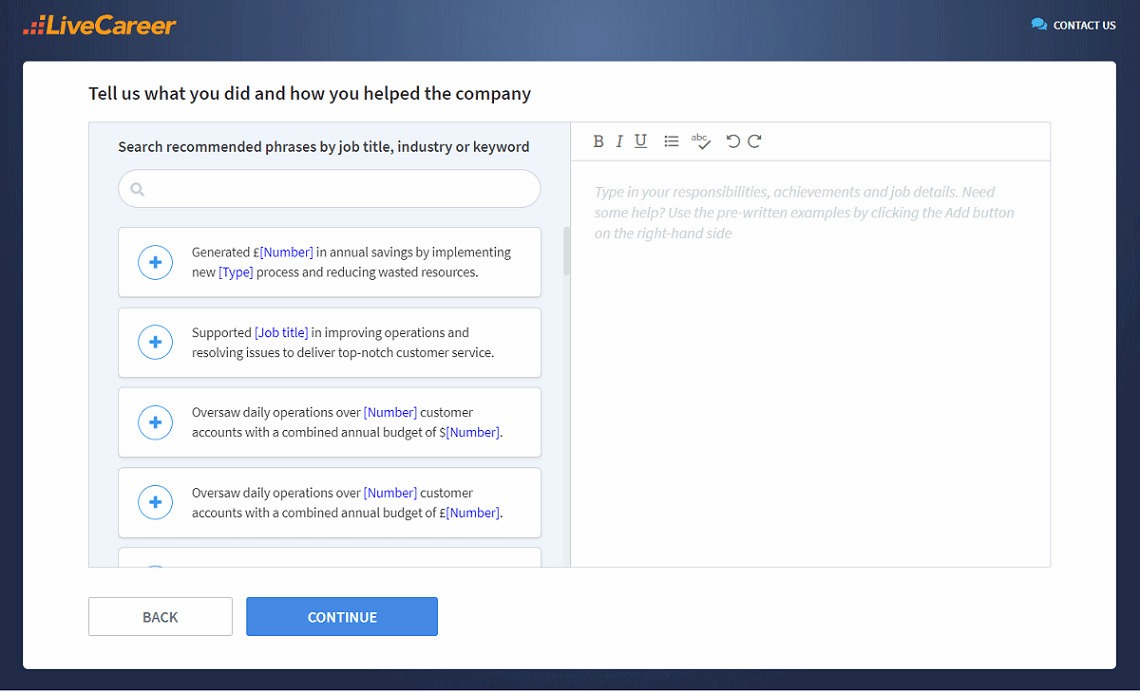 That's all there is to know about CV formats.
Do you have any doubts about the differences between the reverse-chronological, combination, and skill-based CV formats? Would you like to share your insight on the topic? Let me know in the comments below.
How we review the content at LiveCareer
Our editorial team has reviewed this article for compliance with Livecareer's editorial guidelines. It's to ensure that our expert advice and recommendations are consistent across all our career guides and align with current CV and cover letter writing standards and trends. We're trusted by over 10 million job seekers, supporting them on their way to finding their dream job. Each article is preceded by research and scrutiny to ensure our content responds to current market trends and demand.
About the author
LiveCareer Editorial Team
Since 2005, the LiveCareer Team has been helping job seekers advance their careers. In our in-depth guides, we share insider tips and the most effective CV and cover letter writing techniques so that you can beat recruiters in the hiring game and land your next job fast. Also, make sure to check out our state-of-the-art CV and cover letter builder—professional, intuitive, and fully in line with modern HR standards. Trusted by 10 million users worldwide.