Should you put your address on your CV? No, not usually. If you don't have a specific reason to add it, then don't. It's a matter of cost versus benefit: adding your address always costs you at least something, even if only the space in takes up on your CV. Rarely is including your address worthwhile.
Read on to see an example of a UK CV that doesn't include a postal address. Learn when and how you should put your address on your CV, for those times when it is a good idea. Get some basic CV layout advice and plenty of tips and tricks along the way.
Create an effective CV in minutes. Choose a professional CV template and fill in every section of your CV in a flash using ready-made content and expert tips.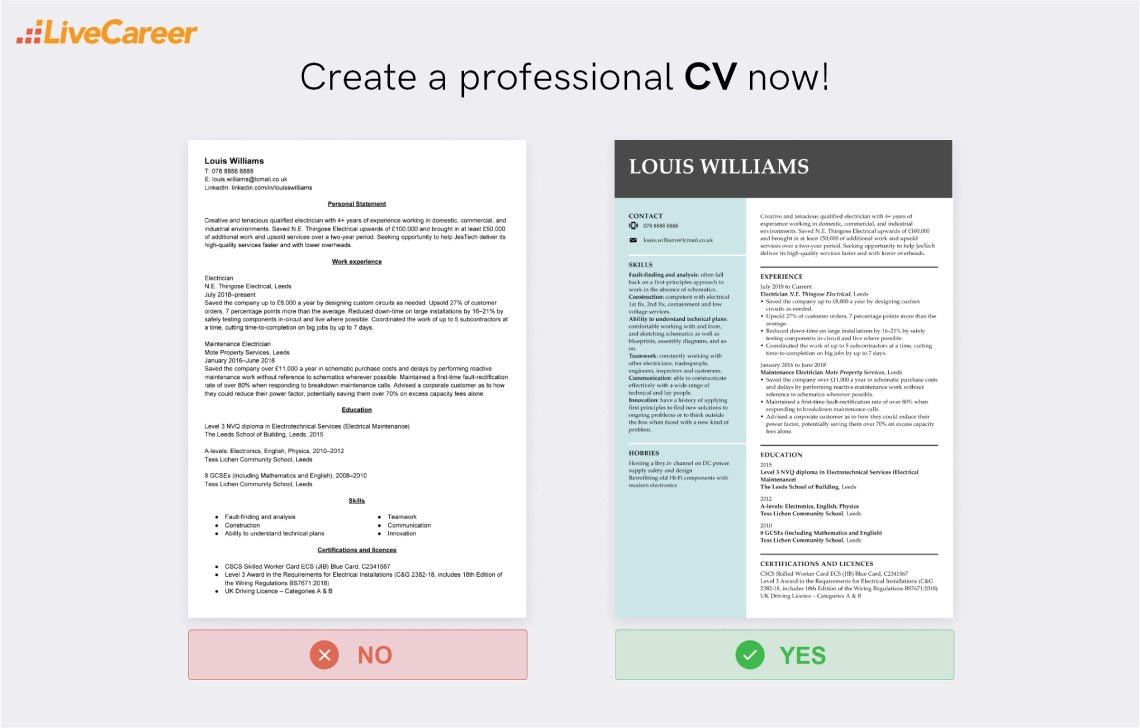 The LiveCareer online CV maker lets you build a professional CV fast and download it as a PDF or DOC.
Example of winning UK CV layout with no address
Louis Williams
T: 078 8888 8888
E: louis.williams@lcmail.co.uk
LinkedIn: linkedin.com/in/louisswilliams
Personal Statement
Creative and tenacious qualified electrician with 4+ years of experience working in domestic, commercial, and industrial environments. Saved N.E. Thingose Electrical upwards of £100,000 and brought in at least £50,000 of additional work and upsold services over a two-year period. Seeking opportunity to help JesTech deliver its high-quality services faster and with lower overheads.
Work experience
Electrician
N.E. Thingose Electrical, Leeds
July 2018–present
Saved the company up to £8,000 a year by designing custom circuits as needed.
Upsold 27% of customer orders, 7 percentage points more than the average.
Reduced down-time on large installations by 16–21% by safely testing components in-circuit and live where possible.
Coordinated the work of up to 5 subcontractors at a time, cutting time-to-completion on big jobs by up to 7 days.
Maintenance Electrician
Mote Property Services, Leeds
January 2016–June 2018
Saved the company over £11,000 a year in schematic purchase costs and delays by performing reactive maintenance work without reference to schematics wherever possible.
Maintained a first-time fault-rectification rate of over 80% when responding to breakdown maintenance calls.
Advised a corporate customer as to how they could reduce their power factor, potentially saving them over 70% on excess capacity fees alone.
Education
Level 3 NVQ diploma in Electrotechnical Services (Electrical Maintenance)
The Leeds School of Building, Leeds, 2015
A-levels: Electronics, English, Physics, 2010–2012
Tess Lichen Community School, Leeds
8 GCSEs (including Mathematics and English), 2008–2010
Tess Lichen Community School, Leeds
Skills
Fault-finding and analysis: often fall back on a first-principles approach to work in the absence of schematics.
Construction: competent with electrical 1st fix, 2nd fix, containment and low voltage services.
Ability to understand technical plans: comfortable working with and from, and sketching schematics as well as blueprints, assembly diagrams, and so on.
Teamwork: constantly working with other electricians, tradespeople, engineers, inspectors and customers.
Communication: able to communicate effectively with a wide range of technical and lay people.
Innovation: have a history of applying first principles to find new solutions to ongoing problems or to think outside the box when faced with a new kind of problem.
Certifications and licences
CSCS Skilled Worker Card ECS (JIB) Blue Card, C2341567
Level 3 Award in the Requirements for Electrical Installations (C&G 2382-18, includes 18th Edition of the Wiring Regulations BS7671:2018)
UK Driving Licence – Categories A & B
Hobbies
Hosting a lbry.tv channel on DC power supply safety and design
Retrofitting old Hi-Fi components with modern electronics
1. Should I put my address on my CV?
No, you shouldn't put your full postal address on a CV, and it's due to data protection reasons. In terms of online job applications, it's better if you limit the amount of personal information that you share. Apart from this, you don't need your address on your CV as it doesn't add anything to your application. Once you're offered a job, you can share your personal address with an employer for business corespondence.
Should you put your address on a CV in any other circumstances? There are some situations in which you might find it advantageous to put your address on a CV, but they're likely to be rare. The most reasonable approach to take is one of weighing costs and benefits. It mightn't be obvious that including your address on your CV comes with associated costs and risks.
No address on CV: the default approach
Louis Williams
T: 078 8888 8888
E: louis.williams@lcmail.co.uk
LinkedIn: linkedin.com/in/louisswilliams
A strong CV summary will convince the recruiter you're the perfect candidate. Save time and choose a ready-made personal statement written by career experts and adjust it to your needs in the LiveCareer CV builder.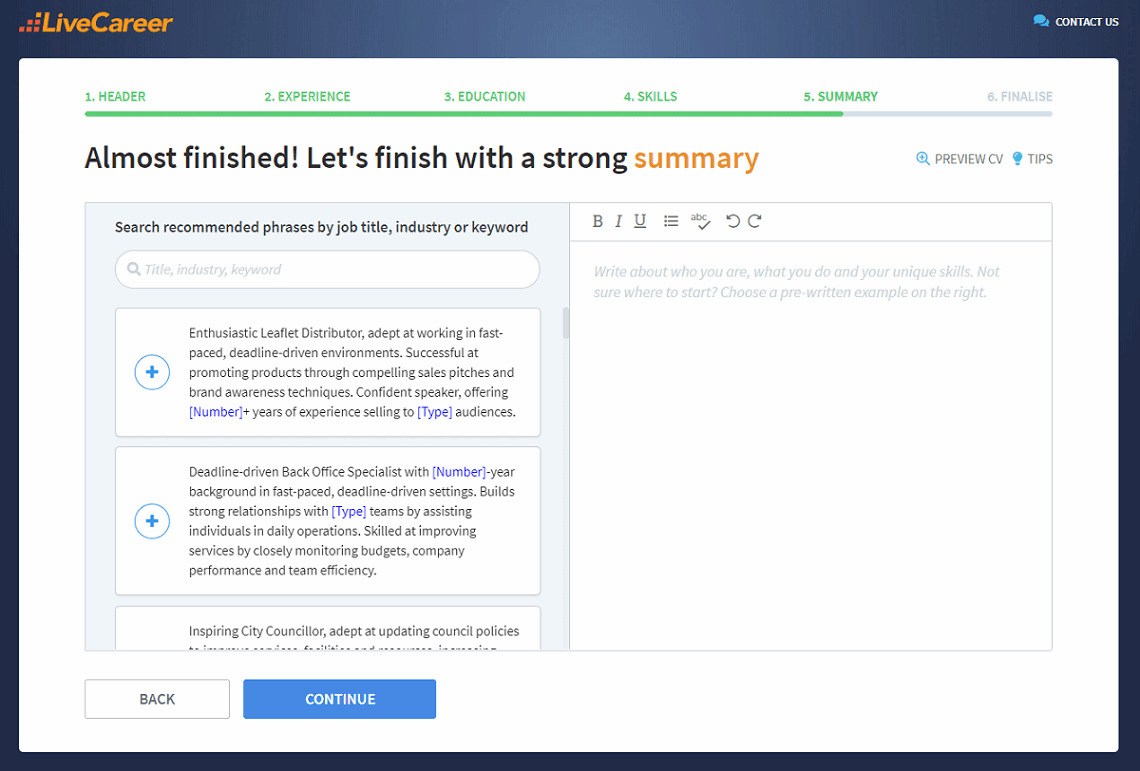 2. Reasons not to put your address on a CV
The one negative side to putting your address on your CV that's guaranteed to always be relevant is that a full address on a CV takes up valuable space. Three or four lines might not seem like much, but when you're trying to keep to a single A4 page, it can make a world of difference.


It could mean including two more achievements or an extra skill or two and these things could mean the difference between an interview and the sounds of crickets chirping. Even if you feel you don't need the extra space, having more white space to play with would probably do more for your CV than an address.
And that's the elephant in the room. When weighing up the costs versus the benefits of putting your address on a CV, it becomes pretty clear that real, concrete benefits are few and far between. Add to that the risks associated with including your address, and the decision gets easier yet.
For example, you could live an hour's commute out from the company and be in direct competition with someone who lives just down the road. All things being equal, who would you choose? Or maybe you live in a traditionally working-class area, do you want someone's prejudices affecting your application?
There's also the trend towards blinding as much of the recruitment process as possible. In an ideal situation you'd be hired on the basis of your abilities alone. Your address, whether it works in your favour or against you, will almost never have anything to do with your suitability for the job at hand.
Minimalist contact details vs full address on CV
Louis Williams
078 8888 8888
louis.williams@lcmail.co.uk
linkedin.com/in/louiswilliams
Louis Williams
82 Roman Rd
LEEDS
LS1 8UU
T: 078 8888 8888
E: louis.williams@lcmail.co.uk
LinkedIn: linkedin.com/in/louiswilliams
3. Times when you could put your address on your CV
Maybe you're the candidate who lives just down the street from the company when all the other candidates would have to commute in peak hour to get there. In that case it's true that including your home address might put you at an advantage. Other than that, it's difficult to find any compelling reasons.
You wouldn't want to leave your phone number or email off of your CV, that would make getting in touch with you much too difficult. But companies that still prefer to correspond with applicants via Royal Mail are rarer than hen's teeth in the 2020s. So putting your address on your CV rarely serves any purpose.
You don't have to be a CV writing expert. In the LiveCareer CV builder you'll find ready-made content for every industry and position, which you can then add with a single click.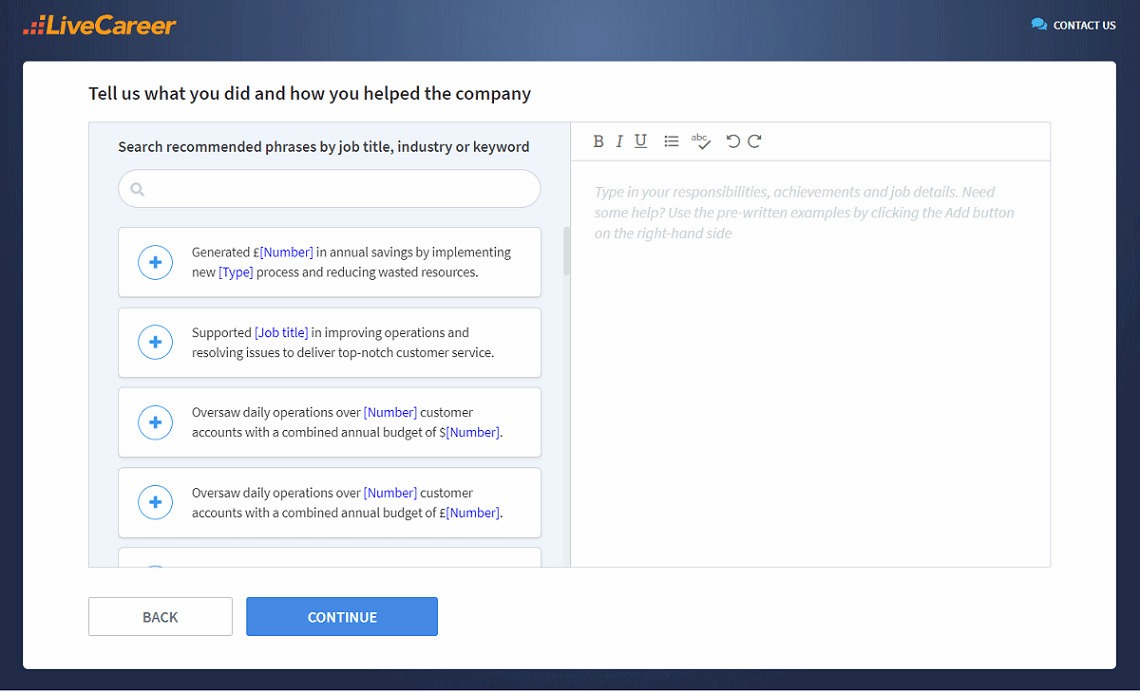 4. How to write an address on a CV
Write your address on your CV like you'd write it in on an envelope. Include the building number and street name, town/city, and postcode, each on a separate line. Include your county if you live in a more rural area. There's no need to include the country if you're applying within the UK. Remember to put the town/city in ALL CAPS.
There is some leeway when it comes to the layout. If you live in a flat, for example, you could save a line by writing your address like this:
Flat 11, 82 Roman Rd
LEEDS
LS1 8UU
Or fit your address into a narrower column by writing it like this:
Flat 11
82 Roman Rd
LEEDS
LS1 8UU
It all depends on the overall layout of your CV. That's not to say, however, that all address layouts are as flexible—in fact, most aspects of most addresses aren't. If you're currently serving in the British Armed Forces, then things look a little different and it's best to stick to a single format.
Example of an address on a CV
5. Where to put your address on a CV
You should put your address in with your contact details, immediately after your full name and just before your phone number. The best place for your contact details is in the header of your CV. As the name suggests, this'll be somewhere near the top of CV, making it fast and simple to find.
Full CV header example
Louis Williams
82 Roman Rd
LEEDS
LS1 8UU
T: 078 8888 8888
E: louis.williams@lcmail.co.uk
LinkedIn: linkedin.com/in/louisswilliams
6. Things to consider beyond whether you should put your address on your CV or not
While you're making decisions regarding what to leave out or put into your CV, consider which CV format is best for you:
Chronological format
Skills-based format
A combination of the two.
Your choice here will dictate what sections your CV will include beyond the header (which stays pretty much the same regardless). Once you have a CV format chosen, you'll need to start brainstorming achievements and skills to fill out your job descriptions (chronological format) and skills section (all three formats).
Once you have your CV format and contents sorted, it's time to think about the layout. The key words here are clear, simple, and professional. Use subheadings, bullet points, and that white space you saved by not including your full address on your CV to break up the monotony and make it easy to read.
A cover letter alone simply won't be enough—you need an impactful CV, too. Create your CV in minutes. Just follow our wizard and fill in every CV section with ready-made content. Get started by choosing a professional CV template.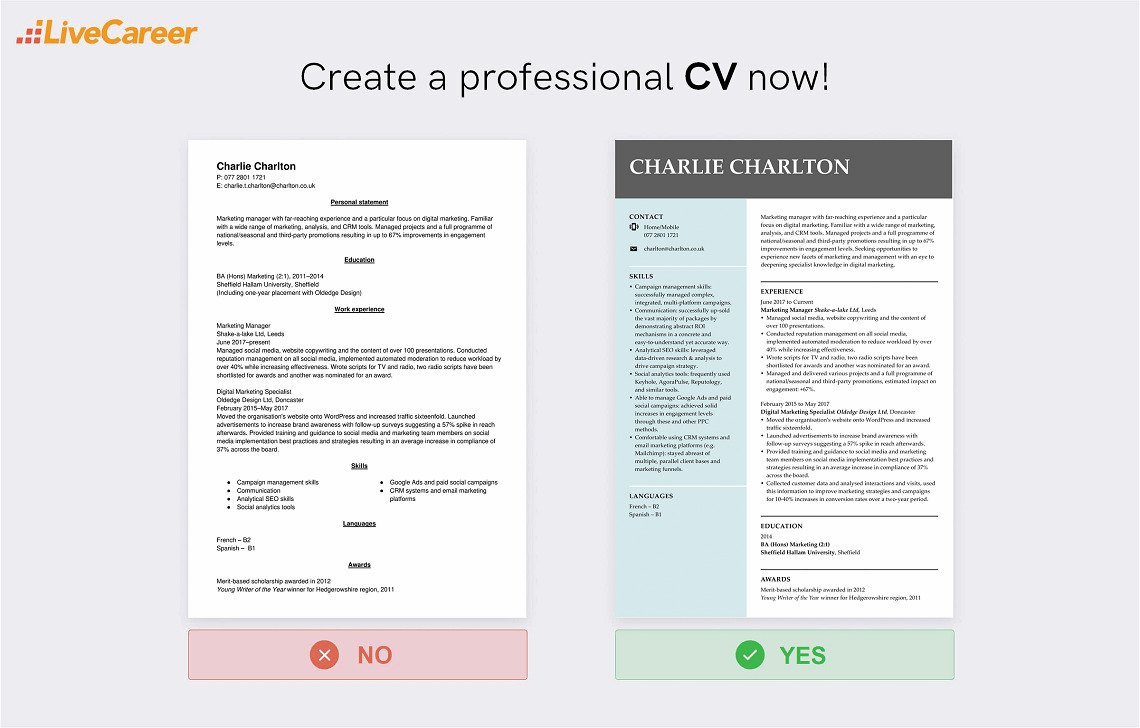 The LiveCareer online CV maker lets you build a professional CV fast and download it as a PDF or DOC.
Do you now know whether you should put your address on your CV? Has this article been helpful to you? It's easy to second-guess yourself when the stakes are as high as they are when applying for your dream job, but sometime less really is more. Please leave your questions, comments, and any words of wisdom or experiences you'd like to share below.
How we review the content at LiveCareer
Our editorial team has reviewed this article for compliance with Livecareer's editorial guidelines. It's to ensure that our expert advice and recommendations are consistent across all our career guides and align with current CV and cover letter writing standards and trends. We're trusted by over 10 million job seekers, supporting them on their way to finding their dream job. Each article is preceded by research and scrutiny to ensure our content responds to current market trends and demand.
About the author
LiveCareer Editorial Team
Since 2005, the LiveCareer Team has been helping job seekers advance their careers. In our in-depth guides, we share insider tips and the most effective CV and cover letter writing techniques so that you can beat recruiters in the hiring game and land your next job fast. Also, make sure to check out our state-of-the-art CV and cover letter builder—professional, intuitive, and fully in line with modern HR standards. Trusted by 10 million users worldwide.