Let's face it, that plain boring CV you've been using forever just isn't going to cut it in today's competitive job market.
You can't just rely on your brilliant experience and flawless skills. You need a creative CV template to wow recruiters with its striking design.
We're here to rescue you from dull uninspiring templates with 15 creative CV that combine beauty with recruiter-approved brains to win you interviews. Now let's get creative.
Create an effective CV in minutes. Choose a professional CV template and fill in every section of your CV in a flash using ready-made content and expert tips.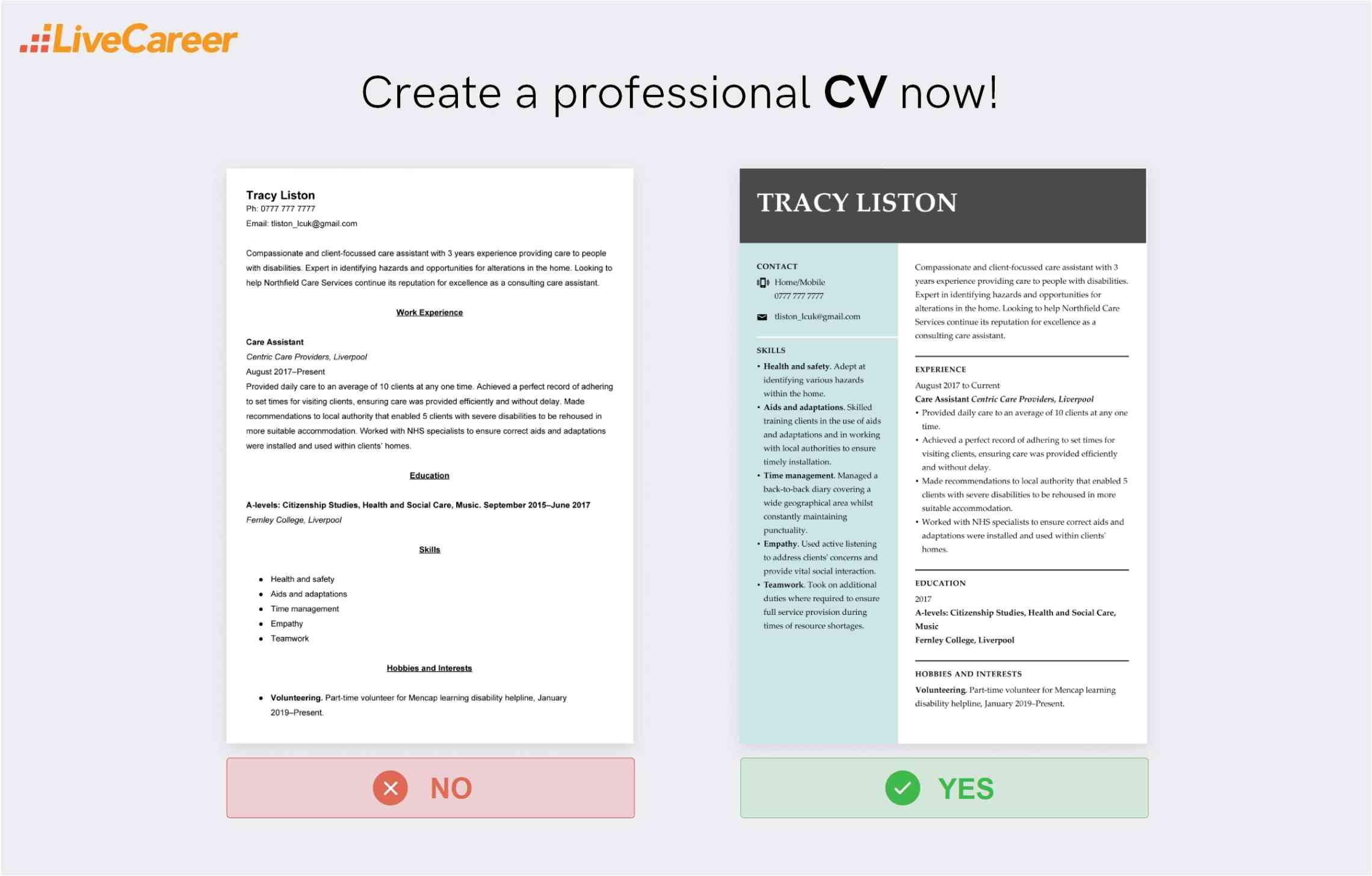 The LiveCareer online CV maker lets you build a professional CV fast and download it as a PDF or DOC.
Want to use a different CV template? Check these guides:
Creative CV example
Tracy Liston
Ph: 0777 777 7777
Email: tliston_lcuk@gmail.com
Compassionate and client-focussed care assistant with 3 years experience providing care to people with disabilities. Expert in identifying hazards and opportunities for alterations in the home. Looking to help Northfield Care Services continue its reputation for excellence as a consulting care assistant.
Work Experience
Care Assistant
Centric Care Providers, Liverpool
August 2017–Present
Provided daily care to an average of 10 clients at any one time.
Achieved a perfect record of adhering to set times for visiting clients, ensuring care was provided efficiently and without delay.
Made recommendations to local authority that enabled 5 clients with severe disabilities to be rehoused in more suitable accommodation.
Worked with NHS specialists to ensure correct aids and adaptations were installed and used within clients' homes.
Education
A-levels: Citizenship Studies, Health and Social Care, Music. September 2015–June 2017
Fernley College, Liverpool
Skills
Health and safety. Adept at identifying various hazards within the home.
Aids and adaptations. Skilled training clients in the use of aids and adaptations and in working with local authorities to ensure timely installation.
Time management. Managed a back-to-back diary covering a wide geographical area whilst constantly maintaining punctuality.
Empathy. Used active listening to address clients' concerns and provide vital social interaction.
Teamwork. Took on additional duties where required to ensure full service provision during times of resource shortages.
Hobbies and Interests
Volunteering. Part-time volunteer for Mencap learning disability helpline, January 2019–Present.
1. Light blue creative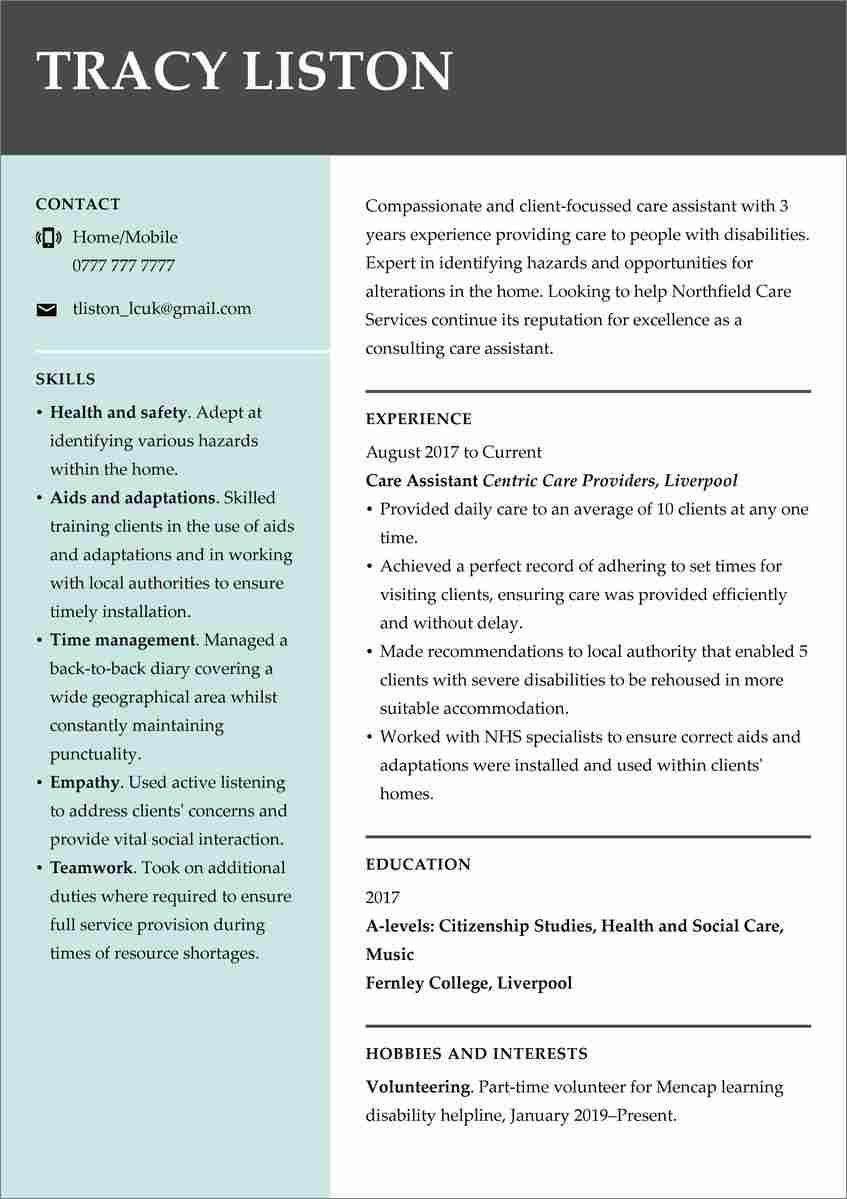 We make a start with our most creative CV template. Using page division and colour like an abstract painting the mix of blue, white and grey is striking and attractive.
But it retains perfect clarity and readability. Note how much room is left for essential sections such as CV skills examples.
Every creative CV you see is guided by the same design principles. Ease of reading and full compliance with everything that professional recruiters expect in a CV. Plus our CV builder helps you out with expert tips as you write.
2. Blue modern header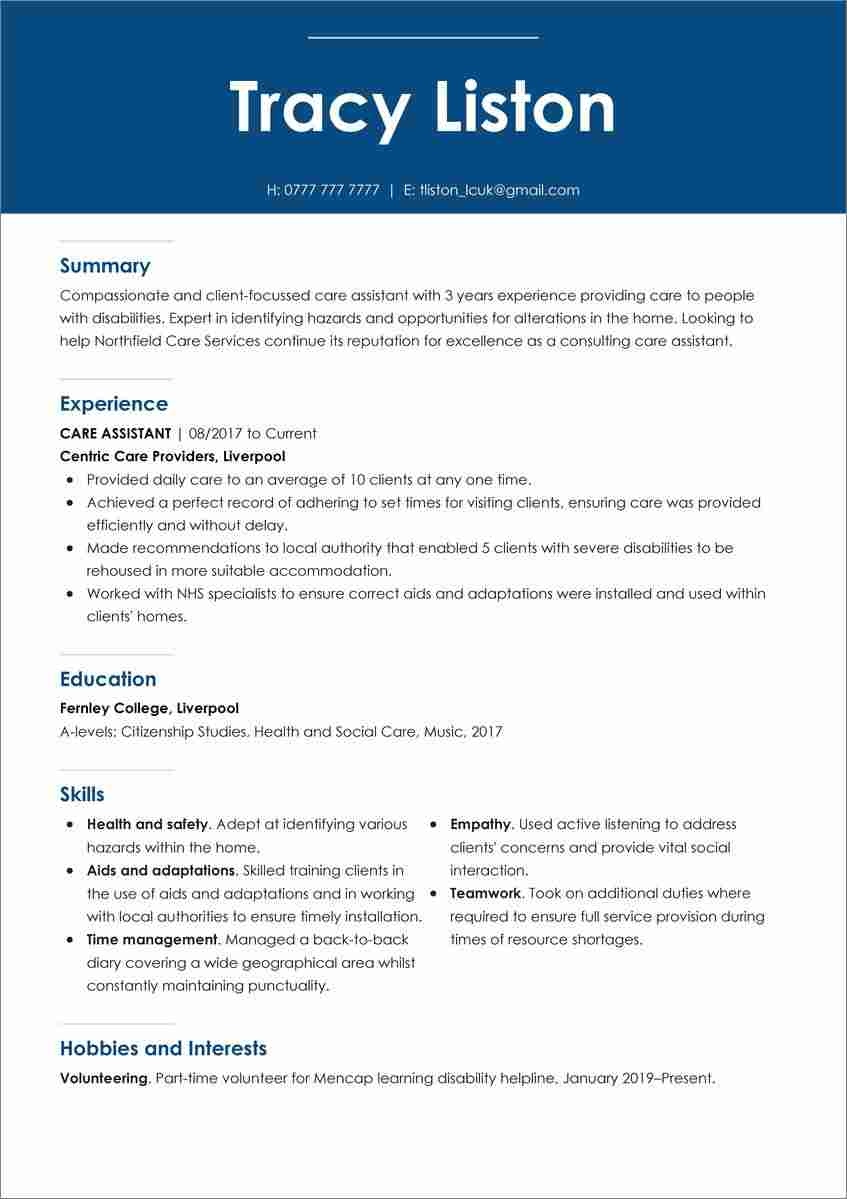 The main design element in this creative CV template is immediately apparent. Having your name and personal details in that broad header makes an instant impression on the reader.
And that's important because in a stack of CVs your name is one of the few things that distinguishes you as an individual, so you want the hiring manager to remember it. The creativeness continues by using matching coloured CV fonts to add to the overall visual impact.
We'd suggest this example would be great to use for a CV for creative industry jobs, such as a graphic designer CV.
3. Red modern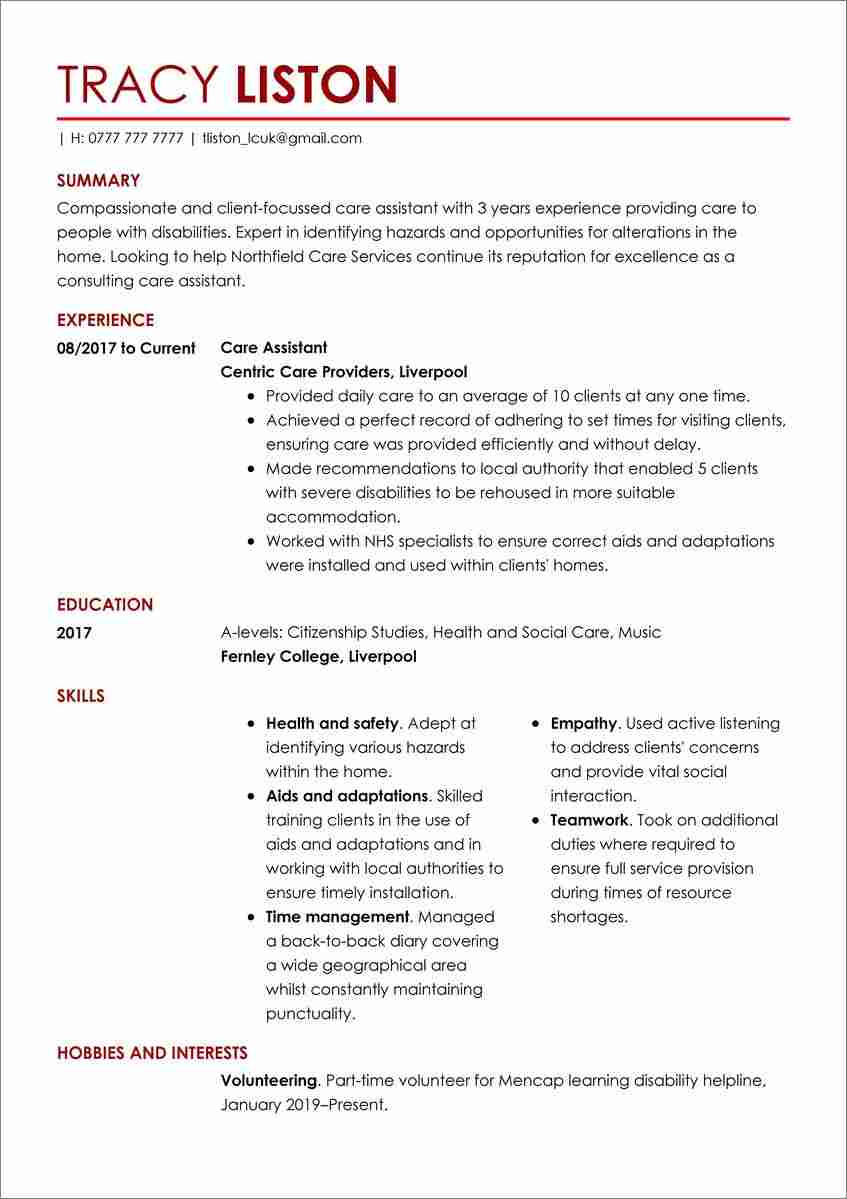 If you're not a fan of blue we have this red hot template for you. Note here that designing a creative CV can be as simple as the shade of colour you choose.
If the red was too bright it's come across as aggressive and signifying danger. But dial it a few shades darker and you end up with elegance and sophistication.
This is an excellent example for candidates who need to write an extensive work experience section, as it gives you plenty of room to fit all your professional achievements.
4. Electric blue creative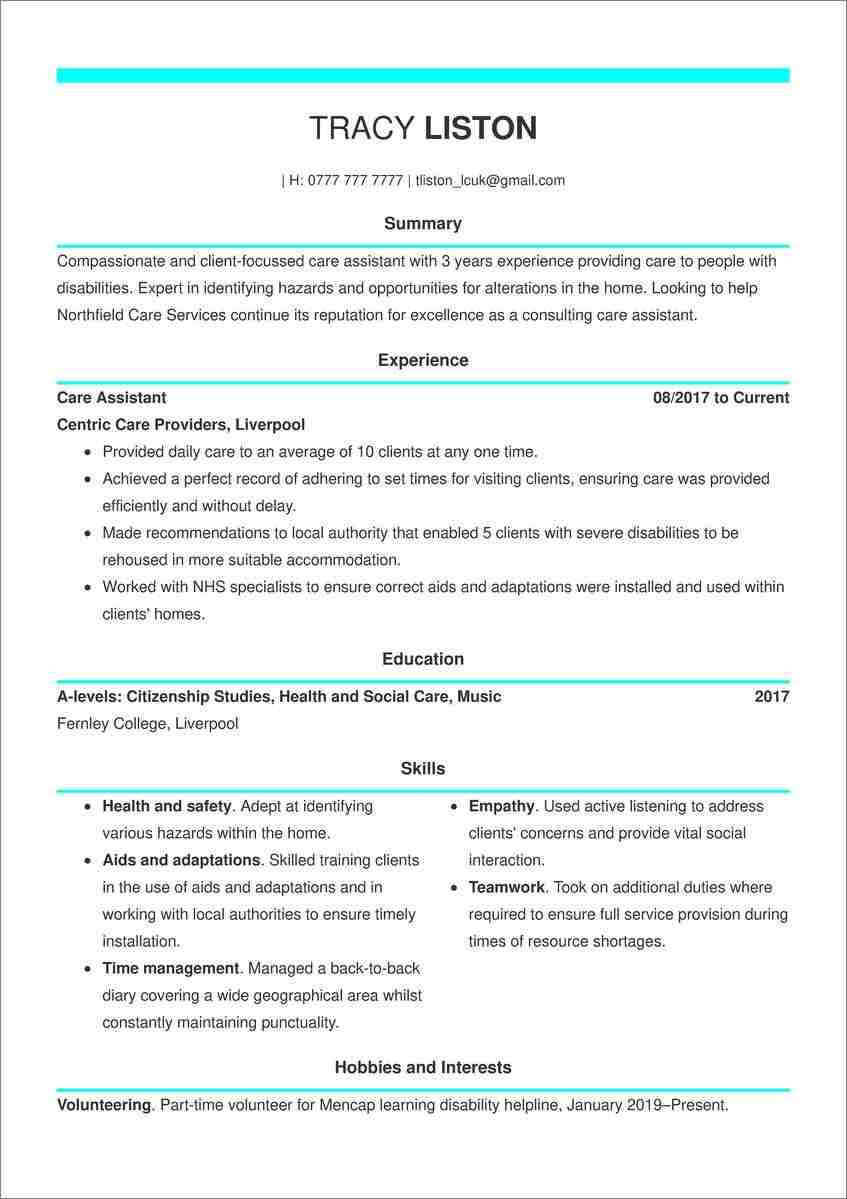 Now for one of our brighter creative CV designs. This template makes good use of a fresh, energising blue that wouldn't look out of place in the waters of a tropical coral reef.
But it achieves that effect without adding unnecessary elements so it remains easy to read. And that's not just intended for human eyes.
All our CVs are ATS compliant, which means the computer programs which scan your job application will be able to read it easily too.
When you choose a LiveCareer CV Maker you'll please both humans and machines.
5. Creative green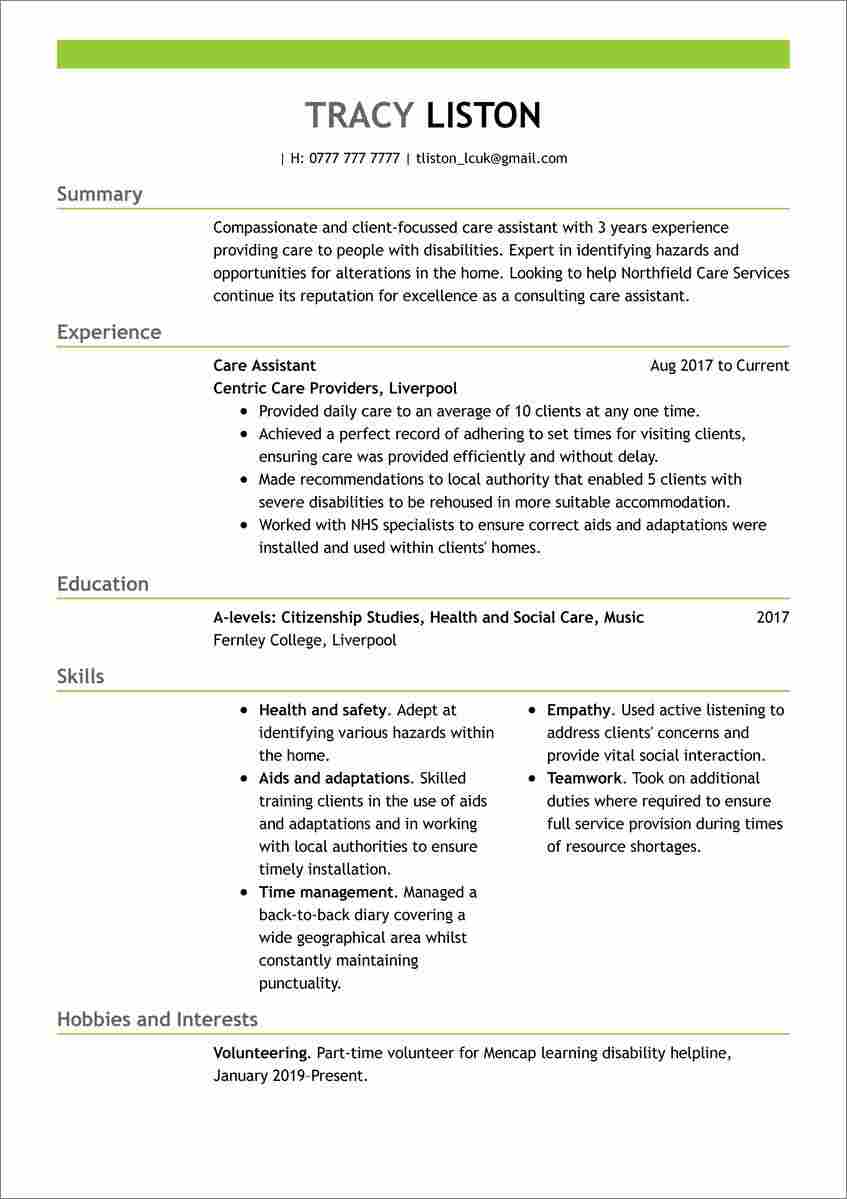 A change of colour can completely alter the feel of a creative CV template. This example switches to green, with all of its associations of freshness and new growth.
Another creative element we included is tweaking the CV skills section so it has two columns, giving you plenty of room to list all of your hard-won abilities. And if you need to change the CV format our CV builder makes it easy.
Just select the changes you want to make and the builder does the rest, leaving you perfect results every time. No more struggling with word processors to get your CV layout right.
6. Orange creative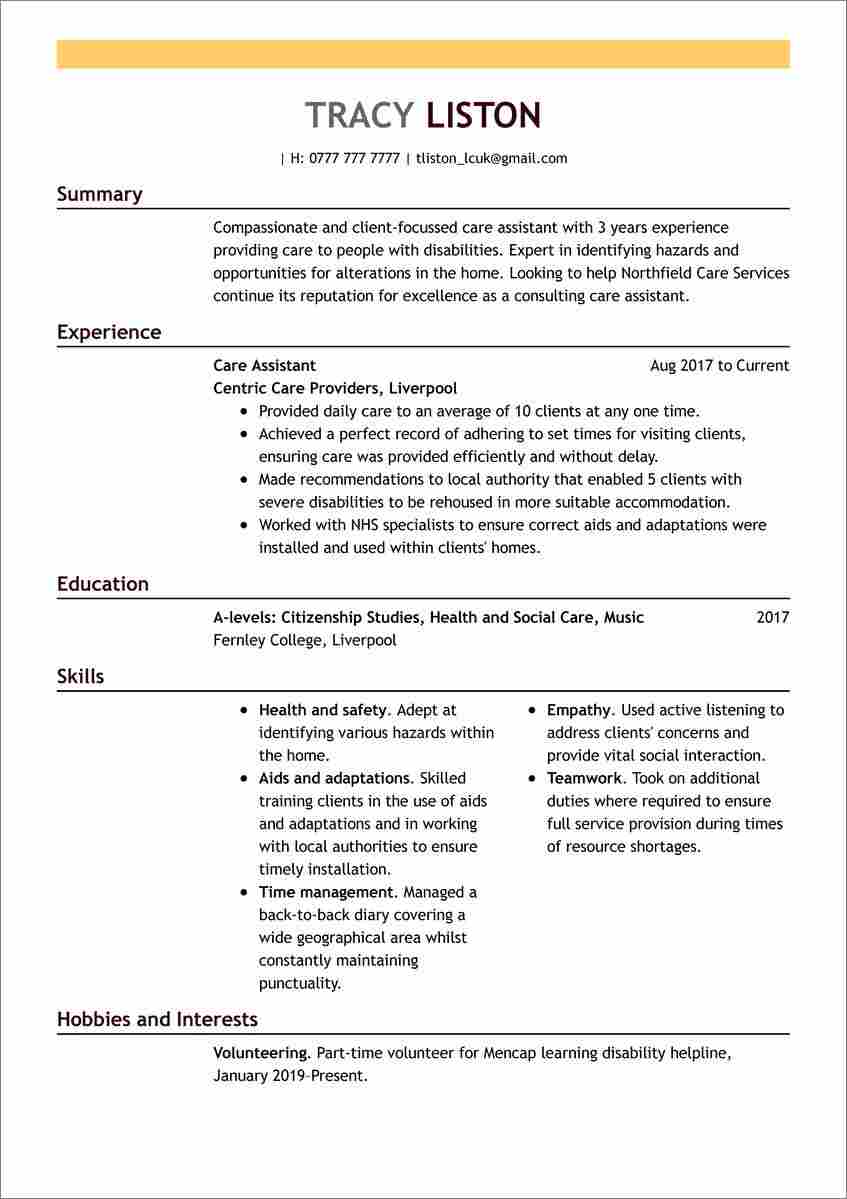 This creative CV template changes colours again to a warm orange hue. Interestingly, in colour psychology, orange is one of the only colours not to have any negative associations.
So if you choose this creative CV template you can be sure of making a positive impression. And if you use our CV maker you don't need to be a professional writer. It has thousands of pre-written examples to help you create a perfectly crafted CV and make writers' block a thing of the past.
7. Blue modern accents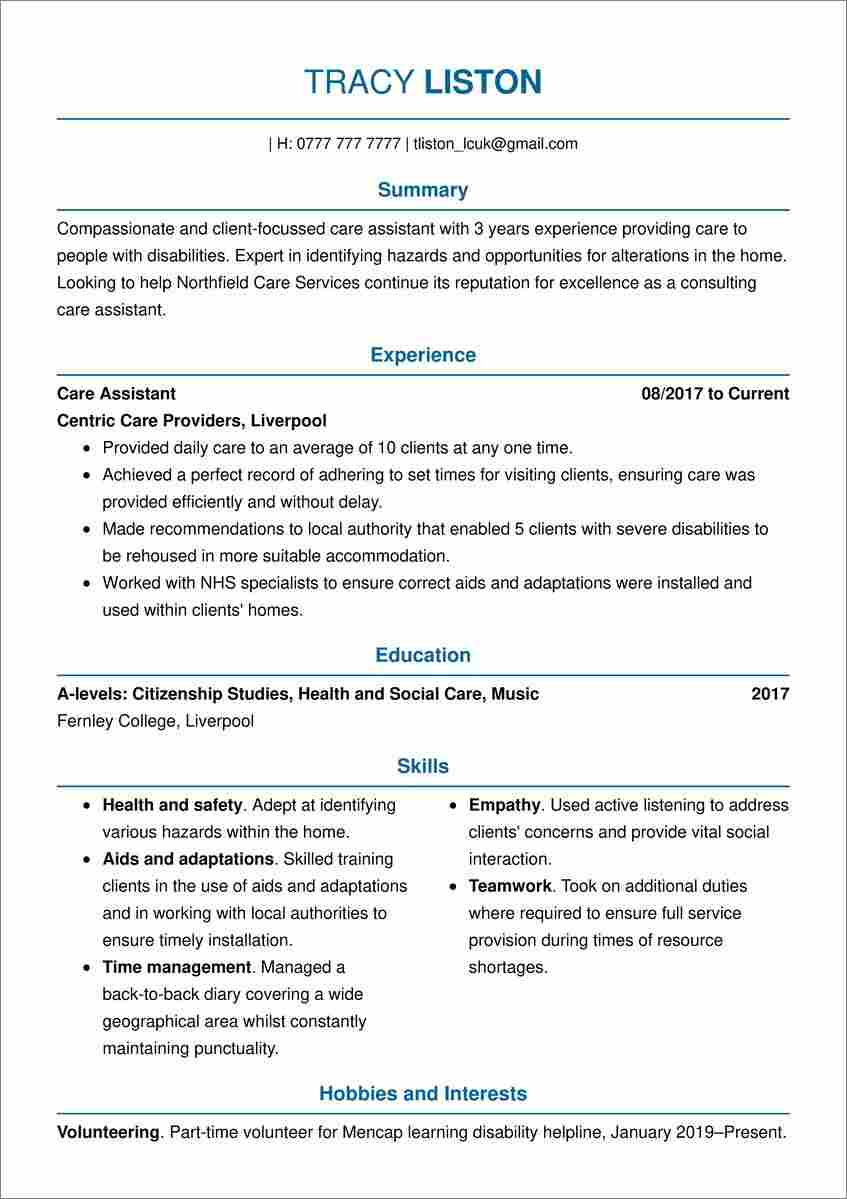 Once again, we've chosen a blue hue for this creative CV, and there's a good reason for that. Blue has been proven time and again to be the world's most popular colour.
Use it in your CV template and the odds are you'll trigger a positive response in the highest number of people. We'd suggest its air of calm professionalism is a good choice for a receptionist CV.
8. Business professional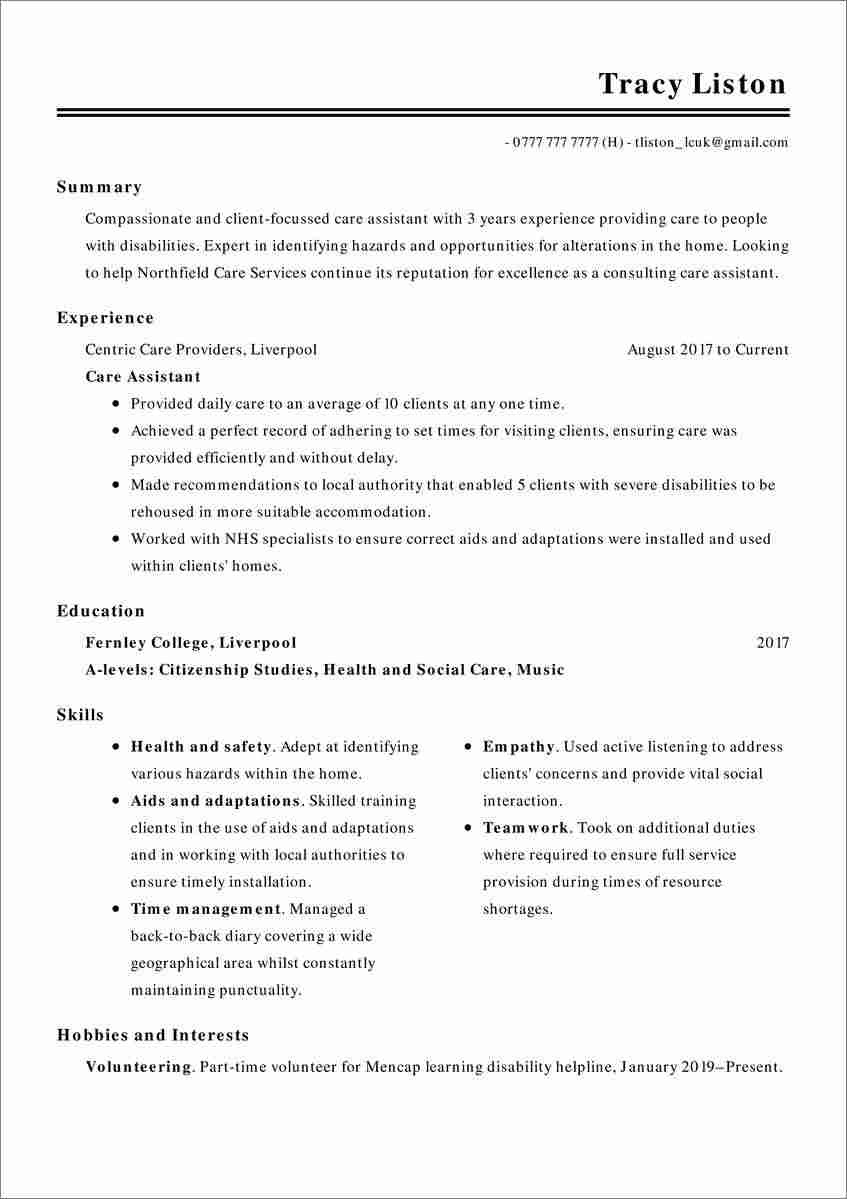 This CV template is more basic, but it still has some creative elements. That's because we've optimised it to make it perfect for corporate roles, as it takes inspiration from traditional cover letter layout. We'd recommend giving it a try for a project manager CV.
9. Bold professional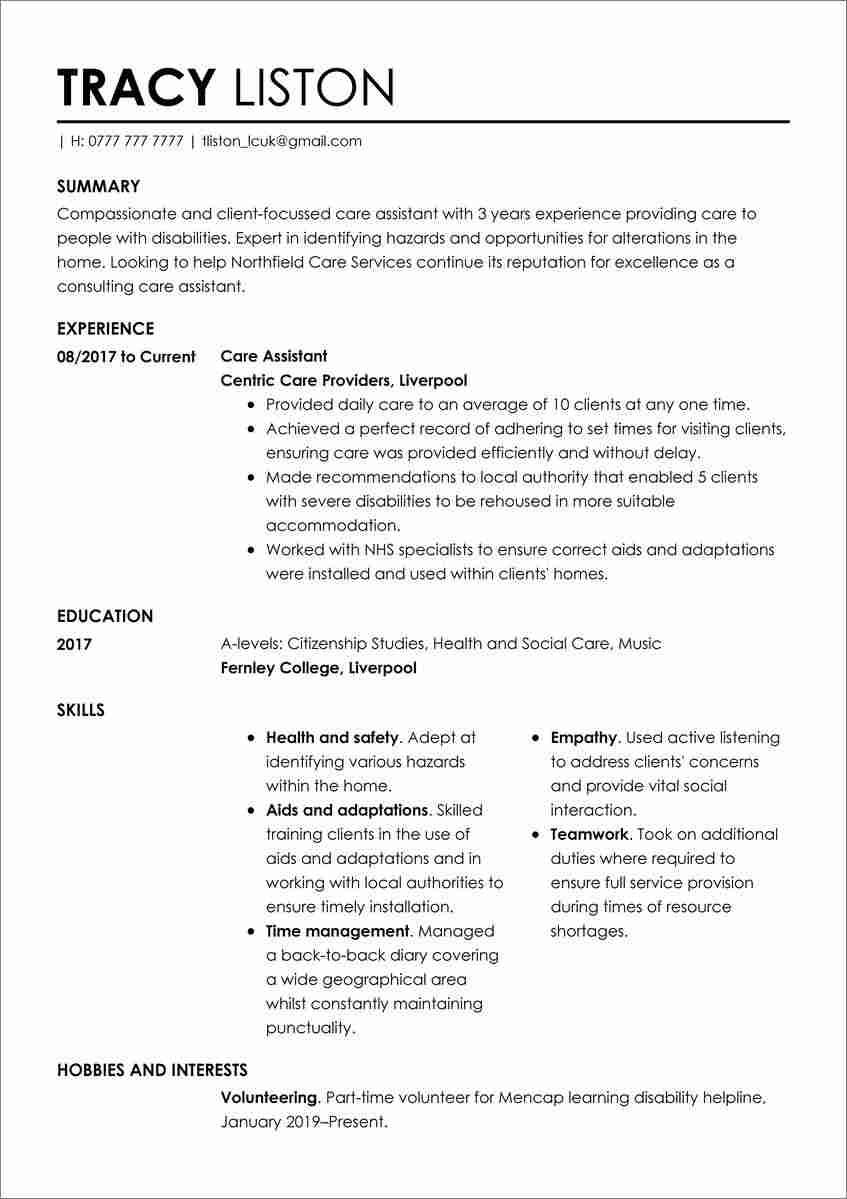 Another simple creative CV template. Striking, yet still professional. Try it out for a graduate CV.
A strong CV summary will convince the recruiter you're the perfect candidate. Save time and choose a ready-made personal statement written by career experts and adjust it to your needs in the LiveCareer CV builder.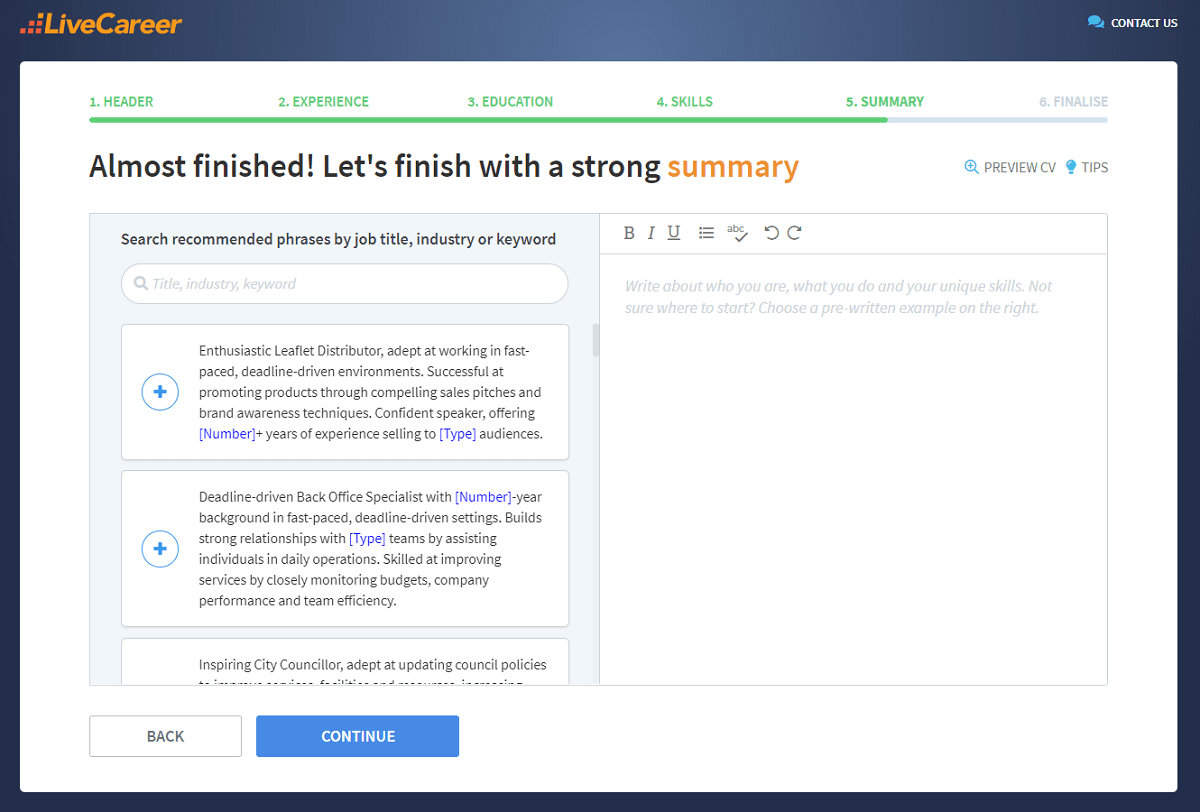 10. One page modern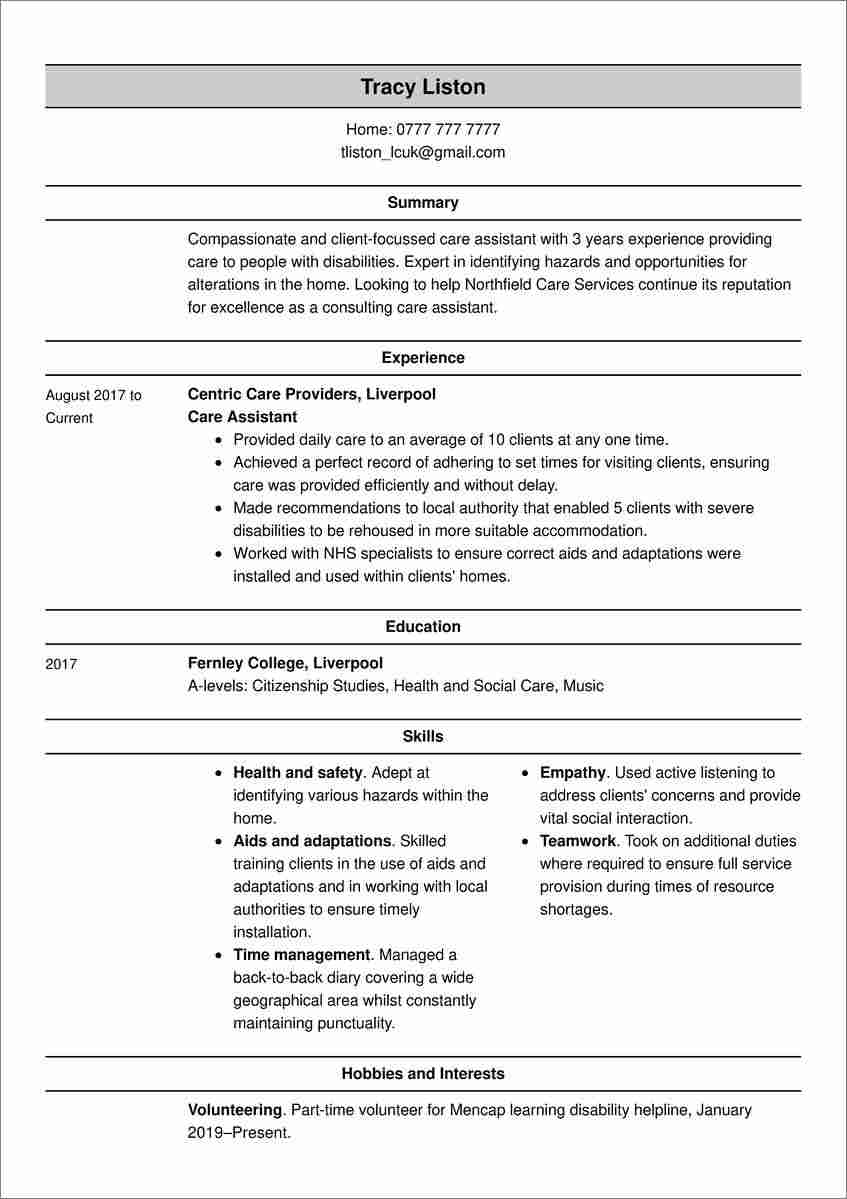 We've made this creative CV template with space in mind. If you need a one-page CV, it's ideal because you can easily fit in all your content.
From the CV summary all the way down to additional information like a hobbies and interests section. A good choice for more experienced job seekers with lots of detail to include. Try it out for an IT CV.
11. Simple scanner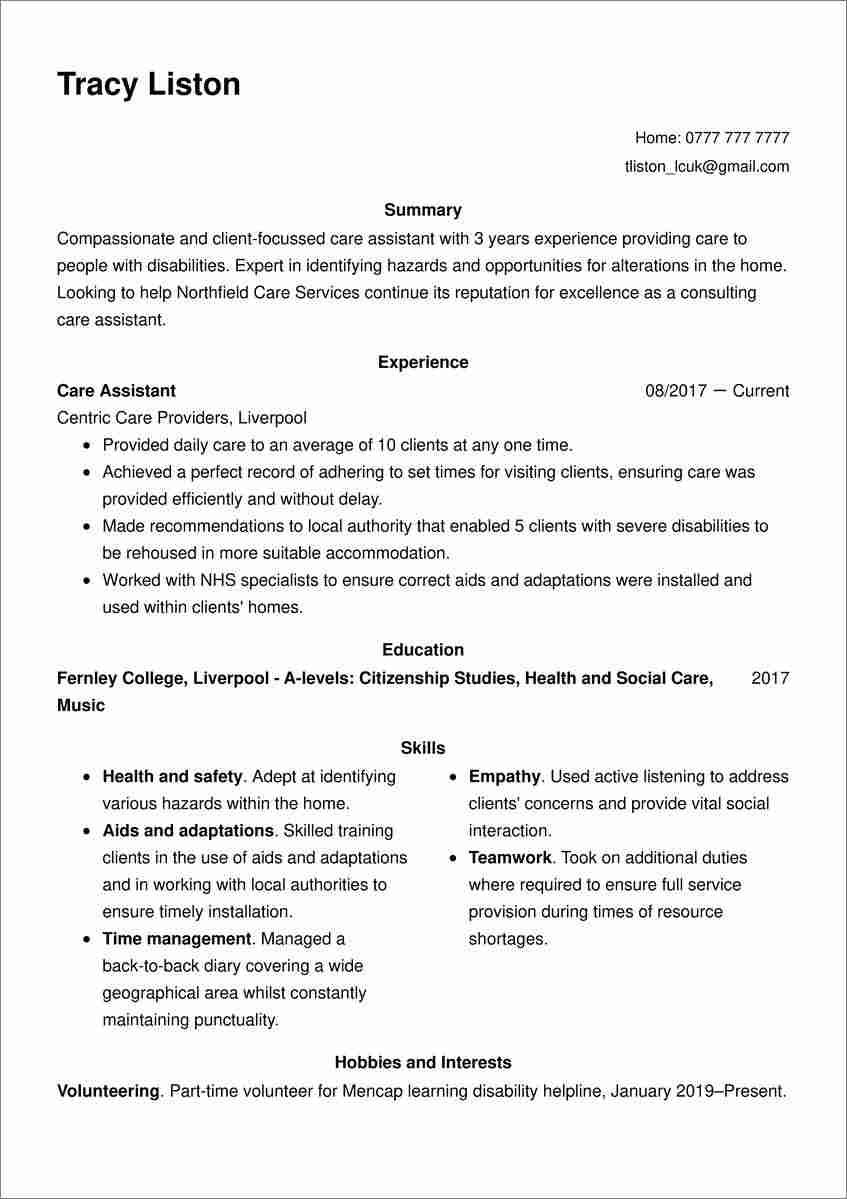 It isn't always necessary to include fancy design to make a CV creative. This template instead switches the text alignment back and forth from left to right to act as a guide for the eye.
That helps to ensure the busy hiring manager takes everything in. We'd consider it a great choice for more detail-oriented professions, such as a business analyst CV.
12. Corporate business card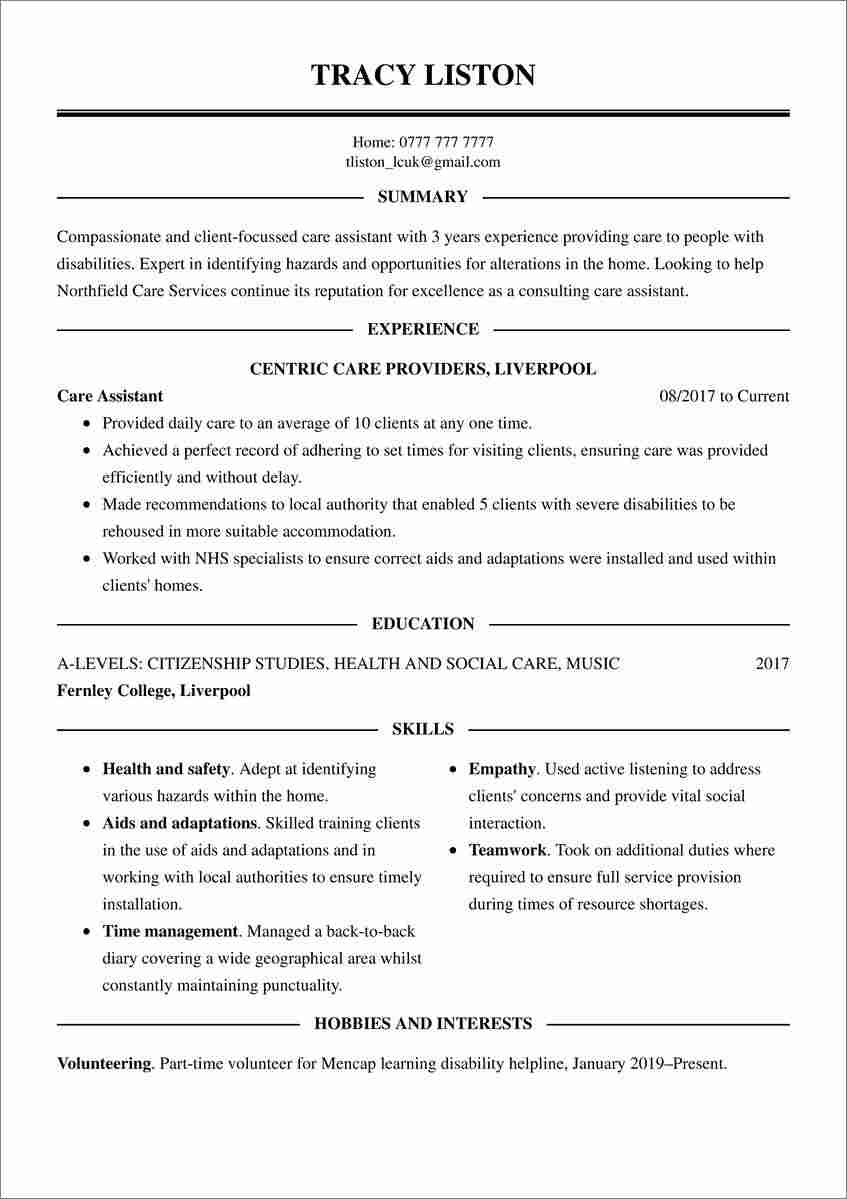 Here we've made a creative CV by being conservative. The looks are straight out of a traditional business card. We think it's a look that's good for everyone so it'd be an excellent choice for a career change CV.
13. Classic professional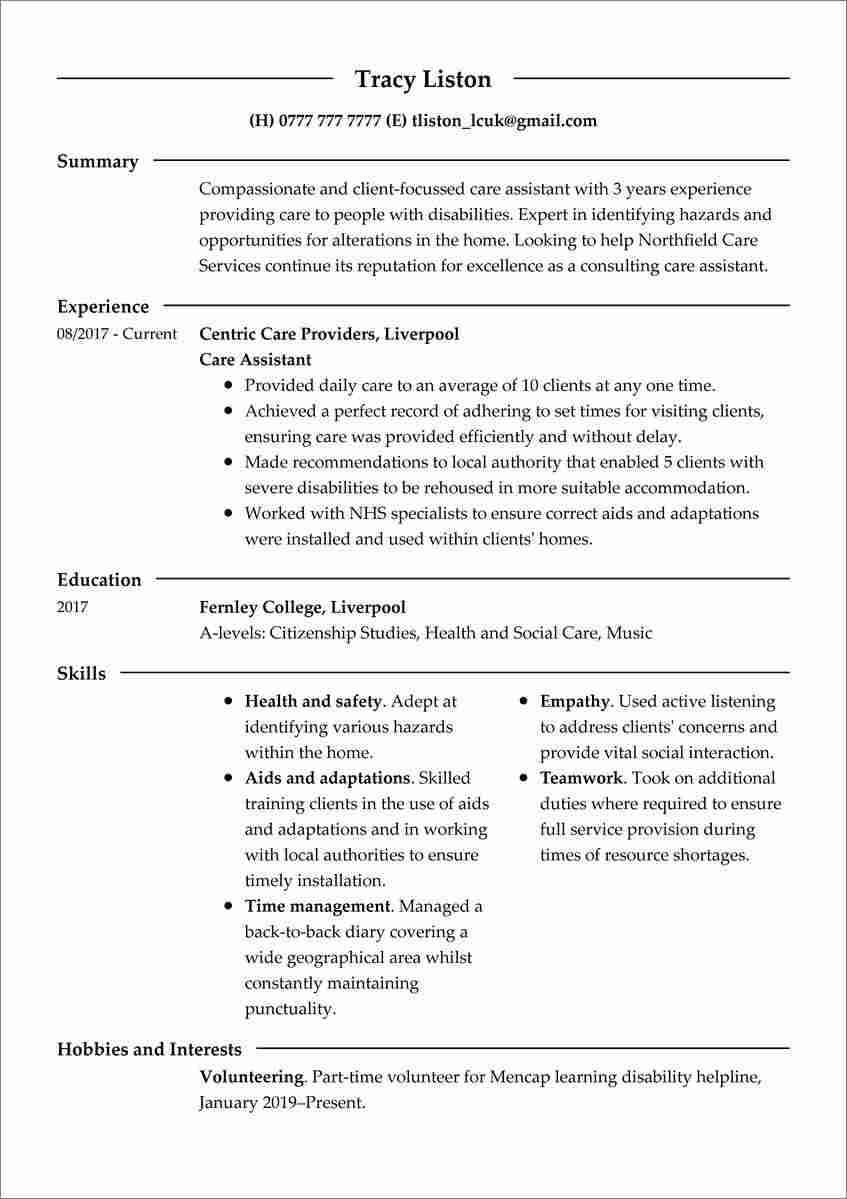 Sometimes making a creative CV is just a case of sticking to the classics. We've kept the design clean and simple to have as wide an appeal as possible. Its strong structure would make it an ideal choice for an engineering CV.
14. Centred executive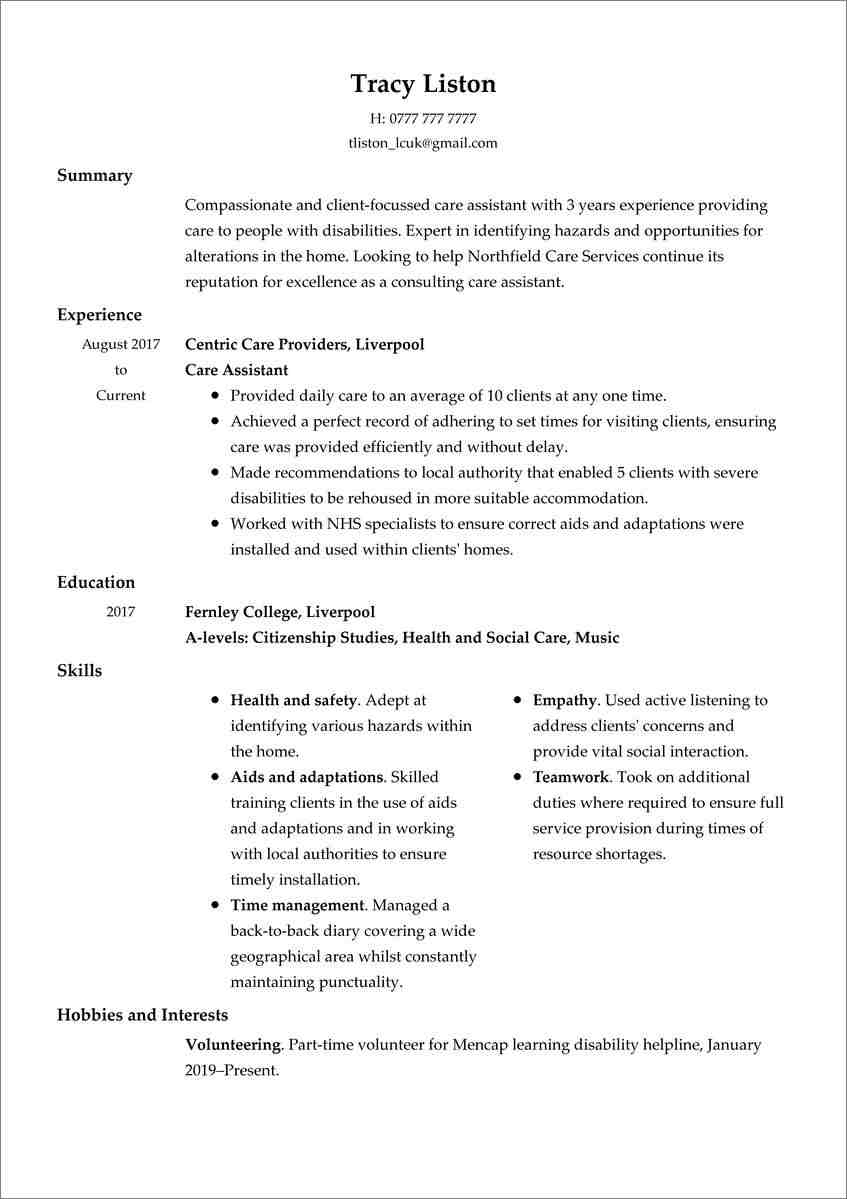 This one does what it says on the tin and uses a simple flip to centre alignment in the CV header as it's creative CV element.
An example that's particularly good when you need an impression of tradition and gravity, such as an academic CV.
15. Professional minimalist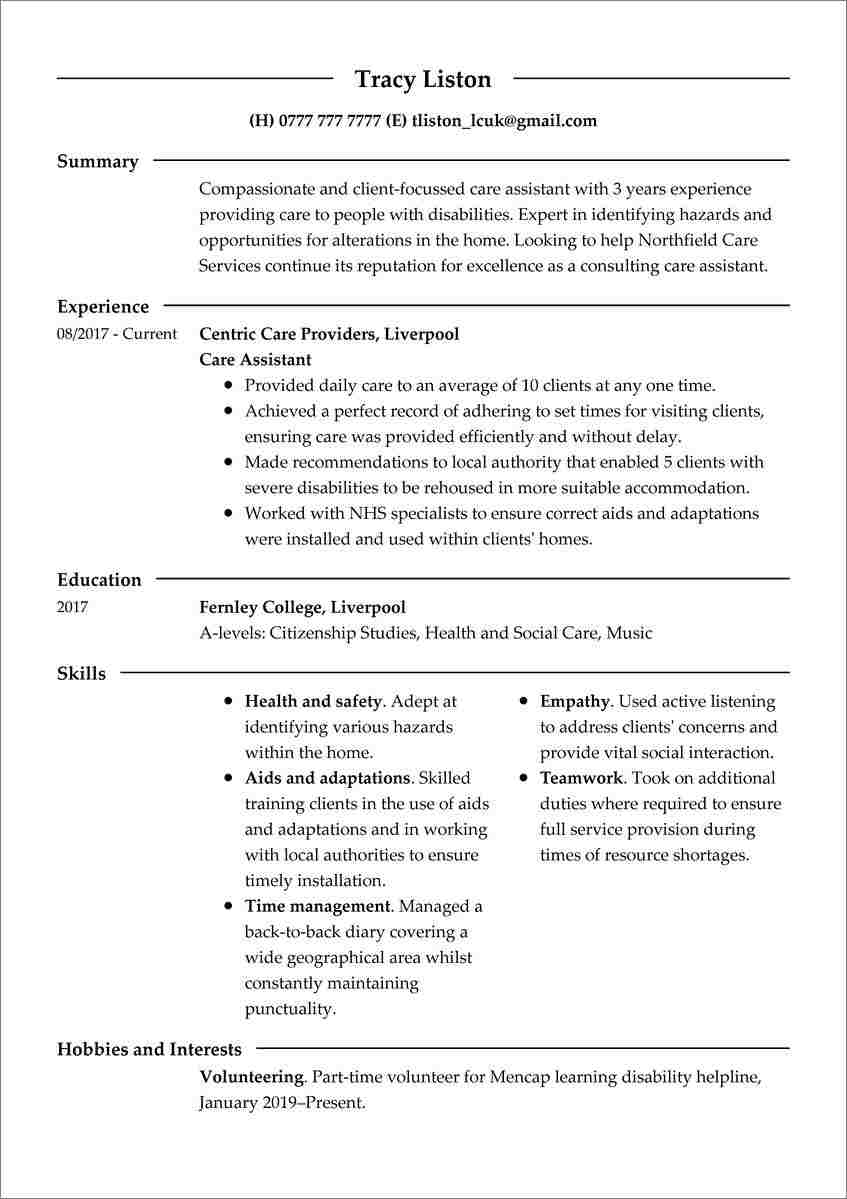 As its name suggests, our last CV template is creative by way of its minimalism. Therefore, we'd see it as a great choice for professions where talent in minimalist design is appreciated, such as an architecture CV.
You don't have to be a CV writing expert. In the LiveCareer CV builder you'll find ready-made content for every industry and position, which you can then add with a single click.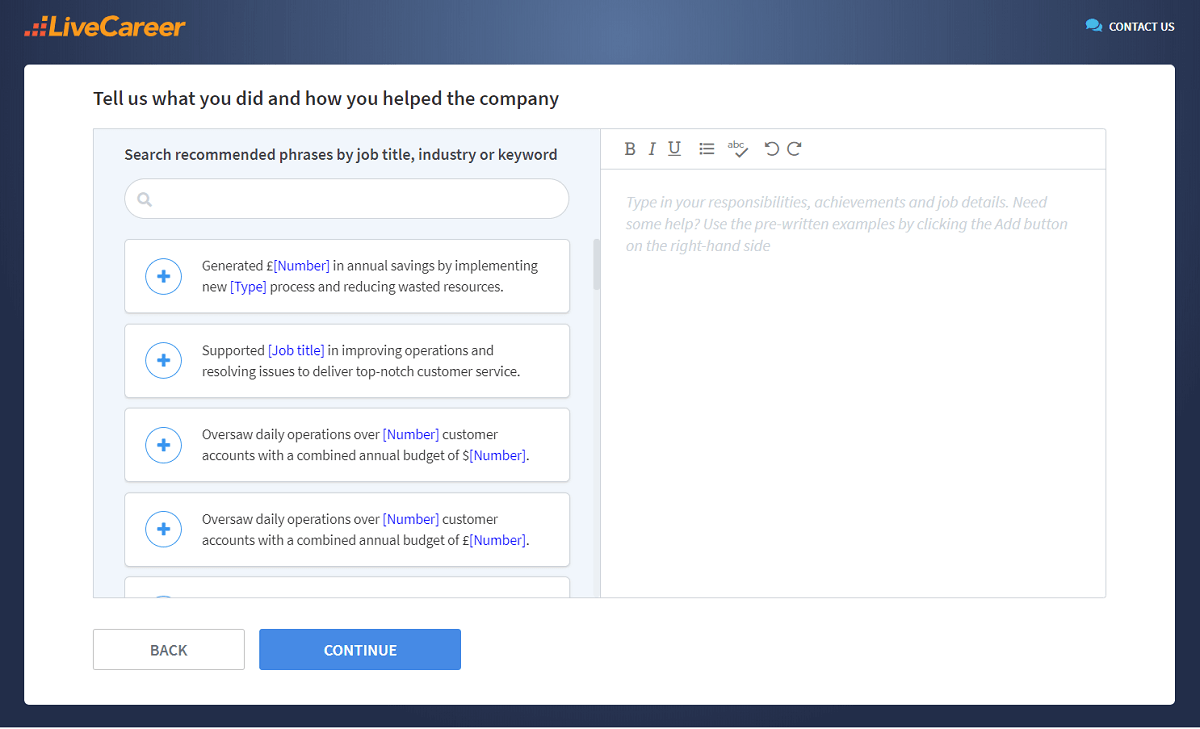 Thanks for reading, if you'd like more creative CV ideas or you want to learn more about creative CV templates then please ask in the comments section and I'll be happy to help.
How we review the content at LiveCareer
Our editorial team has reviewed this article for compliance with Livecareer's editorial guidelines. It's to ensure that our expert advice and recommendations are consistent across all our career guides and align with current CV and cover letter writing standards and trends. We're trusted by over 10 million job seekers, supporting them on their way to finding their dream job. Each article is preceded by research and scrutiny to ensure our content responds to current market trends and demand.
About the author
LiveCareer Editorial Team
Since 2005, the LiveCareer Team has been helping job seekers advance their careers. In our in-depth guides, we share insider tips and the most effective CV and cover letter writing techniques so that you can beat recruiters in the hiring game and land your next job fast. Also, make sure to check out our state-of-the-art CV and cover letter builder—professional, intuitive, and fully in line with modern HR standards. Trusted by 10 million users worldwide.