Every job is different and so is every candidate. In fact, the most important piece of advice we can give you is to write a unique, targetted CV for every application you submit. But regardless of what the job is and who the candidate is there's one common make or break factor. A professionally presented CV.
Choose the right model CV template and you're already one step ahead of the competition. But trying to make a choice from the thousands of examples on offer is tough. How do you find that shining CV model needle in the haystack?
That's where we come in. Read on and discover 14 expert-designed templates, each packed with all the features needed to make your next job search a success.
Create an effective CV in minutes. Choose a professional CV template and fill in every section of your CV in a flash using ready-made content and expert tips.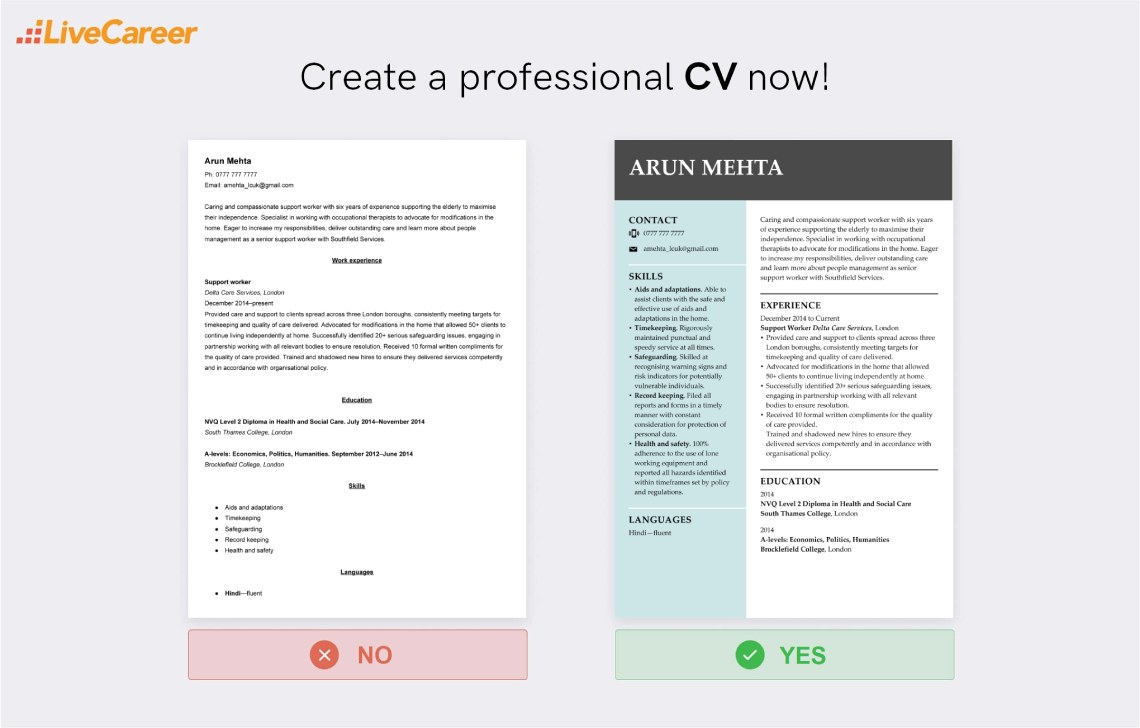 The LiveCareer online CV maker lets you build a professional CV fast and download it as a PDF or DOC.
Need different CV templates? Check:
Model CV example
Arun Mehta
Ph: 0777 777 7777
Email: amehta_lcuk@gmail.com
Caring and compassionate support worker with six years of experience supporting the elderly to maximise their independence. Specialist in working with occupational therapists to advocate for modifications in the home. Eager to increase my responsibilities, deliver outstanding care and learn more about people management as senior support worker with Southfield Services.
Work experience
Support worker
Delta Care Services, London
December 2014–present
Provided care and support to clients spread across three London boroughs, consistently meeting targets for timekeeping and quality of care delivered.
Advocated for modifications in the home that allowed 50+ clients to continue living independently at home.
Successfully identified 20+ serious safeguarding issues, engaging in partnership working with all relevant bodies to ensure resolution.
Received 10 formal written compliments for the quality of care provided.
Trained and shadowed new hires to ensure they delivered services competently and in accordance with organisational policy.
Education
NVQ Level 2 Diploma in Health and Social Care. July 2014–November 2014
South Thames College, London
A-levels: Economics, Politics, Humanities. September 2012–June 2014
Brocklefield College, London
Skills
Aids and adaptations. Able to assist clients with the safe and effective use of aids and adaptations in the home.
Timekeeping. Rigorously maintained punctual and speedy service at all times.
Safeguarding. Skilled at recognising warning signs and risk indicators for potentially vulnerable individuals.
Record keeping. Filed all reports and forms in a timely manner with constant consideration for protection of personal data.
Health and safety. 100% adherence to the use of lone working equipment and reported all hazards identified within timeframes set by policy and regulations.
Languages
Here's a selection of the best CV models:
1. Simple scanner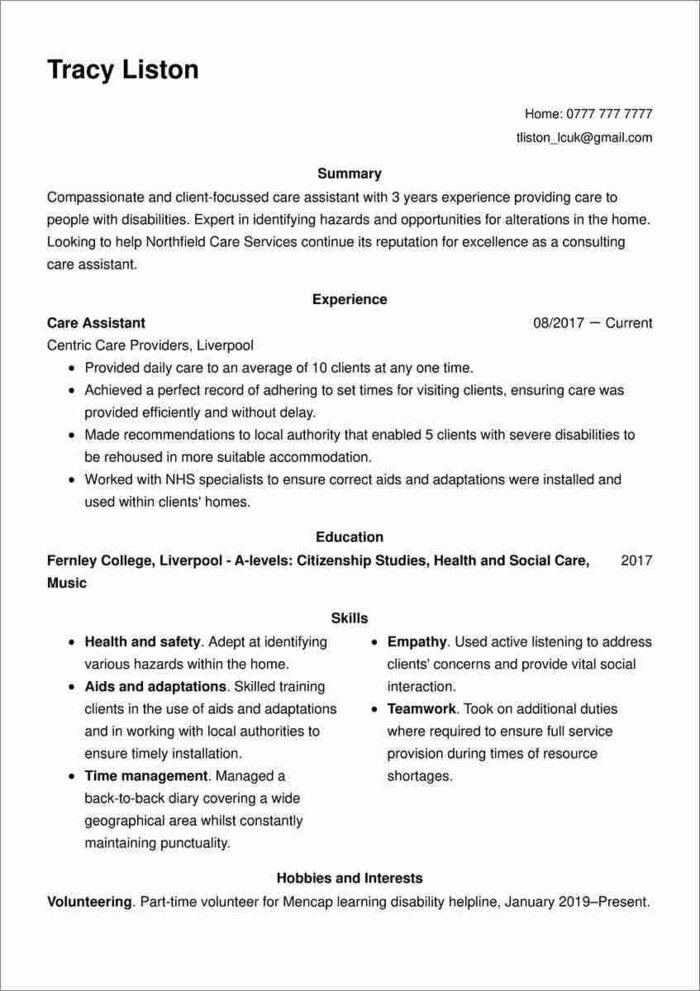 Our first model CV template is deceptively simple. You may think it's just an ordinary plain text template, but you'd be wrong. It actually makes use of a simple trick to overcome our natural tendency to f-shaped scanning, the way our eyes tend to focus on the top left of the page and miss out on vital information located elsewhere. It does this by shifting the alignment of the text from left to centre to right and back again, forcing the reader to take in every CV section. A great way of ensuring that nothing gets missed. And when you use our CV builder all you need to do is type in your text and it does the work for you, setting up that clever CV format in the blink of an eye.
We recommend this model for a graduate CV.
2. Red modern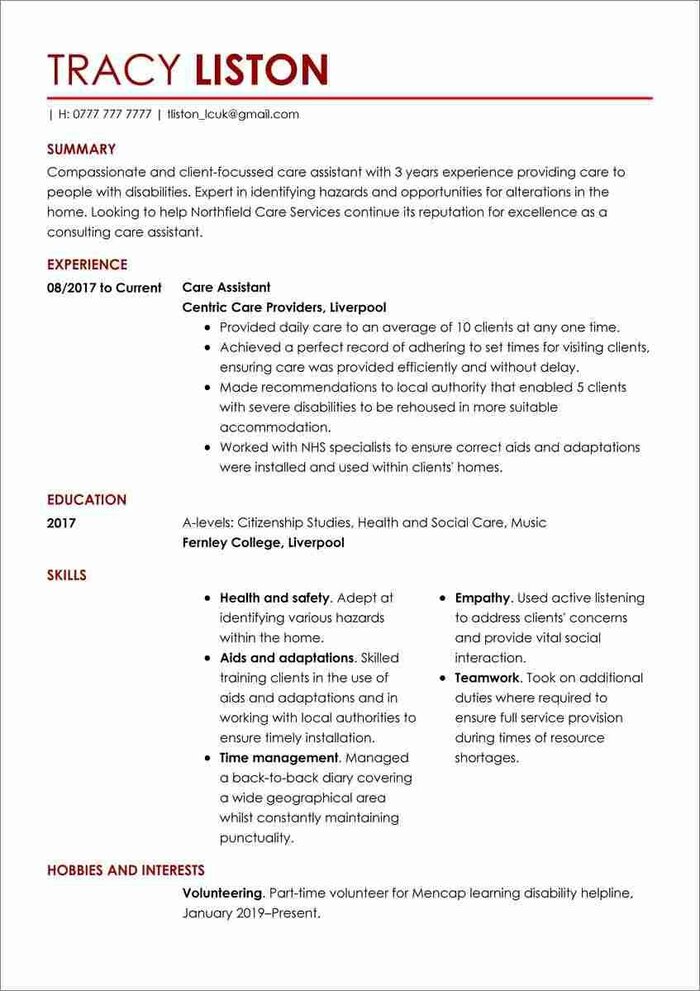 This time a more colourful CV model. The striking dark red of the CV header is reflected in the section headings, which are capitalised for even more emphasis. This makes it incredibly easy for the hiring manager to quickly locate the information they need. And when you use our CV maker you'll get expert tips as you write, making your job even easier. That's something you won't get with your average free CV model download.
We recommend it for a marketing CV.
3. Corporate business card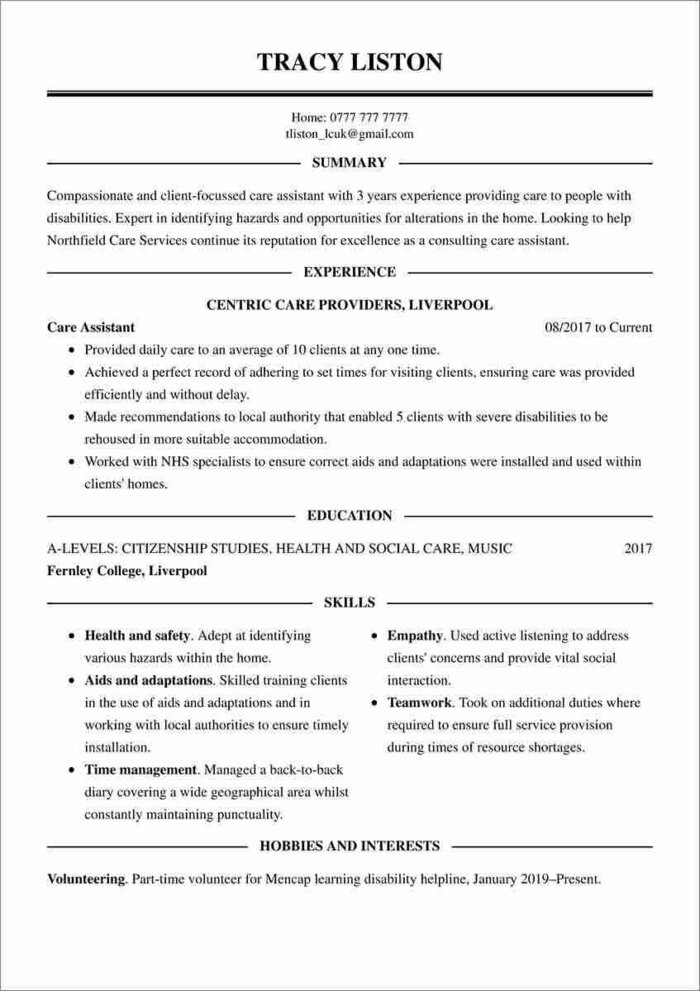 This CV models itself on its namesake, a professional business card. The subtle combination of bold and standard weight text in a classic serif CV font is corporate class at its finest. Note as well how the CV profile is given the full page width so you can maximise the opportunity to introduce yourself as a candidate. And like every LiveCareer CV model this one is fully ATS compatible. That means the automated software that scans your job application will have no problems reading it.
We recommend this model for an academic CV.
4. Creative green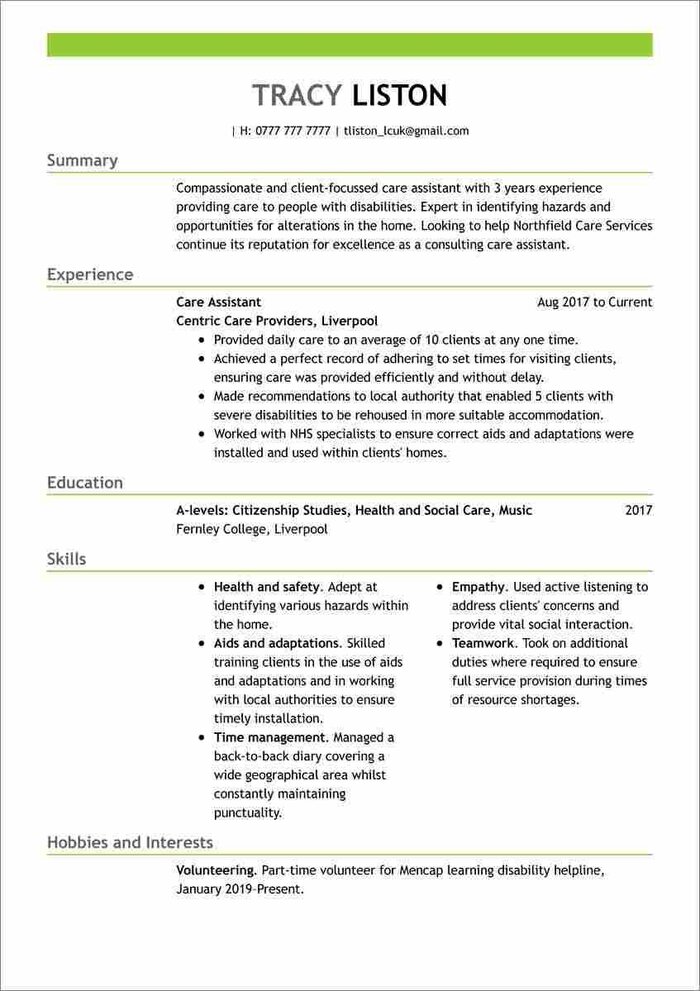 Here's a model CV that leverages all the positive connotations of the colour green. If you want to give a sense of harmony, renewal and growth then this template is for you. And the use of colour doesn't stop with the green highlights. Take a look at the section headings, like the work experience section for example. These are picked out in a soft grey font to distinguish them from the black body text. It's a subtle bit of design that helps make this example something special.
We recommend it for a retail CV.
5. Centred executive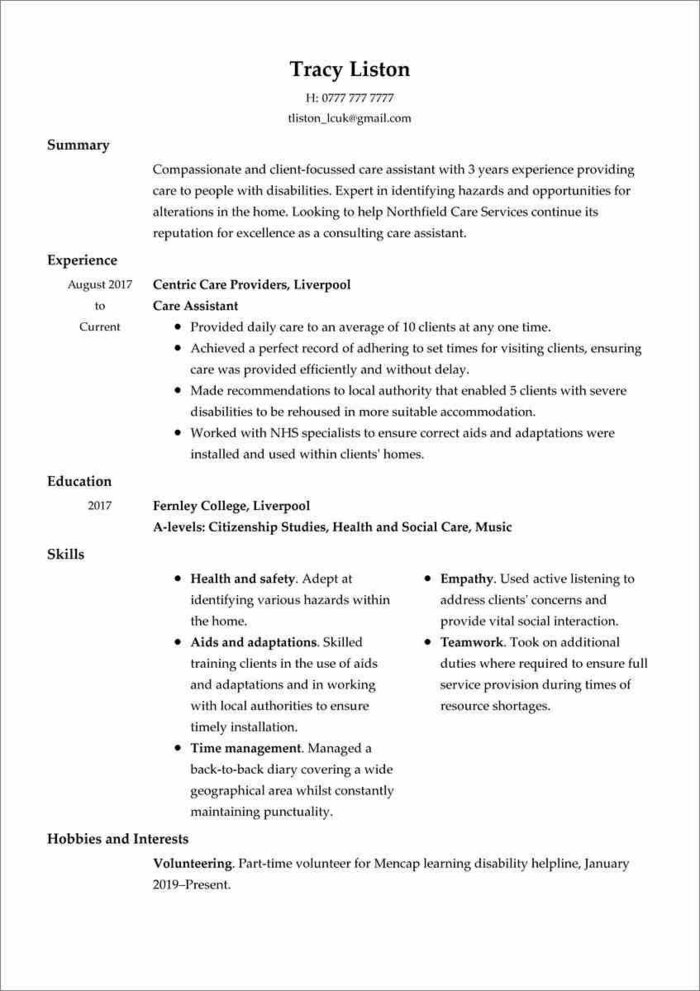 This CV model is another from our classic monochrome range. It makes a simple change to the standard CV header format by centering all of the candidate's personal details. Move down and you'll see that the CV skills section gives you two columns to fill, so it's perfect for jobs that need you to show off a long list of professional abilities. And if you use our CV generator you'll even get pre-written examples to help inspire you, it doesn't get much better than that.
We recommend this model for a project manager CV.
6. Light blue creative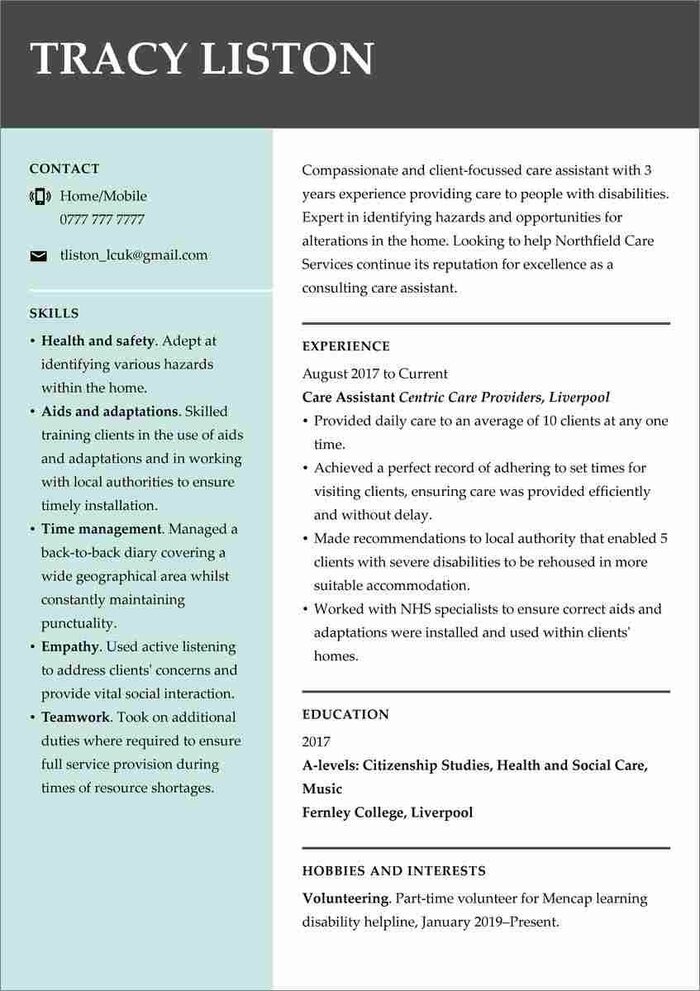 This is our most creative model CV. The combination of dark grey and duck egg blue is attractive whilst maintaining a professional and conservative feel. Perfect for jobs where a sense of design and creativity is required.
We recommend this model for a graphic designer CV.
7. Bold professional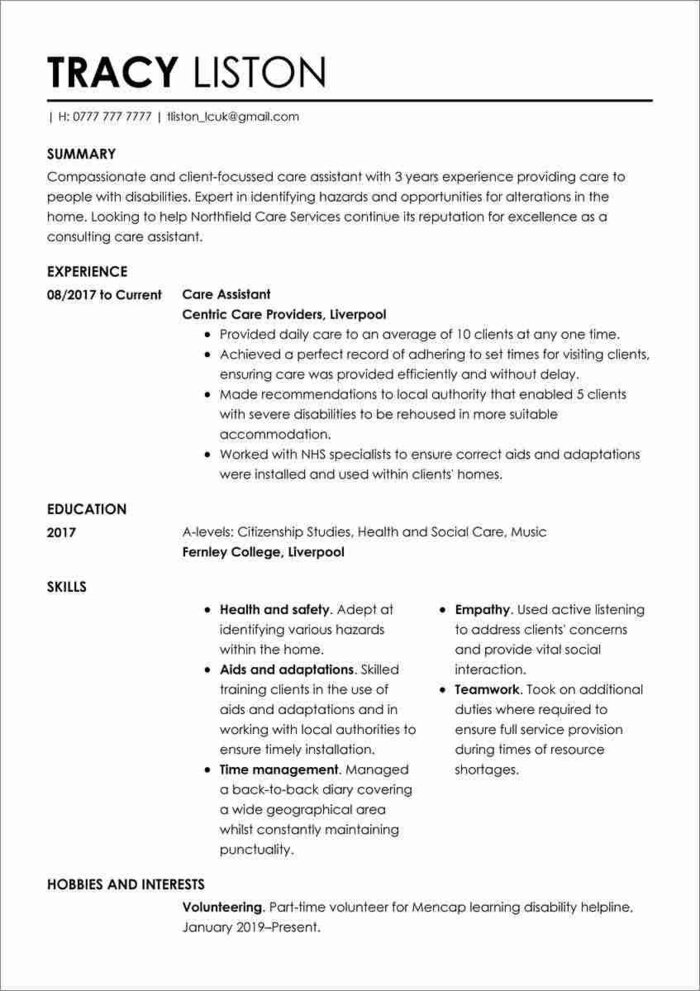 Now for a CV model that proves black and white doesn't mean boring. Note how the candidate's name is made to stand out with a large CV font. It also uses a separate column for dates in the work experience section, so it's perfect for neatly arranging your work history, a real benefit for more experienced candidates.
We recommend this model for a career change CV.
8. Blue modern header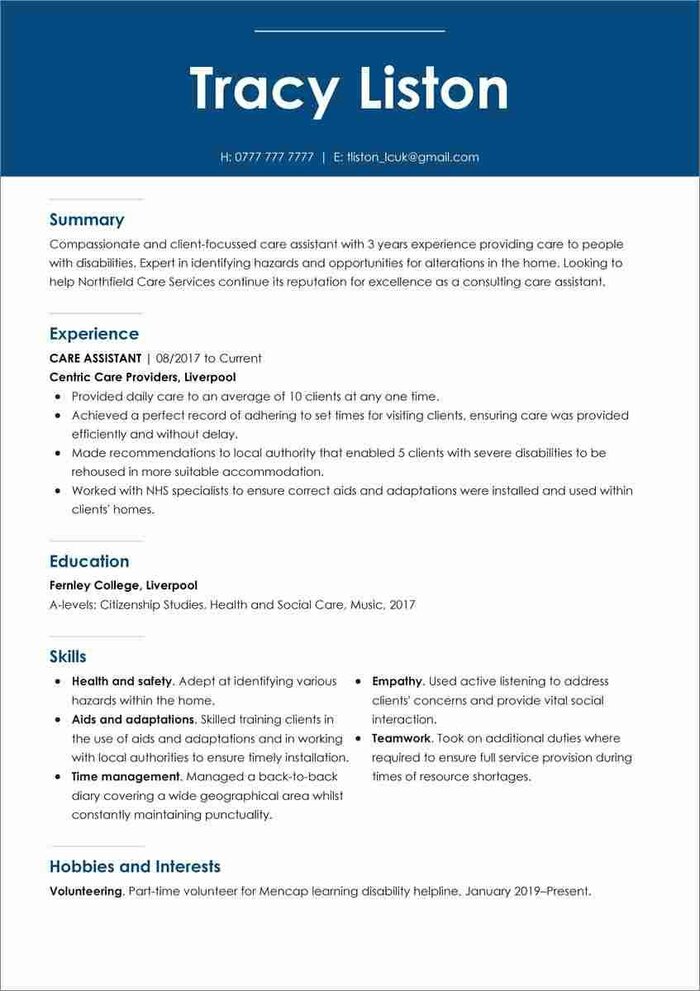 Choose this CV model if you want to make an immediate impact and really stand out from other applicants. The bold blue header really makes your name leap off the page and its attention-grabbing whilst remaining tasteful. And like every template in our CV builder, it's easily adaptable too. You can change spacing, font styles, or even change the order of your CV sections, and whatever you do the builder will ensure your CV layout remains picture-perfect.
We recommend this model for a receptionist CV.
9. Electric blue creative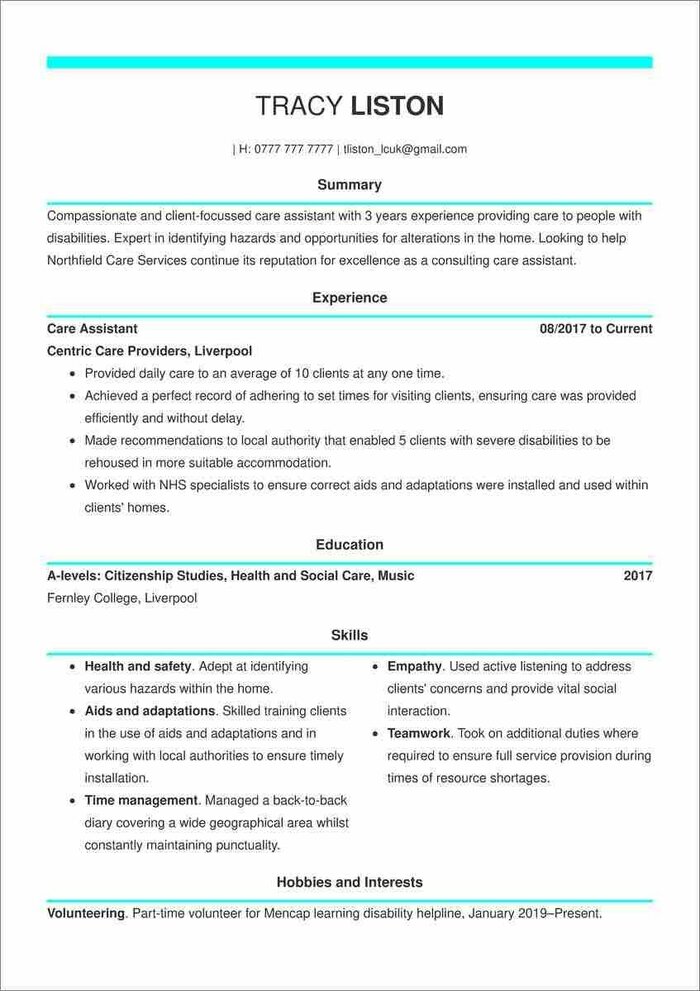 Here we have another blue CV model, and why not? It's proven to be the world's favourite colour and it's featured here in a particularly energising tone that's sure to electrify the hiring manager. And like all of our templates you can be sure it's a model CV for UK standards, not an American resume like many free examples you can find online.
We recommend it for an engineering CV.
A strong CV summary will convince the recruiter you're the perfect candidate. Save time and choose a ready-made personal statement written by career experts and adjust it to your needs in the LiveCareer CV builder.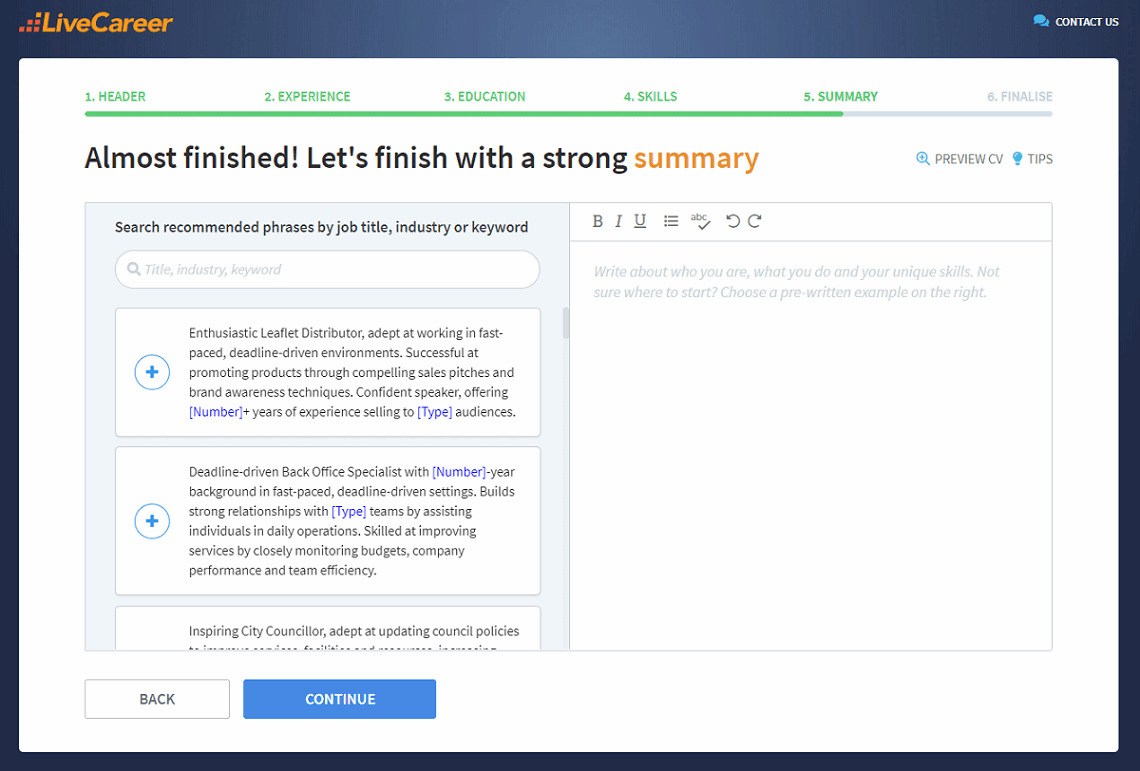 10. One page modern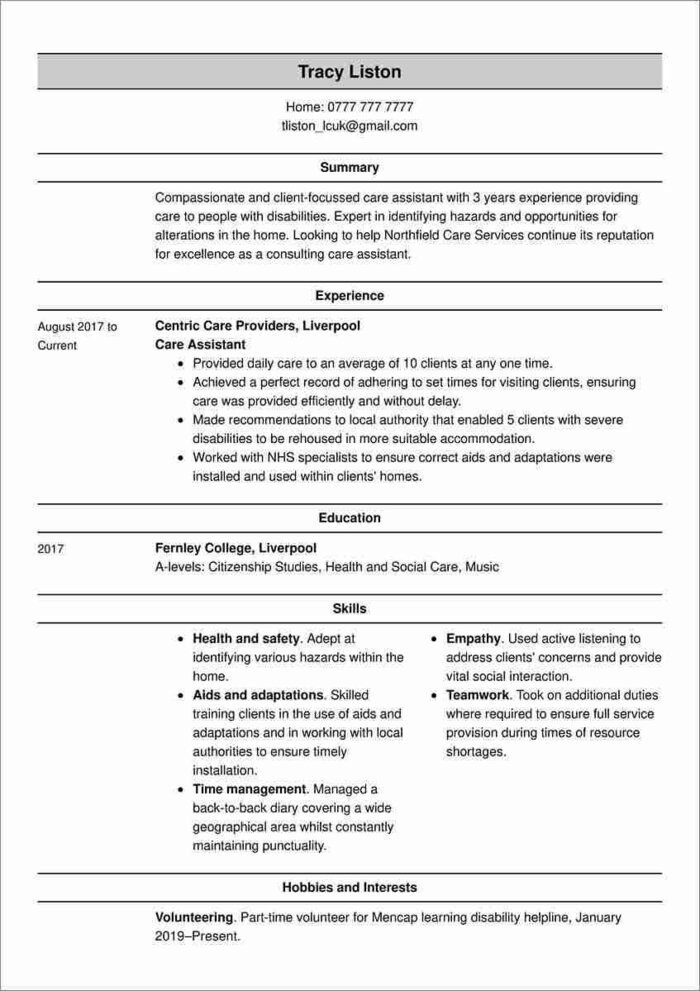 You guessed it, this model CV does exactly what it says on the tin. It's specifically designed to maximise space and enable you to write a one-page CV. The CV header is narrow and right at the top of the page to give you maximum space to fill with job-winning experience, skills and accomplishments. And the rest of the CV structure is compact and space saving too, all while retaining readability and an attractive layout.
We recommend this model for a student CV.
11. Blue modern accents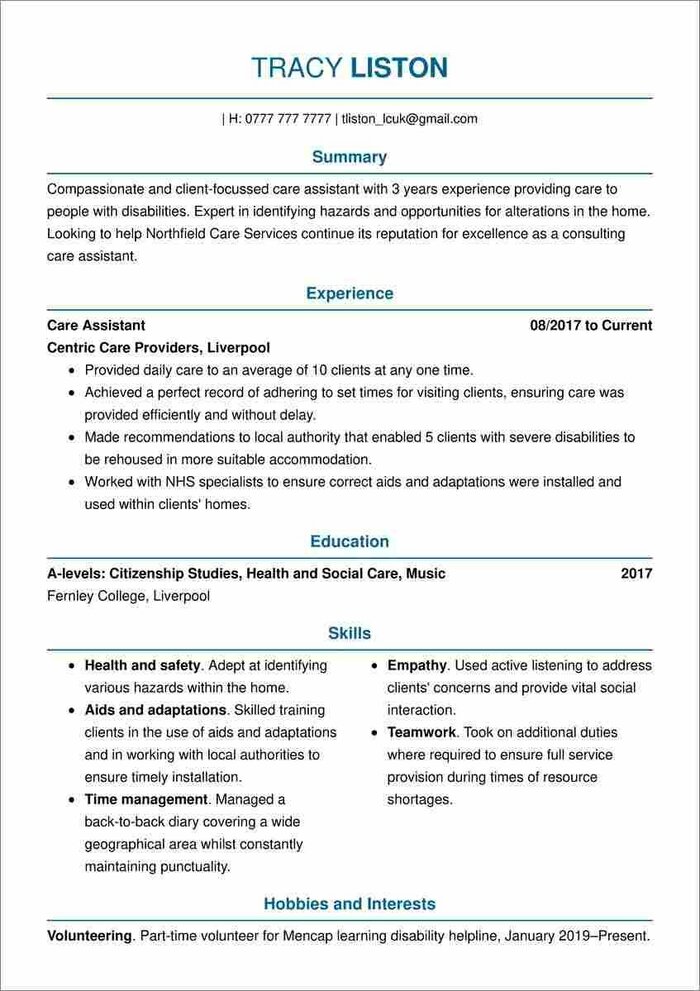 This is the last of our blue-themed model CV templates and it takes a more subtle approach, using a coloured font to highlight the candidate's name and the section headings. And like all of our examples, when you're finished writing you can download this model CV in Word or in PDF format.
We recommend it for a business analyst CV.
12. Business professional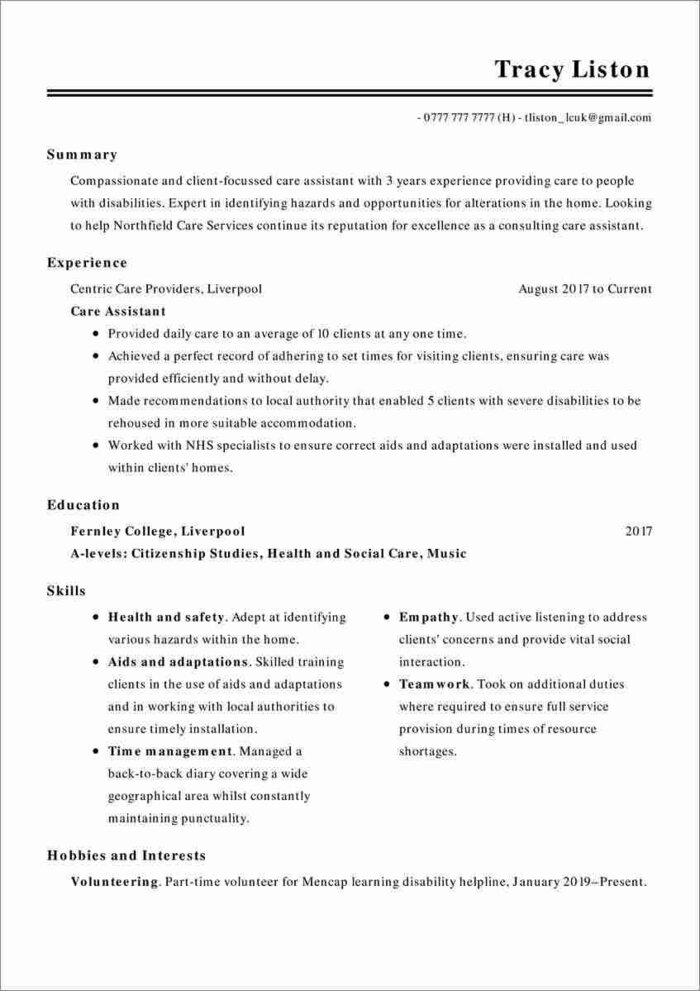 You can see that this CV model borrows from classic UK business letter formatting, setting the candidate's contact details to right alignment. Speaking of which, LiveCareer also has a range of matching CV cover letter templates, so you can create a professional look for every part of your job application.
We recommend this model for a teacher CV.
13. Orange creative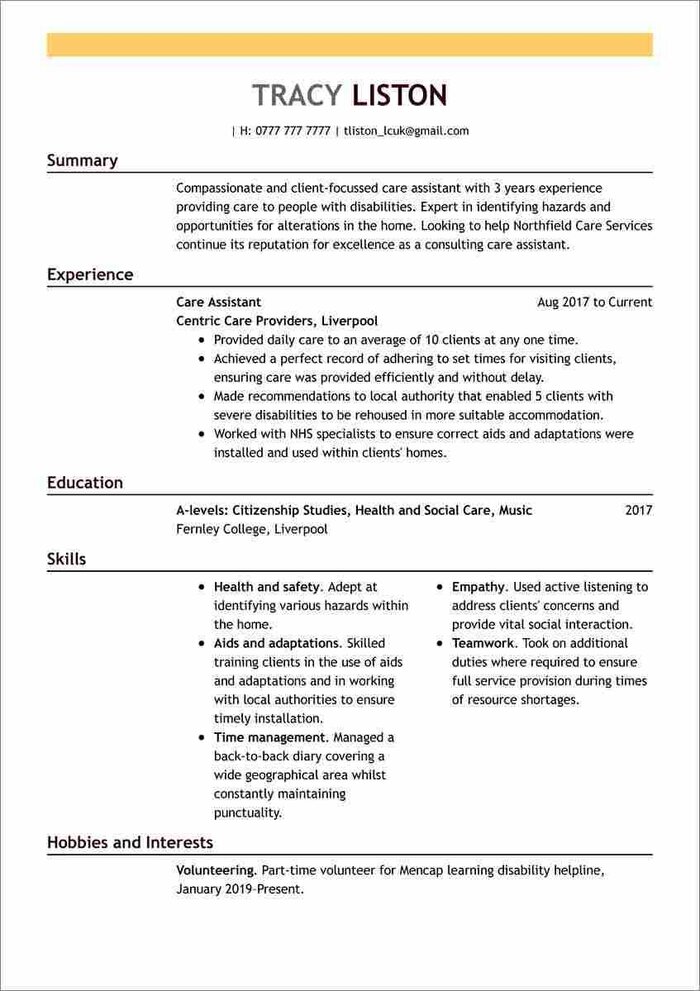 If you don't like blue or green, this model CV gives you the option to use a warmer shade, with an orange stripe giving a cosy splash of colour. An ideal choice for careers where a caring and engaging personality is key.
We recommend this model for a customer service CV.
14. Professional minimalist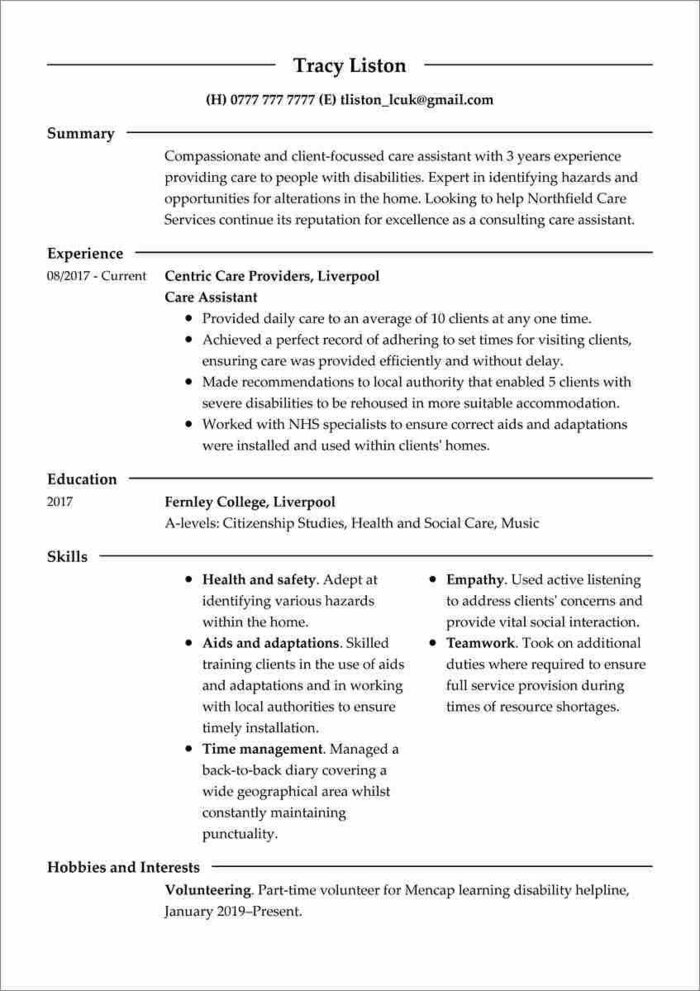 The last of our model CV templates proves you don't need to go over the top to produce perfection. It's minimalist but still incredibly effective with a CV format designed with readability and user-friendliness in mind. And as with every example you've seen, you'll get all the benefits of our CV maker to help you along the way.
We recommend this model for an architecture CV.
You don't have to be a CV writing expert. In the LiveCareer CV builder you'll find ready-made content for every industry and position, which you can then add with a single click.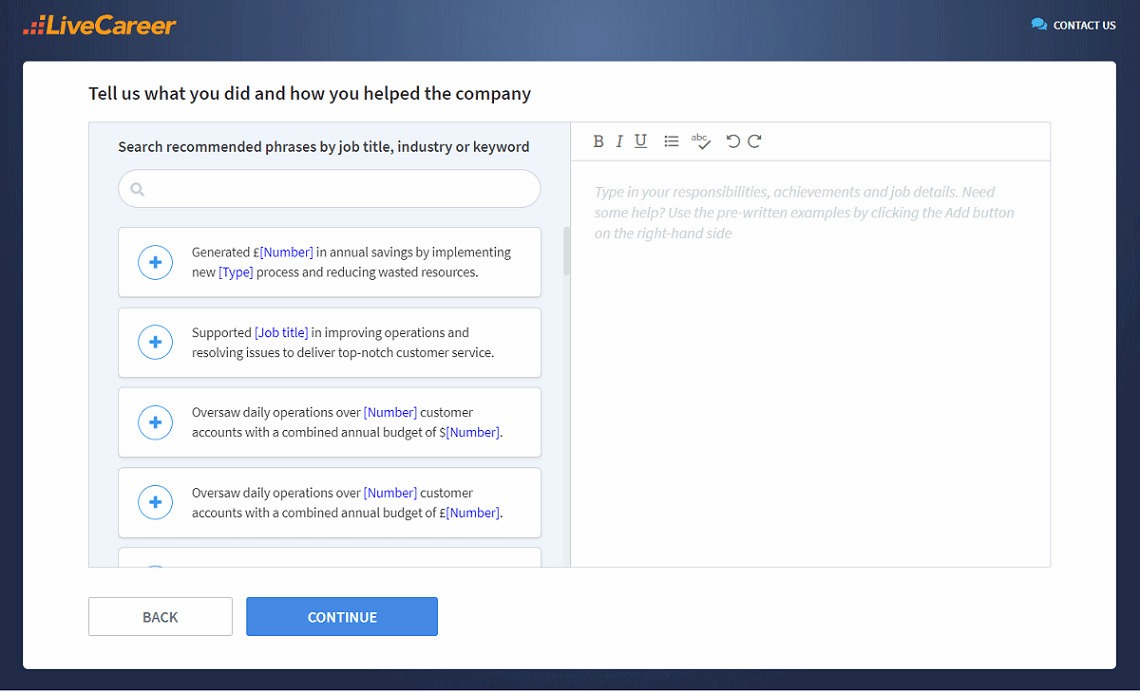 If you've got any questions at all about our model CV templates or how to use them then please ask in the comments section and we'll be happy to help.
How we review the content at LiveCareer
Our editorial team has reviewed this article for compliance with Livecareer's editorial guidelines. It's to ensure that our expert advice and recommendations are consistent across all our career guides and align with current CV and cover letter writing standards and trends. We're trusted by over 10 million job seekers, supporting them on their way to finding their dream job. Each article is preceded by research and scrutiny to ensure our content responds to current market trends and demand.
About the author
LiveCareer Editorial Team
Since 2005, the LiveCareer Team has been helping job seekers advance their careers. In our in-depth guides, we share insider tips and the most effective CV and cover letter writing techniques so that you can beat recruiters in the hiring game and land your next job fast. Also, make sure to check out our state-of-the-art CV and cover letter builder—professional, intuitive, and fully in line with modern HR standards. Trusted by 10 million users worldwide.