Should a CV be one page or two? It's a question that divides recruiters and job seekers alike. But the truth is, there's no one size, or page, fits all approach. For some candidates, a one-page CV is best. For others, a two-page CV might be much more recommended.
Read on to clear all the doubts regarding a one-page CV and write it with ease.
In this guide, you'll:
Get a one-page CV template you can use.
Get an answer to the question: Should a CV be one page?
Understand how to make a one-page CV and no longer.
Create an effective CV in minutes. Choose a professional CV template and fill in every section of your CV in a flash using ready-made content and expert tips.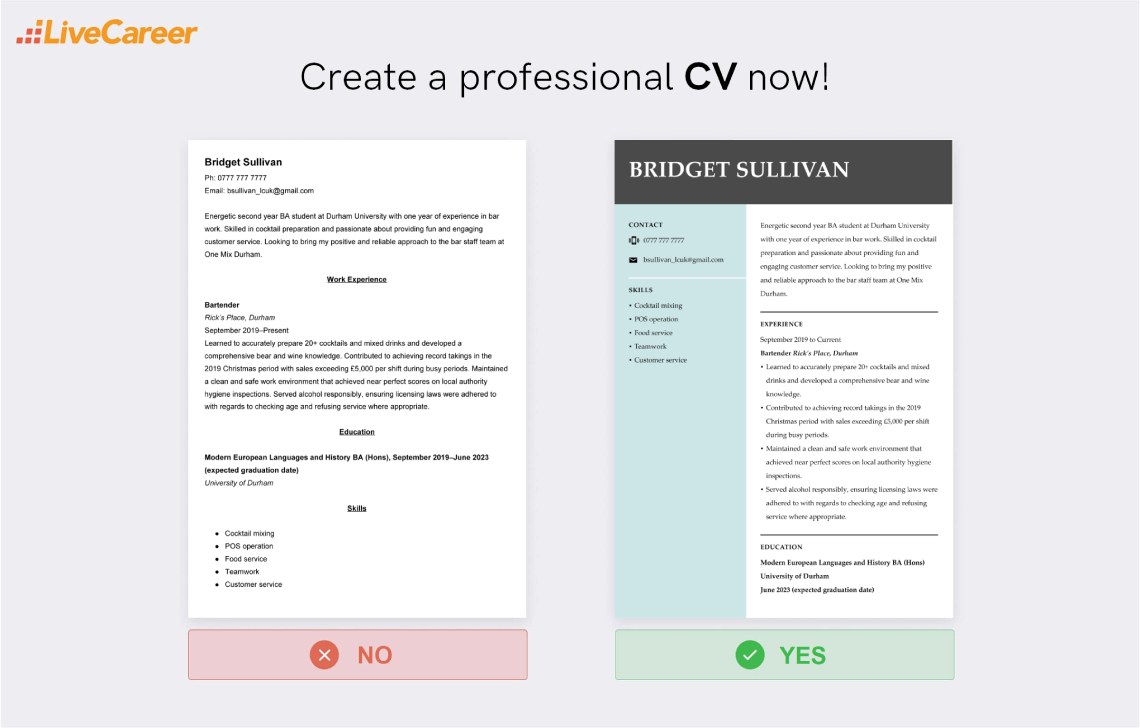 The LiveCareer online CV maker lets you build a professional CV fast and download it as a PDF or DOC.
Writing a CV after a long time? These guides might help:
Now, let's head to the perfect one-page CV template:
One-page CV template
Bridget Sullivan
Ph: 0777 777 7777
Email: bsullivan_lcuk@gmail.com
Energetic second year BA student at Durham University with one year of experience in bar work. Skilled in cocktail preparation and passionate about providing fun and engaging customer service. Looking to bring my positive and reliable approach to the bar staff team at One Mix Durham.
Work Experience
Bartender
Rick's Place, Durham
September 2019–Present
Learned to accurately prepare 20+ cocktails and mixed drinks and developed a comprehensive bear and wine knowledge.
Contributed to achieving record takings in the 2019 Christmas period with sales exceeding £5,000 per shift during busy periods.
Maintained a clean and safe work environment that achieved near perfect scores on local authority hygiene inspections.
Served alcohol responsibly, ensuring licensing laws were adhered to with regards to checking age and refusing service where appropriate.
Education
Modern European Languages and History BA (Hons), September 2019–June 2023 (expected graduation date)
University of Durham
Skills
Cocktail mixing
POS operation
Food service
Teamwork
Customer service
Should a CV be one page?
This is where it gets confusing for most job seekers. Some experts are adamant that one page is best. Others say two pages is the only way to go. Even the research that's been carried out into the question has conflicting findings.
Some cite the now infamous 'six second CV' study that stated recruiters only spend six seconds on average reading each job application that crosses their desk. This it's claimed is proof positive a CV should only be one page. How else could it be read in six seconds.
Another survey of recruitment professionals showed they mostly preferred two-page CVs. And an earlier study showed a near 50/50 split. Suffice it to say, it's inconclusive. The truth is, the ideal CV length depends on you, the candidate. Here's how to decide.
Should a CV be one page or two?
One-page CV
Choose a one-page CV if you're a student, school-leaver, or new graduate. It's best when you're applying for entry-level roles and also ideal for people with less than five years of professional experience.
The advantage of a one-page CV is that it presents everything in one glance, and you don't put the recruiter off side with unnecessary content that wastes their time. But in some cases, a two-page CV will be better.
Two-page CV
Write a two-page CV if you've got 5 or more years of experience. This is particularly relevant to more senior/managerial positions and in technical roles where more detail is required.
For candidates with long work histories of 10 years or more and exceptional accomplishments, it's even possible to stretch to three pages. Write an academic CV or a medical CV and it could be even longer.
But for most candidates we recommend you err on the side of caution and stick to the one or two-page CV rule.
A strong CV summary will convince the recruiter you're the perfect candidate. Save time and choose a ready-made personal statement written by career experts and adjust it to your needs in the LiveCareer CV builder.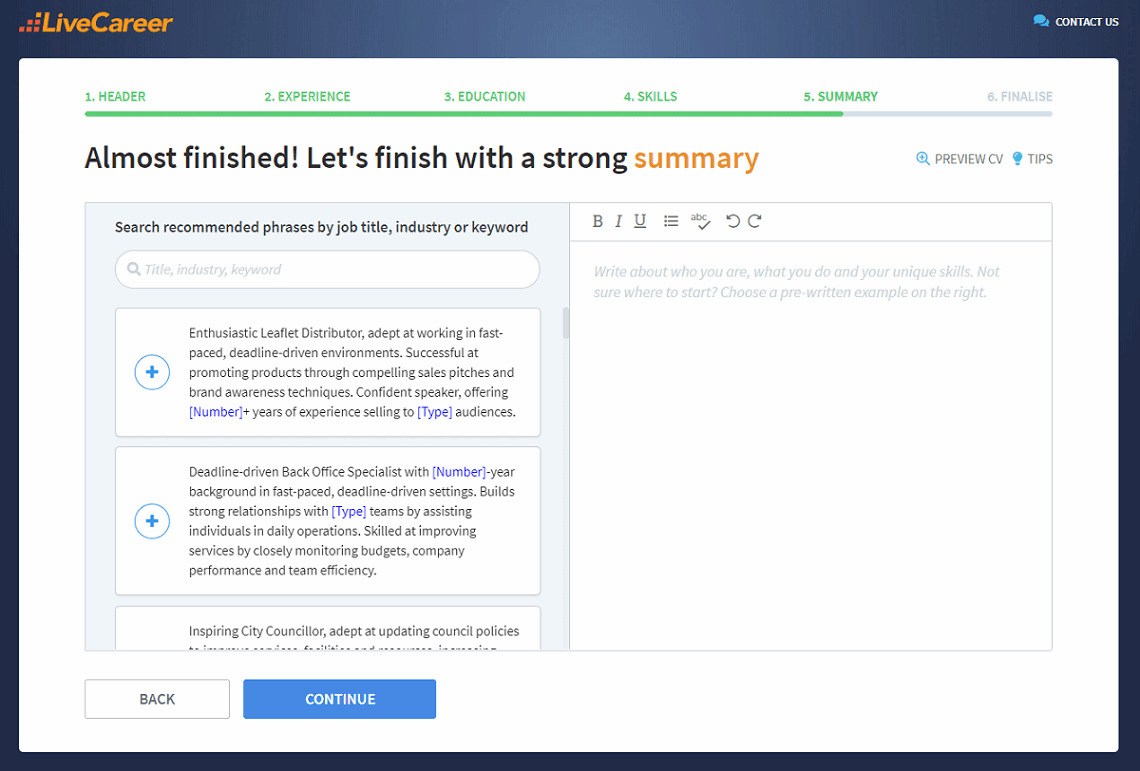 How to make a one-page CV
So now you know if you need a one-page CV or not. But the hardest part can be trying to get it to fit. Most people get it badly wrong and end up with a CV that's one page, but barely readable, and that's not the look you're trying to achieve. You need to create a one-page CV template that's attractive and easy to read.
So bearing that in mind, here are some strategies you should definitely avoid.
One-page CV don'ts
Don't shrink your font size. Stick to 11–12 pts and be kind to the recruiter's eyes.
Don't shrink your page margins, one inch on each side is best.
Don't remove the spacing between CV sections. A continuous block of text is difficult to read.
Don't omit any of the standard CV sections. Every CV should include a summary, work experience section, education section and skills section as a minimum.
Your aim is to maintain a generous amount of white space. It's the empty space on a page that helps to frame your content and it's been proven to improve readability for users. Particularly when read on a screen like the vast majority of job applications are.
So now you know what to avoid, let's take a look at how to write a one page CV properly.
1. Omit your address
If you want to make your CV one page you need to cut out the fat and only include what's necessary. Add some much-needed space leaving out your postal address on your CV in your personal details. It's completely unnecessary when sending your CV electronically.
2. Leave out your references
There's also no need to include references on your CV unless specifically requested to do so. The same goes for including the phrase 'references available upon request'. That's taken as a given. Don't waste that precious CV space on it.
3. Avoid irrelevant sections
We always recommend that you include additional sections in your CV such as languages, hobbies and interests, and projects. But they should only be included if they're relevant to the job you're applying for. That is, if they actually add to the argument that you're an ideal candidate. If it's not relevant, feel free to leave it out.
4. Put a limit on work history
If you're a more experienced candidate you don't need to include absolutely every job you've ever had. A good rule of thumb is to limit your work history to the last 10-15 years. Leave a comprehensive history on your LinkedIn profile, but limit it on your CV.
Likewise, irrelevant experience can be left off too. So if you have eight years of experience as a web developer you can leave out the bar job you had at uni to help pay your way through.
5. Stick to the limits
Stick to the following guidelines to keep your CV's size in check. Limit your CV summary to 3–4 lines in length. Have six bullet points at most for each entry in your work experience section, using fewer bullet points for jobs further in the past. And for your CV skills section, 5–10 skills is ideal, once again ensuring that they're relevant to the job you're applying for.
6. Use a compact font
The best CV fonts are the classics such as Times New Roman, Arial, Tahoma and Garamond. But when it comes to creating a compact one page CV layout not all fonts are created equal. Let's take a look at those fonts side by side to compare them.
Font sizes compared.
Font sizes compared.
Font sizes compared.
Font sizes compared.
All four examples are the same size, 11 pts. And from top to bottom the fonts you see are Arial, Tahoma, Times New Roman and Garamond. But Garamond clearly takes up the least space due to its typographical design. So a simple font change can make all the difference.
7. Stay away from Word templates
It's tempting to just choose the first free CV template you come across. But the problem is, they're often unwieldy to use. Try to customise or alter an average template for Word and you'll usually struggle to keep the CV format intact.
That's why we recommend you use a LiveCareer CV template and make use of our CV builder. All you need to do is enter the content and the builder does all the heavy lifting for you, keeping your layout perfect. In addition, all of our templates are perfectly optimised and expertly designed to give recruiters what they need.
We even have a specially created one page CV template.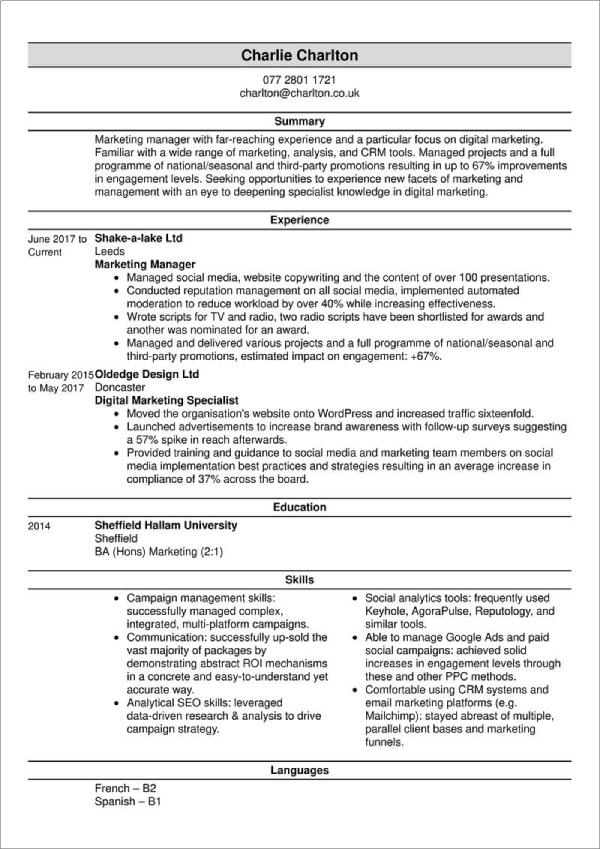 It's the easiest way to make a perfect 1 page CV. Though it's worth pointing out it's ideal for making a 2 page CV as well.
You don't have to be a CV writing expert. In the LiveCareer CV builder you'll find ready-made content for every industry and position, which you can then add with a single click.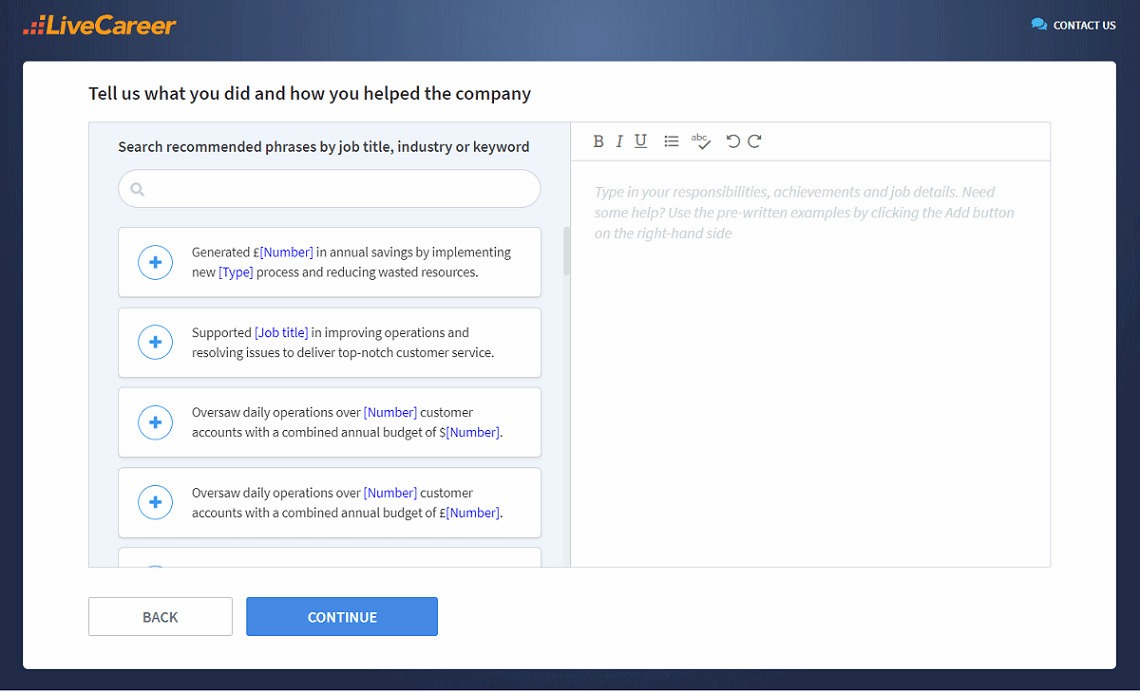 And that's it, thanks for reading. If there's anything else you'd like to know about how to write a one page CV or you're still wondering whether your own CV should be one page or two, please ask in the comments section and we'll be happy to help.
How we review the content at LiveCareer
Our editorial team has reviewed this article for compliance with Livecareer's editorial guidelines. It's to ensure that our expert advice and recommendations are consistent across all our career guides and align with current CV and cover letter writing standards and trends. We're trusted by over 10 million job seekers, supporting them on their way to finding their dream job. Each article is preceded by research and scrutiny to ensure our content responds to current market trends and demand.
About the author
LiveCareer Editorial Team
Since 2005, the LiveCareer Team has been helping job seekers advance their careers. In our in-depth guides, we share insider tips and the most effective CV and cover letter writing techniques so that you can beat recruiters in the hiring game and land your next job fast. Also, make sure to check out our state-of-the-art CV and cover letter builder—professional, intuitive, and fully in line with modern HR standards. Trusted by 10 million users worldwide.