How to Address a Cover Letter and Who to Address It To
How to address a cover letter the right way is harder than it looks. As the very first part of your cover letter structure it sets the stage for the rest of your content. Get it wrong and you've ruined that all-important first impression.
This guide is going to show you how to get your cover letter off to a strong start. You'll learn how to address a cover letter to UK standards, who to address a cover letter to, how to address a cover letter with no name and more. By the time we're done, you'll be a cover letter addressing expert.
Save time and have a cover letter ready in no time. Pick a cover letter template, use pre-written suggestions, and have your cover letter ready in minutes.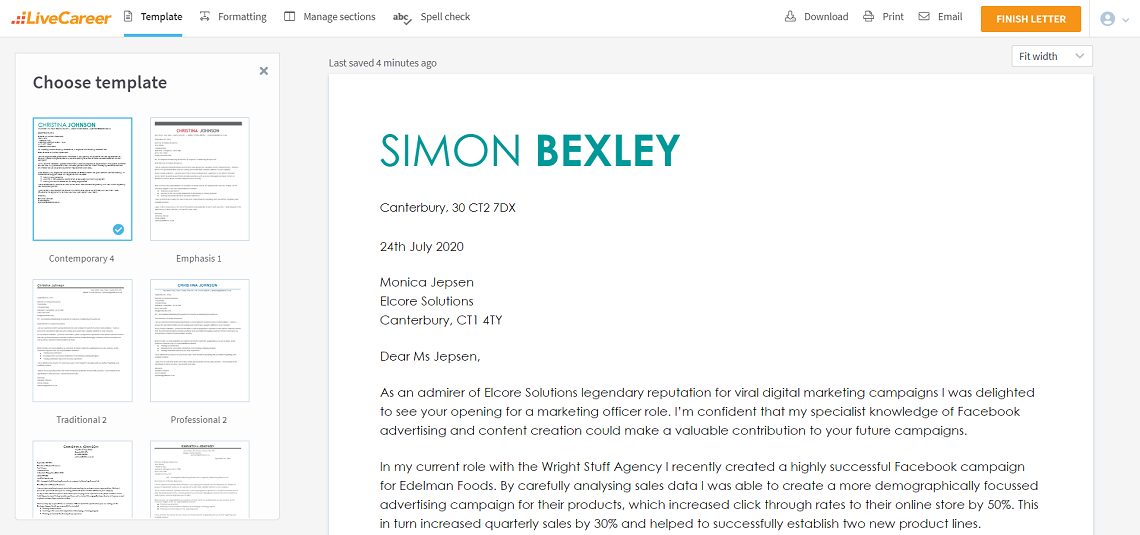 Check our other cover letter guides:
Cover letter address—sample cover letter
Simon Bexley
57 Old Farm Lane
Canterbury
CT2 7DX
24th July 2020
Monica Jepsen
Head of Marketing
Elcore Solutions
24 Enterprise Avenue
Canterbury
CT1 4TY
Dear Ms Jepsen,
As an admirer of Elcore Solutions legendary reputation for viral digital marketing campaigns I was delighted to see your opening for a marketing officer role. I'm confident that my specialist knowledge of Facebook advertising and content creation could make a valuable contribution to your future campaigns.
In my current role with the Wright Stuff Agency I recently created a highly successful Facebook campaign for Edelman Foods. By carefully analysing sales data I was able to create a more demographically focussed advertising campaign for their products, which increased click through rates to their online store by 50%. This in turn increased quarterly sales by 30% and helped to successfully establish two new product lines.
My own focus when creating campaigns is meticulous sales data analysis combined with in-depth discussions with the client to create a vision that they are completely satisfied with. I can see this would be a great match for Elcore's vision of providing the very best in bespoke solutions for the UK's best known brands. Working with you to further develop my skills and help deliver more outstanding results for your clients would be a true privilege.
Thank you for taking the time to consider my application. Please do get in touch with me on the number above at your convenience, so we can discuss how my knowledge of creating standout Instagram posts can help drive brand awareness for your clients.
Yours sincerely,
Simon Bexley
1. Why is addressing the cover letter the right way important?
First, your cover letter is a formal document. As such it has to follow a set of well-established rules for drafting a business letter. Additionally, addressing your cover letter correctly is instant proof of your written communication abilities. And this has been identified as a soft skill that's critical for success in the 21st-century workplace.
Addressing your cover letter correctly isn't just good practice, it's proof positive of your professionalism and communication skills. And now you're going to learn exactly how to do it.
2. How to write your address on a cover letter
Once again, it's essential that you follow the standard rules of UK cover letter formatting. Here's an example of a perfectly set out cover letter address.
Simon Bexley
57 Old Farm Lane
Canterbury
CT2 7DX
24th July 2020
Monica Jepsen
Head of Marketing
Elcore Solutions
24 Enterprise Avenue
Canterbury
CT1 4TY
Now here's how to do it yourself, step-by-step.
Start your cover letter by writing your own address, making sure your text is right-aligned.
Then sticking with right alignment, leave a space and enter the date. Note the correct format, the date written as a number with the ordinal letters (e.g. 1st, 2nd, 3rd, 4th), the month written out with a capital letter, followed by the year.
Lastly, switch back to left-alignment and write the hiring manager's address, including their job title.
So that's the cover letter address itself, now let's move on to your salutation.
You can adjust every cover letter created in the builder to meet the job requirements. Choose the name of your profession and the company to which you're applying, and the builder will automatically adapt the content for you. Create a cover letter faster than you ever thought possible and apply for the job in record time.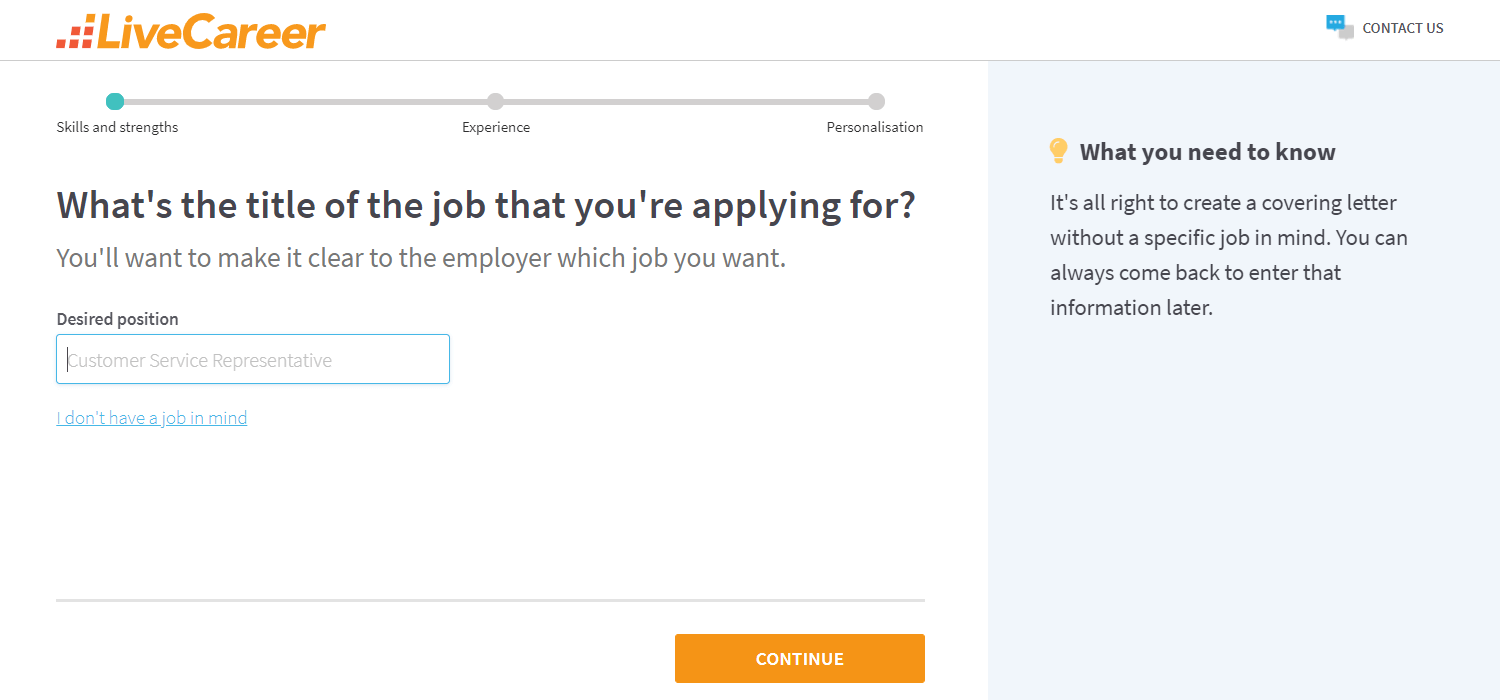 3. Who to address your cover letter to
Your cover letter salutation is simply the greeting, e.g. 'Dear Ms Jepsen'. Don't use 'Hi' as you would in an email, just stick with 'Dear'. And whatever you do, please don't use any outdated anonymous salutations such as 'To Whom It May Concern' or 'Dear Sir or Madam'.
They both look old-fashioned and sound cold and overly formal. In fact, it's always better to find out the hiring manager's name and use it.
When a person sees their own name it actually activates their brain in a very powerful way. It's a great way of really grabbing the hiring manager's attention. Here are a few suggestions of how to find out who to address a cover letter to.
Check the job advert to see if it's mentioned there.
Research LinkedIn or the company website to see if you can find the name of your prospective manager. Find out who's in charge of the team you're applying for.
Or simply pick up the phone, call the company and ask.
And if you really can't find out the hiring manager's name? Read on to discover the best way to address a cover letter anonymously.
How to address a cover letter when you don't know the name
I've already told you which two salutations don't work. Here some alternatives that are much more effective.
Dear Hiring Manager,
Dear Accounting Team Hiring Manager,
Dear Head of Customer Experience,
Dear Business Intelligence Manager,
Dear Company ABC Team,
Dear Company ABC Recruiter,
These are all warmer and less vague than the two traditional examples I mentioned above but the best of all in my opinion is 'Dear Hiring Manager'. It's simple and it was found to be the favourite of hiring managers when a cover letter is addressed without a name.
But even when you do have a name you should still take care while writing your perfect cover letter.
How to address a cover letter with a name
Take another look at the example I used earlier.
Pay particular attention to the title, Ms. Many people still ask how do you address a woman in a cover letter? The answer is simple, unless you know the woman you're addressing, and you know with absolute certainty that she prefers either Miss or Mrs, use the neutral Ms instead. Assuming marital status is quite rightly viewed as a sexist holdover of a bygone age and can cause offence.
Another area where you could go wrong is with gender-neutral names e.g. Charlie, Alex etc. Never assume the person's gender as this too can cause offence. In fact, in any situation where you're unsure about which gender to refer to a person as it's best to simply write their full name without a title. For example.
Dear Alex Jones,
Dear Charlie Sheen,
How to address a cover letter with a special title
You can go one step further when it comes to personalising a cover letter. Do a little digging and see if the hiring manager uses a special title. It could be academic, religious or military. And also be sure to use titles correctly, a good example is that surgeons should be referred to as 'Mr/Ms' and not 'Dr'. Making the effort to use titles correctly is a professional touch that shows effort and consideration. It will be noticed.
4. How to address an email cover letter
There'll be times when you send your cover letter as the body of an email with your perfectly written CV attached. In this situation, you need to address your cover letter differently. Here's how it's done.
Move the contact details. There's no need for any mailing address at the top of the letter. Leave out the recipient's contact details entirely and move your own contact details to the bottom, directly underneath your email signature. But—
Still address the hiring manager by name, and use the same rules for titles as you would in a separate cover letter.
Write a clear and well-formatted subject line. Cover letters sent as an email can easily get lost in the hiring manager's inbox. A blank or poorly written subject line is likely to get overlooked. So make your intentions clear and make the hiring manager's life easier with a nice simple format, your name + the job you're applying for. E.g. 'Application for Marketing Officer Position—Simon Bexley'.
You don't have to create any content yourself. The LiveCareer cover letter maker will automatically suggest the best content for your cover letter with ready-made examples and expert tips.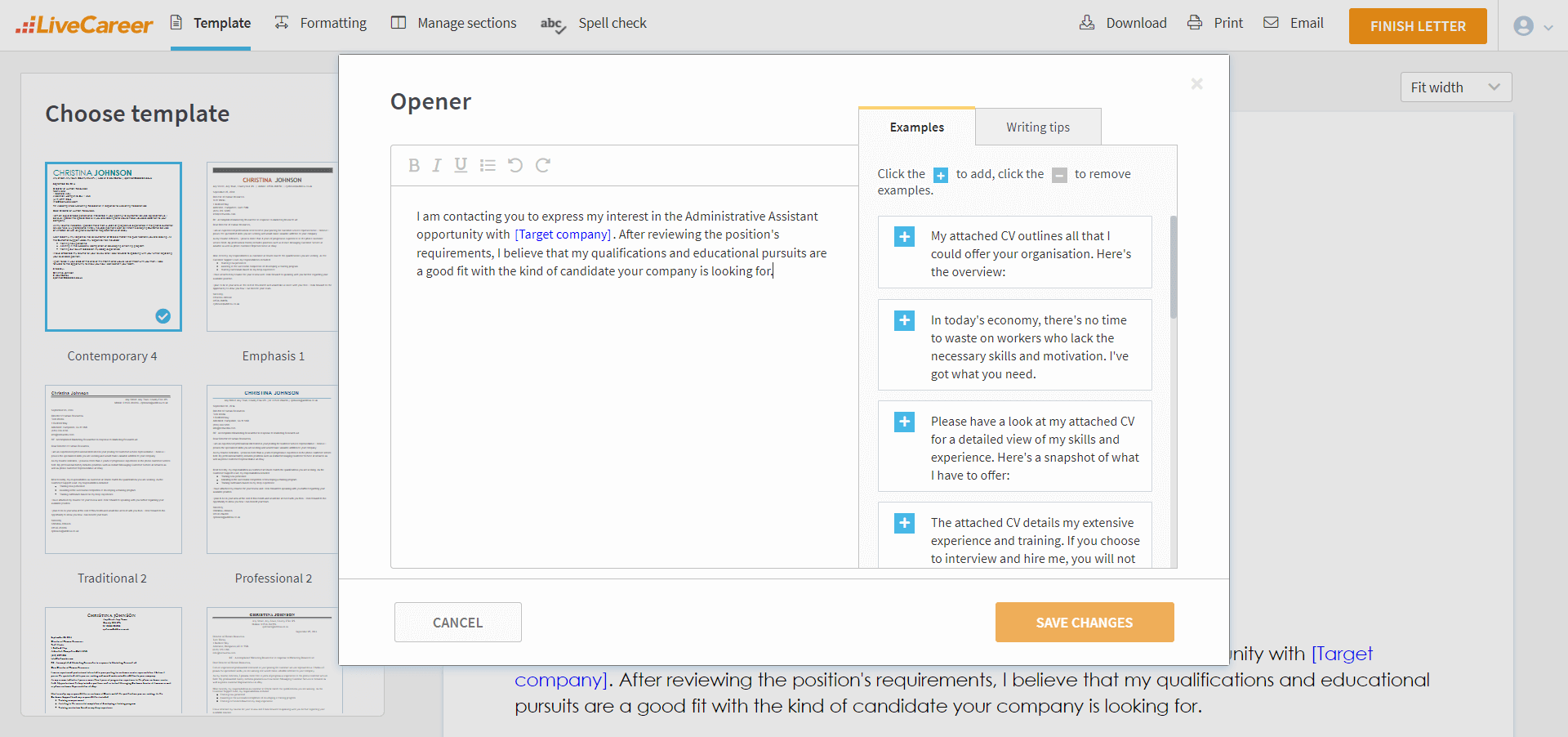 And that's all. You now know exactly how to address a cover letter and who to address a cover letter to. If there's anything else at all you'd like to know about how to address a cover letter for a job, then please let me know in the comments section and I'll be happy to help.
How we review the content at LiveCareer
Our editorial team has reviewed this article for compliance with Livecareer's editorial guidelines. It's to ensure that our expert advice and recommendations are consistent across all our career guides and align with current CV and cover letter writing standards and trends. We're trusted by over 10 million job seekers, supporting them on their way to finding their dream job. Each article is preceded by research and scrutiny to ensure our content responds to current market trends and demand.
About the author
LiveCareer Editorial Team
Since 2005, the LiveCareer Team has been helping job seekers advance their careers. In our in-depth guides, we share insider tips and the most effective CV and cover letter writing techniques so that you can beat recruiters in the hiring game and land your next job fast. Also, make sure to check out our state-of-the-art CV and cover letter builder—professional, intuitive, and fully in line with modern HR standards. Trusted by 10 million users worldwide.
Rate this article:
How to address a cover letter