How Long Should a Cover Letter Be? Best Cover Letter Length
A cover letter allows you to put a personal touch and some personality on your job application that won't come through your CV. It should be just long enough to capture their attention and get the recruiter excited, but not so long that it drags on and bores them.
So, how long is that? In this guide you will learn what the right cover letter length is. You will also see a sample cover letter to show you how to put theory into practice.
Save time and have a cover letter ready in no time. Pick a cover letter template, use pre-written suggestions, and have your cover letter ready in minutes.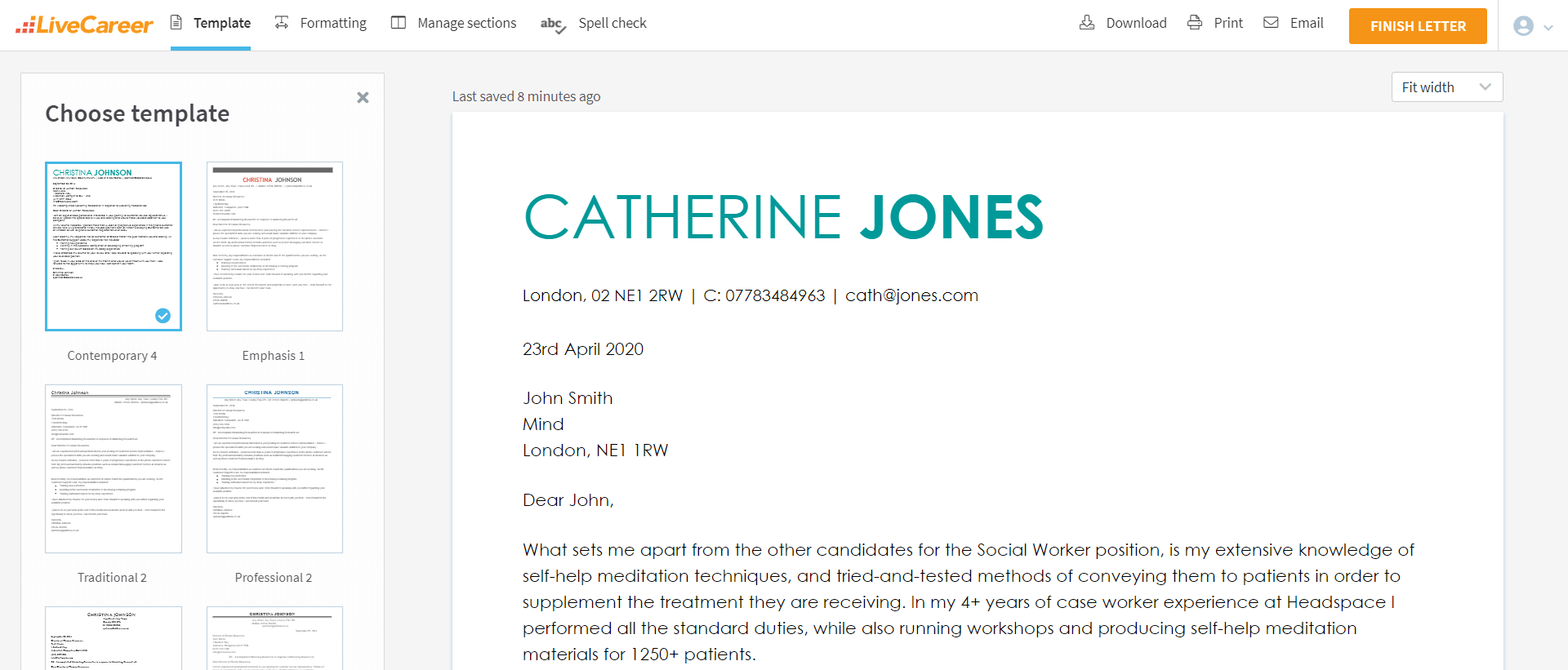 How long should a cover letter be?
The answer to 'How long should a cover letter be?' is the following:
No more than one page of A4
No less than half a page of A4
Word count wise, that's between 200-350 words
Split into 3 main paragraphs
If you write less than half a page, well, that just looks empty. If you write more than one page, the chances are you have written more than 99% of candidates. And most likely, that's not justified.
If you send it all in one block of text, that just looks messy, and likely, nobody's going to want to try hard to navigate it and find the important information. They have a 100 of these in their email inbox.
Here are some frequently asked questions on how long a cover letter should be.
Should I limit my cover letter length to one page?
Yes, most definitely. In other countries, like the US, it's even called a cover 'sheet'. Not cover layers.
One page is an absolute maximum. It is meant to be only your attempt to persuade them to get you to interview, not a full explanation of everything you ever did. If you listed everything here, you would have nothing to talk about at the interview.
Think about the best adverts you have ever seen. Did they drag on? Were they long-winded, packed with text? No. The role of an advert is to target you emotionally — by appealing to your needs.
The role of the cover letter is the same. Appeal to the needs and problems of the employer, and show that you are the perfect solution. Use confident, active language while doing it with quantified achievements, and you can convince them in one page, I'm sure of it. See how to write a successful cover letter from scratch.
You can adjust every cover letter created in the builder to meet the job requirements. Choose the name of your profession and the company to which you're applying, and the builder will automatically adapt the content for you. Create a cover letter faster than you ever thought possible and apply for the job in record time.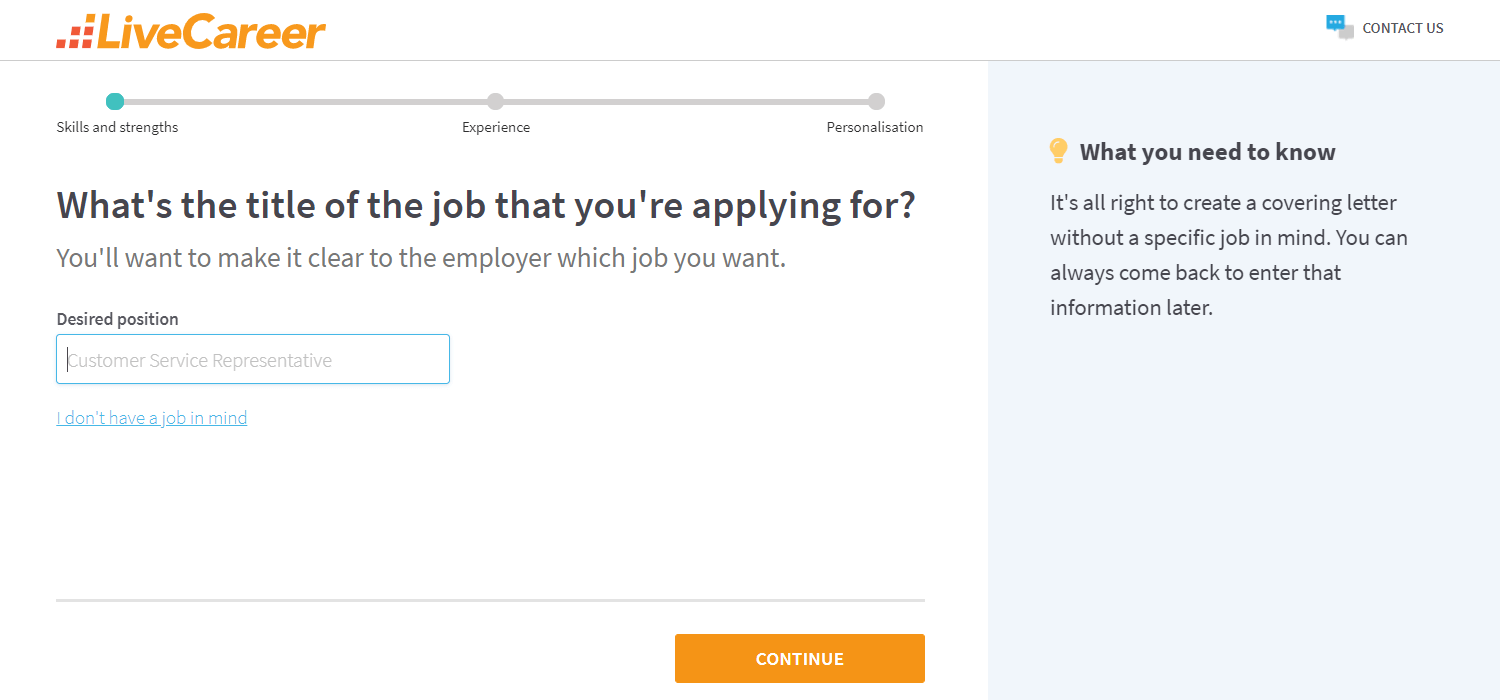 Can a cover letter be two pages?
No. CVs sometimes get to be two pages long—if someone has more than a decade of relevant experience with a lot of achievements. They still write short cover letters.
"Anything that can be said at all, can be said simply." — said Ludwig Wittgenstein, one of the most important 20th century philosophers. His cover letter was one page, too.
How many words should my cover letter be?
Since you are limited by the page, it's not going to be more than around 350 words. Even if you are applying through an online applicant system, and you're not sending a document, but merely pasting your cover letter into a box on their website—obey this.
If they need a longer answer to something from you, they'll tell you. Or it will be designated as a 'longer essay' or something of the sort. If you're not sure—ask. Email or call.
How long should each paragraph be?
Limiting yourself to '200-350 words' probably doesn't help all that much if you don't know how to balance it. Here's a cheat sheet. Of course, this is assuming you have a contact info header and your cover letter addressed properly, with 'Dear [Hiring Manager Name]' at the top. Here's how long should each paragraph be with reference to a typical cover letter structure:
1st Paragraph (60-80 words) — Starting a cover letter is pretty simple: the beginning should outline why you are a different, and better candidate than others for this position (mentioning what position it is), through describing your most impressive achievement with relation to a pressing need / desire the employer has.
2nd (Main) Paragraph (120-200 words) — Outlining 2-3 most key achievements (quantified and backed up by numbers), improvements, savings, that you made for your last employer. These should be closely related to the goals and requirements of the employer. Read further about what to include in a cover letter.
3rd Paragraph (40-60 words) — Seal the deal by making a justified, realistic promise.
Call to Action (Single Sentence) — To end a cover letter, ask for a call or an interview with confidence.
Then sign off, and you're done. There it is, in about 300 words or so. Want to see how that works in practice? No problem at all.
You don't have to create any content yourself. The LiveCareer cover letter maker will automatically suggest the best content for your cover letter with ready-made examples and expert tips.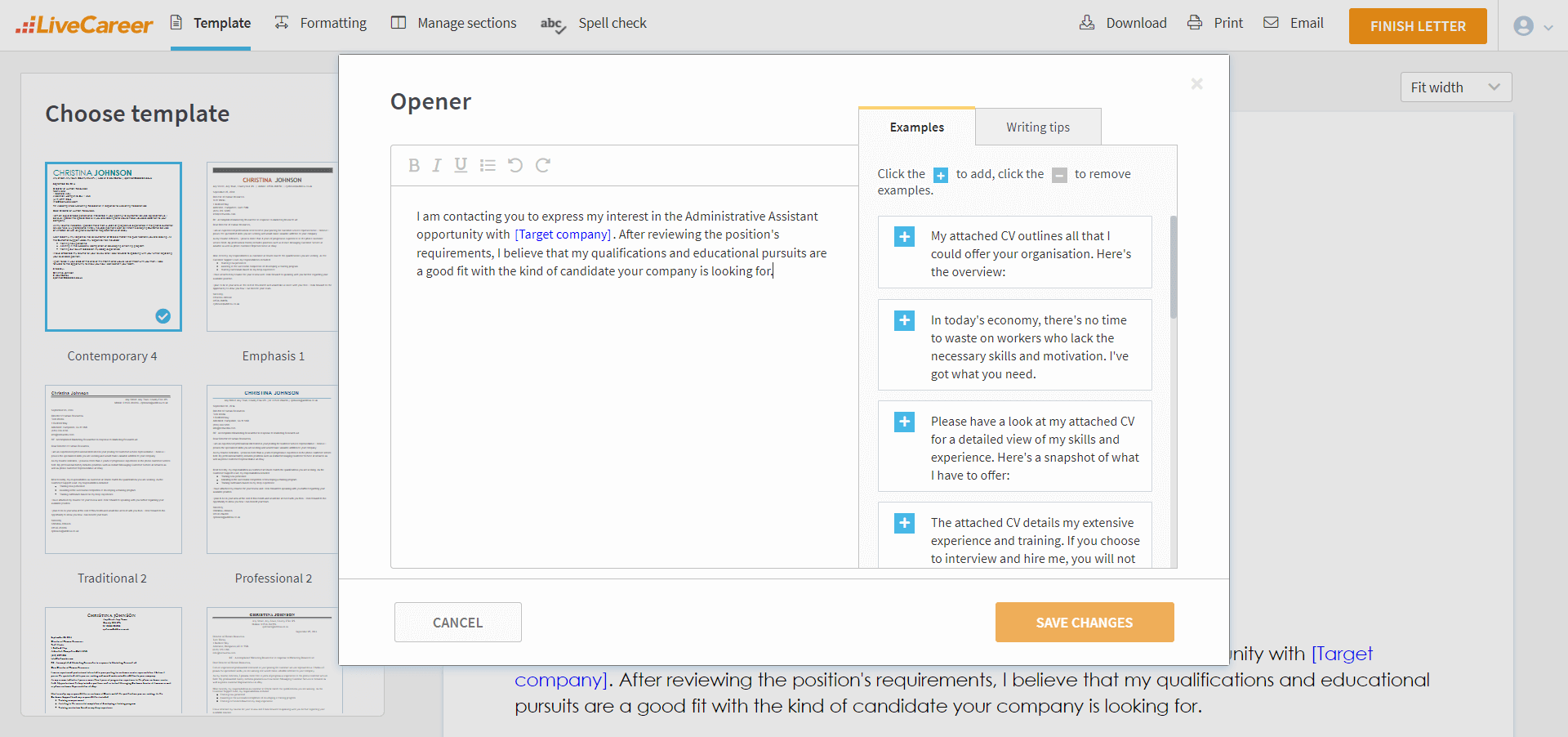 Here's a perfect example of a cover letter which fulfils the above criteria and stays within the limits we set out:
Sample cover letter length
Catherine Jones
40 York Road
London
NE1 2RW
07783484963
cath@jones.com
John Smith
Social Work Manager
Mind
1 Main Road
London
NE1 1RW
23rd April 2021
Dear John,
What sets me apart from the other candidates for the Social Worker position, is my extensive knowledge of self-help meditation techniques, and tried-and-tested methods of conveying them to patients in order to supplement the treatment they are receiving. In my 4+ years of case worker experience at Headspace I performed all the standard duties, while also running workshops and producing self-help meditation materials for 1250+ patients.
You desire a social worker experienced in assessing mental health treatment needs independently, which I excel in. During my tenure as a case worker at Headspace in Manchester, I comprehensively worked over 125 cases a year, from the initial screening interview, to monitoring treatment outcomes and patient condition long after treatment is done. I supplemented this with running meditation and mindfulness workshops and classes every Tuesday and Friday for up to 20 patients at a time. Not by accident, during this time, treatment completion rate jumped from 64% to 92%, and the self-reported anonymous patient satisfaction from 51% to 85%. I am experienced in working addiction cases, mainly heroin and crack, which comprise 35% of my cases. 45% of my cases are young, vulnerable people in their first crisis. I am registered with Social Work England, and hold a Master's in Social Work.
With all this and more under my belt, I am ready to work the type of cases you get. My experience and techniques will translate, as my past patients and your current ones have one thing in common — they crave calm and peace. I am dedicated to increasing your treatment completion rate just like I did at Headspace.
When could you find some time for me to tell you about the awesome network of 'post-grads' (recovered addicts) we maintain and support at Headspace?
Best Regards,
Catherine Jones
300 words. Right on the money. See how it's neatly formatted as well? Here are some best cover letter tips on the cover letter format.
What else to remember about when targeting the right cover letter length
To make sure your 200-350 words are as neat as possible, follow these tips:
Use even, 1-inch margins on all sides.
Use common, easy-to-read fonts like Calibri, Arial, Tahoma. Don't go bigger than size 12.
Use single line spacing.
Leave white space between each section and paragraph. If in doubt, just consult the example above.
There really isn't much more to say when answering how long should a cover letter be. You got it from here.
A cover letter alone simply won't be enough—you need an impactful CV, too. Create your CV in minutes. Choose a professional CV template and quickly fill in every CV section using ready-made content and expert advice.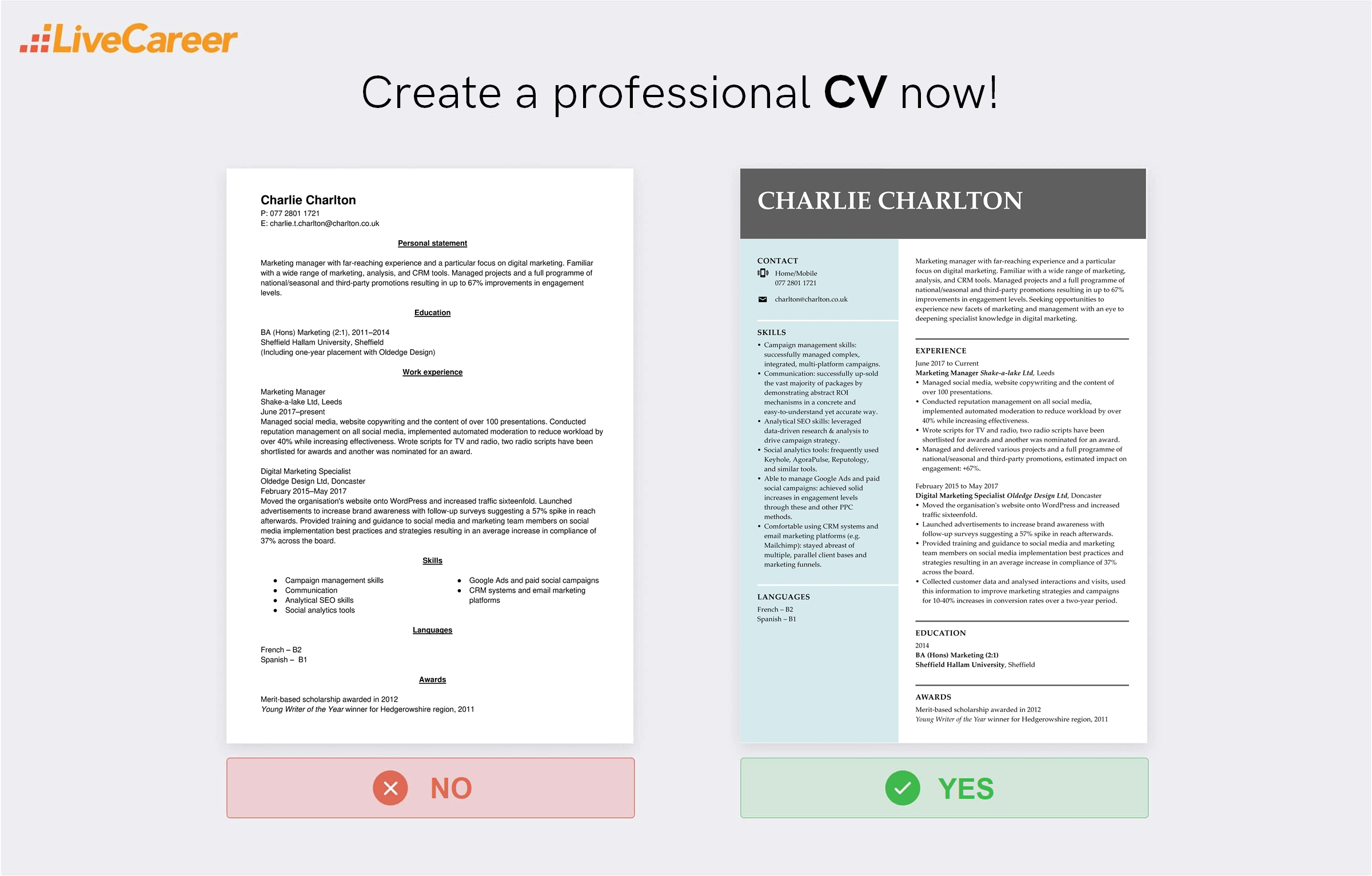 Does this answer how long should a cover letter be? Do you have a better idea of how long a cover letter can be? Let us know in a comment!
How we review the content at LiveCareer
Our editorial team has reviewed this article for compliance with Livecareer's editorial guidelines. It's to ensure that our expert advice and recommendations are consistent across all our career guides and align with current CV and cover letter writing standards and trends. We're trusted by over 10 million job seekers, supporting them on their way to finding their dream job. Each article is preceded by research and scrutiny to ensure our content responds to current market trends and demand.
About the author
LiveCareer Editorial Team
Since 2005, the LiveCareer Team has been helping job seekers advance their careers. In our in-depth guides, we share insider tips and the most effective CV and cover letter writing techniques so that you can beat recruiters in the hiring game and land your next job fast. Also, make sure to check out our state-of-the-art CV and cover letter builder—professional, intuitive, and fully in line with modern HR standards. Trusted by 10 million users worldwide.
Rate this article:
How long should a cover letter be