Best Cover Letter Layout: Examples & Writing Tips
Cover letters are an essential part of the recruitment process. They help add detail to your CV and let you expand on your professional prowess to create a perfectly tailored job application.
But here's the thing. No matter how good your content is, it's worthless without a neat and professional cover letter layout. It's the first thing that catches the hiring manager's eye. Use the correct layout for a cover letter and you'll exude professionalism and demand attention. Get it wrong and you're bound for the no pile without a second thought.
But in just five minutes, you can help to make the no pile a thing of the past. You're going to learn how to layout a cover letter correctly and get cover letter layout examples so you can see exactly how yours should look.
Save time and have a cover letter ready in no time. Pick a cover letter template, use pre-written suggestions, and have your cover letter ready in minutes.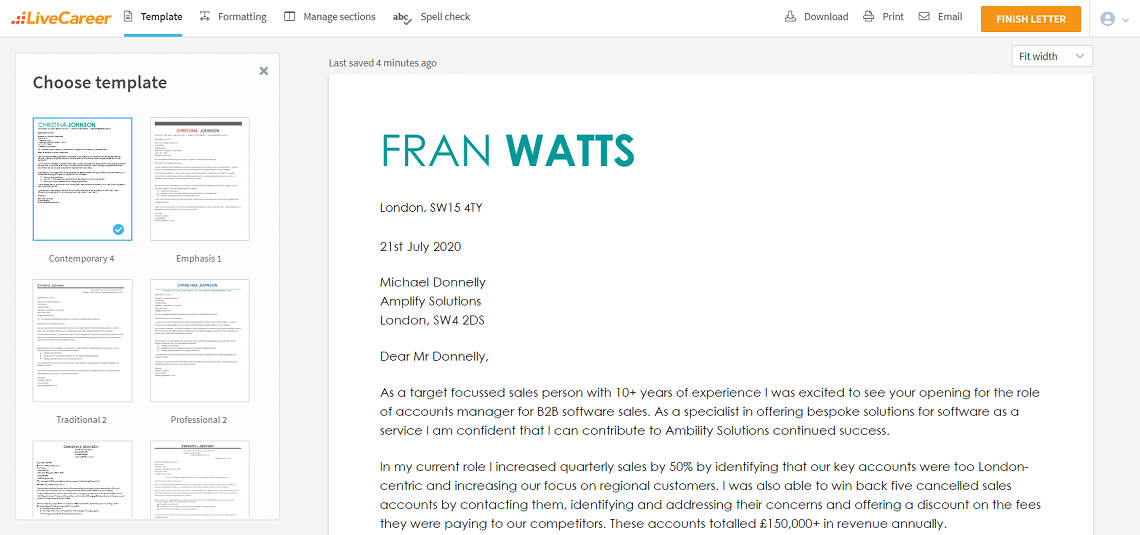 Cover letter layout example
Fran Watts
93 Old Park Road
London
SW15 4TY
21st July 2021
Michael Donnelly
Recruitment Manager
Amplify Solutions
The Printworks
103-107 Clapham Road
London
SW4 2DS
Dear Mr Donnelly,
As a target focussed sales person with 10+ years of experience I was excited to see your opening for the role of accounts manager for B2B software sales. As a specialist in offering bespoke solutions for software as a service I am confident that I can contribute to Ambility Solutions continued success.
In my current role I increased quarterly sales by 50% by identifying that our key accounts were too London-centric and increasing our focus on regional customers. I was also able to win back five cancelled sales accounts by contacting them, identifying and addressing their concerns and offering a discount on the fees they were paying to our competitors. These accounts totalled £150,000+ in revenue annually.
I have seen that Ampility plans to expand its business into France and Belgium following its acquisition of Le Fleur S.A. As a fluent French speaker with experience in selling to Francophone markets I am confident that I can assist in seizing this new opportunity. It would be an incredible opportunity to join and grow with Ampility at this exciting time.
Thank you for taking the time to consider my application and please do get in touch with me at your convenience. It'd be a pleasure to be able to discuss how my competitor analysis and ability to accurately gauge client needs has continued to win new sales and accounts.
Yours sincerely,
Fran Watts
1. Basic cover letter layout
The example you've just seen ticks all the boxes for proper cover letter layout. And creating a professional cover letter layout isn't complicated. There's just a few basic rules that you need to follow. Do this and you're already halfway there. Here's what to do.
How to lay out a cover letter:
Only use single or 1.15 line spacing.
Leave spaces between each separate section of your cover letter, from the personal details to your greeting, body paragraphs and sign-off.
Have page margins of one inch on all four sides of the page to create white space to frame your content.
Choose a clear, professional-looking font. Some of the best fonts for your CV and cover letter are Garamond, Didot and Tahoma.
And make sure you've got a good cover letter length. Never write more than one page.
Follow those rules and you'll end up with a professional cover letter that's bound to impress recruiters with its easy to read good looks.
You can adjust every cover letter created in the builder to meet the job requirements. Choose the name of your profession and the company to which you're applying, and the builder will automatically adapt the content for you. Create a cover letter faster than you ever thought possible and apply for the job in record time.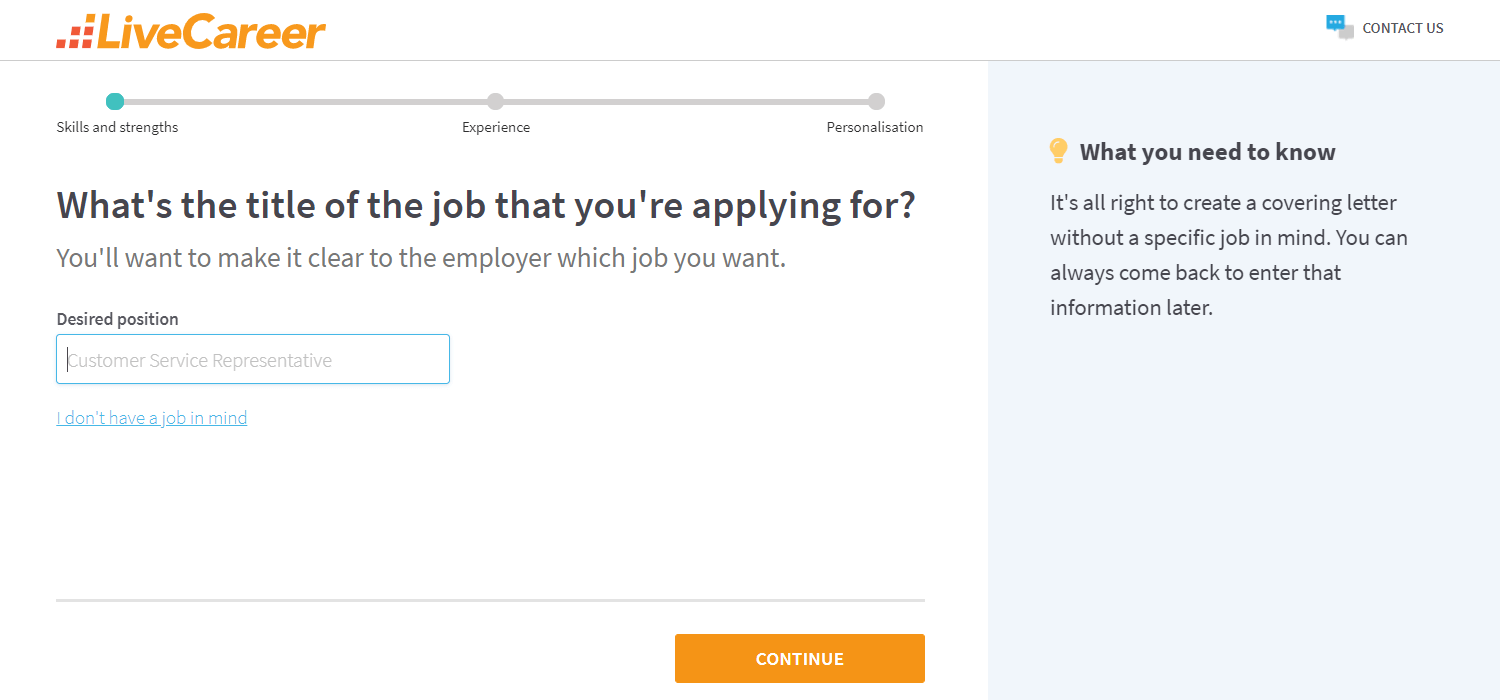 2. How to layout a cover letter section-by-section
Now you're going to see a cover letter layout template. We'll explore each section in order and show you exactly how to write it.
Cover letter header
This section contains personal details for you and the hiring manager. Here are the steps you need to follow and an example of how it should look.
Write your own contact details using right alignment.
Then leave a space and write the date you wrote the letter, taking care to follow the correct format e.g. 31st July 2021, not 31/07/21 etc.
Last, switch to left-alignment and enter the hiring manager's contact details, being sure to include their job title along with their name and address.
Sample cover letter layout—header
Fran Watts
93 Old Park Road
London
SW15 4TY
21st July 2021
Michael Donnelly
Recruitment Manager
Amplify Solutions
The Printworks
103-107 Clapham Road
London
Greeting
Also known as a salutation, this is the easiest part of your cover letter layout to get right. Always go with a simple 'Dear Mr/Ms Surname' and really do make an effort to find out and use the hiring manager's name. By doing so you make use of a classic marketing trick called personalisation, which is proven to have a positive impact.
A few other points to consider:
If you can't find the hiring manager's name, 'Dear Hiring Manager' is best.
If you're unsure of a person's gender you can leave out the title and write 'Dear [first name] [surname]'.
Always address women as 'Ms' unless you are 100% confident that they prefer a different title. Assuming marital status is outdated and bad manners.
First paragraph
Your introductory paragraph is where you set the scene and grab the hiring manager's attention. Remember, they have to deal with high numbers of applications for each role, and if your introduction isn't eye-catching they'll just move straight on the next applicant. But this is how to stop that from happening.
Mention the job role you're applying for in the first sentence. This helps to make your intentions clear and shows you've written a cover letter tailored to the job.
Then incorporate a 'hook', mention a relevant and impressive professional achievement that shows what a great candidate you are.
Second paragraph
Now you've got the ball rolling it's time to add even more proof of what a great potential employee you are. Check the job advert to see what skills and experience it requires. Then write about some of your own professional achievements that match those requirements.
The most effective way to do this is to use numbers to quantify your achievements and accomplishment statements to show how you solved challenges and contributed to your employer's success. In summary, don't just say what you did, prove how well you did it.
Third paragraph
Use this as an opportunity to show your motivation for choosing this employer. Do some research to discover a fact about the employer that you can highlight as an inspiration for working for them. Don't be shy about being enthusiastic. It proves you're going to be a dedicated employee and it's particularly important when you're writing a cover letter with no experience.
Final paragraph
Thank the hiring manager for their time. Then include a call to action. Ask the hiring manager to contact you so you can discuss the role further. Increasing your chances of getting an interview is as simple as asking for one. And if you have one more impressive professional achievement up your sleeve then you can include it here too.
Sign-off
One of the most important things in the layout of a cover letter is to follow standard UK business letter formatting. And when it comes to your sign-off there are only two options.
'Yours sincerely' if you addressed the cover letter to a named person.
'Yours faithfully' if you addressed it anonymously.
Then include a digital copy of your handwritten signature (optional) and your full name.
Email cover letter layout
The rules you've just seen don't apply to a cover letter sent as the body of an email. In that case you have to do things a little differently. Here's how to use the correct layout for a cover letter sent as an email.
Don't include a cover letter header but do make sure your subject line is clear. We've all got full inboxes and it's important to be able to identify messages at a glance. Simply combine your name with the job title you're applying for. E.g. Application for Accounts Manager—Fran Watts'.
Then follow exactly the same rules you would for writing a standalone cover letter but incorporate your own personal details into your email signature, minus your postal address.
Email cover letter layout example—signature
Yours sincerely,
Fran Watts
Accounts Manager
linkedin.com/in/franwwattszety
franwattszety@gmail.com
0777 777 7777
And that's it, everything you need to know about creating the best cover letter layout for your next job application.
You don't have to create any content yourself. The LiveCareer cover letter maker will automatically suggest the best content for your cover letter with ready-made examples and expert tips.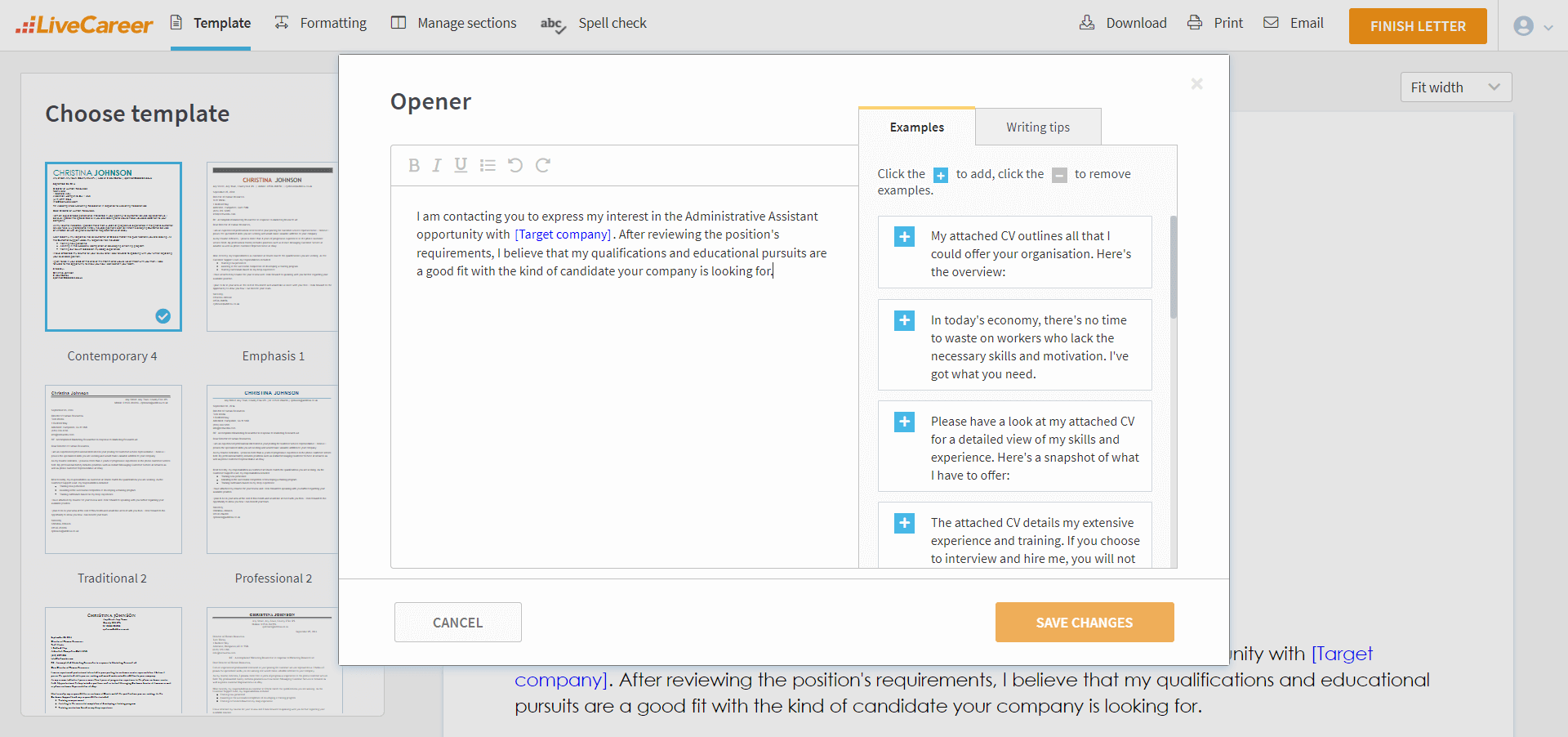 Thanks for reading. If there's anything else you'd like to know about cover letter page layout then please ask in the comments section and I'll be happy to help.
How we review the content at LiveCareer
Our editorial team has reviewed this article for compliance with Livecareer's editorial guidelines. It's to ensure that our expert advice and recommendations are consistent across all our career guides and align with current CV and cover letter writing standards and trends. We're trusted by over 10 million job seekers, supporting them on their way to finding their dream job. Each article is preceded by research and scrutiny to ensure our content responds to current market trends and demand.
About the author
LiveCareer Editorial Team
Since 2005, the LiveCareer Team has been helping job seekers advance their careers. In our in-depth guides, we share insider tips and the most effective CV and cover letter writing techniques so that you can beat recruiters in the hiring game and land your next job fast. Also, make sure to check out our state-of-the-art CV and cover letter builder—professional, intuitive, and fully in line with modern HR standards. Trusted by 10 million users worldwide.