What Is a Cover Letter and Why Do You Need It? (+ Examples)
A CV, important as it is, is just one part of your job application. You'll more often than not be required to submit a cover letter as well. Including a cover letter is standard practice and you should generally do so unless specifically asked not to.
We say 'cover letter' as though it were one, well-defined thing. And for a good, long while it was. It used to be that you wouldn't send or hand someone a stack of papers (a report, a script, or a CV, for example) without a letter of introduction and explanation as the first page. Literally a cover letter.
This made sense. The covering letter told the recipient what the documents underneath were about, whom they were for, who (if anyone) had asked for them, who the author was, what they'd hoped to achieve, what action was required, and so on. But times have changed.
Now a cover letter is something you only see mentioned in job adverts. It can be the body of an email, an attachment to an email, a field in an online application, or a DM on a social media platform. Its purpose remains the same, though, no matter what form it takes.
In this article, you will learn what a cover letter is and see a full cover letter sample. We'll also show why cover letters are still a thing in 2023 and how to write them.
Save time and have a cover letter ready in no time. Pick a cover letter template, use pre-written suggestions, and have your cover letter ready in minutes.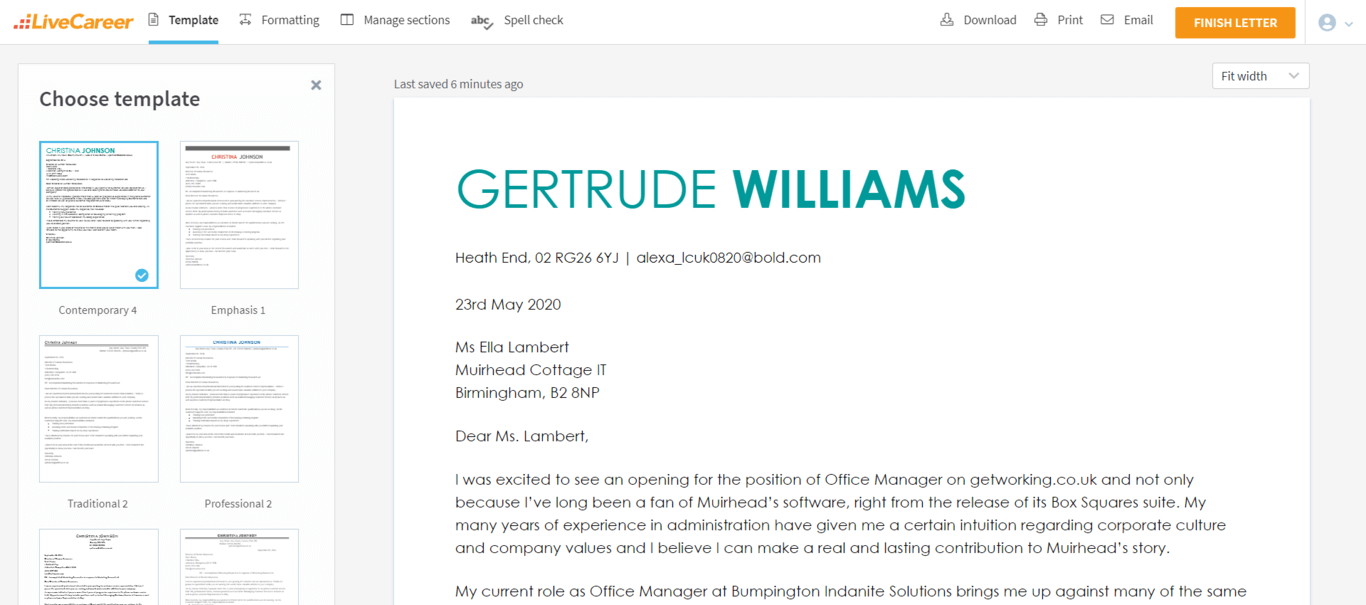 Sample cover letter
Gertrude Williams
95 Holburn Lane
Heath End
RG26 6YJ
23rd May 2021
Ms Ella Lambert
HR Manager
Muirhead Cottage IT
Birmingham
B2 8NP
Dear Ms. Lambert,
I was excited to see an opening for the position of Office Manager on getworking.co.uk and not only because I've long been a fan of Muirhead's software, right from the release of its Box Squares suite. My many years of experience in administration have given me a certain intuition regarding corporate culture and company values and I believe I can make a real and lasting contribution to Muirhead's story.
My current role as Office Manager at Bumpington Indanite Solutions brings me up against many of the same challenges that I gather Muirhead faces on a daily basis. The two companies share analogous niches in the market and I believe this would help me integrate with the Muirhead team on a 'plug and play' basis. To give a couple of examples of what I could bring to Muirhead, my most recent achievements at BIS include:
decreasing the average time it takes to prepare contracts and money orders by over 25% through the implementation of new procedures and templates
reducing annual junior administration staff turnover by 87% compared to my first year as Office Manager through a host of changes in recruitment, rostering, and workflow processes.
Having the opportunity to join the Muirhead Cottage team as Office Manager would certainly allow me to develop professionally in new and exciting ways. It would also give me the satisfaction of knowing that I'm contributing to a company that has been a part of my day-to-day life for so many years. I would be very grateful for a chance to discuss my candidature further during the course of an interview and very much look forward to hearing from you.
Yours faithfully,
Gertrude Williams
Now you know what a cover letter looks like. Read on to learn more about what a cover letter is.
What is a cover letter?
A cover letter, also called a covering letter, motivation letter, a motivational letter, or a letter of motivation, is a document that accompanies your CV as part of a job application. A cover letter is where you introduce yourself as a candidate, address your CV to the recruiter, highlight the most impressive and relevant parts of your CV, and demonstrate your enthusiasm for the job and the company.
The idea behind a cover letter hasn't changed since its heyday in the mid-to-late 20th Century. The form has changed significantly since then, though. The default is still a standard business letter, properly laid out and formatted just like in the olden days, but that's not the only form it can take.
A cover letter can also be an email, a DM on a social media platform, or a character-limited text box in an online application form. The purpose is always the same, though, and if you can write the default, standard business letter version, then you can write any of the other kinds as well.
What is the purpose of a cover letter?
The purpose of a cover letter is to address, introduce, and summarise your CV. A cover letter is used to direct your CV to the appropriate person (usually a hiring manager or recruiter) and let them know why you're sending your CV. Above all, it shows how your qualifications match the job description.
A well-written cover letter also shows that you can write well. An obvious but very important point. Written communication skills are crucial in some lines of work and both recruiters and hiring managers are likely to judge us on the basis of our cover letters.
You can adjust every cover letter created in the builder to meet the job requirements. Choose the name of your profession and the company to which you're applying, and the builder will automatically adapt the content for you. Create a cover letter faster than you ever thought possible and apply for the job in record time.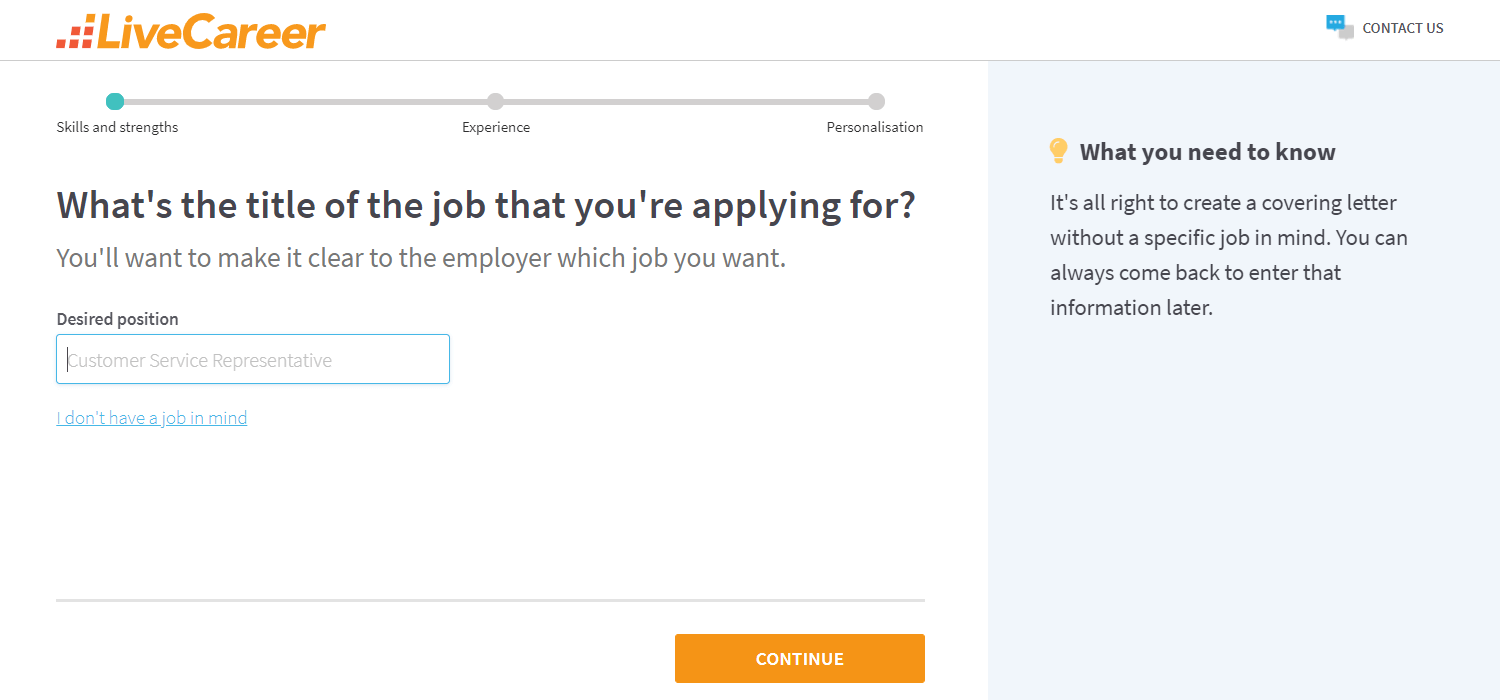 Is a cover letter the same thing as a CV or resume?
No. A cover letter is not the same thing as a CV or resume. A cover letter accompanies your CV and refers to it but doesn't simply repeat what's in it. Your CV is a summary of your experience, your cover letter is an introduction that demonstrates your professionalism and highlights your suitability for the role.
Do you need to include a cover letter in 2021?
The short answer is: yes, you should definitely include a cover letter with your job application. You shouldn't include a cover letter only if you've been specifically asked not to, or if
the application system makes it impossible (no text box, nowhere to attach another file).
Studies show that more than half of employers prefer candidates to include a cover letter, even if it's a short business letter. Yet a quick search online reveals article after article claiming that no one or almost no one reads cover letters any more. So why should you bother?
Even if no one reads your cover letter, if the advert required one, then not including it is a great way to get your application culled early on in the process.
And maybe the recruiter doesn't even open your cover letter but hands it on to the hiring manager. Maybe the hiring manager has a print out of your letter in front of them during your job interview. There are many ways in which a good cover letter could make all the difference.
Being able to write a good cover letter automatically means being able to write a good email for when you send through your CV. Or maybe a DM on LinkedIn. A traditional cover letter is the longest and most formal version of something that is as important and relevant now as it was last century.
Bottom line: you have nothing to lose and everything to gain by including a cover letter. Even if the traditional cover letter is going extinct, being able to introduce yourself and show that you're the right candidate for the job is a skill that's as crucial now as ever.
You don't have to create any content yourself. The LiveCareer cover letter maker will automatically suggest the best content for your cover letter with ready-made examples and expert tips.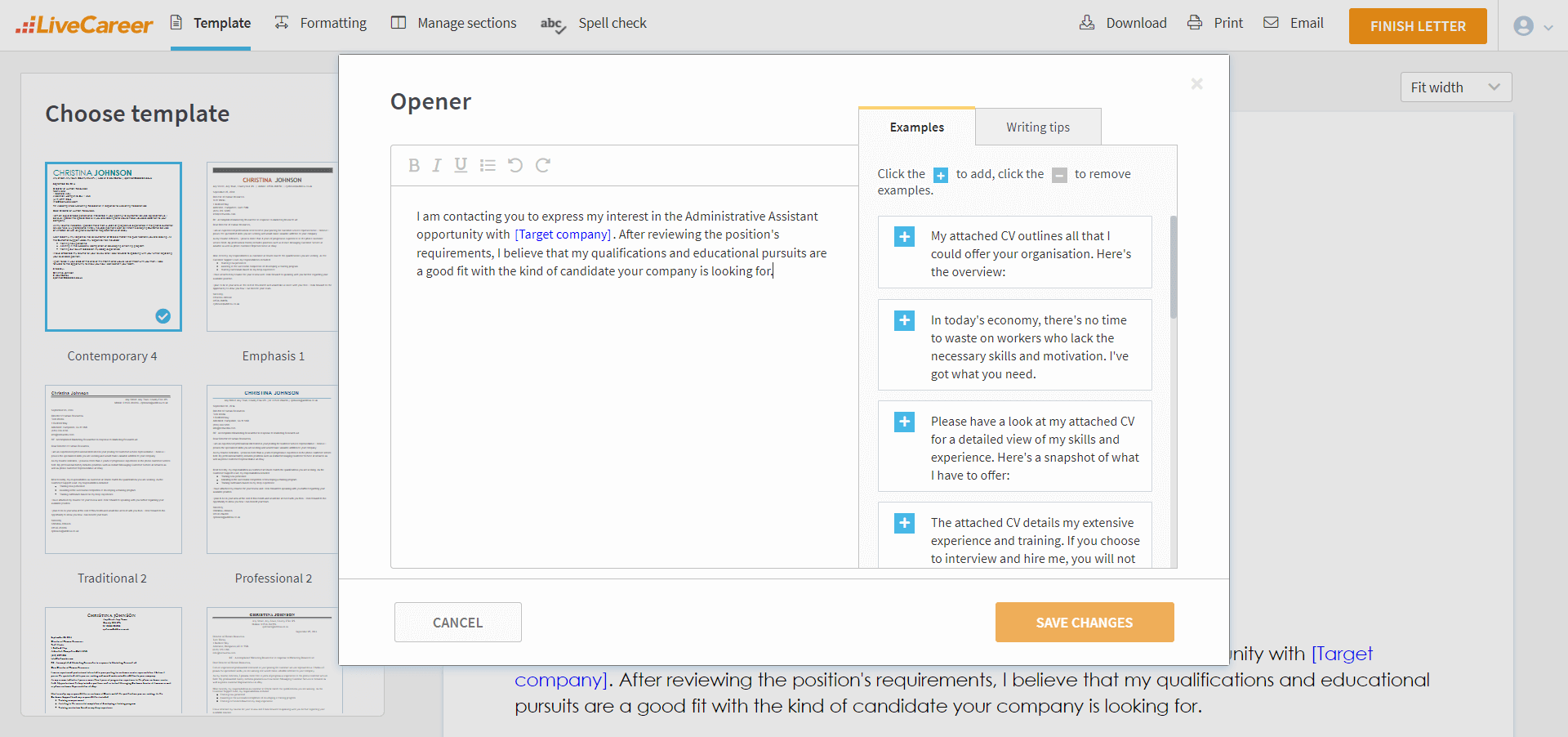 How to write a cover letter
Writing a new cover letter for each job application takes a bit of effort, there's no denying it. It's definitely worth it, though, and there are things you can do to make the process quicker and easier on yourself.
Learning how to write a good cover letter can be easier and less painful than you might think, and having a good guide to follow is key. Check out our guides with cover letter writing tips. Whether you're applying for an advertised opening, prospecting or networking, our guides will get you there.
To make the best possible impression with the least amount of time and effort, try our cover letter builder. It'll guide through the process of writing the content and then help you really stand out from the crowd with elegant, professional templates you can't get anywhere else.
A cover letter alone simply won't be enough—you need an impactful CV, too. Create your CV in minutes. Choose a professional CV template and quickly fill in every CV section using ready-made content and expert advice.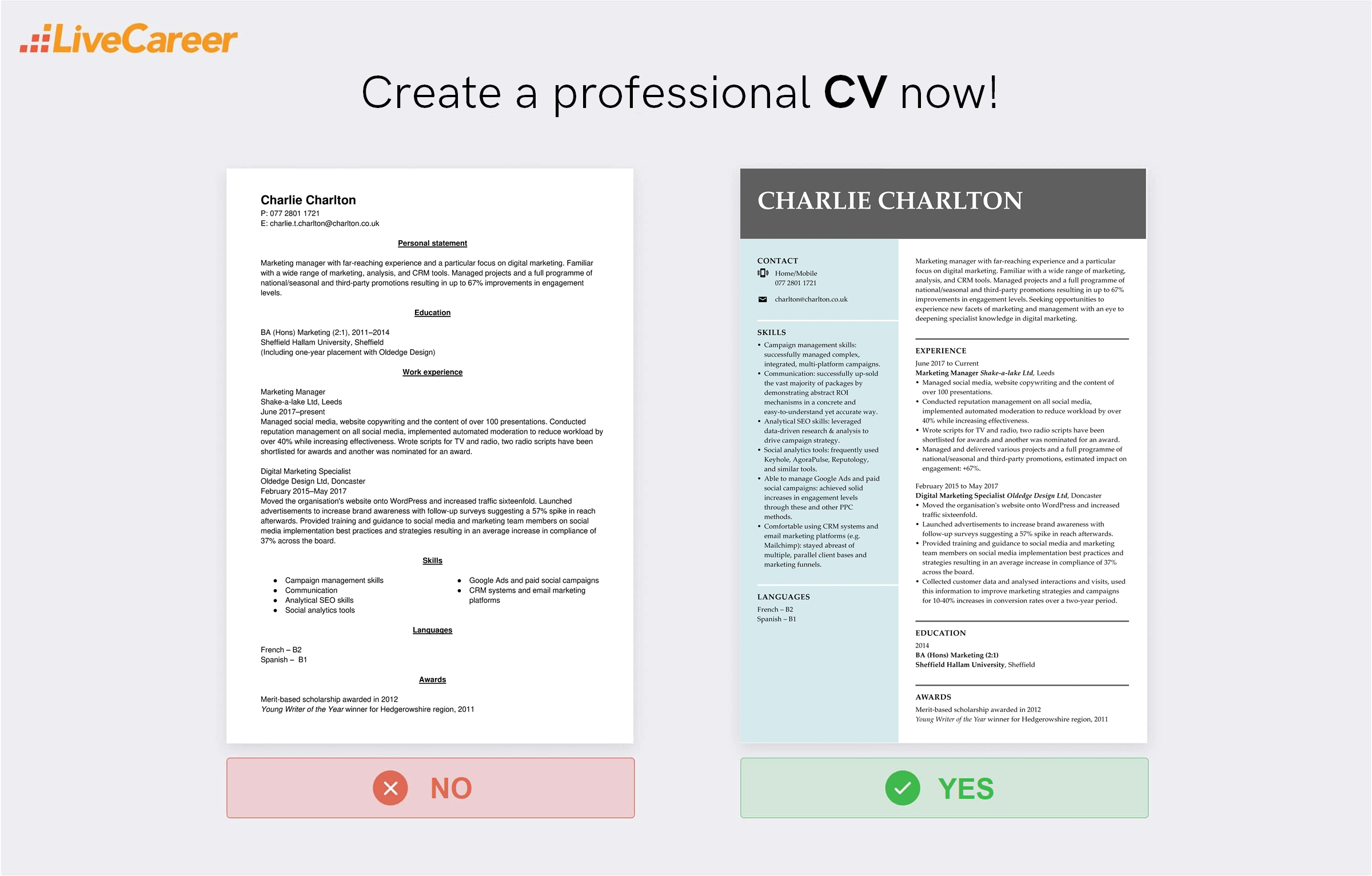 Has this article answered your questions? Is there anything else you'd like to know about cover letters before sitting down to write one? Let me know in the comments below.
How we review the content at LiveCareer
Our editorial team has reviewed this article for compliance with Livecareer's editorial guidelines. It's to ensure that our expert advice and recommendations are consistent across all our career guides and align with current CV and cover letter writing standards and trends. We're trusted by over 10 million job seekers, supporting them on their way to finding their dream job. Each article is preceded by research and scrutiny to ensure our content responds to current market trends and demand.
About the author
LiveCareer Editorial Team
Since 2005, the LiveCareer Team has been helping job seekers advance their careers. In our in-depth guides, we share insider tips and the most effective CV and cover letter writing techniques so that you can beat recruiters in the hiring game and land your next job fast. Also, make sure to check out our state-of-the-art CV and cover letter builder—professional, intuitive, and fully in line with modern HR standards. Trusted by 10 million users worldwide.