Transferable skills are abilities that can be used in a wide range of careers. As the name suggests, they can literally be transferred from one job to another and they're incredibly valuable to employers.
Their versatility means they can be used for any industry and they're particularly useful for candidates looking to make a career change or targeting entry-level positions.
But that said, transferable skills are essential to nurture no matter where you are in your career. Even if you're not looking for a new job now, chances are you will be in future. .
In this article you'll learn what exactly transferable skills are, how to include them in your CV and see some great examples in our transferable skills list. And by the time you're done, you'll be able to transfer your talents with confidence.
Create an effective CV in minutes. Choose a professional CV template and fill in every section of your CV in a flash using ready-made content and expert tips.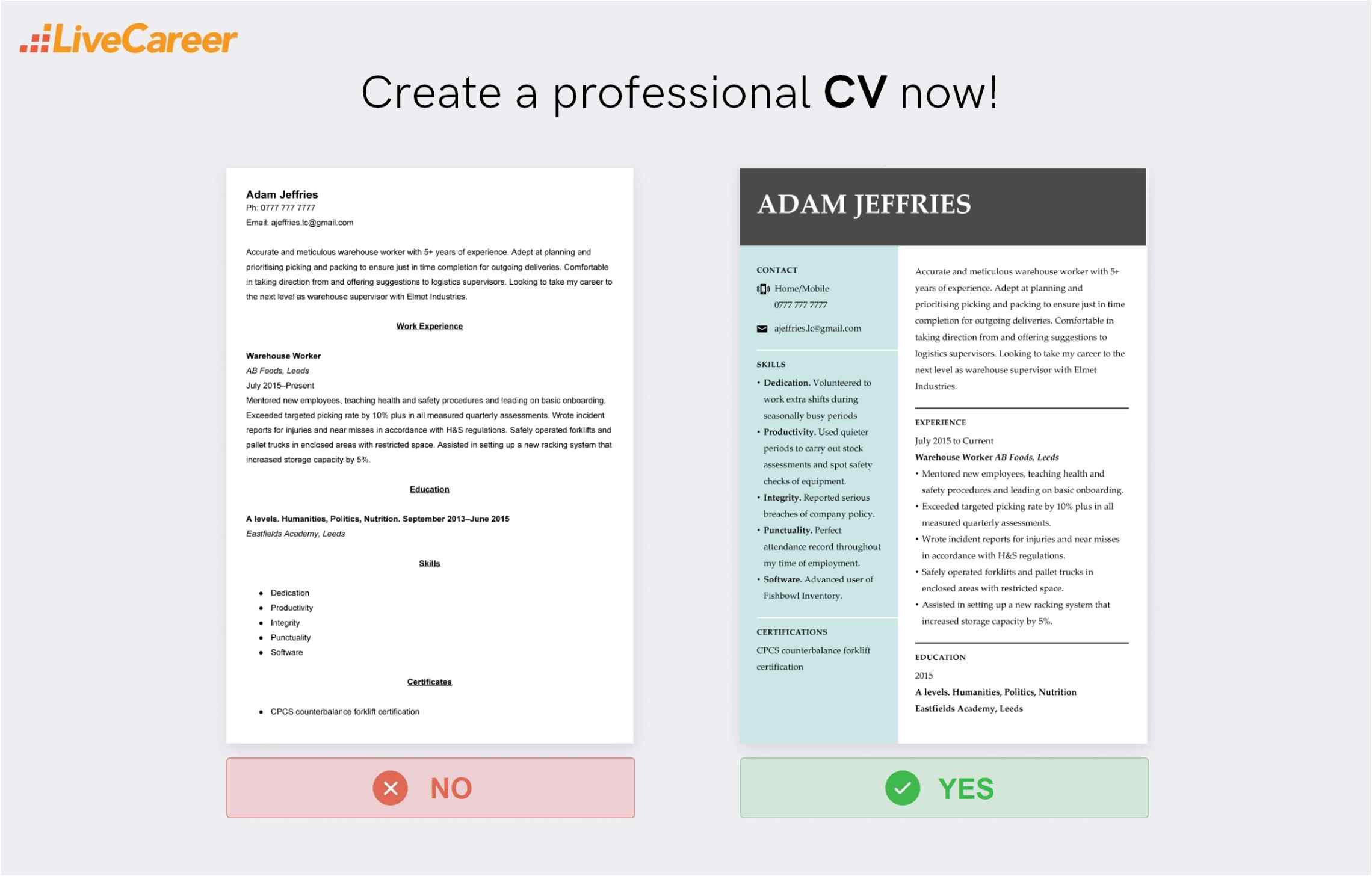 The LiveCareer online CV maker lets you build a professional CV fast and download it as a PDF or DOC.
Transferable skills CV sample
Adam Jeffries
Ph: 0777 777 7777
Email: ajeffries.lc@gmail.com
Accurate and meticulous warehouse worker with 5+ years of experience. Adept at planning and prioritising picking and packing to ensure just in time completion for outgoing deliveries. Comfortable in taking direction from and offering suggestions to logistics supervisors. Looking to take my career to the next level as warehouse supervisor with Elmet Industries.
Work Experience
Warehouse Worker
AB Foods, Leeds
July 2015–Present
Mentored new employees, teaching health and safety procedures and leading on basic onboarding.
Exceeded targeted picking rate by 10% plus in all measured quarterly assessments.
Wrote incident reports for injuries and near misses in accordance with H&S regulations.
Safely operated forklifts and pallet trucks in enclosed areas with restricted space.
Assisted in setting up a new racking system that increased storage capacity by 5%.
Education
A levels. Humanities, Politics, Nutrition. September 2013–June 2015
Eastfields Academy, Leeds
Skills
Dedication. Volunteered to work extra shifts during seasonally busy periods
Productivity. Used quieter periods to carry out stock assessments and spot safety checks of equipment.
Integrity. Reported serious breaches of company policy.
Punctuality. Perfect attendance record throughout my time of employment.
Software. Advanced user of Fishbowl Inventory.
Certificates
CPCS counterbalance forklift certification
Why are transferable skills important?
The importance of transferable skills can't be overstated. They're the abilities that go to the very heart of your ability to function effectively and productively in the workplace. And although they're generally more soft skills than the hard skills you gain for specific roles they're of paramount importance in any job application.
According to government statistics, in the years 2000-2018 around 9% of the workforce changed jobs every year. As I've already mentioned, even if you haven't changed jobs recently, chances are you will in future. So it's essential to have a core set of portable skills you can take with you from one job to the next.
Transferable skills list
There are too many transferable skills examples to list in this guide, so we've narrowed them down to the skills that are the most important for the widest range of industries. All of them guaranteed to make a great addition to your CV.
1. Communication
Communication skills are truly universal. They consistently top the list of the skills employers most desire. In any situation where you need to collaborate with or have dealings with other people your communication skills come to the fore. Here are some examples of this most universal of transferable skills.
Verbal communication
Written communication
Active listening
Questioning
Confidence
Friendliness
Tone of voice
Clarity
Respect
Languages
Constructive feedback
2. Leadership
Leadership skills aren't just for managers. They're actually another truly universal transferable skill. Any situation where you need to take initiative and organise other people to work towards a shared goal requires leadership. And it's a skill that's in high demand. One study revealed that only 14% of CEOs say they have the leadership talent needed to achieve their business goals.
Delegation
Positivity
Patience
Mentoring
Integrity
Accountability
Team building
Teaching
Decisiveness
3. Time management
Another transferable skills example that's essential for every role. The ability to adhere to schedules and plan workflow is a non-negotiable. Here are some examples of how this transferable skill could appear on your CV.
Scheduling
Project management
Goal setting
Prioritisation
Planning
Multi-tasking
Strategic thinking
Meeting deadlines
4. Teamwork
The majority of jobs require you to be able to work well with others. Teamwork is consistently one the top transferable skills employers seek. Here are a few examples to use on your CV.
Conflict resolution
Tolerance
Collaboration
Persuasiveness
Influencing
Organising
5. Self-motivation
We've just mentioned teamwork, but the ability to work effectively alone is also crucial. These are some skills that are essential to working effectively as an individual.
Goal setting
Action planning
Resilience
Initiative
Commitment
Positivity
Self-awareness
6. Work ethic
Every employer wants motivated and hard-working employees and this makes a strong work ethic one of the most valuable transferable skills you can possess. Here are some different examples to use on your CV.
Discipline
Punctuality
Cooperation
Productivity
Dedication
Professionalism
Respect
7. Research and analysis
The modern economy is increasingly data-driven and the value of data to the UK economy is already in the billions of pounds and set to rise exponentially in the future. Research and analysis are among the best transferable skills to help companies take advantage of this growth. They're also key to problem-solving, budgeting and a host of other workplace scenarios.
Data gathering
Data analysis
Reporting
Budgeting
Optimisation
Predictive modelling
Budgeting
Auditing
Process management
8. Computer skills
Computer skills are another of the most transferable skills. They are also in high demand for almost every job. Here are some of the best examples.
Office suites (Microsoft Office and G Suite)
Cybersecurity
Databases
Programming
Social media
SEO
Digital marketing
Graphic design
Enterprise systems
Troubleshooting
9. Problem solving
Every role has its challenges. Being able to face them and overcome them with effective solutions is essential to being a productive employee. Here are some skills that are crucial to efficient problem solving.
Analysis
Research
Decision making
Risk analysis
Lateral thinking
Emotional intelligence
Initiative
Project planning
Troubleshooting
A strong CV summary will convince the recruiter you're the perfect candidate. Save time and choose a ready-made personal statement written by career experts and adjust it to your needs in the LiveCareer CV builder.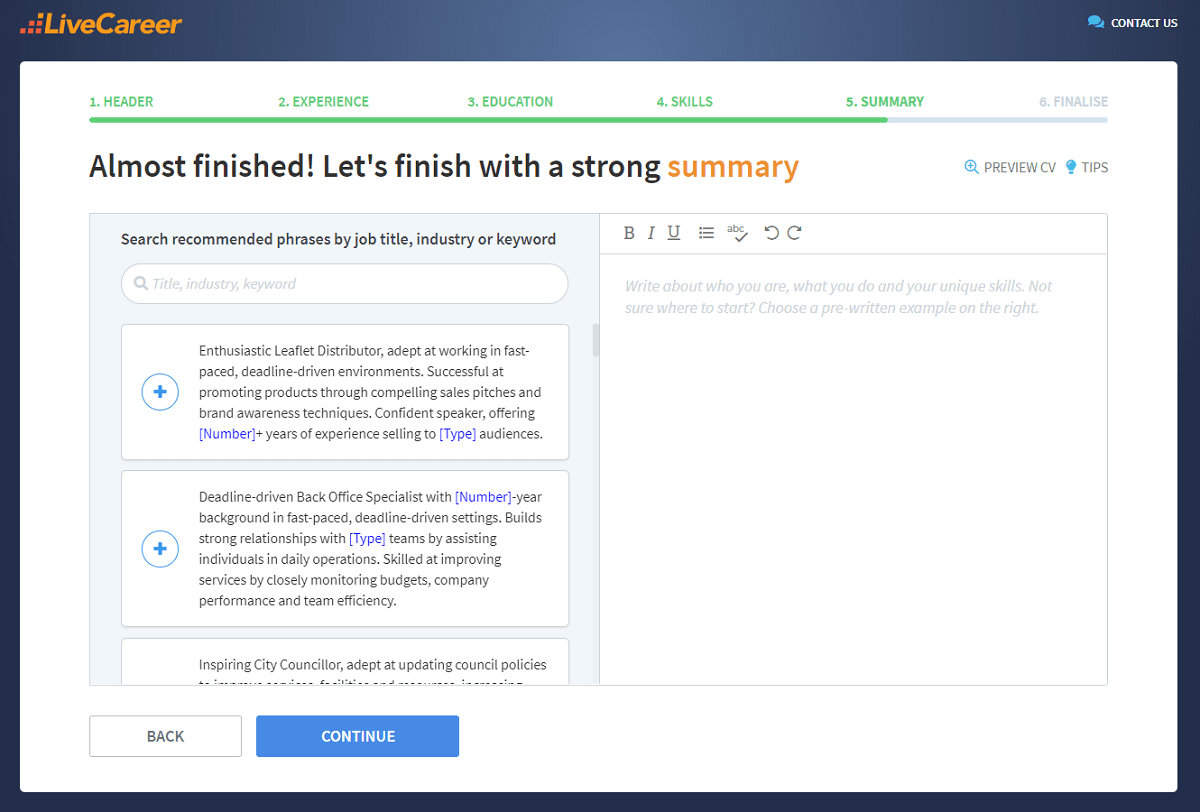 How to include transferable skills on your CV
Your transferable skills list needs to be included as a separate section immediately after your CV education. Write it as a bulleted list, containing 5–10 points, and give it the heading 'Skills.'
But to do it effectively you'll need to do more than just throw together a list. Here's how to make sure it has maximum impact.
Firstly, you can't just randomly choose a list of skills, they have to be targeted to the job you're applying for. To choose effectively you'll need to do a little analysis before you write. Refer back to the job advert and take a note of every skill it mentions. Then write a list of every skill that you possess, whether it was gained through work, education or other life experiences.
Then choose transferable skills from your own list that match the requirements mentioned in the advert. If you're making a career change then these can all be transferable skills. But even candidates applying for a job within the same industry would benefit from including one or two of the major transferable skills. Just adapt your approach to your own circumstances.
And don't just list your skills, add a brief explanation of each to give them more impact. Here's an example.
Transferable skills examples–skills section
Skills
Leadership. Managed a team of 5 office assistants
Software. Advanced user of Oracle E-Business Suite.
But that's not the only place to show off transferable skills. For maximum effect you should sprinkle them throughout your CV. Let's start off with an example from the first section of your CV, your CV profile.
Transferable skills examples–CV profile
Creative marketing assistant with 2 years of experience in social media advertising. Specialist in establishing trusted relationships with clients through attentive collaboration. Looking to contribute my skills to further Sedgeworth's marketing team's future success.
That CV summary is sure to make a powerful first impression. It includes top transferable skills like social media, communication and teamwork. Moving on, your work history also offers an ideal opportunity to weave in more transferable skills.
Transferable skills examples–work experience section
Work Experience
Project Manager
Celtrex Software, London
October 2016–Present
Carried out data mining of seasonal sales statistics to identify trends and create targetted marketing campaigns, helping to grow sales by 20%.
Time managed projects using Agile methodology, introducing Scrum across three teams and increasing measurable output by 15%.
That example shows off analytical and time management skills. Two of the most sought after transferable skills. Then we move on to your education section. If you haven't got much experience, such as if you're writing a student CV, it's yet another place to add some transferable skills.
Transferable skills examples–education section
BSc Education, September 2017–June 2020
The University of Manchester
Extracurricular activities. Volunteer mediator for student advice service. January 2018–May 2020
Lastly, you can demonstrate transferable skills in additional sections of your CV that follow after your skills section. A good example is including details of any foreign languages you can speak.
Transferable skills examples–additional sections
How to develop transferable skills
If by this point you're worried your transferable skills aren't up to scratch, relax, there are lots of options available for you to develop your transferable skills. Here's what to do.
1. Identify the skills you already have.
Take the time to list all of the skills you already possess. And remember skills don't just come from work. For example, hobbies and interests can help teach vital transferable skills. Team sports is a great way to learn teamwork and leadership.
2. Ask for feedback.
Ask a manager or a friendly colleague to advise you on what skills you need to improve. Identifying your skills gap is essential to choosing the right training.
3. Explore online training providers.
Udemy, Coursera, The Open University and edX offer courses in a wide range of subjects. We live in a golden age of training and development. Make use of it.
4. Ask your employer about internal training.
Many larger employers offer training in a variety of subjects. And as transferable skills are among the most important and fundamental workplace skills, chances are you'll find something useful on offer.
5. Explore government led training.
Take a look at the UK government's career skills and training portal. Upskilling the workforce is recognised as a crucial factor in growing the national economy. So there are more options than ever before for you to obtain good transferable skills.
6. Practice.
Once you've undertaken training, put your new found skills into practice. Ask about being assigned work that lets you consolidate your new learning or find projects that will let you practice in your spare time.
7. Start networking
If you're planning a career move you'll need to find out as much as possible about your new industry of choice. Consider attending careers fairs and conferences to build contacts, and learn which transferable skills to focus on.
8. Rewrite your CV
Don't forget to show off your new-found skills in your CV. Take a look at our guide on how to write a CV to find out more.
9. Update your cover letter.
When you're applying for that new job you'll need a cover letter too. Start thinking about how you can use it to showcase your newly developed abilities. Read our guide on how to write a cover letter to get it right.
You don't have to be a CV writing expert. In the LiveCareer CV builder you'll find ready-made content for every industry and position, which you can then add with a single click.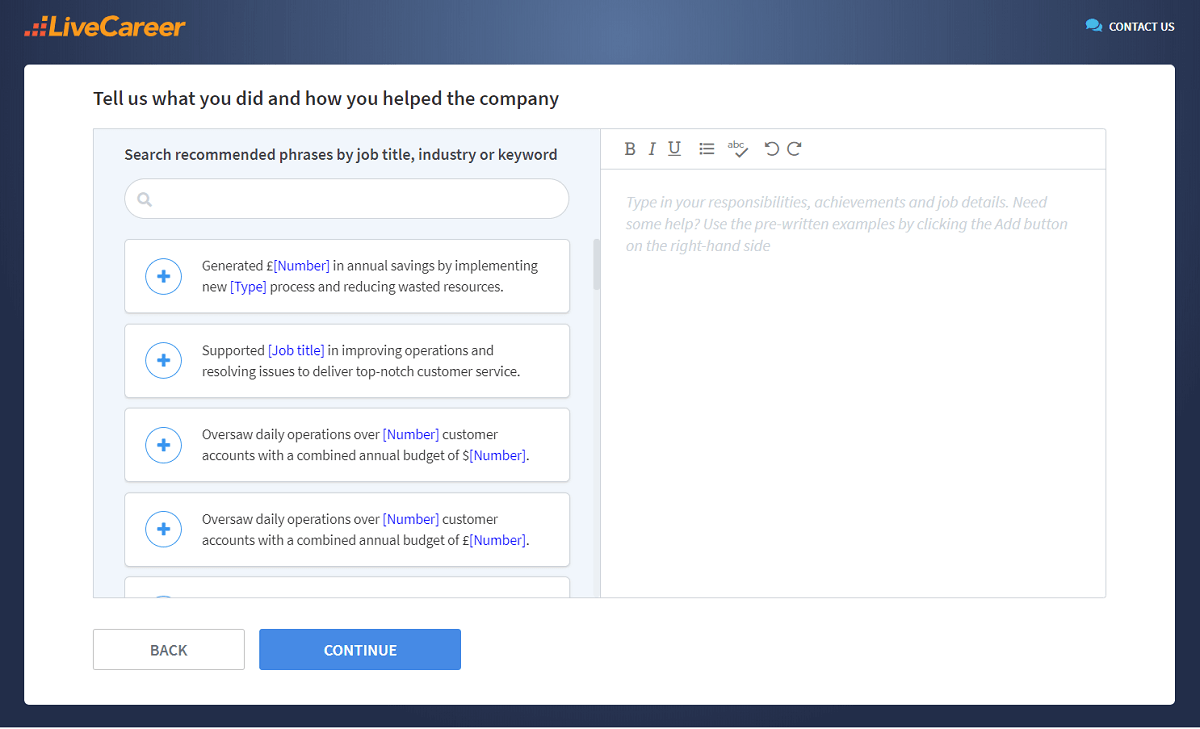 Thanks for reading. If you have any questions at all about CV transferable skills, please ask in the comments section and I'll be happy to help.
How we review the content at LiveCareer
Our editorial team has reviewed this article for compliance with Livecareer's editorial guidelines. It's to ensure that our expert advice and recommendations are consistent across all our career guides and align with current CV and cover letter writing standards and trends. We're trusted by over 10 million job seekers, supporting them on their way to finding their dream job. Each article is preceded by research and scrutiny to ensure our content responds to current market trends and demand.
About the author
LiveCareer Editorial Team
Since 2005, the LiveCareer Team has been helping job seekers advance their careers. In our in-depth guides, we share insider tips and the most effective CV and cover letter writing techniques so that you can beat recruiters in the hiring game and land your next job fast. Also, make sure to check out our state-of-the-art CV and cover letter builder—professional, intuitive, and fully in line with modern HR standards. Trusted by 10 million users worldwide.