If there's one thing that every CV needs, it's proof of good soft skills. They're essential to every workplace and a universal requirement for career success.
But they're also hard to quantify. Most people can't really define what they are, much less decide on the best soft skills list for their CV. But in just five minutes, you're going to become a soft skills expert.
You'll learn exactly what are soft skills, why they're so important and how to include them in your CV. You'll also get a list of soft skills examples and advice on how to improve them.
Let's begin.
Create an effective CV in minutes. Choose a professional CV template and fill in every section of your CV in a flash using ready-made content and expert tips.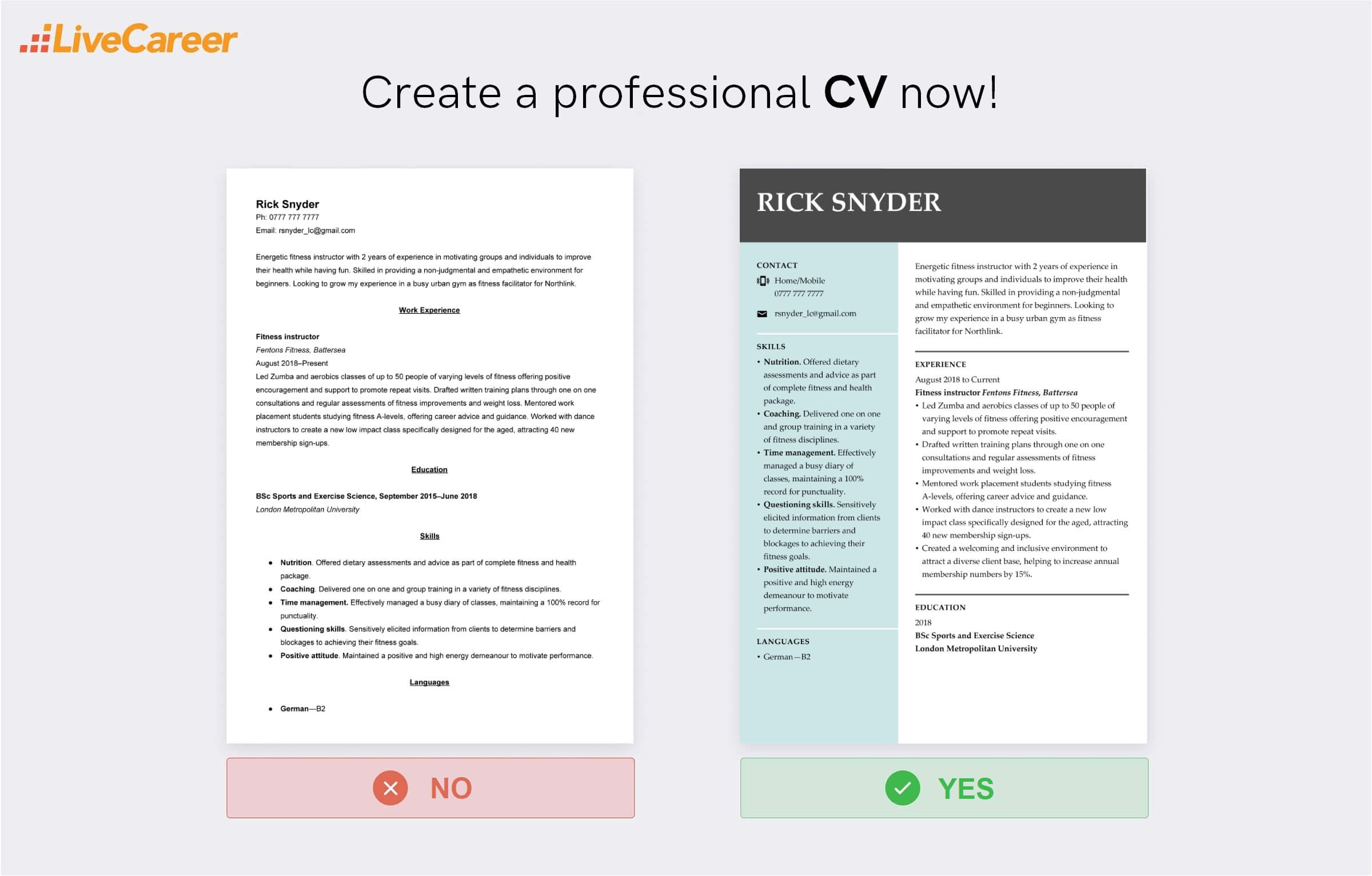 The LiveCareer online CV maker lets you build a professional CV fast and download it as a PDF or DOC.
Soft skills CV example
Rick Snyder
Ph: 0777 777 7777
Email: rsnyder_lc@gmail.com
Energetic fitness instructor with 2 years of experience in motivating groups and individuals to improve their health while having fun. Skilled in providing a non-judgmental and empathetic environment for beginners. Looking to grow my experience in a busy urban gym as fitness facilitator for Northlink.
Work Experience
Fitness instructor
Fentons Fitness, Battersea
August 2018–Present
Led Zumba and aerobics classes of up to 50 people of varying levels of fitness offering positive encouragement and support to promote repeat visits.
Drafted written training plans through one on one consultations and regular assessments of fitness improvements and weight loss.
Mentored work placement students studying fitness A-levels, offering career advice and guidance.
Worked with dance instructors to create a new low impact class specifically designed for the aged, attracting 40 new membership sign-ups.
Created a welcoming and inclusive environment to attract a diverse client base, helping to increase annual membership numbers by 15%.
Education
BSc Sports and Exercise Science, September 2015–June 2018
London Metropolitan University
Skills
Nutrition. Offered dietary assessments and advice as part of complete fitness and health package.
Coaching. Delivered one on one and group training in a variety of fitness disciplines.
Time management. Effectively managed a busy diary of classes, maintaining a 100% record for punctuality.
Questioning skills. Sensitively elicited information from clients to determine barriers and blockages to achieving their fitness goals.
Positive attitude. Maintained a positive and high energy demeanour to motivate performance.
Languages
What are soft skills?
Soft skills attributes that are related to the way you work with other people. They include, but aren't limited to, social skills, emotional skills, communication skills and people skills. Soft skills aren't easy to teach and they're hard to measure.
So let's try to pin down an accurate soft skills meaning so you can have a better understanding of what they are and why they're so important. Soft skills are essentially related to the way you interact with and communicate with other people.
And pretty much every job requires interaction with other people. That's why they're a universal requirement for career success. A lot of work has gone into studying the importance of soft skills and it's been conclusively proven that they're of paramount importance.
In fact, in the modern workplace, soft skills are considered even more important than hard skills. And comparing hard and soft skills is a good way of understanding what soft skills are. I've already mentioned that soft skills aren't easy to teach. But hard skills are able to be taught and measured in a simple and structured way.
For example, you can take a language course and have your abilities measured to an agreed framework. Knowledge of a foreign language is a hard skill. But it's much harder to teach leadership and even harder to measure how effective it is. Leadership is a soft skill.
When it boils down to it, soft skills are all about what makes us human. In an age of increasing automation many tasks requiring hard skills are being taken over by machines, but anything involving a complex use of soft skills still requires the human touch.
So now you know why are soft skills important and how to define them, let's see some examples.
Soft skills list
Soft skills can be broken down into seven categories. They cover a very broad range of attributes, so this is a good way of making sense of them.
1. Communication
Absolutely deserving of its number one spot, communication skills are always ranked among the top soft skills employers are seeking. Communication is absolutely essential between colleagues and customers alike. It's related both to how you communicate your ideas and how you respond to communication with others. It's the key to productive interaction. Here are some examples.
Verbal communication skills
Written communication skills
Listening skills
Body language
Friendliness
Negotiation
Persuasion
Questioning skills
Clarity
2. Teamwork
After all, no man is an island, we rely on our colleagues to work effectively and deliver the very best results. Here are some examples of demonstrating that you understand the whole is greater than the sum of its parts.
Collaboration
Conflict resolution
Persuasion
Feedback
Coordination
Contributing
Attentiveness
Active listening
Reliability
3. Leadership
With teamwork comes leadership. Every workplace needs leadership skills, whether it's through managers or within teams. It's all about influencing others to achieve goals. Here's how to show you have the skills needed to rally the troops.
Integrity
Vision
Empathy
Humility
Confidence
Influence
Delegation
Accountability
Positivity
Change management
People management
4. Emotional intelligence
To reiterate, soft skills are human skills. And as humans, we are inevitably guided and influenced by our emotions. Your emotional intelligence is a measure of how effectively you manage and respond to your own emotions and those of others. It allows you to offer support to others when required, de-escalate conflict and adapt your tone of communication for maximum impact. Here are some examples.
Social skills
Patience
Self-control
Empathy
Stress management
De-escalation
5. Adaptability
Adaptability or flexibility is another absolutely essential soft skill. The most successful people are those who are able to adapt themselves and change their approach to respond to changing situations. Here are sample soft skills that prove you know how to bend rather than break.
Willingness to learn
Flexibility
Self-improvement
Critical thinking
Open-mindedness
Creativity
Managing expectations
6. Problem-solving
We're constantly faced with challenges at work. The way we respond to them is key to personal growth and the success of the company you work for. Here are some examples to show you can recognise the opportunities that those problems present.
Project management
Innovation
Analysis
Complaint resolution
Prioritising
Intuition
7. Work ethic
The motivation to work effectively goes to the very hear of career success and is a highly sought after skill by hiring managers. No employer wants to hire a candidate who lacks a strong work ethic. Here are a few examples of skills that demonstrate a strong work ethic.
Self-discipline
Time management
Self-motivation
Professionalism
Punctuality
Motivation
Reliability
Sense of responsibility
A strong CV summary will convince the recruiter you're the perfect candidate. Save time and choose a ready-made personal statement written by career experts and adjust it to your needs in the LiveCareer CV builder.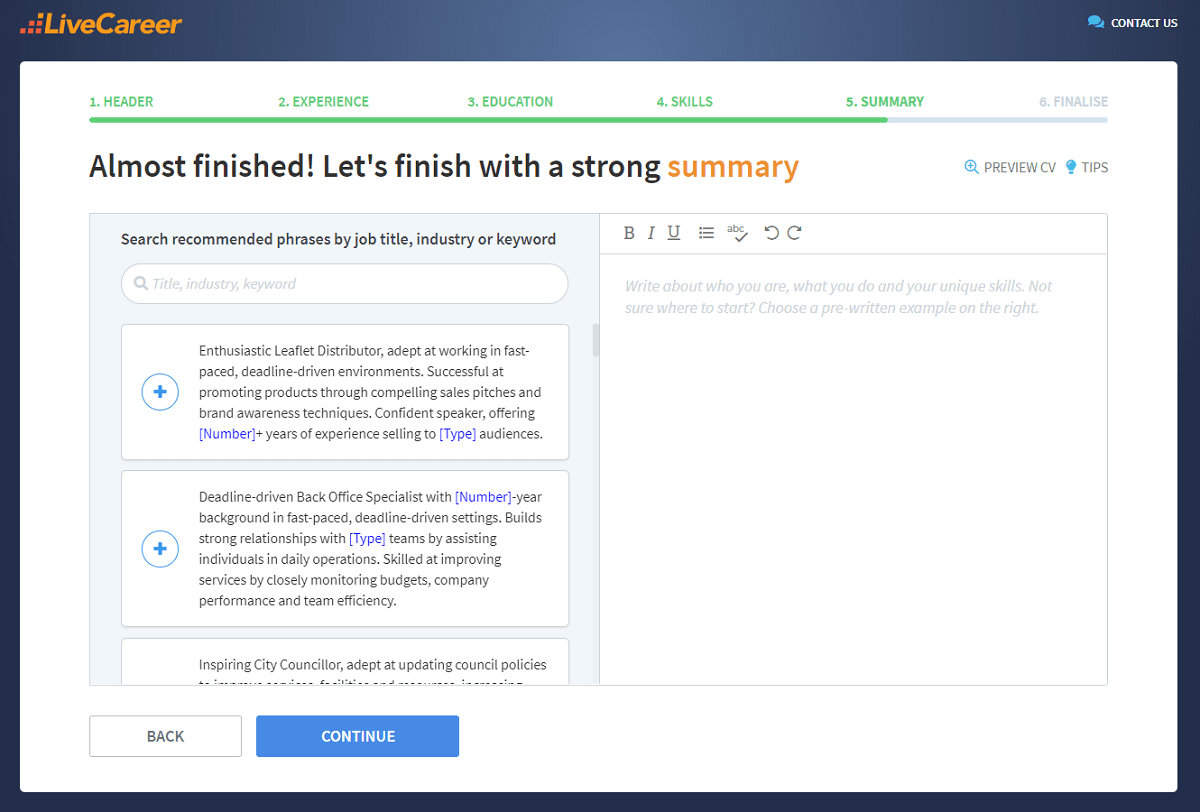 3. How to Write Your CV Soft Skills List
Of course, there's no way you could fit all of the skills I've just mentioned onto a one or two-page CV. And it's essential that you choose skills that are specifically tailored to the job you're applying for. So here's how to choose the best soft skills for the job at hand.
Your first stop should be the job advert. Hiring managers will make it very clear which skills are required for the job. It's all there and ready for you to refer to, so take some time to study it closely and note every skill mentioned.
Here's an example job description to show you what I mean.
Applicants should have the following qualities:
Ability to motivate and engage others
Ability to effectively manage time and work well in teamsand without supervision
Excellent organisation, IT and presentation skills
A current driving licence and access to a car for work
Ability to work flexibly and on own initiative
Commitment to professional development both within and outside of working hours
That extract was taken from a job advert for a training and development coordinator. Everything that's been bolded refers to a soft skill.
Once you've identified the key soft skills for the role make a list of your own skills, bearing in mind the entirety of your professional experience and education. Then choose 5–10 of those skills to include in your CV.
The standard place to do this is in a CV skills section, immediately following your education section. And for maximum effectiveness, you should also write a brief sentence that demonstrates how you put that skill into practice.
CV soft skills example—skills section
Skills
Self-improvement. Participated in all optional internal training courses and kept up to date with industry news and developments.
Flexibility. Volunteered to work altered shift patterns to take into account shifting client demand.
But don't stop with your skills section. Soft skills can be woven throughout your CV, adding even more proof of the strength of your abilities. As the first section of your CV, your personal profile is the ideal place to start.
CV soft skills example—personal profile
Customer service focussed complaints resolution officer with 3+ years of experience. A specialist in deescalating conflict and empathising with complainants' needs. Looking to take my career to the next level as complaints team supervisor for Orbex.
As you can see, that example is packed with evidence of the candidate's soft skills. The next part of a standard chronological CV format is the work experience section and it's also a great place to include your soft skills.
CV soft skills example—work experience section
Marketing Manager
Biden and Partners, Liverpool
December 2018–Present
Led a team of 6 marketing officers using empathy and positivity to create a strong team spirit which increased output by 40%.
Next up is your education section. For an experienced candidate it's not recommended to add extra detail here, but if you're writing a school-leaver CV or a graduate CV it's an excellent place to add information about your abilities.
CV soft skills example—education section
A-levels: Business Studies, Chemistry, English Literature. September 2018–June 2020
Kenilworth Academy, Leeds
Extra-curricular activities. Member of debating and public speaking club.
And that's not all. You can also include additional sections in your CV and they're a great place for including skills too. A hobbies and interests section is ideal.
CV soft skills example—hobbies and interests section
Hobbies and interests
Coaching. Mentored and trained U16 hockey team at Westbury Sports Club.
You can even build on your soft skills when you're considering what to include in a cover letter. It's the ideal place to add even more detail about how your soft skills can translate to success in your new role.
There's also a CV format that's built around emphasising your transferable skills rather than your work experience. It's called the skills-based or functional format but for the majority of candidates we don't recommend using it as it's notoriously difficult to write well.
Perhaps you've got to this point and you're worried about whether your own soft skills are up to scratch. The good news is that there are always ways to improve, regardless of where you are in your career.
How to improve soft skills—soft skills training
Soft skills might be hard to teach, but with high-quality training it's certainly possible to improve them and give your career a boost in the process.
1. Ask your employer about internal training
The first thing you should do is ask your employer if they offer any training courses. Most larger employers recognise the importance of upskilling their staff and offer courses on a variety of subjects.
2. Check out the government career skills and training service
Alternatively, take a look at what's on offer from the government. They've recognised that skills shortages have continued to increase and could potentially harm the UK economy. So provision has been put in place to offer training. Visit the career skills and training portal to find out more.
3. Look at remote learning and online training options
There are other training options too. The Open University has provided quality training for decades and newcomers like Udemy and Coursera also offer a wealth of training opportunities. Just Google them to find out more.
4. Practice and get feedback
Once you've completed your soft skills training, practice and get honest feedback from colleagues so you can get an objective view of how to improve.
That's all there is to it. To sum up, soft skills are crucial and a must-have in every CV. Remember to choose your soft skills list carefully, keep it relevant to the job you're targeting and include soft skills throughout your CV structure. And if you don't feel confident with your soft skills explore some of the training options available.
You don't have to be a CV writing expert. In the LiveCareer CV builder you'll find ready-made content for every industry and position, which you can then add with a single click.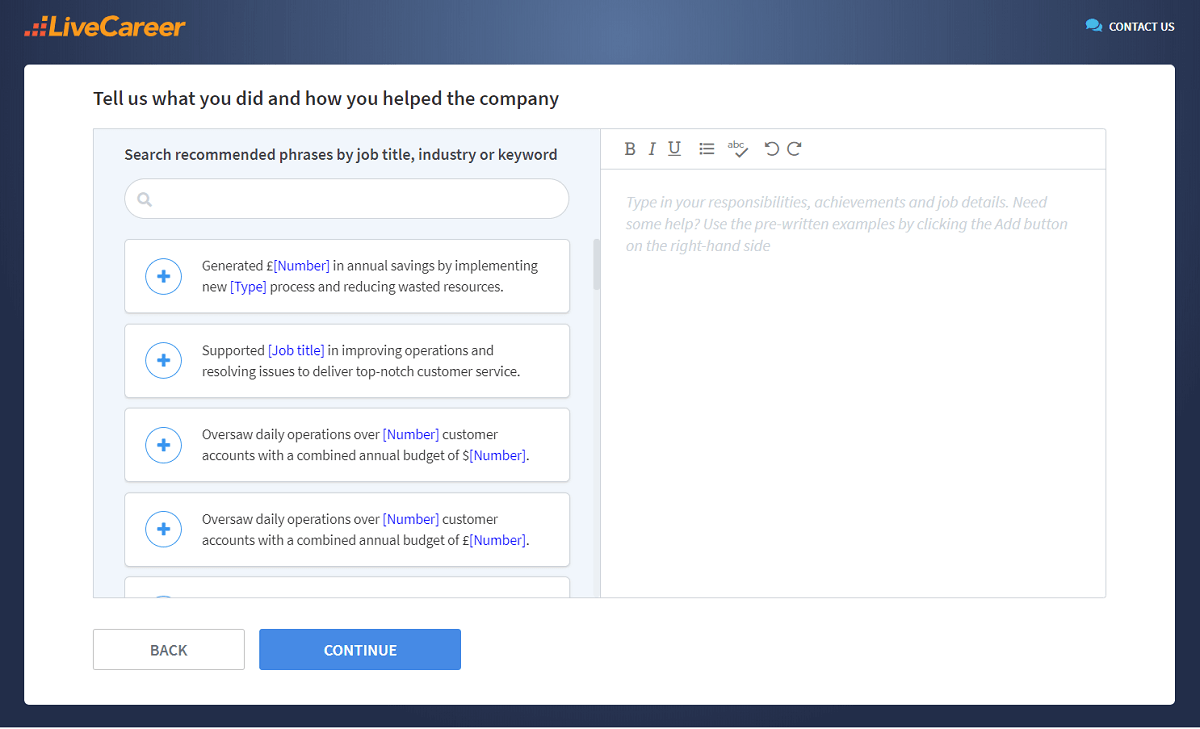 Thanks for reading. If you'd like to know anything else about soft skills or get more soft skills examples then please ask in the comments section. Perhaps you need to know more about specific situations such as soft skills for managers. Whatever it is, let us know and we'll be happy to reply.
How we review the content at LiveCareer
Our editorial team has reviewed this article for compliance with Livecareer's editorial guidelines. It's to ensure that our expert advice and recommendations are consistent across all our career guides and align with current CV and cover letter writing standards and trends. We're trusted by over 10 million job seekers, supporting them on their way to finding their dream job. Each article is preceded by research and scrutiny to ensure our content responds to current market trends and demand.
About the author
LiveCareer Editorial Team
Since 2005, the LiveCareer Team has been helping job seekers advance their careers. In our in-depth guides, we share insider tips and the most effective CV and cover letter writing techniques so that you can beat recruiters in the hiring game and land your next job fast. Also, make sure to check out our state-of-the-art CV and cover letter builder—professional, intuitive, and fully in line with modern HR standards. Trusted by 10 million users worldwide.