So you've found the perfect job, meticulously researched it, and polished your CV content to a mirror shine. You're almost there, but without a good CV template, it's like a painting without a frame.
Luckily we're going to help you complete your masterpiece with a blank CV template that's recruiter approved for job-hunting success.
We have 14 blank CV templates designed for the UK job market in a variety of styles for you to fill in, download, and print. So let's fill in the blanks and get started with our list of templates.
Create an effective CV in minutes. Choose a professional CV template and fill in every section of your CV in a flash using ready-made content and expert tips.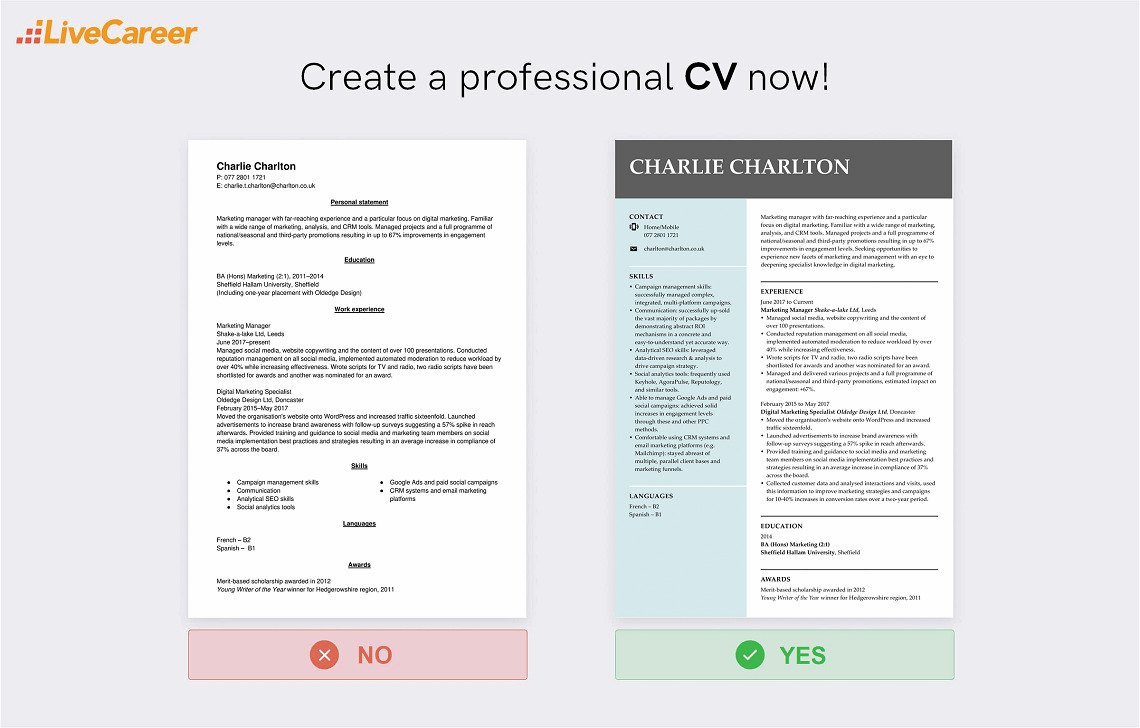 The LiveCareer online CV maker lets you build a professional CV fast and download it as a PDF or DOC.
Looking for different CV templates? Check these guides:
Blank CV template sample
Passionate programmer and A-level student seeking to gain hands-on experience with Luxsoft's legendary games development team. Firm believer in the power of gaming to transform traditional media. Eager to learn from the best and see what makes Luxsoft one of the biggest players in the industry.
Education
A-levels: Art & Design, Computer Science, Pure Mathematics. September 2019–June 2021 (expected graduation date)
Green Leaf College, London
GCSEs. 9 subjects including Maths and English. September 2017–June 2019
Westbridge Academy, London
Work Experience
Volunteer IT Assistant
Age Care UK, Clapham
January 2020–Present
Provided volunteer IT assistance to the elderly including basic training with Android devices and laptops.
Assisted with local authority digital inclusion programme, helping clients access services.
Created Facebook posts to encourage community engagement with the Clapham Age Care branch, leading to 10 requests for volunteering opportunities.
Skills
Image editing
Social media
Teamwork
Written communication
Java
Python
Hobbies and Interests
Raspberry Pi enthusiast with a passion for creating projects in Java & Python
OK, now you know what makes a good CV. Here's a selection of blank CV templates for UK curated just for you:
1. Orange creative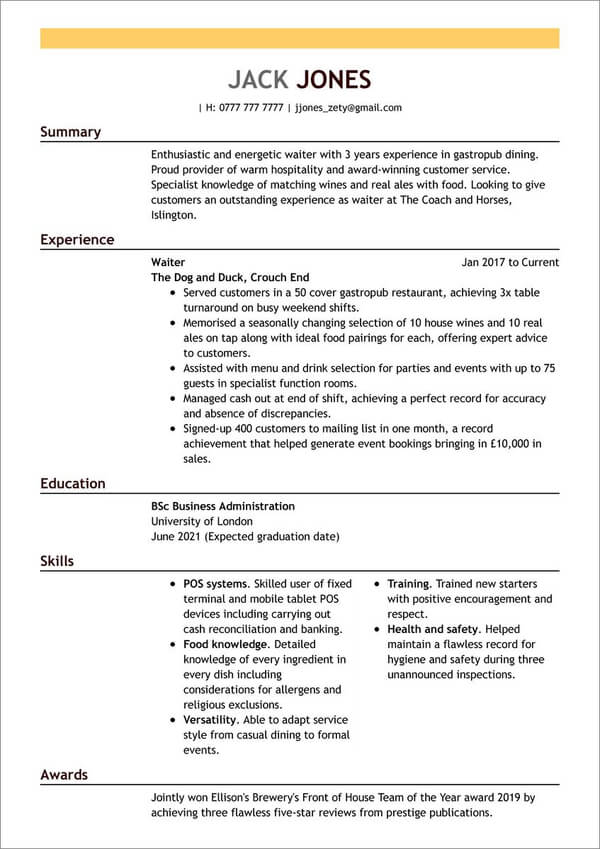 Our first blank CV template features a warm splash of orange for an instantly inviting feel. The CV header then does a great job of highlighting the candidate's personal details by splitting their name into grey and black font.
Moving down it follows a generous one-column CV format with lots of space for content. That's then balanced by a generous use of negative space, the unmarked areas of the page that improve readability.
We'd recommend giving it a try for a retail CV.
2. Light blue creative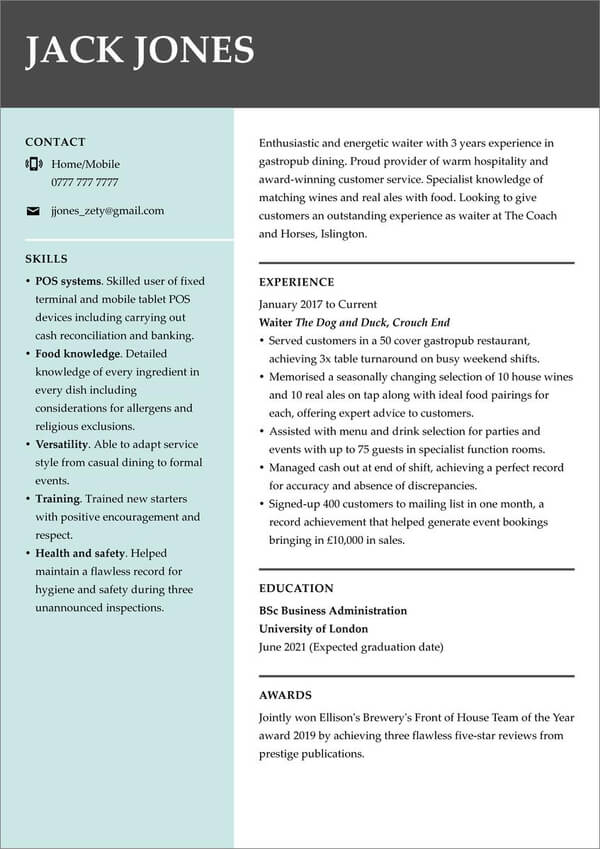 This blank CV template definitely lives up to its name, with a creative and striking layout that balances design with formality.
The CV skills section has been moved into the side column underneath the personal details. An interesting twist to standard CV layout. With such a well-designed format we'd recommend it for a graphic designer CV.
3. Red modern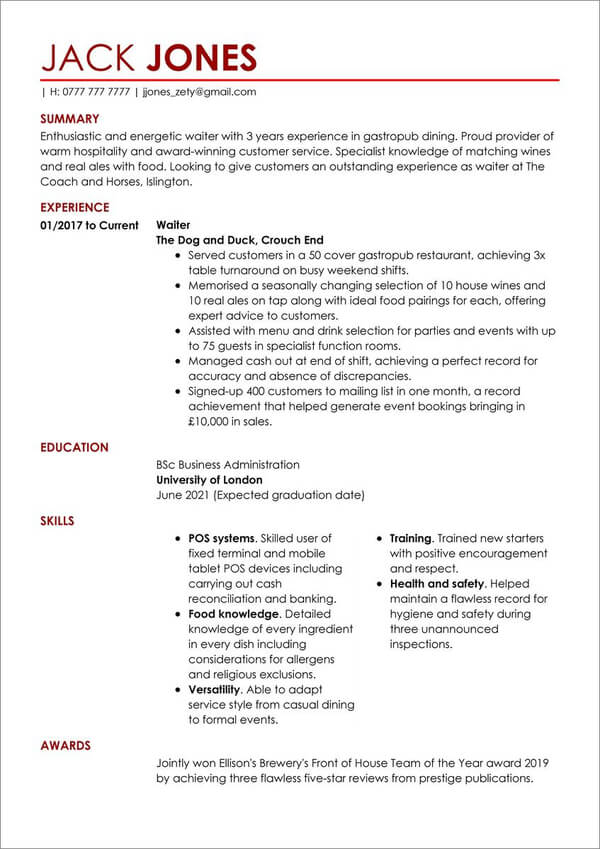 Now for something a little more bold. This CV blank template for the UK has made use of red for a more dramatic feel.
Red is a powerful colour and can seem aggressive if it's too bright, but we've used a more subdued tone to keep it professional.
It also gives you plenty of room to fit in all your content, all the way down to your CV education section. It's an excellent choice for a marketing CV.
4. Blue modern header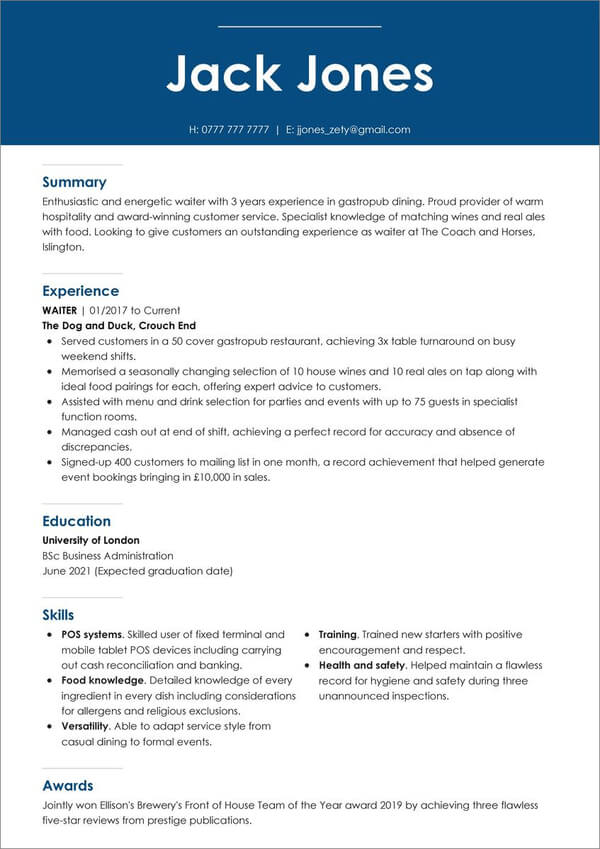 This blank UK CV template is the one for you if you prefer a more conservative colour scheme but still want to make a bold statement in terms of design.
There's no missing that broad blue CV header. And remember every example you see can be built with ease in our CV builder. You just input your details and the builder gives you perfect results every time.
That's something you don't get with your average free blank CV template. This template is our pick for an architecture CV.
5. Electric blue creative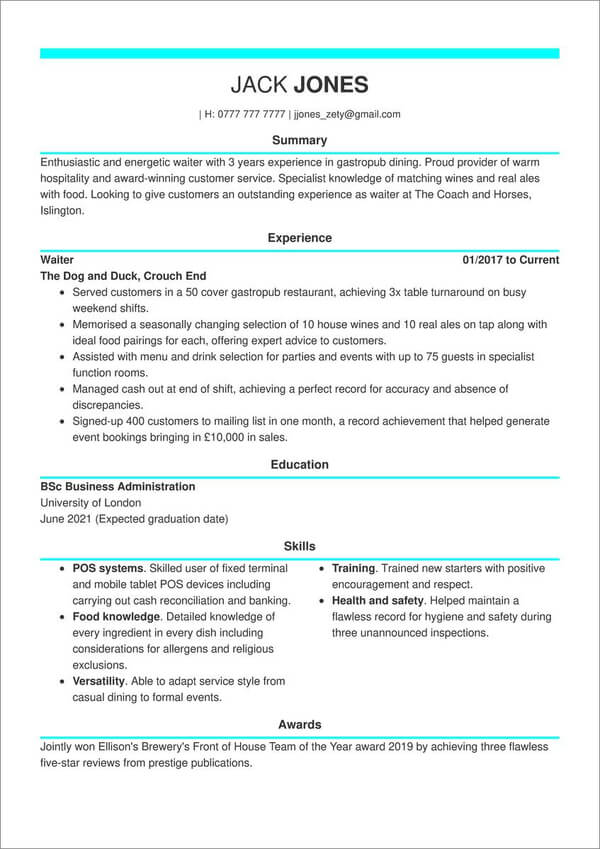 Continuing with the blue theme, but this time with a brighter and more energising feel. Those neon stripes are guaranteed to get you noticed. And like every one of our CV template it's versatile too.
You can download every LiveCareer blank CV template in PDF or Word format. And we'd recommend this tempalte for a student CV.
6. Creative green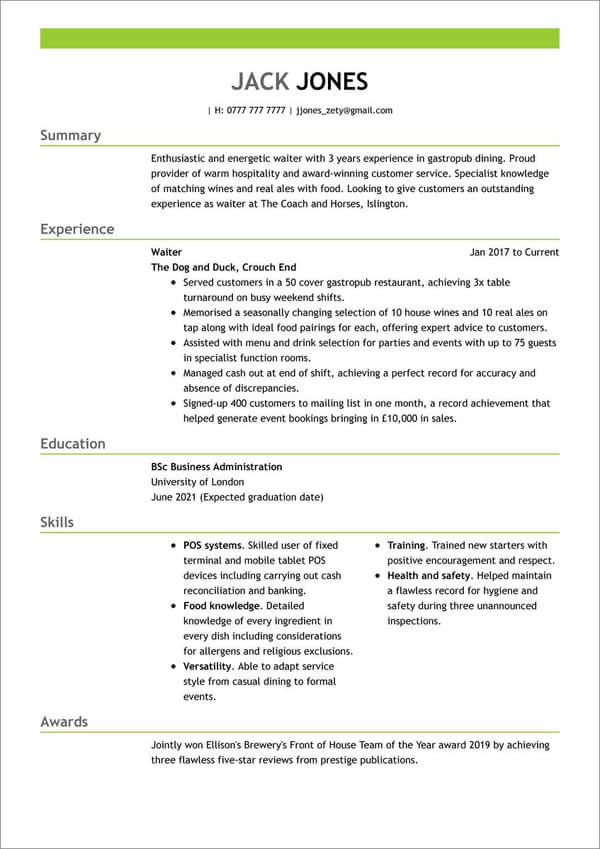 Here we move to a green theme, with all its associations of freshness and growth.
Like all of our blank CV templates it maximises space giving you plenty of room to create a one-page CV.
We think the colour scheme of this example would make it a great blank CV template for school-leavers and also ideal for a graduate CV.
7. Blue modern accents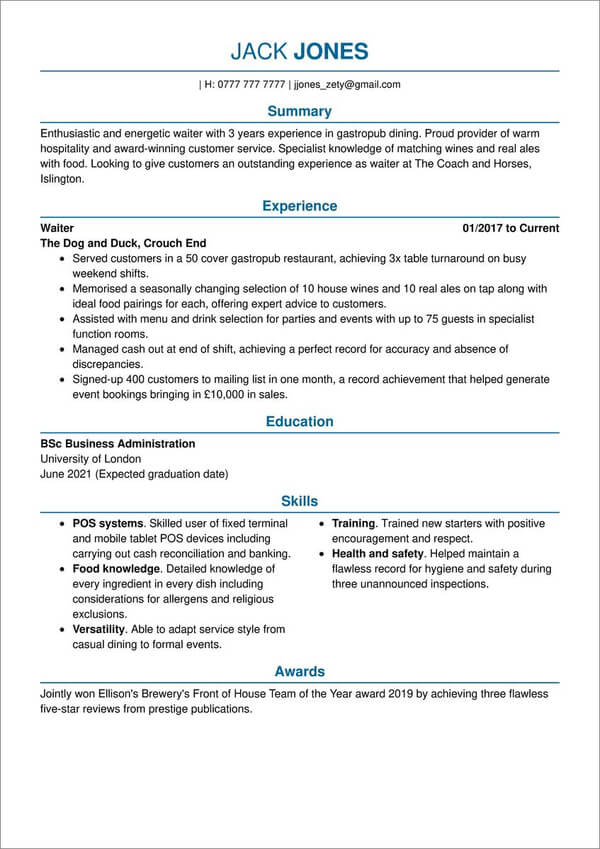 Back to blue now, which is actually one of the most commonly preferred colours in the world. The effect here is subtle, and is both conservative and calming.
We understand that it's tempting to find a free blank CV template to fill in, but many of these templates are poorly designed. They could be lacking essential information needed for a UK CV template or be unreadable for the ATS software that scans applications.
With LiveCareer's blank CV templates you can be assured that they're computer-friendly and contain all the essentials. This template is universally appealing, and our pick for a career change CV.
8. Professional minimalist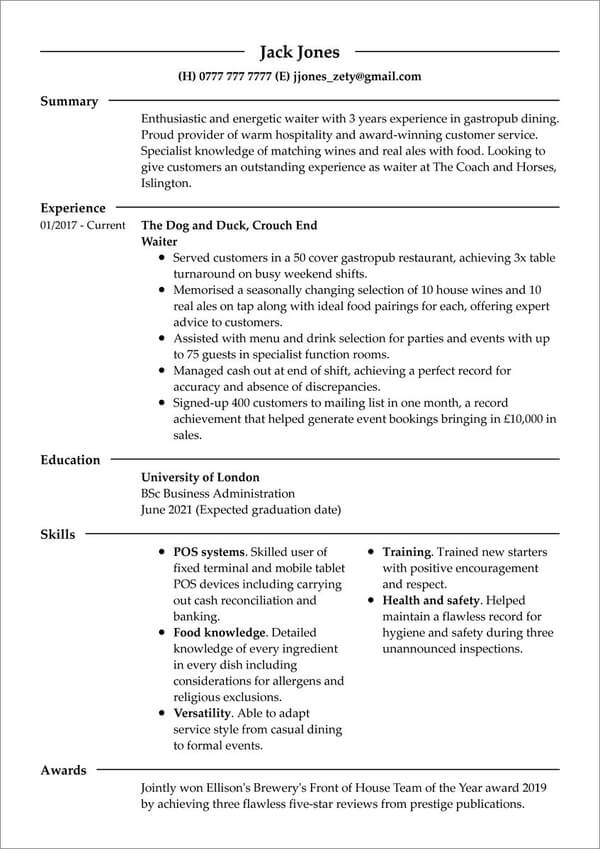 The next half of our blank CV templates list contains a more simple and minimalist set of examples. This one would be a great choice if you're looking for a blank CV template to print with its crisp and simple layout.
We think it would be perfect for a business analyst CV.
9. Corporate business card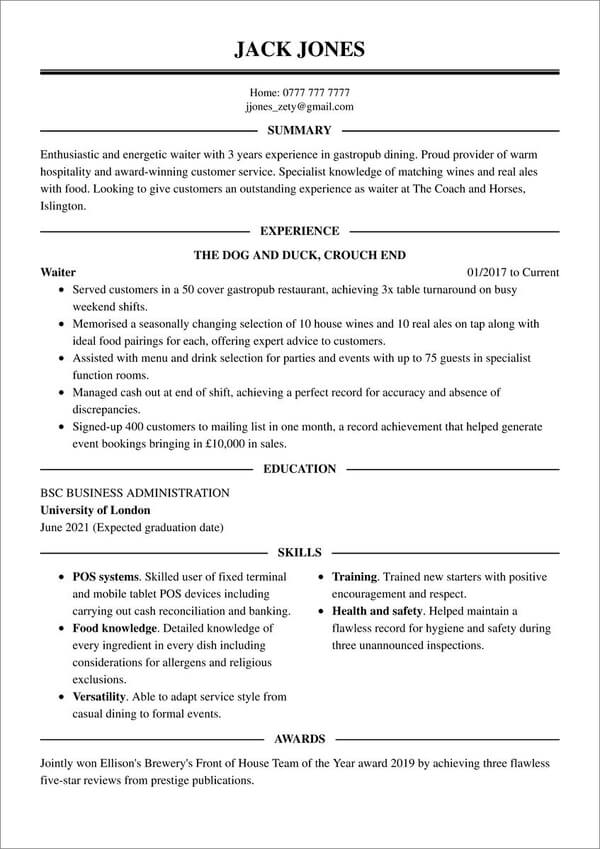 The serif CV font and neat, conservative layout of this blank CV template really does bring to mind a traditional business card.
It's another template that would look fantastic in print, and we think it would be ideal for a project manager CV.
10. Simple scanner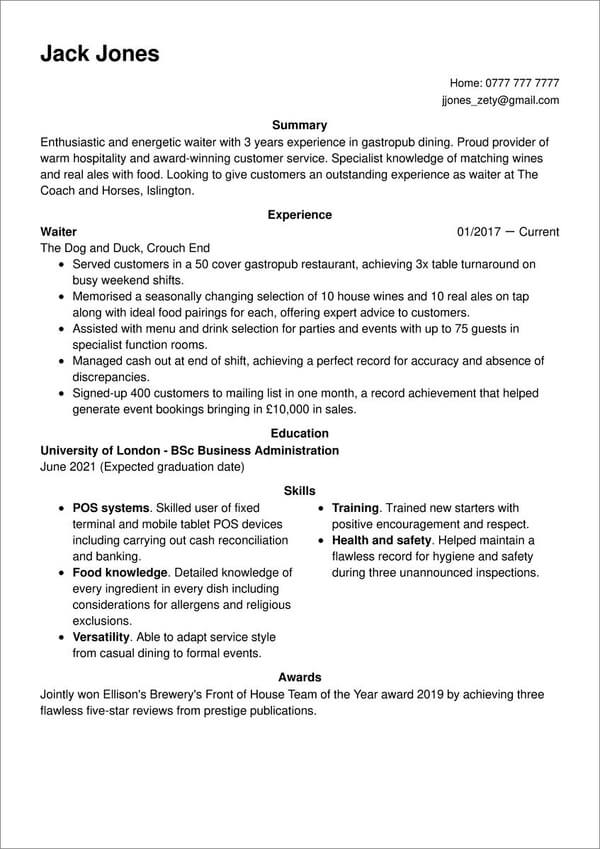 Not all templates are created equal. This example does something that's simply not possible with a poorly designed free blank CV template.
It actually helps to guide the recruiters eye all the way across the page, making sure all your content gets read.
See how the alignment changes from left to centre to right? You gaze can't help but move across the page, taking in all of the job-winning content. Give it a try for a teacher CV.
11. Centred executive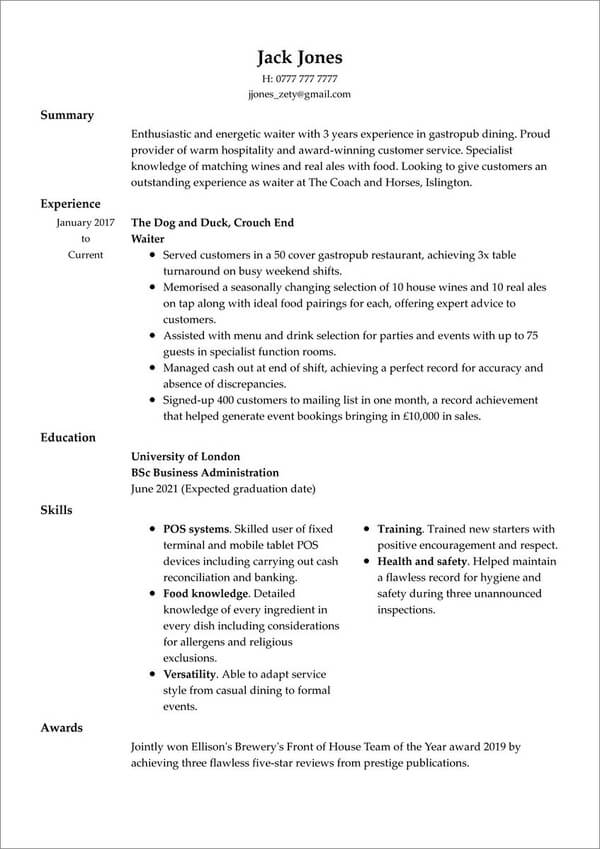 This blank CV template uses centre alignment for the CV header to give it a more modern feel. But there's also a good separation of essential information, with a timeline for the work experience section and a two-column format for the skills section.
We think it'd be particularly suitable for a web developer CV.
12. Bold professional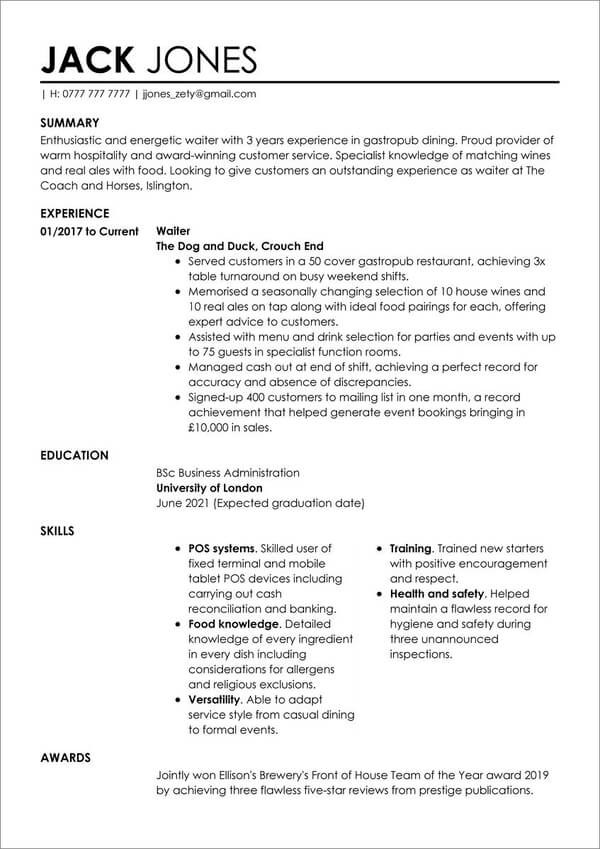 Now for something a little more impactful and creative. It's still monochrome, but this CV blank template for UK uses bolded text to give added impact to the candidate's name and other important pieces of information.
We think its well-organised structure makes it perfect for an engineering CV.
13. Business professional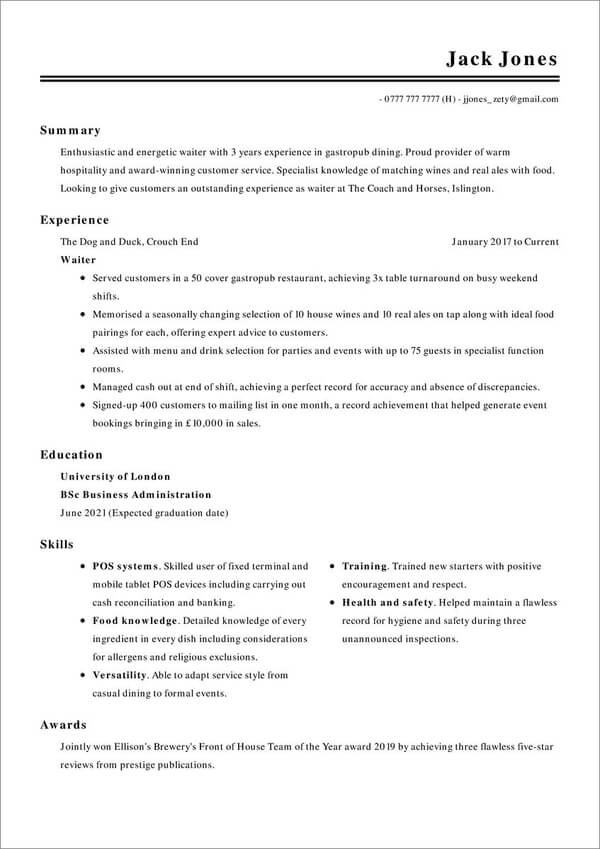 Here's another good choice if you're looking for a blank CV template print, with a simple format that would look amazing on paper. Using right-alignment for the CV header adds a subtle touch of design flair, giving a nod to UK cover letter format.
We'd recommend it for a support worker CV.
14. One page modern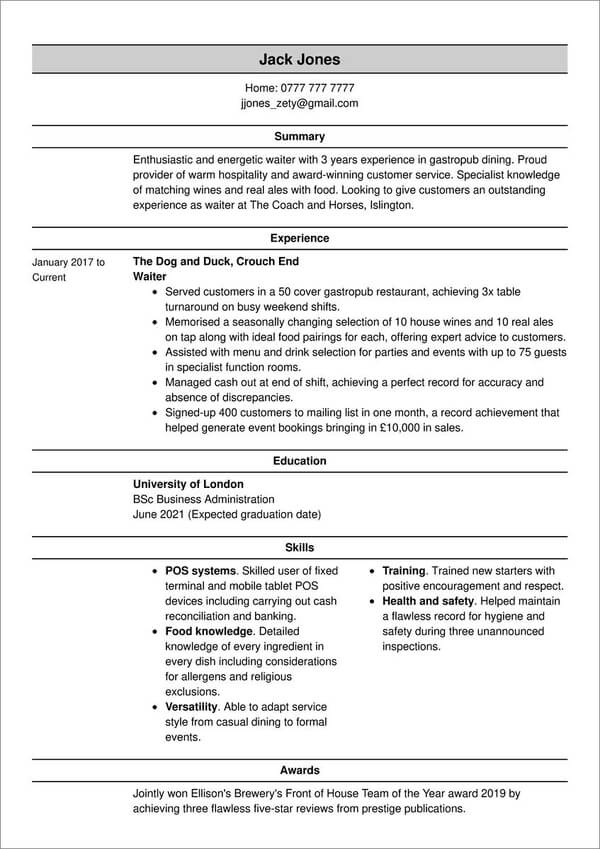 The last of our blank CV templates for the UK is just right for creating a one-page CV. It places the candidate's name right on top of the page and leaves ample space to comfortably fit everything on a single page.
A good choice for a school-leaver CV, where sticking to one page is a must.
Thanks for reading. If you need more advice on choosing a UK blank CV template then please ask in the comments below, and we'll be happy to help.
How we review the content at LiveCareer
Our editorial team has reviewed this article for compliance with Livecareer's editorial guidelines. It's to ensure that our expert advice and recommendations are consistent across all our career guides and align with current CV and cover letter writing standards and trends. We're trusted by over 10 million job seekers, supporting them on their way to finding their dream job. Each article is preceded by research and scrutiny to ensure our content responds to current market trends and demand.
About the author
LiveCareer Editorial Team
Since 2005, the LiveCareer Team has been helping job seekers advance their careers. In our in-depth guides, we share insider tips and the most effective CV and cover letter writing techniques so that you can beat recruiters in the hiring game and land your next job fast. Also, make sure to check out our state-of-the-art CV and cover letter builder—professional, intuitive, and fully in line with modern HR standards. Trusted by 10 million users worldwide.