A good CV needs to incorporate experience, skills and compelling accomplishments, but they're not enough to guarantee success alone. If you want to beat the competition, you need to present your professional clout in a way that's visually appealing too.
In this guide you will find an all-star cast of striking visual CV templates. Each blending a carefully structured appearance with all the essential elements for job-hunting success.
Create an effective CV in minutes. Choose a professional CV template and fill in every section of your CV in a flash using ready-made content and expert tips.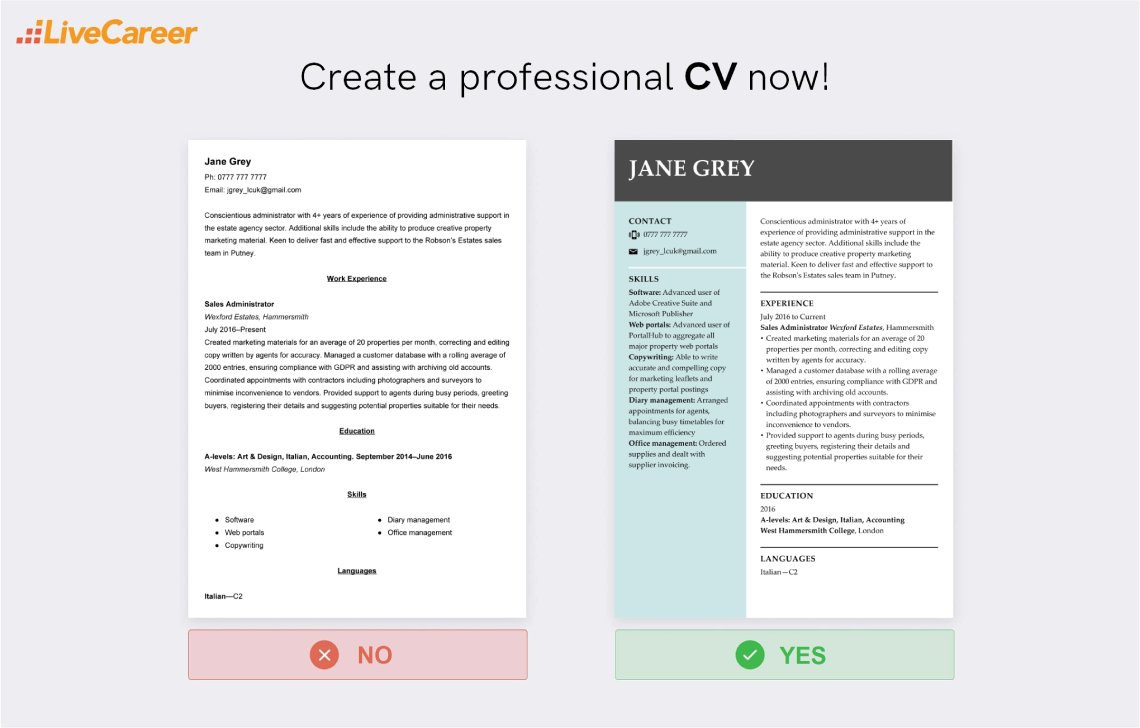 The LiveCareer online CV maker lets you build a professional CV fast and download it as a PDF or DOC.
Looking for different CV templates? See our other guides:
Visual CV example
Jane Grey
Ph: 0777 777 7777
Email: jgrey_lcuk@gmail.com
Conscientious administrator with 4+ years of experience of providing administrative support in the estate agency sector. Additional skills include the ability to produce creative property marketing material. Keen to deliver fast and effective support to the Robson's Estates sales team in Putney.
Work Experience
Sales Administrator
Wexford Estates, Hammersmith
July 2016–Present
Created marketing materials for an average of 20 properties per month, correcting and editing copy written by agents for accuracy.
Managed a customer database with a rolling average of 2000 entries, ensuring compliance with GDPR and assisting with archiving old accounts.
Coordinated appointments with contractors including photographers and surveyors to minimise inconvenience to vendors.
Provided support to agents during busy periods, greeting buyers, registering their details and suggesting potential properties suitable for their needs.
Education
A-levels: Art & Design, Italian, Accounting. September 2014–June 2016
West Hammersmith College, London
Skills
Software: Advanced user of Adobe Creative Suite and Microsoft Publisher
Web portals: Advanced user of PortalHub to aggregate all major property web portals
Copywriting: Able to write accurate and compelling copy for marketing leaflets and property portal postings
Diary management: Arranged appointments for agents, balancing busy timetables for maximum efficiency
Office management: Ordered supplies and dealt with supplier invoicing.
Languages
Now here's a selection of the best visual CV templates out there:
1. Red modern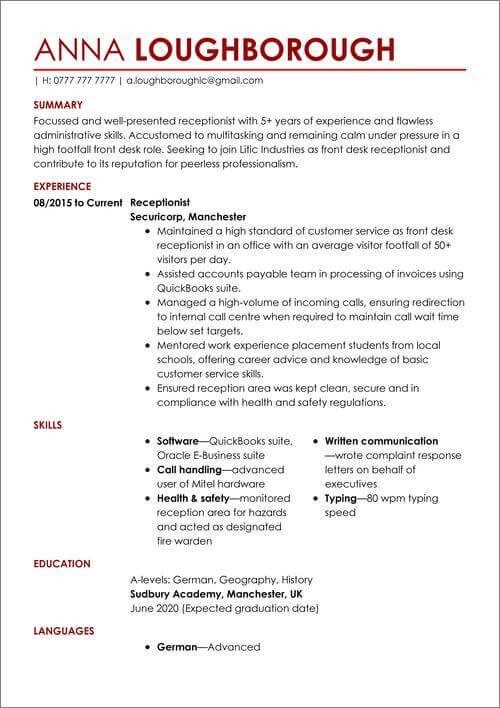 How important is visual appearance? One way to think about it is in terms of the amount of data our eyes receive. Incredibly, our eyes transmit data to our brain at roughly the same speed as an ethernet connection. Choose a LiveCareer CV template and you can be sure you're giving the hiring manager the best visual CV data possible. And this example is no exception. Starting with a bold red CV header for your personal details, it's an instant win in terms of visual impact.
A good choice for a graduate CV.
2. Light blue creative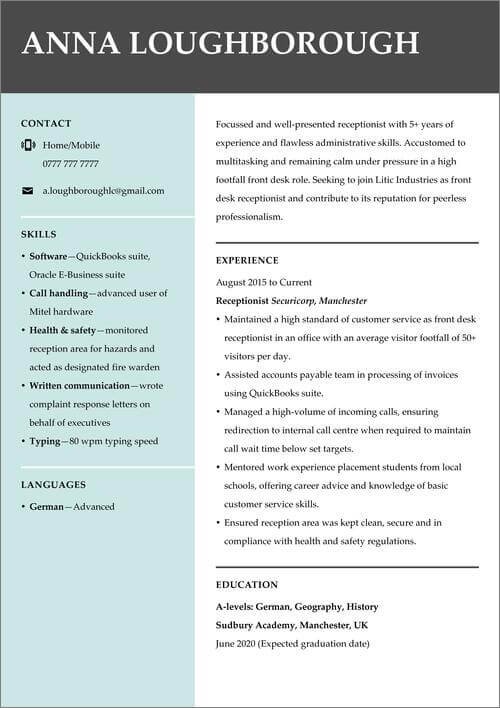 This should be your choice if you need to make a creative yet professional visual CV impression. Your personal details and CV skills section are placed into a duck egg blue side column, leaving plenty of space everything else in the main body of your CV. And like all of our templates, it's incredibly easy to work with. Just enter your content into our CV builder and it does all the hard work for you, giving you perfect results every time.
A good choice for a graphic designer CV.
3. Blue modern header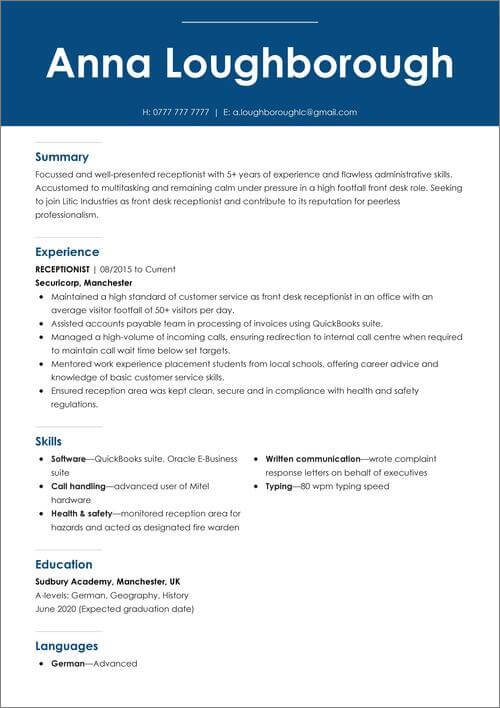 This visual CV template is particularly impactful with it's broad blue CV header stripe. It's a shade that according to colour theory is associated with calm and tranquillity. So it's an excellent choice for jobs where level-headedness is a desirable quality. It also uses a one-column format, so you can use the full width of the page to write your CV summary and other content. And if you need to change the names of your sections or make other tweaks it's easy. Just make the changes in our builder and they'll be implemented instantly, all while leaving the CV layout absolutely perfect.
A good choice for a retail CV.
4. Electric blue creative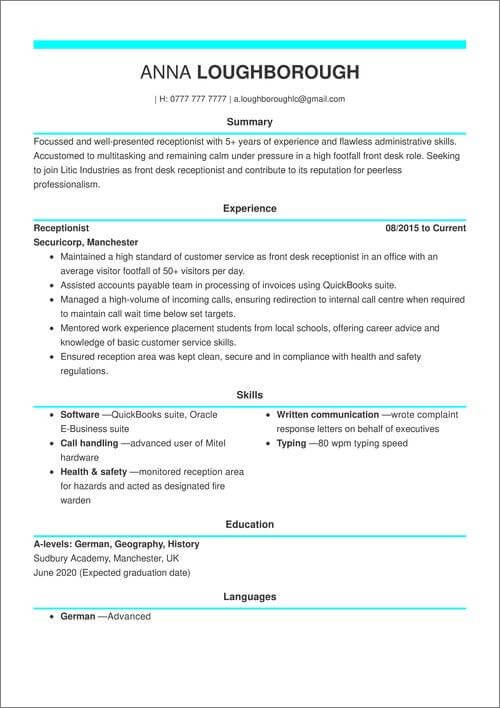 As you can see, we use blue a lot in our visual CV templates, and that's deliberate. It's widely considered to be the world's favourite colour, so it's bound to please the highest number of people. This time we've increased the voltage with bright electric blue accents, a sure-fire way of giving your job application a jolt of energy.
A good choice for a receptionist CV.
5. Blue modern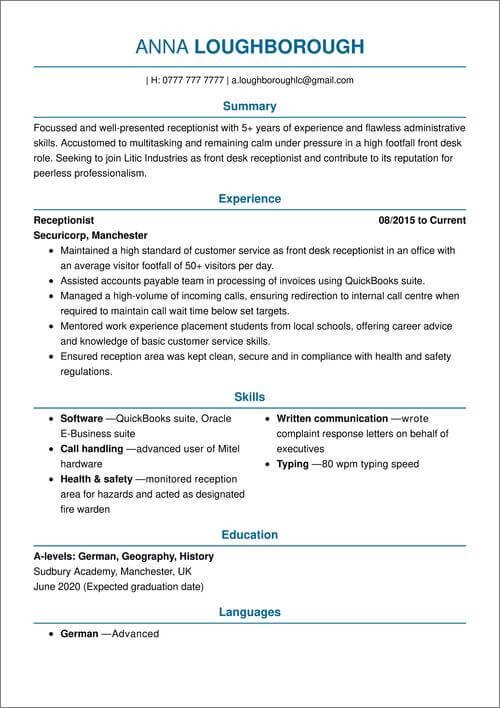 For the last of our blue-themed visual CV templates, we've struck a happy medium with a shade that sits nicely in the middle. Adding colour to the CV section headings is one of the simplest ways of adding visual interest. Note how easy it is to scan through and find what you need. It's simple for the recruiter to go straight to the CV work experience section for example. And when you use our builder you'll get expert tips to make your CV writing experience even easier.
A good choice for a waitress CV.
6. Orange creative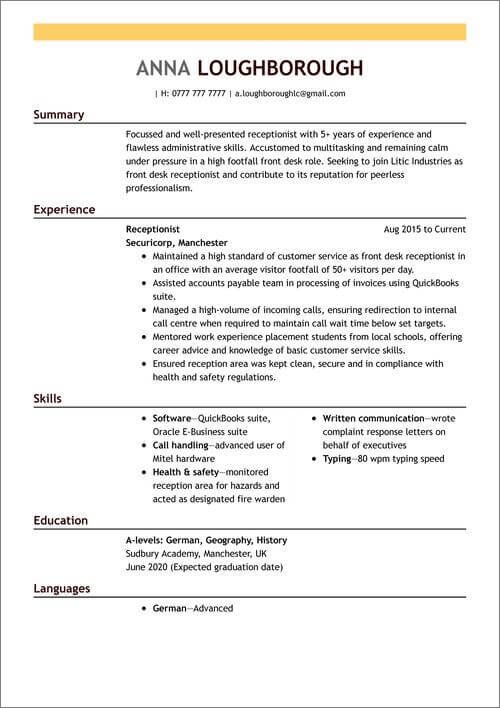 If blue leaves you feeling cold then try out a warm orange visual CV example like this one. All it takes is that simple juicy orange stripe to turn an otherwise plain template into something special. And underneath, a perfectly arranged CV structure with all the necessary elements for a perfect UK CV format.
A good choice for a customer service CV.
7. Creative green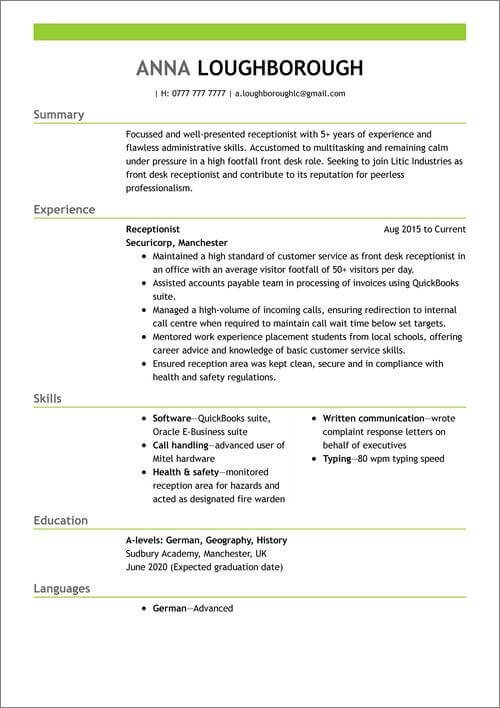 Green has lots of positive associations. Growth, life, abundance and refreshment are just a few, so it's a powerful addition to a visual CV template. This example has another handy little trick up its sleeve in the form of a two-column CV skills section, so it's a great choice for careers with a long list of professional requirements.
A good choice for a project manager CV.
8. Simple scanner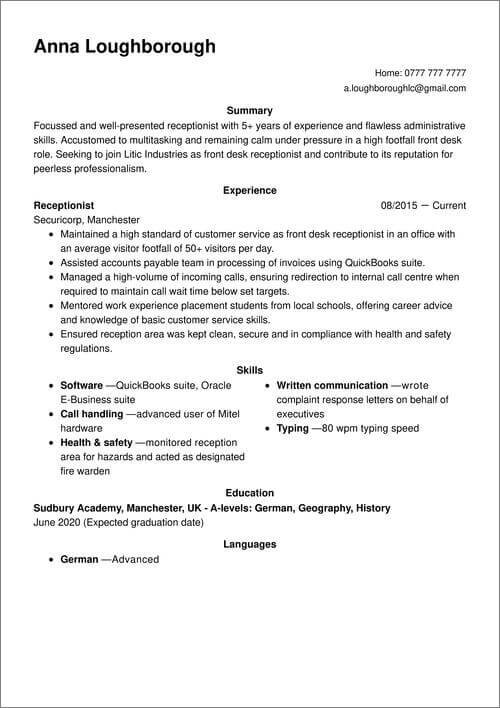 This visual CV template is lacking colour but that doesn't make it any less effective. This example actually makes a direct impact on the reader's vision. The way the text alignment flips from left to centre to right mimics the way we read text so you're almost forced to take in all the content instead of going for a quick skim. It's a simple change to the CV font format that makes a big difference.
A good choice for an architecture CV.
9. Professional minimalist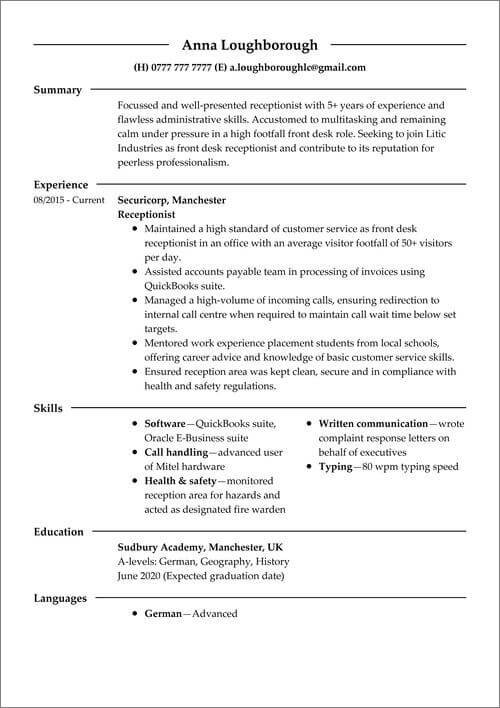 Even a minimalist CV design can still have a strong visual impact. Everything you see is perfectly structured and laid out from the CV profile down to the skills section. And that's important, many visual CV samples for free download don't follow a standard UK CV layout. Ours do, so you can be sure you're giving recruiters everything they expect.
A good choice for a bartender CV.
A strong CV summary will convince the recruiter you're the perfect candidate. Save time and choose a ready-made personal statement written by career experts and adjust it to your needs in the LiveCareer CV builder.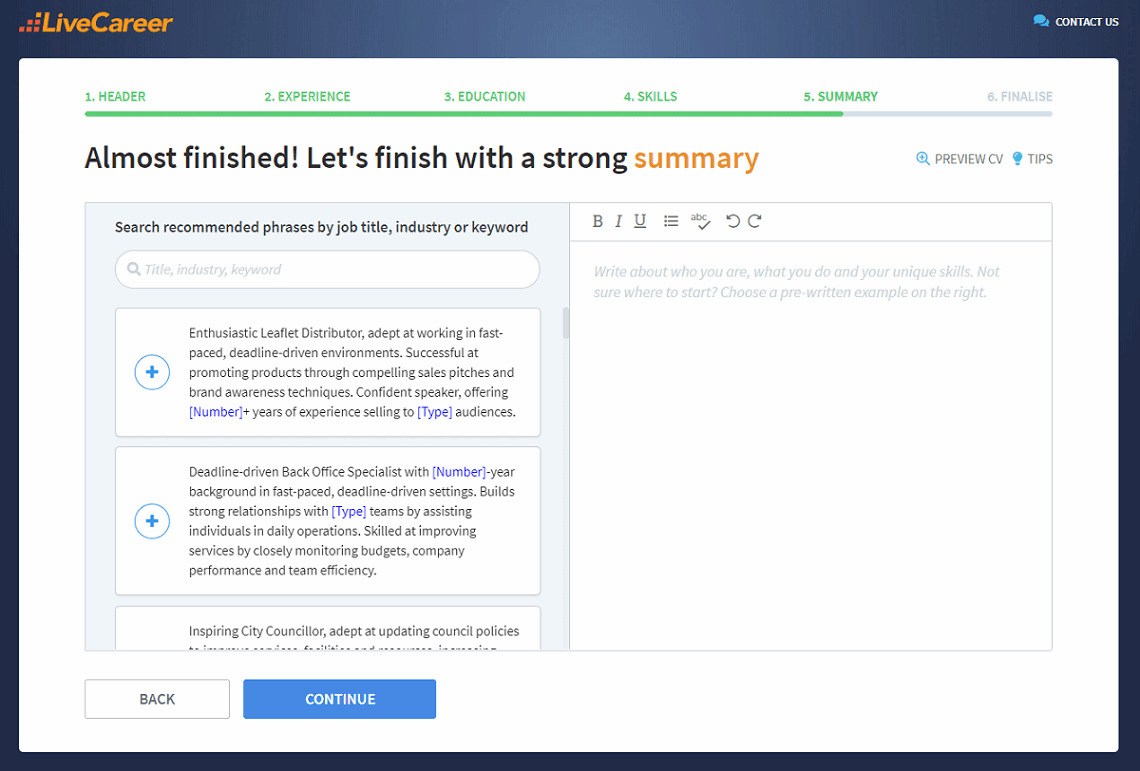 10. Corporate business card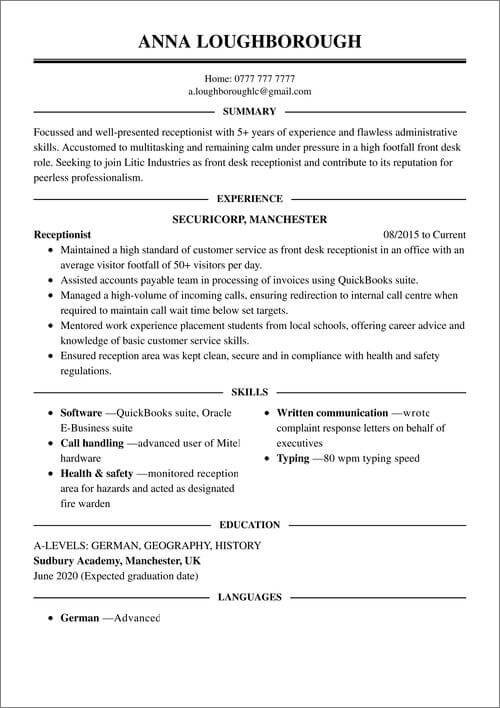 Take a look at this visual CV template and you'll see it's similar to a corporate business card with its simple use of fine lines and capitalised text to highlight the section headings. Its simple design means it'll also look great printed on paper.
A good choice for an account manager CV.
11. Business professional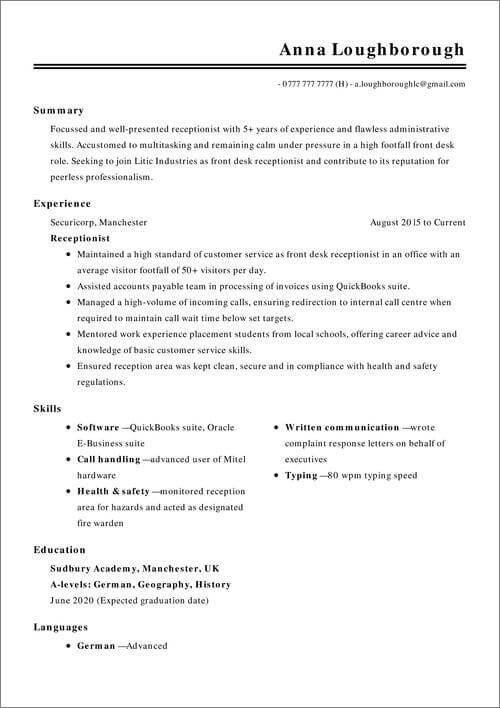 Just a little tweak on this visual CV template but one that gives it a clean and professional look. Setting right alignment for the CV header gives it the look of a corporate letterhead. Definitely a good choice for submitting a job application in more conservative business sectors.
A good choice for a pharmacist CV.
12. Bold professional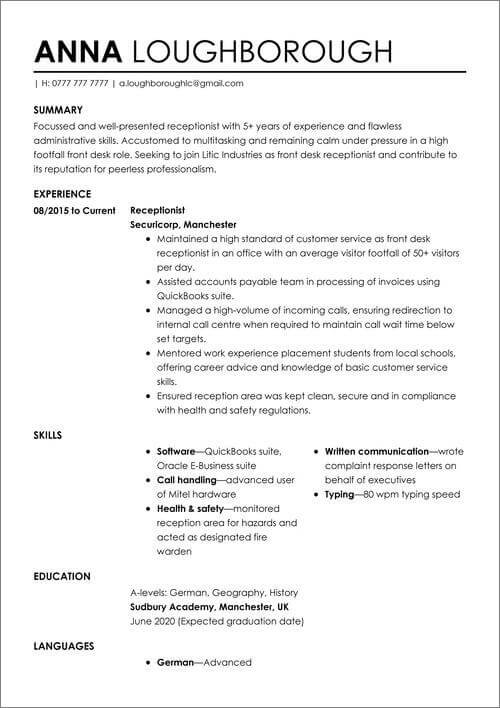 A more contemporary visual CV sample here. It's the monochrome version of the first template on our list. Clever pairing of bold and standard weight fonts in the header gives it a more modern look than some of other simple visual templates.
A good choice for a support worker CV.
13. One page modern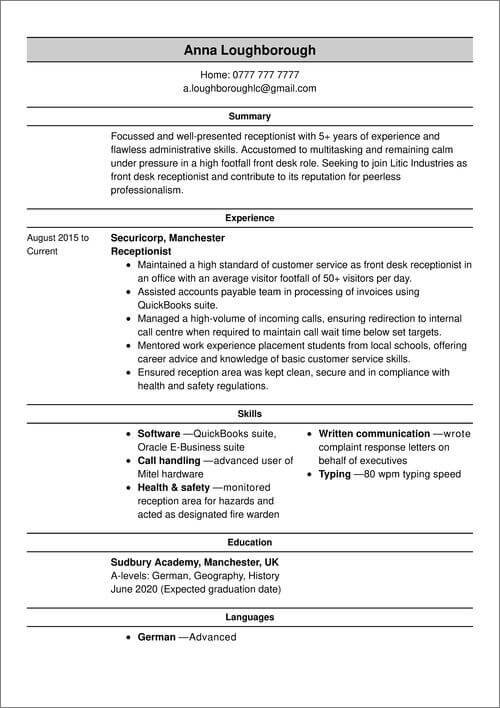 This visual CV sample functions exactly as it names suggests. It's been designed so you can easily fit all of your experience in a one-page CV. It has a compact CV header that's perfectly positioned to give you that much needed page real estate.
A good choice for a teacher CV.
14. Centred executive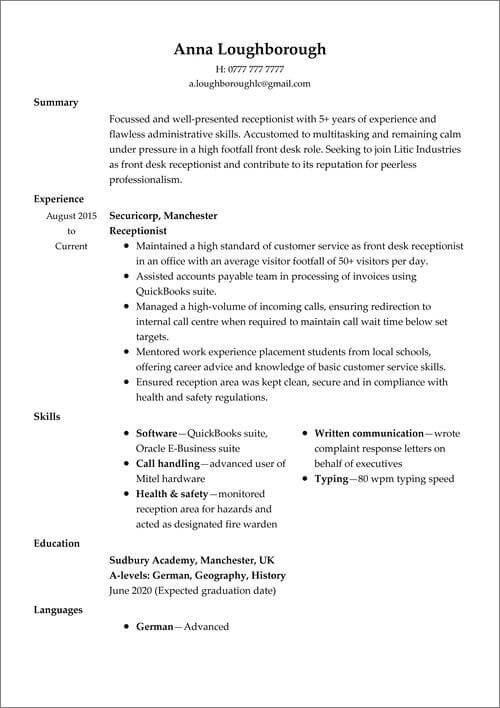 Now for the last of our visual CV examples. It uses a centred CV header to make a simple yet effective change to the template's appearance. And when you use our builder you'll get all sorts of helpful auto-suggestions to cure your writers block. So it's not just visually impactful, it's easy to write too.
You don't have to be a CV writing expert. In the LiveCareer CV builder you'll find ready-made content for every industry and position, which you can then add with a single click.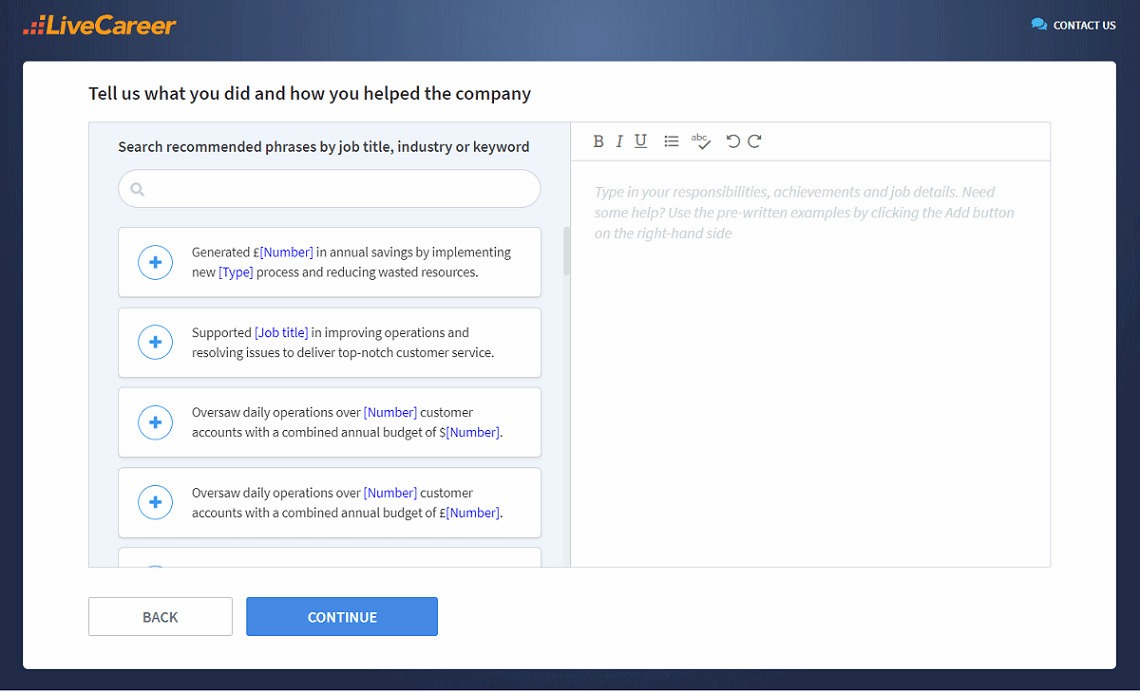 And we're done. Thanks for reading. If you'd like to know more about our visual CV examples or our CV builder then please ask in the comments section, and we'll be happy to help.
How we review the content at LiveCareer
Our editorial team has reviewed this article for compliance with Livecareer's editorial guidelines. It's to ensure that our expert advice and recommendations are consistent across all our career guides and align with current CV and cover letter writing standards and trends. We're trusted by over 10 million job seekers, supporting them on their way to finding their dream job. Each article is preceded by research and scrutiny to ensure our content responds to current market trends and demand.
About the author
LiveCareer Editorial Team
Since 2005, the LiveCareer Team has been helping job seekers advance their careers. In our in-depth guides, we share insider tips and the most effective CV and cover letter writing techniques so that you can beat recruiters in the hiring game and land your next job fast. Also, make sure to check out our state-of-the-art CV and cover letter builder—professional, intuitive, and fully in line with modern HR standards. Trusted by 10 million users worldwide.