In an increasingly complex world, your CV is one place where simplicity is still key. Don't overcomplicate matters with hard to use templates that are more trouble than they're worth. Stick to our selection of simple and basic CV templates that are as effective as they are easy to use.
Each example you'll see is packed with features and recruiter approved, while remaining effortlessly simple. Combine them with our incredible CV builder and you've got the recipe for pain-free job-hunting success.
Create an effective CV in minutes. Choose a professional CV template and fill in every section of your CV in a flash using ready-made content and expert tips.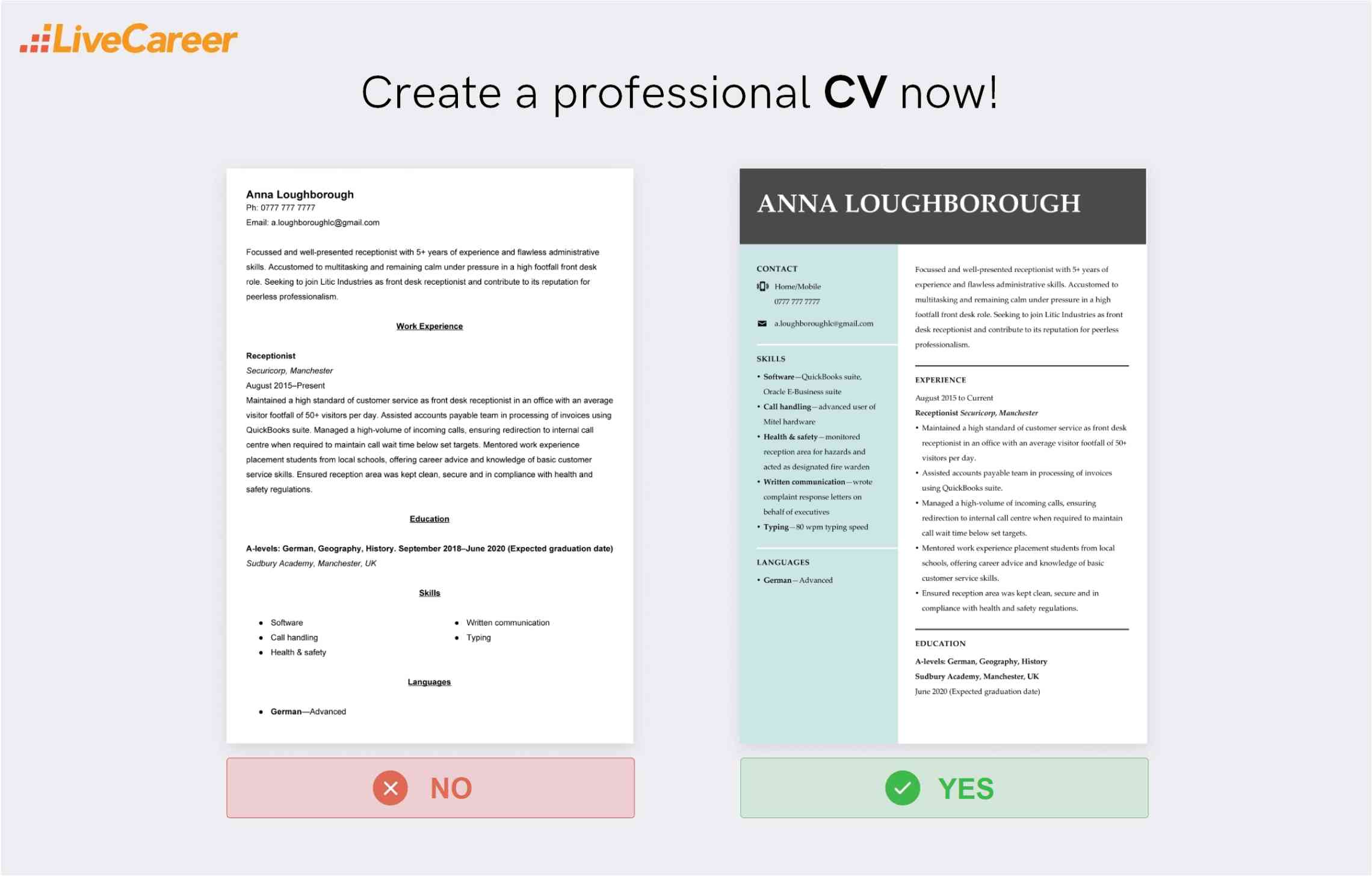 The LiveCareer online CV maker lets you build a professional CV fast and download it as a PDF or DOC.
Looking for a different CV template? Try these:
Basic and simple CV template example
Anna Loughborough
Ph: 0777 777 7777
Email: a.loughboroughlc@gmail.com
Focussed and well-presented receptionist with 5+ years of experience and flawless administrative skills. Accustomed to multitasking and remaining calm under pressure in a high footfall front desk role. Seeking to join Litic Industries as front desk receptionist and contribute to its reputation for peerless professionalism.
Work Experience
Receptionist
Securicorp, Manchester
August 2015–Present
Maintained a high standard of customer service as front desk receptionist in an office with an average visitor footfall of 50+ visitors per day.
Assisted accounts payable team in processing of invoices using QuickBooks suite.
Managed a high-volume of incoming calls, ensuring redirection to internal call centre when required to maintain call wait time below set targets.
Mentored work experience placement students from local schools, offering career advice and knowledge of basic customer service skills.
Ensured reception area was kept clean, secure and in compliance with health and safety regulations.
Education
A-levels: German, Geography, History. September 2018–June 2020 (Expected graduation date)
Sudbury Academy, Manchester, UK
Skills
Software—QuickBooks suite, Oracle E-Business suite
Call handling—advanced user of Mitel hardware
Health & safety—monitored reception area for hazards and acted as designated fire warden
Written communication—wrote complaint response letters on behalf of executives
Typing—80 wpm typing speed
Languages
And that's what makes a good CV. Now, here's a selection of simple and easy-to-use basic CV templates:
1. Simple scanner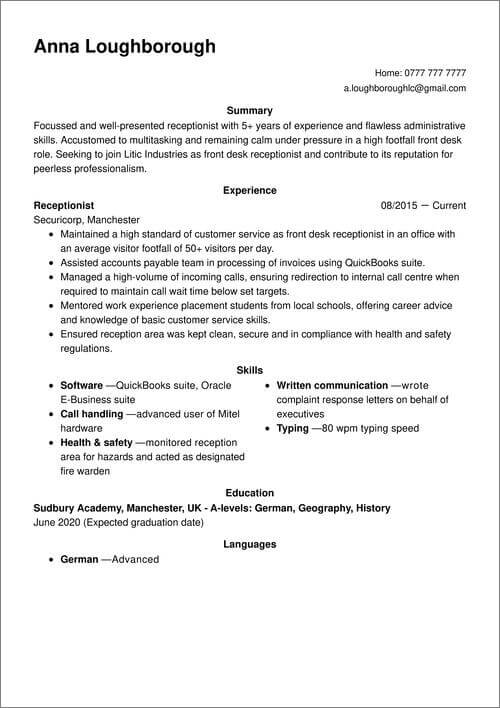 We begin with our appropriately named simple scanner template. Right off the bat this proof that a simple and basic CV template can still be packed with useful features. First up, it uses a mix of alignments to help the reader 'navigate the page'. In other words, it forces their gaze to flick back and forth across the page making sure they take everything in. And there's no effort required from you to achieve this effect. Our CV builder makes it so simple it's child's play. All you need to do is enter your content and the end result is a perfect basic CV template.
2. Professional minimalist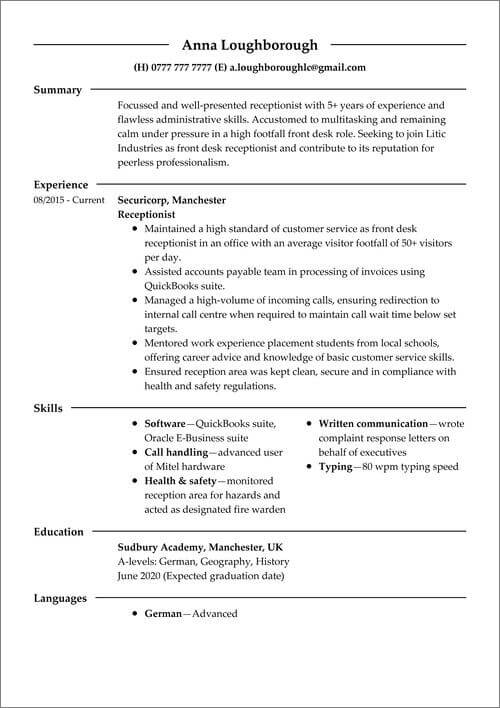 Another example of bare-bones brilliance this simple CV template has the minimalist elegance of a fine piece of brutalist architecture. No distractions, no unnecessary additions, it's just pure job-winning content. The fact is, overly-complicated CV templates can spell disaster for your job application. That's because most companies now use something called ATS. It stands for Applicant Tracking System and it's a type of software that scans your CV before human recruiters get a chance to see it. If there's too much clutter from images and poor layout, the software can't read it. Then you get rejected and wonder why you never heard anything back. Rest assured that every Live Career CV Template is fully ATS compatible.
3. Bold professional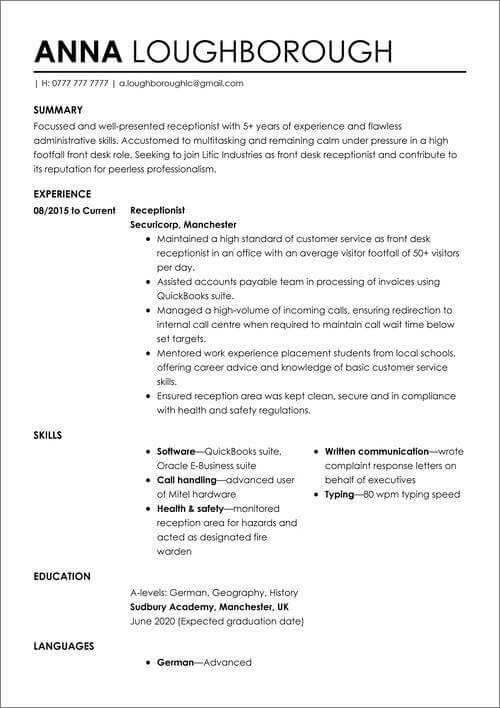 Now you can see how simple changes make all the difference to a basic CV template. The CV fonts are key here starting off with the CV header. Look how the large font size and mix of bold and standard weight lettering really makes the candidate's name pop off the page. Then as we move down to the CV summary and other section headings you'll see that capitalisation adds emphasis too. They're small changes that yield big results in terms of quality. Plus when you use our CV builder you'll get expert CV tips too.
4. Centred executive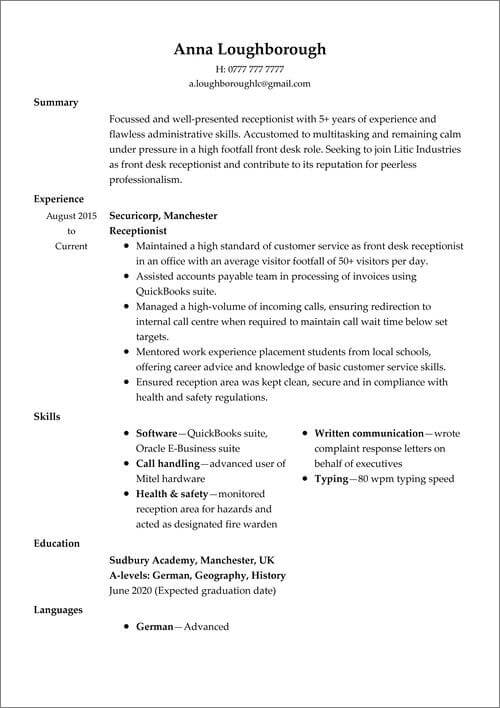 This example may be a very simple CV template but it's anything but boring. A centre aligned CV header and personal details flow effortlessly into the personal profile. It's an excellent choice for more experienced candidates as the spacious format gives lots of room for a detailed work experience section. And if you can't think of how to describe your professional accomplishments we've got that covered too. Our CV maker helps teach you how to write a simple CV template with thousands of pre-written text examples to inspire you.
5. Corporate business card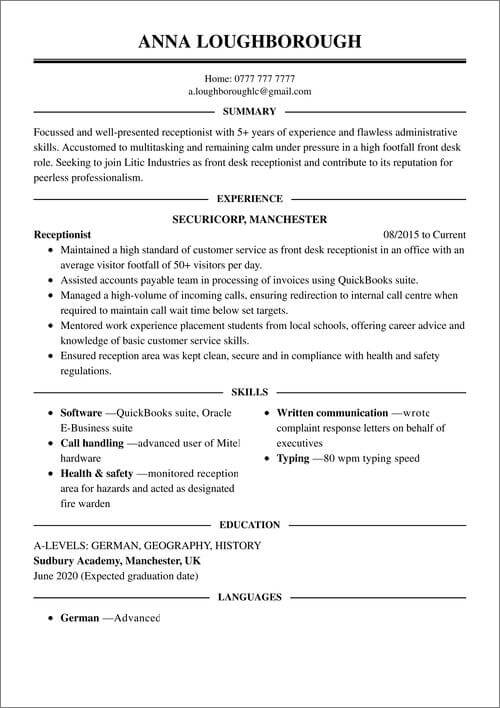 The inspiration behind this basic CV template is simple. It takes its design cues from the uncomplicated elegance of a corporate business card. But that said, it's so effective that any jobseeker stands to benefit from using it, not just candidates for corporate roles. Take a look at our CV generator to see for yourself. All of our templates are free to try out. There's no need to commit unless you're absolutely satisfied with what you see.
6. Classic professional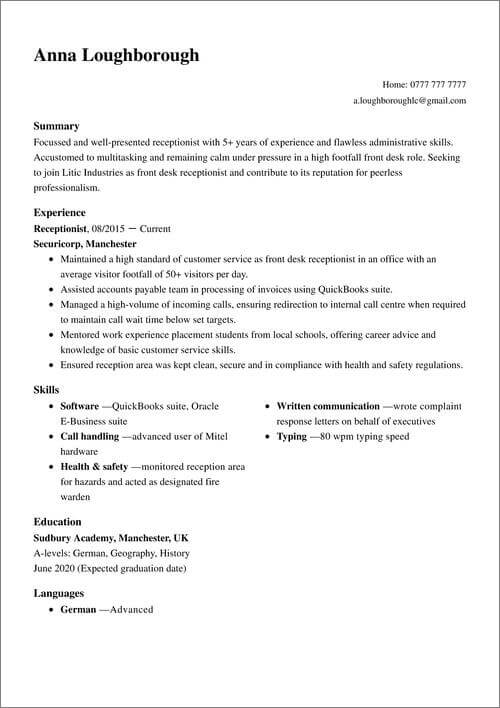 If you want more proof that a basic CV template is the key to success then consider this. Simple is scientifically proven to be beautiful. A study conducted by Google revealed that readers consistently rated more complex layouts as less attractive than simple ones. So follow the science and choose a CV template with simple perfection. There's nothing to distract from the job-winning content with this one, it's pure minimalist design at its best.
7. One page modern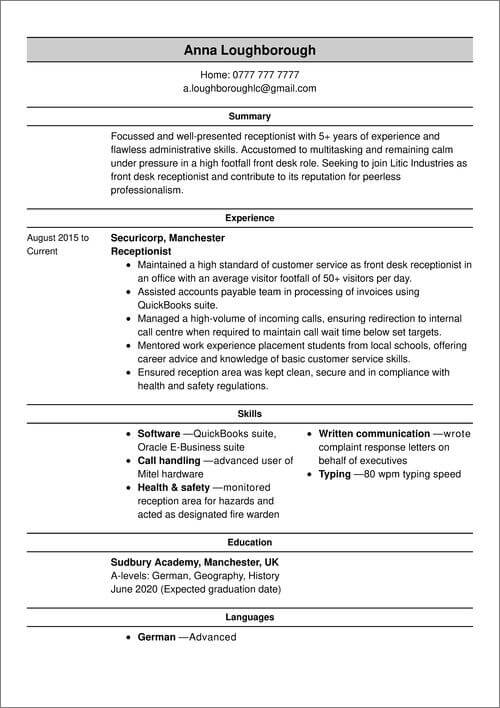 Another advantage of choosing a basic CV template is that there is so much more room to fit everything in. And if you're aiming for a one-page CV this example is perfect for you. The CV header is small, discreet and neatly tucked away right at the top of the page, leaving you more room to fit everything in. One-page CVs are highly recommended for less experienced candidates so if you're writing a simple student CV template then this is the one for you.
8. Business professional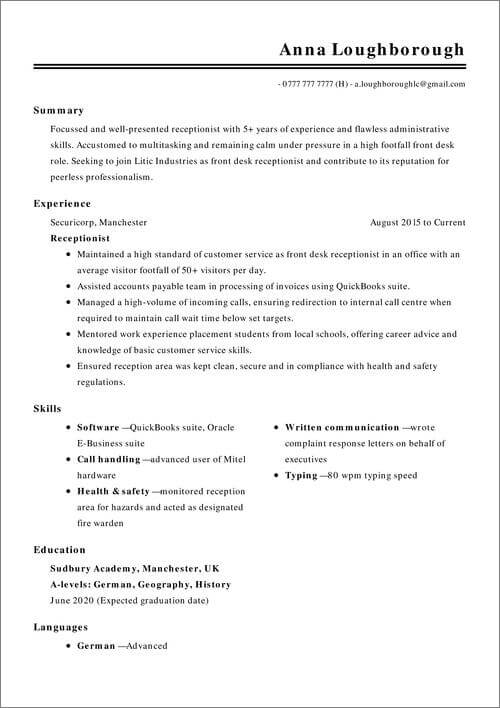 Still not sure which simple CV template to choose? Try business professional. It starts off with a header arranged in classic letterhead style and it also features a two-column format for your CV skills section, so you'll have no problems fitting in all those job-winning abilities you've gained over the years. And as with all of our monotone examples we think it looks great printed on paper too.
9. Blue modern header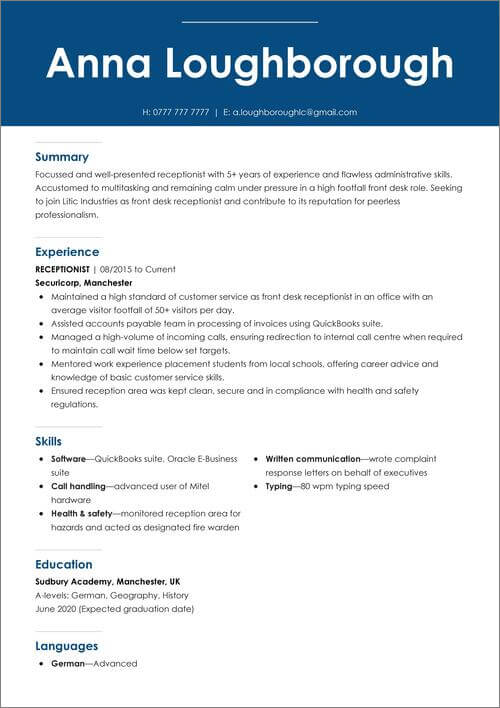 The simple addition of colour can make all the difference to a basic CV template. The broad header in a professional-looking shade of blue is the first element that catches your eye. But there are matching additions of colour in the section headings too. An ideal choice for adding a touch of creativity without going overboard.
A strong CV summary will convince the recruiter you're the perfect candidate. Save time and choose a ready-made personal statement written by career experts and adjust it to your needs in the LiveCareer CV builder.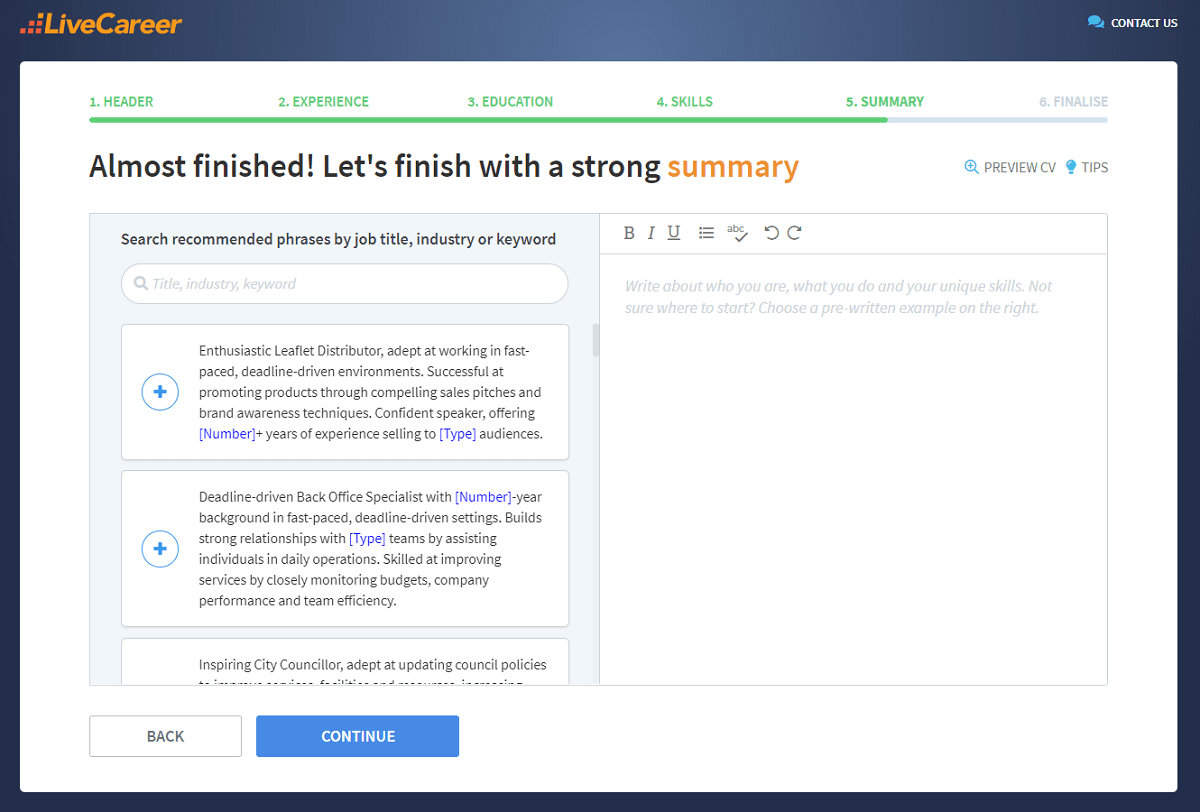 10. Electric blue creative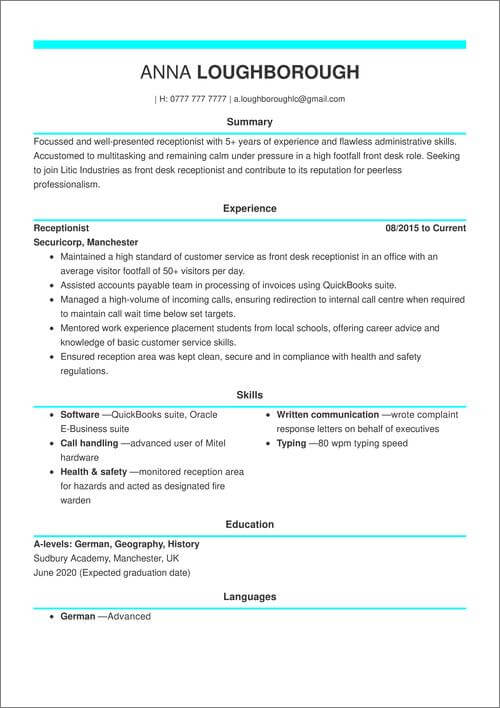 If you're looking a bright and fresh feel then this simple CV template might be just the one. It retains all the basic elements of our monotone examples but with neon stripes of electric blue. That gives it more of a youthful feel, and as such we'd suggest it'd make a great simple CV template for school-leavers.
11. Light blue creative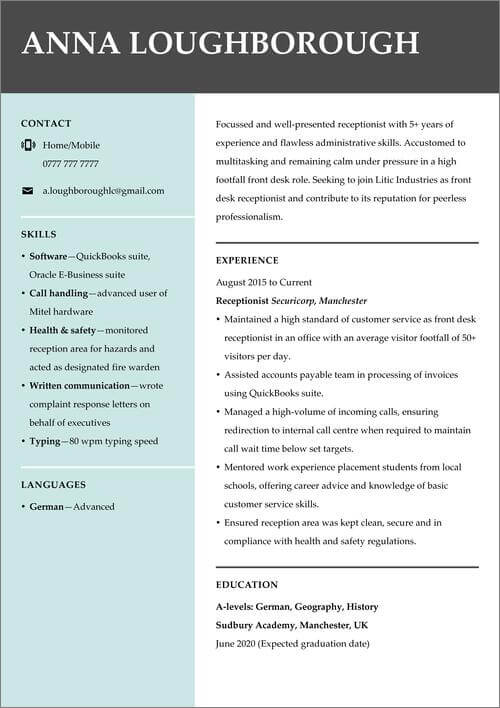 We've added even more colours to this example but it's still a simple CV template designed to win you interviews. Duck egg blue, dark grey and white backgrounds work together to create a calm and professional impression. We've even added a few simple CV icons to the personal details section to give this basic CV template even more clarity.
12. Blue modern accents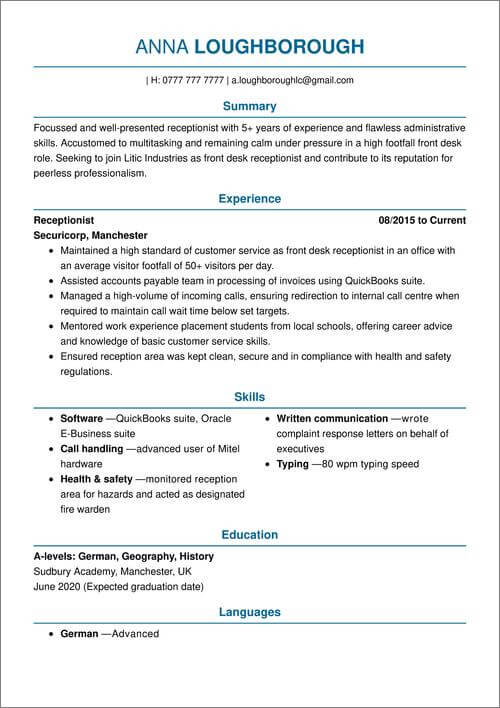 This simple CV template variation is ideal if you liked our electric blue example but wanted something a little more toned down. Darker shades of blue are more closely related with strength and reliability so it's an excellent choice for more experienced jobseekers targeting managerial roles.
13. Creative green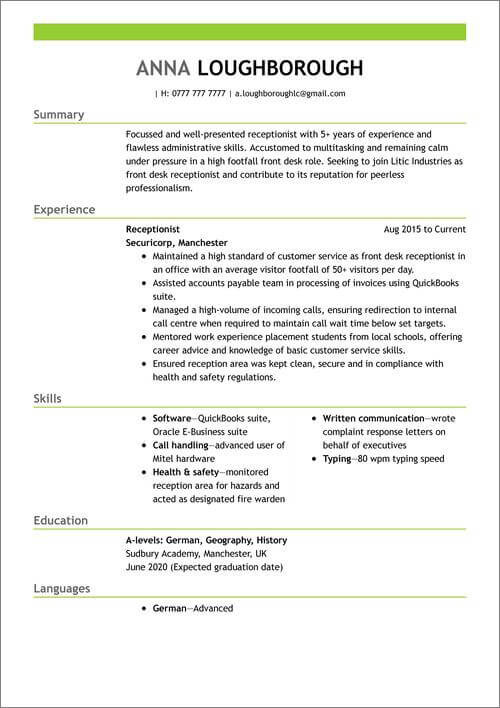 Now we move from blue to green. This template features a striking stripe of green to highlight the CV header and a mix of grey and black font to give another touch of style while remaining simple. Take a look at our builder to give it a try for yourself.
14. Orange creative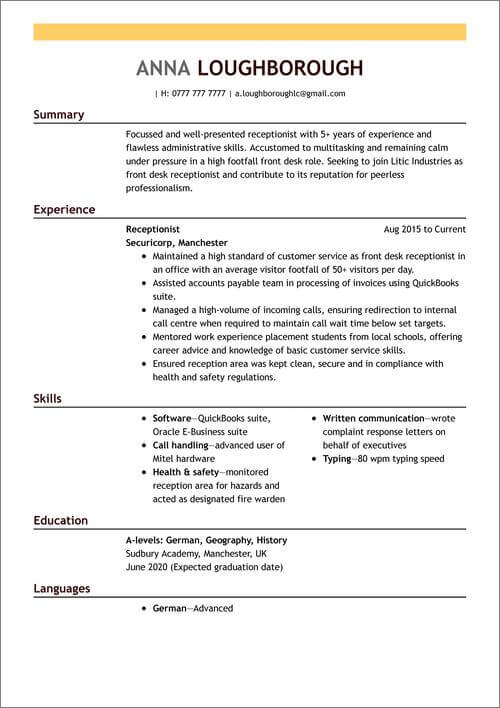 Now we warm things arm with this orange basic CV template. Just that one colourful element helps to make this simple CV format really stand out. Imagine how it'd look compared to a collection of dull, poorly formatted templates. Simple, striking and sophisticated.
15. Red modern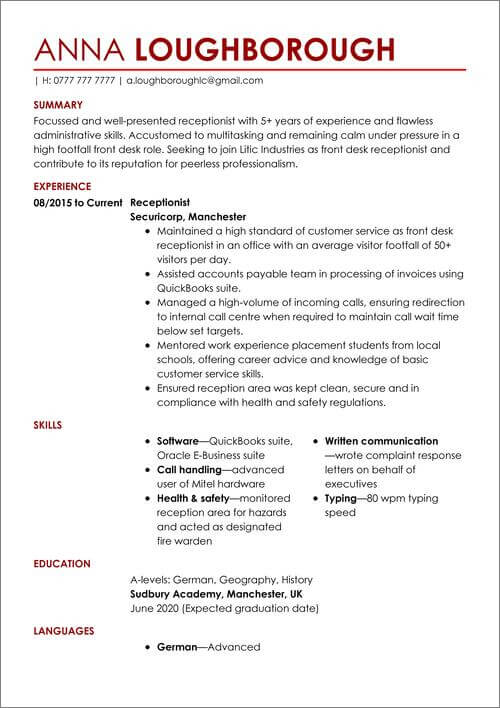 The last of our example makes use of a rich, dark red for an elegant, professional look. And as with all of our templates, it's versatile too. You can download this simple CV template in Word or as a PDF. Using PDF format is generally best as it preserves your layout but some employers still specify Word format, so you're covered either way.
You don't have to be a CV writing expert. In the LiveCareer CV builder you'll find ready-made content for every industry and position, which you can then add with a single click.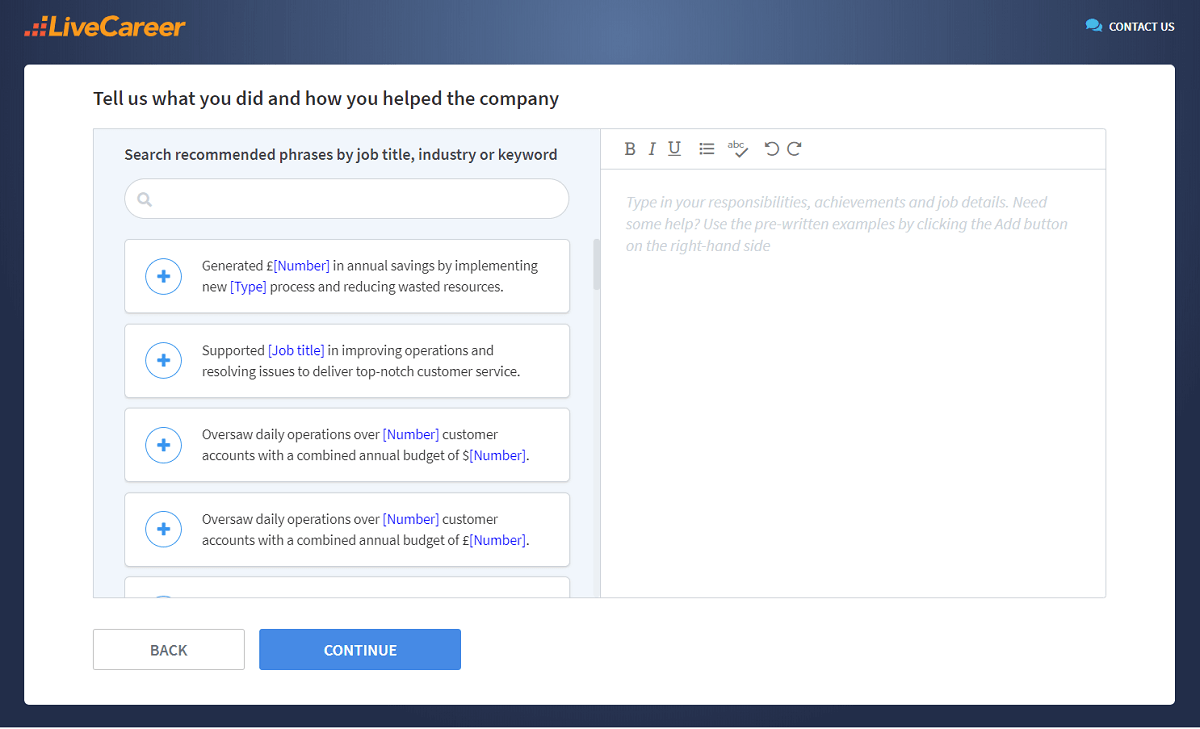 Thanks for reading about our simple and basic CV templates. If you'd like to know more, please ask in the comments section and I'll be happy to answer.
How we review the content at LiveCareer
Our editorial team has reviewed this article for compliance with Livecareer's editorial guidelines. It's to ensure that our expert advice and recommendations are consistent across all our career guides and align with current CV and cover letter writing standards and trends. We're trusted by over 10 million job seekers, supporting them on their way to finding their dream job. Each article is preceded by research and scrutiny to ensure our content responds to current market trends and demand.
About the author
LiveCareer Editorial Team
Since 2005, the LiveCareer Team has been helping job seekers advance their careers. In our in-depth guides, we share insider tips and the most effective CV and cover letter writing techniques so that you can beat recruiters in the hiring game and land your next job fast. Also, make sure to check out our state-of-the-art CV and cover letter builder—professional, intuitive, and fully in line with modern HR standards. Trusted by 10 million users worldwide.