If you're here looking to find out what the deal is with resumes and CVs, then you probably fall into one of three camps:
You're applying for a job overseas
You're applying for a job in the UK and you keep coming across conflicting information online
You're applying for an academic position in the UK or abroad.
The very short answer is that the document you submit as part of a non-academic job application in the UK is called a CV (Curriculum Vitae). Essentially the same document is called a resume in the USA. Scroll down to see an example of a UK CV / US resume. The content is British but the structure is the same.
In this article you will see the difference between resume vs CV, and an academic CV, comparison of the most popular CV and resume formats, and you will learn when to use which.
Create an effective CV in minutes. Choose a professional CV template and fill in every section of your CV in a flash using ready-made content and expert tips.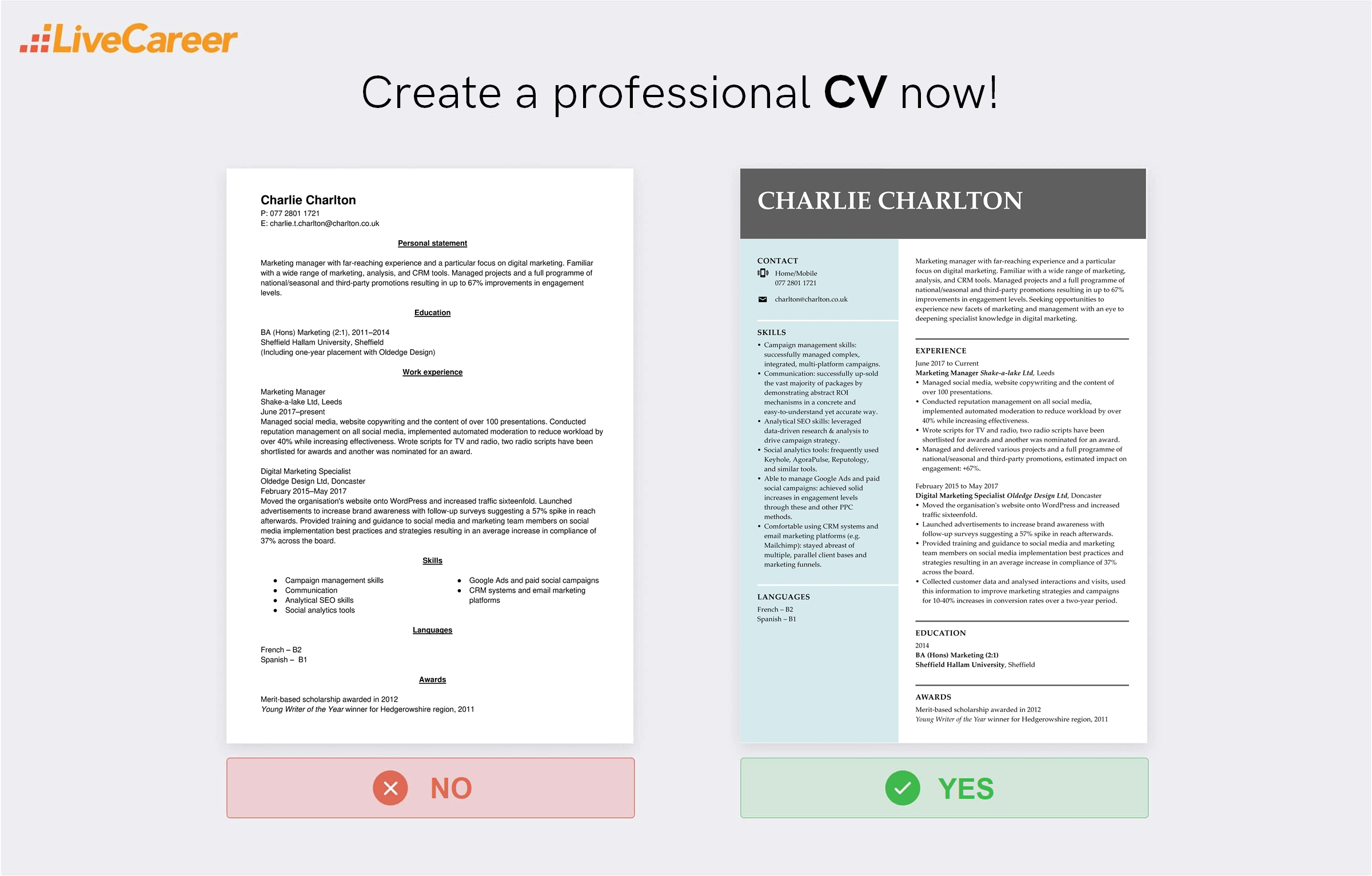 The LiveCareer online CV maker lets you build a professional CV fast and download it as a PDF or DOC.
Example of a CV that could be a resume
Jennifer Hunt
T: 077 3333 3333
E: jennifer.hunt@lcmail.co.uk
LinkedIn: linkedin.com/in/jenniferhunt
Reliable and highly motivated shop assistant with 4+ years' experience in both food shops and clothing retail. Exceeded unofficial sales targets in current position 67% of the time (averaged over a period that encompasses social distancing measures). Sold 20% more stock when informing customers of discounts by strategically focusing on multi-item promotions. Looking for opportunity to make use of sales skills and technical know-how to create even more return customers for Davey Jones.
Work experience
Shop Assistant
Roderick and Gunn, Oxford
August 2018—present
Arranged orders for customers prioritising inter-store sourcing wherever possible to cut average wait time by 34%.
Maintained in-depth knowledge of over 85 clothing and accessory lines to provide advice and recommendations as needed.
Assisted the stock team in receiving shipments, backstocking as many as 150 units a week.
Took cash, card and mobile payments, had till balanced perfectly 97% of the time and never more than £5 out.
Deli Assistant
Rowers' Deli, Oxford
February 2016—August 2018
Handling transactions totalling well over £150,000 with diligence, honesty and integrity.
Systematically notified the manager when supplies were running low, preventing 35+ instances in which a dish would otherwise have been temporarily taken off the menu.
Assisted in the receiving of food and drink deliveries three times a week, saved the deli over £250 by conscientiously checking deliveries as they came in.
Contributing to the development of four seasonal menus, three popular dessert recipes, and two popular breakfast dishes.
Education
NVQ 2 in Retail Operations, 2017
Jacob Denim College, Oxford
A-levels: Commerce, English, Travel and Tourism, 2013–2015
Moorhead High School, Oxford
8 GCSEs (including Mathematics and English), 2011–2013
Moorhead High School, Oxford
Skills
Following procedures: followed a range of security and Health and Safety procedures daily.
Communication: dealt with the occasional dissatisfied or confused customer in ways that avoided escalation and with a focus on resolving the given problem.
Teamwork: regularly filled in for and pulled together with colleagues during busy periods like the Christmas shopping season.
Sales: successfully pushed PoS specials, moving 15% more stock than the average.
Inventory management software: used Cin7 to process and receive shipments.
Pricing and labelling equipment: used various scanners and labelling devices to audit prices and print labels for new stock.
Point of sale software: used Square and Magestore POS to complete transactions for customers.
Hobbies
Reselling charity shop finds online
Baking
Awards
Employee of the Month, April 2019, Roderick and Gunn
Best Pies in Show, Lady Grantham Memorial Show, 2019
Resume vs CV
Is a resume a CV? And which one is correct in the UK: a CV or a resume?
When people say 'CV' in the UK, they mean essentially the same thing as people in the USA do when they say 'resume'. In the UK, people don't use the word resume at all, though. In the US, they use the words 'Curriculum Vitae' (CV) to mean something quite different than what people in the UK call by that name.
The US use of 'CV' corresponds with the UK academic use. People applying for an academic position in a university or other higher education institution generally submit a CV, whether in the UK or USA. A CV in this context is a significantly longer version of both the regular British CV and American resume.
And what is a CV in England, specifically? In the UK, a CV is a comprehensive document that provides a summary of a candidate's educational background, work experience, accomplishments, and skills. They're usually displayed in a chronological order, and take one page maximum.
A strong CV summary will convince the recruiter you're the perfect candidate. Save time and choose a ready-made personal statement written by career experts and adjust it to your needs in the LiveCareer CV builder.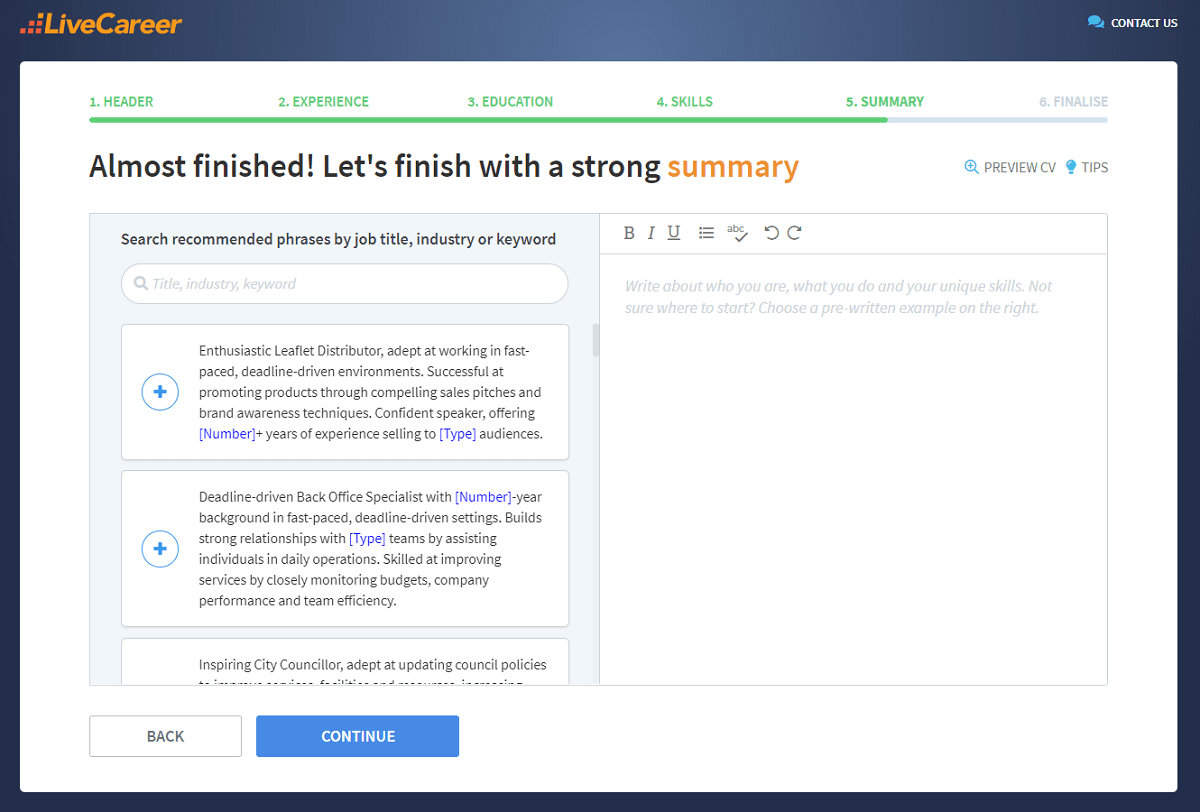 CV vs resume: key differences
In the UK there is no difference between a CV and a resume. Both terms refer to the same thing, although 'resume' is not used at all in the UK. The term 'CV' is also popular in Ireland and New Zealand, as well as in Europe. In the USA there is a big difference between a resume and a CV: a resume is what would be called a CV in the UK and a CV is used only in academic contexts.
An academic CV (simply called a CV in the US) is very different from a regular CV or resume (US). It's typically a far longer document with no page limit and includes many additional sections, like publications, conferences, fellowships, research grants, and so on. It's used mainly for teaching and research jobs.
The word 'resume' is taken from the French résumé, the past participle of résumer, meaning 'to summarise'. Whereas the term 'curriculum vitae' (CV) is simply Latin for 'the course of one's life'. This might suggest that a resume is a brief summary of your working life while a CV is more of an unfiltered account.
This rings truer for the US use of the terms resume and CV (where a CV [academic CV in the UK] is a longer, less filtered document than a resume). In the UK, though, a CV is no less a brief summary than a US resume. Both are tailored to a given job application and both focus on only the most relevant details.
UK vs other parts of the English-speaking world
On the UK side, there is Ireland, most European countries, and New Zealand. In these countries a relatively short summary of your education and career (what would be called a resume in the US) is called a CV. People applying for a university teaching and/or research position will typically submit an academic CV.
On the US side, there is mainly just Canada. Here the term CV is reserved for giving a fuller account of academic careers while regular job applications are handled with a resume. Aside from minor regional differences, a resume in these countries is the same as a CV in the UK.
Finally, there's Australia, South Africa, and India. In these countries the terms CV and resume are used interchangeably and mean the same thing. Even though 'CV' and 'resume' mean the same thing, CVs are slightly more likely to be used for white-collar jobs and resumes for blue-collar and unskilled ones.
Resume vs CV: format
There are three main formats that either a CV or a resume can take:
Chronological (UK) / reverse-chronological (US) (contrary to appearances, these refer to the same thing)
Functional / skills based
Combination / hybrid.
In order to compare apples to apples, let's focus on what is by far the most common one of these—the chronological format.
The format of a reverse-chronological CV (UK) and a reverse-chronological resume (US) can be identical and is at the very least extremely similar. Compare them for yourself:
| | |
| --- | --- |
| CV (UK) | Resume (US) |
| | |
| | Resume summary / resume objective |
| | |
| | |
| | |
| | |
A resume summary can end up being exactly the same as a personal statement, so the formats are potentially identical. Compare these with what is called an academic CV in the UK and simply a CV in the USA:
Academic CV (UK) / CV (US)
Contact details
Research objective / personal profile
Education
Awards and funding
Teaching/supervising experience
Research experience
Publications
Conferences
Grants and fellowships
Professional memberships
Additional activities
Skills
Languages
References
The difference is striking. An academic CV is a different thing altogether. The format isn't as fixed as a regular CV (or resume). The other major difference is that an academic CV isn't a summary, it's a complete account of an academic's working life. You tailor your CV to each job but not your academic CV.
CV vs resume: when to use each?
Generally, use the document-naming and other conventions of the country in which you're applying for the job. So:
In the UK, use a CV
In the US, use a resume
When applying to a US company in the UK, use a CV.
When applying for a university post, use an academic CV in either country unless asked for something different. The title of an academic CV is going to be 'Curriculum Vitae' regardless of whether you're in the UK or US.
Resume vs CV: cover letters are universal
Whatever it's called and wherever you're submitting it, your CV is only part of your job application. A complete job application includes at least a cover letter and a CV, in that order. Some employers will explicitly ask you not to submit a cover letter. In those cases and those cases only, you're off the hook.
If an employer doesn't mention a cover letter at all, then you have to assume one's required. In the UK, a cover letter will follow the standard British business letter format. This will affect the way the header is set out, the salutation you use, and the way you sign off.
With those formalities taken care of by the format, you're left with the main body of the cover letter. The body is broken down into three or four parts: an opening that catches your readers' attention, a paragraph that wows them with your achievements, and quick wrap-up with a clear call to action.
Some final things to keep in mind
Dealing with your potential new employer can be a stressful and even intimidating thing. You want to make a good impression but don't know them at all. To make things worse, everything feels like a test. It can seem like you're expected to figure everything out by yourself to demonstrate your abilities.
This is almost never the case, though. If you're not sure if a CV will be OK for a company that asked for a resume, then contact them and ask. The same holds true for anything else that's unclear in the job advert. Do your best to find out for yourself, but if you can't find the information you need—ask.
One final note regarding spelling: you may see resume spelt with the original French accents as 'résumé'. More rarely, you'll find curriculum vitae written as 'curriculum vitæ'. These alternate versions are not incorrect but it's generally best to stick to using only the English alphabet for such words.
You don't have to be a CV writing expert. In the LiveCareer CV builder you'll find ready-made content for every industry and position, which you can then add with a single click.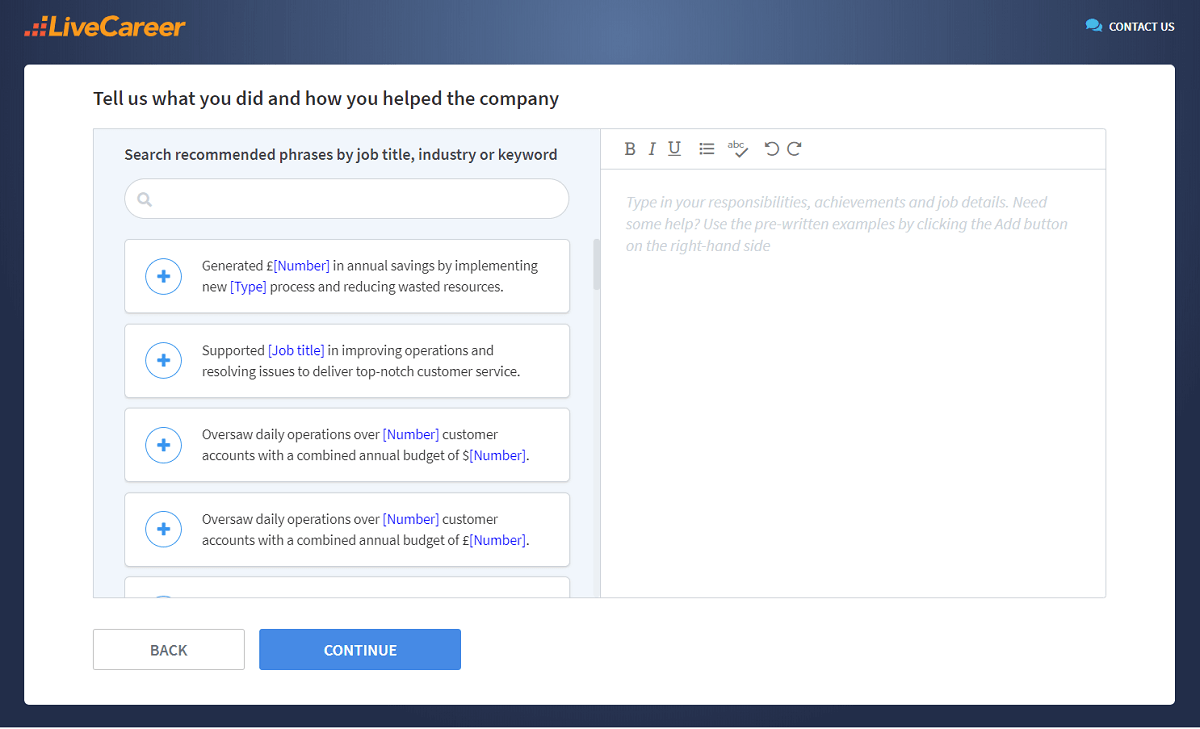 I hope this article has helped you sort through the confusion surrounding these terms! Is there anything you'd like to ask or to add? Do you come from or work in a country where things are different again? Leave your questions, comments and feedback in the comments section below!
How we review the content at LiveCareer
Our editorial team has reviewed this article for compliance with Livecareer's editorial guidelines. It's to ensure that our expert advice and recommendations are consistent across all our career guides and align with current CV and cover letter writing standards and trends. We're trusted by over 10 million job seekers, supporting them on their way to finding their dream job. Each article is preceded by research and scrutiny to ensure our content responds to current market trends and demand.
About the author
LiveCareer Editorial Team
Since 2005, the LiveCareer Team has been helping job seekers advance their careers. In our in-depth guides, we share insider tips and the most effective CV and cover letter writing techniques so that you can beat recruiters in the hiring game and land your next job fast. Also, make sure to check out our state-of-the-art CV and cover letter builder—professional, intuitive, and fully in line with modern HR standards. Trusted by 10 million users worldwide.