You see that most of the CV online have these impressive personal statements that really do make the candidate look confident and in control of their career. But you, for one reason or another, just don't have the experience you'd need to write an introduction like that, no matter how hard you tried. All is far from lost, though.
This article will show you how you can write a CV objective that focuses on your strengths without dwelling on your lack of experience.
Create an effective CV in minutes. Choose a professional CV template and fill in every section of your CV in a flash using ready-made content and expert tips.
Create a professional CV now!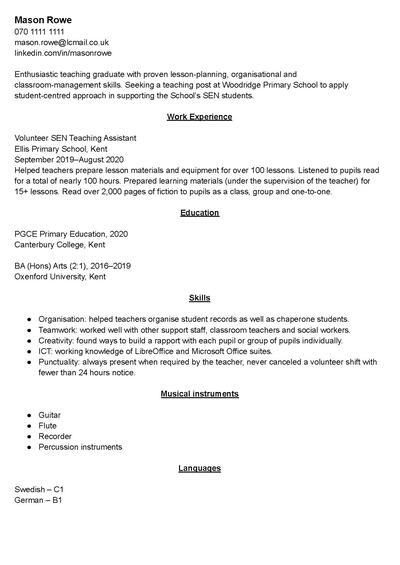 NO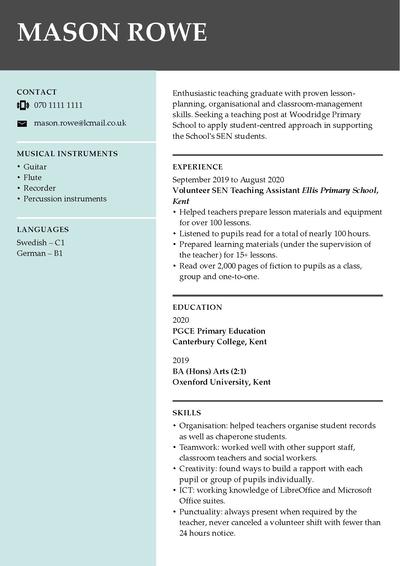 YES
The LiveCareer online CV maker lets you build a professional CV fast and download it as a PDF or DOC.
CV sample with a CV objective
Mason Rowe
070 1111 1111
mason.rowe@lcmail.co.uk
linkedin.com/in/masonrowe
Enthusiastic teaching graduate with proven lesson-planning, organisational and classroom-management skills. Seeking a teaching post at Woodridge Primary School to apply student-centred approach in supporting the School's SEN students.
Work Experience
Volunteer SEN Teaching Assistant
Ellis Primary School, Kent
September 2019–August 2020
Helped teachers prepare lesson materials and equipment for over 100 lessons.
Listened to pupils read for a total of nearly 100 hours.
Prepared learning materials (under the supervision of the teacher) for 15+ lessons.
Read over 2,000 pages of fiction to pupils as a class, group and one-to-one.
Education
PGCE Primary Education, 2020
Canterbury College, Kent
BA (Hons) Arts (2:1), 2016–2019
Oxenford University, Kent
Skills
Organisation: helped teachers organise student records as well as chaperone students.
Teamwork: worked well with other support staff, classroom teachers and social workers.
Creativity: found ways to build a rapport with each pupil or group of pupils individually.
ICT: working knowledge of LibreOffice and Microsoft Office suites.
Punctuality: always present when required by the teacher, never canceled a volunteer shift with fewer than 24 hours notice.
Musical instruments
Guitar
Flute
Recorder
Percussion instruments
Languages
Swedish – C1
German – B1
Now that's a perfect CV example for entry-level jobs. Let's check how to write a CV objective that will enrich your CV.
What is a CV objective?
A CV objective, also called a career objective, is a short paragraph at the top of a CV that describes your professional acumen, career goals and reasons for seeking a career at the specific company.
It's an extremely short and prominently placed paragraph that recruiters are very likely to read first when picking up your CV. Done right, your CV objective will start making your case while grabbing recruiters' attention.
If you don't have much experience that's relevant to the job you're applying to, use a CV objectivie to start your CV. Whether that's because you're just entering the workforce or changing careers, a CV objective will put the focus on your strengths—your qualities and your skills—and bring your potential to the fore.
A strong CV summary will convince the recruiter you're the perfect candidate. Save time and choose a ready-made personal statement written by career experts and adjust it to your needs in the LiveCareer CV builder.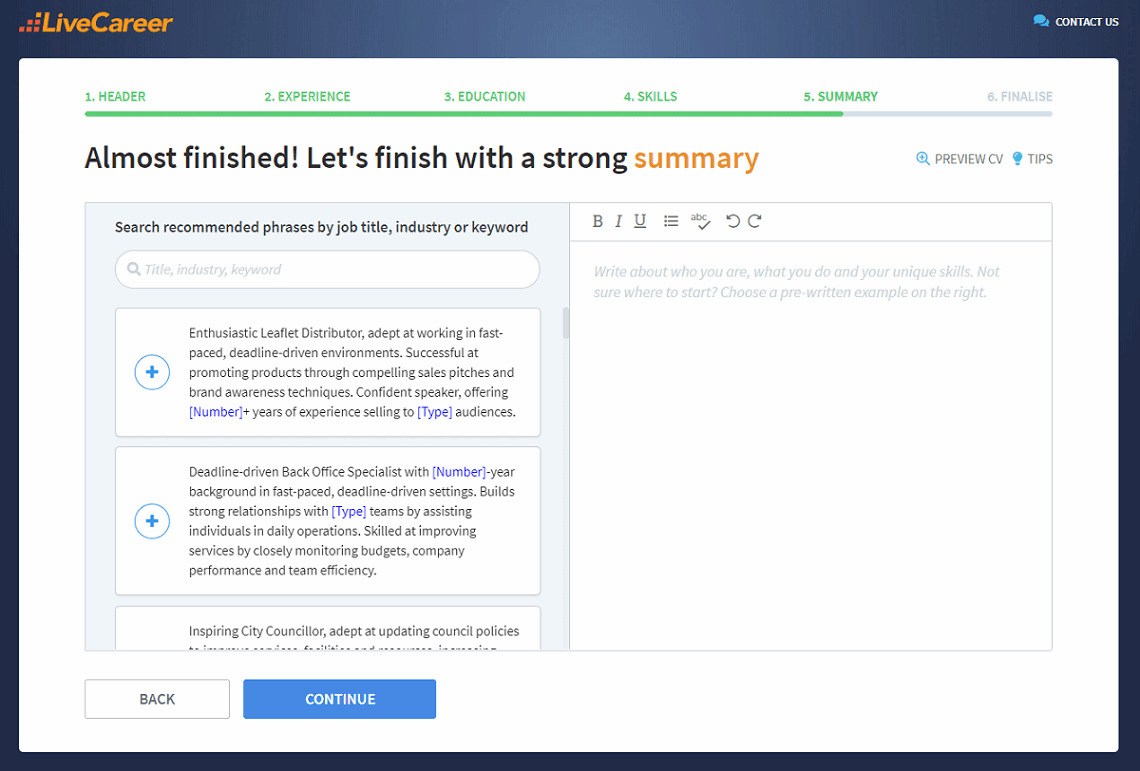 CV objective examples
The process of writing a CV objective for a student CV is exactly the same. Your occupation is 'student' and you should specify whether you're a high school or university student as well as giving your year. Your actual objective may be a little more focused on you than the company at this level.
Student CV objective sample
Motivated and focused final-year Arts student with proven communication and time-management skills. Seeking a volunteer SEN teaching assistant post at Ellis Primary School to develop a student-centred approach while supporting the School's SEN students.
As a graduate, you have a larger and more specific—if not more relevant—pool of skills from which to choose. You also have more life, and possibly work, experience under your belt. All this adds up to a CV introduction that's more focused on what you can realistically do for your potential new employer.
Graduate CV objective sample
Enthusiastic teaching graduate with proven lesson-planning, organisational and classroom-management skills. Seeking a teaching post at Woodridge Primary School to apply student-centred approach in supporting the School's SEN students.
Changing careers means that you don't have any direct experience in your new field, but you may well have some impressive transferable skills from your old one. Introduce yourself using your old job title and mention how many years' experience you have. Focus in on what you bring to the table.
Career change CV objective sample
Efficient administrative assistant with 4+ years' experience working in training and professional development. Seeking a teaching post at Woodridge Primary School to apply organisation, time-management, and interpersonal skills in supporting the School's SEN students.
You don't have to be a CV writing expert. In the LiveCareer CV builder you'll find ready-made content for every industry and position, which you can then add with a single click.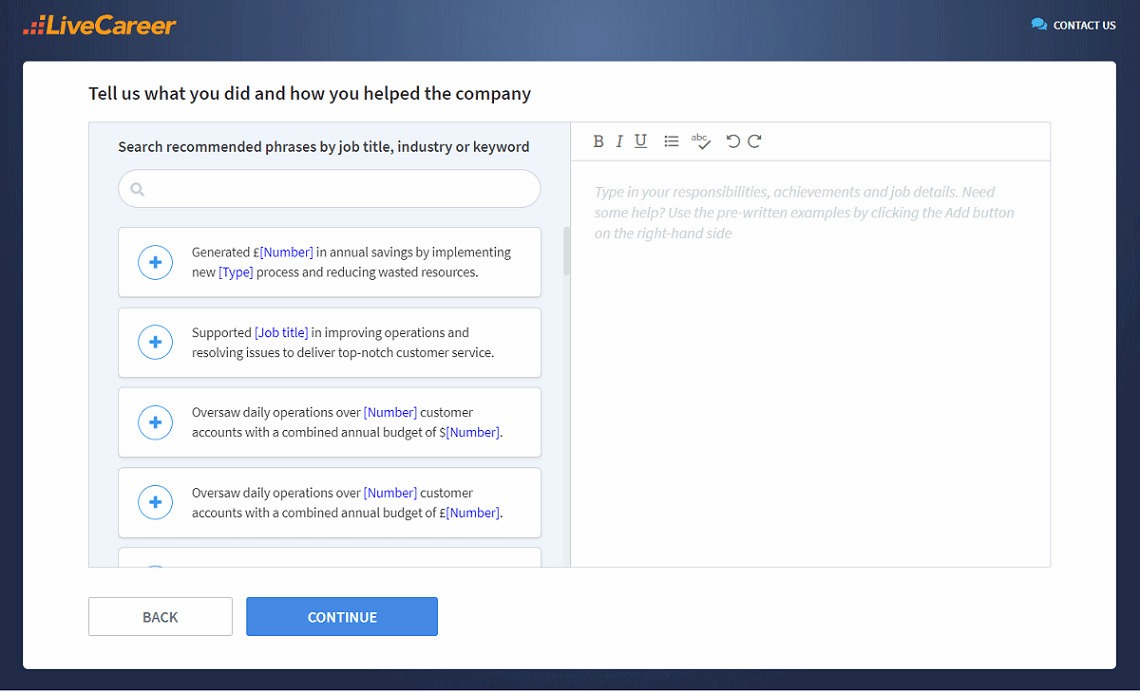 How to write an objective on a CV
Writing an objective for your CV is fairly straightforward:
First, write a sentence to introduce yourself. Use

one or two appropriate adjectives

to describe yourself, state your occupation ('student', 'graduate', etc. work well here—it need not be a job title) and include

2–3

relevant skills

.


Next comes the 'objective' part of writing a CV objective statement. Your objectives should be based around

what you want to achieve for your new employer rather than for yourself

. Do some background research to figure out what the employer might like to hear and make that your career objective.


If this is going to be your first job, then it's fine to focus on your actual career objectives. In that case,

emphasise the development of those skills that are directly useful to the employer

. There's no point in telling them what they can do for you, they have no reason to care. Instead, focus on what you can do for them.


A good objective for a CV will be

2–3 sentences

and about

30–50 words

long. Be sure to mention the name of the company to which you're applying and the job title. Don't use any personal pronouns at all and don't write about yourself in the third person.
If you're working on writing an objective for your CV rather than a standard personal statement, summary of qualifications or CV summary, then you're unlikely to be writing a regular, chronological CV. This is the most common and generally preferred CV format, but something else might be more suitable in your case.
A student CV or graduate CV will be a more appropriate choice for you if you're still studying or just finished your studies. These CVs will make use of a skills-based (or functional) CV format to take the focus off of your (lack of) work history and onto your skills and education. You can switch to a chronological CV later.
A career change CV, on the other hand, is best written using a hybrid (or combination) CV format. This format still swings the focus away from your work history and towards your skills, but it represents a less drastic departure from the common chronological CV format. Use it as you transition between career paths.
Keep these tips in mind when working on CV objectives
The reason it's recommended that you always mention the employer's name in full, as well as the job title for which you're applying, is that your application is likely to be passed through an ATS (Applicant Tracking System) before anyone even sees it. ATSs run on algorithms and adding these details can help.
Something else that will help your application dodge ATS filters and algorithms is echoing keywords from job advert. You can do this in two ways: by making sure you mention at least two of the key skills listed in the advert and by using similar wording to describe them. So don't use 'team player' in your CV introduction if they've used 'teamwork'.
One more important piece of advice for how to write an objective on a CV is to write it last. A CV objective is to some extent a summary of your CV. It'll be much easier to write once you yourself have more of a big-picture view of your CV. At the very least, wait until after you've done your work history and skills sections.
Finally, take care of the overall impression your CV makes. Proofread the whole thing at least twice, using technological aids to catch spelling and grammar mistakes. Go with an appropriate CV font like Garamond, Noto, Liberation, Arial or even Calibri. Leave font size and margins at the default 11–12 points and 2.5 cm.
A cover letter alone simply won't be enough—you need an impactful CV, too. Create your CV in minutes. Just follow our wizard and fill in every CV section with ready-made content. Get started by choosing a professional CV template.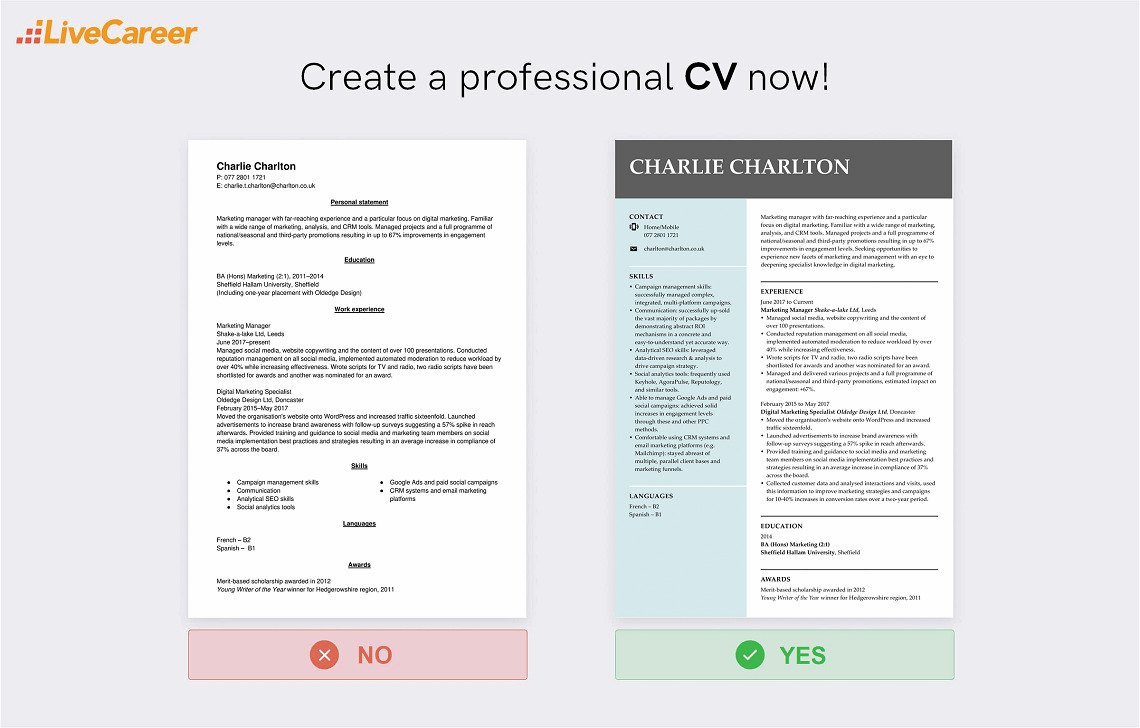 The LiveCareer online CV maker lets you build a professional CV fast and download it as a PDF or DOC.
As you can see, writing a career objective for your CV is pretty simple once you know how. Do you have any questions, comments or feedback you'd like to share? Drop us a line in the comments section below, we'd love to hear from you and will be sure to get back to you.
How we review the content at LiveCareer
Our editorial team has reviewed this article for compliance with Livecareer's editorial guidelines. It's to ensure that our expert advice and recommendations are consistent across all our career guides and align with current CV and cover letter writing standards and trends. We're trusted by over 10 million job seekers, supporting them on their way to finding their dream job. Each article is preceded by research and scrutiny to ensure our content responds to current market trends and demand.
About the author
LiveCareer Editorial Team
Since 2005, the LiveCareer Team has been helping job seekers advance their careers. In our in-depth guides, we share insider tips and the most effective CV and cover letter writing techniques so that you can beat recruiters in the hiring game and land your next job fast. Also, make sure to check out our state-of-the-art CV and cover letter builder—professional, intuitive, and fully in line with modern HR standards. Trusted by 10 million users worldwide.