There's no denying that Microsoft's LinkedIn can be a powerful networking tool as well as a valuable asset for both recruiters and job-seekers. It's not a great online storage solution for your CV, though, at least not if you publish your CV on your LinkedIn profile for all to see.
This article shows you exactly how to add a CV to LinkedIn, in a number of different ways. It also makes some arguments for why you might not want to add your CV to LinkedIn, especially not by posting it on your LinkedIn profile.
When it comes to how to add your LinkedIn profile to your CV, the situation is much simpler: see the sample CV below for an example of how to include a link to your LinkedIn profile in your contact details.
Create an effective CV in minutes. Choose a professional CV template and fill in every section of your CV in a flash using ready-made content and expert tips.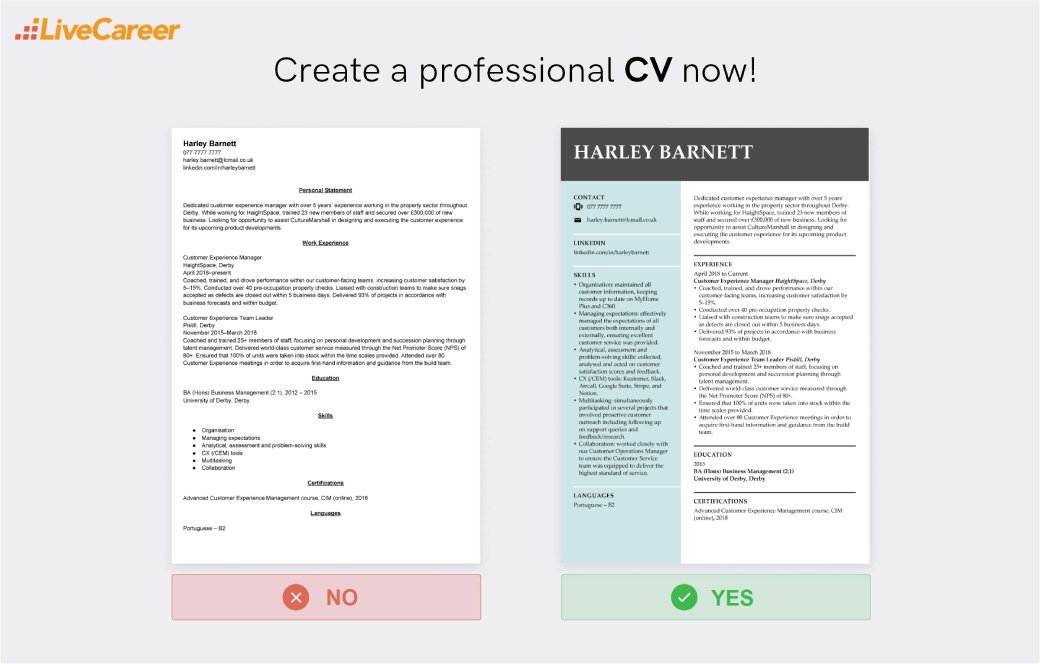 The LiveCareer online CV maker lets you build a professional CV fast and download it as a PDF or DOC.
CV sample to add CV to LinkedIn
Harley Barnett
077 7777 7777
harley.barnett@lcmail.co.uk
linkedin.com/in/harleybarnett
Personal Statement
Dedicated customer experience manager with over 5 years' experience working in the property sector throughout Derby. While working for HaightSpace, trained 23 new members of staff and secured over £300,000 of new business. Looking for opportunity to assist CultureMarshall in designing and executing the customer experience for its upcoming product developments.
Work Experience
Customer Experience Manager
HaightSpace, Derby
April 2018–present
Coached, trained, and drove performance within our customer-facing teams, increasing customer satisfaction by 5–15%.
Conducted over 40 pre-occupation property checks.
Liaised with construction teams to make sure snags accepted as defects are closed out within 5 business days.
Delivered 93% of projects in accordance with business forecasts and within budget.
Customer Experience Team Leader
Pistill, Derby
November 2015–March 2018
Coached and trained 25+ members of staff, focusing on personal development and succession planning through talent management.
Delivered world-class customer service measured through the Net Promoter Score (NPS) of 80+.
Ensured that 100% of units were taken into stock within the time scales provided.
Attended over 80 Customer Experience meetings in order to acquire first-hand information and guidance from the build team.
Education
BA (Hons) Business Management (2:1), 2012 – 2015
University of Derby, Derby
Skills
Organisation: maintained all customer information, keeping records up to date on MyHome Plus and C360.
Managing expectations: effectively managed the expectations of all customers both internally and externally, ensuring excellent customer service was provided.
Analytical, assessment and problem-solving skills: collected, analysed and acted on customer satisfaction scores and feedback.
CX (/CEM) tools: Kustomer, Slack, Aircall, Google Suite, Stripe, and Notion.
Multitasking: simultaneously participated in several projects that involved proactive customer outreach including following up on support queries and feedback/research.
Collaboration: worked closely with our Customer Operations Manager to ensure the Customer Service team was equipped to deliver the highest standard of service.
Certifications
Advanced Customer Experience Management course, CIM (online), 2018
Languages
Portuguese – B2
Here's how to add a CV to LinkedIn:
1. Via settings
You can add your CV through the Settings menu. Go to the Job Application Settings page (https://www.linkedin.com/jobs/application-settings/), then into the Resume section, click Upload, and follow the on-screen prompts to add your CV to LinkedIn. Microsoft will store your four most recently uploaded CVs, giving you easy access to them in future job applications.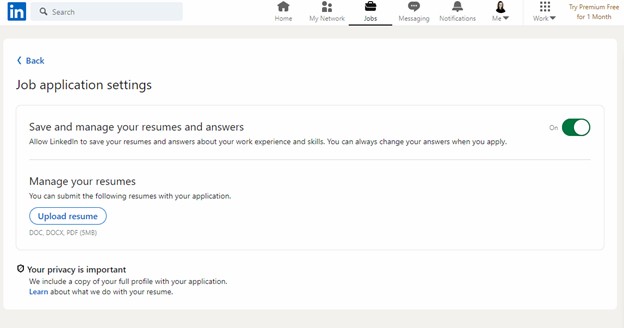 A strong CV summary will convince the recruiter you're the perfect candidate. Save time and choose a ready-made personal statement written by career experts and adjust it to your needs in the LiveCareer CV builder.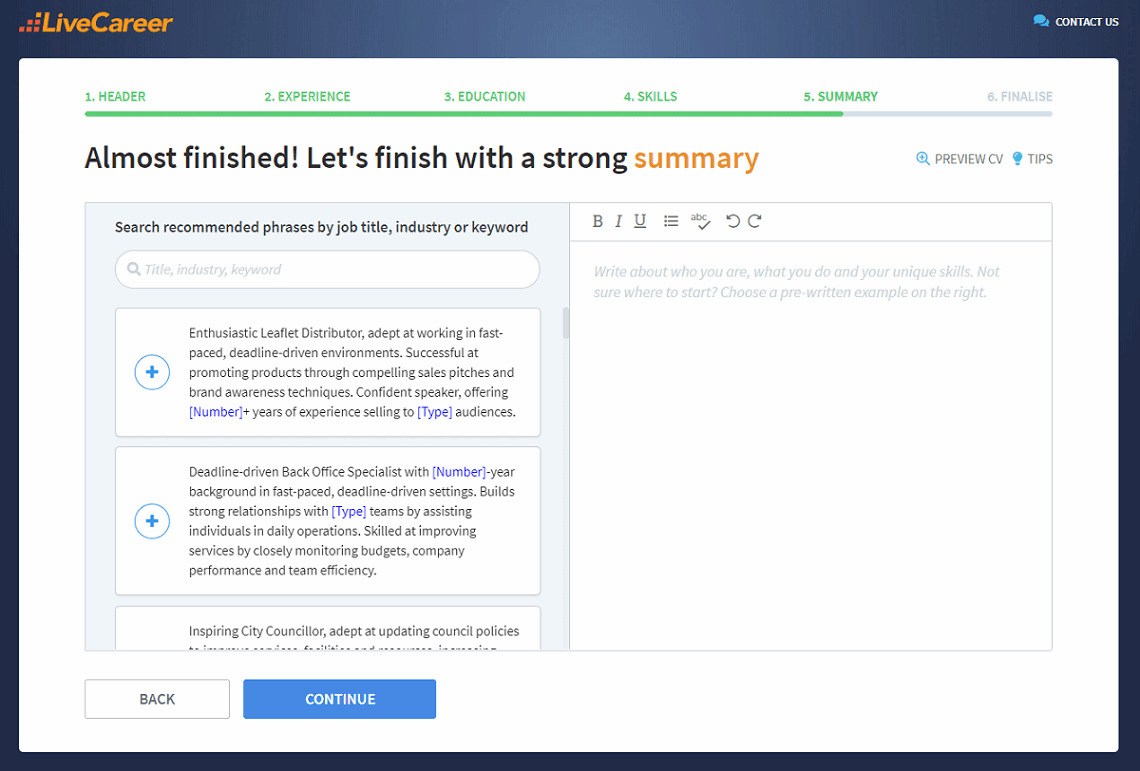 2. During the job application process
You can also choose to add your CV during the application process, whether you're applying from your computer or a mobile device. Click or tap on your chosen job title to bring the job offer details up on screen. Click or tap on the Easy Apply button and complete the required fields.
Find the Upload resume option under Resume (optional) and click/tap on it to upload your CV. Your CV will have to be in either Microsoft Word format or PDF (PDF is recommended) and it's best to keep the filesize below 2MB. Double check everything (you won't be able to reopen your application later).
Once you're satisfied that everything is correct and your CV is attached, click or tap Submit application to complete the process. If you need to add a CV after having submitted an application, you can try contacting the recruiter with an InMail message (if they've included contact information with the job posting).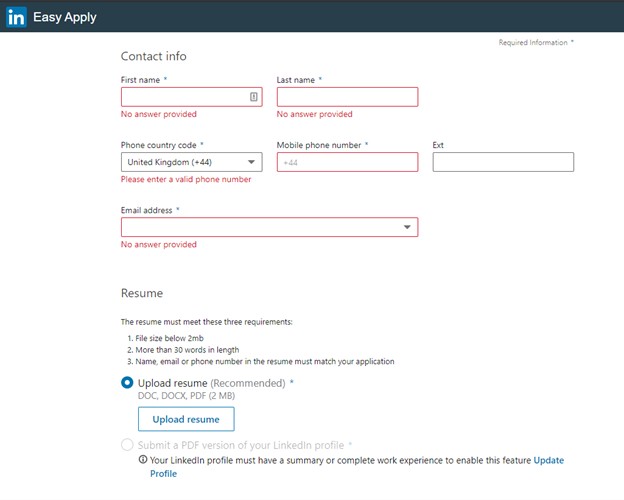 If you could only see an Apply button instead of the Easy Apply button, then the above CV-upload method won't work. Click or tap on Apply to continue the application process on the company's website (or other site to which it has linked). Try a different browser (like Mozilla Firefox) if any of the above doesn't work.
3. Adding to your LinkedIn profile to share with your network
You can also add your CV to your LinkedIn profile, sharing it with your network and anyone who comes across your profile. People will also be able to download it for future reference. This is a good way to showcase your CV, but it can't be used for job applications—use one of the above two methods instead.
To publish your CV on the Featured section of your profile, click on the Me icon at the top of your LinkedIn homepage and select View profile. In the Featured section, click Add featured or on the Add icon (+). A dropdown menu will appear, click the Add icon (+) next to Media. Follow the on-screen prompts.
You don't have to be a CV writing expert. In the LiveCareer CV builder you'll find ready-made content for every industry and position, which you can then add with a single click.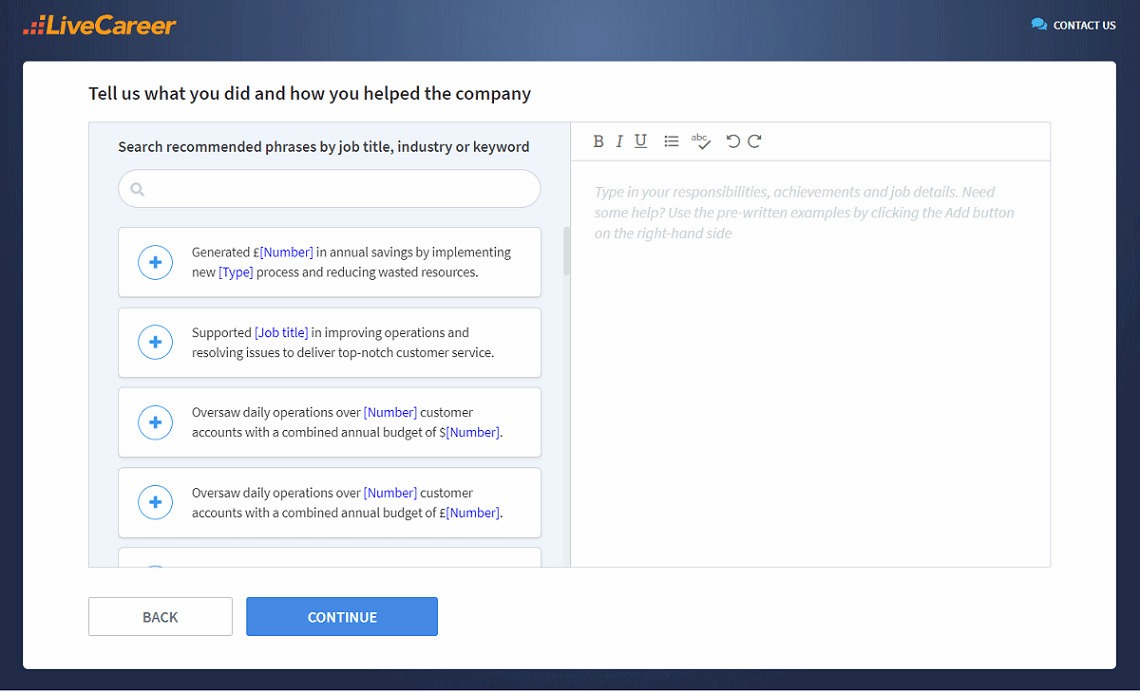 Why not add a CV to LinkedIn?
1. It's counterproductive
You now have three different methods for how to add your CV to LinkedIn, but there are some compelling reasons against doing so. If your motivation for adding your CV to LinkedIn is getting more interviews and ultimately a job, then it will actually work against that.
Perhaps the single most effective strategy in CV writing is tailoring your CV to each new job application. By adding your CV to LinkedIn, you take that strategy off the table by locking yourself in to a single version of your CV. You can't tailor or even update your CV once it's been downloaded off your profile.
2. It's an 'own goal' violation of privacy
In this day and age of ever-stricter data protection laws, putting your CV on LinkedIn is putting an awful lot of personal data out there where you have no control over who has access to it. Yes, Microsoft already has access to this data, but publishing it for all to see seems needlessly reckless.
There's also the matter of discretion—publishing an up-to-the-minute CV on LinkedIn is likely to make it obvious to your colleagues and employer that you're looking for a job. Ironically, these are the people most likely to see your CV online, rather than a recruiter searching for candidates.
3. It's not the best use of LinkedIn
Adding your CV to LinkedIn is also redundant: it doesn't accomplish anything that your LinkedIn profile can't do better. It's not the best way to boost your positioning in recruiters' search results. In fact, working on your profile will pay far greater dividends in that regard than adding your CV ever could.
LinkedIn is not a great CV exchange, but it can be a powerful networking and job-hunting tool. So play to its strengths and use it in a way that's most in line with its strengths. Invest your time in optimising your LinkedIn profile and tailoring your CV to each new job opening. You'll get much higher ROIs.
Take one last look at what it is that you want to upload
Whether you ultimately decide to upload your CV to LinkedIn or not, it's a good idea to take a fresh look at your CV. Consider using an appropriate CV format. Let your attention to detail shine through by running through the following last minute checks.
Make sure your contact details are easy to find by leaving them near the top of your CV. Use subheadings where appropriate and as much white space as you can muster to break your CV down into sections. Choose a professional CV font like Noto, Garamond, Liberation or Calibri and keep the font size at 11–12 points.
Limit yourself to a one-page-per-decade-of-experience maximum CV length, capped at two pages even if you have more than two decades of experience. Go through your CV with a fine-tooth comb, looking for spelling and grammar mistakes that slipped through. Get someone else to read your work.
A cover letter alone simply won't be enough—you need an impactful CV, too. Create your CV in minutes. Just follow our wizard and fill in every CV section with ready-made content. Get started by choosing a professional CV template.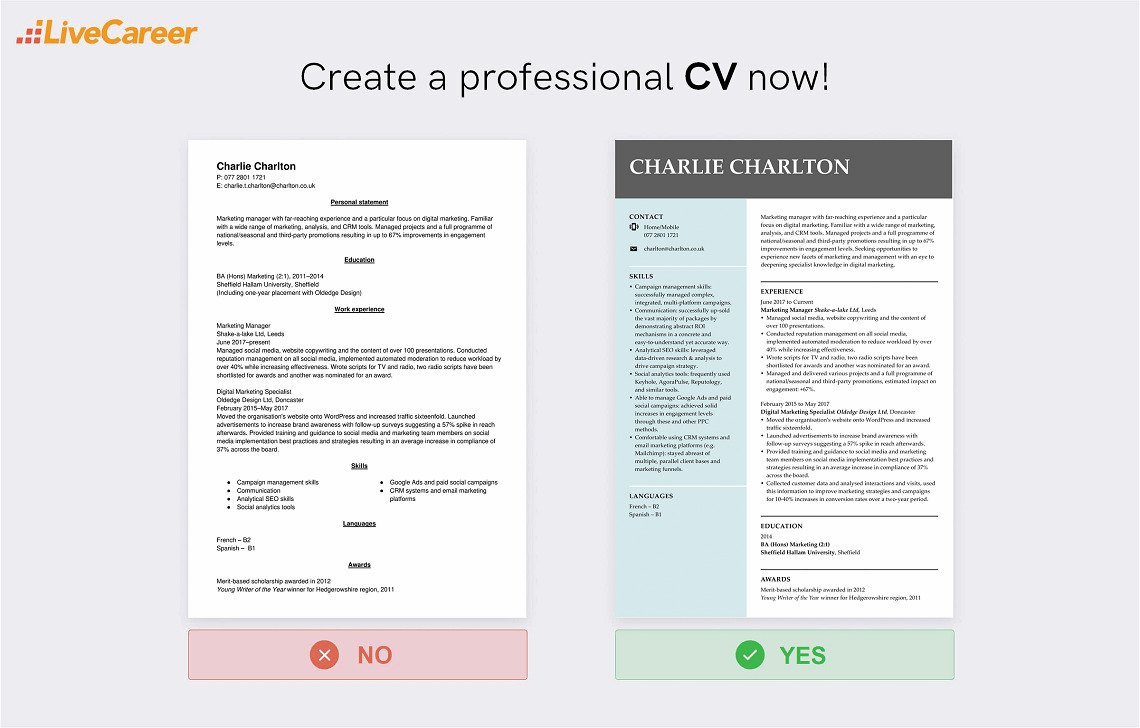 The LiveCareer online CV maker lets you build a professional CV fast and download it as a PDF or DOC.
I hope this article has shown you how to add a CV to LinkedIn and given you some unsolicited food for thought as to whether doing so is a good idea in the first place. Drop us a line in the comments section below if you have any questions or anything to add.
How we review the content at LiveCareer
Our editorial team has reviewed this article for compliance with Livecareer's editorial guidelines. It's to ensure that our expert advice and recommendations are consistent across all our career guides and align with current CV and cover letter writing standards and trends. We're trusted by over 10 million job seekers, supporting them on their way to finding their dream job. Each article is preceded by research and scrutiny to ensure our content responds to current market trends and demand.
About the author
LiveCareer Editorial Team
Since 2005, the LiveCareer Team has been helping job seekers advance their careers. In our in-depth guides, we share insider tips and the most effective CV and cover letter writing techniques so that you can beat recruiters in the hiring game and land your next job fast. Also, make sure to check out our state-of-the-art CV and cover letter builder—professional, intuitive, and fully in line with modern HR standards. Trusted by 10 million users worldwide.
Rate this article:
How to add cv to linkedin