Can you lie on your CV about grades or experience? This article isn't here to moralise or make you feel bad—far from it. It's here for an unbiased take on whether lying on a CV is a risk worth taking.
Spoiler: it really isn't, not by any stretch of the imagination. The short of it is that you stand to gain little to nothing and stand to lose a lot—including things you don't even have or cherish yet. There are better ways to impress, just check out the CV below, and read on for the full story.
Create an effective CV in minutes. Choose a professional CV template and fill in every section of your CV in a flash using ready-made content and expert tips.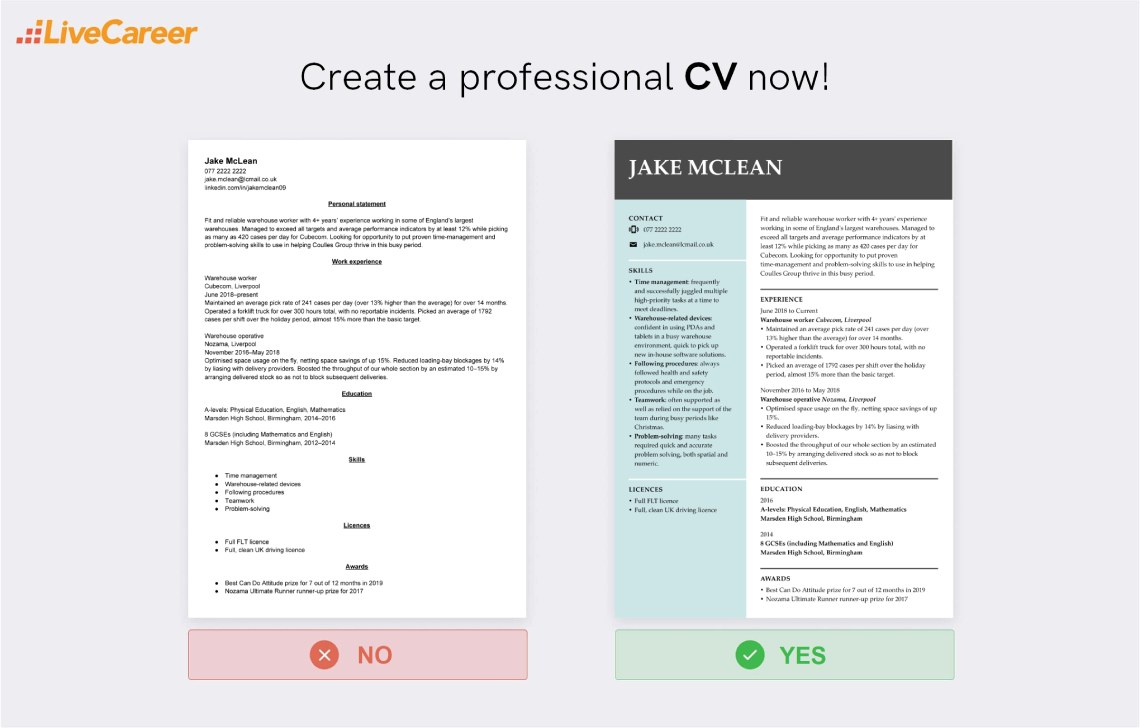 The LiveCareer online CV maker lets you build a professional CV fast and download it as a PDF or DOC.
An example of not lying on a CV
Jake McLean
077 2222 2222
jake.mclean@lcmail.co.uk
linkedin.com/in/jakemclean09
Personal statement
Fit and reliable warehouse worker with 4+ years' experience working in some of England's largest warehouses. Managed to exceed all targets and average performance indicators by at least 12% while picking as many as 420 cases per day for Cubecom. Looking for opportunity to put proven time-management and problem-solving skills to use in helping Coulles Group thrive in this busy period.
Work experience
Warehouse worker
Cubecom, Liverpool
June 2018–present
Maintained an average pick rate of 241 cases per day (over 13% higher than the average) for over 14 months.
Operated a forklift truck for over 300 hours total, with no reportable incidents.
Picked an average of 1792 cases per shift over the holiday period, almost 15% more than the basic target.
Warehouse operative
Nozama, Liverpool
November 2016–May 2018
Optimised space usage on the fly, netting space savings of up 15%.
Reduced loading-bay blockages by 14% by liasing with delivery providers.
Boosted the throughput of our whole section by an estimated 10–15% by arranging delivered stock so as not to block subsequent deliveries.
Education
A-levels: Physical Education, English, Mathematics
Marsden High School, Birmingham, 2014–2016
8 GCSEs (including Mathematics and English)
Marsden High School, Birmingham, 2012–2014
Skills
Time management: frequently and successfully juggled multiple high-priority tasks at a time to meet deadlines.
Warehouse-related devices: confident in using PDAs and tablets in a busy warehouse environment, quick to pick up new in-house software solutions.
Following procedures: always followed health and safety protocols and emergency procedures while on the job.
Teamwork: often supported as well as relied on the support of the team during busy periods like Christmas.
Problem-solving: many tasks required quick and accurate problem solving, both spatial and numeric.
Licences
Full FLT licence
Full, clean UK driving licence
Awards
Best Can Do Attitude prize for 7 out of 12 months in 2019
Nozama Ultimate Runner runner-up prize for 2017
1. Lying on your CV
If you're here, it means that you're considering lying on your CV or you've done so already. Or maybe not lying, exactly, but bending the truth, a little. And it's not you who's done it but a friend who's thinking they might have, accidentally. Let's be real—it is lying and lying is generally dishonest.
But that's certainly not the only reason not to lie on your CV. Lying on a CV is just a bad idea all round. We'll get into the cost versus benefit analysis in a second, but first you should know that there are a million ways to get caught-out lying on your CV. It mightn't always seem like it, though.
Ways you could get caught lying on a CV:
The recruiter simply starts calling around (they do that).
Your application gets passed through a service that verifies university degrees (they're pretty common).
The recruiter jumps on your Facebook, LinkedIn or Google and something jumps out at them (happens quite often).
Your story doesn't add up—what seemed like a fool-proof lie to you was an obvious red flag to someone else (the things we don't that we don't know).
You're put to the test—'You're an advanced Excel user? Great, this'll be a cinch for you'.
You slip up somehow—most people aren't Don Draper and even Don Draper slipped up.
And say you get the job, there a million other ways things could go badly. Just for example, imagine HR wants to add you to the company website, and they need a quick bio, so they start googling. And the consequences are much, much worse if you're found out after having got the job. More on that below.
A strong CV summary will convince the recruiter you're the perfect candidate. Save time and choose a ready-made personal statement written by career experts and adjust it to your needs in the LiveCareer CV builder.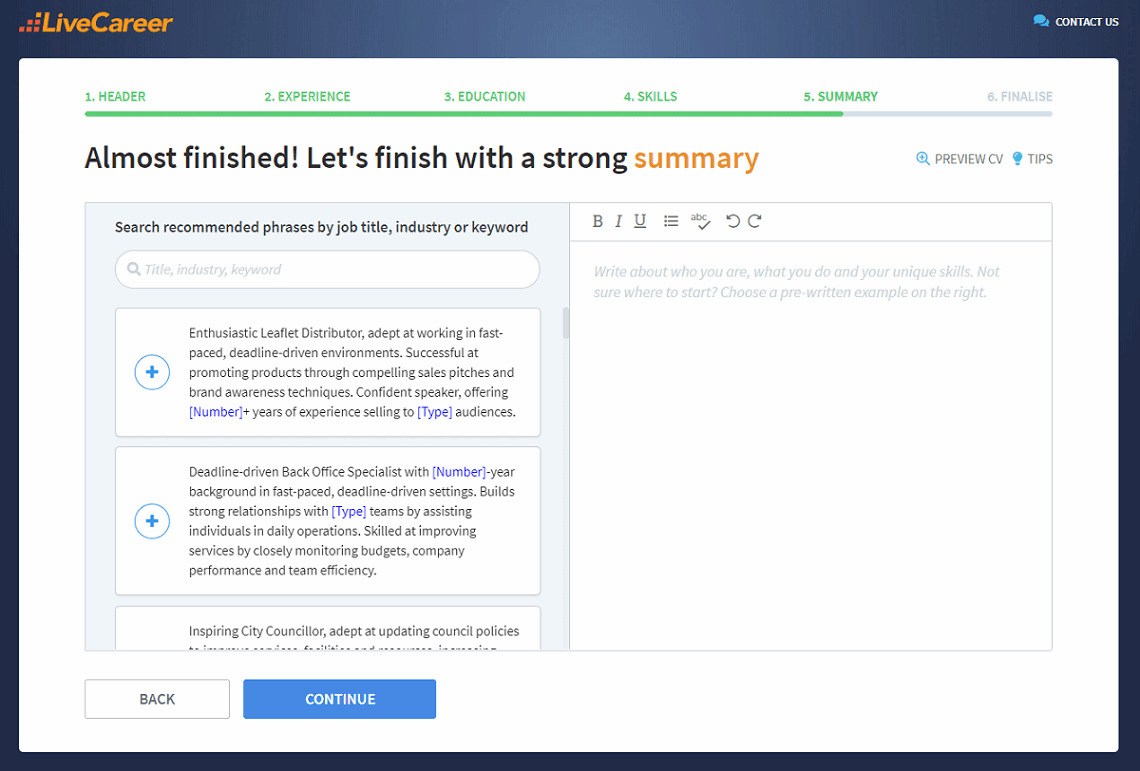 2. What you stand to gain
The most common things people lie about on their CVs don't actually improve their chances of getting a job very much. Retouching a former job title, exaggerating education levels or grades, creeping job end and start dates closer together to close over an employment gap—these aren't make-or-break changes.


Requirements like prior experience or academic qualifications are either 'nice-to-haves' and don't matter in the end, or they're 'must-haves' and will be checked out thoroughly before a contract is signed. Piling on fake CV 'nice-to-haves' won't do much good. Adding 'must-haves' will, but you'll be caught.
Then there are the more rare and extreme examples of lying on a CV: making qualifications, companies, and accolades up. This actually could get you an interview. If you're very good it might even get you the job, and that would be a disaster. Luckily, you'll be probably be exposed at the interview stage.
3. What you stand to lose
Lying on your CV, even little, so-called white lies on your CV, can end up being a very costly mistake. If your lie is obvious and easily proven to be a lie, your CV will be rejected immediately and you could get blacklisted. The same holds true if you make it as far as the interview stage.
If you do make it that far then you've just irritated that many more people, and wasted so much more of their time. They'll be more motivated to warn other companies, or their subsidiaries. This is all not to mention the embarrassment surrounding the whole situation. Being caught in a lie is never fun.
If you do get the job, then the stakes get infinitely higher. You're likely to be dismissed immediately—the company would have no choice, no matter how well-liked you'd become and how much you liked your job. You'd be dismissed for dishonesty, and that's the label that follows you around.
If the things you lied about on your CV meant that you were unqualified for the position, the company might see you prosecuted for fraud. Again, they might have to: you'd have put them at risk of legal action themselves. If it turns out that you're dangerously underqualified, then you could face jail time.
You don't have to be a CV writing expert. In the LiveCareer CV builder you'll find ready-made content for every industry and position, which you can then add with a single click.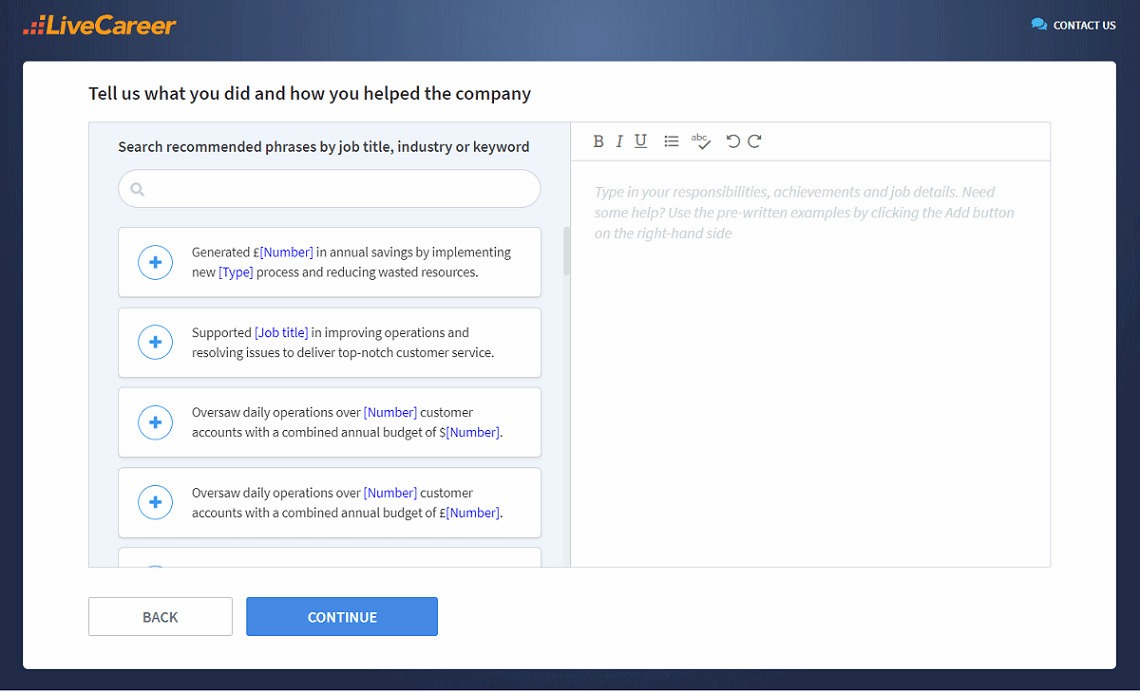 4. Is it illegal to lie on your CV?
Yes it can be illegal to lie on your CV in the UK. If the CV you use to get a job is even partially fabricated, then you could be said to have obtained your job by fraudulent means, and fraud is very much a crime. A crime that carries hefty penalties.
Being convicted of fraud doesn't sound like a great time at the best of times, but if your CV untruths have put you in a position of responsibility for children or vulnerable people, then things can really get nasty. This could leave you serving prison time and essentially being marked for life.
You can expect legal consequences from the harsher end of the spectrum if your lying on your CV comes out because something bad happened and it turned out you shouldn't have been working in that capacity in the first place. You can very much expect to be hung out to dry by your employer.
And they'd have to do it, or face the brunt of consequences that weren't their doing. This is a common theme in the horror stories of white lies on a CV (and outright fraud, to be fair) spiralling into prison sentences: organisations get backed into a corner and lash out to protect their interests.
7. What to do instead of lying on a CV
Have another look at the CV near the beginning of this article. Notice that it's based around measurable (even if sometimes estimated) achievements. It's packed full of actions and the benefits that those actions brought to the given employer. A few quantified and verifiable bullet points will do wonders.
Be realistic with how you calculate or estimate these achievements, though. You don't lie by accident. Be ready to describe how you arrived at the numbers in your CV. Even a rough estimate can and should be justifiable.
The other major way you can avoid feeling like you have to lie on your CV is to gain the experience or develop skills you lack. Grades and degrees are almost always less important than experience, so focus on that. Feel you're management material? Start taking on the responsibilities of a manager. Need to improve your skills? Go to Udemy or LinkedIn Learning and take a course. Many of those are free and don't take up much time
In many situations that will be worth more than a degree or a job title. This isn't a quick fix but it's a tried and tested method for advancing through your career and truly excelling at what you do, and all with a clean conscience.
A cover letter alone simply won't be enough—you need an impactful CV, too. Create your CV in minutes. Just follow our wizard and fill in every CV section with ready-made content. Get started by choosing a professional CV template.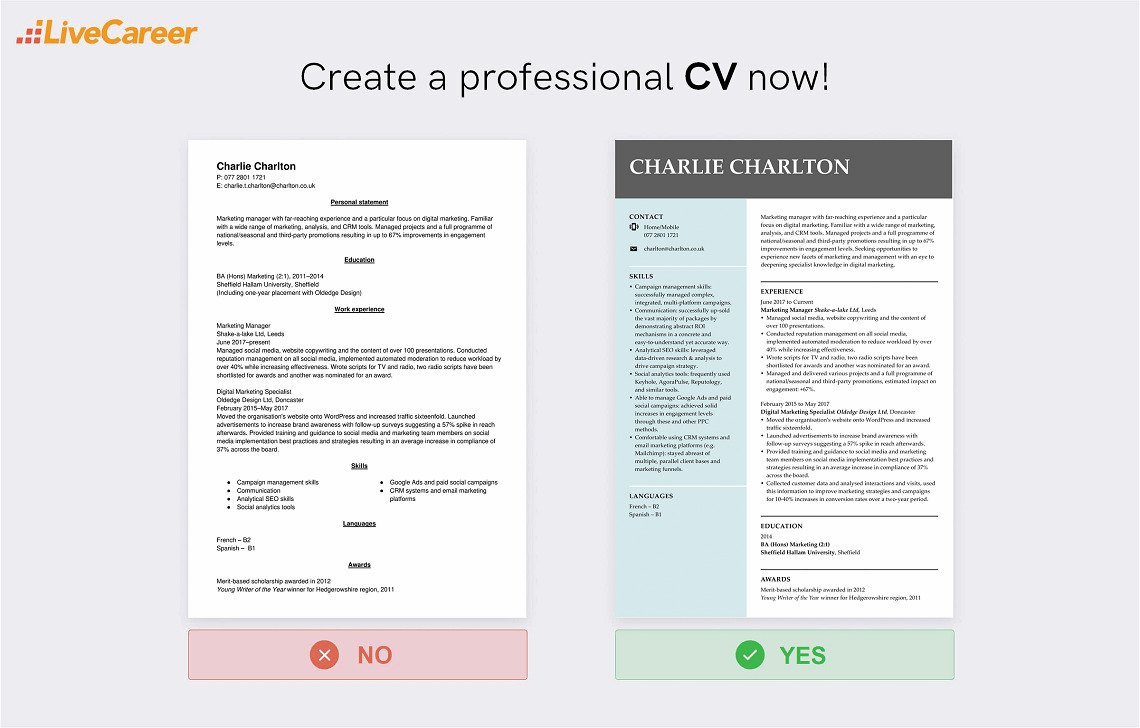 The LiveCareer online CV maker lets you build a professional CV fast and download it as a PDF or DOC.
I hope this article has succeeded in showing you that lying on a CV is usually a no-win scenario. It just doesn't work, and the risk is nothing to be sneezed at. Please leave your questions, comments, feedback and (err, anonymous) experiences below. Have you ever submitted a fake CV? Have you lied about your experience or grades?
How we review the content at LiveCareer
Our editorial team has reviewed this article for compliance with Livecareer's editorial guidelines. It's to ensure that our expert advice and recommendations are consistent across all our career guides and align with current CV and cover letter writing standards and trends. We're trusted by over 10 million job seekers, supporting them on their way to finding their dream job. Each article is preceded by research and scrutiny to ensure our content responds to current market trends and demand.
About the author
LiveCareer Editorial Team
Since 2005, the LiveCareer Team has been helping job seekers advance their careers. In our in-depth guides, we share insider tips and the most effective CV and cover letter writing techniques so that you can beat recruiters in the hiring game and land your next job fast. Also, make sure to check out our state-of-the-art CV and cover letter builder—professional, intuitive, and fully in line with modern HR standards. Trusted by 10 million users worldwide.