How to Start a CV: Impress Employers with a Personal Profile
Writing a CV is easy, isn't it? Name and personal details to start with, so far so good. But when it comes to the important stuff it's all too easy to get a terrible case of writers' block. Working out how to start a CV can be a nightmare.
But you're about to learn how to turn that nightmare into a dream job. Discover how to start off a CV with impact and flair, and transform it from being just another application in the pile to a hiring manager must-read.
Let's begin
Create an effective CV in minutes. Choose a professional CV template and fill in every section of your CV in a flash using ready-made content and expert tips.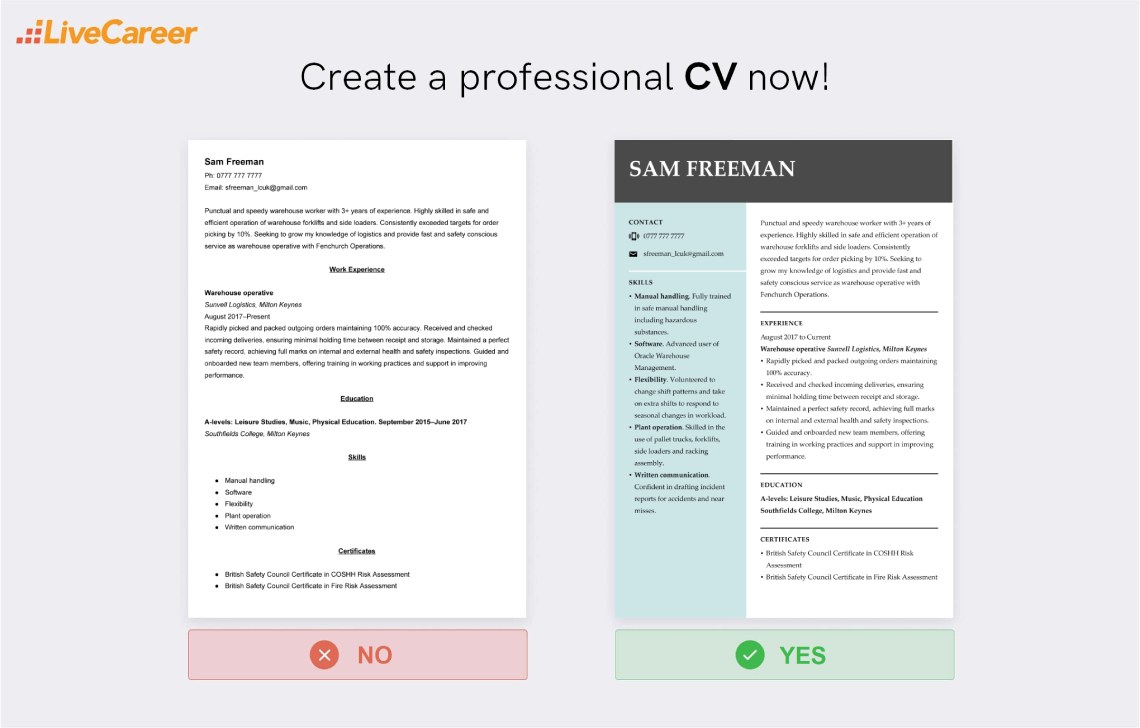 The LiveCareer online CV maker lets you build a professional CV fast and download it as a PDF or DOC.
How to start a CV: example
Sam Freeman
Ph: 0777 777 7777
Email: sfreeman_lcuk@gmail.com
Punctual and speedy warehouse worker with 3+ years of experience. Highly skilled in safe and efficient operation of warehouse forklifts and side loaders. Consistently exceeded targets for order picking by 10%. Seeking to grow my knowledge of logistics and provide fast and safety conscious service as warehouse operative with Fenchurch Operations.
Work Experience
Warehouse operative
Sunvell Logistics, Milton Keynes
August 2017–Present
Rapidly picked and packed outgoing orders maintaining 100% accuracy.
Received and checked incoming deliveries, ensuring minimal holding time between receipt and storage.
Maintained a perfect safety record, achieving full marks on internal and external health and safety inspections.
Guided and onboarded new team members, offering training in working practices and support in improving performance.
Education
A-levels: Leisure Studies, Music, Physical Education. September 2015–June 2017
Southfields College, Milton Keynes
Skills
Manual handling. Fully trained in safe manual handling including hazardous substances.
Software. Advanced user of Oracle Warehouse Management.
Flexibility. Volunteered to change shift patterns and take on extra shifts to respond to seasonal changes in workload.
Plant operation. Skilled in the use of pallet trucks, forklifts, side loaders and racking assembly.
Written communication. Confident in drafting incident reports for accidents and near misses.
Certificates
British Safety Council Certificate in COSHH Risk Assessment
British Safety Council Certificate in Fire Risk Assessment
You've just seen a perfect example of how to start a CV off, now you'll learn how to do it yourself.
How to start a CV
Technically speaking, you start off your CV with your name and personal details. But that's easy. The action really begins with your personal statement. It's the first substantive part of your CV and it's crucial that you get this all-important first impression right.
Also known as a CV summary and personal profile, your personal statement is the introduction to your CV. And the key to a successful introduction is to be compelling and energising. Recruiters spend all day looking at dull, badly written CVs. If you don't grab their attention within seconds then they'll just move on to the next. Here's how to get them hooked straight away.
1. Keep it short
The best CV length is one or two pages. Every section has to be concise and impactful and your CV summary is no exception. Limit it to 3 or 4 sentences and 3–5 lines in length.
2. Make a strong introduction
In your opening sentence, state your job title and years of experience. It cuts to the chase and lets the recruiter instantly see the information that's most important to them.
3. Sell yourself with skills and experience
Mention the industry you've worked in and key skills that are relevant to the job you're applying for.
4. Target it to the role
Write a fresh start to your CV for every new job application. Tailoring your personal profile to the role is essential. Use the job advert as your guide and take a note of all the skills and experience it mentions. Then write a CV summary that addresses the key requirements.
5. Optimise for ATS
ATS is the automated software that scans your job application. It looks for certain keywords and if those are missing there's every chance your job application will be rejected before it's even read by human eyes. You'll find clues as to what the main keywords are in the job advert. Here's what to look for:
Job title e.g. 'assistant manager' or 'junior UX designer'.
Years of experience e.g. 'with 5 years of experience'.
Skills e.g. 'customer service' or 'database management'.
And if you possess any of those skills, experience or job title, incorporate them as keywords into the start of your CV. Just ensure your content stays natural and easy to read.
6. Use numbers
The best way to add impact and quantify your value is with numbers. If you have experience, mention how many years. If you mention an achievement, state how much was saved or sold, or by what percentage you beat a target. Embed those numbers into accomplishment statements and you've got a recipe for success.
7. Include your career goals and show commitment
Finish the start of your CV on a high note mentioning your goals for personal development and how you plan to contribute to the company. Demonstrating positivity and drive proves you'll be a committed and productive employee.
8. Check and proofread
Make sure you start your CV clearly and error-free. Proofread your personal statement, making sure it scans well and is free of grammatical and spelling errors. Use the spellcheck in your word processor and back it up with an app such as Grammarly. You can also use the Hemingway app to help simplify and shorten your text.
9. Leave it until last
It seems counter-intuitive, but consider writing the start of your CV last. After all it's a summary of your CV, and it'll be easier to create a summary if you've got your work experience, CV skills and education already written and ready to refer to.
A strong CV summary will convince the recruiter you're the perfect candidate. Save time and choose a ready-made personal statement written by career experts and adjust it to your needs in the LiveCareer CV builder.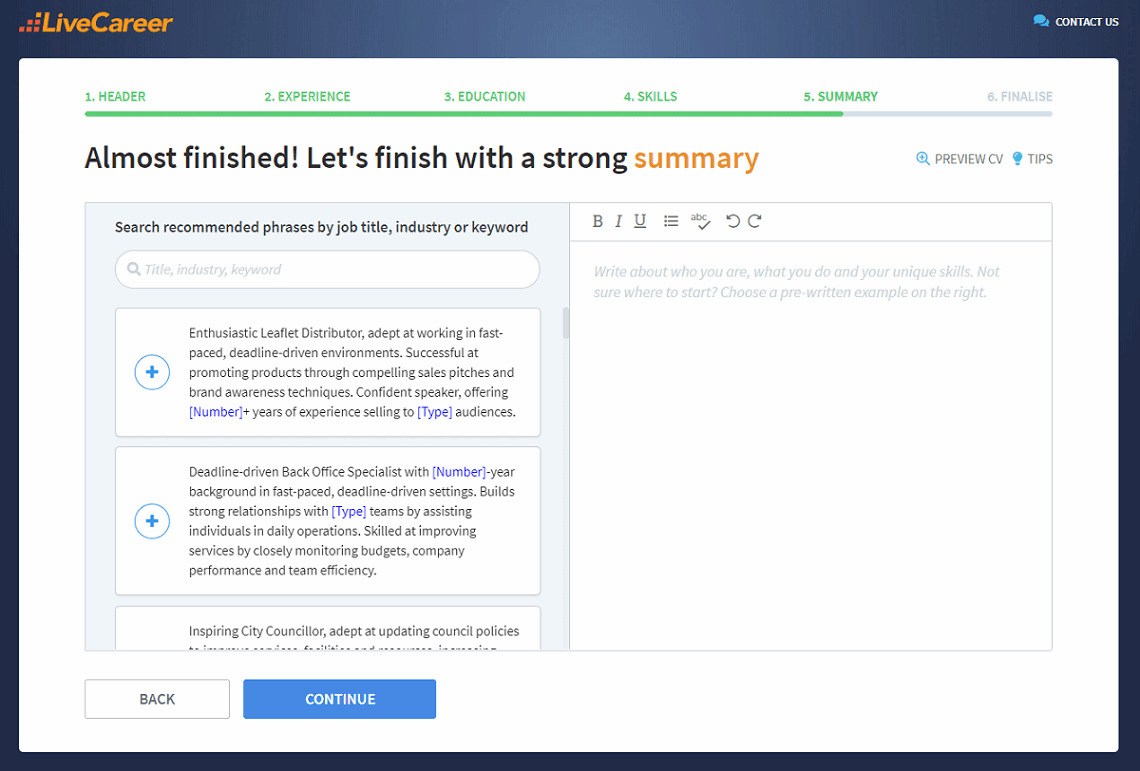 Starting off a CV: examples
So now that you know how to start a CV let's take a look at some examples so you can see how to put that knowledge into practice,
How to start a retail CV
Customer service focussed retail assistant with three years of experience in the fashion retail sector. Consistently beat sales targets by 10% plus in each quarter of employment with Golden Threads. Looking to use my energetic and knowledgeable approach to help Cyberstyle launch it's new West Kensington store.
How to start a customer service CV
Customer service representative with 5+ years of experience in complaint handling. Achieved an average of 95% customer satisfaction with case outcomes. Seeking to use my specialist skills in investigating complex cases to help Sunco solutions continue its reputation for excellence in customer relations.
How to start a waitress CV
Dedicated waitress with 4 years of experience in the gastropub trade. Comprehensive knowledge of food and wine matching and a focus on upselling. Supervised a team of 4 waitstaff serving events catering up to 150 customers. Aiming to assist The White Hart in continuing to deliver high-quality modern European cuisine to a demanding clientele.
How to start a receptionist CV
Accurate and detail-oriented receptionist with 6+ years of experience providing corporate front desk service. Calmly juggled administrative tasks with providing professional and courteous service to 50+ visitors per day. Also skilled in executive diary management and travel booking. Excited about the opportunity to be the first point of contact for Harcor in it's Wood Green head office.
How to start a graphic designer CV
Client focussed senior graphic designer with 10 years of experience serving corporate accounts with a focus on logo design and rebranding. Led a team of five junior graphic designers managing accounts with a combined value of £1.2 million. Seeking to further develop my skills in people management as the design team manager at The Frame Agency.
And that's all there is to it. You now know exactly how to start a CV to make a powerful first impression and get one step closer to landing that job.
You don't have to be a CV writing expert. In the LiveCareer CV builder you'll find ready-made content for every industry and position, which you can then add with a single click.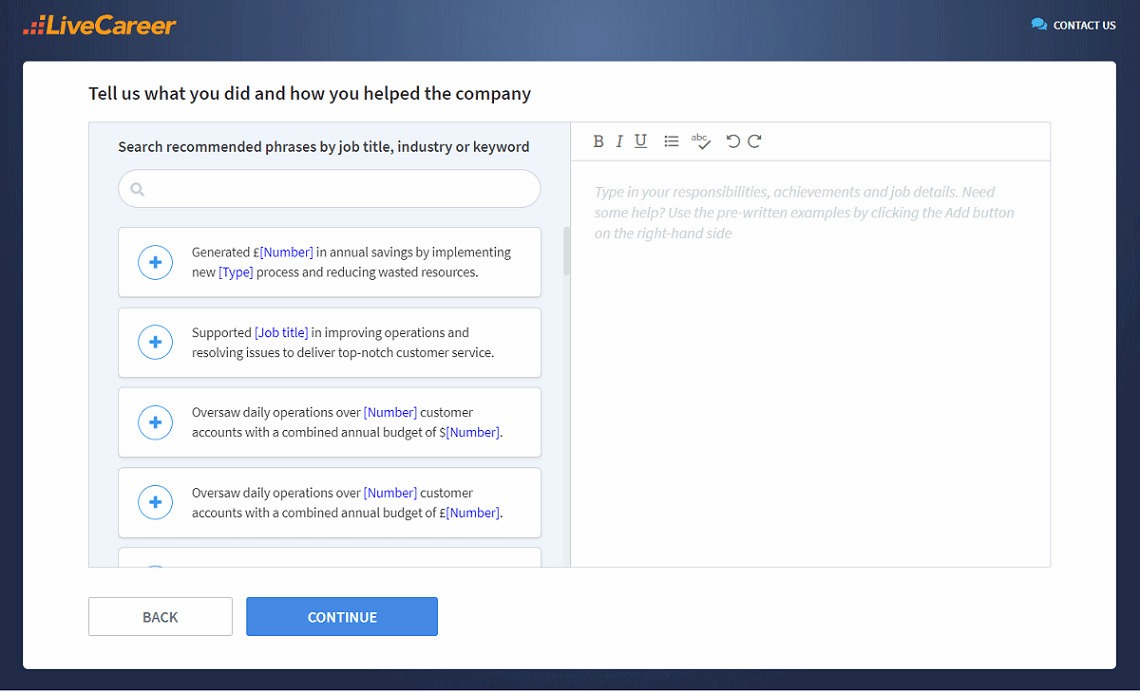 Thanks for reading. If you'd like to know anything else about how to start a CV then please ask in the comments section and we'll be happy to help.