10+ Effective Cover Letter Writing Tips for the UK 2022
Cover or covering (there's no difference) letters come less naturally to us now than they did a century ago, but they're almost as important as ever. The way in which they're important has changed over the years, though: back in the day they were the 'Hey, I'm sending through those files' of their time, now—
Now they're an irritating test of formal writing and an archaic, probably wicker hoop for jobseekers to jump through. Or an amazing opportunity to cut through the noise of recruitment from the outset and open a positive, house-on-fire dialogue with recruiters. It all depends on how you look at it.
This article is a collection of cover letter tips that gets recruiters interested, makes them eager to meet you and helps you realise how eager you are to meet with them. Let's start!
Use the LiveCareer cover letter builder and your cover letter will write itself. Choose a professional template, answer a few easy questions and the creator will generate a professional cover letter for you with just one click.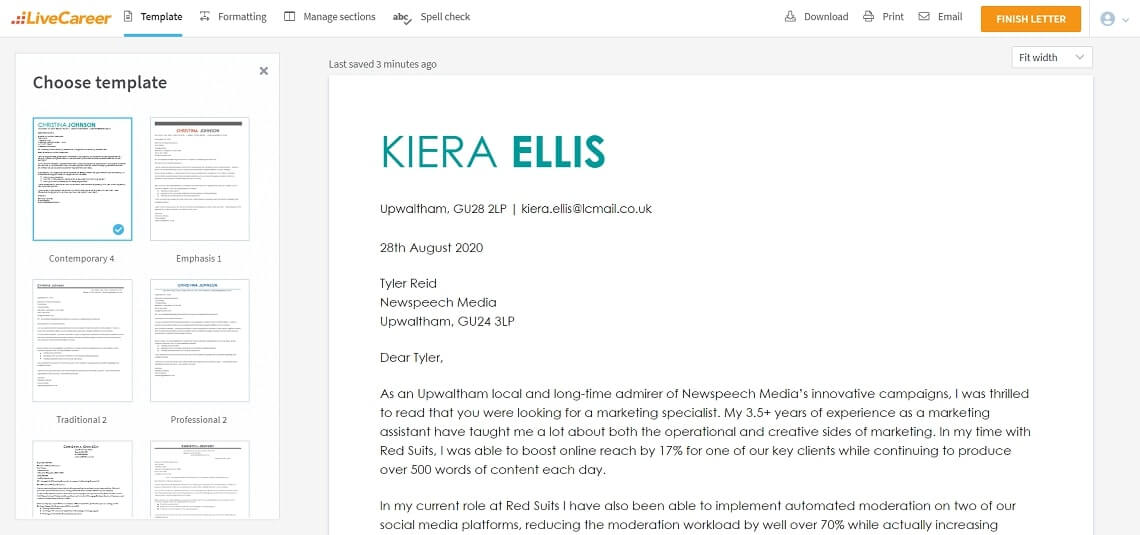 Cover letter tips: UK cover letter example
Kiera Ellis
60 Canterbury Road
Upwaltham
GU28 2LP
077 5566 7788
kiera.ellis@lcmail.co.uk
28th August 2021
Tyler Reid
Senior Marketing Manager
Newspeech Media
40 Park Terrace
Upwaltham
GU24 3LP
Dear Tyler,
As an Upwaltham local and long-time admirer of Newspeech Media's innovative campaigns, I was thrilled to read that you were looking for a marketing specialist. My 3.5+ years of experience as a marketing assistant have taught me a lot about both the operational and creative sides of marketing. In my time with Red Suits, I was able to boost online reach by 17% for one of our key clients while continuing to produce over 500 words of content each day.
In my current role at Red Suits I have also been able to implement automated moderation on two of our social media platforms, reducing the moderation workload by well over 70% while actually increasing effectiveness. I am particularly proud of the fact that one of the seven radio scripts I co-authored while at Red Suits has been shortlisted for the Graben Teik Award. In my previous role of digital marketing assistant at Curtainwall Design, I used analytical and tracking software to discover that two long-running campaigns were failing to break even, even though their surface-level metrics were within bounds. This allowed me to alert the marketing manager so that she could rally the team—which I was invited to join—and spearhead efforts to turn the situation around.
I believe the skills I have learnt will be very useful at Newspeech Media.Thank you for you consideration. I look forward to having a chance to further discuss how I can contribute to the Newspeech team.
Yours Sincerely,
Kiera Ellis
Now, here are the best cover letter tips:
1. Gather all the important information
A journey of a thousand miles begins with a single—you know the drill. Here's your first step: gather all the information you'll need to start writing your cover letter. Use this list:
The name of the company to which you're applying
The name of the position for which you're applying
Any required or preferred skills or attributes listed in the advert
The full name of the person to whom you'll address your cover letter
That person's job title (more on these two points later)
The company's postal address
The number of years of experience you have
Three or four achievements from your previous one or two jobs (see the next section)
Any three facts about the company to which you're applying.
Go through and jot down each of these pieces of information and you have everything you need to write your cover letter. The rest is a matter of using the right layout and formalities and stringing everything together in the right order.
You can adjust every cover letter created in the builder to meet the job requirements. Choose the name of your profession and the company to which you're applying, and the builder will automatically adapt the content for you. Create a cover letter faster than you ever thought possible and apply for the job in record time.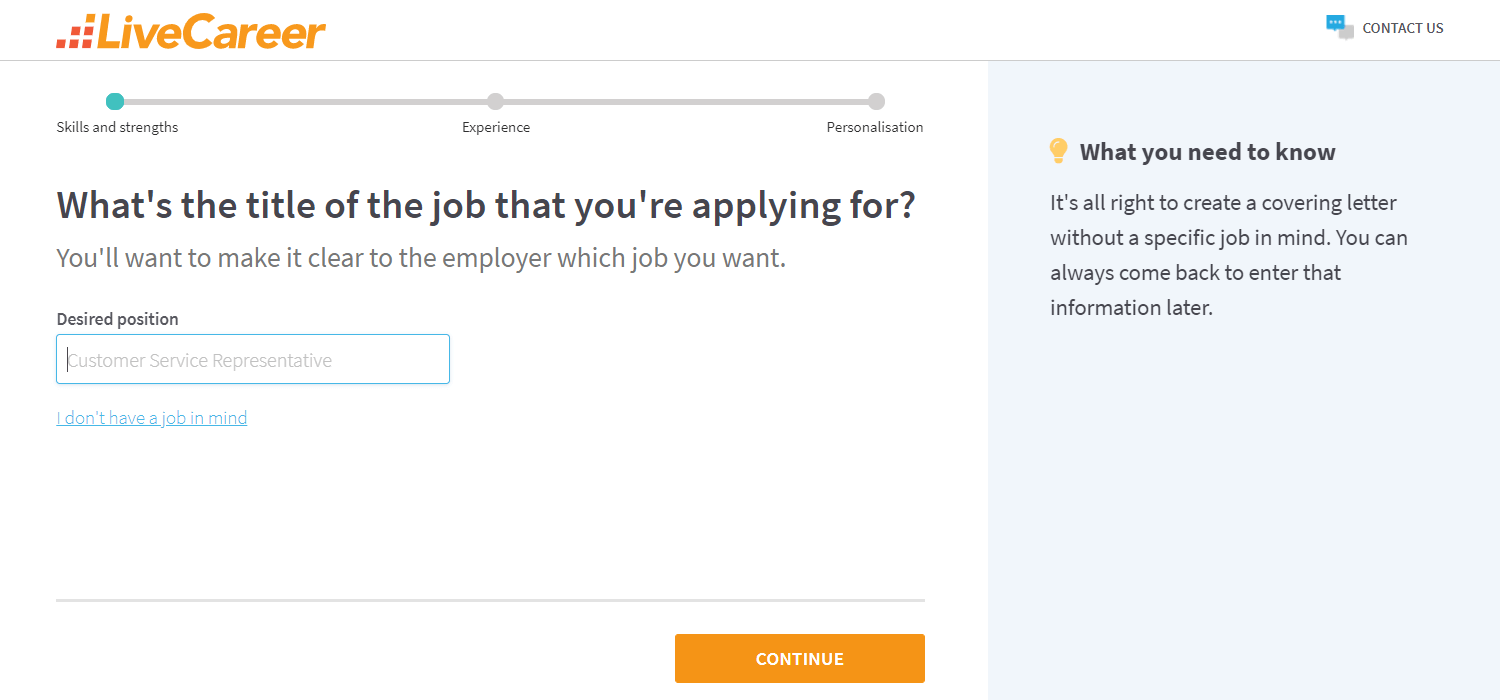 2. Keep your writing formal
A cover letter is a formal piece of writing. This makes many people write in a weirdly stiff and unnatural way, often using words they don't quite know the meanings of and using them incorrectly. This kind of writing is as painful to read as it is to write. There's a way to do this that's better for everyone.
It might sound like an obvious piece of cover letter advice, but be yourself and write like you would when sending an email to someone you don't know whether at work or when shopping online, for example. The keeping-it-formal part boils down to a few simple don'ts:
Don't use any slang or colloquial expressions, if BBC newsreaders wouldn't say it on air then avoid using it in your cover letter
Don't deviate from standard UK business letter requirements, 'Cheers' is not an acceptable way of signing off, for example.
Stay in your comfort zone, trust that avoiding the above three things will automatically make your writing appropriately formal.
3. Come up with achievements
Achievements are the measurable results of your actions, and nothing is more effective in a CV or cover letter than quantified achievements. When coming up with achievements it's helpful to look at how they're structured. Use accomplishment statements and something like the STAR method to write them out.
You generally won't have the space to describe the situation (S) and the task (T), so pick one or the other or combine them. The most important parts of the accomplishment statement are the actions (A) you took and the results (R) that ensued. The situation and task are just context for these two elements.
Your results should always have a number attached to them. If you can't come up with enough STAR accomplishment statements, then quantify your duties. For example, 'served coffee to customers' becomes 'prepared as many as 11 different types of coffee totalling over 50 cups a day on average'. (This cover letter tip is worth remembering when writing a CV, too.)
4. Know when and how to name-drop
Maybe you didn't come across a job advert, maybe you know someone 'on the inside' who gave you a tip that a position is opening up. Some people dance around or completely avoid mentioning the fact they were referred to the job, but they couldn't be more wrong in doing so.
The fact that you were referred to the position is definitely nothing to be ashamed of. It's very much a plus for the company and should be front and centre in your cover letter. The opening paragraph is an excellent place to mention that you were referred to the position and to mention your contact by name.
For example, instead of writing something vague like:
I was delighted to find out that Company X is looking for a new Worker Type Y
you could simply go with the plain truth:
I was delighted to hear from my former colleague and Company X's CTO Jason Savage that you are looking for a new Worker Type Y.
5. Address your letter to an actual person
'To Whom It May Concern' is never the way to go. Not in the 2020s. 'Dear Sir / Madame' is also inexcusable. You want to address your cover letter to the person who'll end up reading it. Whether this is someone from HR or someone filling the role of hiring manager from the org. unit to which you're applying.
Your job is to find out who that person is and what their job title is. You have the job advert, sites like LinkedIn, and the whole internet at your disposal. You could also call and ask. If you're truly stuck after trying all that, go with 'Dear XYZ Team Hiring Manager', being as specific as you can.
Here are some examples of salutation you could use, in order of preference:
Dear Tyler
Dear Mr Reid
Dear Tyler Reid
Dear Senior Marketing Manager
Dear Marketing Manager
Dear Hiring Manager.
You don't have to create any content yourself. The LiveCareer cover letter maker will automatically suggest the best content for your cover letter with ready-made examples and expert tips.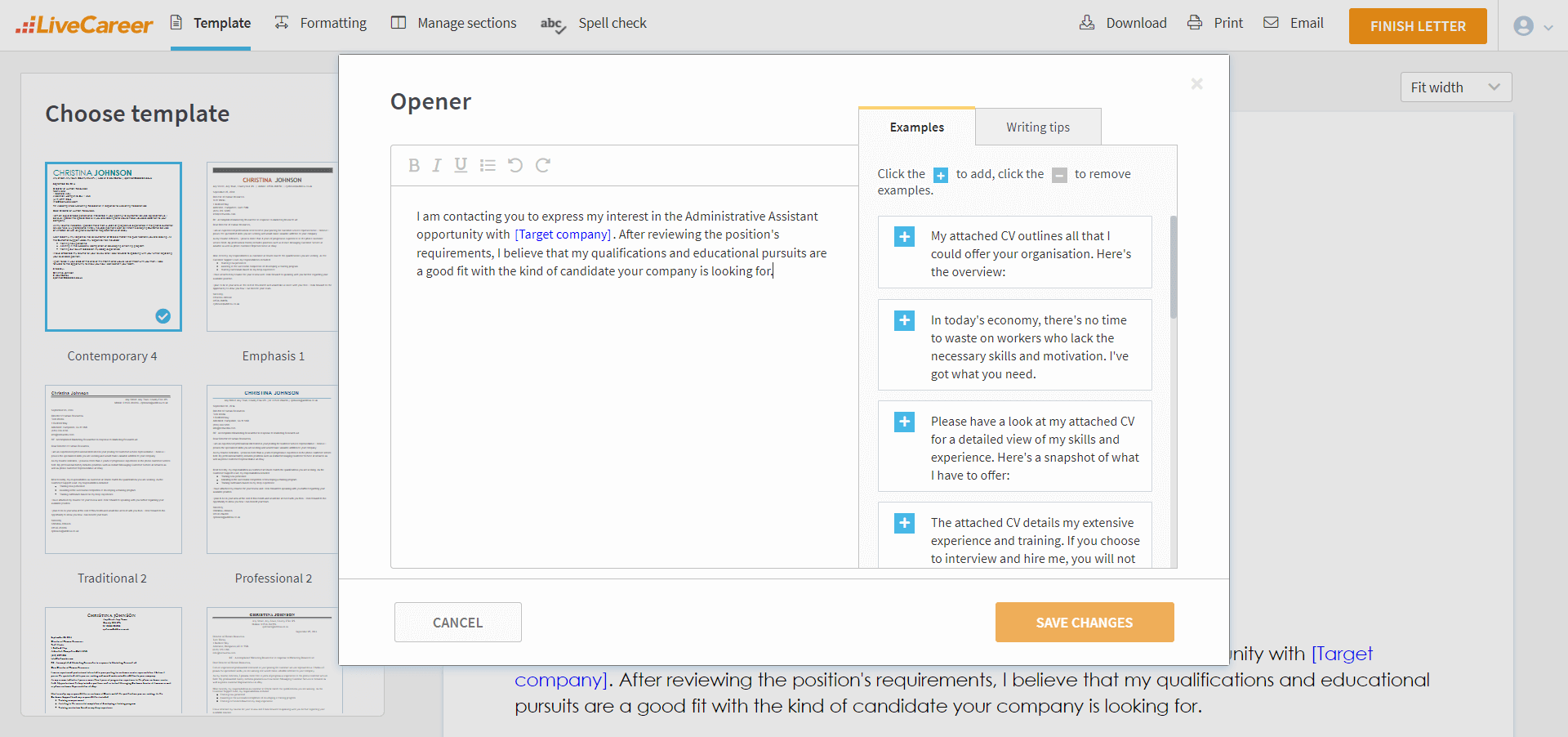 6. Don't make your cover letter too long
Here's a cover letter tip easy to remember: a cover letter should be about 250–400 words long. That's something between half an A4 page and one A4 page. It'll have a header, a salutation, a body, and a sign-off. The body will be broken down like this:
Opening paragraph: 60–80 words
Main body (1–2 paragraphs): 120–200 words
Closing paragraph: 40–60 words.
7. Format your cover letter right
First and foremost, make sure the general look of your cover letter matches that of your CV. The documents together make up your job application and they should look like two parts of a whole. Keeping this in mind:
Choose a professional-looking, understated font like Noto, Garamond, Arial, or just stick with the default Liberation or Calibri
Keep the font size at 11–12 points, definitely no lower than 10
Make the layout as clear and easy on the eye as possible by using plenty of white space and keeping things balanced.
8. Pay attention to filenames (and file types)
The recruiter is likely to download your cover letter from their inbox and drop it into a folder somewhere for future reference and/or printing. Your cover letter and maybe 200 others. And 200 CVs. Pay attention to how you name your files. Try something like Smith-Jane_Cover-letter.pdf.
Stick to the same pattern for your CV. For example: Smith-Jane_CV.pdf. If you have a common name, then add your middle name or middle initial or some other differentiator. Absolutely do not send files with names like 'CV edited 2010 v2_final_FINAL.docx'. It takes a second to change a filename.
Send your documents in PDF unless you've been specifically asked for something else (this can happen from time to time). PDF files give you the confidence that all your careful formatting will look the same on the recruiter's computer as it did on yours. The same cannot be said for something like *.docx.
9. Tailor your cover letter to each job application
Out of all the cover letter writing tips you'll find, this one is particularly important—but it's not always obvious how you can tailor your cover letter to each job. It can be extremely tempting to just copy and paste, swap out addressees and fire off another application. But... recruiters hate generic cover letters. Here's how you can do so much better:
Make a master list of your achievements
Do a little background research on the company to which you're applying
Re-read the job advert
Now simply copy some relevant achievements from your master list
Show off some of your background research while you're at it.
This is not much more work than simply copying and pasting and yet it's difficult to overstate how much more effective it'll make your cover letters.
10. Don't just summarise your CV
A good cover letter is not just a summary of your CV. Repeating parts of your CV in your cover letter is a wasted opportunity and a waste of the recruiter's time—they don't need to read the same information twice. Instead, use the cover letter format to really argue for why you're the best person for the job.
A CV is mainly in bullet-point form, with the notable exception of the personal statement. Use the fact that your cover letter is written in full sentences and paragraphs to not only put your talents on display (in the form of achievements), but also to spell out how those talents will benefit the company.
Use different achievements than the ones you've put into your CV and tie those achievements back to what the job advert mentions and what your background knowledge of the company tells you is important to it. Above all, keep it short and to the point.
11. Put a number to every good thing you did
Your achievements should all be measurable and ideally each one should be quantified in some way. This means putting numbers to the things you did, even if you have to estimate a little to get there. You could quantify revenue brought in or money saved, time saved, accuracy achieved, satisfaction scores, etc.
If you can't come up with number like these for an achievement that's particularly important nonetheless, then at least quantify the scale on which something took place. For example, 'Ran workshops' becomes 'Ran over 30 workshops for groups ranging in size from 5 to 25 people.' Here are two other examples:
'In my time with Red Suits, I was able to boost online reach by 17% for one of our key clients while continuing to produce over 500 words of content each day'
'In my current role at Red Suits I have also been able to implement automated moderation on two of our social media platforms, reducing the moderation workload by well over 70% while actually increasing effectiveness'
12. Include a call to action
Give your reader something concrete to do after reading your cover letter with a call to action (CTA). Most typically this would be a job interview but it could be a phone interview or even conversation. Be confident and show that you're ready and eager for that next step. Here's an example:
'I look forward to having a chance to further discuss how I can contribute to the Newspeech team.'
13. Sign off the right way
Many of us are used to sending business emails and business-like emails (like when emailing customer service, for example). Don't make the mistake of ending your cover letter with the usual 'Best regards,' 'Kind regards,' or even the cheerily inappropriate 'Cheers'. Your options here are simple:
Use 'Yours Sincerely' if you addressed your cover letter to a named person (e.g. Dear Kate)
Use 'Yours Faithfully' if you weren't able to track down a particular name (e.g. Dear Hiring Manager).
14. Takeaway cover letter advice
Don't put off writing your cover letter—make a start by collecting information, no inspiration required.
Being formal doesn't mean being professorial or posh, be yourself but without the contractions and slang and stick to the standard UK business letter format.
Write about your achievements, not your duties, and use accomplishment statements to make that happen.
There's nothing wrong with a well-placed name-drop—being referred to the position is a good thing.
Address your cover letter to a specific person, even if you don't know their name (but make every effort to find it).
Tailor and customise your cover letter to each and every new job application.
Quantify everything you can—put numbers to each of your achievements.
The little things can make or break your application—use logical filenames and save/export to PDF unless told not to.
A cover letter alone simply won't be enough—you need an impactful CV, too. Create your CV in minutes. Choose a professional CV template and quickly fill in every CV section using ready-made content and expert advice.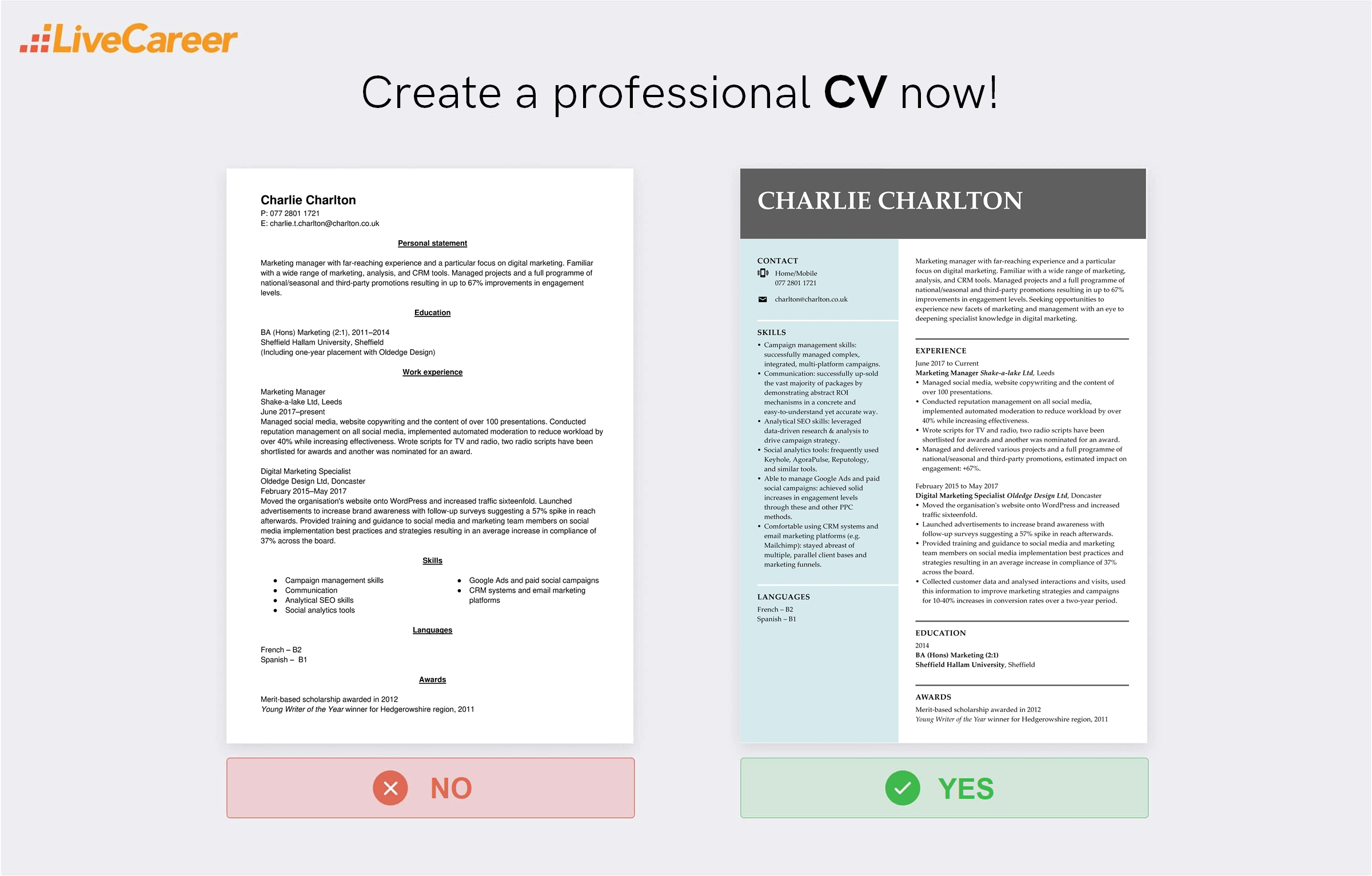 How did you go? Are there any other cover letter tips that you think are worth mentioning here? Leave any questions, comments, and feedback down below. Maybe you have some experiences with cover letter writing or job searches in general to share? We'd love to read about them!